Book News: Art Tax Benefits, Art Law,
Maxfield Parrish Print Prices, What We Want in Our Art
CLICK HERE FOR THE BEST BOOKS AND DATABASE OF ARTIST SIGNATURES
For a more current art law book review, click here or for all art reference book, CD-ROM, and database reviews, click the "Art Price References" link to the left.
***
If you buy, sell, or collect antiques, collectibles, memorabilia, or fine art, you should know about Robert Persky's book, Guide to Tax Benefits for Collectors, Dealers & Investors. This book, now in its third edition, is essential reading if you have tax questions or concerns relating to your stock or collection. It also covers all recent tax laws and their consequences.
For example, the Taxpayer Relief Act of 1997 places a 28% capital gains tax on sales of on antiques and related items while placing only a 20% tax on securities and real estate-- the feds have nicked us again. On the plus side, however, the Act allows collectors to pass on collections worth millions of dollars to their heirs tax-free by using a combination of annual gifts under the annual exclusion and the unified credit against gift and estate taxes (don't ask me what that means, folks-- I'm just telling you what's in the book). For dealers, a business worth up to $1.3 million may be bequeathed tax free under the new estate tax exclusion for family businesses as long as certain conditions of the Internal Revenue Code are met. If these aren't good enough reasons to invest $49.95 in The Guide to Tax Benefits, I don't know what are. Go for it!!
Guide to Tax Benefits For Collectors, Dealers & Investors, Third Edition by Robert Persky, The Consultant Press, NY, 1998, softbound, 256 pages, 8 1/2 by 11 inches, $49.95. Available from The Consultant Press, 163 Amsterdam Ave. #201, NY, NY 10023 or call 1-212-838-8640.
***
Art Law is a hefty two-volume set by Ralph Lerner and Judith Bresler that provides comprehensive legal information for collectors, dealers, investors, and artists. Not only does Art Law explain complex legal situations in language that average individuals can understand, but more importantly, it offers dozens of time-saving, problem-solving forms that can be readily adapted for use in business or personal transactions and transfers. In so doing, you can minimize your legal exposure in typical situations where disputes and disagreements tend to occur.
Anyone can benefit from reading this book. Appraisers can find out how to adhere to professional appraisal standards in order to avoid lawsuits. Auction houses can learn how to protect themselves from legal problems. Dealers and collectors can discover how to structure foolproof consignment agreements. Readers can also learn how to respond to situations where forgery, theft, or misrepresentation are involved. And that's just for starters-- artists' rights, artist/dealer relations, commercial aspects of buying and selling art, tax and estate planning for art professionals, and many more topics are extensively covered.
Apropos of nothing, let me throw in my 2 cents on the legal industry. Art Law is just another reminder to think long and hard before hiring attorneys if you have even the slightest chance of resolving disputes on your own. Litigation under any circumstances is costly, time consuming, divisive, acrimonious, complicated, expensive, and plenty of other awful words that we're far better off living without. Let's make every effort to resolve our disagreements lawyer-free the old-fashioned way-- face to face and in a civilized manner.
Art Law: The Guide for Collectors, Investors, Dealers and Artists, 2nd Edition by Ralph Lerner and Judith Bresler, Practising Law Institute, NY, 1998, 2 volumes, hardbound, dustjackets, 1677 pages, 6 1/2 by 9 1/2 inches, $145. Available from Practising Law Institute, 810 Seventh Ave., NY, NY 10019 or call 1-800-260-4754.
***
Collectors Press of Portland, Oregon has been focusing a good amount of attention on American illustrator art. One of their more useful books is the completely updated Maxfield Parrish Identification and Price Guide by Erwin Flacks. The guide prices hundreds of Parrish items including prints, books, posters, calendars, magazine illustrations, and memorabilia. Users of this guide should be aware that the price ranges listed are for items in mint condition. The variation in ranges has to do with regional market fluctuations rather than conditional differences. In other words, do not buy less than mint condition Parrish items at these price levels unless they are extremely rare.
Collectors press also publishes books on American pin-up art from the early part of this century through the 1940's. This art has been collected for years, but little has been written about the major artists with perhaps the exception of Alberto Vargas. A series of small-format books which the company refers to as "vignettes" introduce the general public to some of the most important names in pin-up art for the first time. They cost less than $10 each and feature artists like Rolf Armstrong, Billy DeVorss, Gil Elvgren Earl MacPherson, and Alberto Vargas. Knowing what good pin-up art looks like is important because superior examples are valuable and highly collectible.
The Maxfield Parrish Identification and Price Guide by Erwin Flacks, Collectors Press, Portland, 1995, softbound, 272 pages, 6 by 9 inches, $19.95.
Rolf Armstrong, The Dream Girls by Ben Stevens, Collectors Press, Portland, 1997, softbound, 64 pages, 4 3/8 by 5 1/2 inches, $8.95. To order either book, call 1-800-423-1848. You can also request a complete catalogue of Collectors Press current selections.
***
Painting by Numbers documents the results of the first ever comprehensive scientific poll of American tastes in art. Vitaly Komar and Alexander Melamid conceived and executed the idea which eventually encompassed samplings of two billion people in ten countries around the world. The book primarily focuses on the 1,001 Americans surveyed and goes into quite some detail regarding what we want to see and not see in our art. For example, we don't like small, dark, abstract paintings. We do like paintings with realistic subject matters the size of dishwasher fronts showing outdoor scenes with bodies of water and wild animals in their natural settings.
The book is both serious in its reporting of the survey results and humorous in that Komar and Melamid actually paint sample pictures consisting of either the most or least wanted characteristics for each country surveyed. These artistic opposites face off directly across from one another in a country-by-country format. Meanwhile, a continuous thread of responses to the question, "If you had unlimited resources and could commission your favorite artist to paint anything you wanted, what would it be?" runs along the bottom of each page from the book's beginning to its end. For those of you who love reading statistics (snore), sixty pages of tables list every last mind-numbing number produced by the survey (apparently the publishers thought the book wasn't thick enough to go to press without this feature).
Painting by Numbers is at the same time fascinating and disquieting as it lays out in no uncertain terms what average Americans have to say about art. Types of people who should read this book: artists in search of popular acclaim, art dealers in search of commercial success, artists who wonder why no one appreciates their work, anyone who believes that the masses will ever understand the fine points of fine art, everyone in the art world who takes themselves too seriously.
Painting by Numbers: Komar and Melamid's Scientific Guide to Art by Vitaly Komar and Alexander Melamid; Farrar, Straus and Giroux, NY, 1997, hardbound, dustjacket, 205 pages, 11 by 8 3/4 inches, $50. Available at bookstores.

Current Features
How to Buy Art on Instagram and Facebook
More and more people are buying more and more art online all the time, not only from artist websites or online stores, but perhaps even more so, on social media ...
Collect Art Like a Pro
In order to collect art intelligently, you have to master two basic skills. The first is being able to...
Services for Artists and Collectors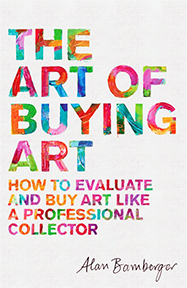 Buy the Book