The Government Wants Its WPA Art Back
For nearly sixty years since the end of The Great Depression, the United States Government has paid little or no attention to the disposition hundreds of thousands of works of art commissioned under the supervision of the Federal Art Project of the Works Progress Administration or WPA. This is no longer the case. In the past several years, the Government Services Administration or GSA has initiated efforts to identify and catalogue WPA art.
Alicia Weber, Director of the Fine Arts Program of the GSA, is heading up a project to inventory every work of WPA art that her agency can locate. By 1996 over 8,000 pieces in non-Federal repositories like art institutes and museums had been found. They were catalogued in a GSA publication that was then mailed out to 500 museums and other art institutions across the country. To date, over 20,000 items have been located. Approximately 1/5 of which are in Federal buildings and the rest in non-Federal repositories like museums and related institutions.
According Weber, non-Federal repositories in possession of WPA art are being advised that it belongs to the Government. They are only asked to confirm its existence and are allowed to keep it in their collections. They are also asked to forward information regarding the whereabouts of any additional undocumented pieces that they may be aware of. All is proceeding smoothly, Weber says.
Things are not quite as warm and fuzzy in the private sector, however. On more than a few occasions, privately held works of WPA art have come to the attention of the GSA. When possible, the agency has informed the owners that they are in possession of Government property and are politely asked to contact the GSA in order to resolve the issue. So far, they have been given the options of either returning their art to the Federal Government or donating it to public institutions.
For example, one owner was notified after the GSA found out that she had placed a piece of WPA art up for sale on the online auction eBay. She settled by donating it. Another owner who wishes not to be identified was also contacted after placing a piece up for sale on eBay. He says that not only did the GSA contact him, but they also notified all bidders that he did not have clear title to the art. The auction was stopped and the high bidder was informed that he could not buy the art.
In a third instance, the GSA was informed that two WPA prints had been appraised on the PBS network's hit series Antiques Roadshow. They contacted the show, got the name of the appraiser, and informed him that those prints and all works of art with WPA identification stamps or tags are Government property. The owner of the prints was unable to be located and the GSA is making no attempts to do so.
These incidents do not mean that WPA art owners should immediately begin removing Government labels or burying it in their back yards. Weber is quick to point out that the GSA is not actively looking for works in the private sector. In all of the above cases, the agency was notified by third parties that the art in question had appeared in public forums. She does state, however, that when the whereabouts of WPA art becomes known to the GSA, regardless of whether it's privately or publicly held, the responsible parties are then notified.
Scarlett Grose, Assistant General Counsel to the GSA, adds that the Government's intent is not to place anyone in uncomfortable legal positions. The GSA has neither the resources nor the inclination to chase after countless thousands of works of WPA art. But they do want to inventory as many pieces as possible and, in the process, determine how best to address progressions of ownership that, in many cases, have not been tracked or documented for over fifty years.
The problem is that in the decades immediately following the Depression, the Government all but ignored the status of its WPA art. It languished in warehouses, was offered to public agencies, given to museums, was thrown out, taken home by employees, sold as scrap, and otherwise disseminated throughout the country. Few records were kept, hardly anyone knew what was going where and, as a result, many of the pieces that were not destroyed or kept within public agencies ended up in private hands.
Dealers and collectors have been aware of the significance of WPA art and have bought, sold, and traded it for years. Scholars and art historians have been writing books and catalogues on the subject since the 1960's. From the late 1970's through the mid-1980's, it was all the rage among American art collectors. Numberous art galleries and museums mounted shows of WPA art that were both regional and national in scope. In the marketplace, top collectors competed for prime examples whenever they came up for sale.
All this time, the Government never got involved. But now it is. According to Weber, some 17,000 plus works of art currently inventoried are included in an expanded version of the original 1996 inventory publication. WPA Artwork in Non-Federal Repositories, Edition II weighs in at an impressive 500 pages and has been mailed out not only to museums and art institutions, but also to art dealers, auction houses, and art appraisers. The intent of the expanded distribution, Weber says, is to inform, educate and increase public awareness about this unique era of American art history.
The accompanying cover letter stated, "During the course of this inventory, we received numerous questions regarding legal ownership, title and responsibility. We worked with our legal counsel to research original procedure and directives and to develop the fact sheet 'Legal Title to Art Work Produced Under the WPA,' which is included in the publication. The determination of legal status and responsibility is an important issue for the Federal Government and the museum community."
The fact sheet does not mince words about who owns the art-- the United States Government. Citing the Constitution as well as relevant court rulings, it reads: "Federal property can only be disposed by an act of Congress, either by general or enabling legislation (such as GSA's authority under the Federal Property and Administrative Services Act of 1949) or by specific legislation." Furthermore, "the courts have held that the Federal Government cannot abandon property." Those still hazy on this point can read on to see that "It is well settled that title to property of the United States cannot be divested by negligence, delay, laches (whatever those are), mistake, or unauthorized actions by subordinate officials."
And for the slow learners in the group, it goes on to add that "...inactivity, neglect or unauthorized intentional conduct on the part of government officials will not divest the United States of ownership interest in property." Any questions?
The legal precedent is abundantly clear, but the GSA may be jumping a bit ahead of itself here. For instance, they have no uniform policy regarding the return of privately owned WPA art other than that they would like it back. As previously stated, they've requested on several occasions that owners either donate it to non-Federal institutions or return it to the Government.
But supposing they come across a collector who has spent twenty years, countless hours, and many thousands of dollars researching and assembling a major collection containing dozens of significant examples? Supposing he asks for proof that his art was taken from Government facilities in unauthorized manners? Supposing the Government can offer no proof? With no paper trail, does that mean he owns Government property? Does that mean he has to give it back? Suppose he decides to remove all identifying WPA stamps, stickers, and tags in order to keep it in his possession?
The GSA may not be aware of or be taking into appropriate consideration the fact that much of the WPA art currently in private hands was saved from destruction by knowledgeable art and antiques dealers and collectors as well as other alert citizens who recognized its historical significance early on. In addition to preserving the art, a number of these individuals also contributed time, effort, money, research and scholarship into documenting events that might otherwise have never been recorded. Thanks to them, the Government has thousands of works of WPA art to inventory and hundreds upon hundreds of pages of history that they would not otherwise have.
The last thing the GSA wants to do is to jeopardize the future of this privately held wealth of art and knowledge. For them, solution may be to meet with art experts from both the public and private sectors in order to explore ways of resolving ownership issues that are mutually beneficial to all parties. Perhaps they'll be able to establish a valuation system in the form of tax deductible donations for art that's returned to the Government. They might find ways to honor or recognize those who return their art or have otherwise contributed to our WPA knowledge base. Citizens would be rewarded for their diligence and foresight rather than penalized and the GSA would come off as a far more benevolent agency.
But alas, a compromise is not to be. As of June 2011, the Office of the Inspector General in partnership with the GSA's Fine Arts Program, the FBI, and the fine art community are working to "recover misplaced and stolen WPA pieces of art." They're not actively seeking it out, but they will act on any tips they receive about WPA artworks that remain in private hands. For current information as of November 2016 and an explanation of GSA policy regarding WPA art, go to the GSA's New Deal Artwork: Ownership and Responsibility web page.
The sort of happy ending is that WPA Artwork in Non-Federal Repositories, Edition II, came out of it all and is still one of the finest references ever compiled on art of this era. This indispensable addition to any American art reference library is no longer available directly from the government (it was originally offered free), but can still be purchased on the out-of-print market from used book websites.

Current Features
How to Buy Art on Instagram and Facebook
More and more people are buying more and more art online all the time, not only from artist websites or online stores, but perhaps even more so, on social media ...
Collect Art Like a Pro
In order to collect art intelligently, you have to master two basic skills. The first is being able to...
Services for Artists and Collectors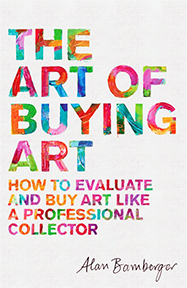 Buy the Book