SAN FRANCISCO GALLERY OPENINGS
TART CONTEMPORARY - SARGENT JOHNSON GALLERY
FIFTY24SF - LUGGAGE STORE - CHANDLER FINE ART
ART AT THE DUMP - ART EXPLOSION
KALART - GERAS TOUISGNANT - XANH
04.21-23.05
Comment: First stop of the evening is Tart Contemporary. I introduce myself to the owner (I haven't met him before), he smiles and says hello, asks me if I'm 'Art Business,' and I tell him yes. He points out the artist and then introduces me to the curator who, no sooner than we dispense with the formalities, slams me for my brief commentary on Tart's last show, calling it "sarcastic" (I actually thought it was more ignorant than sarcastic, but that's just me). And this is only the beginning. I belly up and proceed to apologetically defend myself and my independent complimentary random roving Garpian reportage of San Francisco's art scene from a cornucopia of charges, during the course of which, the curator tells me she's read a number of my reviews, and even admits to liking one. Now-- here's the best part-- after unrelentingly skewering the sauce out of me, she extends an invitation to check out the show and meet the artist. Yeh, right...
***
Sargent Johnson Gallery at the African American Art & Culture Complex: Paul Robeson - Revolutionary Artist.
Comment: Tribute to singer, actor, civil rights activist, law school graduate, athlete, scholar, and author, Paul Robeson. The show includes period and contemporary portraits of Robeson in various mediums by various artists, and also a nice selection of memorabilia including vintage books, magazines, posters, broadsides, inscribed items, and other primary source materials relating to this important African American cultural icon.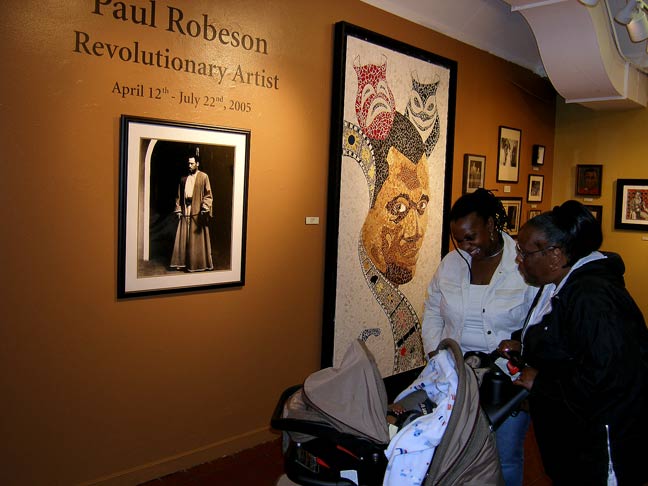 Art.


Art.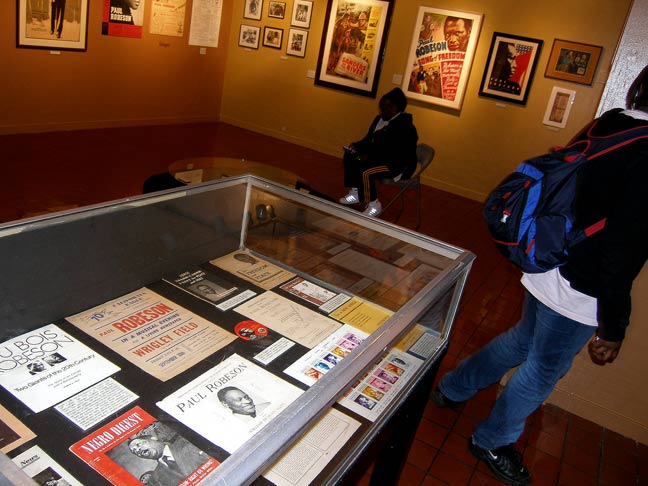 Memorabilia.


Memorabilia.


***
Fifty24SF Gallery: Rob Mars & Adam Harteau.
Comment: Formerly from Portland, Brooklyn artist/photographer Rob Mars glues sections of paper bags onto stretched canvas, paints them in shades of green, yellow, orange, and beige (he likes paper bags for their textural qualities). He then takes portions of his photographs, converts them into black and white transparencies, gel-transfers them onto the painted paper bags, and applies a clear textured finish, resulting in technically sound atmospheric decline-side American imagery. Price range: $50-$700; selling well. Buy now.
Los Angeles multi-talent Adam Harteau is showing a variety of work including paintings, paint-print combinations, and pillows (and he's got a stylin' website too-- currently under construction). The selection is almost too much of an assortment to take in, but it's all good (Al's helpful art hint #48958: Keep it simple. People confuse easily-- especially Al). I'm partial to the print-paint combinations like the ones incorporating the old Fleetwing Gasoline winged horse logo. Price range: $100-$9000.
Plaudits to Fifty24SF, by the way, for showing out-of-town urban art and artists. The local scene trends a little inbred at times, but curator Ben Belsky keeps it fresh with visions from afar.
Art (Rob Mars).


Art (Adam Harteau).


Rob Mars - art.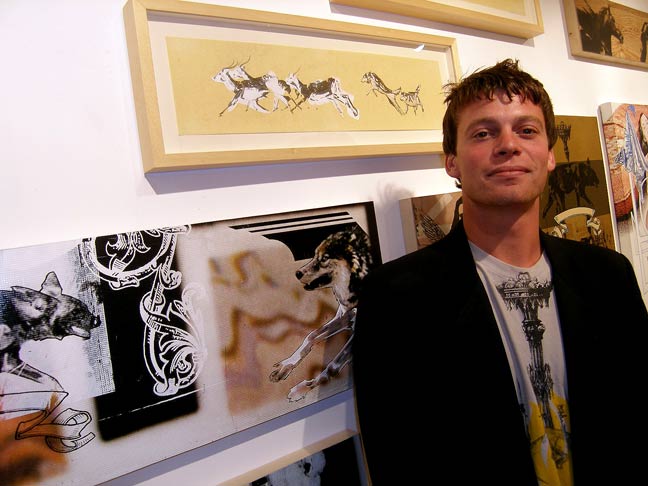 Adam Harteau - art.


Art (Rob Mars).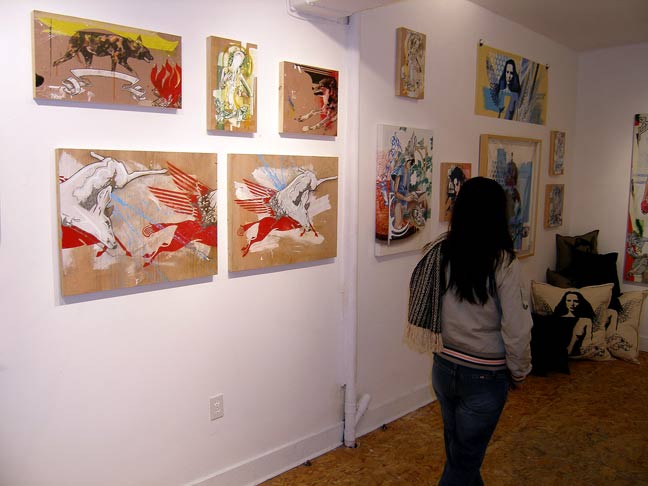 Fleetwing art (Adam Harteau).


Art (Adam Harteau).


Floor plan (art, Adam Harteau).


***
The Luggage Store: Strange Tales - Nick Ackerman, David Huffman, Chris Oliveria.
Comment: Pretty satisfying triumvirate. First you see Chris Oliveria's rich hi-gloss electric bright greenies with little characters and fragments on them (because you probably passed right by his three super sensitive black minis at the top of the stairs like I did-- so go back and zoom in). Then there's the latest installment of David Huffman's Traumabots fronted by a large painting of a bad-ass urban Traumabot, but I'm willing to wager that there's some serious sagas simmering in botland and I wanna see them surface. At the front of the gallery is a riotous wall of rainbow romps by Nick Ackerman. All three artists received MFA's at CCA. MFACCAMFACCAMFACCA.
Art (Nick Ackerman) - pick.


Owner Laurie Lazer - art (Chris Oliveria).


Big Traumabot art (David Huffman).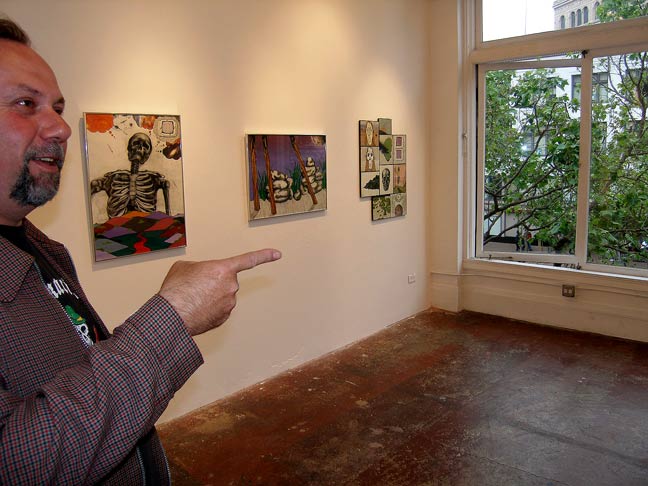 Art (Nick Ackerman).


Three black mini paintings (Chris Oliveria).


Traumabot mural (David Huffman).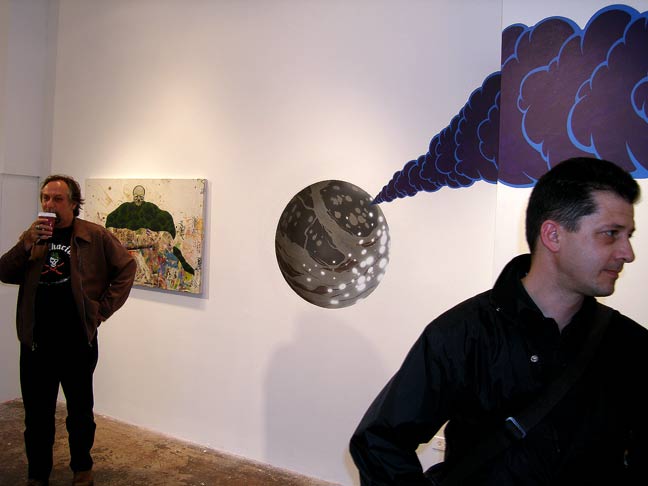 Art (not sure).


***
Chandler Fine Art: Jesse Allen.
Comment: Here's a quandry from a marketing standpoint. Visionary fantasist Jesse Allen was pretty much of a going concern in the sixties and seventies, successfully represented by Vorpal Gallery and showing at museums, but that's all ancient history now as he's been basically off the charts for years. I'm not sure how he sells-- maybe to a longstanding core collector base, but certainly with no palpable level of public exposure. So he's got over 2000 paintings and other works of art in storage, he's highly accomplished, but hardly anybody knows who he is. However, his art's priced like everybody knows who he is, like he's never missed a beat, like he's been showing and selling consistently for decades. $40,000 top out on the big painting (a wonderful piece, by the way; Allen tells me it took 2 years to complete), a large watercolor at $8K, smalls can be had for under $1000. The show's worth seeing. Welcome back, Jessie Allen.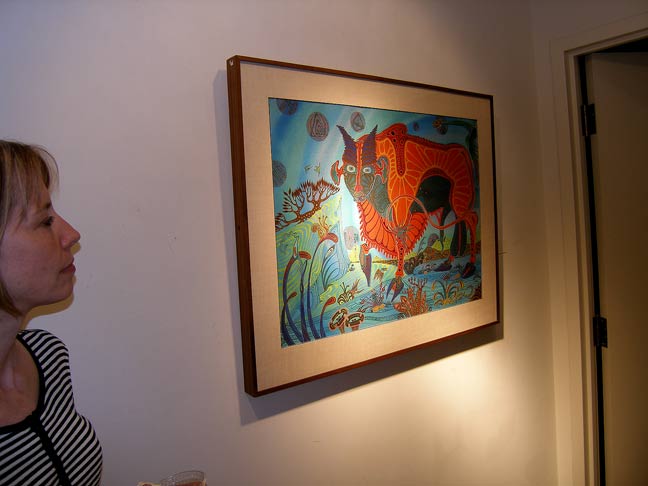 Art.


Art.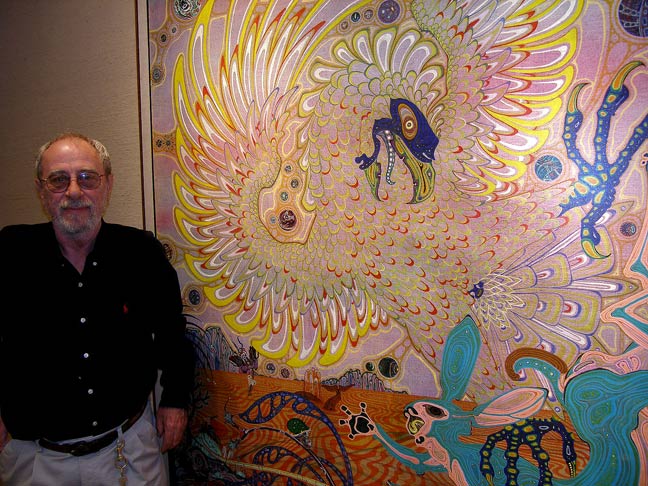 Jessie Allen - art.


Art.


Art.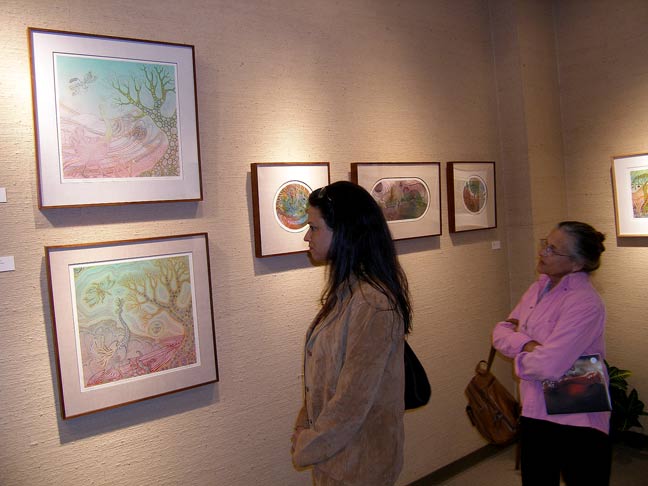 Art.


***
Art at the Dump; Artist in Residence Program, SF Recycling & Disposal, Inc.: Patrick Haywood - I Care What Happens to You; Mike Farruggia - Recalibrating the Synchronicity of the City.
Comment: Patrick Haywood arranges other people's refuse on plain black backgrounds and then photographs it. Several images wax poignant such as that of a simple small gift card, like the ones you get with flower arrangements, unsigned by the giver, with the penned sentiment "I care what happens to you." Mike Farruggia makes fanciful furniture like wheeled tables, a non-functional kinetic sculpture of two front halves of bicycles joined at the seat and pointing in opposite directions, and my favorite-- cut and collaged street signs.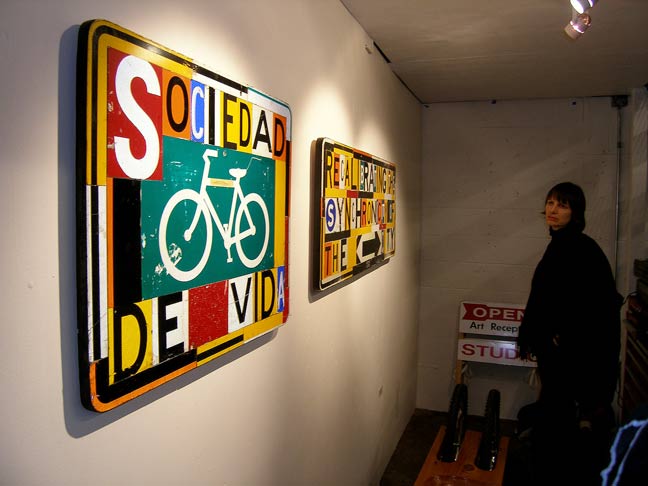 Collaged street sign art (Mike Farruggia).


Envelope full of hair art (Patrick Haywood).


Bicycle for people with opposing views (Mike Farruggia).


Assorted crayons art (Patrick Haywood).


Art (Mike Farruggia).


Art (Patrick Haywood).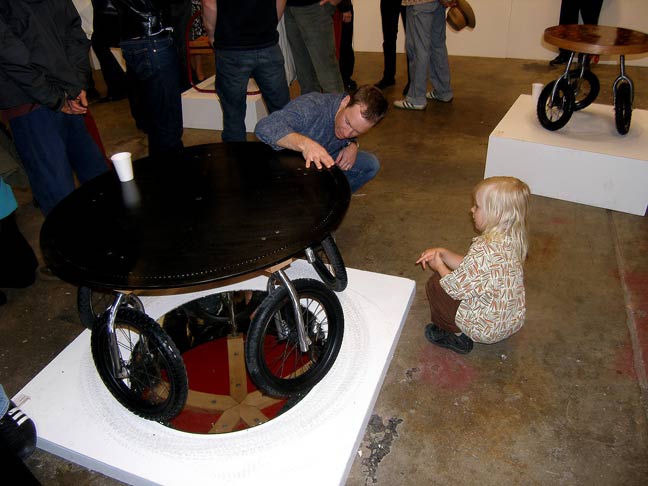 Art (Mike Farruggia).


***
Art Explosion: Melt 05 - Open Studios.
Artists: Yezal Achadabraheem, Lani Asher, Paul Baker, Brent Bushnell, Jessica Cadkin, Sparky Campanella, Rebecca Chang, Lee Cline, Gradiva Covzin, Matthew Dejong, Kevin Diminyatz, Georgianne Fastaia, Susan Garry-Lorica, Karen Gerdes, Colin Hoisington, Katie Howard , Ivy Jacobsen, Julia Kuschner, Ellen Lee, Chris Leib, Anne Lichtenberg, Kathleen Maley, Mary March, Jersey McDermott, Tessa Merrie, Amanda Moeckel, Michelle Muldrow, Jacki Pellettiere, Alejandra Rassvetaieff, Sawyer Rose, Rachel Sager, Michael Schoenig, Richard Shearing, Brian Shown, Wendi Spiers, Tim Svenonius, Crystal Sylver, Jennifer Wasson, Erica Weekes, Geoff Wolfe, Melissa Yarbrough, Suzanne Yee, Scott Yeskel, Lincoln Adler, Alfonso Aguirre, Mark Andrews, Sophia Antipas,Annie Arrasmith, Brian Backus, Anna Bario, Rebecca Bennett, Krescent Carasso, Nelson Carnicelli, Steve Chapman, Mary Clark, Arturo Duarte, Ginny Fang, Einar Finstad, Ken Forcier, Andrew Galli, David Gardella, Leonardo Herrera, Scott Hodgson, John Hooker, Gwen Jones, Cindy Kumagai, Jeremy LaCroix, Julie London, Nancy MacLean, Annica Magnusson, Margo Majewska, Dawn Meson, Wendy Miller, Cliff Mills, Barbara Pollak, Jason Predock, Rob Reed, El Rey, Kelly Reiling, Don Ross, Adele Shaw, Charice Silverman, Peter Sorensen, Amelia Sosa, Jeremy Sutton, Samanta Tello, Randle Titchenal, Warren Travis, Patrick Vitale, Grove Wiley, Colin Williams, Terri Wolfe, Scott Young.
Comment: Art soup.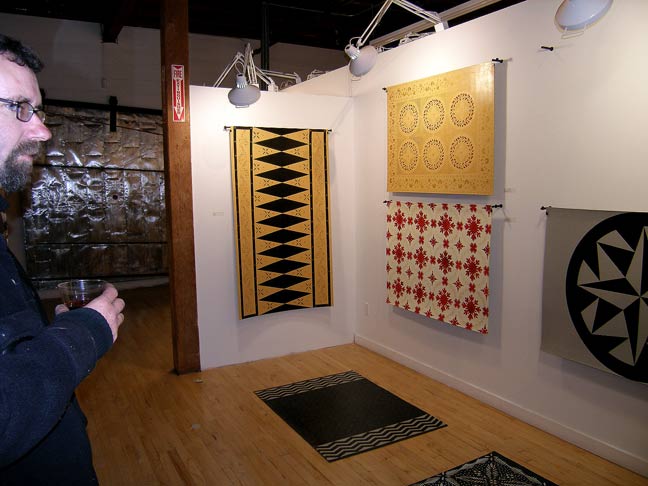 Functional floor covering art.


Art - artist (right).


Art - artist.


Art - artist (right).


Artist Jeremy Sutton pushing the product.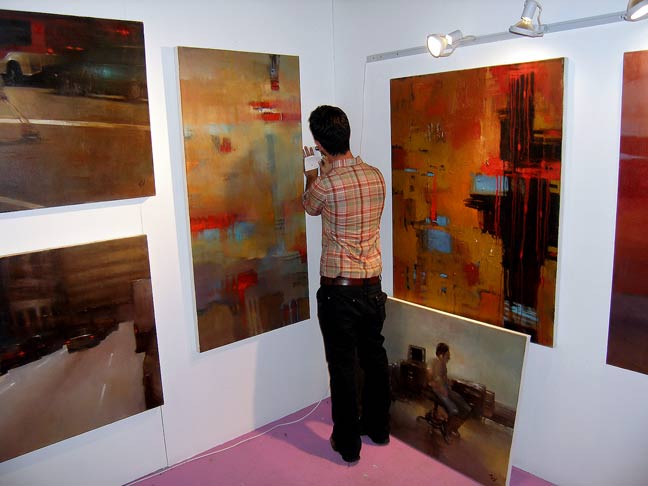 Art - artist (Scott Yeskel).


Not sure.


I make a new friend.
Not sure.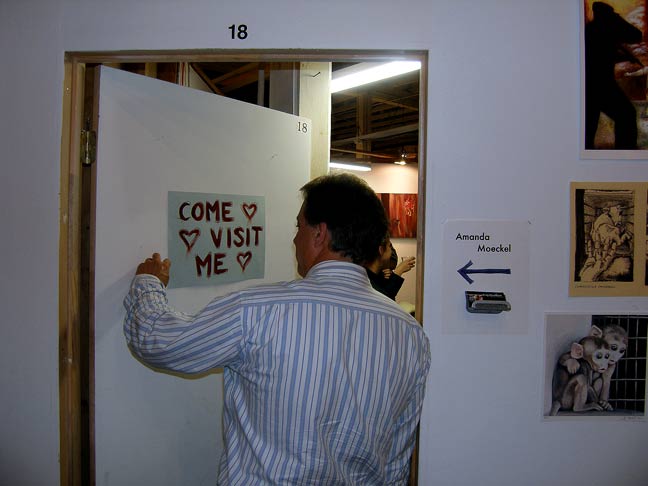 Marketing strategy.


Browse.


***
Monsoon Art and Kalart Gallery, 855 Sansome St., San Francisco, CA 94111 - 415.693.9727: Reverie, Kalighat Watercolors.
Comment: Kalighat painting, considered to be the birth of Indian modern art, originated in mid-nineteenth century Bengal, the style adapted by bazaar painters to provide souvenirs for devotees who visited the famous Kalighat temple. The watercolors in this show date from the 1970's through the present day. See how we learn history and share cultures through art? Incidentally, one of the several freeloaders in attendance was so rude, he came around the back of the bar and wedged the woman serving the wine out of the way so he could more easily stuff his drunken face with food.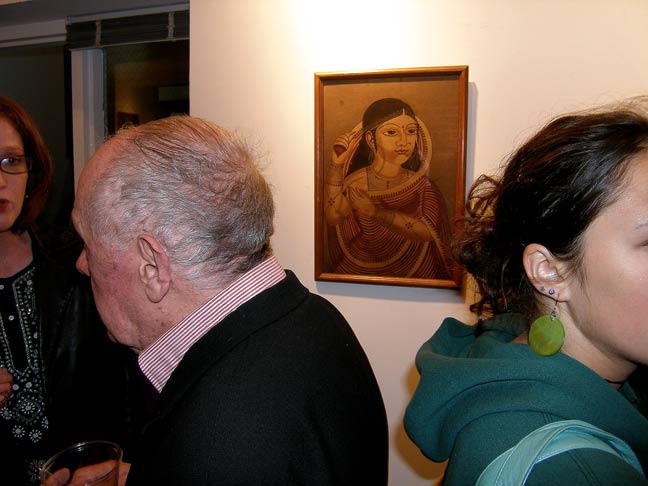 Art.


Curator explains art.


Art.


***
Geras Tousignant Gallery: Su Feng-yi - The Art of the Inside Painting of Chinese Snuff Bottles.
Comment: Su Feng-yi paints miniature paintings on the inside of snuff bottles with a teensie weensie itsy bitsy brush. The several bristles are at right-angles to the handle. There's a demonstration table set up so you can see how impossibly difficult painting one of these bottles is. Prices range $1000+ per bottle.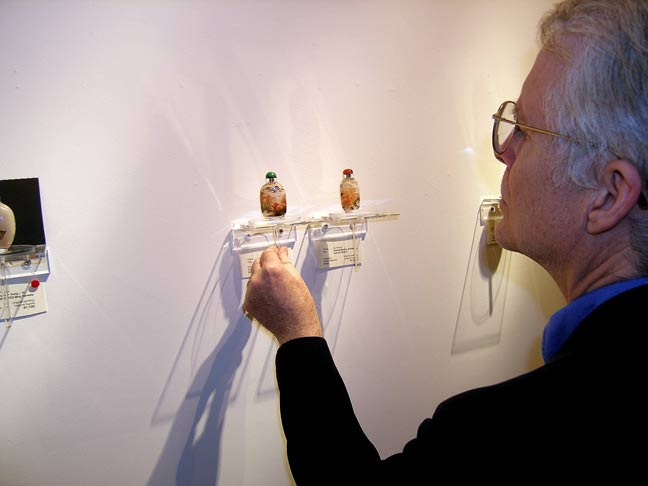 Painted snuff bottles.


Su Feng-yi - painted snuff bottles.


Painted snuff bottles.


***
Xanh: Shortfilms/Artshow.
Comment: An art party deep in the warehouse zone of Bayview Hunters Point, showcasing the work of about 25 artists, at Turk Shop, a motorcycle repair shop nicely converted into a gallery-like setting for the event (not a hint of grease anywhere). Motorcycles hang from the walls and the ceiling; the gravel parking lot is full of truck trailers and miscellaneous industrial equipment.
These looked interesting (Adriane Bovone).


Art.


Art.


More Adriane Bovone art.


Mobile-mobiles.


Enter.


***
Addendum: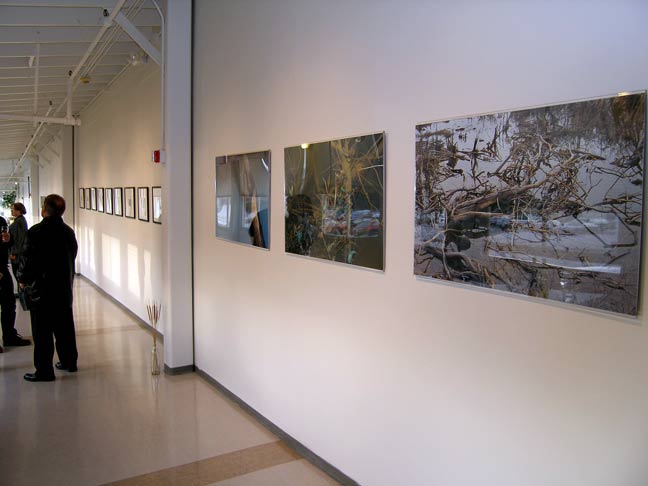 Guadalcanal village wetland photographs by Sally Mack at
Thoreau Center for Sustainability.


One more Sally Mack at Thoreau Center for Sustainability.