SAN FRANCISCO GALLERY OPENINGS
RENA BRANSTEN - LIGNE ROSET - LEE GALLERY
CCA 2005 GRADUATE EXHIBITION - WAREHOUSE 1310
SHOOTING GALLERY
05.12.05
Rena Bransten Gallery: Oliver Boberg - Recent Works; Jessica Snow - Stratagems for Living.
Comment: Jessica Snow paints happy abstracts with bright colored raised textured dollopian flourishes. She also has a couple of sculptures on display that look like shabby chic De Stijl. Prices are reasonable, but I can't remember what they are, and I can't take a price list out of the gallery because they all say "PLEASE DO NOT REMOVE FROM GALLERY" on them, and just to make sure no scofflaw even contemplates removal, the edict is hand-embellished with highlighter. As for Oliver Boberg's photographs, they don't quite make it after seeing his superb larger-than-life show at Yerba Buena. The impact of his imagery is minimized when it's smalled down like it is here, although if you're privy to the fact that he builds all his own "sets" from scratch, and that the photographs don't depict actual places, the viewing experience is upgraded and enhanced exclusive of size.
Art (Jessica Snow).


Art (Oliver Boberg).


Art (Jessica Snow).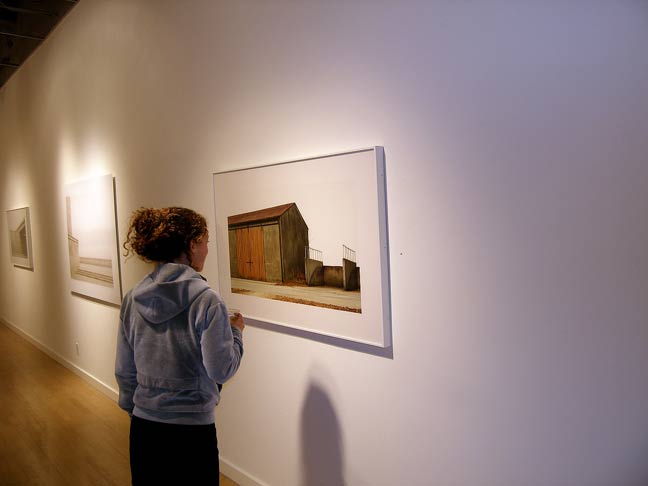 Art (Oliver Boberg).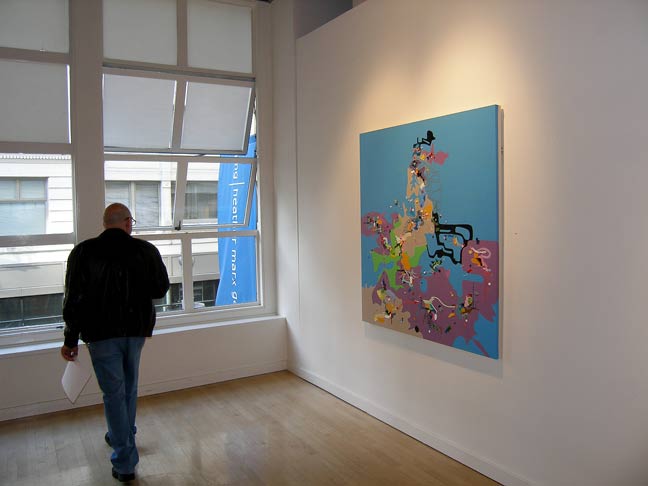 Art (Jessica Snow).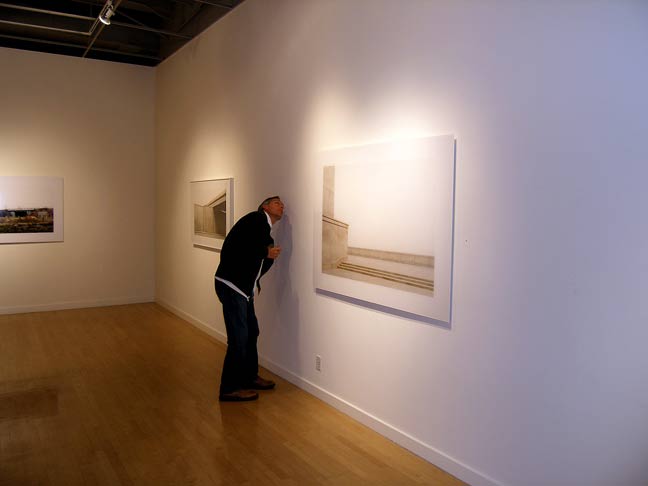 Art (Oliver Boberg).


Art (Jessica Snow).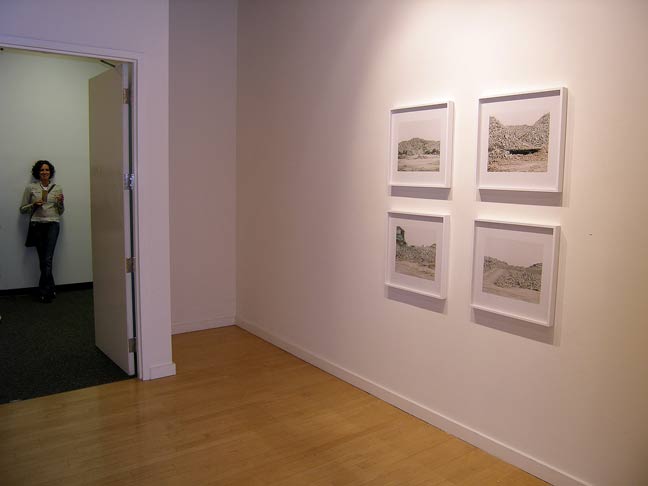 Art (Oliver Boberg).


***
Lee Gallery : Alan Yang - Architecture & the Environment.
Comment: Nicely composed semi-Spartan semi-bucolic landscape and coastscape photographs featuring utiliarian structures like storage sheds, trailers in trailer parks, and humdrum houses.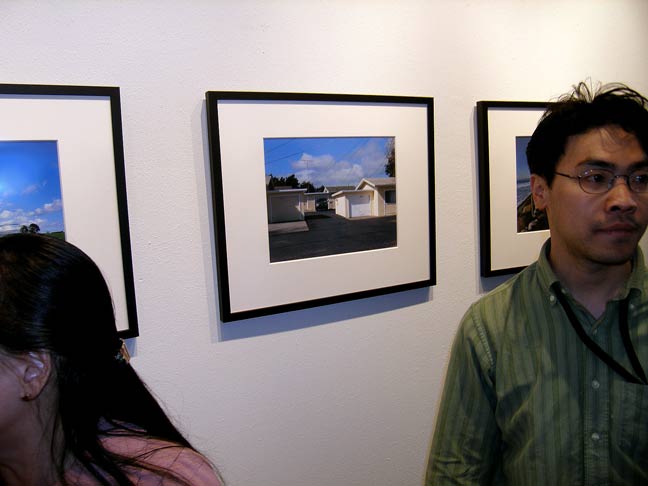 Photography.


Photography.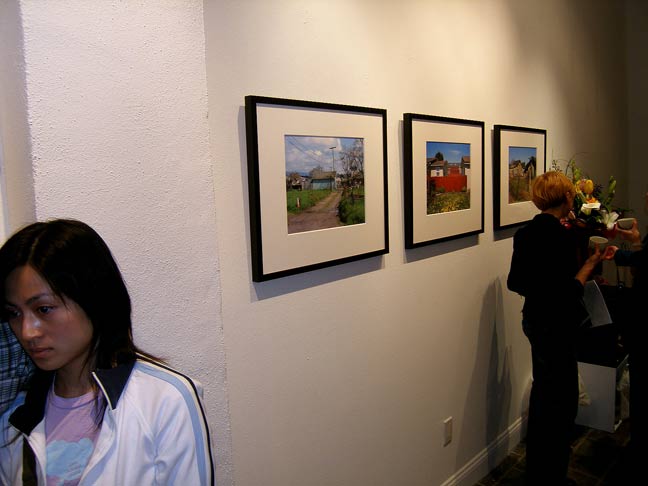 Photography.


Photography.


***
Ligne Roset San Francisco: Paintings by Reiko Muranaga and Fong Fai; Photography by Linda Elvira Piedra.
Comment: French furniture designer-manufacturer Ligne Roset has been around since 1860, but you wouldn't know it from the contemporary look of their showroom. Its interior approximates that of a gallery with plenty of wall space and partitions for displaying art that blends well with the Ligne Roset take on modern living. Al's Helpful Art Tip #676-b: When you get an opportunity to show your art in a high-end showroom at a prime location, don't put out leftover announcements from your 2004 show at Farley's for people to pick up, especially when the announcements don't even have your contact information on them. I'll have a half-caff half-decaf doppio on the rocks with steamed nonfat milk and a cinnamon drizzle in a chilled cup please.
Art.


Photography.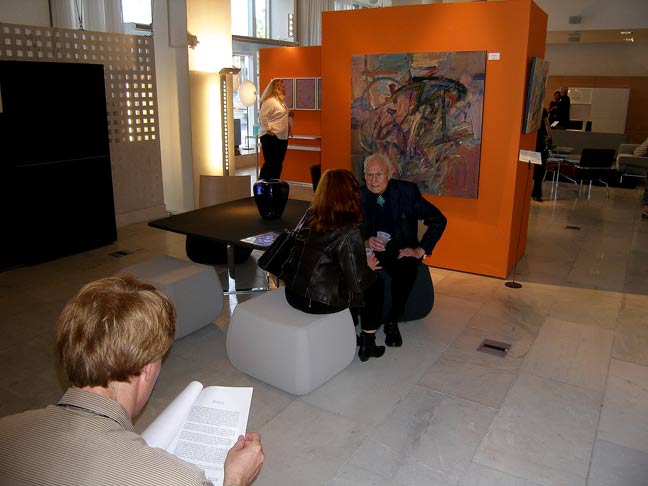 Art.


Art.


***
California College of the Arts: MFA Fine Art Thesis Graduate Exhibition 2005.
Comment: This mega-show is more than even a seasoned artster like myself can hope to digest. And the attendance-- so many people were topping off their aesthetic tanks that the resulting cultural heat and humidity made me feel like I was tracking Anacondas in the Amazon, and indeed, I almost tripped over long rolled up hunk of red carpet in the middle of the floor (I guess they didn't have time to get it out of there before the show started... chortle). Art was everywhere, most of it emerging, but I found a few goodies smattered about, and I'm sure I missed miscellaneous other treasures in my mad dash to see everything.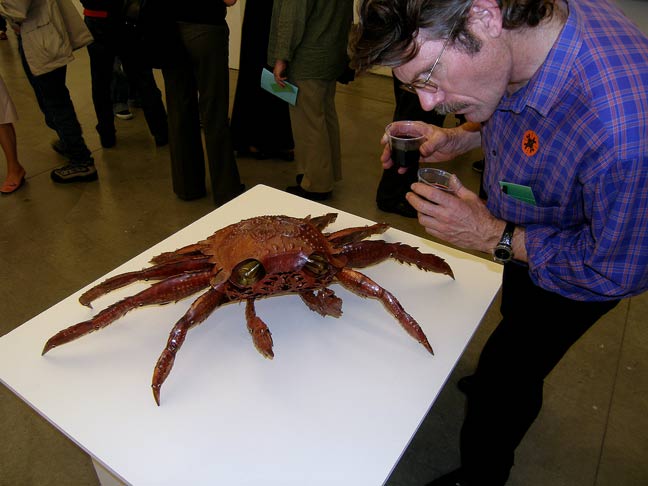 Superb metalwork - eyeballs could be better.


Lori Gordon - better living through hugs.


Making something that's already big bigger.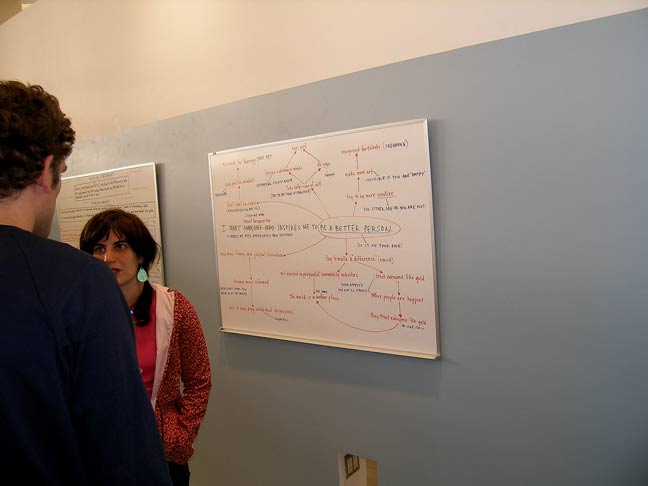 Word art.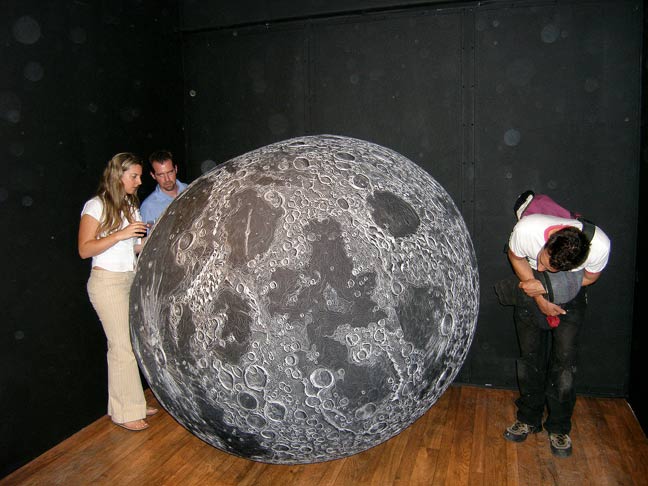 Stitched inflatable lunar facsimile art (pick).
Hard work, great skill, dedication, perseverance, and it's good.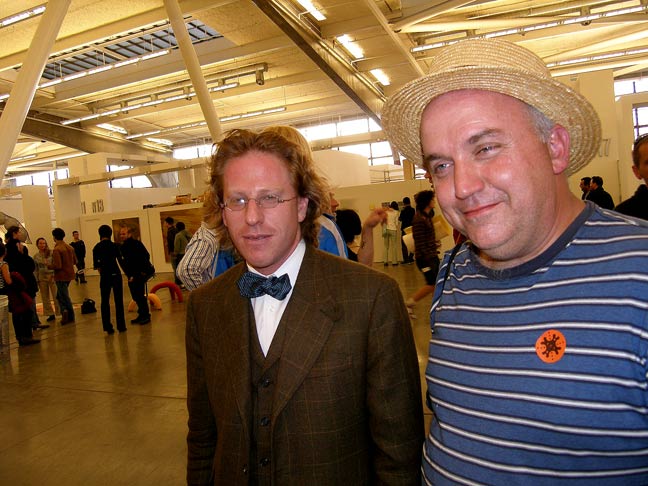 Conceptual artist/writer Jonathon Keats - Adobe Don Andrew McKinley.


Large craquelure yellow ball art.


In-need-of-explanation art.


Nice at a distance; a mite tentative in close.


Eleanor Harwood - art.


General impression.


***
Warehouse 1310: Retro-What! A Retrospective by Hyun-Young Jung - Quarterlife Crisis of Photographs, "Drawings," Text.
Comment: Hyun-Young Jung looks back on her life by visiting places from her childhood, photographing them, and then reworking the photographs with writings and drawings. Warehouse 1310, a large live-work space shared by seven artists, has an excellent main exhibition area, perfect for group shows, ambitious one-person shows, and blow-it-out-your-ass parties.
Hyun-Young Jung - photography.


***
The Shooting Gallery: Aaron Hawks - Locus In Quo, Erotic Photography and Interactive Sculpture Installation.
Comment: This is without question one of the best openings I've been to in a long time. Every once in a while I see a show that makes this whole "San Francisco Art Openings" thing I do worthwhile (for me) and this is that show for this while. Aaron Hawks' erotic photography slithers the discipline into new territory, its magic being that even though he explores the limits of sexuality, he somehow manages to keep it tasteful, suggestive, and, most importantly, visually satisfying from an aesthetic perspective. So you're not looking at sex so much as you are at art, but if you want sex, it's there. And if you wanna get prurient about it, that's your business; you're not obliged. But wait; there's more...
Hawks constructs every set for every photograph entirely from scratch. In fact, he completely transforms The Shooting Gallery into a set for this show, the twin pinnacle of which is a ceiling-hung piano, and a ceiling-hung minimally clad woman enveloped in a fishnet contraption that makes her look like one of those Genoa hams you see hanging at the Italian Deli. But wait; there's more....
Hawks also makes strange boxy polished wood and metal sculptures with openings for fingers or hands, that when occupied with said appendages, vibrate or lightly chomp on them. Now we all know that artists get tired from long hours of hard work, so for relaxation purposes, Hawks builds himself a modest loungy den area at the rear of the gallery where he can sit and share with a second minimally clad woman, also hanging from the ceiling and enveloped in a fishnet contraption. Stir in the people and the vibe and the raw sensual undercurrent, and I'm laid out like a sock in the sun. I bet you a dollar to a donut that this Aaron Hawks dude can fill a room at Yerba Buena Center with such a spectacle that it'll be the talk of Artland.
Photography.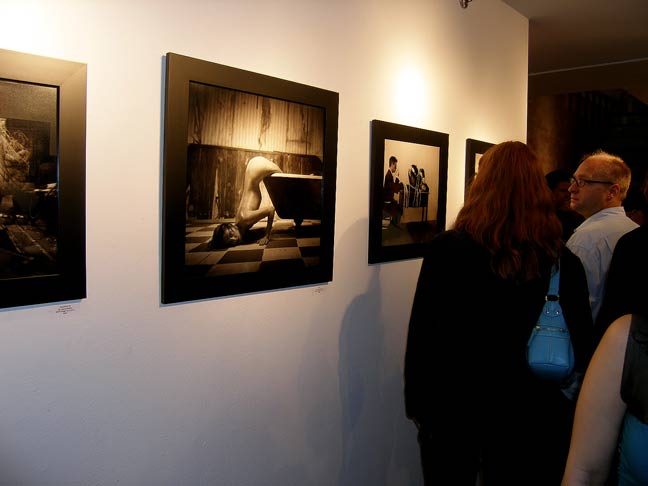 Photography (pick).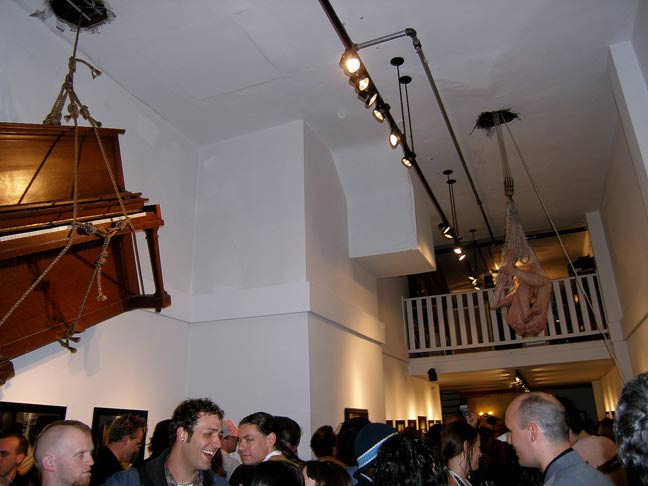 Danglers.


Aaron Hawks relaxes in the lounge area.


Photography.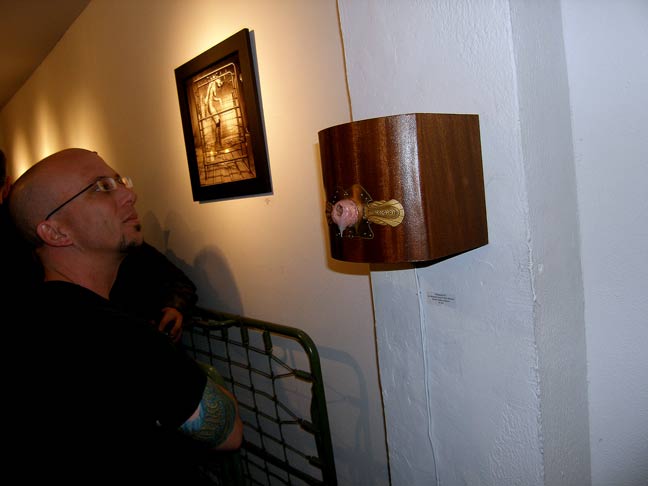 Insert digit.


Photography.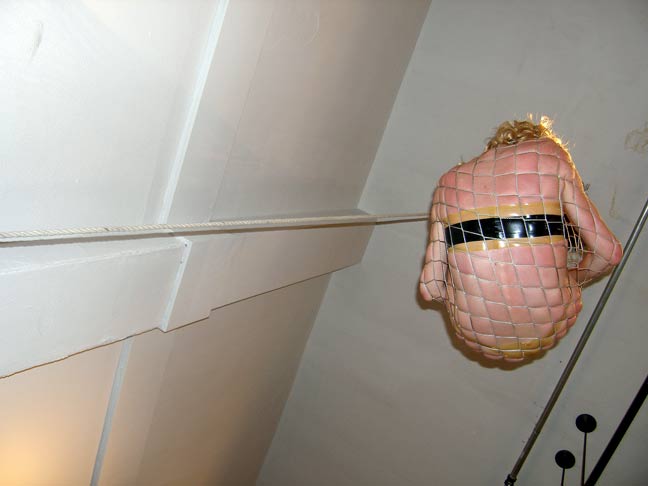 Ceiling inspection.


Photography.


Photography.


Photography.


Photography.


Photography.


Circumstance.