SAN FRANCISCO GALLERY OPENINGS
ARTSPAN - CANVAS GALLERY - BLUE CUBE
MIGHTY - RED INK STUDIOS
05.26.05
Comment: This is one of those moments when the shows kind of play off each other, and the night evolves into a unified experience-- the whole exceeding the sum of the parts-- as opposed to it being a series of disjointed events where you have to basically start fresh at each opening. Maybe it's the Holiday. I don't know. You decide...
***
ArtSpan Presents: 30 Years - A Juried Exhibition of Work by Artists from San Francisco Open Studios and Paris' Le Genie de la Bastille.
Artists: Ora Adler, Julie Alland, Marc Babsin, Suzy Barnard, Holly Blake, Christine Blanc, Sean Brimer, Corine Sylvia Congiu, Mitchell Durkee, Marion Faymonville, Jean-Robert Franco, Jean-Claude Garnier, Jane Grimm, Michele King, James Kreuger, Yvette Molina, Adam Moore, Julie Nelson, Karen Olsen-Dunn, Fernando Reyes, Ernesto Rodriguez, Diane Rollins Feissel, Jeremie Roux, Chris Smith, Marcia Teusink.
Comment: You know, I should really start reading the show announcements BEFORE I see the shows because, like here, then I would have known that all the people speaking French were from Le Genie de la Bastille, the organization that organizes and presents Paris Open Studios. Oh well... blew that one. Anyway, the exhibtion, celebrating 30 years of San Francisco Open Studios, is juried by Rene de Guzman (that dude knows how to curate a show), Christine Duval (Director of LIMN, hosting the event), and Meredith Tromble (of SFAI). The selection's pretty impressive, surprisingly so, the 25 artists represented being selected from well over a thousand Open Studios participants.
Art.


Art.


Art.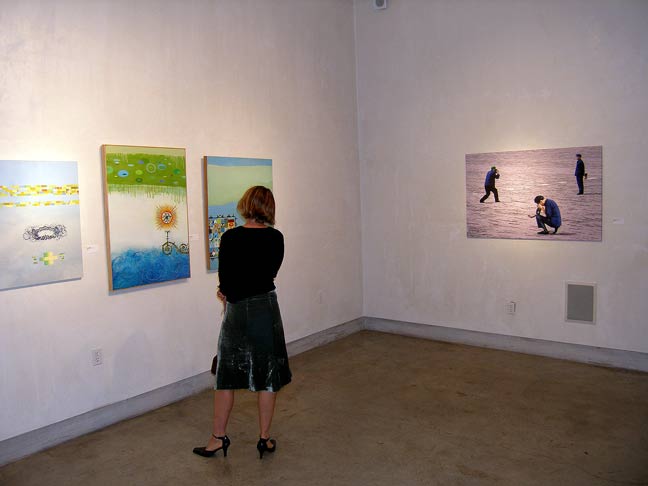 Art.


Art.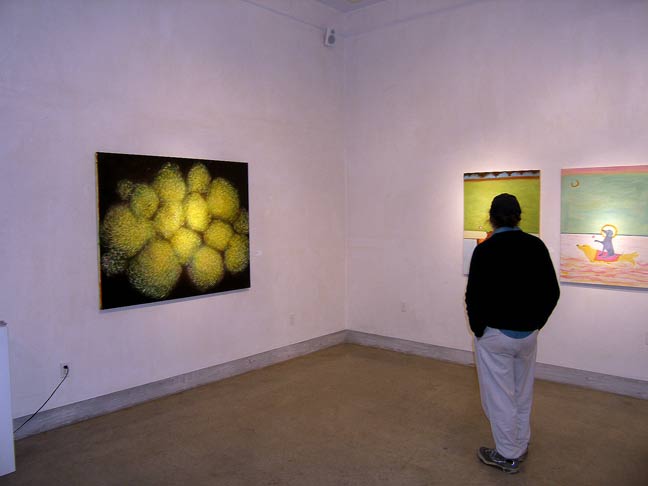 Art.


Art (big linocuts, I think-- nice).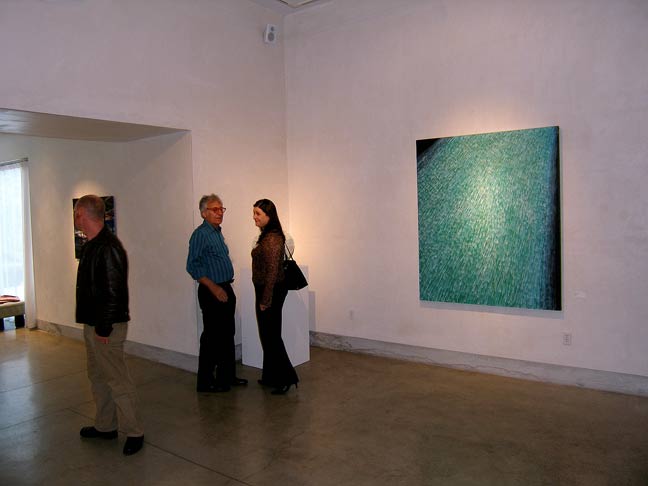 Art.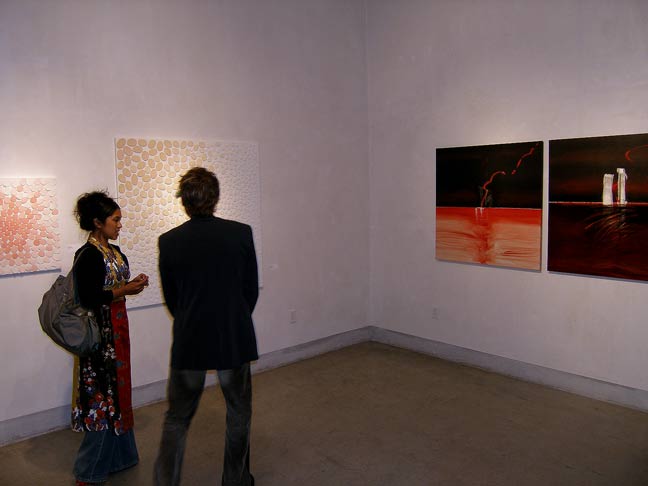 Art.


Art.


Art.


Edict.


***
The Blue Cube: Face the Music by Plasticfucker.
Comment: Los Angeles artist Plasticfucker (aka Doug Murphy) has all the ingredients necessary to ascend the ranks of the art world, the popular art world in particular. But if he's gonna really ascend, a name change at some point will probably be in order. In the meantime, he's got the personna, his art's quick and easy, everybody gets it, it's commercially viable, it's got an instantly identifiable look-- approaching trademark-- and he can make plenty of it and keep it affordable (small portraits for only $65). In other words, it's complete gratification all the way around.
PF (I prefer that to the extended version) tells me that he creates all his images in Photoshop, many being interpretive portraits of famous personalities or generic pop culture icons. He then digitally prints them out on canvas, stretches them over stretcher bars, and signs and dates them. He also guarantees his art. If, for whatever reason, your art becomes unstretched or otherwise comes a cropper to nefarious and/or deleterious degredations, he'll print out and stretch you up a brand spankin' new one. And if there's one thing you don't often get in the art world, it's a guarantee.
PF - art.


PF - art.


Art.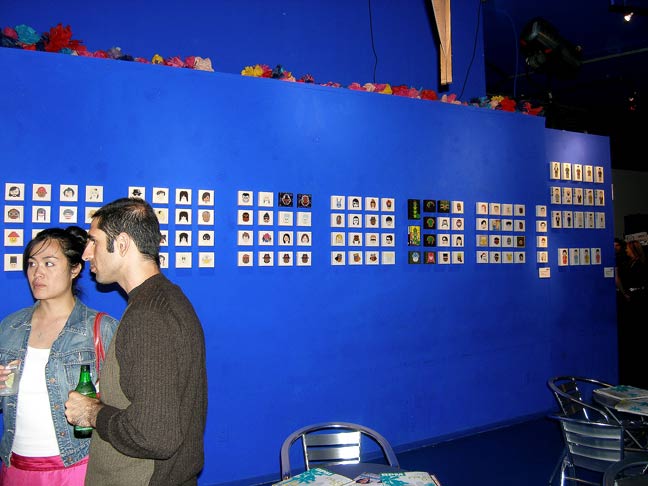 Display.


***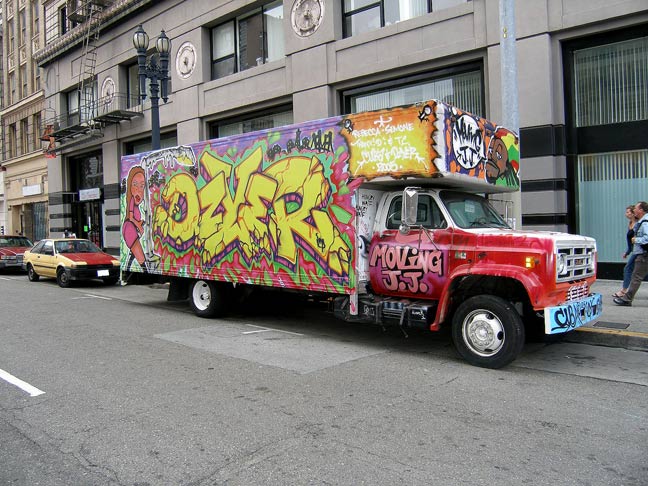 Traveling exhibition (vicinity of The Blue Cube).


***
Linc Art at Mighty: Spacey - Where Art Greets Intoxication and Sick Beats Meet the Side Street.
Artists: BUDER, Charles Linder, Omar Chacon, Rudi Molacek, Nils Nova, Brittany Tilleman, Bernardo Pogili, Andreas Reiter Raabe, Yuri Psinakis, Johanna St. Clair, L.G. Williams, Barry Monigle.
Comment: Charles Linder's back from another international escapade, shuffling art from democracy to republic, in his continuing mission to make the world a more tasteful and sophisticated place in which to live. Speaking of tasteful and sophisticated, Mighty is all that (because Linder packs it with good art) plus meta-trendy plus tons of free parking, all in a warehouse district void of pesky residential constraints, so if you want to, you can triple blow it out your ass. That's right. And ponder the following-- If a tree gets crocked in the woods and nobody's there to see it pass out, who's going to call it a cab? But for the skinny on that, you'll have to ask the Mighty stragglers 'cause I leave way before the beats meet the street.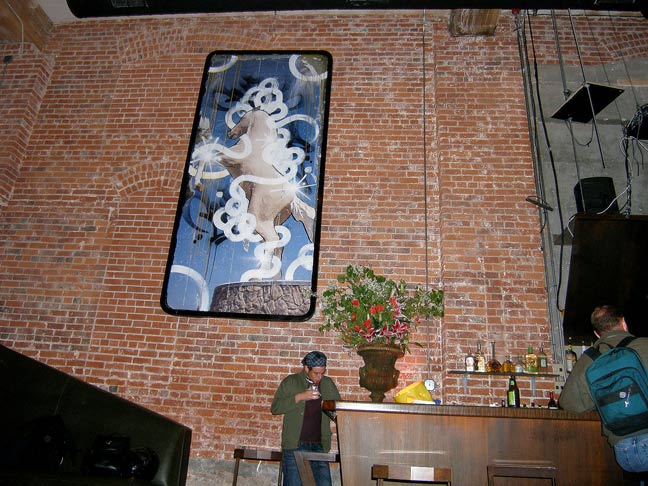 Art.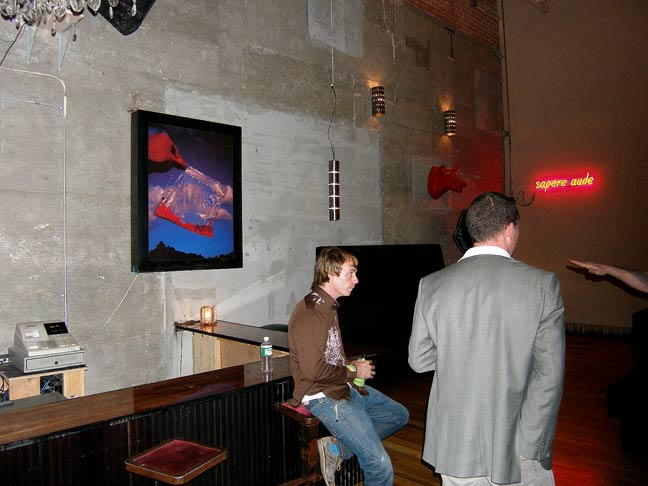 Art.


Charles Linder - art.


Art.


Art.


***
The Canvas Gallery: Another Witty Remark.
Artists: Grime, X-Ine, Norm, Amandalynn, Vic Chapa, Holly Ellis, Yutaro, Thee Gents of Desire, Sever, Sonny Gerasimowivch, Revok, Margaretta Grazier, Jersey Joe, Alexander 2Tone, Ewok, Curve, Hense, Retna, Luke Steward, Saber, Marcus Pacheco, Dame, Fate, Jason Kundell, Charlie O'Hanlon, Lily P Desaussure, Push, Diet, Shane Jessup, Joe Levin.
Comment: The second installment of Witty Remarks, which debuted as an impressive one-nighter in a vacant Bush Street storefront last December. Many of the more recognizable names in local and regional urban art take part in this event, a show that presents the inside side of outdoor painting (plus a little sculpture). Street art often gets a rough rap, but these artists would like to say that before you go jumping to conclusions, they have some work they'd like you to see. You've already heard one side of the story; now it's time to hear (and see) the other.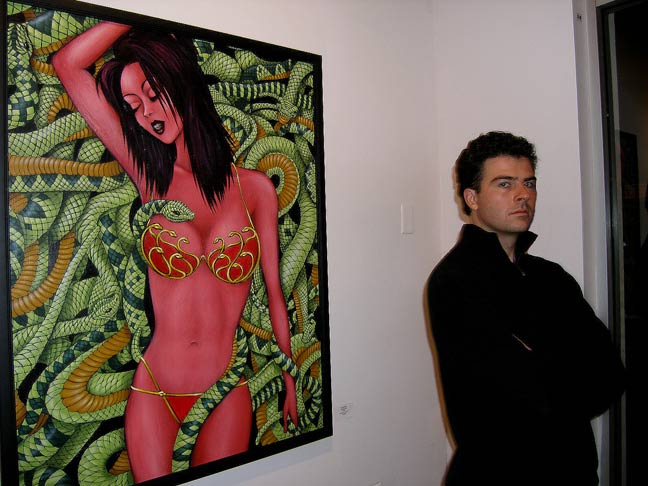 Art (Amanda Lynn).


Art (Marcus Pacheco & Holly Ellis).


Scarab sculpture - pick (Charlie O'Hanlon).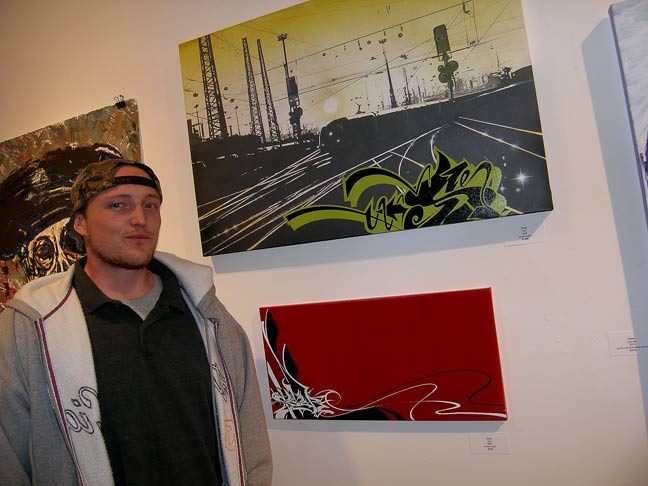 Sever - double pick.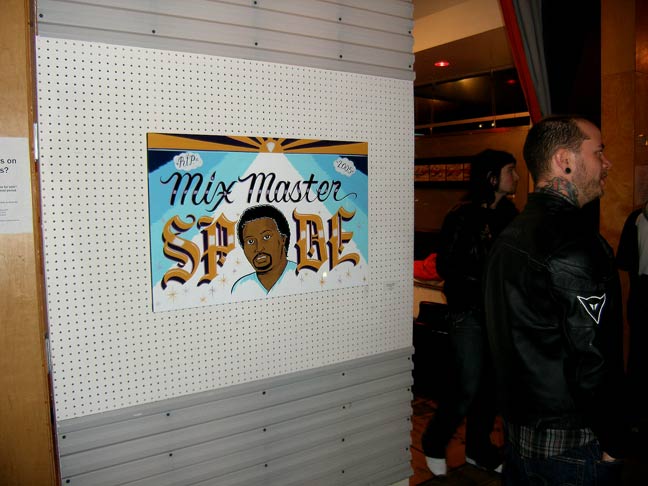 I like it (Thee Gents of Desire).


Art (left to right, Norm, Jason Kundell, Hense).


Art (left to right, Holly Ellis, Curve, Joe Levin).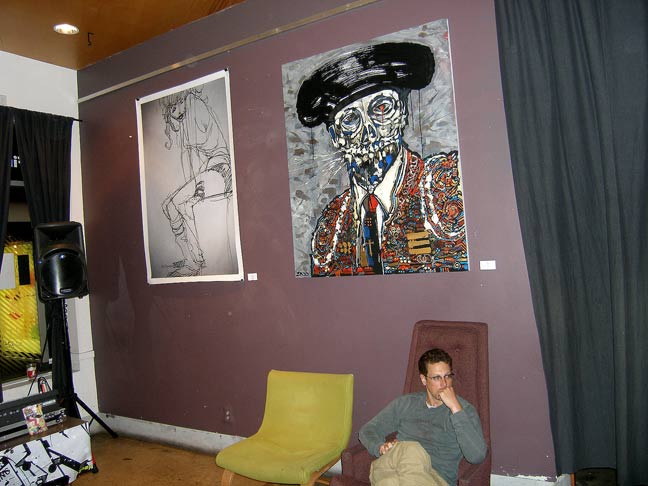 Left, Sonny Geras; right Matador art - I like it (Retna).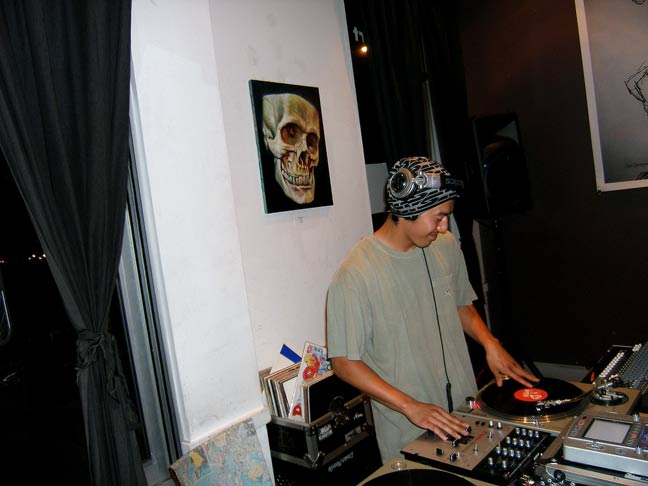 Art (Marcus Pacheco) - auditory fulfillment.


Art (Jersey Joe).


Art (Sever).


Art (Amanda Lynn).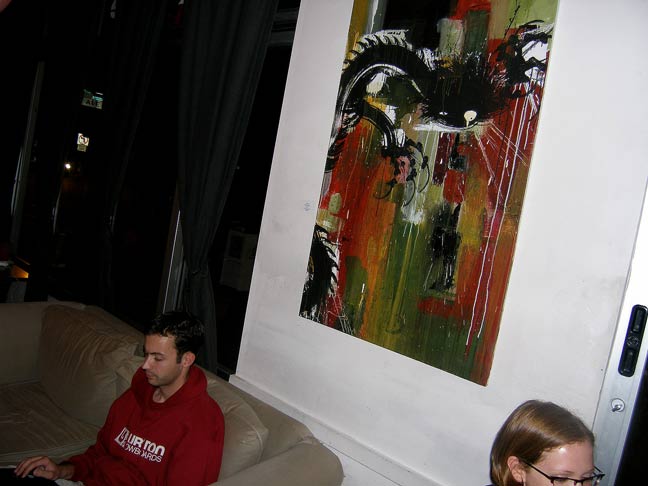 Art (Grime) - I like it.


Art (Hense) - I like it.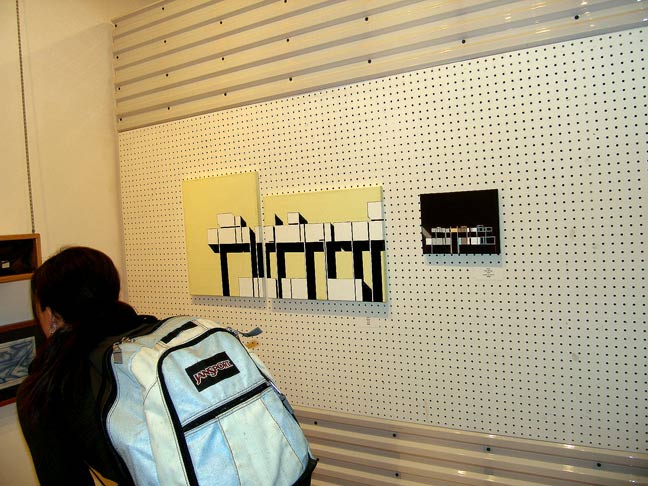 Art (Push) - I like it.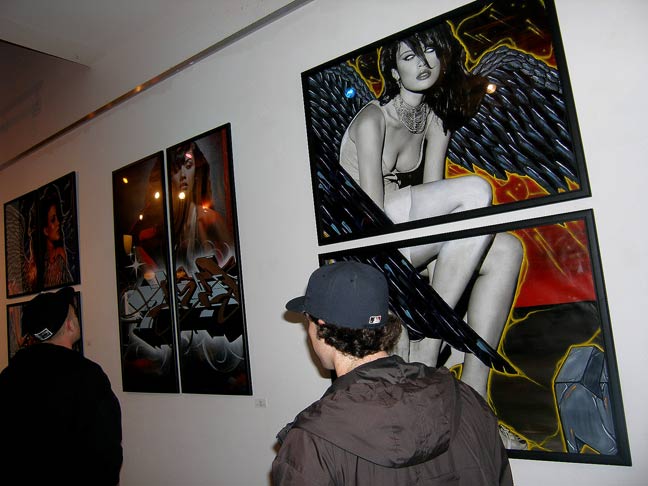 Art (left to right, Norm, Sever, Norm).


Art (left to right, Retna, Sever, Dame).


***
Red Ink Studios: Heavy Petting Zoo.
Artists: Jaya King, Lola, Diedre DeFranceaux, John Evans, Todd T. Brown, Brad K. Alder, Robe Stokes, John Lapides, Jennifer Poon, Ryan McJunkin, Aondrea H. Magnard, Mike Yohay.
Comment: Snake dancing, bared breasts, curious costumery, balloon breasts, body painting, strange art, a sequined stilt walker, skewed clowns, cupcakes with the names of diseases written in the frostings, and more highlight this wiggy only-in-San-Francisco wack-out. It didn't appear that anyone was overly concerned about selling art, although an extensive price list was available with all the art pictured, most of it priced (this is the best kind of price list-- you can see what everything is, there's no confusion about which is which, or if you want to think about it for a couple of days, or you're not sure you remember what it looked like, or if you're me trying to caption the images, it does the trick). Footnote: I've never seen so many half gallons of vodka at the ready at any opening I've ever been to anywhere, except maybe at one in New Orleans, but they had twenty times as many people.
Super-saver buys of the show-- painted furniture by Brad K. Alder-- $80-$280.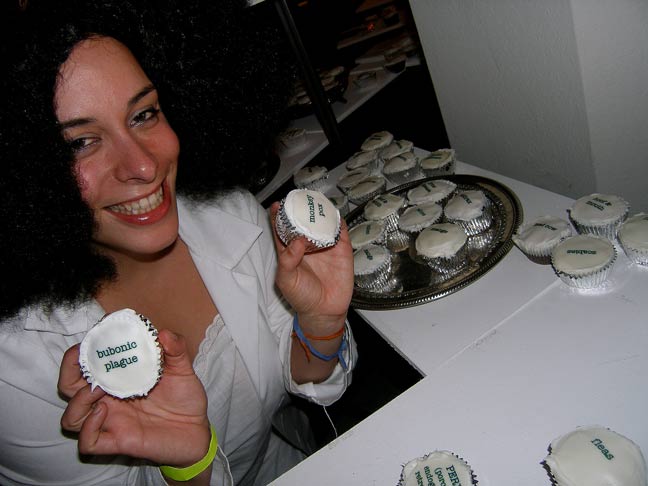 Tennis anyone?


Another day at the office.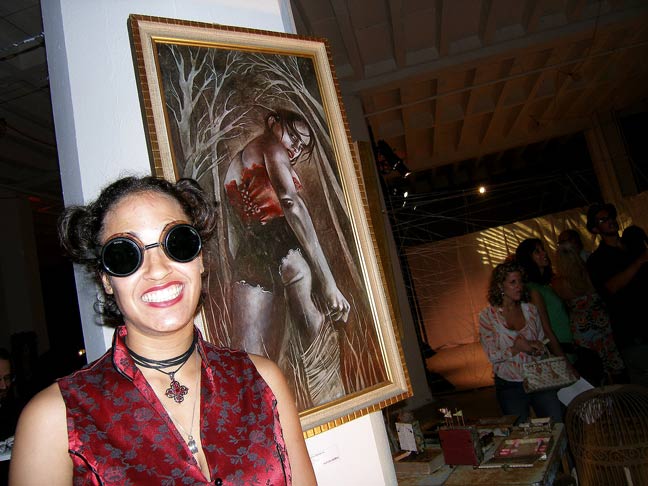 Jaya King - art.


"...and I own a rabbit ranch in New Patagonia. What's your sign?"


Painted furniture (Brad K. Alder).


"...and I own a rabbit ranch in New Patagonia. What's your sign?"


Domicilic art (Lola).


Snake dancer.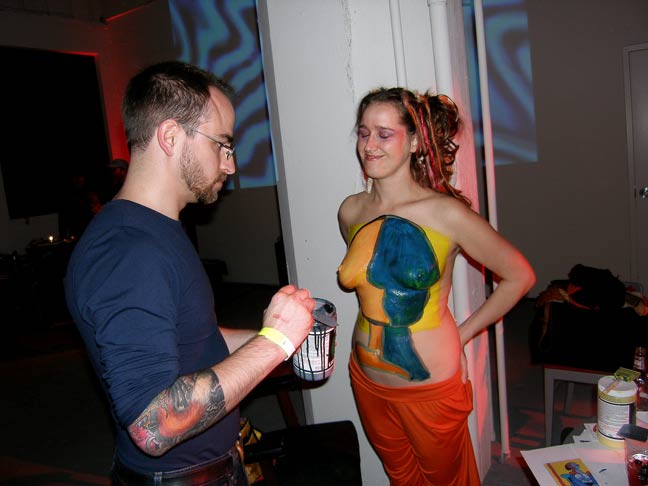 "If I have to paint one more of these..."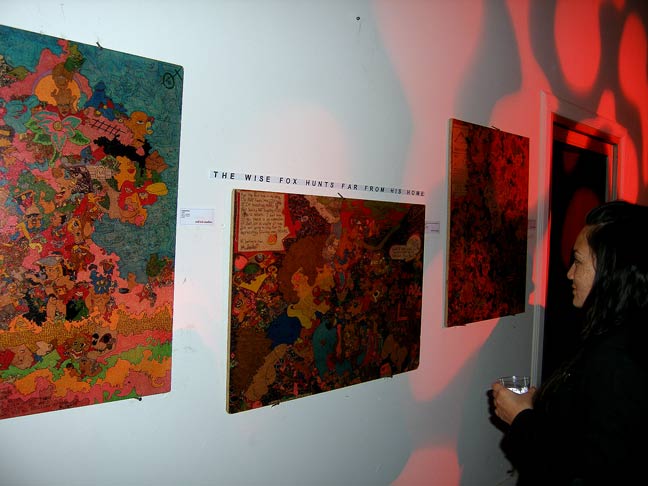 Art.


Art (Ryan McJunkin).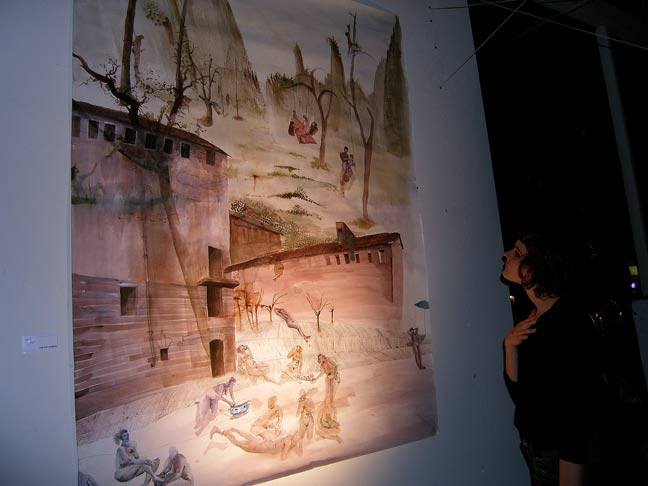 Art (Shiri Mordechay).


Art (Lola).


Art (Mike Yohay).