SAN FRANCISCO ART GALLERIES OPENINGS
FIRST THURSDAY; 01.04.07
General comment: Hi artsters! How you doin'? It's a brand new year-- 2007-- and I'm back. Did you miss me? You don't have to play coy. I know you did. You can't wait to find out what I have to say, can you? Oh, you can? What? You did WHAT? You went back to THIS? OK. Fine. OK. Guess I'm just gonna have to start from scratch...
***
Gallery Paule Anglim: James Drake - Thomas Nakada.
Comment: James Drake essays on war with a series of oversized charcoal drawings on paper, all technically superior, especially a set of torn taped collaged portraits of casualties (not just soldiers), their ragged jagged fragmented appearances accentuating the overtone that war basically sucks hugetime. If you go, check out how smoothly Drake's lines traverse the tears and tape strips-- dexterity doesn't get much better. In the anteroom, Thomas Nakada's abstract paintings on birch plywood and paper look kinda scientific, like rainbow DNA tests, or maybe kinda chemical, like variously oxidized surfaces.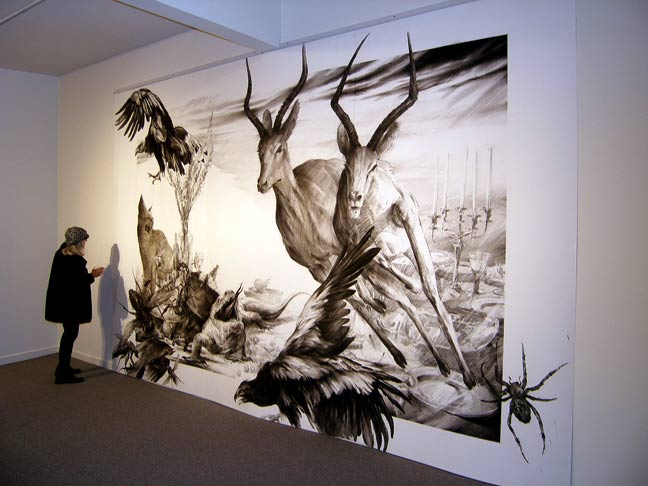 Art (James Drake).


Art (Thomas Nakada).


Art (James Drake).


Art (Thomas Nakada).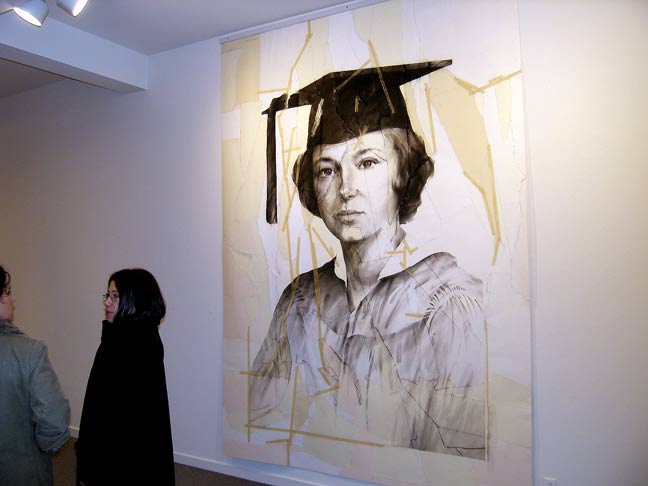 Art (James Drake).


Art (Thomas Nakada).


Art (James Drake).


Art (Thomas Nakada).


***
Heather Marx Gallery: Sharon Weiner - Otherworld.
Comment: Sharon Weiner works airbrush together with thick liquid acrylic to create what you might call monotone abstract trompe l'oeils. According to the dossier, they're supposed to make you think about deeper truths and stuff like that. Hmmm. I'll take another look.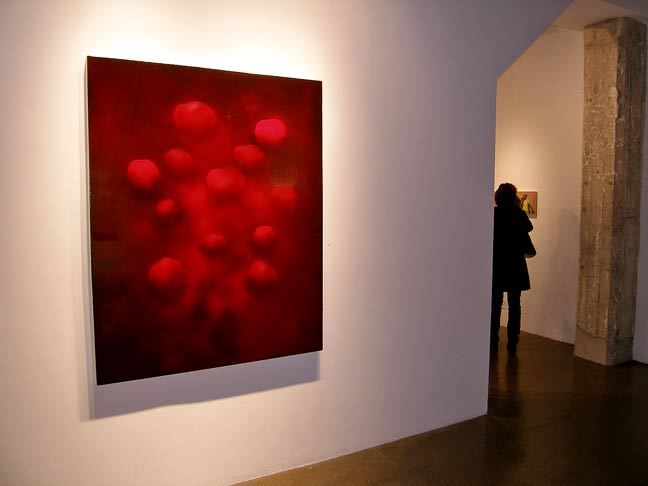 Art.


Sharon Weiner - art.


Art.


Art.


***
Catharine Clark Gallery: Group Photography and Video Exhibition.
Artists: Ruud van Empel, Ellen Kooi, Aaron Plant, Carlos and Jason Sanchez, Tommy Becker, Christoph Draeger, Claudia Hart, Paul Rowley and David Phillips, Aaron Plant, Timothy Cummings, Shane Francis.
Comment: The fact sheet indicates the theme of the photography section to be "subverted imagery of childhood," with my vote going to Ruud van Empel's mesmerising portraits of black children set against fantasy backgrounds ($15K-$18K). In other news, Ellen Kooi gets tricky by inserting varying amounts of childern into characteristically childless landscapes, Aaron Plant trends a bit wistful with a series of "I wonder what's going on?" composites, while Carlos and Jason Sanchez mock up a mix of mildly preternatural genre and interior scenes. The upshot? Well curated and well worth a visit-- go see.
As for the videos, I only saw part of one-- "Pulling Down the Sky to Give You the Sun, 2005" by Tommy Becker-- and liked it. It's a brief surreal interlude about a peppy indeterminate yellow-clad figure, set in the woods, but ending in your brain. Catharine Clark continues to support the art of video (she always has and always will), and I think it's working. But wait; there's more. By special arrangement with the video artists, three of the videos in the show are available in unlimited editions for a mere $50 each.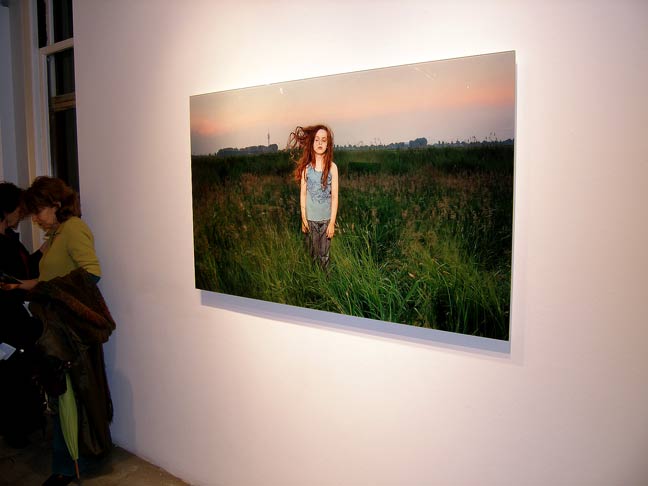 Photography (Ellen Kooi).


Photography (Carlos & Jason Sanchez).


Photography (Ruud van Empel - like it).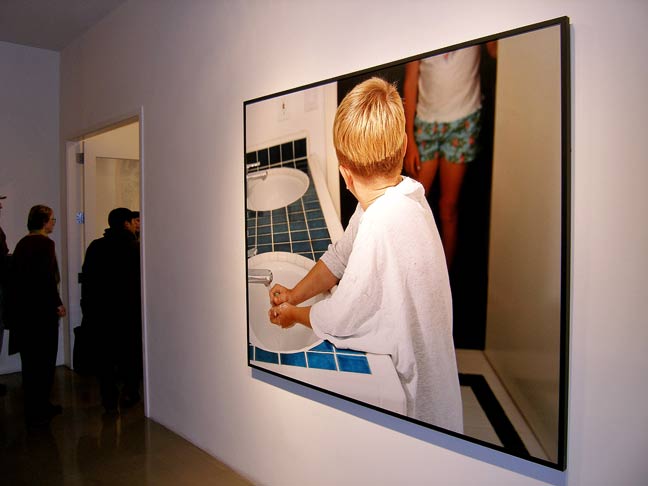 Photography (Aaron Plant).


Photography (Ellen Kooi).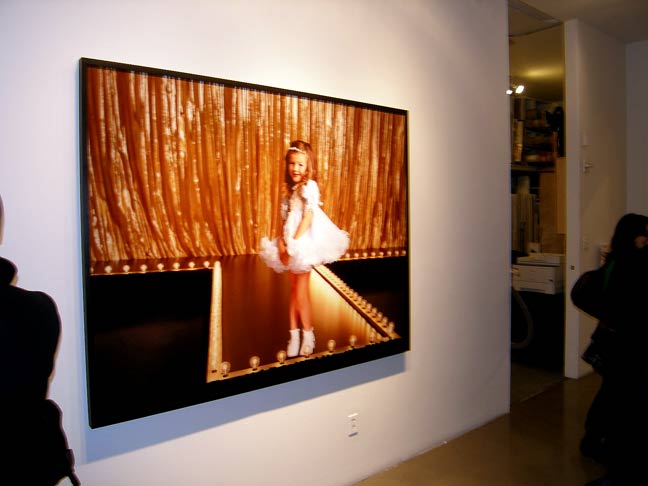 Photography (Carlos & Jason Sanchez).


Photography (Ruud van Empel - like it).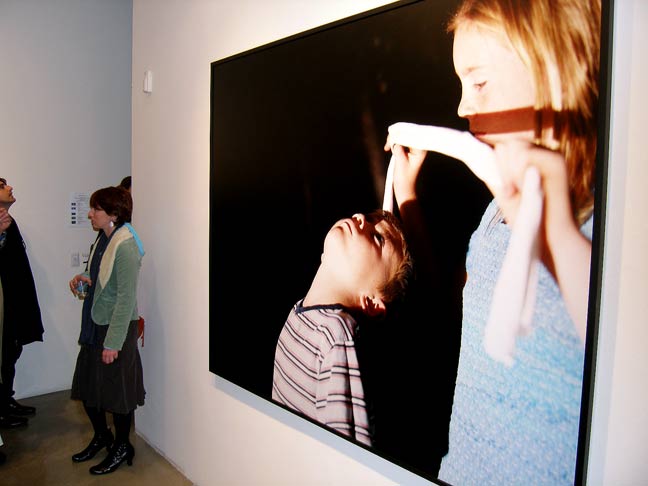 Photography (Aaron Plant).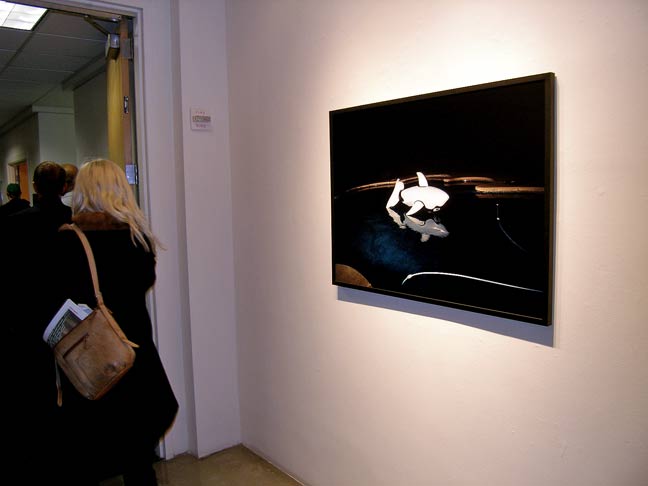 Photography (Aaron Plant).


Video art (Tommy Becker - like it).


Video Art (Tommy Becker - like it).


***
Stephen Wirtz Gallery: Todd Hido - Between the Two.
Comment: I thought the show might be a documentary back-and-forth between prostitutes and the offices they consult out of, in which case it would soundly convince. But instead it's isolation crop shots of destitute architecture and forlorn landscapes interspersed with images of solitary models posed in seedy motel rooms, their poses ranging from sad to suggestive to the cusp of porn. The two groupings are persuasive enough, considered each on their own merits, but aside from the bleakness thread, the combined presentation is more of a metaphoric muddle than a dissertation on anything in particular.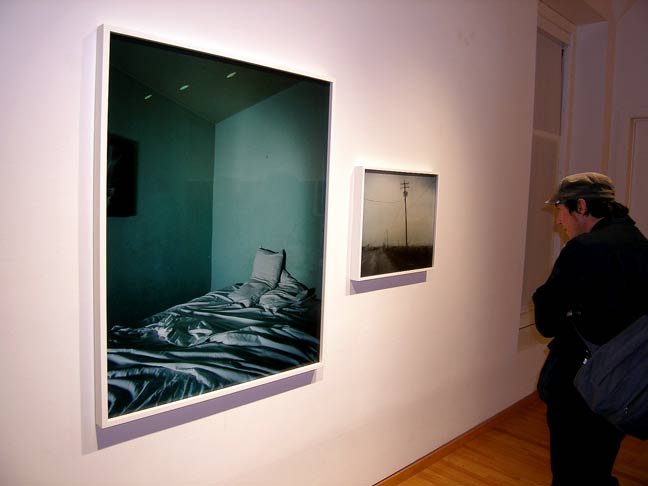 Photograph.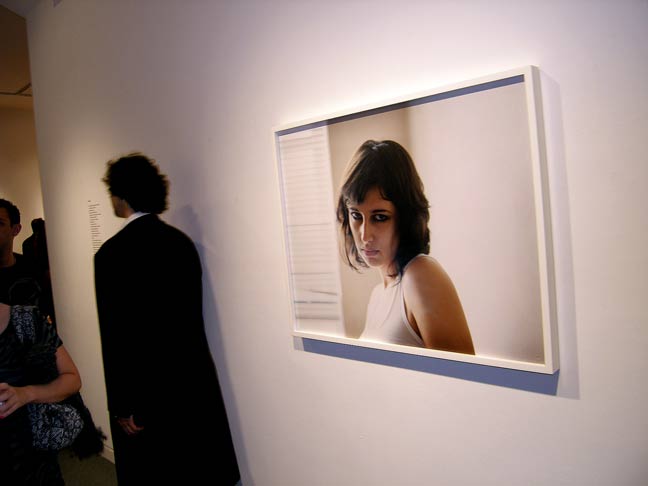 Photography.


Photos.


Images.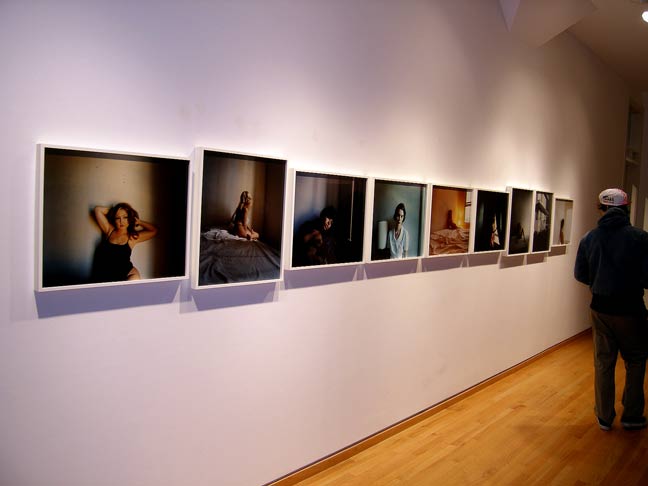 Photography.


Images.


Photographs.


***
Jack Fischer Gallery: Gina Pearlin - Solo Show.
Comment: Curiously pleasant word and letter paintings on one wall face elemental compositions that look like twigs with heads on the opposite wall. Some twig heads are paired with text.
One wall.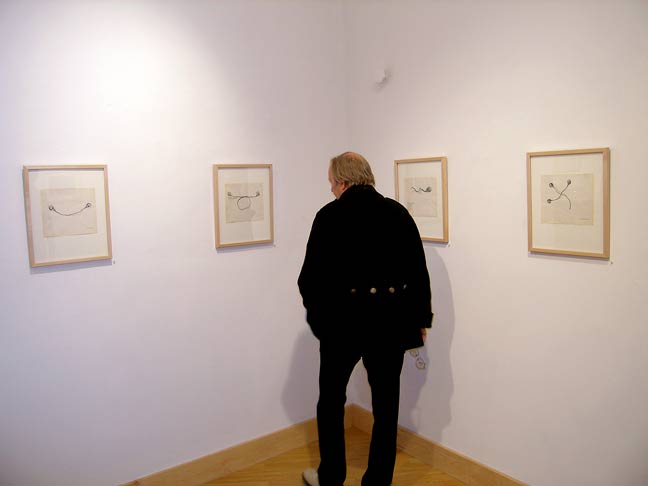 The other wall.


***
Don Soker Gallery: Winter Group Show.
Artists: Daniela Bikacsi, Tom Bills, Christel Dillbohner, Jeri Eisenberg, Mitra Fabian, Jean Foos, Jesse Gottesman, Mary Hambleton, Dee Hibbert-Jones, Theodora Varnay Jones, Robin Hill, Makoto Kumagai, Judith Maloney, Victoria May, Amy Reuffert, Shoichi Seino, Heidi Struble, Kate Van Houten, Yuriko Yamaguchi, Yutaka Yoshinaga.
Comment: A little of this and a little of that, always other than ordinary.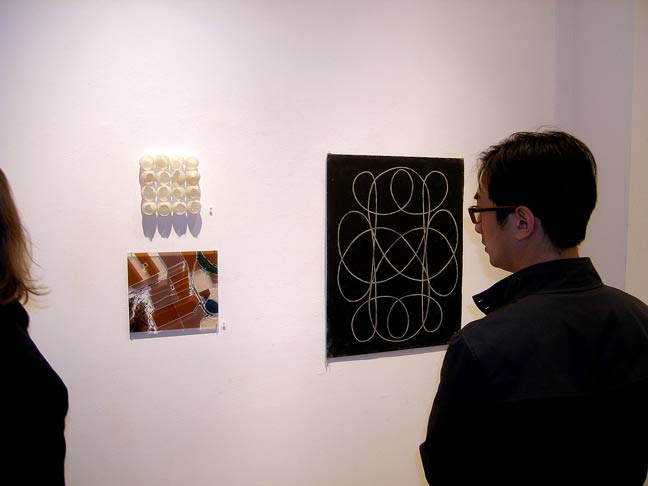 Art.


Art.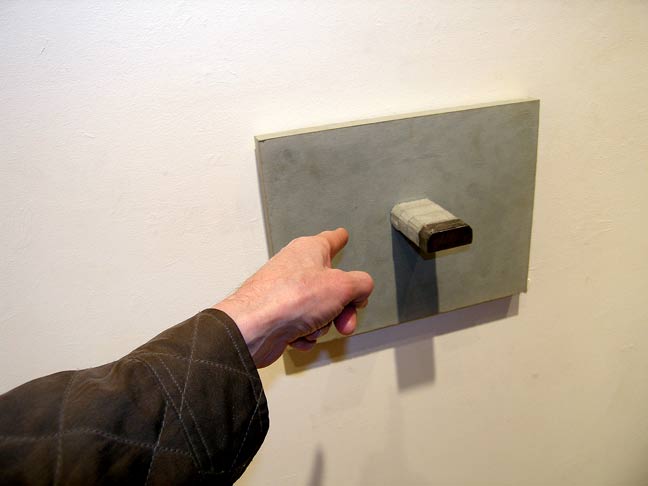 Not sure.


Art.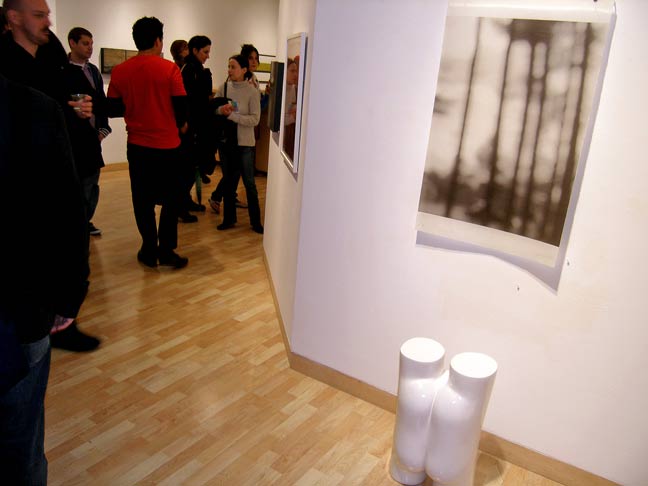 Circumstance.


***
Toomey Tourell Gallery: Clinton Fein - Torture.
Comment: Clinton Fein makes "art" out of Abu Garib. But this quick walk through hell is not so much about Abu Garib, nor about America's insane megalomaniacal imprimatur, nor about dredging up yesterday's news. It's mainly about what happens to those friends and acquaintances of Fein who consent to help him re-enact these infamous episodes. You might think that since they know what they were getting into, it's no big deal... or is it? If you're not sure, Fein's got some video you might wanna check out. Suppose someone asked you to participate in such an exercise? Would you? Do you think it would be easy? And how about the original Iraqi unfortunates? How do you think they felt? How do you think they feel today? They had no choice, no inkling, no clue whether they'd be alive one moment and dead the next. Pick of First Thursday.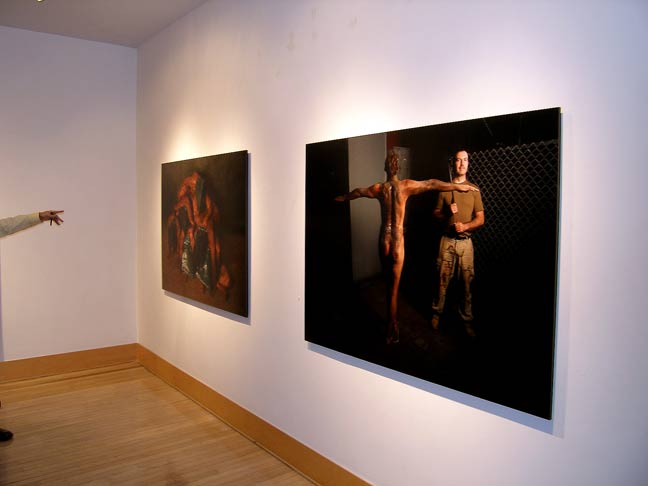 Art.


Art.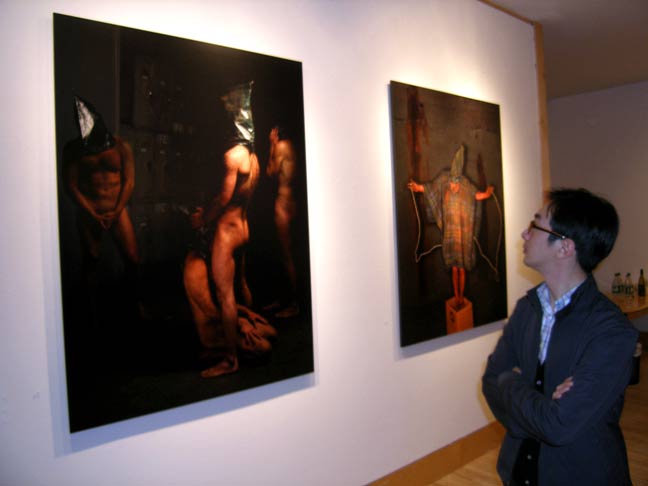 Art.


Art.


Clinton Fein - art.


***
Steven Wolf Fine Arts: Chris Tallon - Six Pack; Mark Morris - Hardcore Psycho Workout.
Comment: My kind of show announcement for "Six Pack." Behold the brilliance-- "Los Angeles-based artist/architect Christopher Tallon celebrates the narcisisim of the art world by recreating a weight room entirely out of paper." Any questions? Not here. Does the pretext ever have to be more complicated than that? I don't think so. There's always ample time to build it out later (for anyone who asks). OK. Enough pontificating. Adjacent to the paper weight room-- in the parlor area-- Mark Morris performs his rendition of a workout gone cuckoo. We love us-- fit, buffed, and beautiful.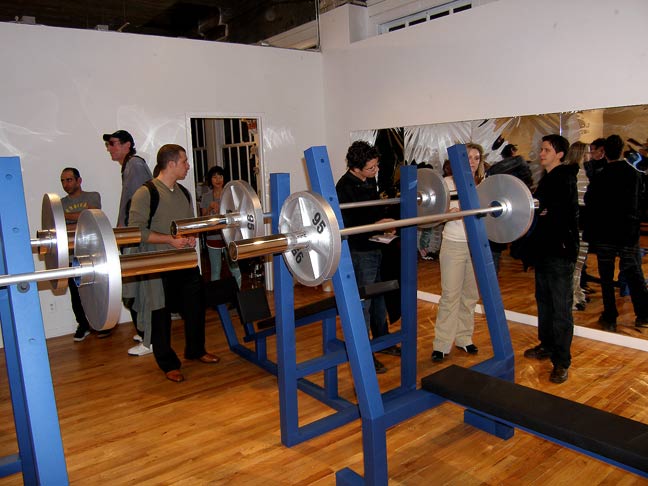 Art/installation by Chris Tallon.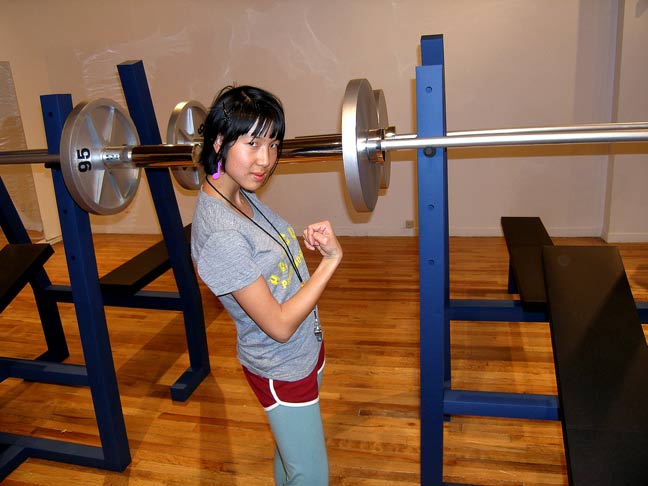 Buffed weightrix brandishes python.


Mark Morris - video & performance art.


***
Robert Koch Gallery: Bill Owens - Flesh; Christian Patterson - Sound Affects.
Comment: Bill Owens zeroes in on consumption, ostensibly American style, except for a photograph of animal snouts for sale at a Paris farmers' market priced in Euros (huh?). Euros aside, it's a greasy, fatty, gross, tacky, gawky-- and compelling and accurate-- assessment of our cultural proclivities. Christian Patterson, meanwhile, heads to Memphis and portrays it banal with images of interior lighting, and of mildly abstracted architectural snippets.
Photography (Bill Owens).


Photography (Christian Patterson).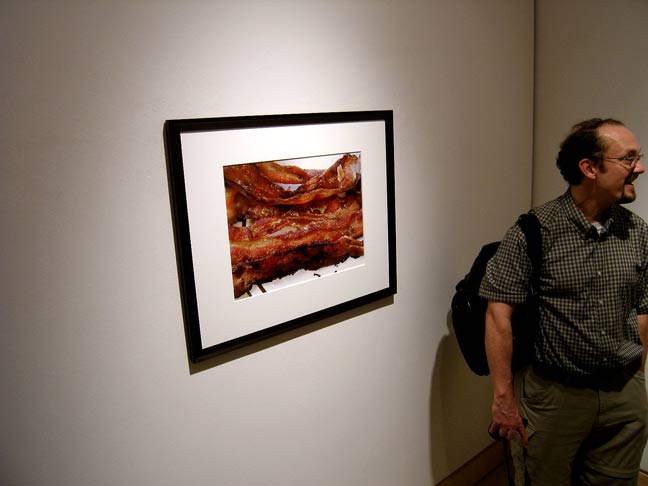 Photography (Bill Owens).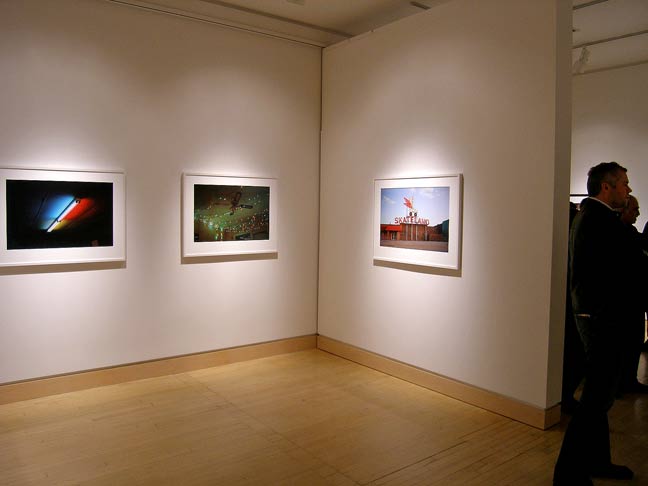 Photography (Christian Patterson).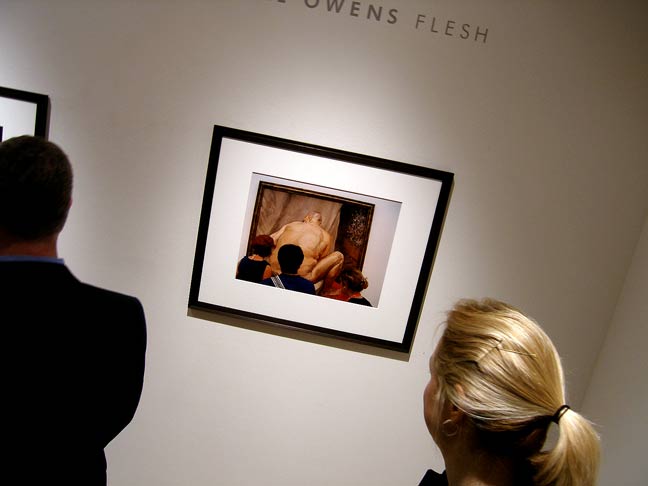 Photography (Bill Owens).


Photography (Christian Patterson).


Photography (Bill Owens).


***
Brian Gross Fine Art: Marco Casentini - Recent Paintings; Stephen Sollins - Static Drawings.
Comment: Stephen Sollins cuts listings out of newspapers (like TV or movie schedules), exactly as they appear (not necessarily squares or rectangles), then whites out all the newsprint, frames 'em up, and there you have it-- art. The results are aesthetically acceptable gridlike patterns where you can see stuff's been whited out, but you don't know what it is-- or whether knowing is even necessary. Marco Casentini paintings consist of superimposed square and rectangular color fields. On the biggest brightest most festive most engaging most complex painting, it looks like one of Casentini's final templates might have slipped 'cuz there's these little paint smears down one side of it's four-sided field, interrupting the overall composition's straight line continuity. Maybe he thought no one would notice? Erk.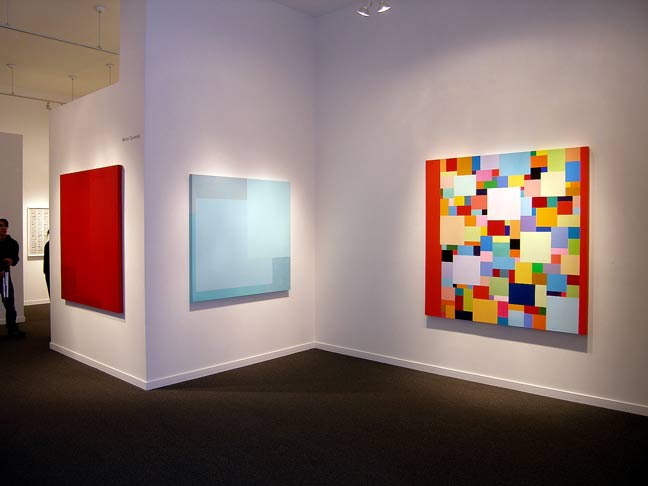 Art (Marco Casentini).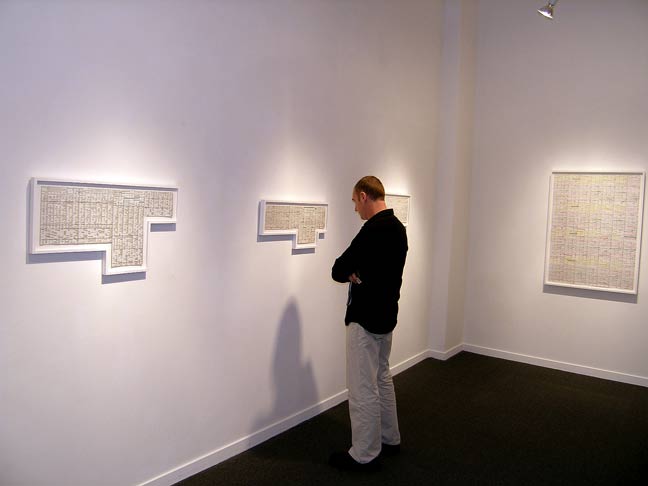 Art (Stephen Sollins).


Art (Marco Casentini, foreground).


Art (Stephen Sollins).


***
Elins Eagles-Smith Gallery: Jennifer Bain - Observations in the Flowering Stage.
Comment: I liked them before and I like them again, maybe even better than I liked them before. Jennifer Bain sections her canvases, and then paints each section in a different style, palette, and plant motif, all so delicate and perfect. It's like each section is a painting in and of itself-- like getting a peck of paintings packed into one. Plus special added bonus-- the sections harmonize marvelously as their dissimilarities miraculously unite. Pick of First Thursday Honorable Mention.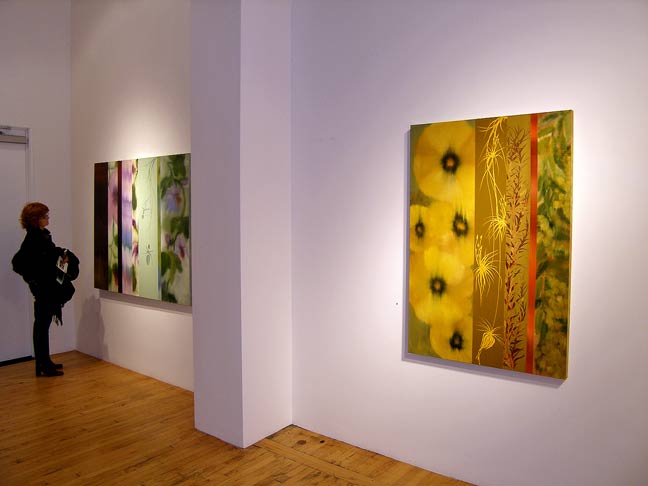 Art.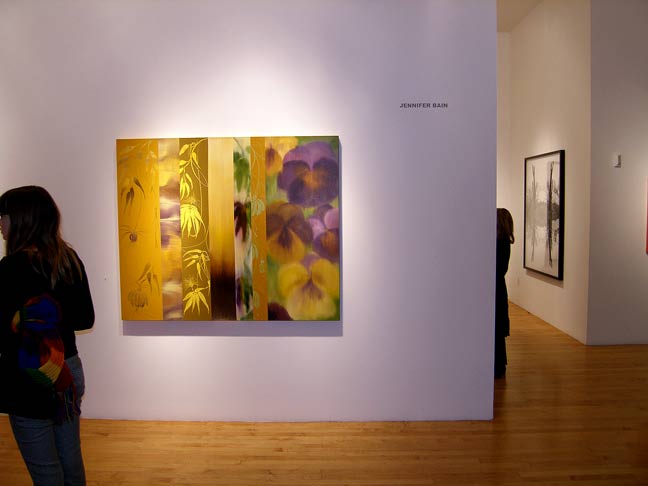 Art.


Art.


Art.


Art.


Art.


***
Gregory Lind Gallery: Jake Longstreth - Wabi Ranch.
Comment: Jake Longstreth paints peopless portraits of commercialism, ranging from blank big-box store walls to freeway median strip vegitation to lifeless lowrise office buildings. The selection transits perilously Bechtlesque, but if you strain a bit, a separate identity appears to be kickin' around in there somewhere.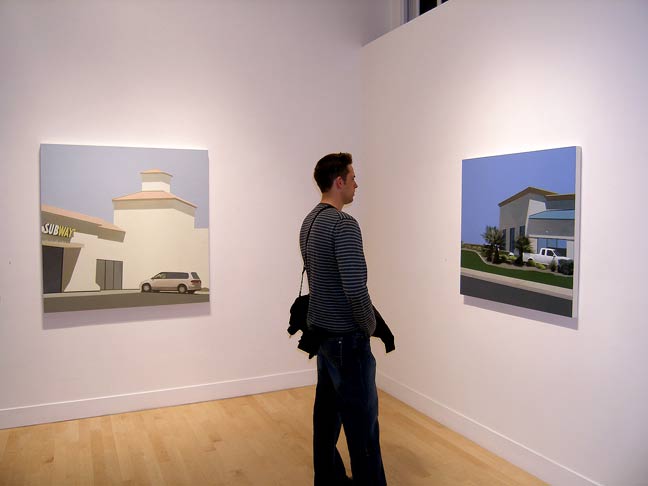 Art.


Art.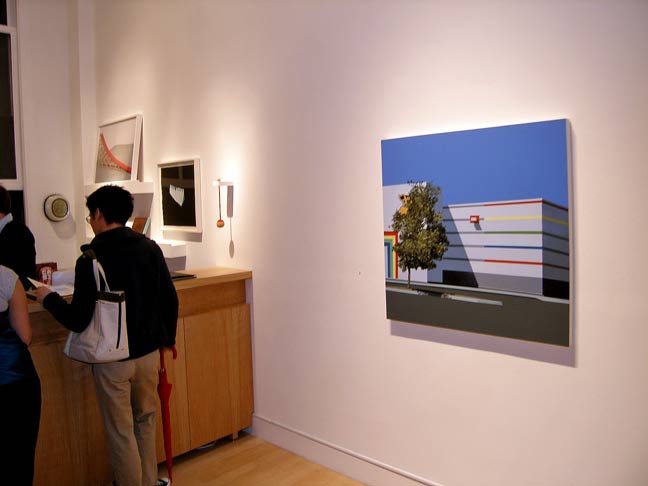 Art.


Art.


***
An Event to Benefit The Little Jim Club: Legends of the Women Who Changed the World.
Comment: Barry Barsamian, Mardi Gras Ball Candidate 2007, hosts a showing of his considerable Hollywood clothing, accessories, and memorabilia collection to benefit The Little Jim Club of California Pacific Medical Center Pediatrics. Collectabilia is everywhere and there's all kinds of kicky echelonians running around, a number in costumery, including a healthy dose of luminaries and those who lume them, socialites, sycophants, plus no shortage of song, dance, prance, and merrymaking.
Barsamian's collection includes dozens of documented and undocumented clothing and jewelry items proven and purported to be from Hollywood legends like Brigitte Bardot, Joan Collins, Joan Crawford, Grace Kelly, Betty Grable, Jean Harlow, Agnes Morehead, Marilyn Monroe, Judy Garland, Vivien Leigh, Carol Lombard, and Lucille Ball, to name just a few. An underpromoted silent auction features (at least in my opinion) a cherry pair of vintage circa 1960's Margaret Keane cufflinks designed by preeminent San Francisco jewelrymeister Sidney Mobell, brand new in the box (minimum bid $250). Overall, the event seems to be more about big Barry and less about Little Jim.
Judy Garland movie couture.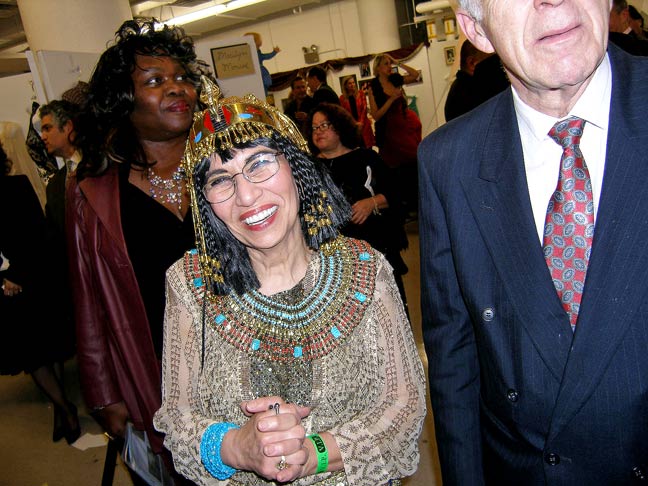 Cleopatra.


Natalie Wood fashion and memorabilia.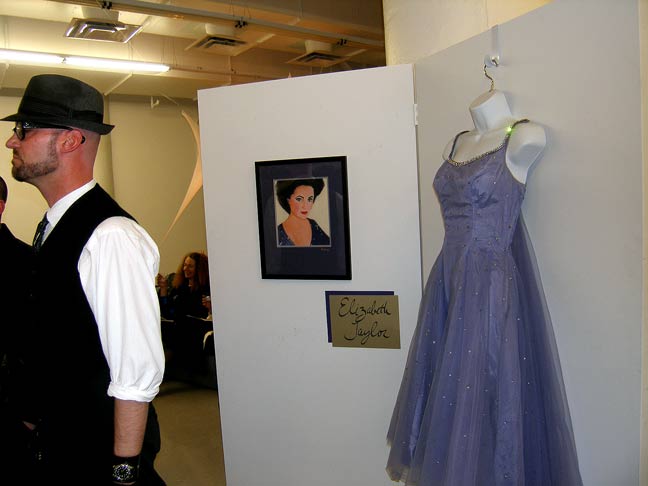 Elizabeth Taylor gown.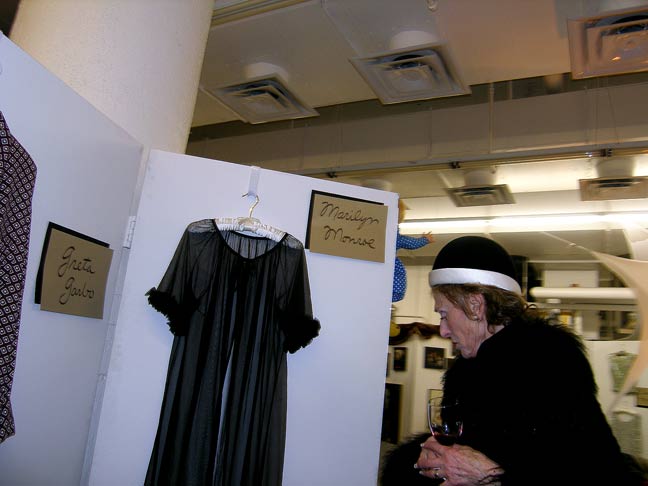 Marilyn Monroe teddie.


Posters and photographs.


Diane Baker and Barry Barsamian.


Good Witch Glenda gets interviewed.


Toto takes a breather.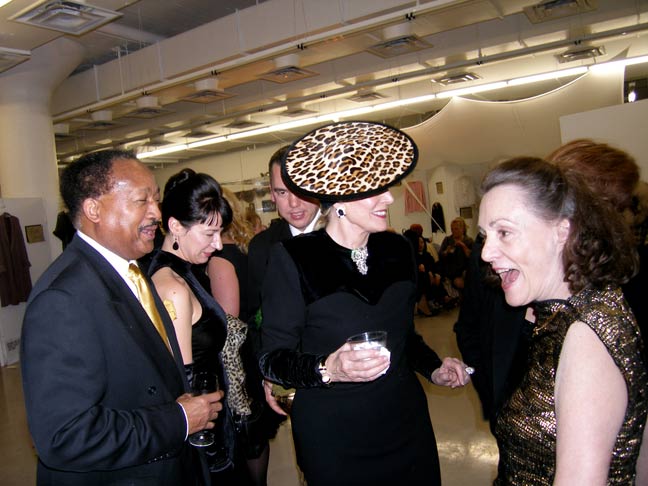 Pat Montandon (center).


Not sure.


Tin Man and associate.


artbusiness.com exclusive! Carmen Miranda and Saddam Hussein.


What Shaq wears when he plays roundball in drag.


Best for last-- Margaret Keane cufflinks by Sidney Mobell.


***
111 Minna Gallery: Ferris Plock & Kelly Tunstall - Saints & Sinners.
Comment: Kelly Tunstall's dainty saintly fashion plates coexist alongside Ferris Plock's sinful (and amusing) creepy creatures, occasionally joining forces in collaborationland.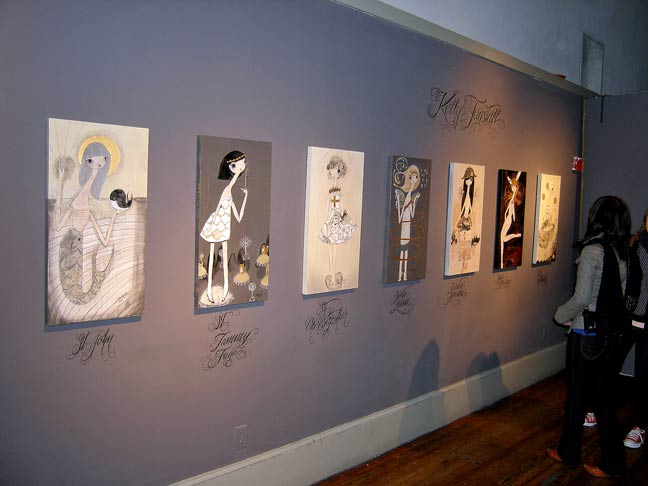 Art (Kelly Tunstall).


Art (Ferris Plock).


Kelly Tunstall - Ferris Plock.


Art (Ferris Plock & Kelly Tunstall).


Art (Kelly Tunstall & Ferris Plock).


***
Addendum:


Sara Thustra debuts new 2007 calendar ($20) outside 49 Geary.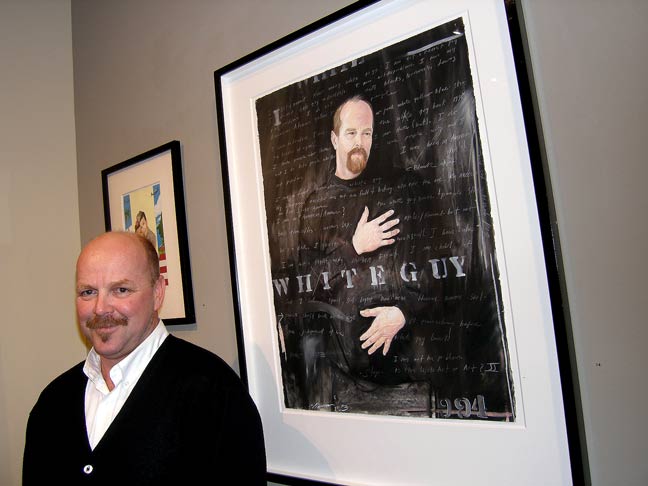 Paul D. Gibson and self at George Krevsky Gallery.


***
Click here to help those suffering from OAOCCDD (Online Art Opening Coverage Compensation Deficit Disorder).
***
First Thursday; December 7, 2006