SAN FRANCISCO ART GALLERIES OPENINGS
FIRST THURSDAY; 01.03.08
(with assistance from Ben Rigby and Uba Owl)
General comment by AB: My oh my... how time flies. Miami is a distant memory and Santa Claus is up there watching the playoffs on his new widescreen TV, courtesy of-- you guessed it-- Mrs. Claus and the elves. And of course, we've all emerged from The Holidays with exactly what we wished for-- in my case, that most precious of commodities, peace and quiet. But enough about the days of yore; time once again, via the present, to fiddle with the future.
Mercifully, the 2008 art season is off to a manageable start, quantity-wise that is, which gives me a chance to get back in the game at a sane pace. But just because there's not that many openings doesn't mean there's not that much good art. Quite the contrary, dear artsters. Plus special added bonus-- a healthy portion of it is technically splendiferous-- my kind of product.
Uh oh. Here we go again. The conceptual quadrant's all in a tizzy. What's that you say? That I'm biased? That I subordinate cerebral significance to caliber of handiwork? Well, conceptualites, you got it all wrong. I weigh the two equally. You offer up your abstruse odysseys to the far reaches of reason with the same attention to detail that thrills me in the more concrete realms of creativity and I'll luv you too. The fact that it's conceptual is no excuse to do a sloppy job-- and I see no shortage of slipshod conceptualism out there, believe me.
But enough about that. I'm itchin' to get back on the art track, to hop a ride on that creative train to territories heretofore unknown and unexplored. Wanna tag along? Excellent...
***
Gallery Paule Anglim: Paul Kos - West of the Great Divide, 1968-2008.
Comment by AB: Woah! Speak of the devil! Superbly executed conceptual art by Paul Kos! Everything is produced and displayed with such care, diligence, and exactness. Take for example Pilot Butte, 2006, a video projected with perfection onto a painting-- a precision fit with not a hint of overlap. No slapdash here. And there's gold pans and drawings and sluices and buttes and hooves and a little birdie on a branch of bamboo and a light shining on a swaying lumberjack's saw and exerpts and iotas of Western this and Western that. I may not get everything I'm looking at, but I get way more than enough to call this one a winner.
Art.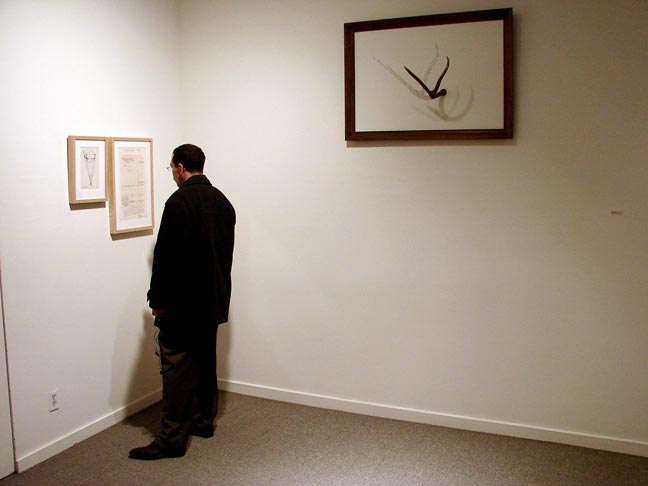 Art.


Paul Kos.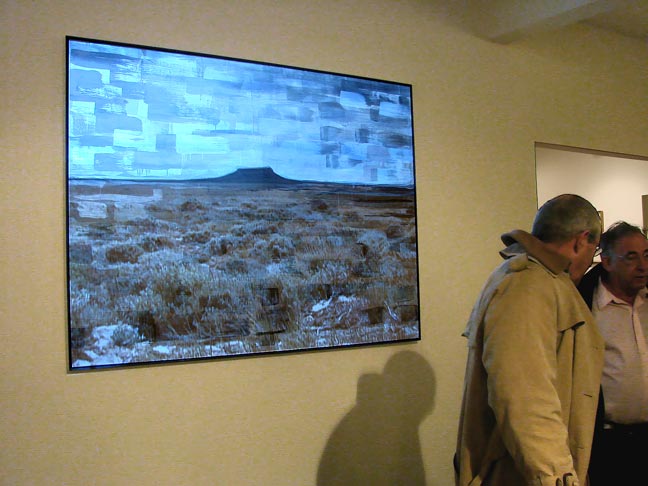 Pilot Butte, 2006 - video projected over painting (like it).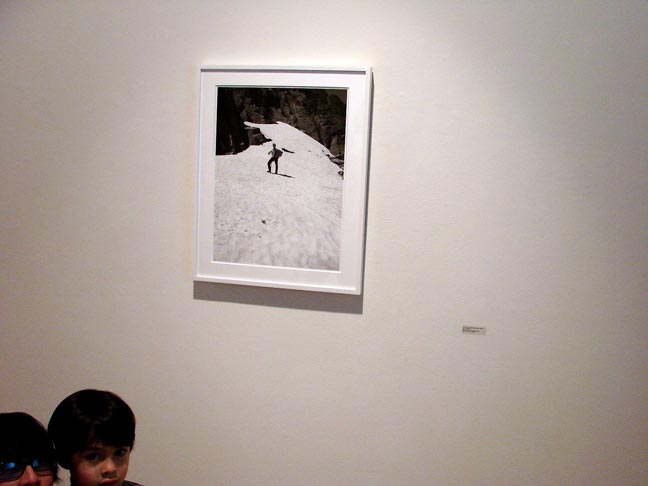 Art.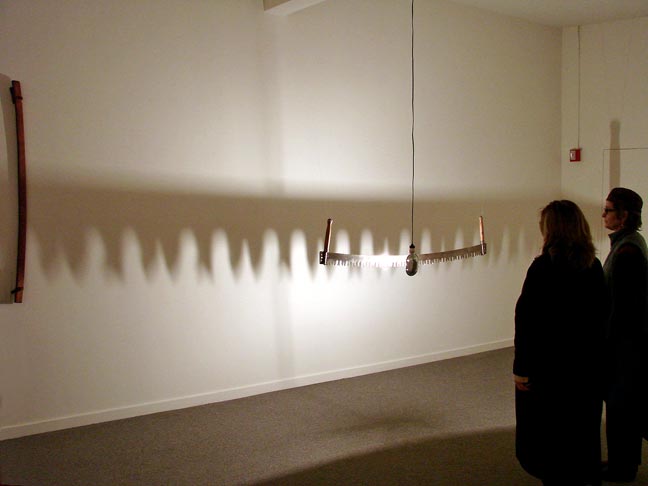 Art.


Art.


***
Robert Koch Gallery: Aftermath... Debbie Fleming Caffery - Hurricanes Katrina and Rita, Louisiana; Larry Schwarm - Tornado, Greensburg, Kansas.
Comment by AB: This is more than an array of images illustrating the havoc and destruction unleashed by natural disasters, in this case, hurricanes and tornadoes. The two photographers actually grew up in the regions where these devastations took place-- Larry Schwarm in the plains states and Debbie Caffery in the deep South. As such, they document locales they know well, the upshot being that shock, sadness, and depth of emotion are palpable aspects of their work.
Photography (Debbie Fleming Caffery).


Photographs (Debbie Fleming Caffery).


Photos (Debbie Fleming Caffery).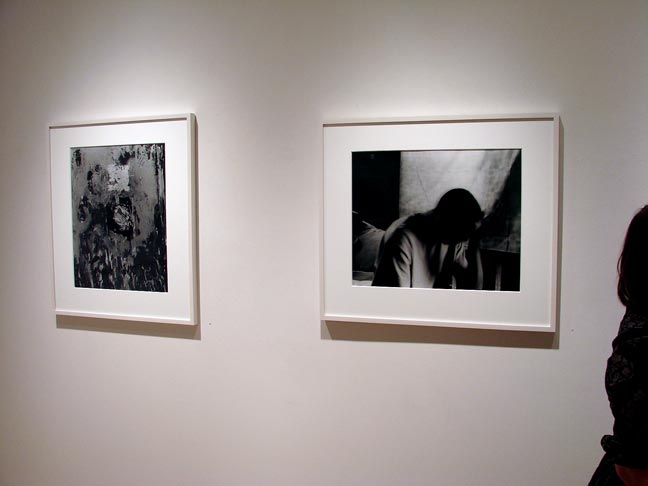 Photography (Debbie Fleming Caffery).


Photographs (Larry Schwarm).


Images (Larry Schwarm).


Photos (Larry Schwarm).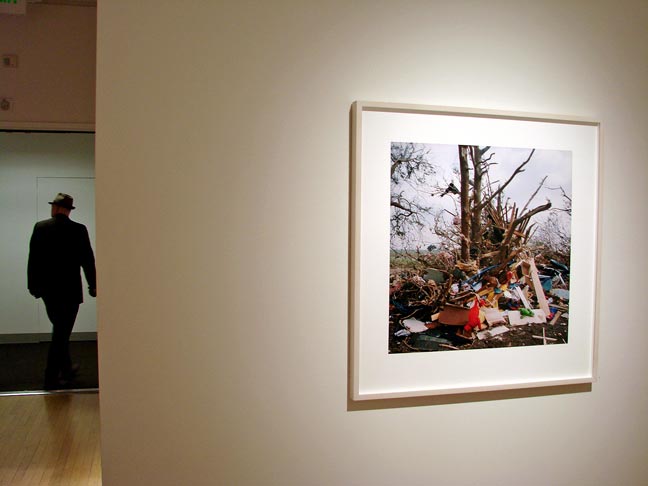 Photography (Larry Schwarm).


***
Haines Gallery: Dustin Yellin - Permutations; Tom Mueske.
Comment by Uba Owl: When I met my husband 24 years ago, he gave me a red rose frozen inside a plastic cube, in a small 1 by 4 inch box. The sculptures in front of me are much larger, 70 by 12 being the biggest, but the concept is the same. I would love to have one or two in my house-- especially the twelve-unit installation piece entitled Poppies.
Comment by AB: You walk into the gallery and think you're looking at natural plant forms suspended in blocks and columns of resin, but no, 'cuz when you look at 'em from the side, the "plant forms" all but disappear. Dustin Yellin effects this illusion by painting or drawing on layer after layer of poured dried resin. Basically, he pours a layer, lets it dry, then paints or draws on it, let's that dry, then repeats the procedure dozens of times on the way to completing each individual sculpture. It may be tricky, but it's a damn good trick-- good enough, in fact, to snare a Co-Pick of First Thursday.
In the anteroom, Tom Mueske waxes sorta Twombly-esque with various colored markers except that he then encases every swoosh (or gesture, as Haines calls them) in an outline of black ink.
Art, front view (Dustin Yellin).


Art, side view (Dustin Yellin).


Art, front view (Dustin Yellin).


Art, side view (Dustin Yellin).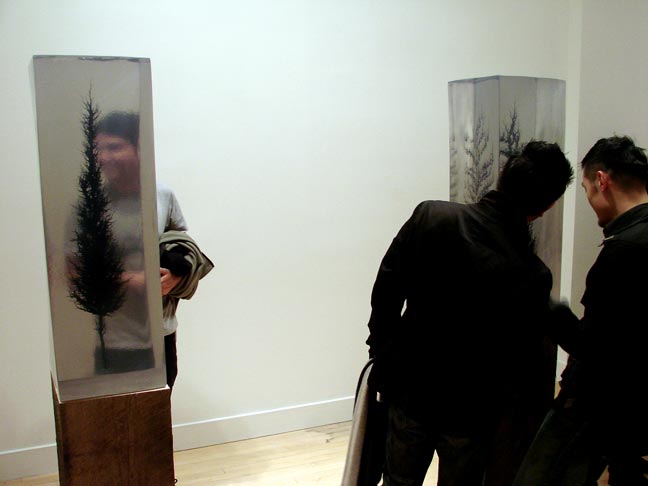 Art, front view (Dustin Yellin).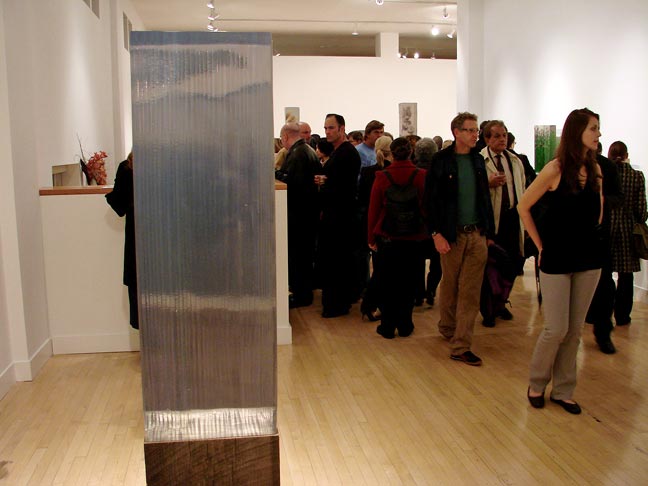 Art, side view (Dustin Yellin).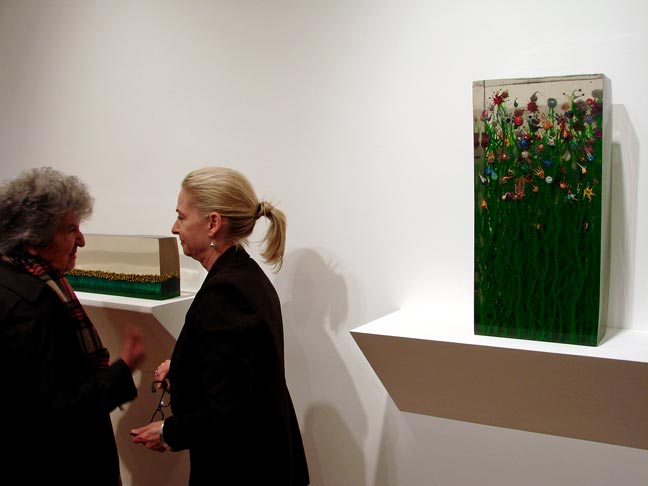 Art (Dustin Yellin).


Art (Dustin Yellin).


Art (Dustin Yellin).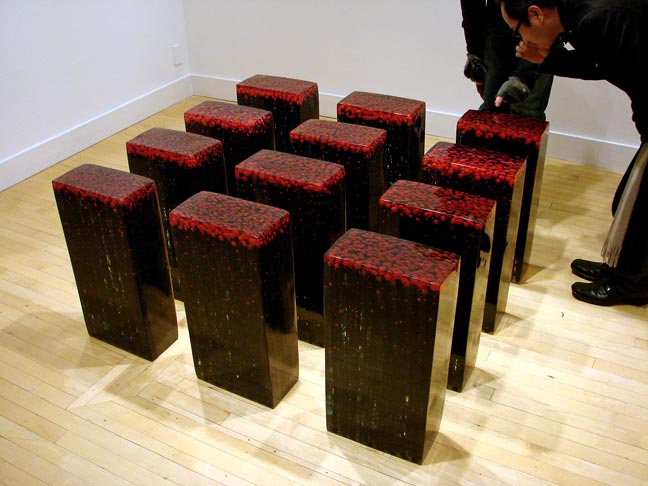 Art (Dustin Yellin).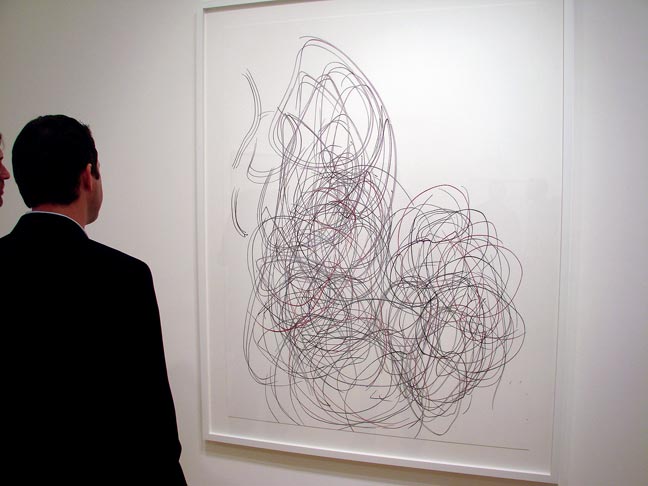 Art (Tom Mueske).


Art (Tom Mueske).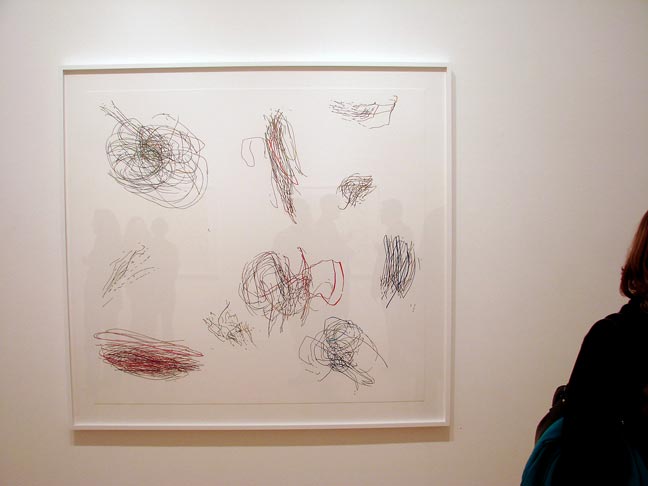 Art (Tom Mueske).


***
Brian Gross Fine Art: Josh Dov - New Paintings.
Comment by AB: Grid paintings with a twist by Josh Dov, the twist being that each grid line is multicolored. It's almost like you're looking at fabric.
Art.


Art.


Art.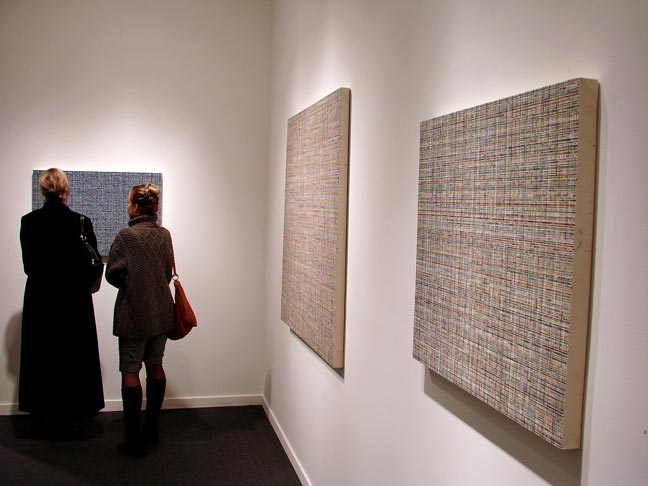 Art.


***
Fraenkel Gallery: Katy Grannan - The Westerns.
Comment by AB: Transgendered subjects unflinchingly revealed in outdoor and indoor settings by Katy Grannan (you might call her compositions transcapes), the thrust of the concept being that these individuals are, in a sense, new pioneers openly living lives previously lived in secret, and in so doing, simultaneously subjecting themselves to continuous excruciating scrutiny while blazing trails of increased acceptance for all who succeed them.
Photography.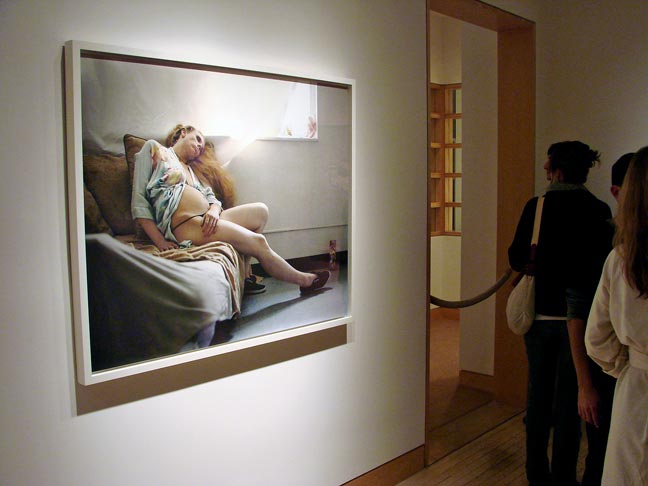 Photographs.


Photos.


Images.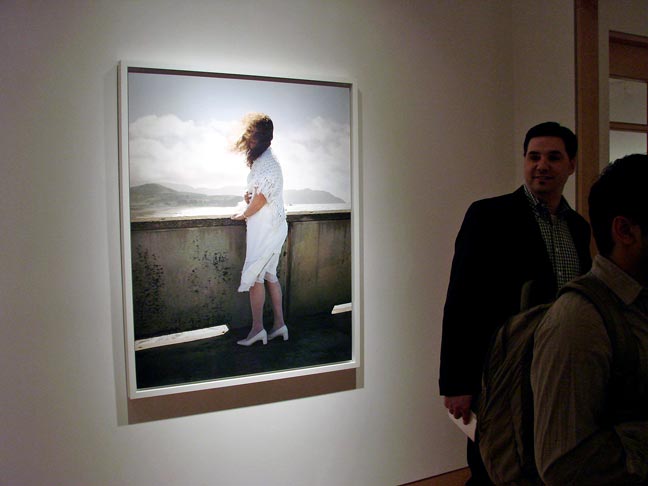 Photography.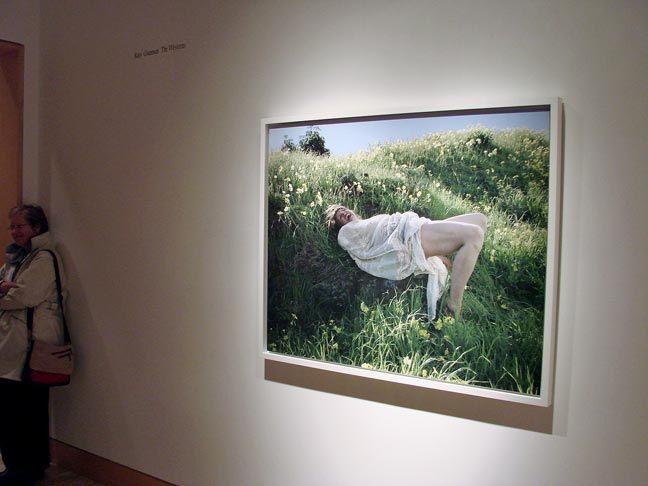 Photographs.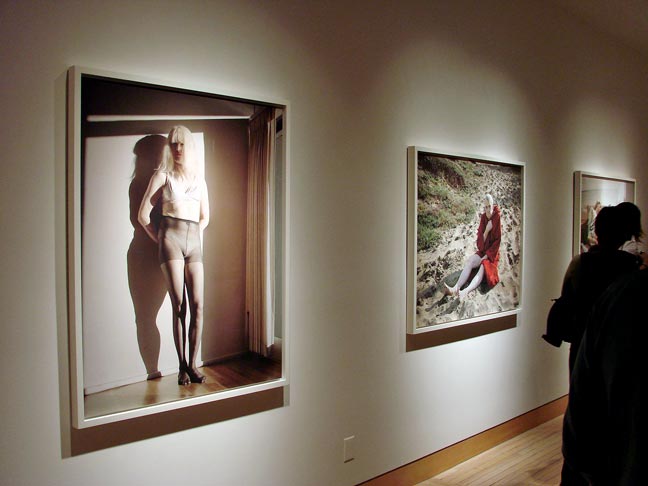 Photos.


***
Jack Fischer Gallery: Scott Yeskel - LA to SF with Love.
Review by AB: Scott Yeskel's bereft suburbscapes epitomize the anguish of California dreams deflated by reality.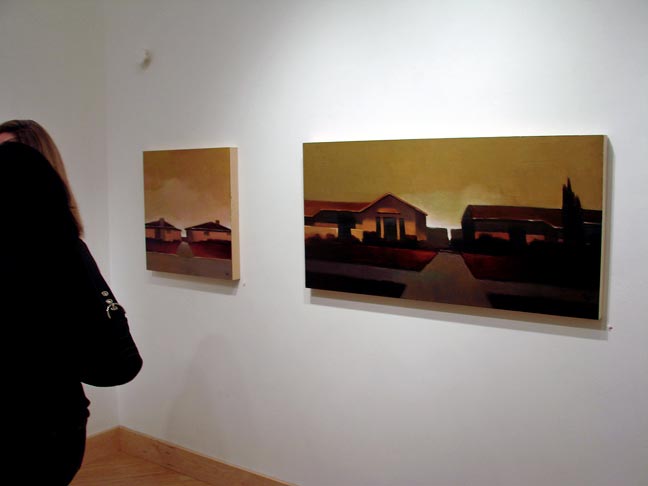 Art.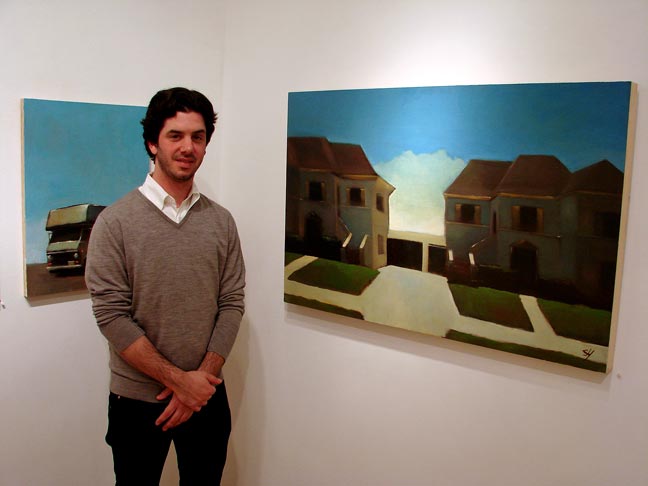 Scott Yeskel - art.


Art.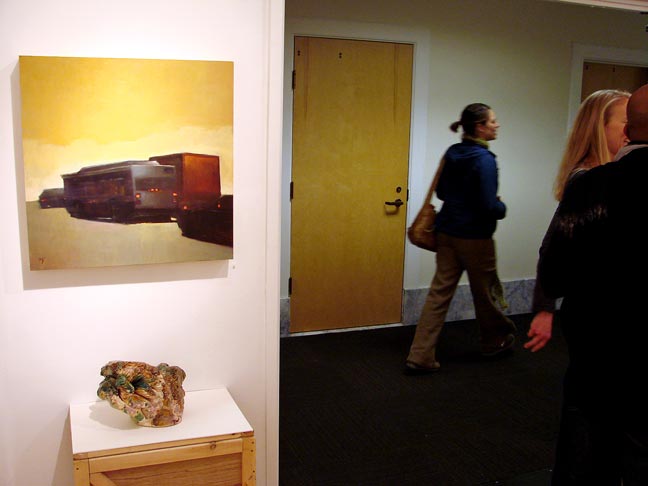 Art.


***
Gallery415: Anniversary Exhibition - Group Show.
Artists: Danny Esquenazi, Dani Dan, Vicente Antonorsi, Guillermo Bert, Richard Garet, Ali Gonzalez, Leonardo Pineda.
Comment by AB: Emerging and mid-career artists from Latin America, many of whom make their premier American appearances right here. Worth a look.
Art.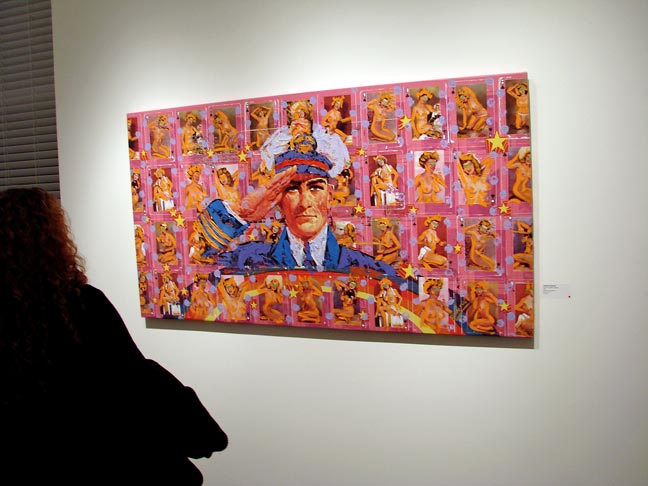 Art.


Art.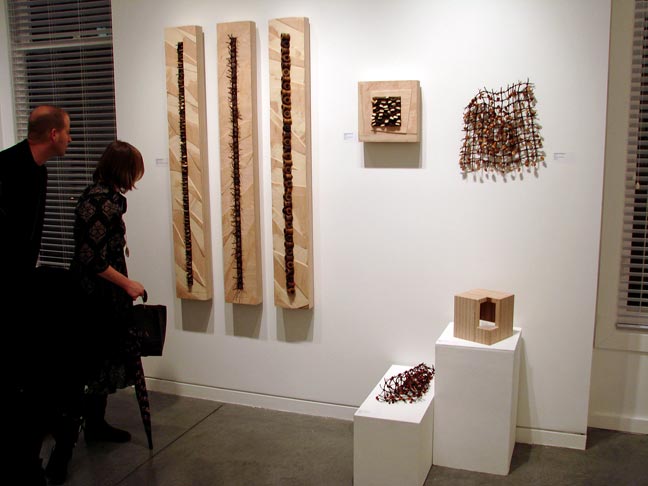 Art.


***
Don Soker Gallery: Winter Group Exhibition.
Artists: Julie Alland, Christel Dillbohner, Veronika Dobers, Mitra Fabian, Jean Foos, Jesse Gottesman, Mary Hambleton, Dee Hibbert-Jones, Robin Hill, Theodora Varnay Jones, Hiroyuki Kitano, Makoto Kumagai, Judith Maloney, Takesada Matsutani, Victoria May, Tetsuya Noda, Susanne Schossig, Shoichi Seino, Heidi Struble, Eleanor Wood, Yuriko Yamaguchi, Yutaka Yoshinaga.
Comment by AB: Winter Group exhibition.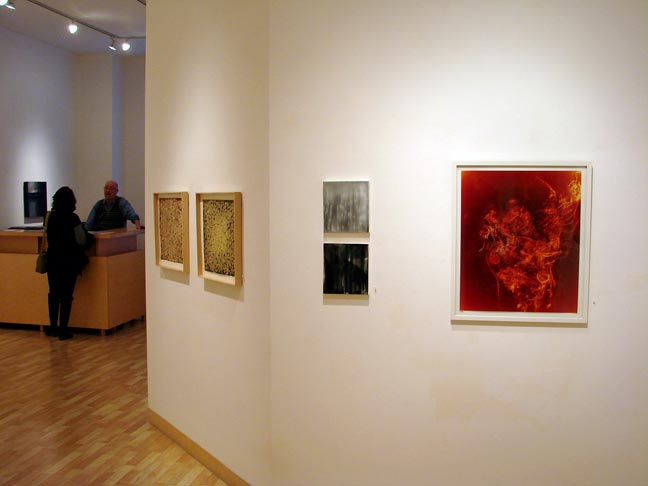 Art.


Art.


***
Toomey Tourell Gallery: Maria Park - Crystal Leisure.
Comment by AB: The PR salvo renders me catatonic with a direct hit to what used to be my intellect. The art's got something to do with 2001, A Space Odyssey and an artist named Nicholas Lancret (1690-1743), but the verbiage holding it all together mangles my mind. Either gimme a palpable toehold or call me a doormat. You may wipe your feet now. Befuddlement aside, the art's visually engaging.
Art.


Art.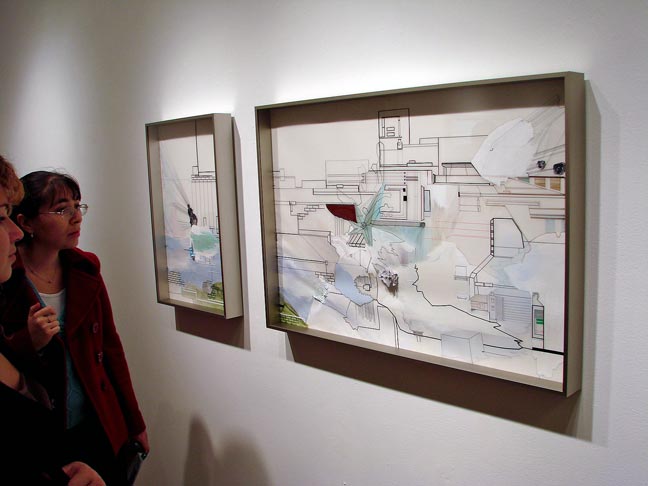 Art.


Art.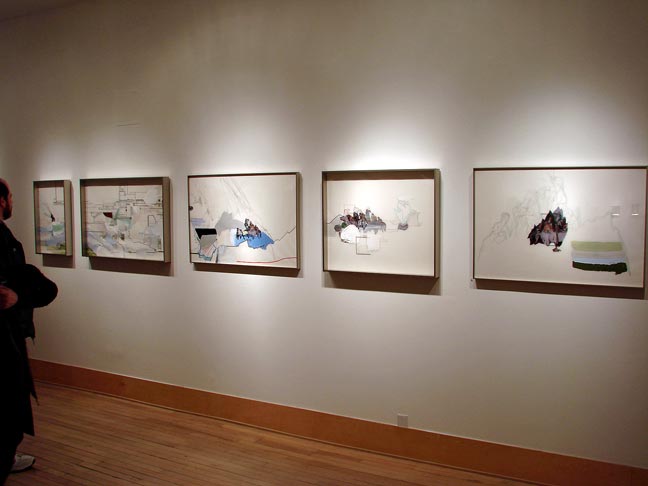 Art.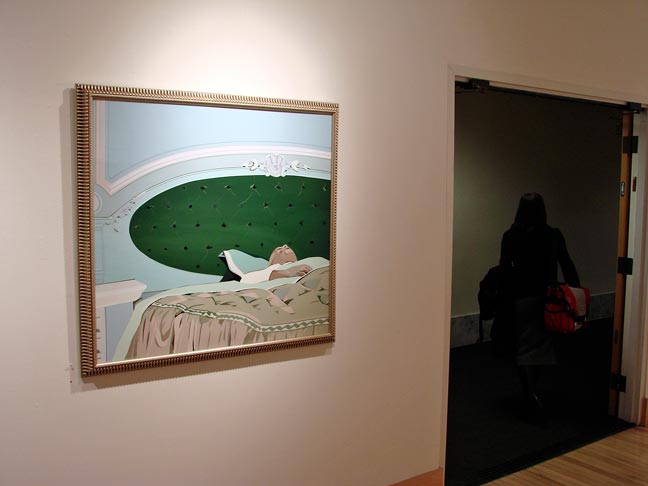 Art.


***
Steven Wolf Fine Arts: Thomas Akawie - Circle Star; Frederick Loomis - The Third Covenant.
Comment by AB: Thomas Akawie struts his stuff in public for the first time in eight years here, and the wait is way worth it. His stripped down cosmic mandalas update the idiom to the edge of ecstasy, catapulting you spiritual with their profound geometric perfection. Co-Pick of First Thursday. In the parlour, Frederick Loomis augments the occasion with painstakingly accurate pencil sketches, many of which mimic antique engravings. Notable show on both counts.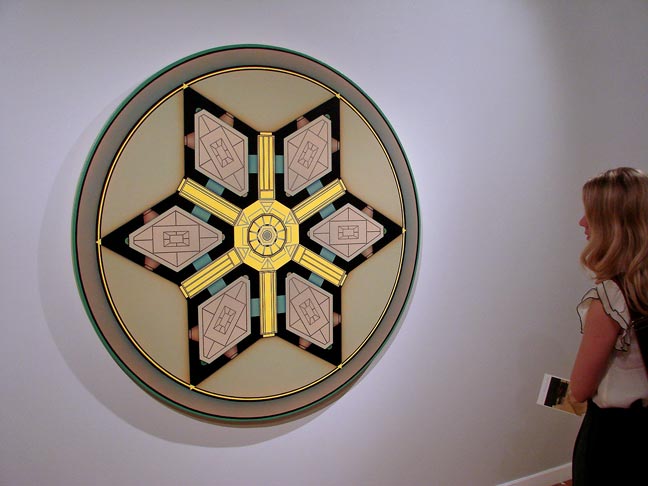 Art (Thomas Akawie).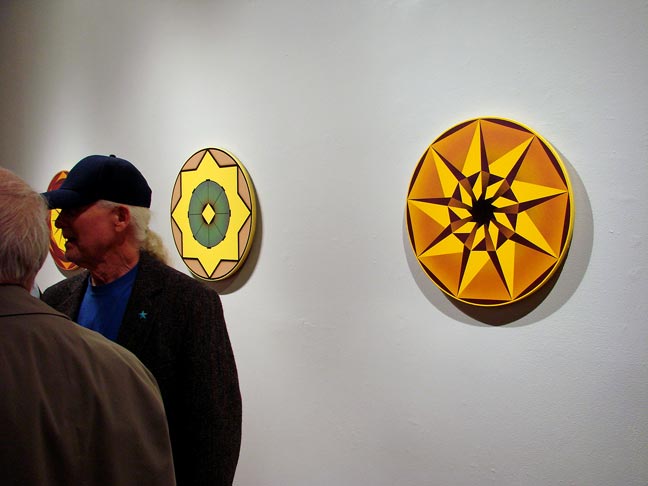 Art (Thomas Akawie).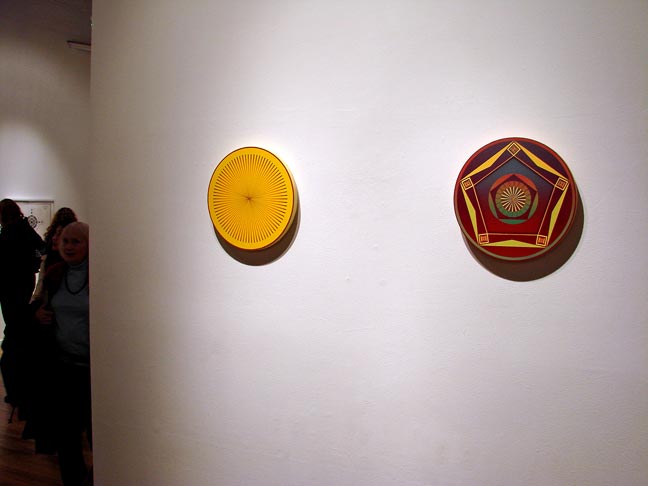 Art (Thomas Akawie).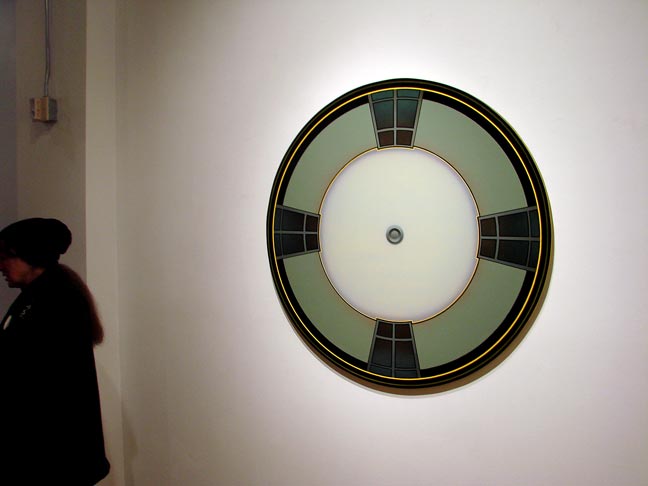 Art (Thomas Akawie).


Art (Thomas Akawie).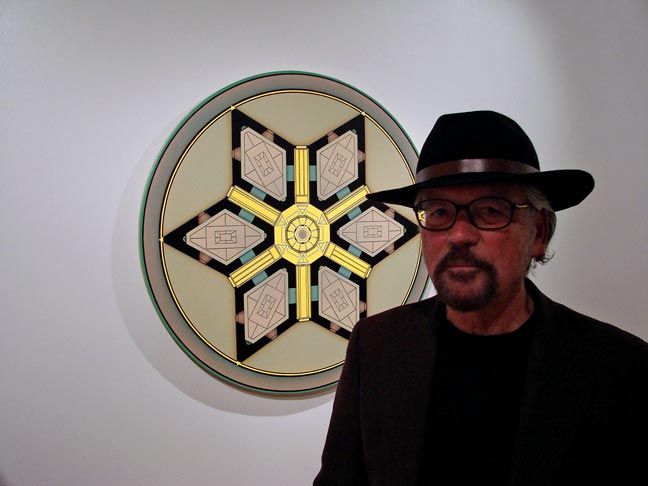 Thomas Akawie - art.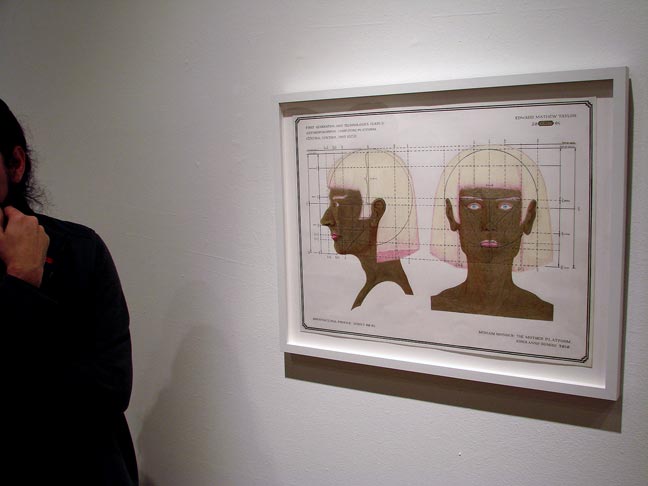 Art (Frederick Loomis).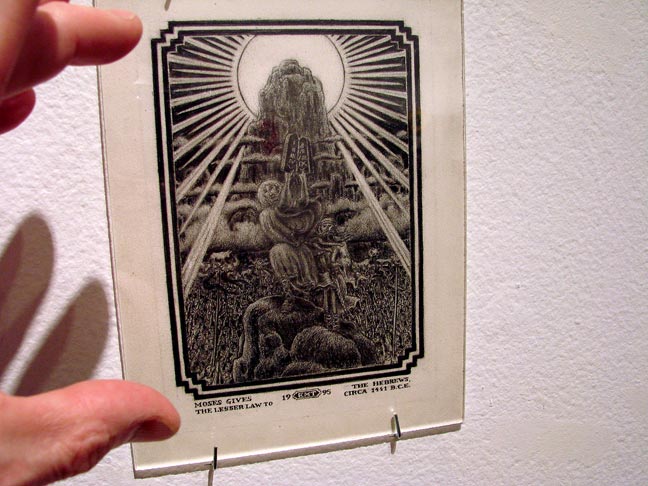 Art (Frederick Loomis).


Frederick Loomis.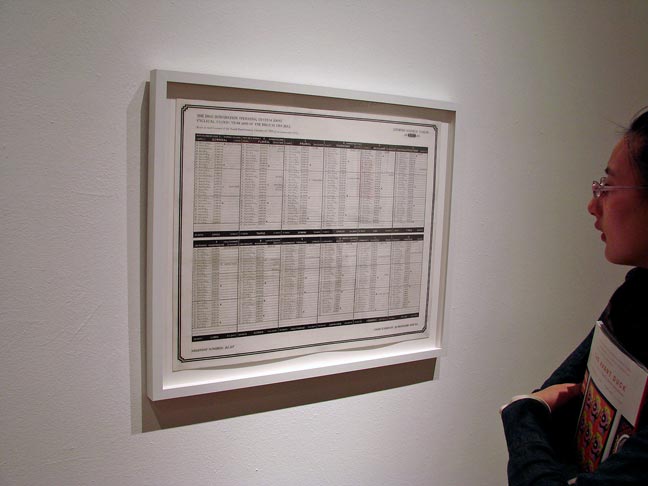 Art (Frederick Loomis).


***
Robert Tat Fine Photographs: The Small Photograph - An Appreciation.
Comment by AB: Diminutive vintage black and white photographs, none larger than 4x5 inches, many considerably smaller. You'll need your jewelers lupe for this one.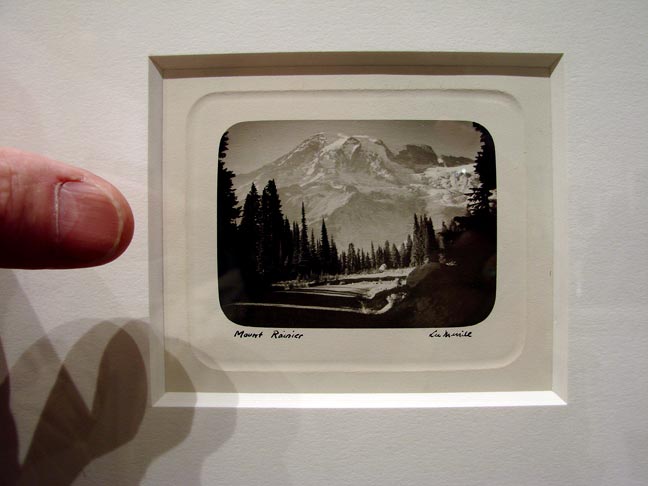 Photography.


Photos.


Photographs.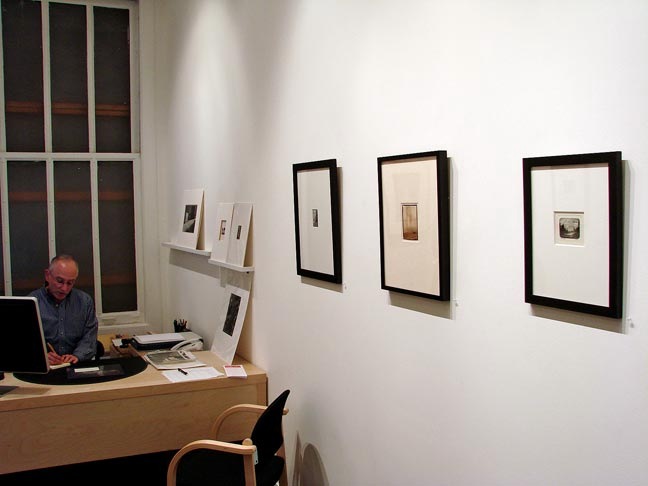 Robert Tat - photographs.


***
ARTworkSF: Ann Simms - Dark Horse In A Pretty Dress; Group Show.
Artists: Chris Lawrence, Pat Koenigsberg, Maria Bartola Mejia, Susan Ashley, Fong Fai, Jean Wu, Judy Johnson-Williams, Kathryn Arnold, Barbara Landis, Louis Bording, Lois Llewellyn, Mira M. White, Melissa Karam, Aisjah Hopkins, Alis Cummings, David Rose, Anthony Anchundo, Sara Kornacki, Daniel Newman, Alana, Dan Pask, Judi Morales Gibson, Sona Holman, Sandi Miot, Beryl Miller.
Comment by AB: Abstract extravaganza features works by Ann Simms in the front gallery flanked a group show in the two adjoining galleries.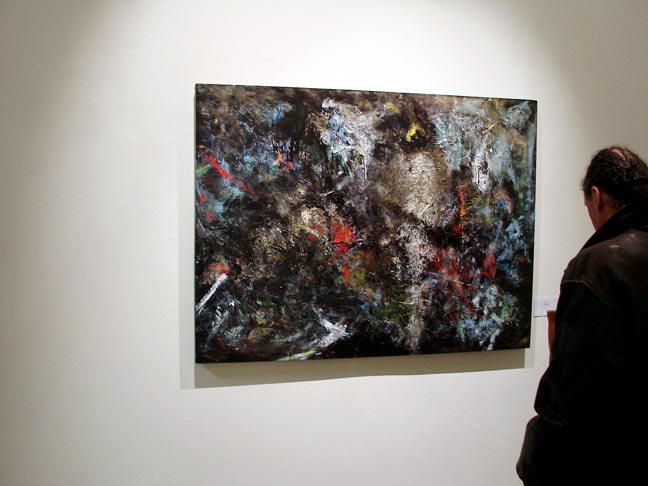 Art (Ann Simms).


Art (Ann Simms).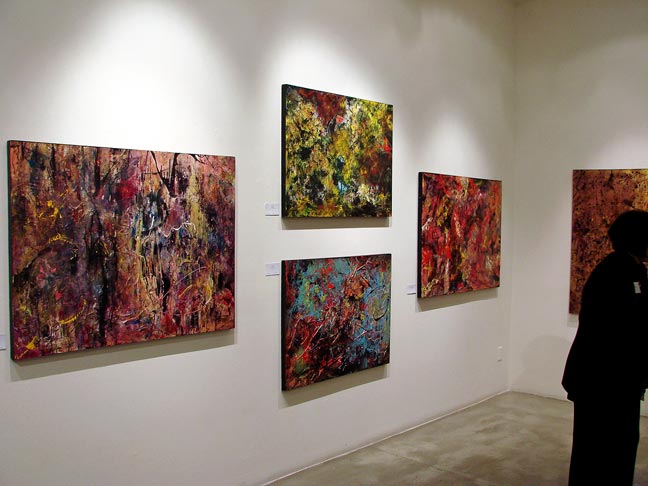 Art (Ann Simms).


Art (group show).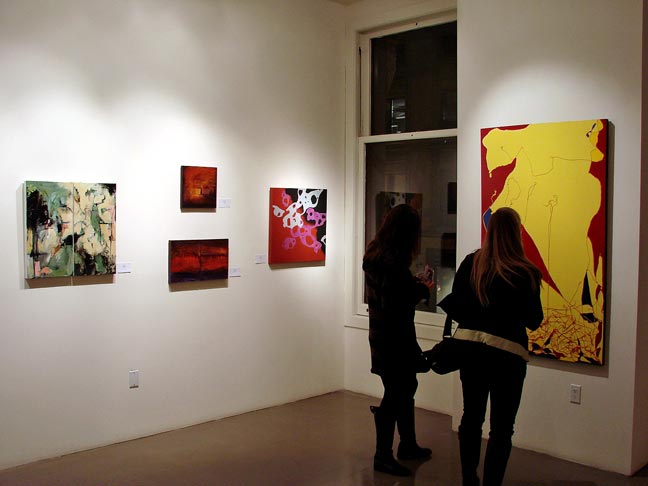 Art (group show).


Art (group show).


***
111 Minna Gallery: 20 X 20 - The January Show.
Artists: Abe Alvarez-Tostado, Adam J Ansell, Adrienne Yan, Aiyana Udesen, Alexis Mackenzie, Alice Stribling, Andrew Hem, Anthony Skirvin, Apex, Arlo Jamrog, Ben Mayorga, Bigfoot, Brad K. Alder, Brett Amory, Brian Barneclo, Brigid Dawson, Bryan Dawson, Camille Johnson, Carmen Sanchez, Chor Boogie, Christofer Chin, Chris Fitzpatrick, Clinton Lowry, Coral Silverman, Curve One, Daniel Leyva, Dennis Larkins, Deth P. Sun, Empty Eyez, Erin Eisenhower, Ernest Doty, Ethos, Ferris Plock, Gabe Scott, George Pfau, Hannah Hooper, Hannah Stouffer, Hugh Leeman, Jay Howell, Jeramie Tolentino, Keli Reule, Kelly Tunstall, Lafe Eaves, Lily Lin, Maria Gillespie, Martin Olive, Mary Scott, Matt Furie, Maxx 242, Megan Shoemaker, Merkley, Meryl Theo Press, Micah Lebrun, Michael Page, Mike Bell, Michelle Blade, Mike Maxwell, Munk One, Nate Hooper, Nate Van Dyke, Onesto, Phillip Killian, Pierre Merkl III, Rachael Ceretto, Rob Reger, Rogelio Martinez, Ryan Bubnis, Ryan Jacob Smith, Ryan Mcgavin, Sham Saenz, She Bible, Skinner, Stefan Simikitch, Steven Gordon, Tara Lisa Foley, Taska Cleveland, Ted Lincoln, Tracy Timmins, Zane Peach.
Review by Ben Rigby: For this wide ranging group show at 111 Minna, curator Kelly Tunstall asks about 65 artists to each paint a 20x20 inch canvas. Tunstall identifies many of the artists via her friend network and, interestingly, through MySpace. She browses the online social network to find work that appeals to her, and then messages invitations to artists. The result-- a tremendously varied show in style, substance, and theme.
Art.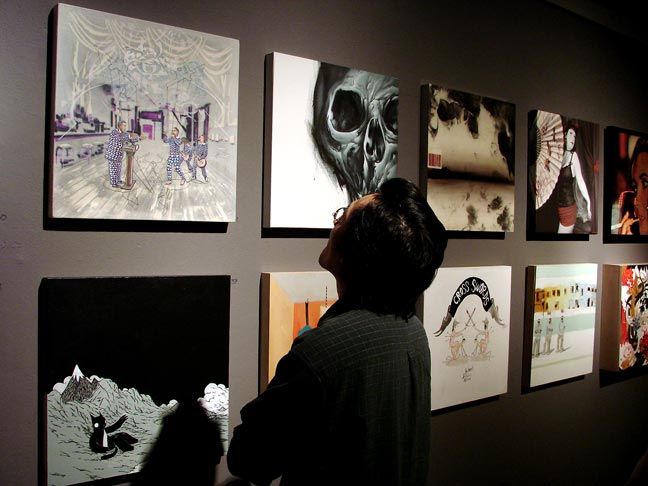 Art.


Art.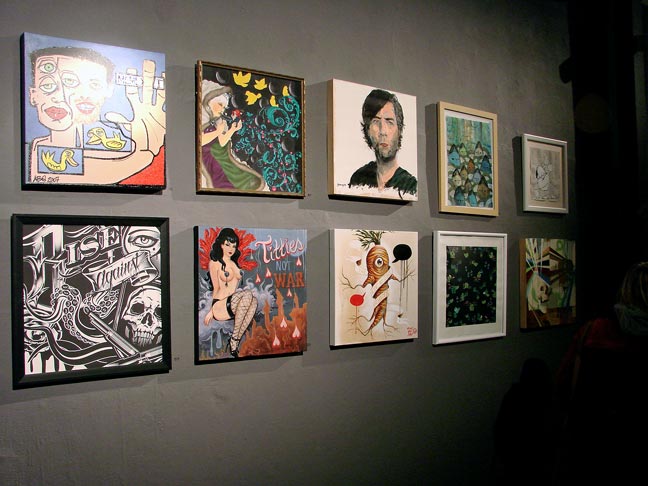 Art.


Art.


Art.


Art.


***
Cafe Royale: The Rainbow show! - A Spectrum of Wonder, a Canopy of Awe.
Artists: James Bradley, Luke Butler, Rachelle Cohen, Christina empedocles, Alicia Escott, Patrick Hillman, Lindsay Jessee, Travis Meinolf, Nathaniel Parsons, Hillary Pecis, Leah Rosenberg, Conrad Ruiz, Jessica Skloven, Gareth Spor, Adam...
Review and photos by Ben Rigby: This small show at the comfortable Café Royal explores the topic of rainbows ­ without irony, stigma, or cultural baggage. About 14 CCA MFA candidates try their best to overcome cliché. Does it succeed? You be the judge. (Very low light at the café, so pix not great, unfortunately.)
Art.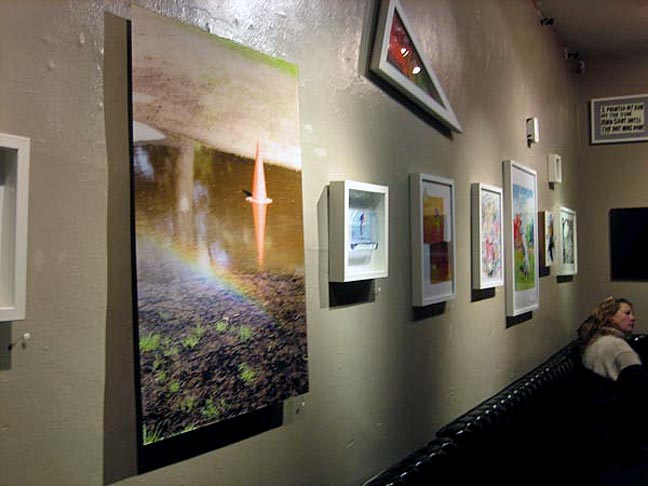 Art.


Art.


Art.


Art.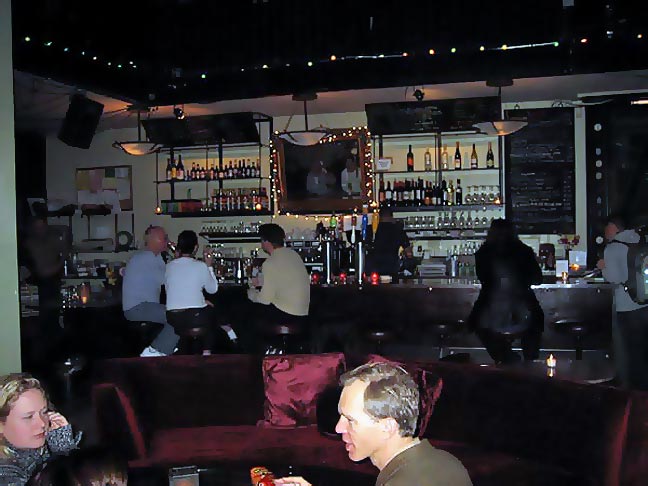 Venue.


***
Adobe Books: Michael Bernard Loggins - Imaginationally; Matt Gonzalez Collages.
Comment by AB: Combination book realease for Creativity Explored artist and author Michael Loggins, and closing party for the Matt Gonzalez show in the Backroom Gallery.
Michael Bernard Loggins signs book.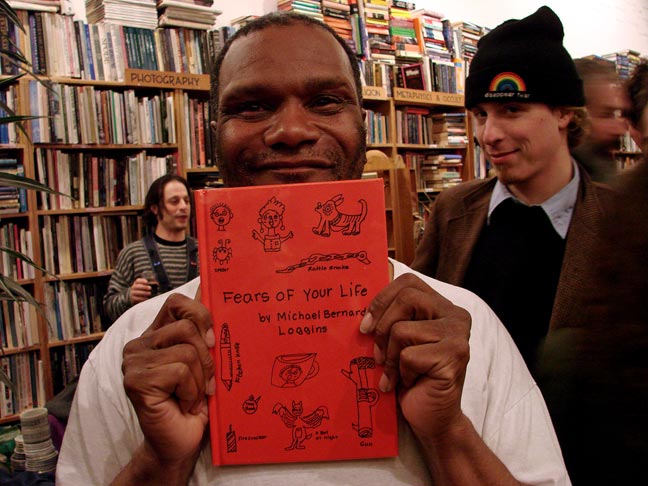 Michael Bernard Loggins and another of his books.


Matt Gonzalez - art.


Art (Matt Gonzalez).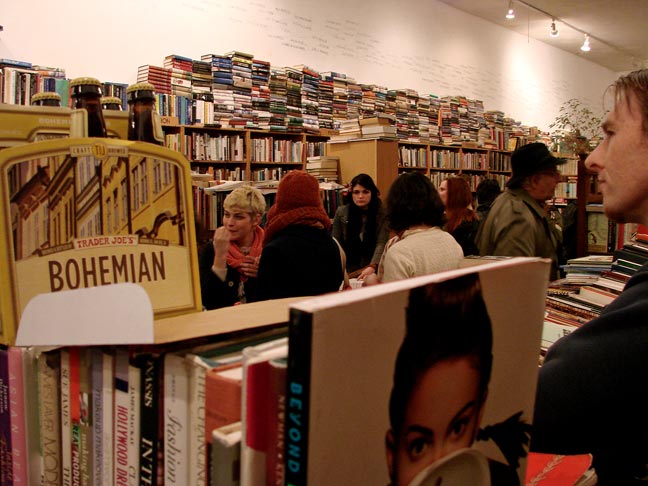 Bookscape.


***
Addendum:


Landscape photos celebrate Earth Island Institute at Scott Nichols Gallery.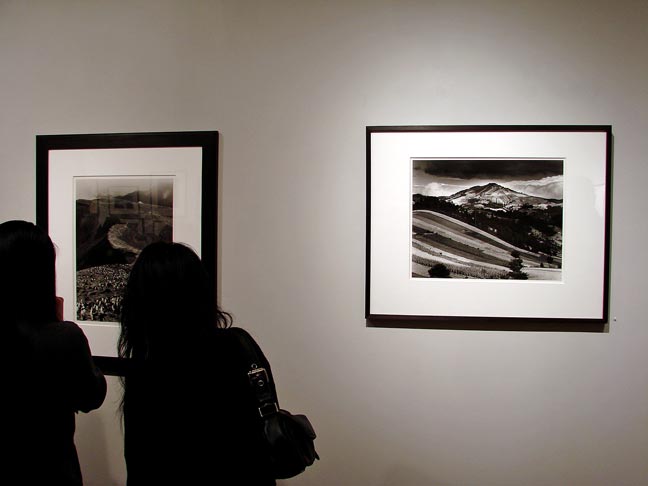 One more from Scott Nichols Gallery.


Sunday B. Morning prints (after Warhol) at Art Exchange Gallery.


***
Try it; you'll like it. And thank you for your support.
***
First Thursday; December 6, 2007