SAN FRANCISCO ART GALLERIES OPENINGS
FIRST THURSDAY; 10.04.07
(with assistance from Uba Owl, Kristin Farr, Caroline Andreolle, and Jessica Whiteside)
General comment by AB: Yes, dear artsters, an arduous agenda is again upon us with nearly 25 openings in the downtown quadrant alone. Naturally, that necessitates my profuse apologies to those of you on the perimeters whose shows I can't get to before the art clock runs out. And of course, I must also apologize to those of you who attempt to engage me in protracted palaver about this aspect of the art-o-sphere or that. And oh... to those of you who rejoinder, "You're always in a hurry," I rejoinder back, "Talk to me anytime during the approximately 14 hours per day seven days per week, on average, when I'm neither transiting galleries, symbiotic with my camera, nor sleeping." You know I love you.
But back to the matter at hand, in the process of making tonight's rounds, several gallerists wonder out loud where everybody is, to which I note that everybody's here, but due to conflicts in scheduling (and a preponderance of options), they're all spread out-- and not to worry-- Ess Eff's vast and vital culture contingent is alive, well, and arting. As for what that contingent is spread out about, tonight's creative caboodle is decidedly international in flavor BUT there's plenty of local talent to boot AND everything's generally good or better BUT there's scattered humdrum AND there's a Pick of First Thursday, all of which you're about to behold, that is, if you wanna tag along. You do? OK. In that case, it's time once again for our monthly cavort through artland...
***
Hackett Freedman Gallery: Emerson Woelffer in the 1990's - The Structure of Improvisation.
Comment by AB: I arrive smack in the middle of a talk by this dapper looking dude, not sure who, but he's currently discussing Surrealism in the 1930's, and since the show is about Emerson Woelffer in the 1990's, I'm outta here. Disquisitions on First Thursday? I don't think so.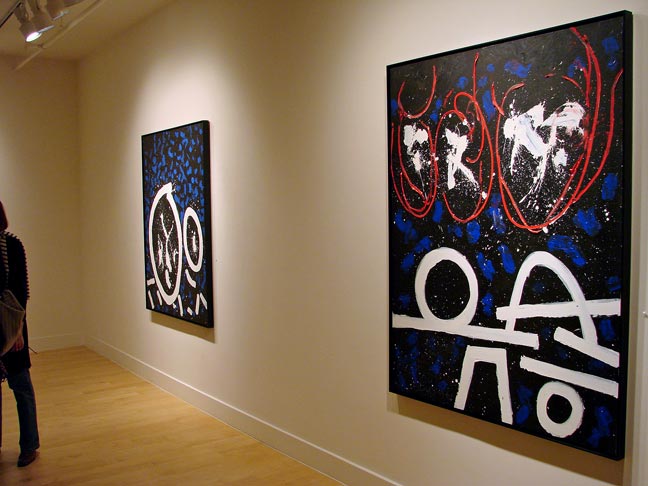 Art.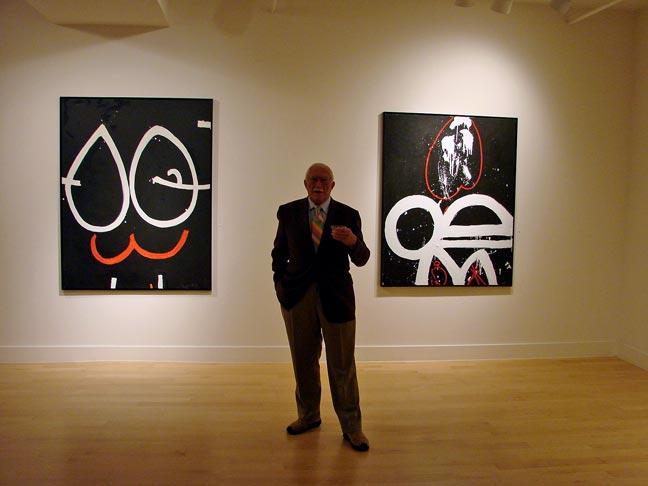 "... and then on August 24, 1933 at 2:05 PM..."


Art.


Art.


***
Caldwell Snyder Gallery: Kelly Reemtsen - Recent Paintings; Tracey Sylvester-Harris.
Comment by AB: Vignettes of vintage chairs by Kelly Reemtsen up front; in the back, Tracey Sylvester-Harris transits glamour and nostalgia with her beach and poolside portraits.
Art (Kelly Reemtsen).


Art (Kelly Reemtsen).


Art (Kelly Reemtsen, foreground).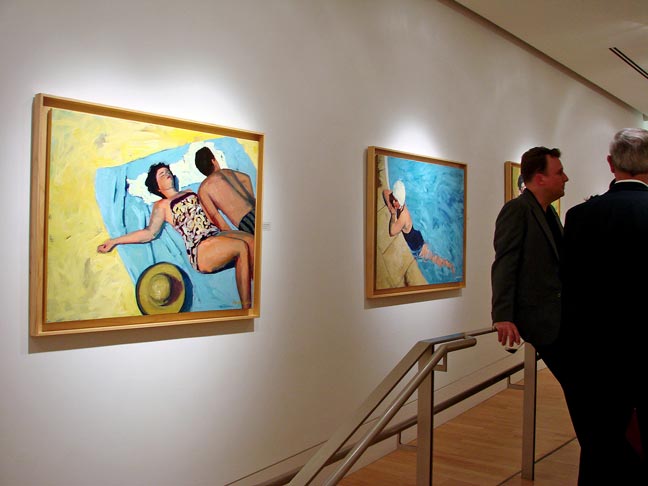 Art (Tracey Sylvester-Harris).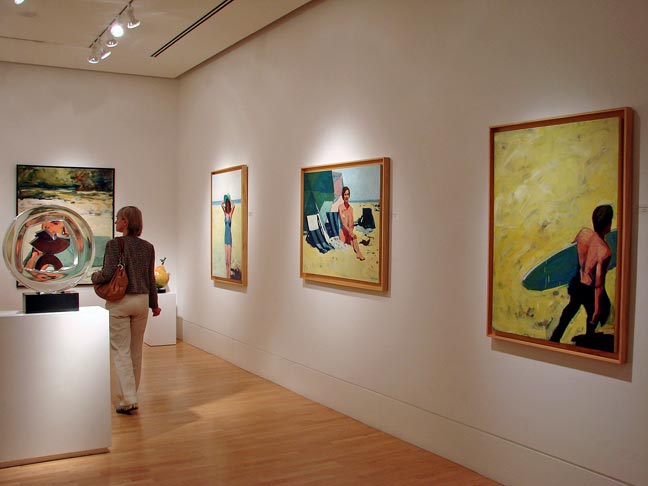 Art (Tracey Sylvester-Harris).


***
John Berggruen Gallery: Displaced.
Artists: Jonathan Callan, Frank Ebert, Armando Miguelez, Julio Cesar Morales, Gabrielle Teschner.
Comment by AB: John Berggruen throws a bit of a changeup, skewing uncharacteristically relevant with an array of artful commentaries on the continuing concerns surrounding displacement of peoples, cultures, and even political boundaries. The gist is particularly evident in a series of revamped maps by Gabrielle Teschner, and portraits of barely concealed illegals by Julio Cesar Morales.
Art (Gabrielle Teschner).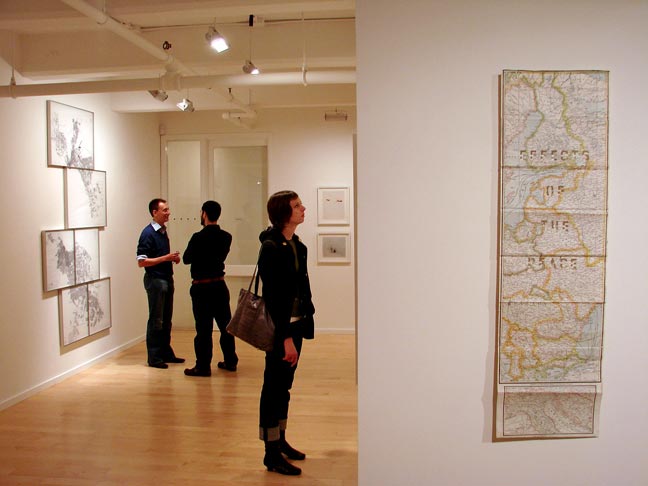 Art (Gabrielle Teschner, foreground).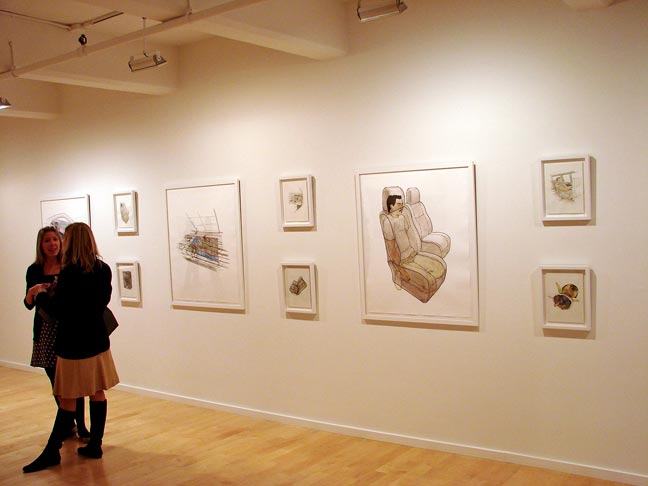 Art (Julio Cesar Morales).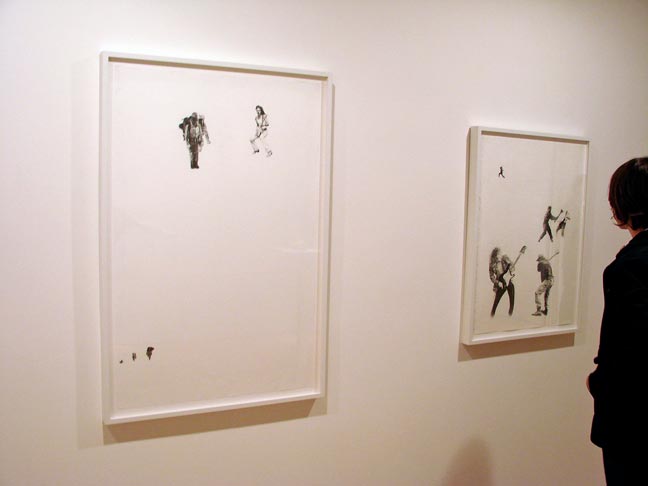 Art.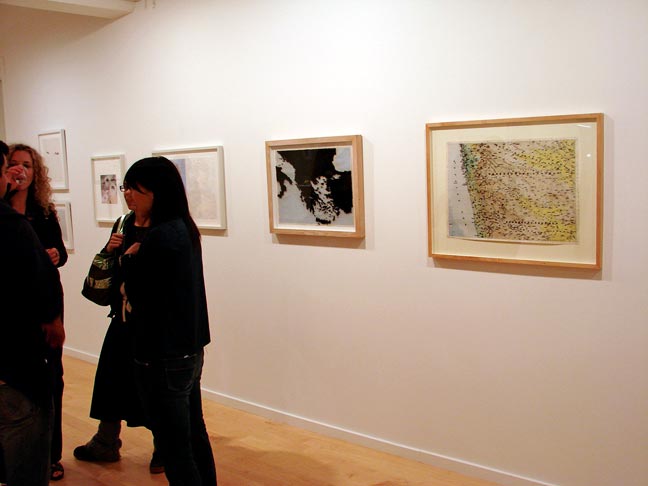 Art.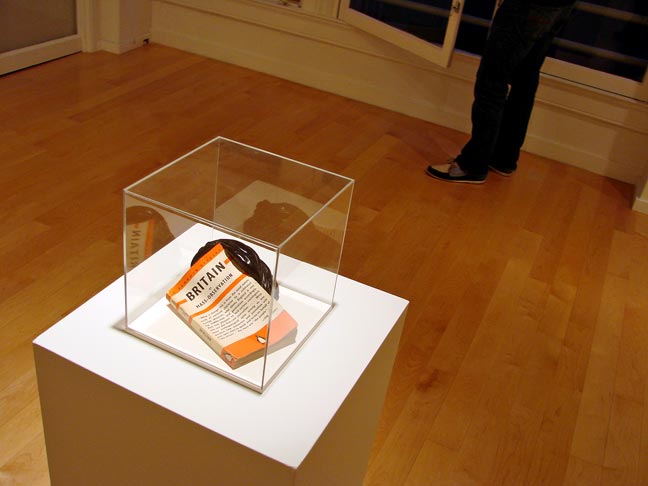 Art.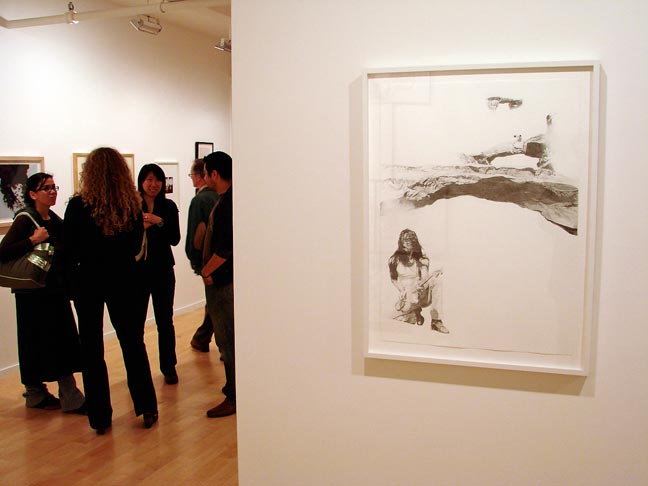 Art.


***
Gallery Paule Anglim: Bruce Conner; James Rosen.
Comment by AB: Forty-year retrospective of select works by Bruce Conner exemplifies his remarkable and enduring unconventionality. In the rear sector, James Rosen concocts what purports to be an homage to Walt Kuhn, but the upshot looks more like Walt Kuhn paintings with some kinda opalescent finish applied over 'em. I mean they're pretty and everything, but I don't get it.
Art (Bruce Conner).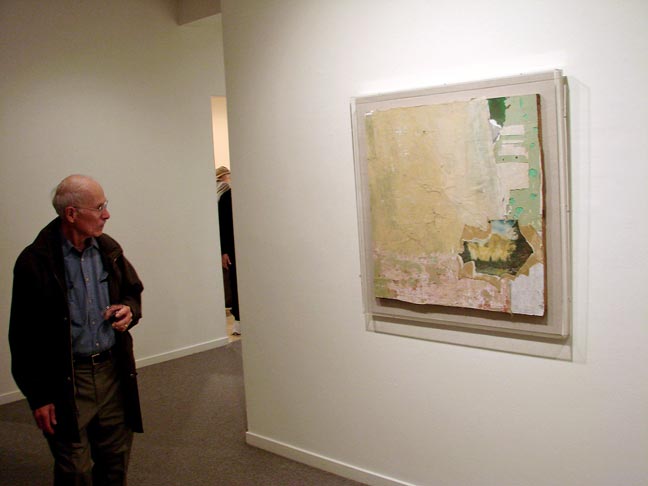 Art (Bruce Conner).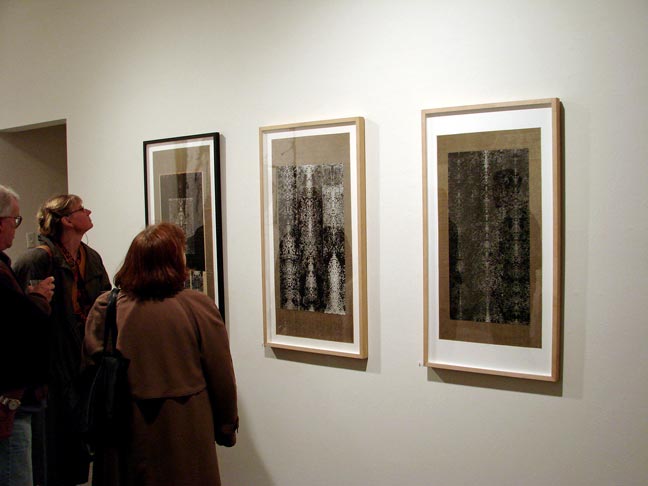 Art (Bruce Conner).


Art (Bruce Conner).


Art (Bruce Conner).


Art (James Rosen).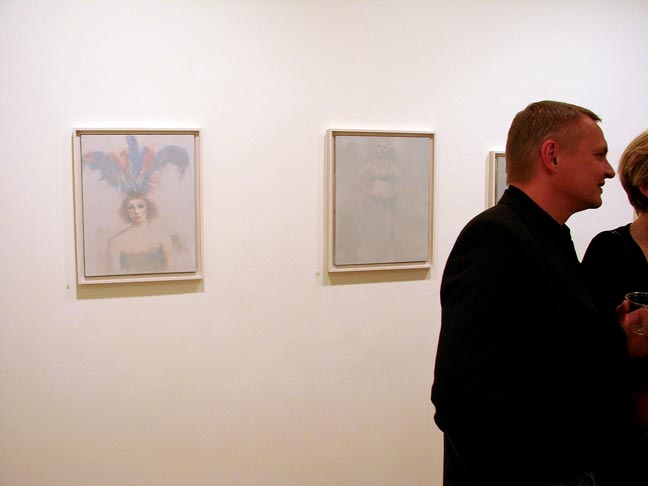 Art (James Rosen).


***
Elins Eagles-Smith Gallery: Kris Cox - Recent Work.
Comment by AB: Tasteful craquelure abstracts, some with words on them.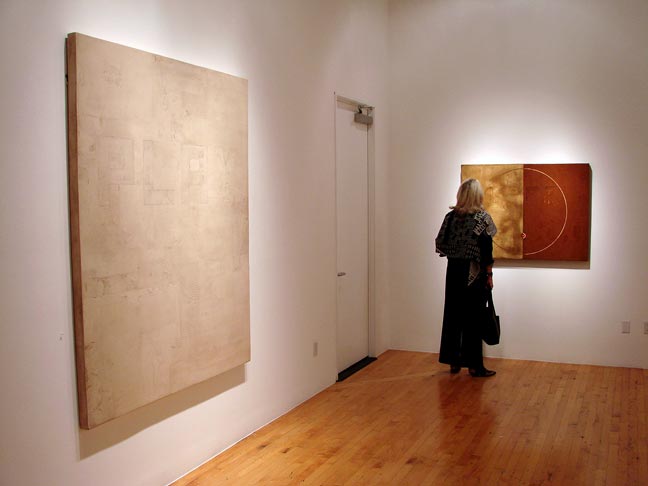 Art.


Art.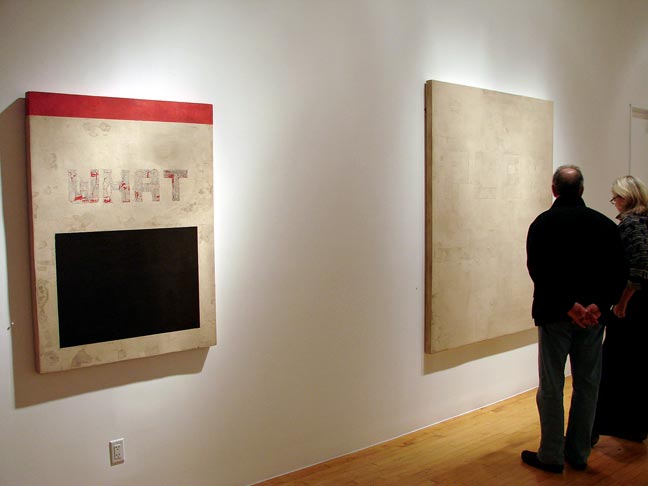 Art.


Art.


***
Brian Gross Fine Art: Robert Jack - Elements of Histories; Nellie King Solomon - Folded Pours.
Comment by AB: Nellie King Solomon "paints" by pouring acrylics, dyes, and inks onto deliberately manipulated mylar. Robert Jack develops fairly good-sized organic pattern paintings by making oodles of really teeny casein brush marks on wood surfaces.
Art (Robert Jack).


Art (Robert Jack).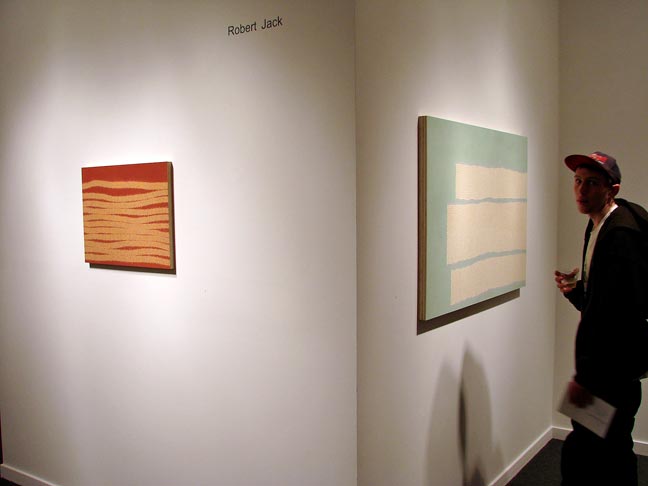 Art (Robert Jack).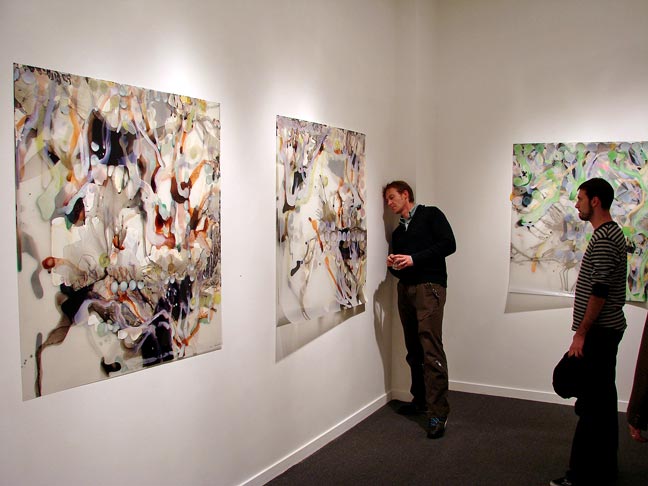 Art (Nellie King Solomon).


***
Gregory Lind Gallery: Dannielle Tegeder - 7(x) + 2┐x + x5(d-1) + (Yellow).
Comment by AB: Danielle Tegeder comes from a family of pipefitters and ups the ante from there, concocting a series of distinct precision geometric adventures influenced by math, science, and architecture.
Art.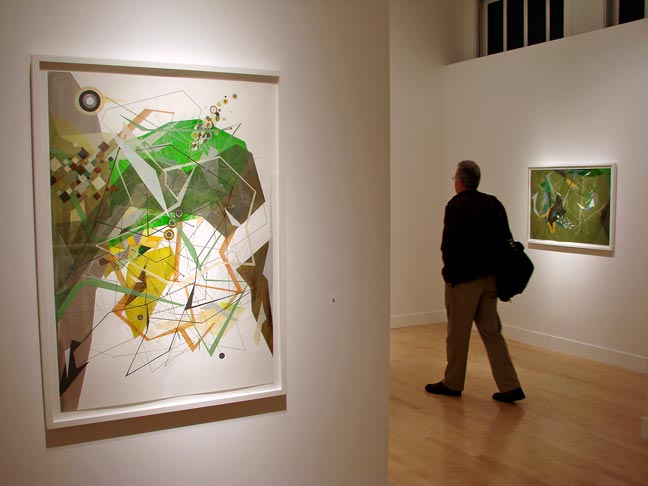 Art.


Art.


Art.


***
Fraenkel Gallery: Richard Misrach - Night Photographs, 1975-1977; Ralph Eugene Meatyard - Abstractions, 1957-1972.
Comment by AB: Haunting (and technically sophisticated) early works by Richard Misrach up front; oversized Misrach expanse photographs in the middle; early lesser-known abstracts by Ralph Meatyard in the back.
Night photography (Richard Misrach).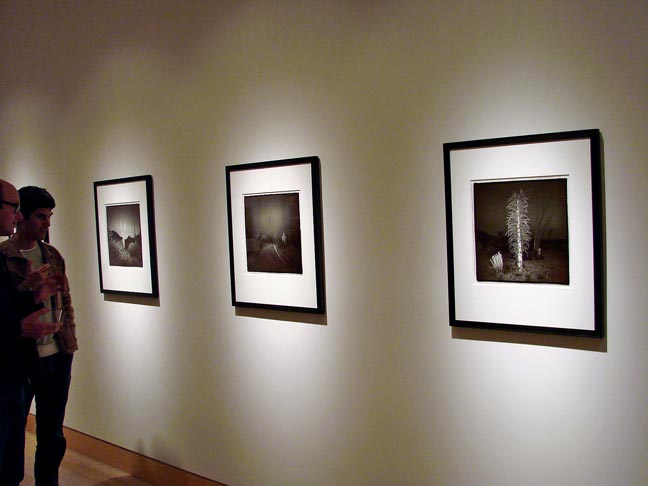 Night photos (Richard Misrach).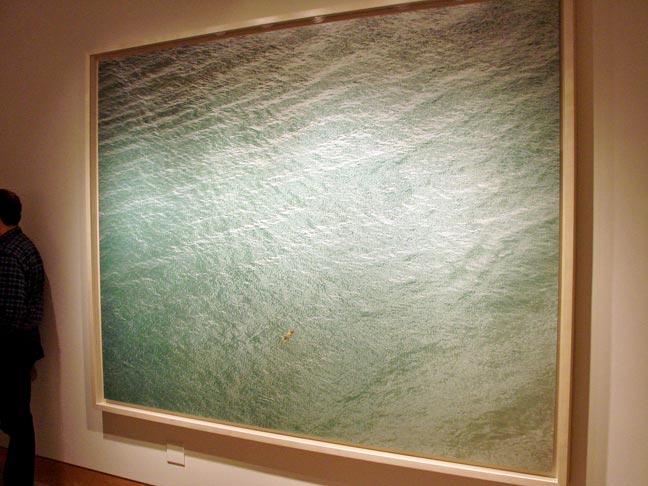 Expanse photograph (Richard Misrach).


Abstract photography (Ralph Eugene Meatyard).


***
Jack Fischer Gallery: Lucy Gaylord-Lindholm - Cookie Cutter.
Review by Uba Own: "Doesn't she look like she stepped out of one of her paintings?" Jack Fisher asks.
"Yes, that's what I just told her," I answer.
We then have a charming conversation with Lucy and her husband, who just got back from a trip to Krakow, Poland, the most hip city in Europe for young people. Like Paris, Krakow was saved from total destruction in World War II by a German general who fell in love with it, and is also home to the second oldest university in Europe. A must trip for next summer!!
Meanwhile back at the show, Gaylord-Lindholm's paintings are small and composed of elements that seemingly don't go together, but make perfect sense after all, creating an altered sense of reality. "When you think of chairs you realize they are places where people rest," the artist says. "They create feelings of calm and serenity."
"These paintings are about the battle we fight every day between our actual experience and environment, and the fictitious scenarios we construct and react to as though they were real. To control our fictional fears we can escape into imaginary worlds where we are secure: there are lullabies being played, birds whispering in ears, walls becoming forests. These are things that carry us away into a state of comfort." Lucy is an artist to buy (before it gets too expensive!) and enjoy while sipping your coffee in the morning. A must see!
Comment by AB: Exacting enigmatic oil paintings on linen with allegorical overtones by Lucy Gaylord-Lindholm are certainly worth a look, especially the ones with black backgrounds. It's all good here.
Art.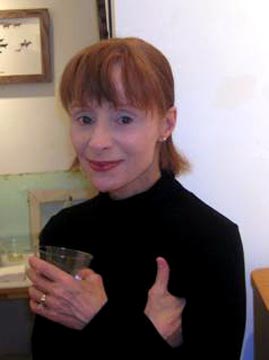 Lucy Gaylord-Lindholm (photo by Uba Owl).


Art.


Art.


***
Don Soker Gallery: Theodora Varnay Jones - Structures.
Comment by AB: Clean meditative minimalist dimensional works in a variety of mediums.
Art.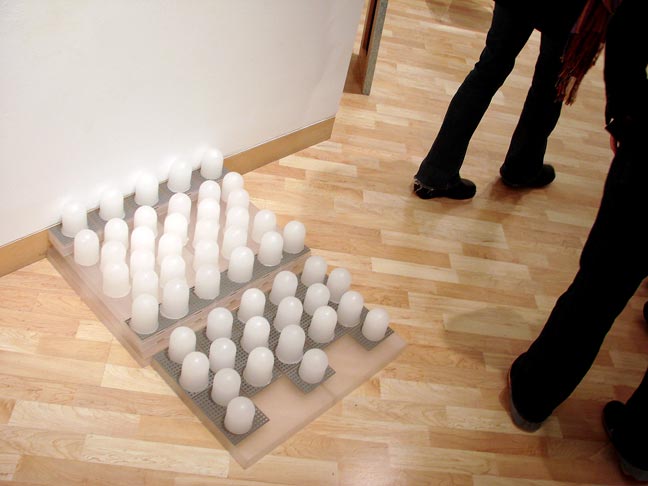 Art.


Art.


***
Gallery 415: Anibal Catalan - Free & Mobile; Jorge Jurado - A Multitude of Memories.
Comment by AB: Vibrant abstract representational amalgams by Anibal Catalan from Mexico and Jorge Jurado from Columbia, the American debut for both. Catalan's paintings are dynamic rectilinear curvilinear blends while Jurado waxes surreal with cropped outlines of figures combined with snippets of machinery and decorative objects. Nice work on both counts.
Art (Jorge Jurado).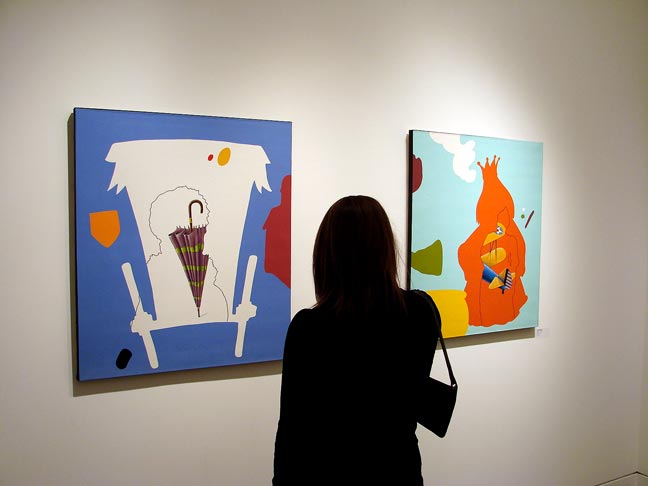 Art (Jorge Jurado).


Art (Anibal Catalan).


Art (Anibal Catalan).


***
Toomey Tourell Gallery: Eric Butcher.
Comment by AB: Oblong wall sculpture by London artist Eric Butcher exudes a combined scientific architectural industrial essence. The medium? Oil and resin on extruded aluminum.
Art.


Art.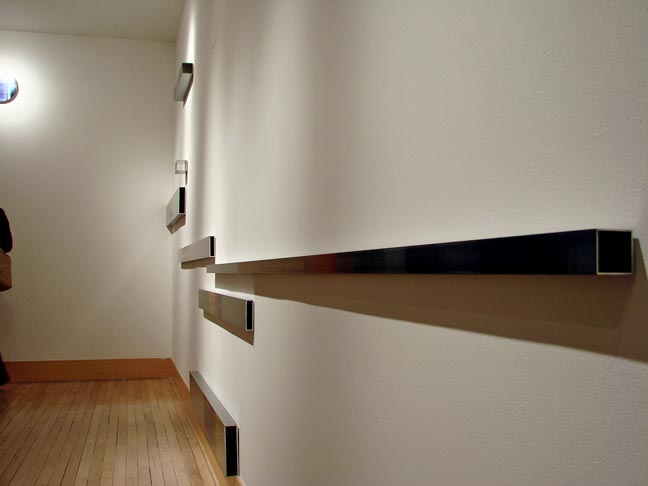 Art.


***
Scott Nichols Gallery: Mona Kuhn - Evidence.
Comment by AB: Mona Kuhn artfully obfuscates the issue by diffusing her closely cropped compositions with reflections and blur to the point where multiple interpretations are possible, all entirely plausible. Like 'em.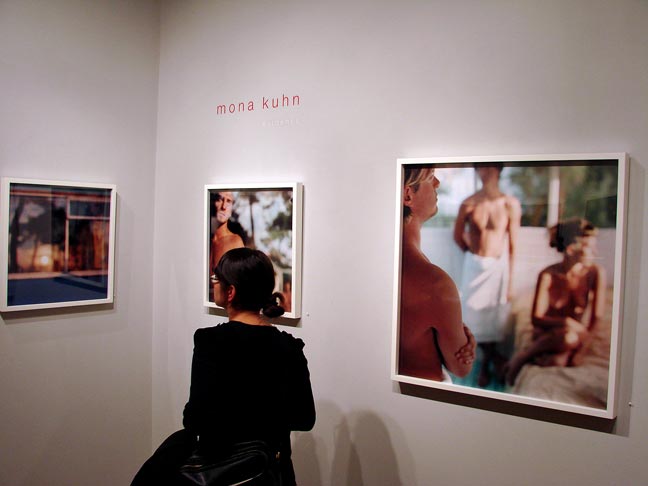 Photography.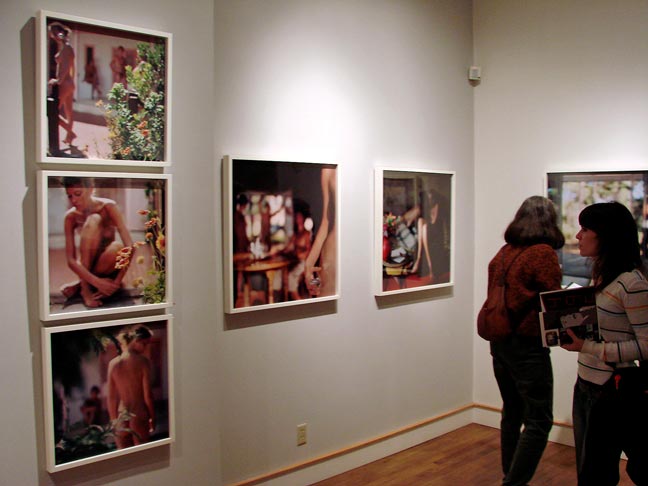 Photographs.


Photos.


***
ARTworkSF Gallery: East Meets West - Eastern Influence on Western Art and Culture.
Artists: Elizabeth Starr, Jeung Kang, Marius Starkey, Jennifer Morris, M.B. Stephens, Carol Van Zandt, Cynthia Tom, Janet Allinger, Judy Johnson-Williams, Wendy Robushi, Lisa Feather Knee, Maurice Edelstein, Robert Reed, John Edwards, Cheryl Cruz, Fong Fai, Natasha Dikareva, Grayson Yeager Malone, MiJung Penzien, Molanda Caiang, Karol Jersak, Peter Collins, Cheryl McDonald.
Review and photos by Caroline Andreolle: ARTworkSF Gallery represents approzimately 120 local artists, emerging or in mid-career, and aims at being a training ground for artists to develop their art business skills. ARTworkSF partners with local businesses from Richmond to San Jose to promote the art it represents (partner businesses include restaurants, hotels, cafes, and other venues). ╩
Tonight's exhibit presents an impressive array of styles and media, offering a conversation between artists on the theme of the West/East ebb and flow of influences. There's no 3 ways about it-- you'll find something you like there. The diversity of art and talent embodies variations of style, aesthetics, colors, and a sense that we live in a huge cosmopolitan area trying to find its identity by exploring its diversity. Worth noting is the diversity of media presented, including video-digital art. "Neon Garden" by Timothy Roseborough, for example, is quite conceptual (computerized neons representing symbols in a Japanese garden, turning on and off). ╩
This exhibit really taps into senses of aesthetics, time, and the cultural symbols. I've never been disappointed in coming here, though the emerging artists might shake you up some, perhaps, in terms of what you consider beautiful. I love the conversations which spring from certain pieces, and invite you to swing swing on by to discover up-and-comers in the area.
Art.


Curator Matt McKinley, art.


***
George Krevsky Gallery: Richard Nagler - The Unspoken Word; Photographs, 1977-2007.
Comment by AB: The gist is that Richard Nagler captures spontaneous unposed moments, both indoors and out, the twist on the gist being that somewhere within each composition you'll find a single word, either written or printed or occasionally even tattooed. It's one of those juxtaposition kinda deals, nicely nuanced, likely because Nagler's been at it 30 years.
Photographs.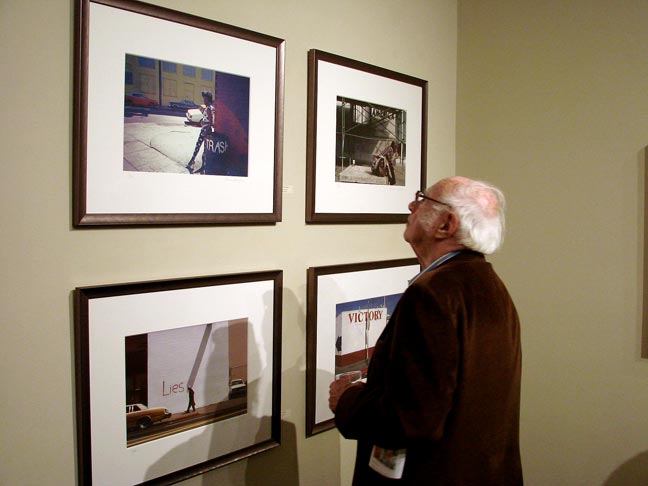 Photos.


Images.


Photography.


***
Heather Marx Gallery: Forrest Williams - Porches.
Comment by AB: Rich textural paintings of dudes posed on porches, or more accurately, deliberately pared sections of porches, each setting presented with no obvious context, the situations left deliberately open-ended. Something's up, but you're never sure what.
Art.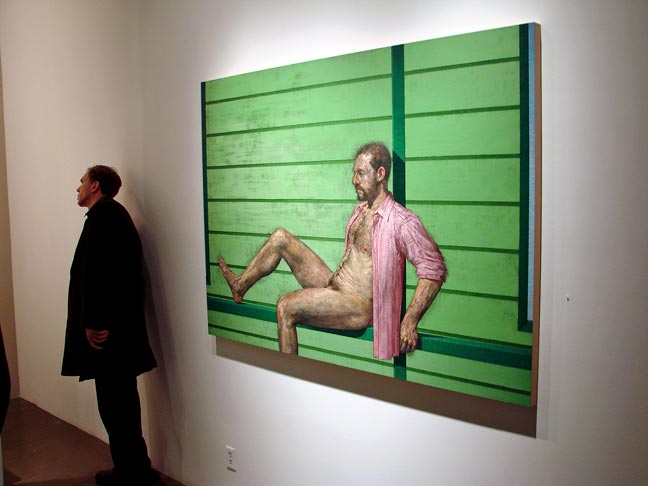 Art.


Art.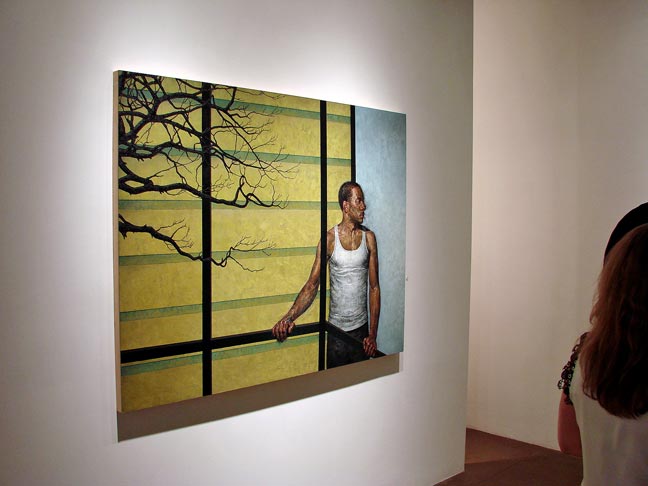 Art.


***
Patricia Sweetow Gallery: Jamie Vasta - Mustn't; Melissa Dubbin + Aaron S. Davidson - Songs for Psychos; Estate of Dennis Leon.
Comment by AB: Jamie Vasta's proficiency with glitter approaches prodigious as she effectively trends subtler and more complex in her bewitching compositions, this time around, basing her work on "Angela Carter's feminist reworking of fairy tales." Good stuff; go see. Also on exhibit are abstract expressionist ceramic works by Dennis Leon and video by Melissa Dubbin and Aaron Davidson.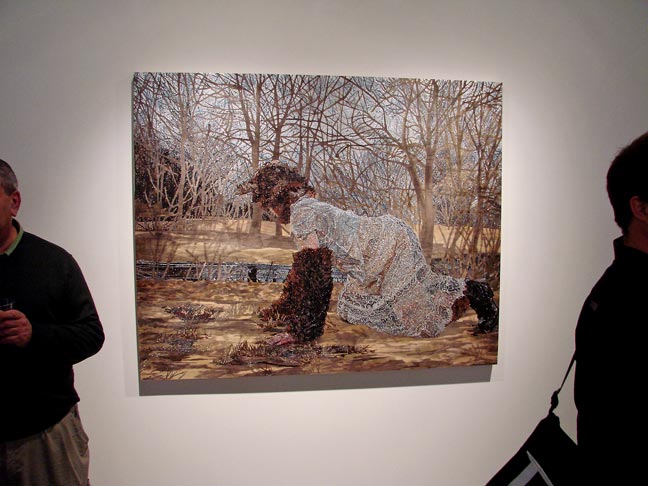 Art (Jamie Vasta).


Art (Jamie Vasta).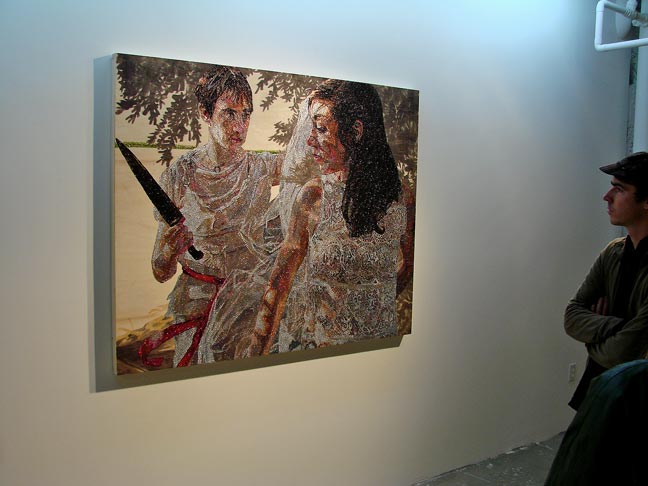 Art (Jamie Vasta).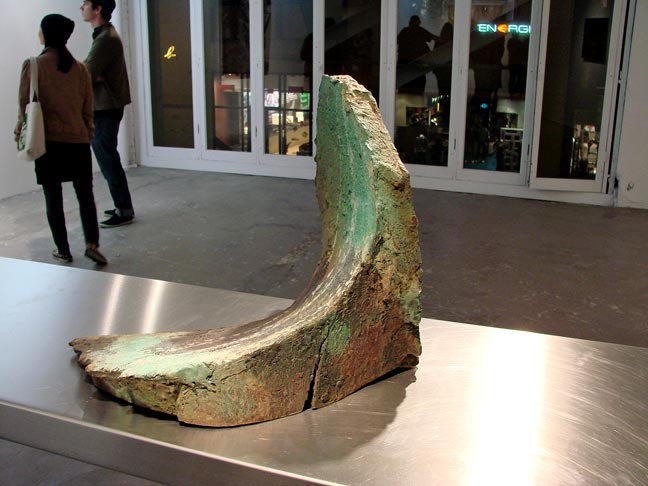 Art (Dennis Leon).


***
Newmark Gallery: Paula Evers - Contemporary Dutch Master.
Comment by AB: Paula Evers appears in person, direct from the Netherlands (where her last show sold out almost immediately), to present her signature abstracted landscape and figure paintings, vivid, vibrant, and texture-rich. Nice work.
Art.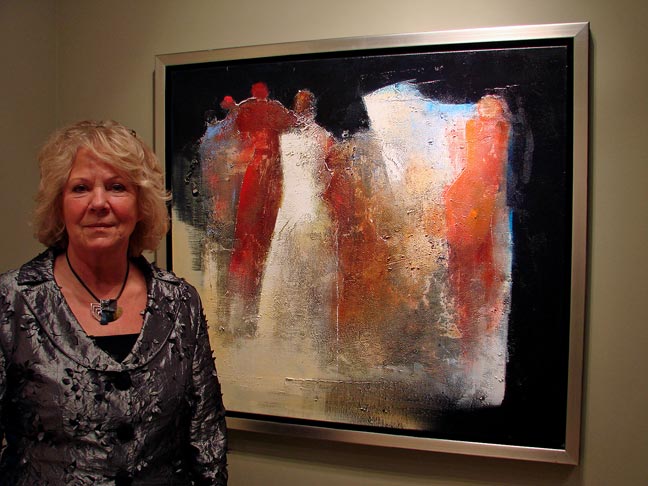 Paula Evers - art.


Art.


***
Scott Richards Contemporary Art: Martin Di Girolamo - Girls.
Comment by AB: Pick of First Thursday. That simple and no more complicated. Martin Di Girolamo's intriguingly libidinous "girls" remind me of 3-D Mel Ramos paintings, but hyper-accurate, sexed up, and so lifelike, they may well go animate at any moment. And if they do, watch out!
Review by Uba Owl: Girls. Girls, girls... The show is almost as good as flipping the pages of Playboy, and in a way, better. Martin Di Girolamo's painted epoxy girls are three-dimensional-- and if you're lucky enough, and nobody's paying attention, you can even touch. Most of Di Girolamo's women are about as healthy as women get, however at least one is borderline anorexic, another alarmingly so.
Does the artist find sculpting in this manner sensual or is he trying to say something? If he trying to say something, it does not come across, but then again, maybe there is a message in it (he does not work with models). The bodies are very well executed, unless you look closely and notice an elbow that could belong to a 60-year old.
"Proceeding as a collage maker, the artist begins his work choosing a perfect body, the perfect posture that suits that body image and concept of sensuality, as he savors the image until he captures the essence. Observing the details brought up by the photos he studies, he works emphasizing the transgression process implied in the reverting the bi-dimensionality of the printed image brining it up into the tri-dimensional world."
I cannot decipher the idea behind the sculptures. But I am not a boy. I wish he made some sculptures of men too!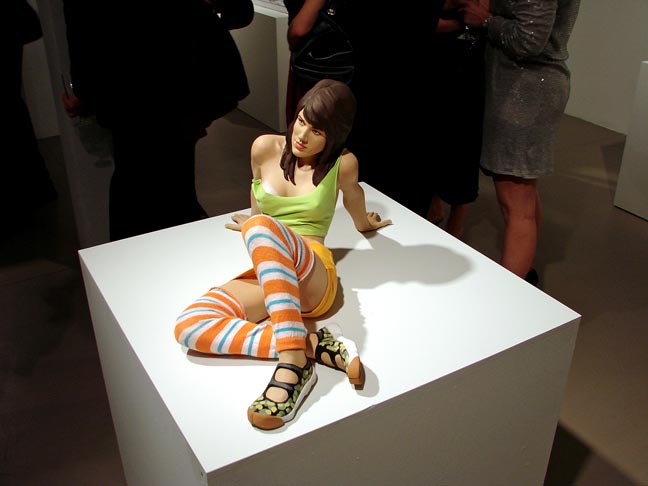 Art.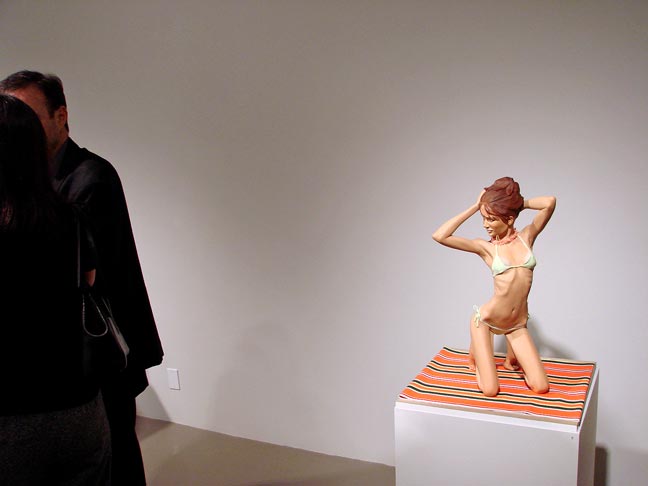 Art.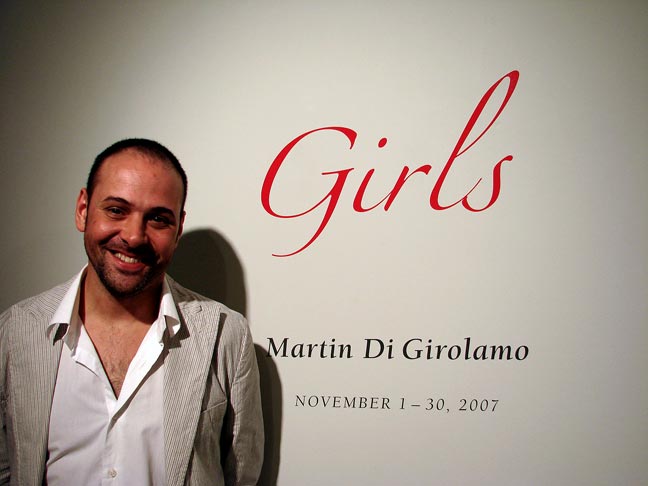 Martin Di Girolamo - art.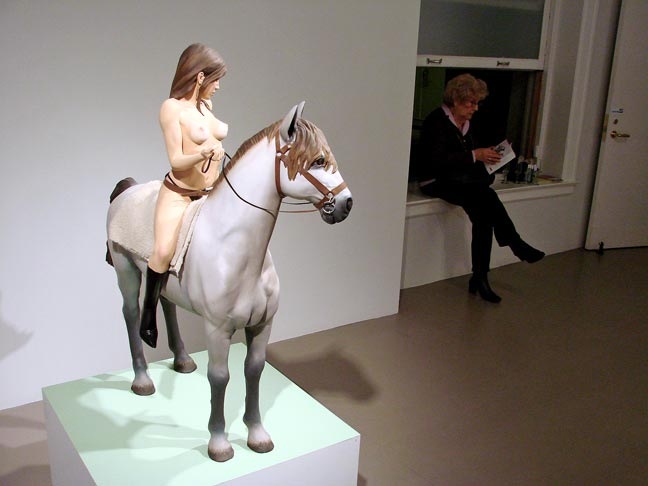 Art.


Art.


Art.


***
Dolby Chadwick Gallery: Suhas Bhujbal - A Quiet Town.
Comment by AB: Suhas Bhujbal's confident transfigured townscapes are intended to convey a meditative sense of peace, quiet, and security-- and they do.
Art.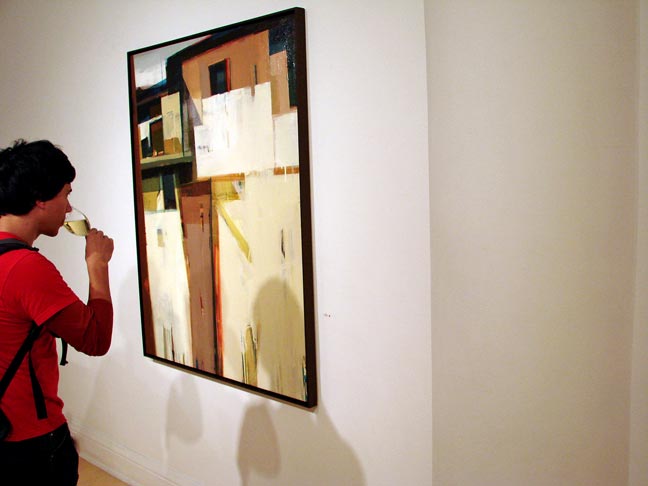 Art.


Art.


Art.


***
Modernism Gallery: Gottfried Helnwein - The Disasters of War.
Review by Caroline Andreolle: This collection of the Austrian artist's work is eye-captivating both due to its quality of subject treatment and media treatment. From afar, the gigantic images look like photographs with their quality of detail and realism. However on closer inspection, fine brushstrokes become discernable, especially in several compositions of anime characters interacting with a blindfolded girl, gun in hand-- you can see the fine array of textures in her hair, her blindfold, and the background.
The works of Helnwein are vibrant, gut-reaction-provoking, and can both stand alone or be considered as a storyboard ensemble. The doll-like girl posing through the frames blurs the boundaries between reality and fiction, documentary and anime. The situations presented also blur the lines of a novelistic storyline which could form in the viewer's mind: Who are these characters? Why are they interacting this way? Is this the end, or merely the beginning?╩Uniformly dark backgrounds make╩time and space disappear behind these characters,╩leaving a void where any attempt at resolution╩is destined to fail.
Comment by AB: According to the literature, Gottfried Helnwein's haunting images are all about war, the brilliance being that he offers nothing for ideologues to get all partisaned about-- to either confirm or condemn their agendas-- the upshot being that no matter what anyone's stance on which war, they're inexorably compelled to confront the atrocity itself... and those who perpetrate it.
On a technical note, the term "mixed media on canvas" is used to describe a number of works in the show, works which are actually digital (aka giclee) prints with overpainting. Maybe next time, table the prevarication and call 'em what they are. They'll be just as effective-- I can assure you.
Art.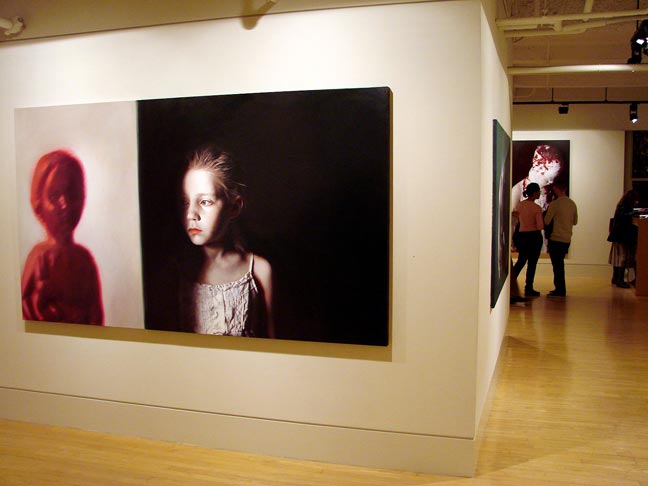 Art.


Art (photo by Caroline Andreolle).


Gottfried Helnwein - art.


Artist's model (photo by Jessica Whiteside).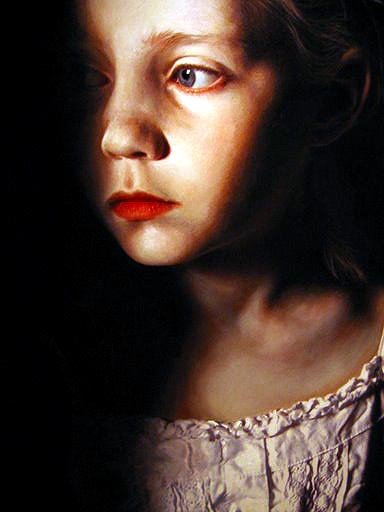 Painting detail (photo by Jessica Whiteside).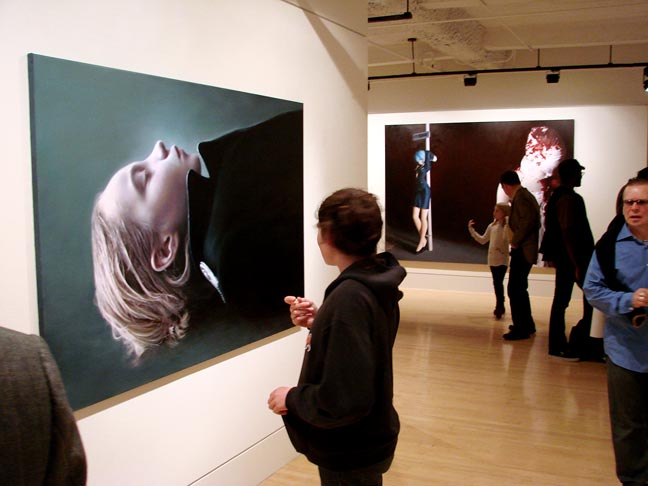 Art.


Art.


***
Frey Norris Gallery: Stick and Move - Young Asian Artists in a Global Context.
Artists: Hiroyuki Nakamura, Paiman, Sangeeta Sandrasegar, Yoo Seung-ho.
Review and images by Jessica Whiteside: Frey Norris Gallery is currently featuring the work of four artists, each from a different part of Asia. All are also showing for the first time in the United States. Some of the work really stands out on its own like that of Hiroyuki Nakamura whose art, although unique in its appearance, has a clear contemporary Japanese style and opinion.
Art.


Hiroyuki Nakamura (left).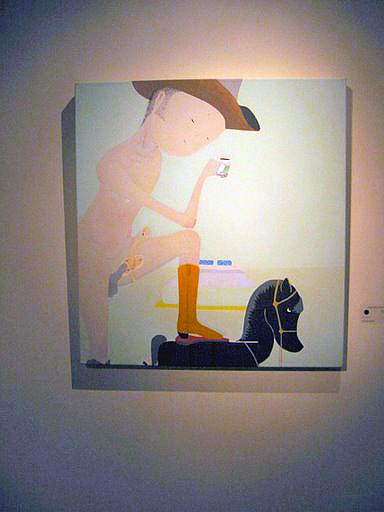 Art.


***
SF Camerawork: 2007 James D. Phelan Art Award in Photography Presented in Conjunction with the San Francisco Foundation.
Photographers: Geoffrey Ellis, Appollonia Morrill, Walt Odets.
Review by Caroline Andreolle: Geoffrey Ellis presents an interesting array of vintage kitsch and pop culture items collected on eBay, and photographed in context, at arm's length-- perhaps on shelves, perhaps on the floor-- constituting snapshots of consumerism at various points in time. Interesting work in its angles and subject treatment.
Walt Odets has been shooting documentary photographs in black and white for 15 years. What is remarkable about his snapshots of the American life is that it is difficult at times to tell the difference between 1970's from 1990's images. Alternating between close-ups of daily activity and symbols of materialism (Cadillac and Shrug), the work of Odets unravels both individual and collective situations with convincing elegance.
Between 1866 and 1969, approximately 8,000 people were confined on Kalupapa, quarantined with Hansens' disease (leprosy). Apollonia Morrill's various square-format color photographs of interior and exterior building details provide perspectives on the austere Kalupapa environment-- rusty corners, subsistence plumbing, and utilitarian architecture. Through her close-ups, we feel intimate with the history of this environment. ╩
Also at the gallery, "There is Always a Machine Between Us" is a generative exhibition which showcases works of artists, filmakers, writers, and producers whose work and research draw from online source material. Films and interactive processes are showcased in this laudable effort to give space to the new media paving our daily lives.
Photography (Geoffrey Ellis).


Photo (Geoffrey Ellis, courtesy of Caroline Andreolle).


Photos (Apollonia Morrill).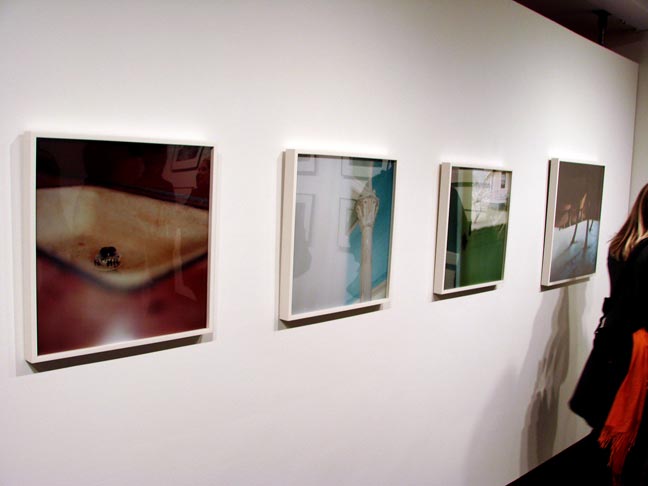 Photographs (Apollonia Morrill).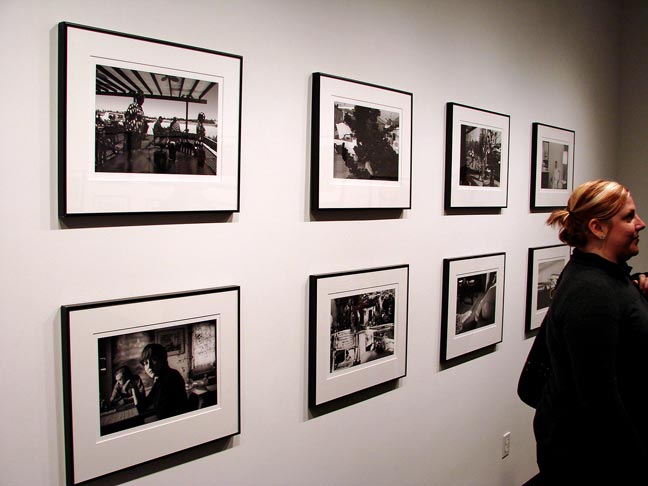 Photography (Walt Odets).


***
111 Minna Gallery: Obsessive Compulsive Order.
Artists: Ezra Eismont, Nome Edonna, Neon, Chor Boogie, Apex.
Review by Jessica Whiteside: In this group exhibition curated by Ricardo Richey aka Apex, the111 Minna Gallery continues its recent tradition of showing art inspired by graffiti. The brightly colored pieces stand out in the darkness of the space, each artist with a very different style from the next, though they all seem to fit together with their brightly colored spray painted surfaces and character based narratives. Nome Edonna presents some amazingly small portraits that are fun to eyeball up close, and another artist (not sure who) features the cutest cartoon-like bird figure that made me giggle out loud on first glance.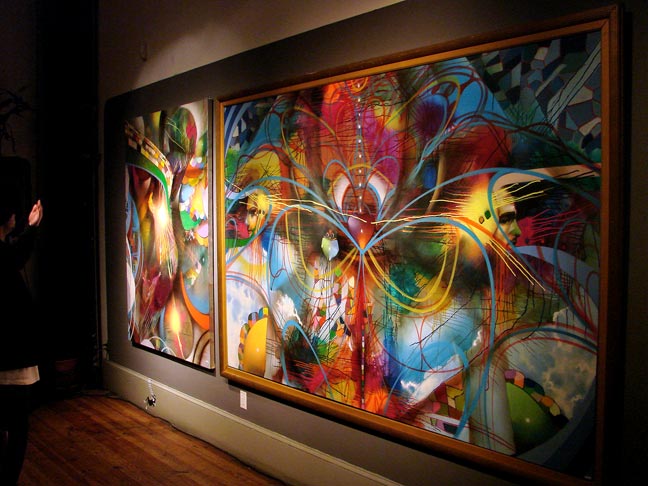 Art (Chor Boogie - like it).


Art.


Art (Nome Edonna).


Art (Nome Edonna - photo by Jessica Whiteside).


Art (Nome Edonna).


Art (Apex, foreground).


Art.


***
Fifty24SF Gallery: San - Sparks and Ashes; Date Farmers - The Ballad of Richie Valenz, and Other True Stories.
Date Farmers review by Kristin Farr: Visit Fifty24SF's upstairs space to see new work by the Date Farmers-- paintings on corrugated metal and wood, wooden sculptural figures, drawings on the wall, and a new 96-page book called Super Locos. The photos don't really do the work justice because you miss the tiny, amazing details. The Date Farmers, Armando Lerma and Carlos Ramirez, are brilliant illustrators who comment on pop culture influences in the Southwest and Mexico. They intriguingly incorporate sparkly girl stickers from the 80's, Mexican comics, found letters, thread, glitter, coffee cans, and iconography into their work. The show blew me away. Not only does the detail in the work make you stare, it makes you laugh while offering an educated perspective on popular culture infiltration and globalization.
Comment on San by AB: San is in town from Madrid Spain to offer up an impressive selection of work, executed with the skill of an illustrator, but conceived with the mind and the eye of an artist. And he's admirably affable too. Good show; go see.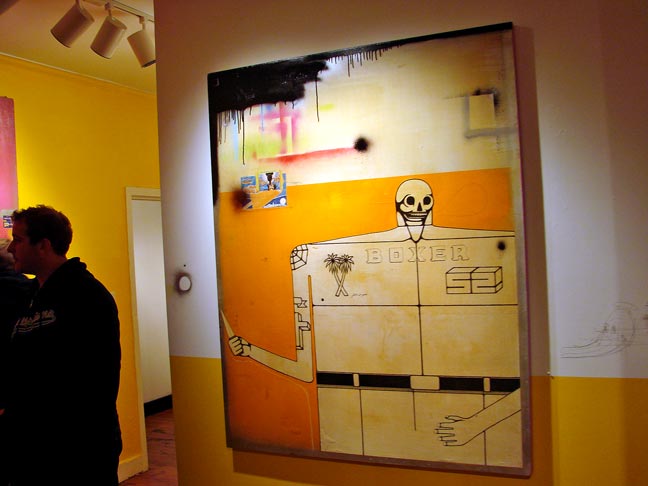 Art (Date Farmers).


Art (Date Farmers).


Art (Date Farmers).


Art (Date Farmers).


San - art.


Art (San - like it).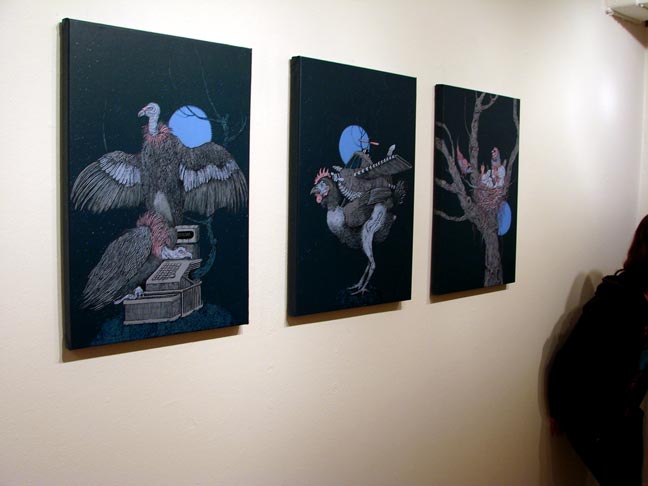 Art (San).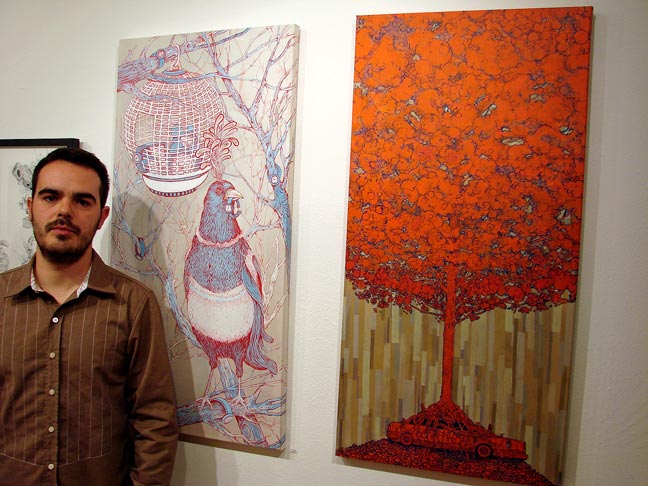 San - art.


***
Lower Haters: Ariel Shepard - Resurrection in Paint and Other New Works.
Review by Kristin Farr: In honor of Dia de Los Muertos, Lower Haters Gallery is exhibiting large-scale paintings paying homage to fallen stars associated with the world of Hip-Hop including James Brown, Ol' Dirty Bastard (a.k.a. Big Baby Jesus), and Aaliyah. The opening is a feel-good, well-lit scene and I think the deceased would be honored to be the subjects of Shepard's tributes.
Comment by AB: Ariel Shepard tells me that for the past several years, he's been doing artistic tributes to those who have gone before us. Lest we never forget...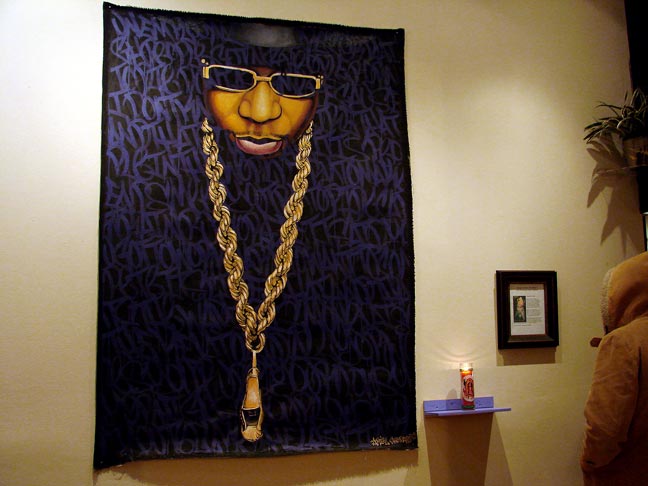 Art.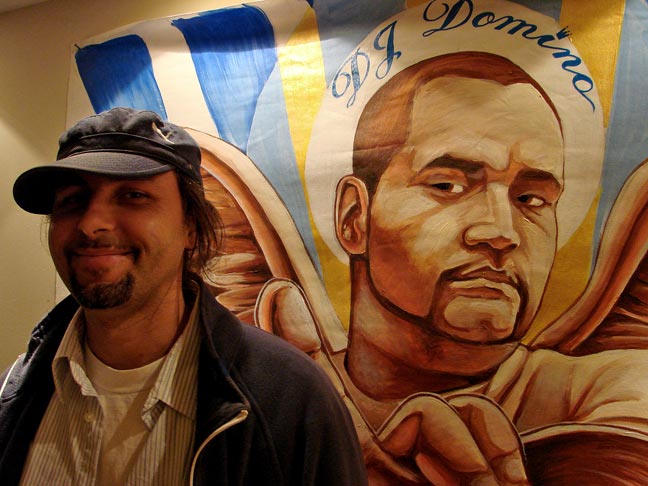 Ariel Shepard - art.


Art.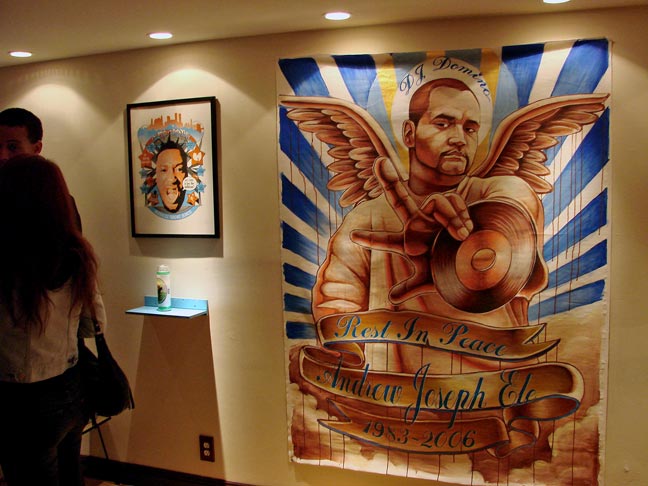 Art.


***
Addendum:


Always plenty to choose from at Art Exchange Gallery.


Paintings by Kim Miskowicz at Cafe Royale (photos, J. Whiteside).


Kim Miskowicz (right), curator (left) at Cafe Royale.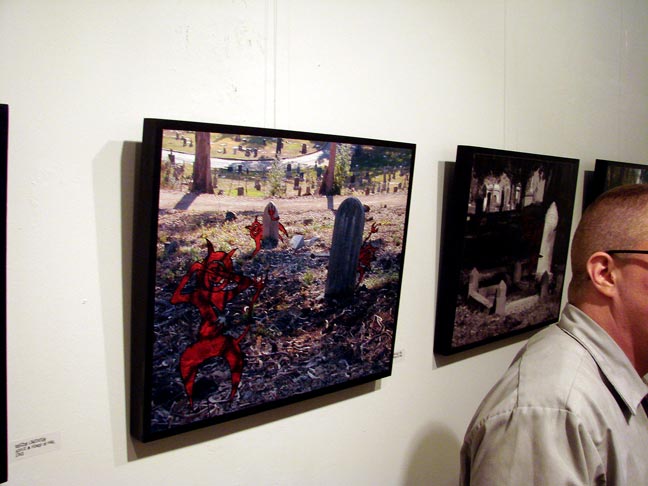 Kriss De Jong painted photographs at The Tricycle.


Kriss De Jong & art at The Tricycle.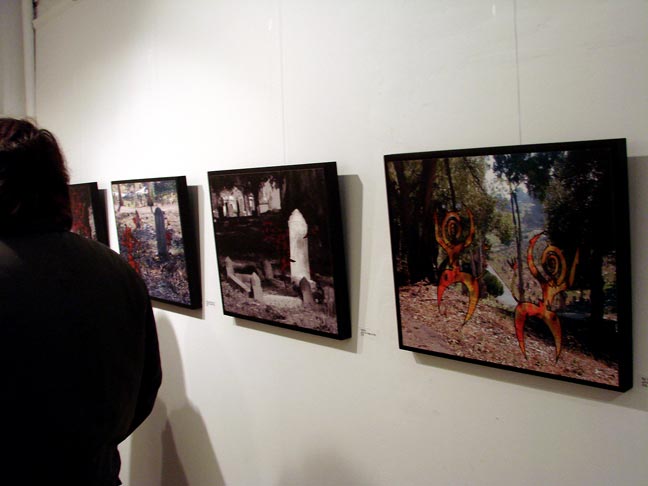 One more from The Tricycle, 710 Oak St., SF, CA 94117; 503.502.3273.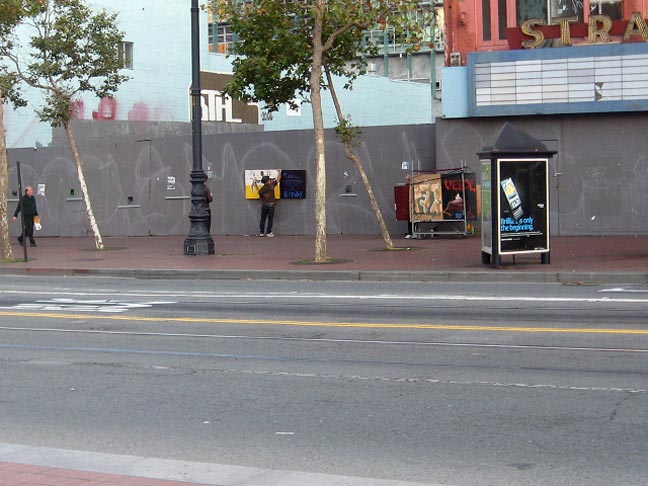 Michael Morehouse throws himself a farewell solo on Market St.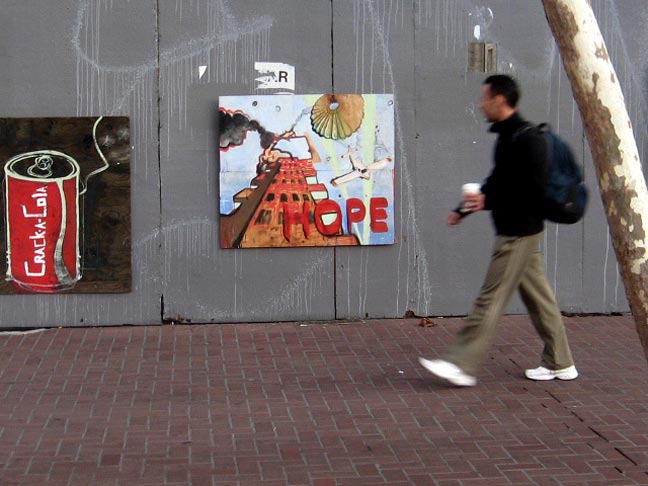 One more from Michael Morehouse solo on Market St.


***
And now for a brief word from our sponsor. Special added bonus-- you get a complimentary link to your website in return. See y'all next month.
***
First Thursday; October 4, 2007