SAN FRANCISCO ART GALLERIES OPENINGS
FIRST THURSDAY; 02.07.08
(with assistance from Uba Owl, DeWitt Cheng,
Dennis C. Scherzer, and Jessica Whiteside)
General comment by AB: Plenty to cover tonight, so I suggest we get right to it. On second thought, I wanna take a moment to offer up a major Thank You to all those who volunteer assistance in chronicling the artbeat of San Francisco's remarkably enlightened, innovative, progressive, and indefatigable creative community. Here in the Land of the Golden Gate, everybody tries everything all the time and the best part? We respect you regardless. As one dealer (or shall we say "gallerist") recently noted, nowhere in America are there so many alternative, nonprofit, experimental, and community options and opportunities for artists per capita as there are here.
As for you, my darling merceneries, you're right-- the money may ultimately be elsewhere-- but the naissance more often than not happens here. Speaking of money, you local acquisitory aesthetes who choose, for investment or status or ego or whatever your reasons, to spend your art dollars in faraway places, you might think about maybe setting aside a modest amount for our cherished domestic talent. Why? 'Cuz they're very likely one meaningful reason why you prefer to live here even though you buy there.
Alright. Enough yammering. Off we go...
***
John Berggruen Gallery: Bruce Cohen - Recent Paintings (third floor); Paintings, Drawings, and Sculpture (second floor).
Artists (second floor): Stephan Balkenhol, Los Carpinteros, Jim Dine, Mark di Suvero, Tom Friedman, Anton Henning, Damien Hirst, Albert Oehlen, Martin Puryear, Joel Shapiro, Kiki Smith, Robert Therrien.
Comment by AB: At first glance, Bruce Cohen's paintings of interiors, most with windows and doors open out onto serene landscapes and skies, appear entirely typical, bright, and delightful. But look a little closer and you begin to notice subtle plays on perspective, light, shadow, positioning, and abstraction which override the real and impart dreamlike or imaginary airs. Top off your aesthetic tank downstairs at the group show.
Art (Bruce Cohen).


Art (Bruce Cohen).


Bruce Cohen - art.


Art (Bruce Cohen).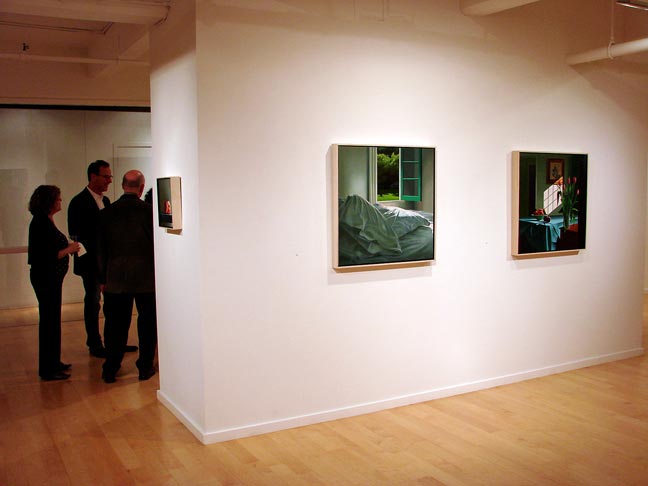 Art (Bruce Cohen).


Art (group show).


Art (group show).


Art (group show).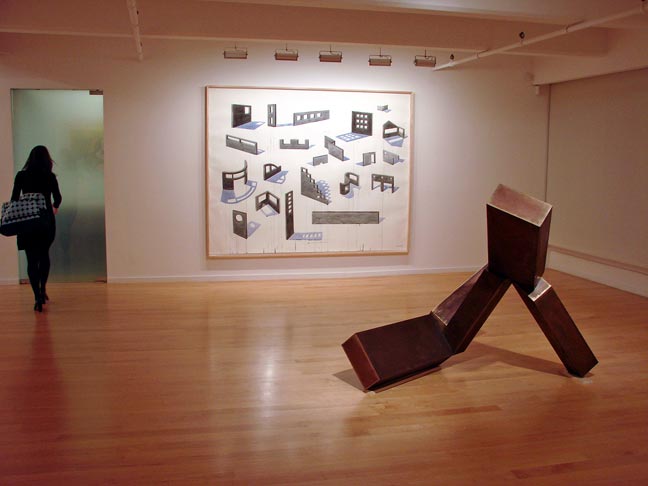 Art (group show).


***
Gump's: Treasured Vessels - The Art of the Teapot.
Artists: Michael and Maureen Banner, Paul Benson, Alice Corning, Jack and Marilyn da Silva, Heath, Cliff Lounsbury, Roy McMakin, Laurie Marson, Merrill Morrison, Frances Palmer, Gregory Roberts, Inge Roberts, Leslie Roth, John Scott, Richard Shaw, Candace Kling.
Comment by AB: There's nothing quite like hobnobbing with the nobs here at venerable Gump's, as all manner of olde skool Ess Eff gentry pip pip and tally ho in the midst of this delightful exhibition of teapots by Bay Area artists. The pots are fashioned from a variety of mediums including wood, metal, fabric, ceramic, and even a folding tape measure, and in designs ranging in practicality from totally functional to totally non-functional. You got at least one of every imaginable essence including stunning, lighthearted, unexpected, frilly, whimsical, astounding, imposing, impossible, amusing, and technically exemplary. Beautifully presented and displayed-- of course.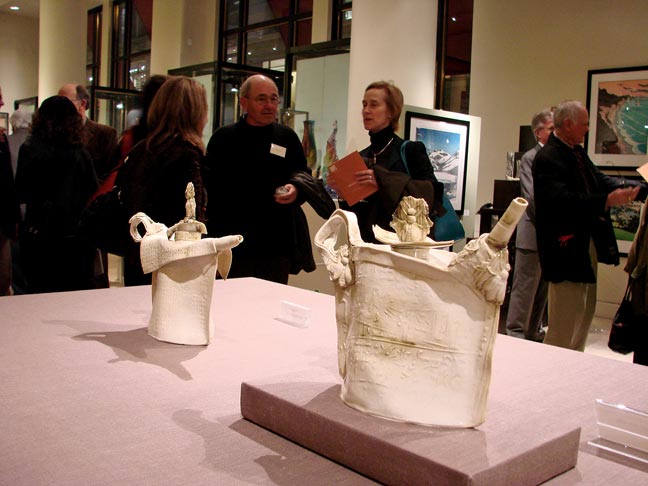 Teapot art.


Carved wood teapot art (like 'em).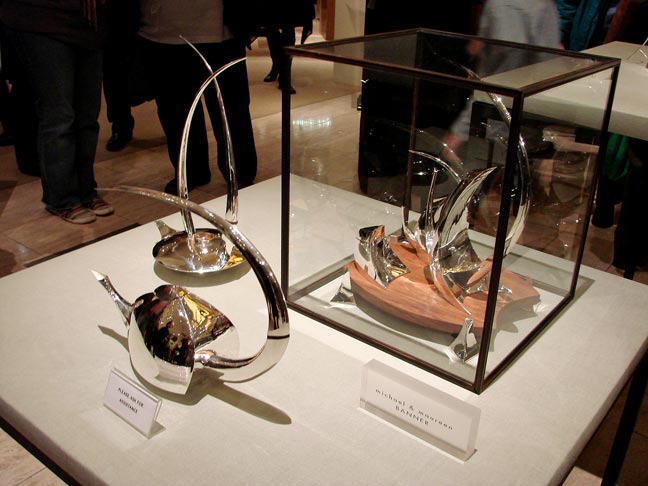 Teapot art.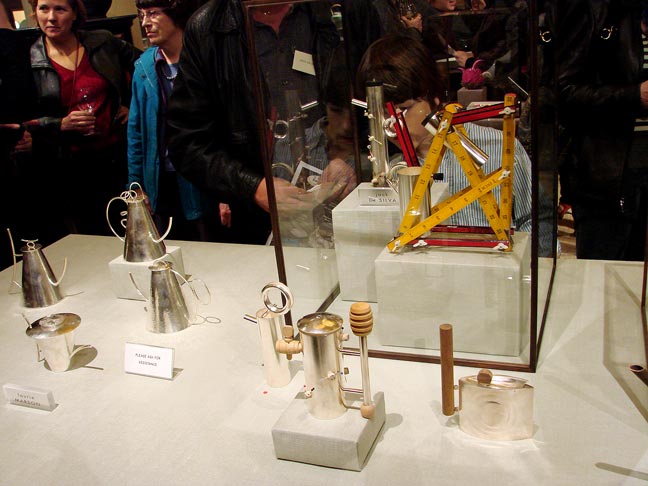 Teapot art.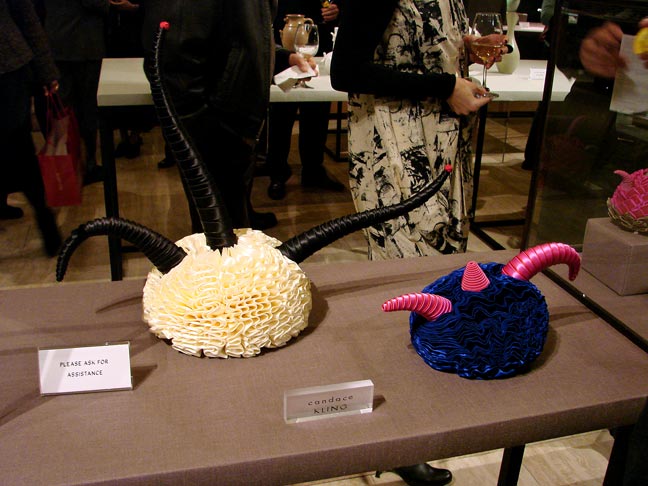 Teapot art (not quite sure where you put the tea in these).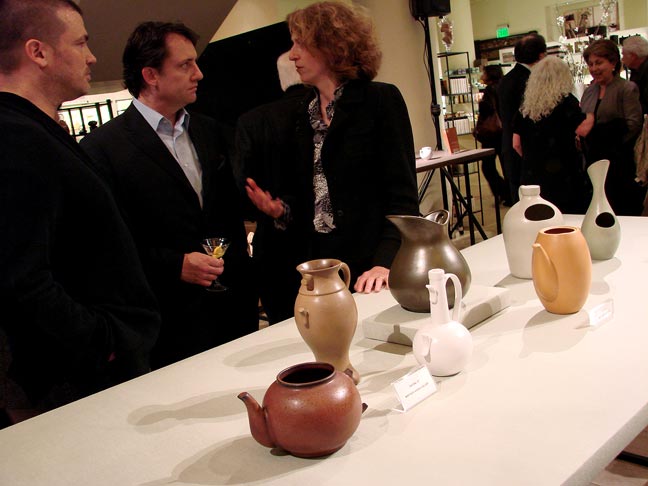 Teapot art.


Teapot art.


Teapot literature.


Fraternization.


***
Gallery Paule Anglim: Jess & Robert Duncan - Drawings; Charles Garabedian.
Comment by AB: The main gallery features an array of drawings by reknowned partners in iconoclasm, Jess and Robert Duncan. Prices range from the mid-thousands to $150K. But you can get the accordion-fold 2007 facsimile edition of the 1957 Jess/Michael McClure book, The Boobus and the Bunnyduck, limited to only 100 copies, printed by SF's own Arion Press, for $1500. In the rear gallery you'll encounter a selection of colorful offbeat upbeat works on paper by Los Angeles artist Charles Garabedian.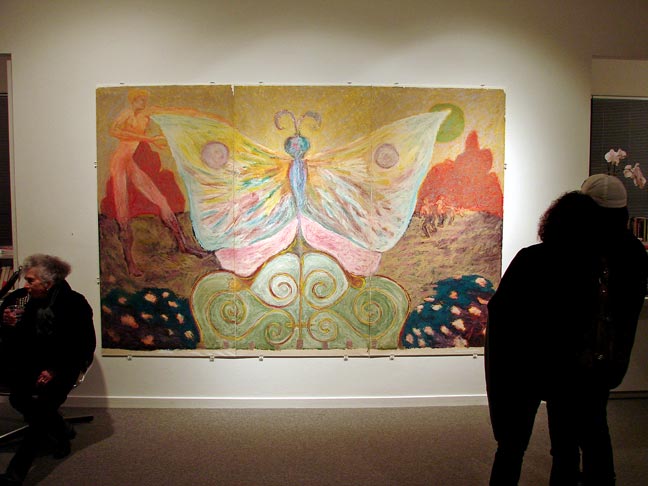 Art (Jess).


Art (Jess).


Art (Robert Duncan).


Art (Robert Duncan).


Art (Charles Garabedian).


Art (Charles Garabedian).


Art (Charles Garabedian).


***
Stephen Wirtz Gallery: Deborah Oropallo.
Review by Uba Owl: Very interesting show of Deborah Oropallo's art-- the most interesting of the night by far for me. In her older work, she copies pictures from the Internet and layers and mixes them together using Photoshop. The results are engaging, but controlled. Her new work is much more free-- she plays with images like a painter. Don't miss this show!!!
Oropallo says about her art, "I use the computer as the tool, but painting is the language of deliberation that is running through my head. I do not want to just repaint an illustration of what the computer can do, but to push the pixels themselves as paint, and to layer imagery and veils to create depth and volume. Like painting, this process can engage nuance and subtlety. It also has the ability to alter an image in a way that no other medium can deliver or predict."
Comment by AB: Pick of First Thursday. For years, artsters have debated whether digital prints can be considered "art." Well, Deborah Oropallo, with her incomparable mastery of the digital medium as exemplified in her most recent work, trailblazes the answer toward an unequivocal "yes" as the debate, perhaps legitimate at one time, steadily progresses to non-issue. Plus Oropallo skillfully works acrylics into the mix, thereby further imparting the look of paintings to her mesmerizing imagery-- even when you zoom in close.
Art (Deborah Oropallo).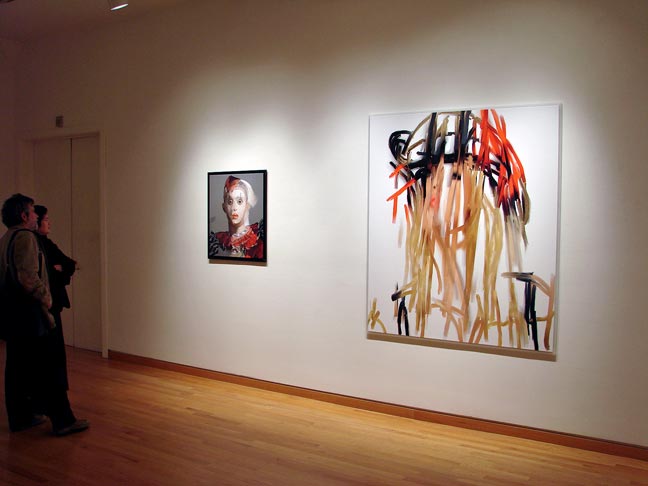 Art.


Art.


Art.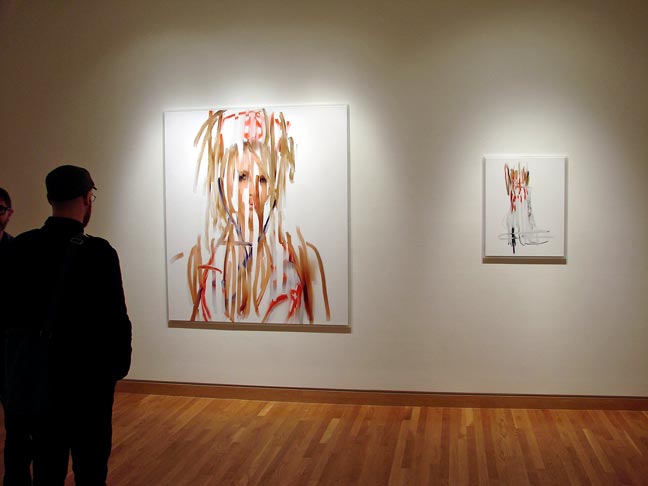 Art.


Art.


***
Robert Koch Gallery: The Source. Carleton E. Watkins, Edward Burtynsky,Tom Baril, Debra Bloomfield, Sally Gall, Paul Caponigro, Kéroly Escher, Jiri Lehovec, Florence Henri, Edward S. Curtis, A. C. Vroman, Bisson Freres, Timothy O'Sullivan, Eadweard Muybridge, Edouard-Denis Baldus, A. Collard,
Comment by AB: The concept? A "broad meditation" on the essential nature of water. The methodology? Vintage and contemporary photographs which include water in their subject matters. There you go.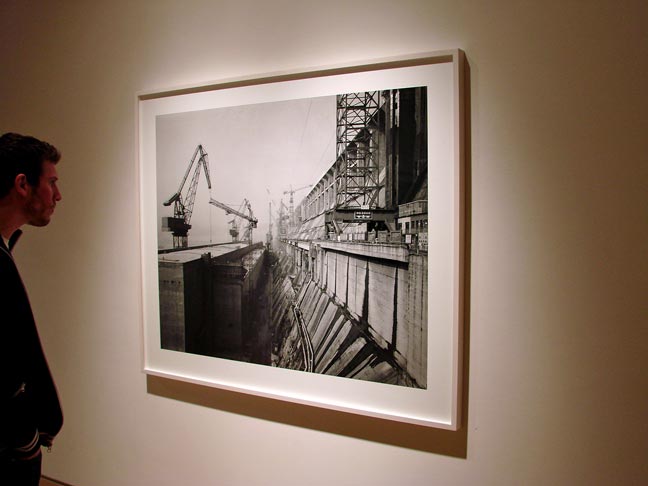 Photograph.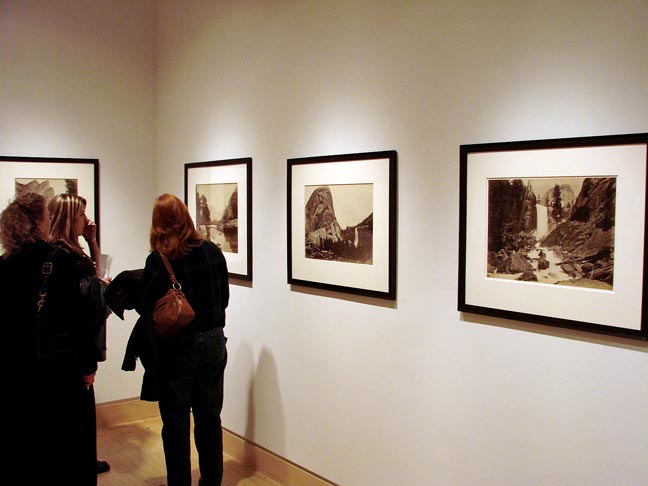 19th century Yosemite photos (Carleton E. Watkins).


Photography.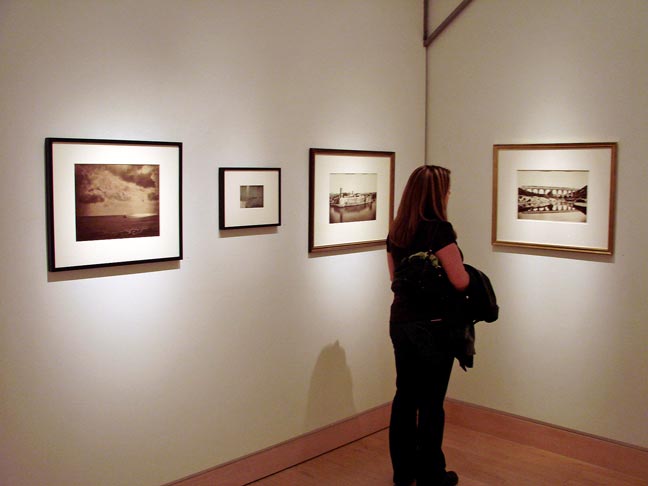 Photographs.


***
Gregory Lind Gallery: Seth Koen - Ellipsis.
Review by Uba Owl: Seth Coen creates simple, elegant and minimalistic forms of carved wood, and woven and crocheted strings in various combinations of balls and thin, often curved, lines. The wood sculptures, so delicate they can barely be carved any thinner, remind me of mathematical symbols or early written letters in forgotten languages. Very elegant, gentle and peaceful.
Comment by AB: Like it.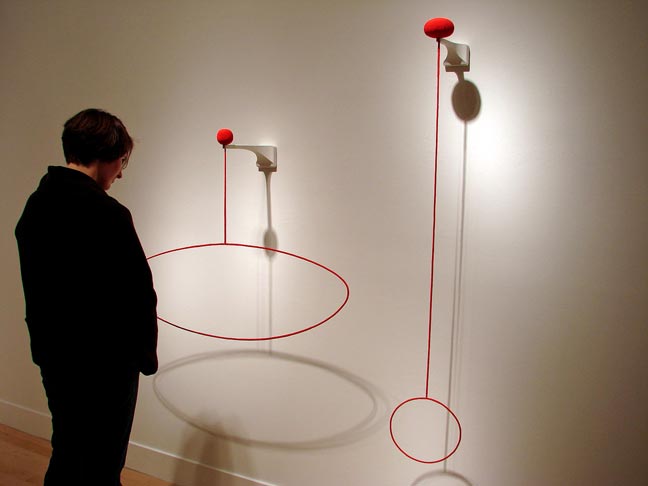 Art by Seth Coen.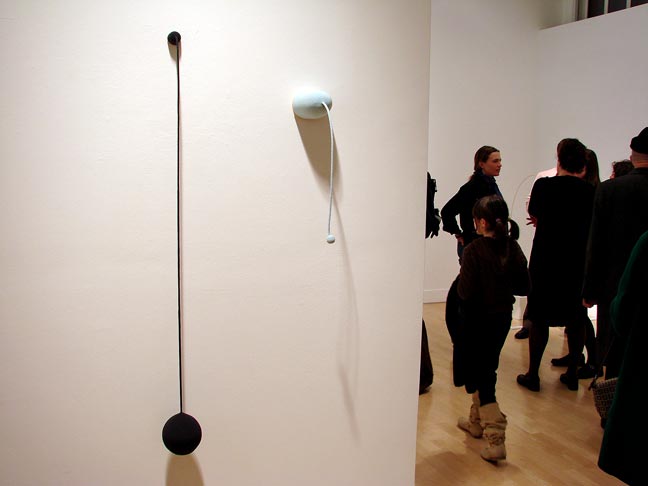 Art.


Seth Coen - mindblowing wood sculpture.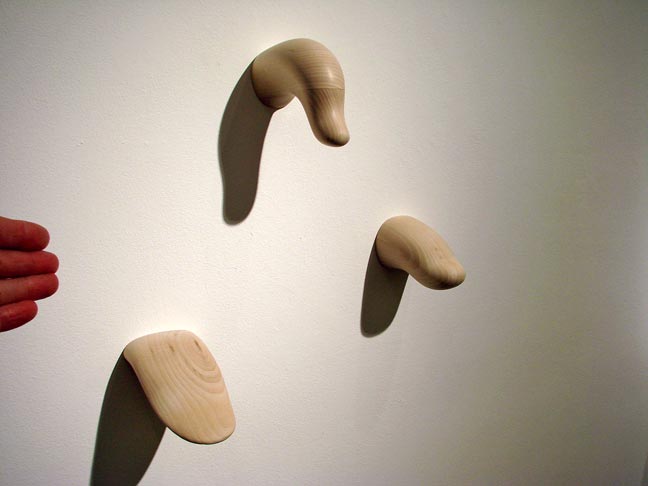 Curiously good wood sculptures.


Art.


***
Elins Eagles-Smith Gallery: William Theophilus Brown.
Review and photos by DeWitt Cheng: Bay Area Figurative artists like Theophilus Brown (b. 1919) applied Expressionist paint handling to representational art, to the dismay of 1950s-1960s esthetic purists. (Today, of course, we have similarly apocalyptic art turf wars.) A sizeable sampling of Brown's work demonstrates both his versatility in handling a range of themes and even styles, and his pictorial consistency, which imposes order on his strong diagonals and vigorous gestures.
DeWitt Cheng writes for Artweek, Art Ltd., www.SanFranciscoArtMagazine.com, www.Shotgun-Review.com, and the East Bay Express.
Early DeKooningesque work on football theme from New York years.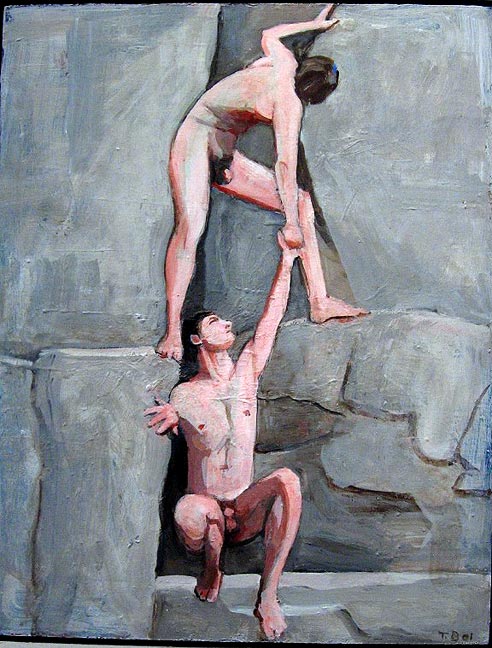 More state of nature.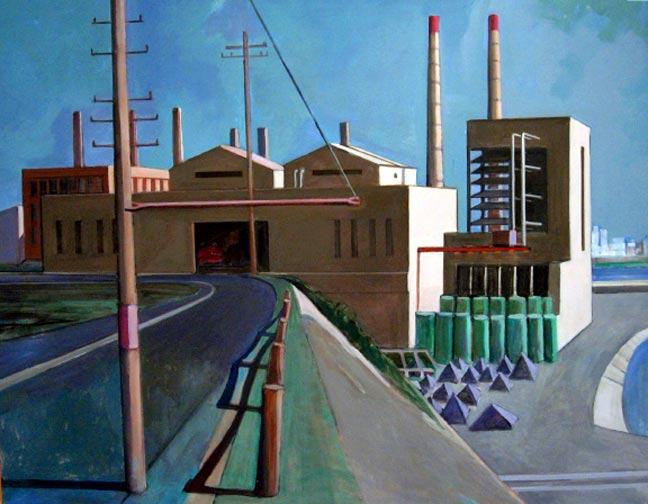 Street scene.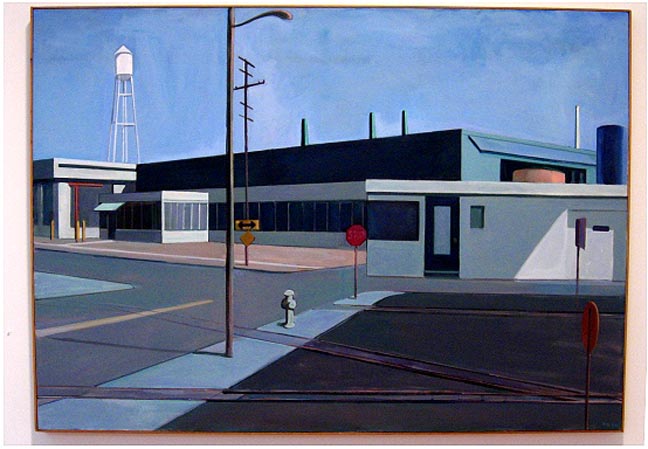 Another bit of urban landscape.


20th century version of mythic Golden Age.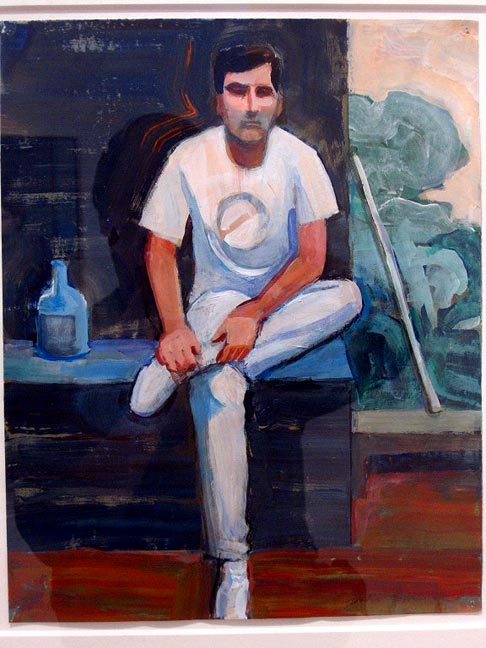 Portrait.


***
Don Soker Gallery: Christel Dillbohner - "Observations/Impressions," Assemblages and Paintings.
Review by Dennis C. Scherzer: Christel Dillbohner describes memory to me as a filter that captures a residue of personal and cultural history. The physical texture of her art represents marks of passage-- marking living time. The assemblages and paintings on exhibit at Don Soker Gallery are manifestations of just that.
The gallery is dominated by two recent large scale works, "Interiors," a recent piece (2008) and "Das Bienengleichnis" (2007). "Interiors" is a brightly painted oil triptych featuring textures created with beeswax. Textured beeswax, reminiscent of pallet knife appliqué, is a common theme in Dillbohner's works. It is exalted in "Incisions IV" (2006), a photo collage with wax and oil on wood. It's almost as if the raised wax dimension is a chill of tiny ripples on a puddle reflecting memory and mood.
"Das Bienengleichnis" (The Parable of the Bees) is large scale expansion of Dillbohner's memory palace that places photographic collage into a sequence of framed visions semi-opaquely immersed in texture. Her art consists of softly reminiscent impressions which are shared rather than confrontational statements that have been made.
Comment by DeWitt Cheng: Christel Dillbohner creates poetic, somewhat minimalist assemblages and paintings. She has exhibited recently at the Fresno and Monterey Museums.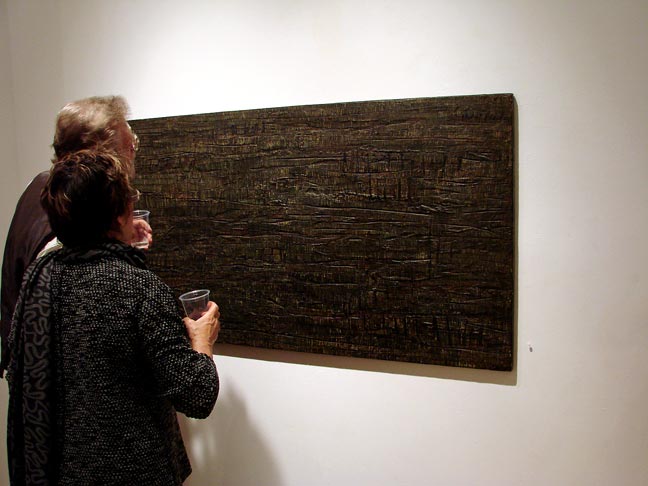 Art.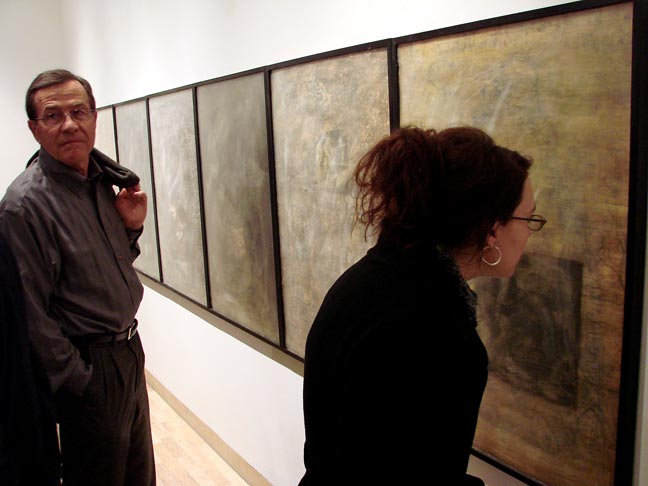 Art.


Christel Dillbohner (photo c/o DeWitt Cheng).


Theodora Varnay Jones (artist) - Don Soker (photo c/o DeWitt Cheng).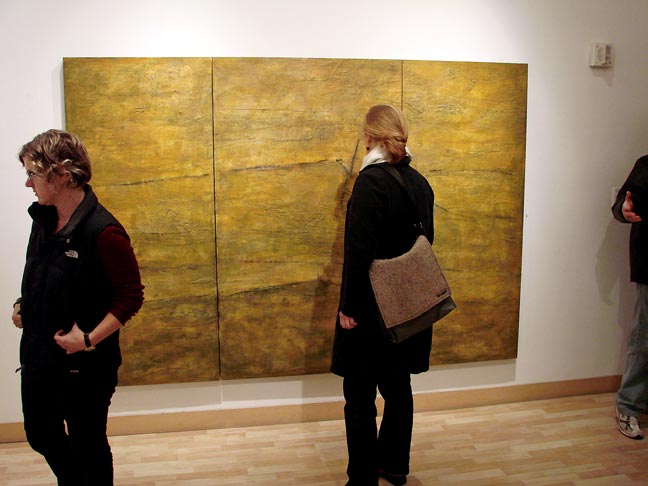 Art.


Art.


Layout (Christel Dillbohner + long painting "Das Bienengleichnis," left).
Photo c/o Dennis C. Scherzer.


***
Gallery 415: Claudio Roncoli - The Great Pretender.
Review by DeWitt Cheng: Claudio Roncoli is a young Argentine painter who scavenges the commercial imagery of the 1960s and 1970s-- Argentine, American, Chinese, pretty much the same international cast of scrubbed, smiling, clean-cut citizen-consumers. He then scans and reassembles excerpts into large stretched digital prints on vinyl, to which he adds stickers, decals and high-key acrylic brushwork. Pop meets AbEx-- satirical and eye-popping, but also slightly tinged by nostalgia for that lost utopian 20th-century Land o' Good 'n' Plenty.
DeWitt Cheng writes for Artweek, Art Ltd., www.SanFranciscoArtMagazine.com, www.Shotgun-Review.com, and the East Bay Express.
Art (art critic and reviewer DeWitt Cheng, left).


Claudio Roncoli - art.


Madame Nhu, perhaps, demonstrating her abiding love of liberty?


Commie, er, capitalist menace (photo c/o DeWitt Cheng).


Claudio Roncoli (left) - Christina Bosemark (owner, center).
Photo c/o DeWitt Cheng.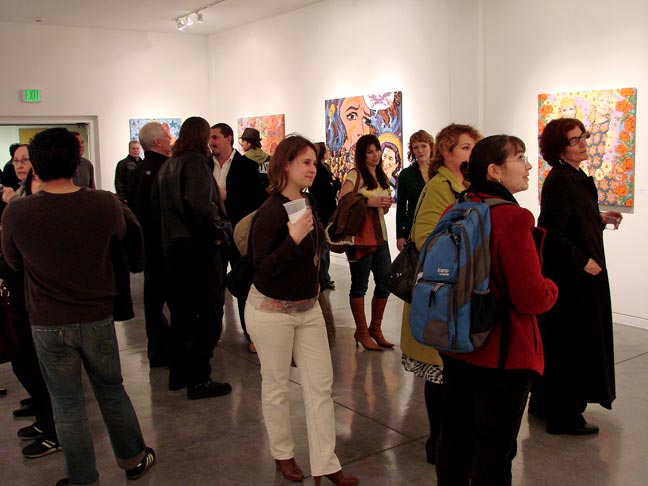 Attendance figures.


***
Toomey Tourell Gallery: William Edwards, Joe Thurston.
Comment by AB: Nancy Toomey tells me Portland, Oregon artist Joe Thurston splashes paint on a wood panel, then outlines the splash in black, then carves out the remainder of the panel the way you might cut around the raised areas on a linoleum block. Then he paints the carved areas a single color to contrast with the single color of each "splash," and then lightly abrades the colored carved areas to heighten the textural effect. The works are way labor intensive and exceptionally well executed.
The glazed ceramic wall works by William Edwards are pretty spiffy too. Recommended viewing on both counts.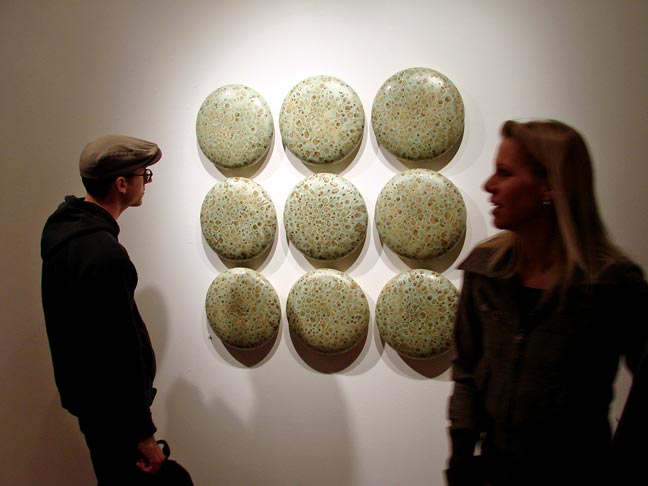 Ceramic art (William Edwards).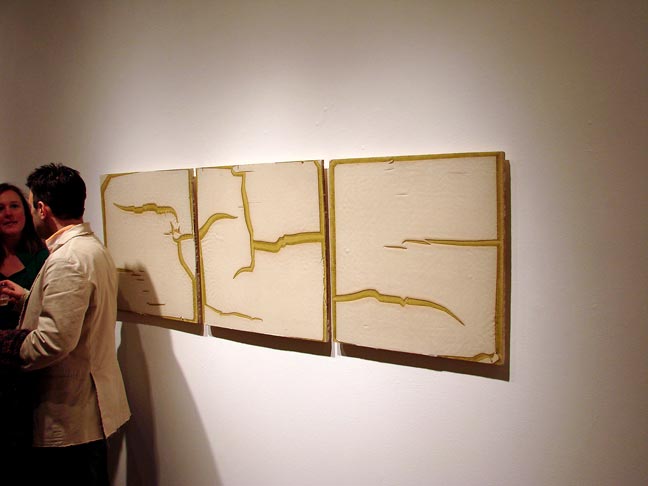 Ceramic art (William Edwards).


Ceramic art (William Edwards).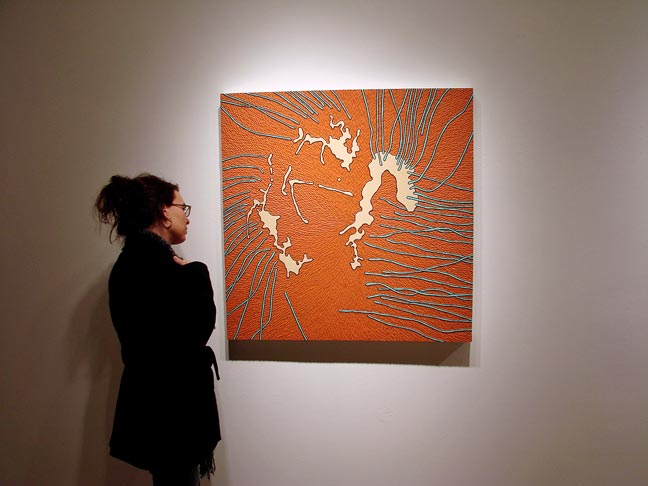 Art (Joe Thurston).


Art (Joe Thurston).


Art (Joe Thurston).


Detail of painting on right in above photo (Joe Thurston).


***
Steven Wolf Fine Arts: Tami Demaree - Half an Inch of Water and I Think I'm Gonna Drown; Matt Borruso - Full Spectrum Aura.
Review by DeWitt Cheng: Two artists create an art carnival at Steven Wolf Fine Arts. Tami Demaree makes bizarre, Dadaist collages and sculptures, while Matt Borruso makes large paintings of, well, geeks, to use the current parlance, in blazing color.
Comment by AB: Los Angeles artist Tami Demaree sums up her current crop of unrestrained freewheeling rainbow paintings, mixed media works, sculptures, and collages as memoralizing those catastrophic points in time when personal relationships go bad-- miserable as they happen, often amusing in retrospect. Matt Borruso meanwhile, presents portrait paintings and drawings of what people might look like if they emphasized their imperfections to the point of absurdity rather than, as we all do, attempt to minimize (or perhaps more accurately, invisibilize) them. Good show; go see.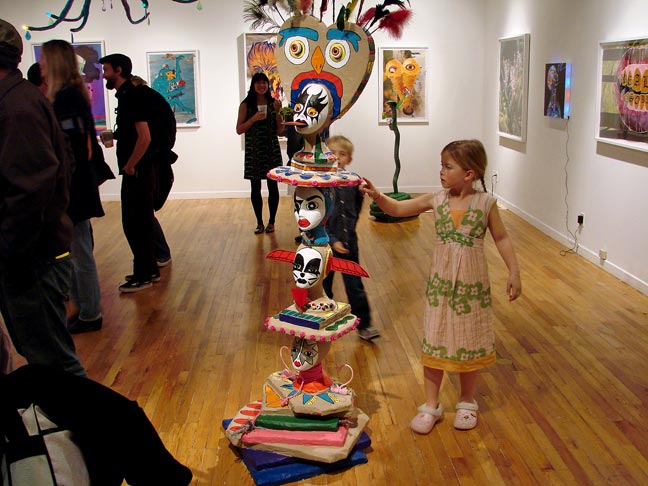 Art (Tami Demaree).


Art (Tami Demaree).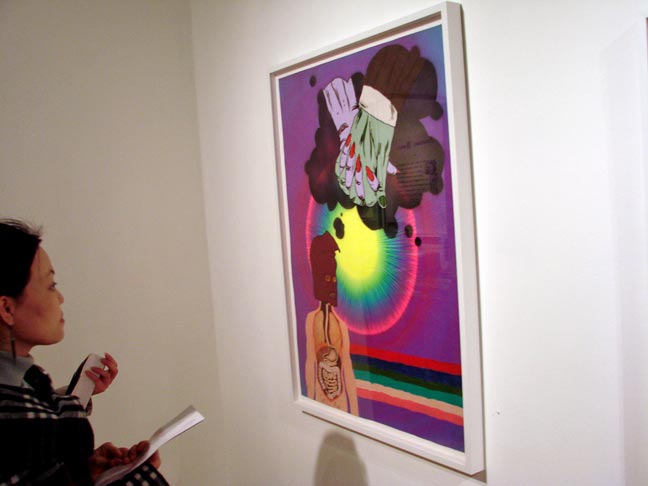 Art (Tami Demaree).


Tami Demaree & affiliate - art.


Art (Tami Demaree).


Art (Matt Borruso).


Art (Matt Borruso).


Art (Matt Borruso).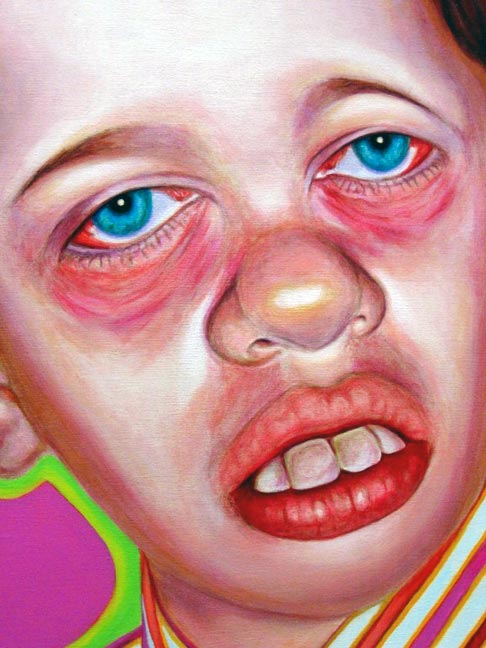 Detail of above painting (photo c/o DeWitt Cheng).


***
Mark Wolfe Contemporary Art: Jordan Eagles - New Blood Paintings.
Review by DeWitt Cheng: Jordan Eagles uses animal blood procured from slaughterhouses to create his luminous abstractions in layered resin. They're quite beautiful, with remarkable saturation and density. The forms are abstract, though organic, and suggestive of biology and astronomy.
Comment by AB: New York artist Jordan Eagles "paints" with animal blood (cow blood, to be exact) by applying and manipulating it on plexiglass and then finishing it with multiple layers of clear resin. The high contrast upshot is stark and dramatic, ranging from abstract to extraterrestrial. Ever the curious connoisseur, I ask Eagles where he gets the blood (a slaughterhouse) and how much it costs ($12 per gallon). So the big question-- can you preserve the blood redness of blood over 100 years under any circumstances? Eagles says yes, but time will be the ultimate arbiter on this one.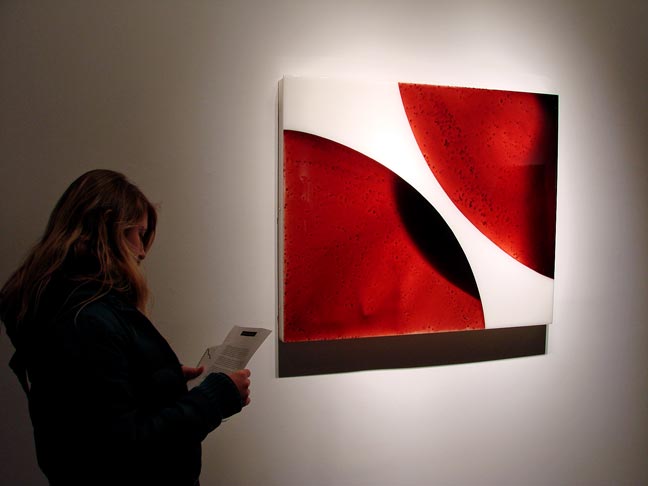 Art by Jordan Eagles.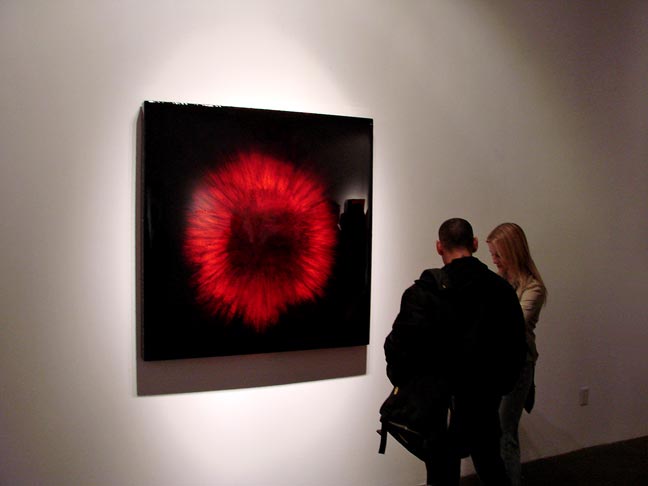 Art.


Jordan Eagles - art.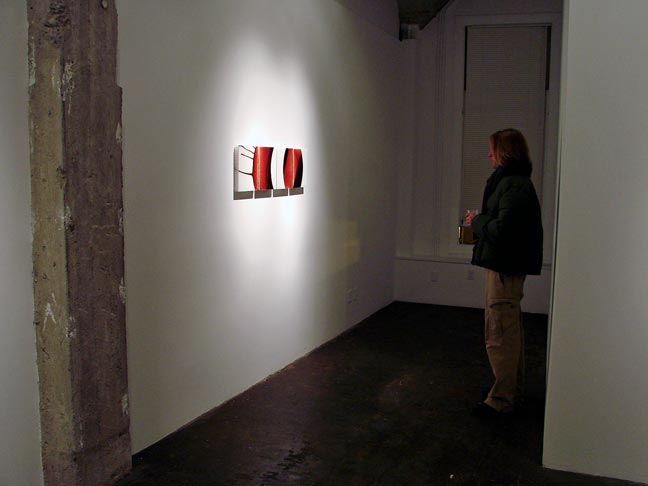 Art.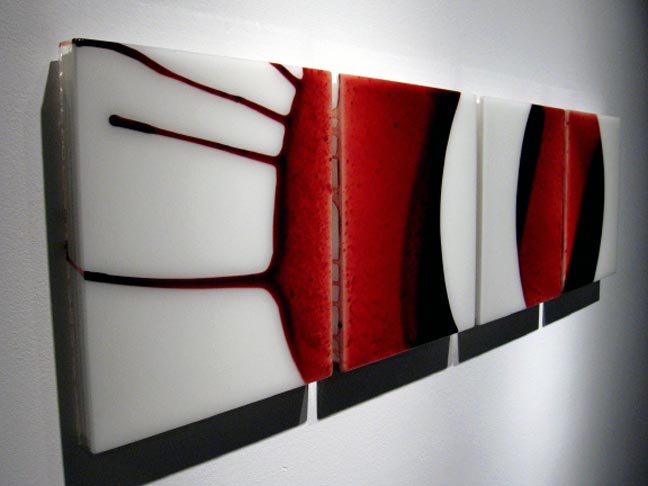 Art closer (photo c/o DeWitt Cheng).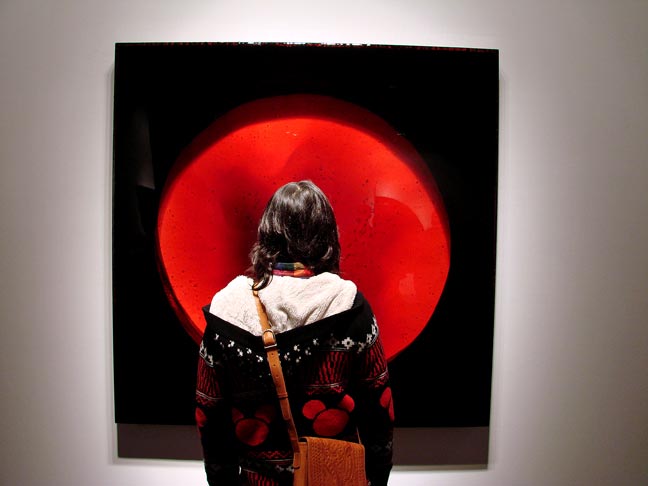 Art.


***
Larry Warnock Fine Arts: Trevor Southey.
Review by DeWitt Cheng: Trevor Southey is a figurative painter/printmaker/sculptor who has lived in the Bay Area for years. He depicts the nude as vessel of emotion & striving, so his work is traditionally romantic, and thus out of step with today's predominantly cynical (and often infantile) worldview. (Can Obama inspire us to disavow the Dubya Zeitgeist?)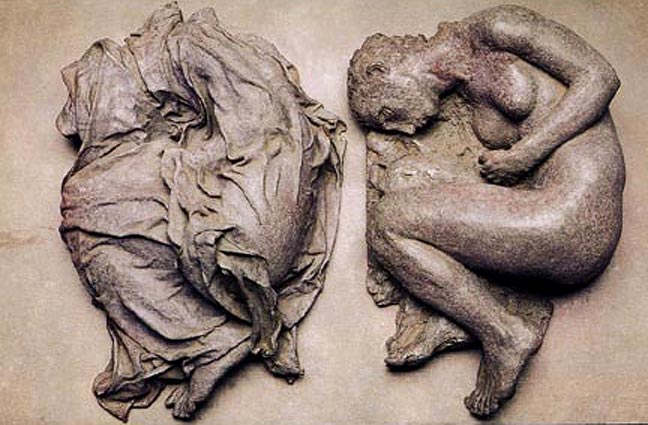 Sleep & Sleep by Trevor Southey (photo c/o Warnock Fine Arts).


Brother's Keeper by Trevor Southey (photo c/o Warnock Fine Arts).


Trevor Southey (photo c/o DeWitt Cheng).


Larry Warnock fronts Trevor Southey art (photo c/o DeWitt Cheng).


***
ARTworkSF: Preview for One Night Stand.
Review by DeWitt Cheng: Yet another celebration of the fervid February flesh for Valentine's Day. Thirty (count 'em, thirty!) artists strut their "nude, erotic, fetish" stuff for a one night preview only! The real event on Saturday is a benefit for sex nonprofits featuring an SF smorgasm-bord of BDSM and nude shadow performance, plus erotic food feeding (!).  SF in all its glorious silliness.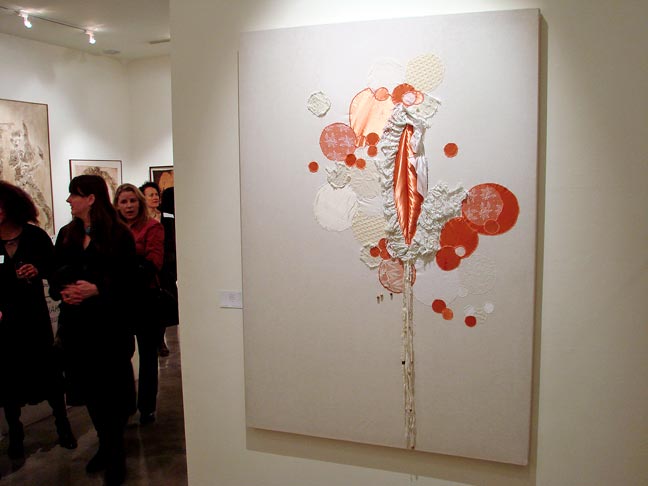 Art (Sorta like it - AB).


Art.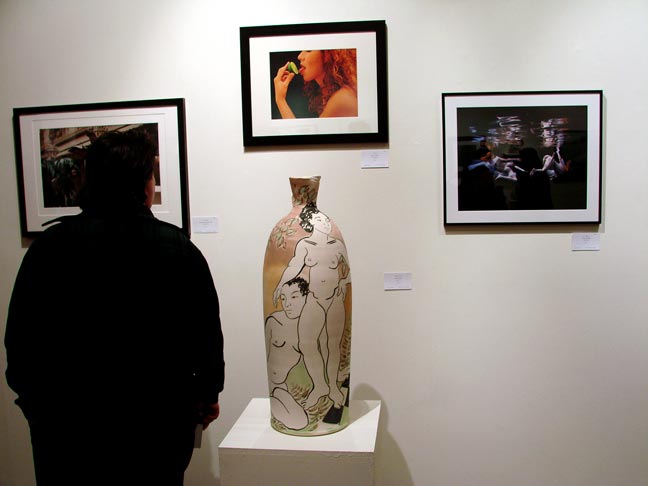 Ceramic by Catherine Merrill.


Art.


Why we live in San Francisco.


***
George Krevsky Gallery: Maury Lapp - Poetic Imagery.
Review by DeWitt Cheng: Maury Lapp paints cityscapes reminiscent of 1930s Social Realism's blending of naturalism and Cubism, but without SR's Depression-induced (and sometimes depression-inducing) glum gray fog. They're more like recaptured memory. Nice!
City skyline by night. Do not adjust your set-- painting is on curved panel, like old widescreen Cinerama films (photo c/o DeWitt Cheng).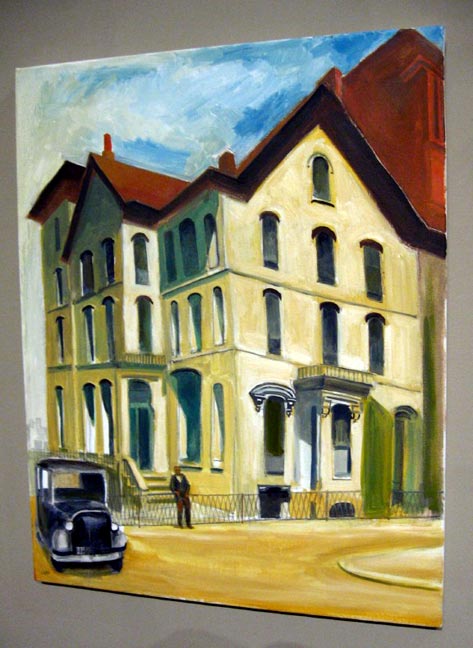 Hopper City (photo c/o DeWitt Cheng).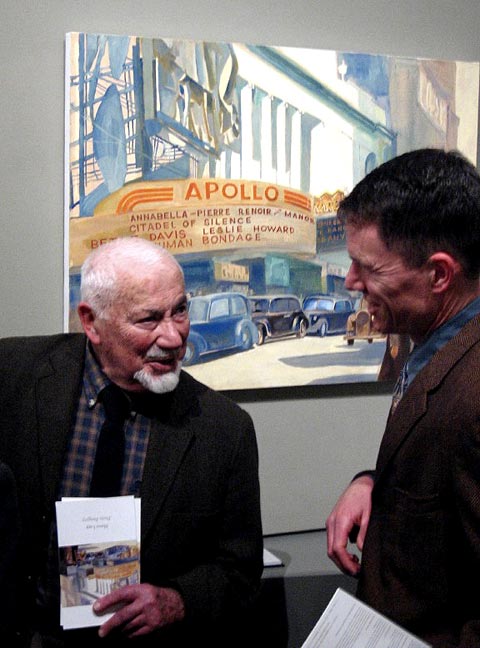 Maury Lapp, left (photo c/o DeWitt Cheng).


Art.


Art.


Doris Krevsky - former SF Supe/State Senator/Judge Quentin Kopp.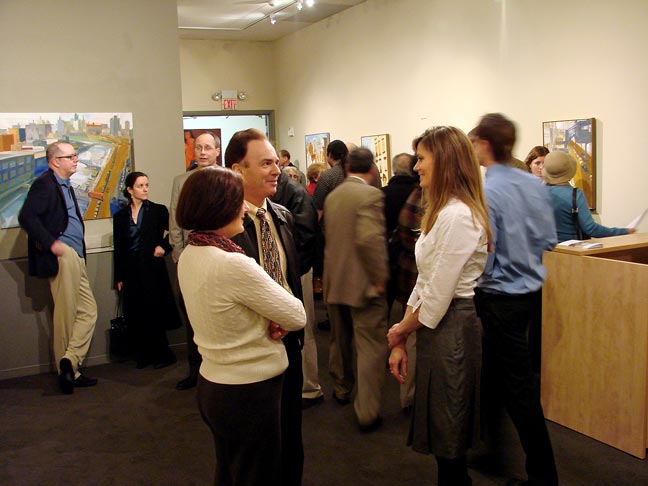 Ambience.


***
Scott Richards Contemporary Art: Eric Zammitt - Acrylic Constructions.
Comment by AB: Hypnotic acrylic sculptures for walls and pedestals by Eric Zammitt, each composed of thousands of miniature acrylic rectangles, conjoined and polished to perfection. How did Zammitt master the intricacies of such a painstakingly precise operation? From his father, plastic sculptor Norman Zammitt, a West Coast pioneer of the medium in the 1960's. Exquisite workmanship; check it out.
Art.


Art closer.


Eric Zammitt - acrylic art.


The basic idea.


***
Hespe Gallery: Ethan Diehl - Threshold.
Comment by AB: Contemplative black & white paintings of full and cropped female figures, possibly blow-ups of photographs, which, upon close inspection, are discovered to be composed of scrillions tiny grey-shade squares of paint. I suppose you could call 'em pixel paintings. They're quite nicely done and recommended for viewing at all distances.
Art by Ethan Diehl.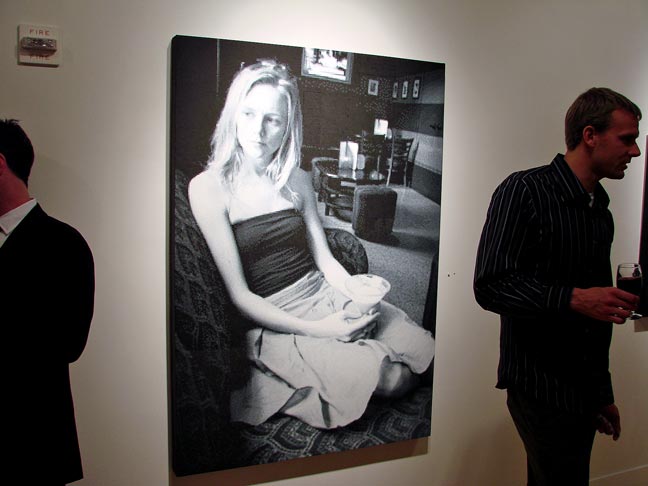 Art.


Art.


Art close.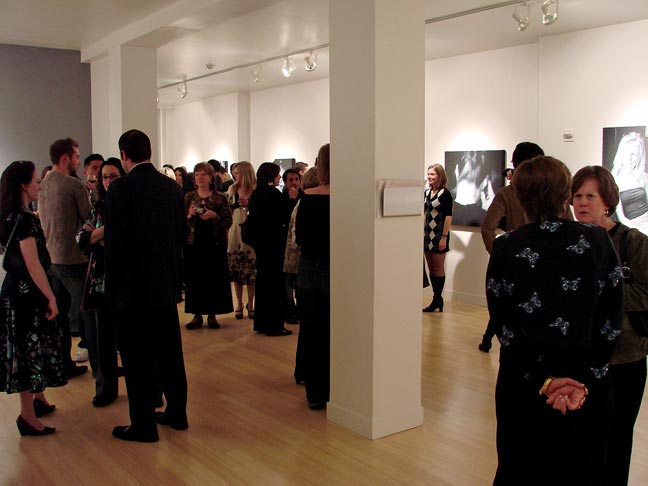 Long view.


***
Dolby Chadwick Gallery: John DiPaolo - New Paintings.
Comment by AB: Journeyman expressionist abstracts by John DiPaolo; that simple and no more complicated. For those of you who monitor changes in square footage, Dolby Chadwick has expanded, adding a good-sized gallery and office space.
What it is.


Art (new gallery addition).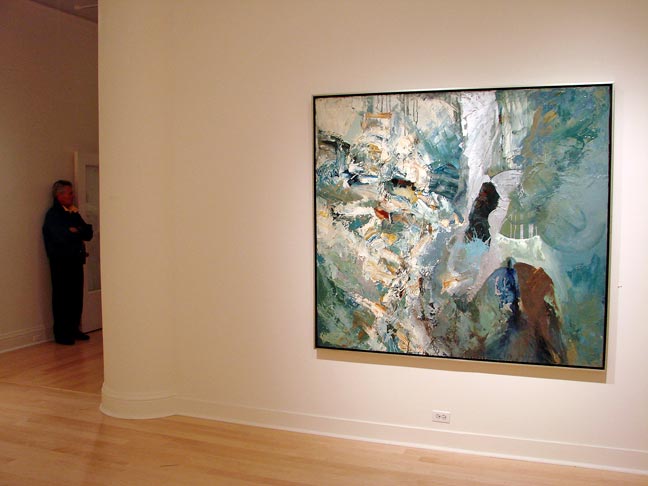 Art (new gallery addition).


Art.


Art.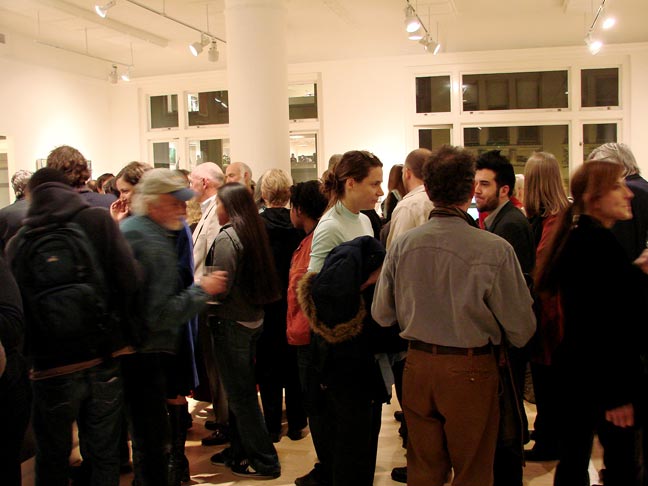 In the main gallery.


***
Martin Lawrence Galleries: Robert Deyber - The Grand Tour.
Comment by AB: "Pun paintings" and limited edition prints of those paintings by Robert Deyber, the object of the game being to guess the pun embodied in any given image, and then open the little envelope next to that image to find out whether the answer inside matches your guess. I scored maybe 40%.
"Waking up with the Chickens."


"Hobbyhorse" (there's a toy train on the ground - get it?)


Robert Deyber - art.


Art.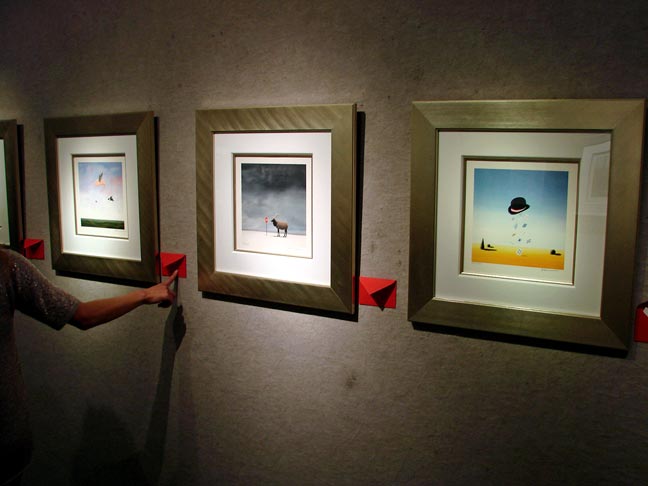 Envelopes containing titles.


***
Frey Norris Gallery: Leonora Carrington - The Talismanic Lens.
Review by DeWitt Cheng: Leonora Carrington is a painter of the fantastic who discovered her métier among the Surrealists in 1937 Paris. Now ninety, and living in Mexico, she sends a selection of recent work (along with her writer son, Gabriel Weisz Carrington) to San Francisco for a show at Frey Norris Gallery entitled "The Talismanic Lens"; the reception preceded by a round-table discussion of her work on Wednesday at San Francisco Art Institute by scholars Whitney Chadwick from SF State University, Ara Merjian from Stanford University and Susan Aberth from Bard College. To my knowledge, it's the first Bay Area showing of Carrington's work in any quantity since the Mexican Museum's solo show in 1991. Alchemy, Tarot and Venetian carnival commingle in her tableaux, which recall Bosch, Bruegel, Ensor, Edward Gorey, and Carrington's friend, Remedios Varos in their blending of the mysterious, grotesque, and playful.
Review by Jessica Whiteside: This exhibition showcases the career of celebrated female Surrealist Leonora Carrington. The show includes over 20 paintings and works on paper created from 1935 to 1987. Leonora's work really epitomizes the Surrealist style with delicate details and featuring beautifully painted fantasy creatures like Sphinx's, and fantastical birds and fawns. Like many other artists or her era, Leonora's work is a response and journey of art making that was directly influenced and impacted by the events of World War II.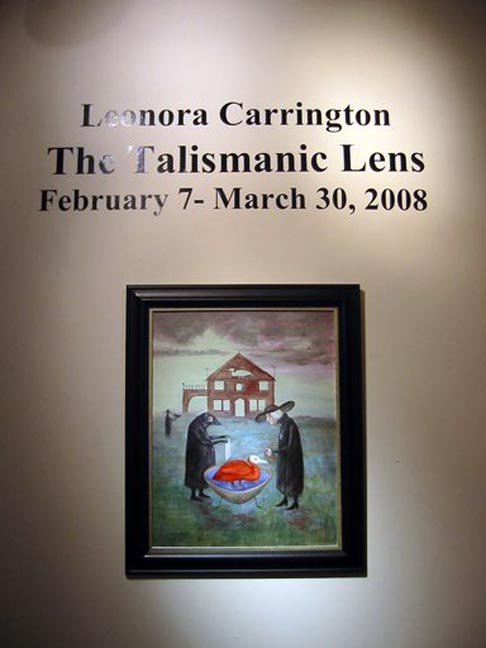 What it is (photo c/o Jessica Whiteside).


Art.


Susan Aberth of Bard College, author of Carrington monograph, with "Queria ser Pajaro." Photo c/o DeWitt Cheng.


Gallerists Kimberly Johansson and Wendi Norris (photo c/o DeWitt Cheng).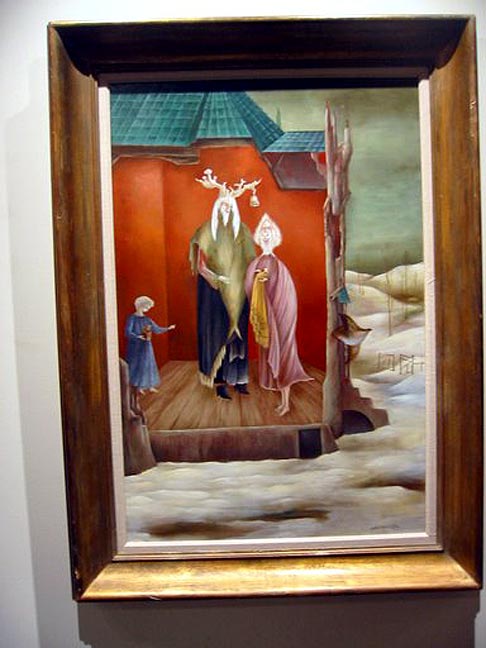 Art (photo c/o Jessica Whiteside).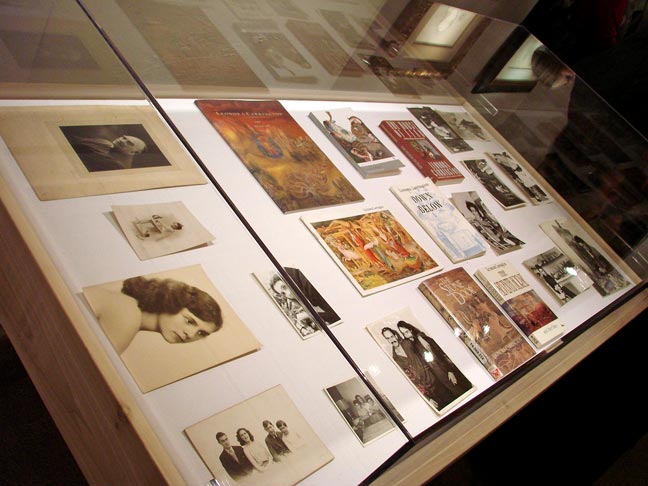 Memorabilia.


Bearded dudes (photo c/o DeWitt Cheng).


***
Hang Art Gallery: Siddharth Parasnis - The Architecture of Emotion.
Comment by AB: Confident colorific architectural abstracts by Siddharth Parasnis, so deceptively representational, you almost think you know where these places are.
Art.


Siddharth Parasnis explains his art.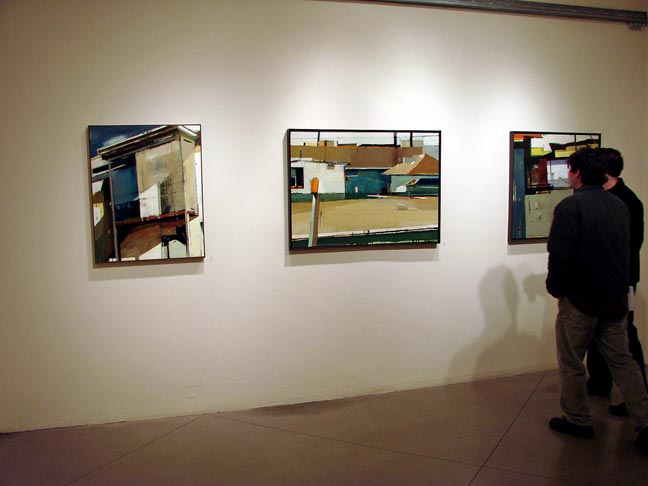 Art.


Art.


***
Hang Art Annex: Structured Thoughts.
Artists: Nicholas Van Krijdt, Mark Baugh-Sasaki, Emily Clawson, Andrzej Michael Karwacki.
Review by Uba Owl: The show is a lot of fun-- many artists, different ideas. I'm drawn to Mark Baugh-Sasaki sculpture.
Interesting sculpture by Mark Baugh-Sasaki, similar approach to Dustin Yellin, currently showing at Haines, but different execution. Seems to mix Japanese and European sensibilities.


"Portrait of the Forest" by Mark Baugh-Sasaki is a lot of fun, but is it art to take an existing object and call it your own?


Artist Andrzej Michael Karwacki with a friend. He uses mixed media on panel, including resin.


Art.


***
Festival Pavilion, Fort Mason Center: The Tribal & Textile Arts Show presented by Caskey & Lees.
Comment by AB: The best in fine art, artifacts, and antiquities of native cultures exhibited by over 100 top international dealers from places like Italy, Belgium, Germany, Australia, Turkey, Great Britain, and of course, the United States (actually, a surprising number of dealers in the show are from Brussels, Belgium). A special exhibition, curated by recognized tribal art experts Vichai and Lee Chinalai of Chinalai Tribal Antiques, titled "Outer Garments ­ Inner Warmth," features rare and significant pieces that explore and demonstrate the role of outerwear in individual tribes, as well as its importance to tribe identity and status. This year's Tribal Art Show is as good as any Caskey & Lees Tribal Show I've been to-- and very possibly the best. You've got one chance per year to see this level of ethnographic art right here in San Francisco. Don't miss next year's-- same time; same place.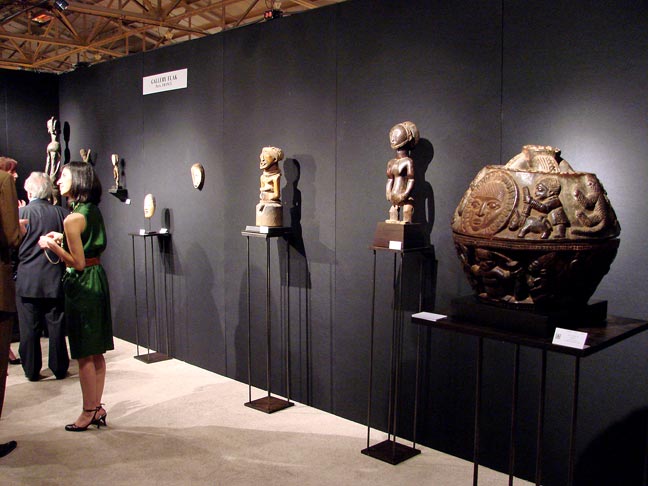 Art.


Fily Keita Tribal Arts of Los Angeles & Paris.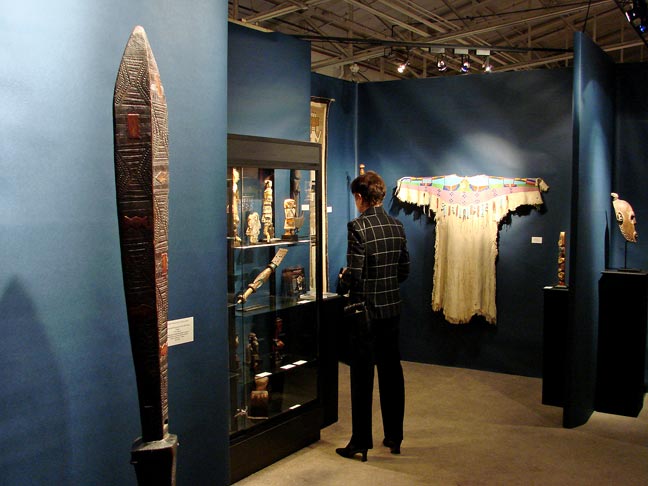 Art.


Hawaiian flag quilt circa 1900 ($5K) at Arthur W. Erickson, Portland, Oregon.


Art.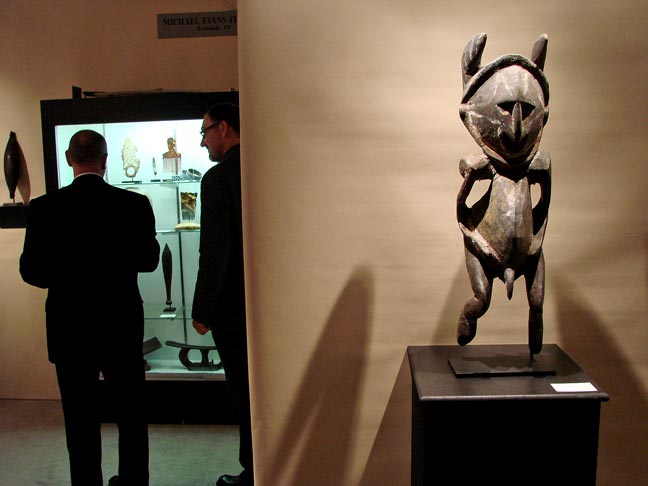 Art.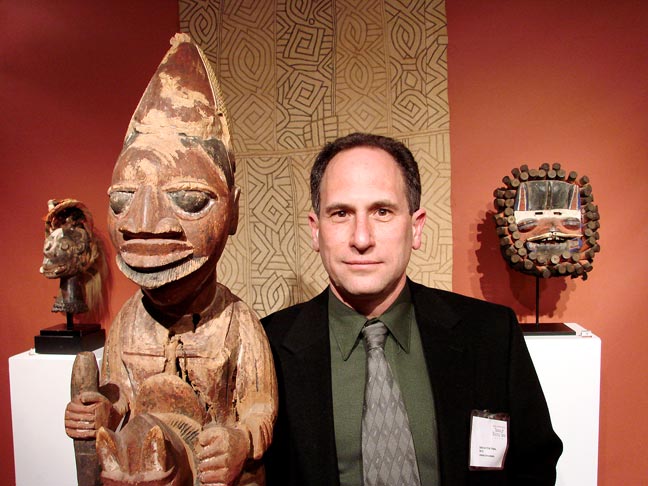 Joshua Dimondstein of Dimondstein Tibal Arts, Los Angeles.


Art.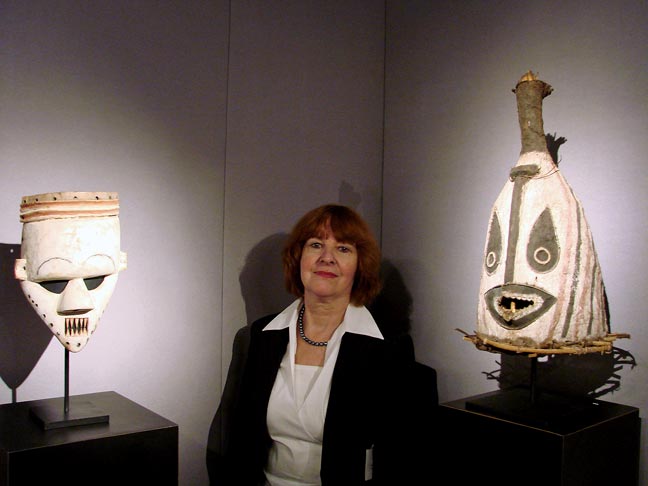 Salampasu (African) head, left ($8000); New Guinea bark mask, right ($14K)
at Gallery Visser, Bussels, Belgium.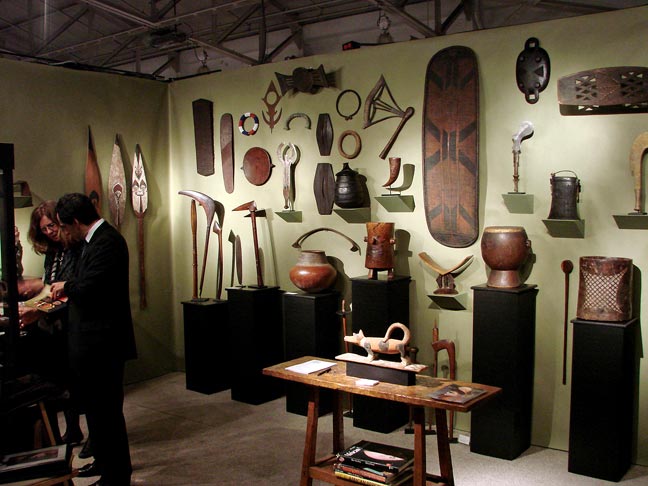 Art.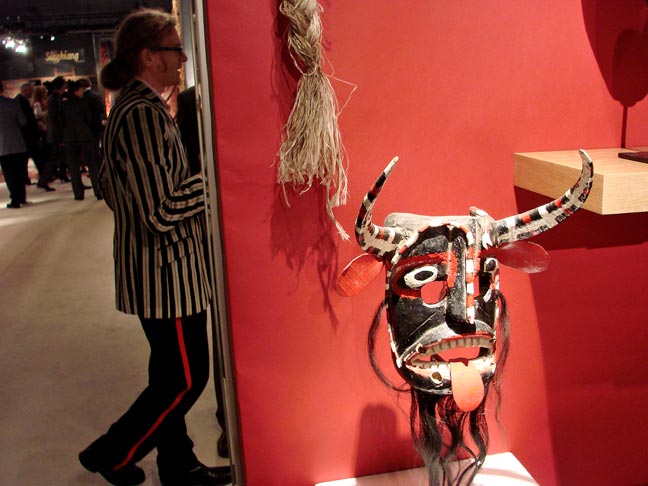 Art.


Japanese laquer worker's bowl circa 1900, $6200
at Galen Lowe Art & Antiques, Seattle, Washington.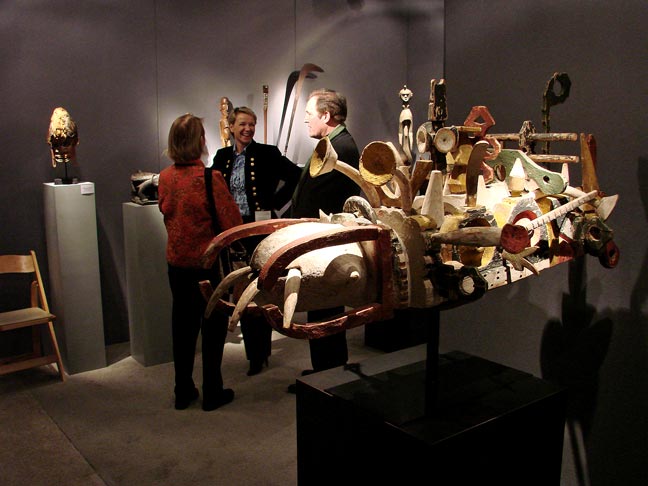 Art.


***
Cafe Royale: Matthew Gordon - What Now?
Review and photos by Jessica Whiteside: Matt Gordon's work is a nice combination of techniques ranging from printed photos with collage elements to drawings. According to the curatorial contingent, "What Now?" by Matt Gordon uses material from instructional pamphlets, educational materials, and institutional signifiers as a visual language of banality, repetition and labor, thereby exploring the aesthetics of information and its absurdity at work and school.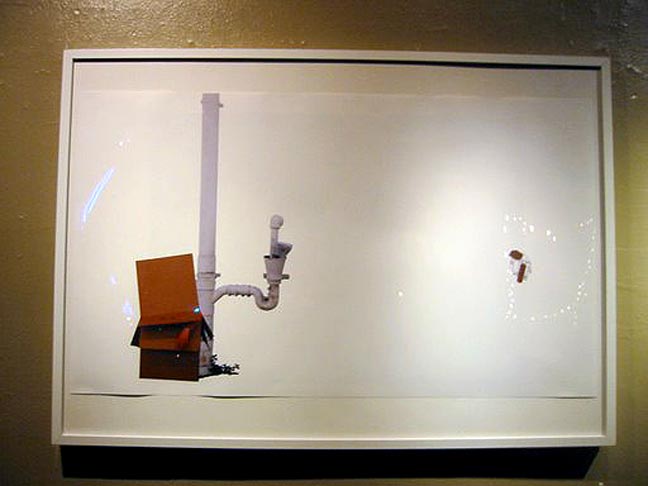 Art.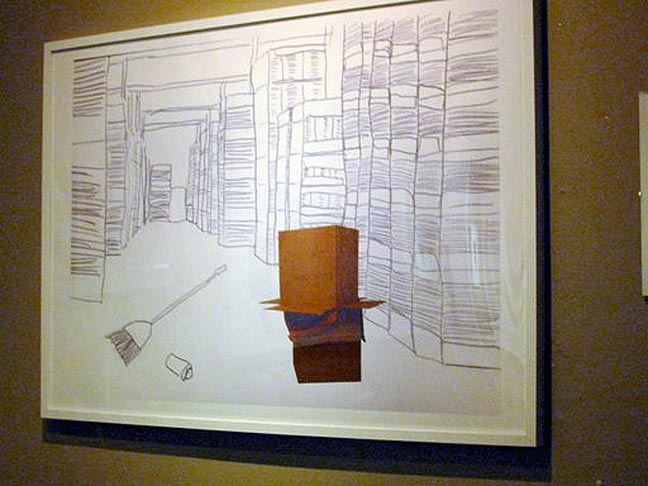 Art.


Art.


Art.


***
111 Minna Gallery: Micah LeBrun - Harmonic Silence- The Bliss Of The Unknown, The Ignorance, And The Lies.
Review and photos by Jessica Whiteside: Micah LeBrun's explanation about the work is interesting because it's about a response to the war in Iraq from the point of view of someone who feels ignorant to what's really going on-- a sort of "bliss of the unknown." In particular, he mentions feelings of "growing more numb to it (the war) on a daily basis." I think those sentiments are something a lot of Americans can relate to. Even though those words are not necessarily immediately apparent when viewing the work, knowing the thought process behind it certainly makes the art more compelling.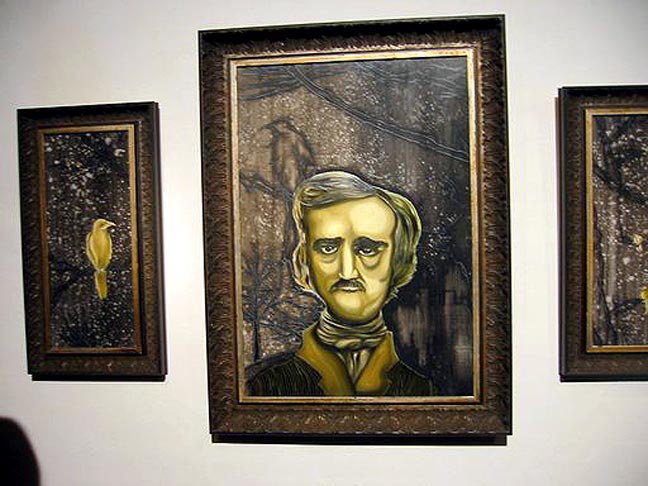 Art by Micah Lebrun.


Art.


Art.


Art.


Art.


Art.


***
Addendum:


Ruth A. Wall Abstract Expressionist prints at Art Exchange Gallery.


Vintage art exhibit announcements at 871 Fine Arts.


Gallery selections at 871 Fine Arts.


***
Click here experience the joys of generosity. But wait. There's more. You get a complimentary link to your website in return. See you next First Thursday.
***
First Thursday; January 3, 2008