SAN FRANCISCO GALLERY OPENINGS
FIRST THURSDAY; 08.05.04
General comment: I expected the evening to be a bit of a snoozer, August being a slow go in artland, so I brought my blankie and my teddy bear, Neoconceptualism, but "Holy gouache and mixed media on board, Batman," I got fooled to the upside! Plenty of good art, and a first-ever tie for pick of the night in a spirited competition that pitted intellectual establishment art against streetsmart hip hop realism, going right down to the last glass of lukewarm generic white wine. The suspense is killing you, right?
Out of respect for the August doldrums, and in an effort not to work too hard, most galleries simply emptied their back rooms out onto the front walls, and are having group shows. The "Introductions" era, in retrospect destined for failure, is now mercifully over, and little more than a San Francisco art history footnote. I mean how misguided was this-- the downtown galleries gave August shows to artists who, by definition, weren't quite ripe enough to have shows there during the rest of the year-- and they thought that would work. But out of respect for the dead, let's proceed to the living...
Gallery Paule Anglim: Wendy Sussman; Dan Connally
Comment: Paule Anglim's eye for quality is as good as anybody's out there, and regardless of what I think about the art she shows (I liked tonight's), I always learn something. In typical Anglim fashion, Wendy Sussman's abstract representational line-straddlers, particularly the black and whites, engage over-arted viewers such as myself beyond quick analysis. The paintings have that little intangible extra that makes you stop, study and then say to yourself, "I think I get it." Point of information: Art can be good even if you don't like it; quality and personal taste are mutually exclusive.
Art.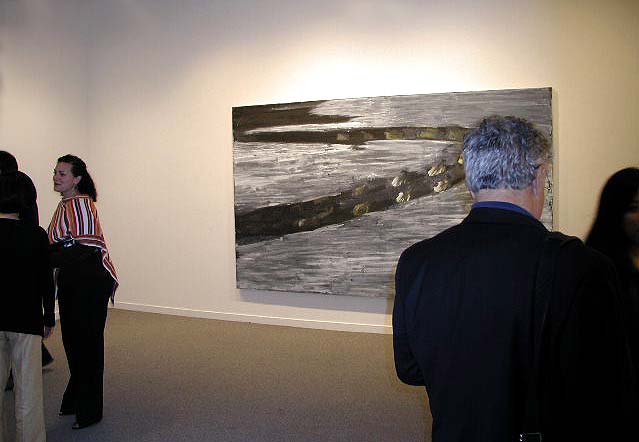 Art.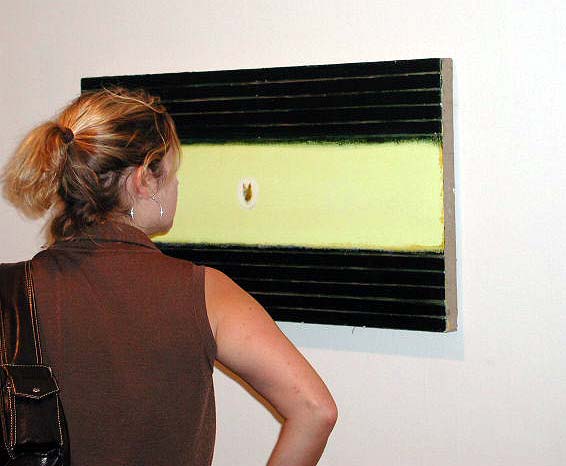 Art.


***
Hackett-Freedman Gallery: Roland Peterson; Select Works.
Big bright early paintings, uniquely Peterson, not great, but you can spot 'em a mile away, 1950's and 1960's, the impasto getting ever thicker with the passage of time. Hungry? Sandwiches by Wayne Thiebaud-- enter gallery, turn left.
Artist/artists: Roland Petersen, Richard Diebenkorn, Wayne Thiebaud, David Ligare, etc.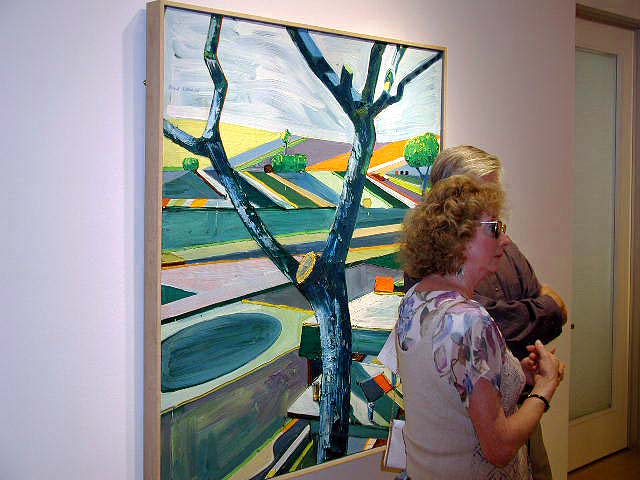 Art.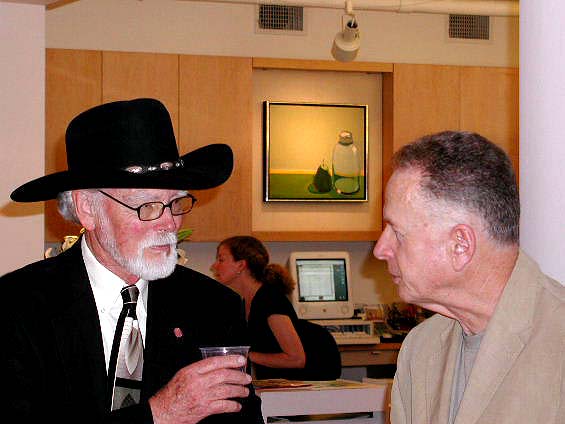 Petersen (left).


Lunch on Thiebaud.


***
John Berggruen Gallery: Nothing.
"Sorry kid. I don't sign autographs."


***
Paul Sunderholm Gallery, 49 Geary St., 4th Floor, SF, CA 94108; 415.296.8405: one-off; one-of-a-kind artist's books.
Artist/artists: Betsy Davids, Marcia Weisbrot, Bonnie Cohen, Alastair Johnston, Howard Munson, Alisa Golden, Judith Serebrin.
Comment: I could hardly see a thing because the gallery was way too crowded. Helpful art dealer hint #23-- If your gallery is under 150 square feet, stick with one-person shows.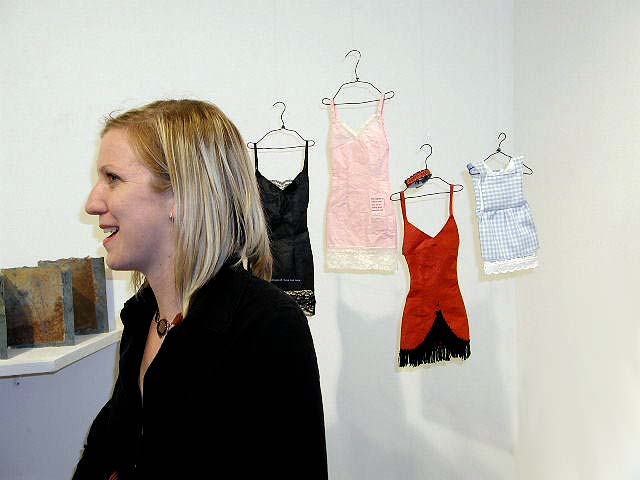 Art.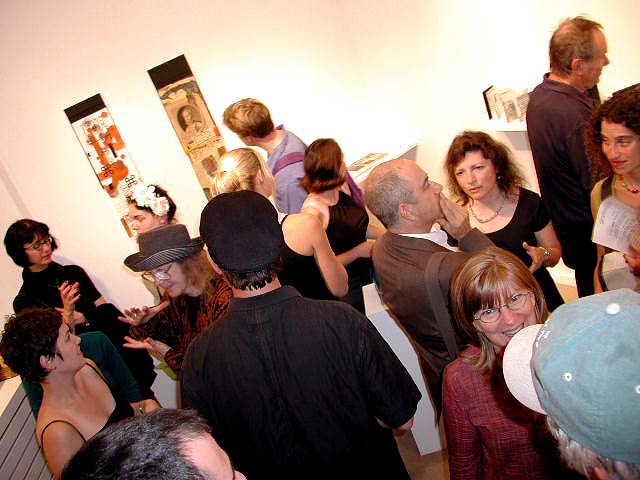 The whole gallery.


***
Haines Gallery: Upstarts.
Artists: Rana Begum, Carlee Fernandez, Lucie Noel Thune.
Comment: Haines shows usually leave me clueless in a puddle of words, but this one only leaves me only quizzical, so I'm feeling pretty darned good about myself. I particularly like Lucie Noel Thune's smooth undulating sculptural piles of once-reeled film which, notwithstanding their intimidating logistic and maintenance aspects, put a glow on my aesthetic chi. I really especially particularly like the bizarre taxidermized Carlee Fernandez creature-scapes, not only for their surreal beauty, but also for the controversial issues they raise when considered in certain contexts, animal rights for instance. So, Carlee Fernandez, your furry feathered shellfish fantasies garner co-art pick of the night honors.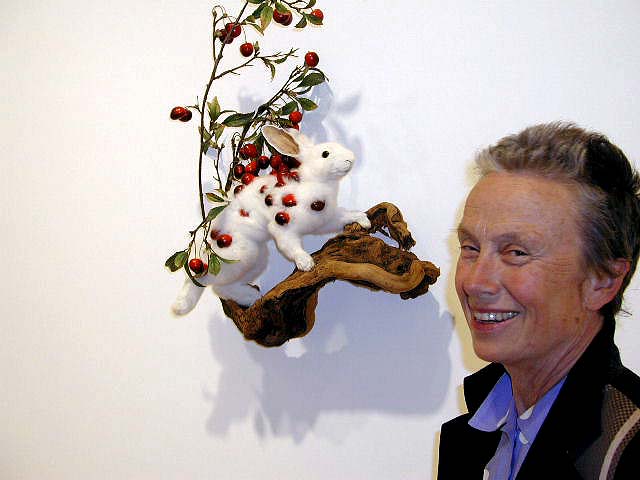 Art.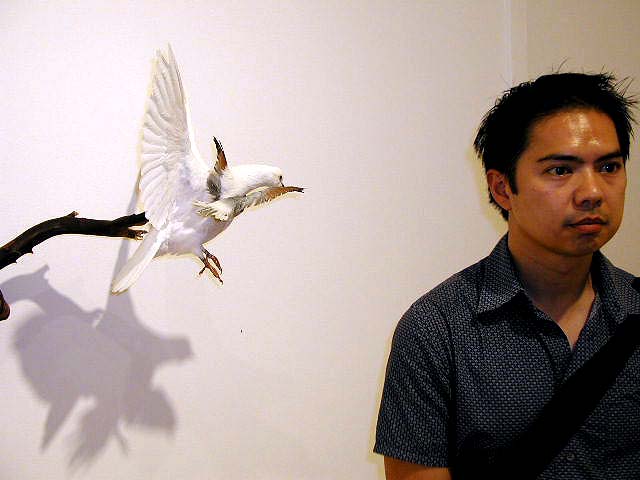 Art.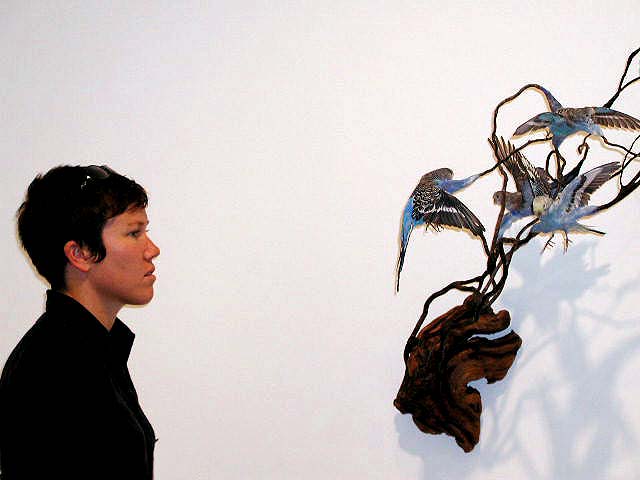 Art.


Reel art.


***
111 Minna Gallery: David Choong Lee; New Paintings and Installations.
Comment: Sharing co-art pick honors is David Choong Lee. Before tonight, I'd seen a few of Lee's pieces here and there, in this show and that, but never the full smack in the face. The sheer volume and range of work (over 150 pieces) is notable in and of itself, but that's only half the story (the small half). Lee paints the homeless so raw you can smell them, your impulse being to cross to the other side of the street or lock your car doors. But then he gets romantic on you, and charcoal-draws the same unfortunates, misery suspended in fleeting peace, seducing you into their dreamy plight. As if that's not enough, he also throws up a mind-spinning medley of hip hop homilies complete with gyrating torsos, hep cats, fasion plates, and smooth groovers. And to get you in the mood, an array of 100 small-format figure paintings welcome you as you step through the gallery door.
You know how Olympic events like ice skating and gymnastics are scored in two separate categories-- compulsory and freestyle? Well, that's one way I score art: (a) Have you mastered the fundamentals and (b) can you work those fundamentals into something uniquely you? Lee does for sure. One minor beef-- he's young, talented and prolific, and his audience is young too. So he might consider going easy on the prices and offering affordable options for fans who may be a little light in the discretionary capital department.
Artists: David Choong Lee.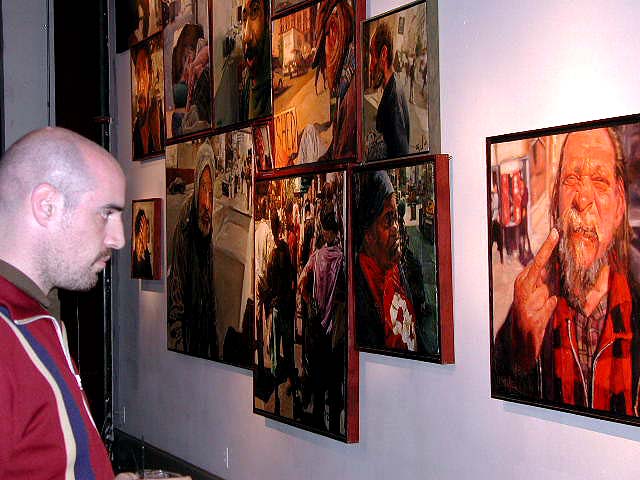 Art.


Art.


Art.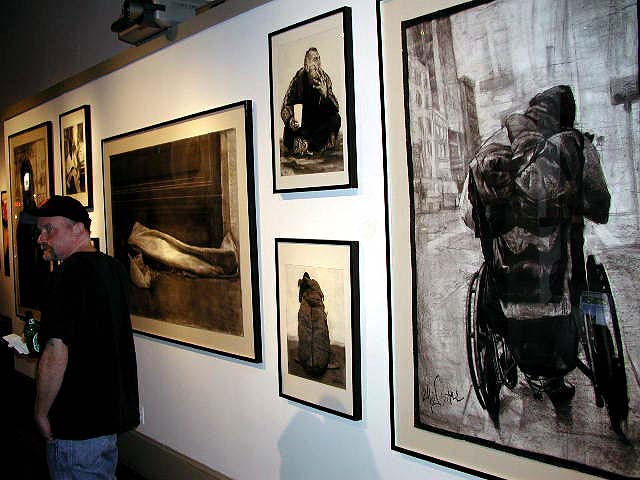 Art.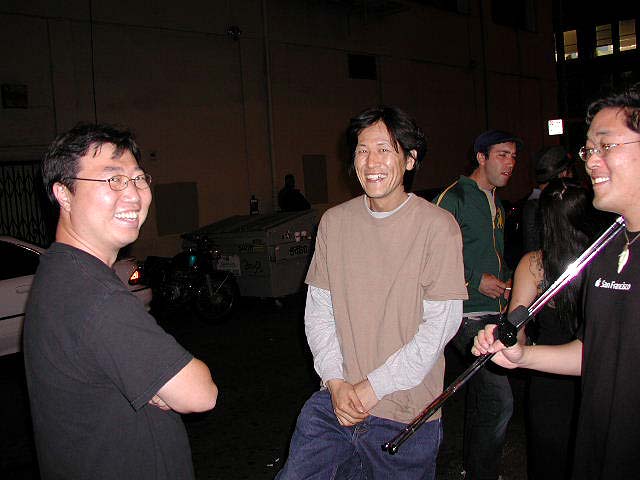 Artist (center).


Art.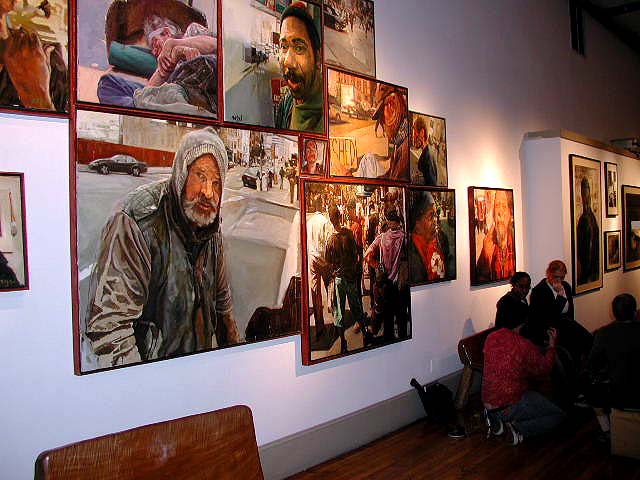 Art.


Art.


***
More Galleries:
-------->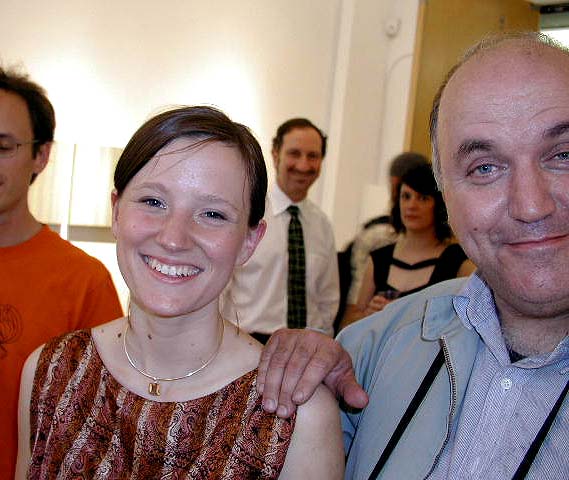 Sarah Bostwick showing at Gregory Lind Gallery.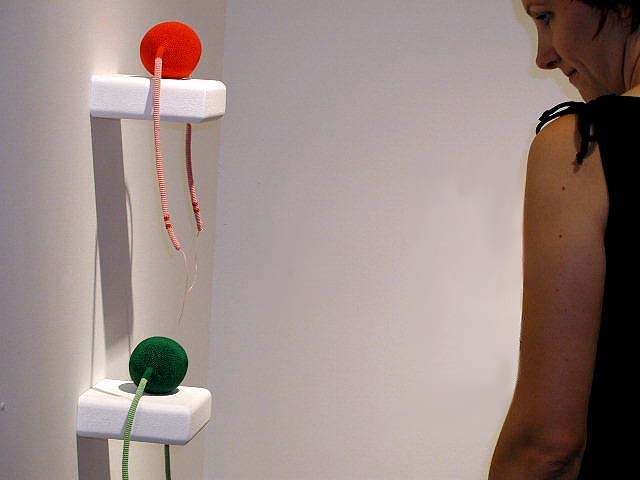 Seth Koen poof balls at Gregory Lind Gallery.


Amy Trachtenberg at Brian Gross Fine Art.


Wide open spaces at Elins Eagles-Smith Gallery.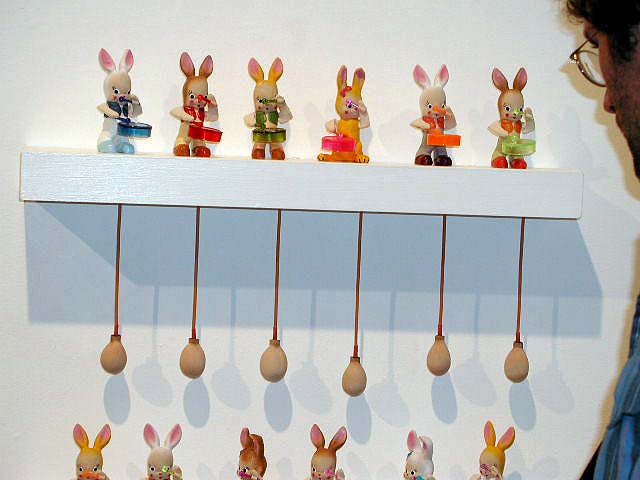 Bunnytime at Don Soker Contemporary Art, 49 Geary, 4th floor; 415.291.0966.


Jack Levine (and art) at George Krevsky Gallery.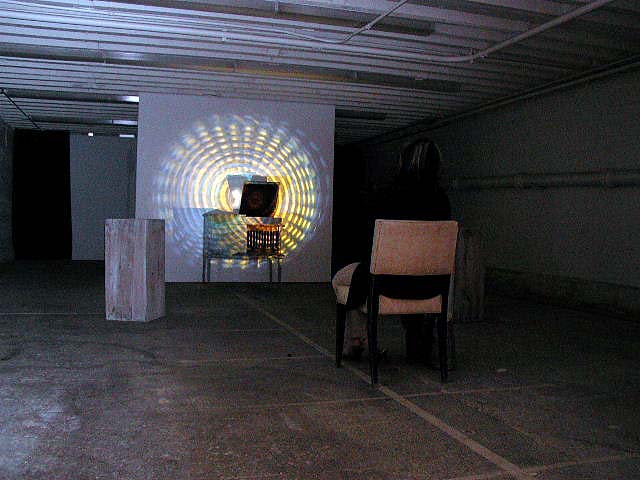 Elaine Buckholtz installation at newly opened Fusion Artspace.


RUN-DMC-JMJ photo retro and fundraiser at Punch Gallery.


xoxoxoxoxo
July First Thursday; July 1, 2004