SAN FRANCISCO GALLERY OPENINGS
FIRST THURSDAY DOWNTOWN; 06.03.04
General comment: As usual, the downtown galleries are packed with gobs of good art. In fact, good art is everywhere, so much so, that if you lined it up from end to end, it would easily stretch from here to the Pushkin AND BACK with more than enough left over for the annual White Elephant sale. As for really good, original, entertaining, engaging, well-thought-out art that'll keep you comin' back for more, there was some of that too...
Hackett-Freedman Gallery: Louise Nevelson and Manuel Neri.
Nevelson has the main room with her trademark mat black, hard-to-dust, wooden wall reliefs. Collages and a small metal sculpture are on display in the room to the left of the main entrance. I gotta tell you-- that Louise Nevelson was a busy busy artist, especially for a sculptor. She produced a mountain of work and, in so doing (environmentalist collectors take note), saved a huge amount of scrap wood from the dump. I fired up the old art price database and found 423 entries for Nevelson's works sold at international auctions between 1987-2003, and that doesn't include private gallery sales. Neri's stark smooth white marble sculptures in the far room will induce calm and balance no matter where you situate them. Another good show for Hackett-Freedman. They may be out there in the boonies, Geary queens, but they're always worth a visit, so don't forget them.
Neri.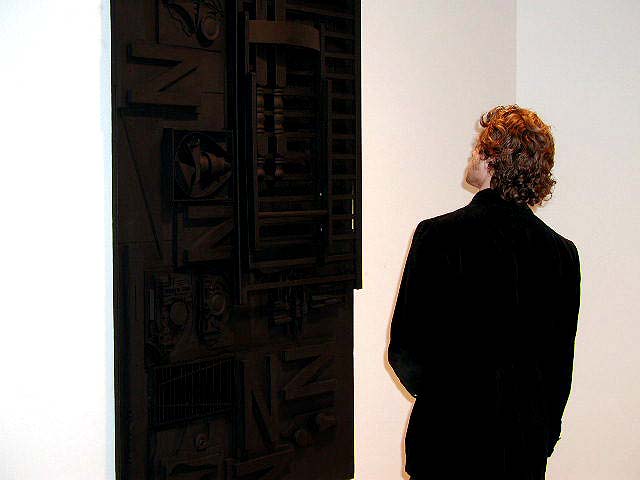 Nevelson.


Neri.


Nevelson.


***
Gregory Lind Gallery: Jim Gaylord and Christian Maychack.
Comment: You have to go all the way the the fifth floor of 49 Geary for this month's good stuff, starting with Gregory Lind Gallery. Gaylord paints various objects (or at least they look like objects) arranged in representational compositions (or at least they look representational), but then you look again, and nothing makes much sense at all, which is what makes these paintings noteworthy-- sense out of nonsense. You look at them, think you resolve them in your mind, but if you ask yourself what you just resolved, you have no idea. Meanwhile, Maychack proves with his multagonal mixed media sculptures that he'll always be able to find work as a finish carpenter. They're art in a mathematical vein, neat and white, but the one on the wall to your right as you enter the gallery looks a bit rough when you get up close. The rest are as smooth as a freshly powdered baby's butt.
Painting.


Sculpture.


Painting.


Sculpture.


***
Brian Gross Fine Art: Charles Linder; Stuck on You, New Work.
Comment: Linder is a positive addition to any art community, and at the moment, he's adding to San Francisco's. He's a skilled and talented artist, this time showing sculptural works like a wooden bottle tower, a giant shot glass (sombody's thinkin' hooch), an array of melted flattened bottles, some smooth epoxy panels, a dash of digital imaging, a touch of neon. He also owns his own gallery, he's a collector, he has a night club. Is there anything this man can't do? Of course there is, you silly goose. Where'd you think I was goin' with this?
Art.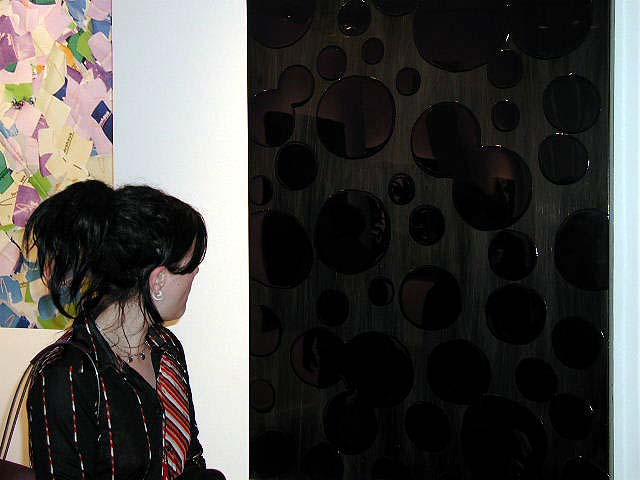 Art.


Art from Linder's Linc Gallery at the space next door.


***
Stephen Wirtz Gallery: Alec Soth; Sleeping by the Mississippi.
Comment: Big atmospheric color photographs by Soth make me feel a bit like I'm in a Thomas Kinkade gallery, in a good way, because they evoke an emotional response, a feeling like I'm transported to a place I don't ordinarily go. And when art evokes an emotional response, that's a chunk of the endgame right there. Yes, I admit it; I've been to a Thomas Kinkade gallery. Step outside your art bubble, artsters, and learn.
Photograph.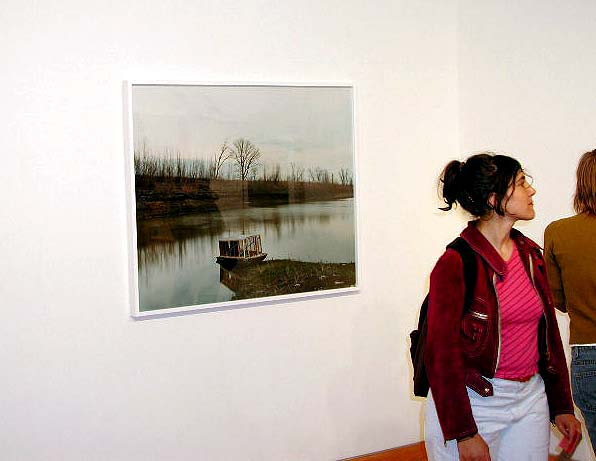 Photograph.


Photograph.


***
Elins Eagles-Smith Gallery: Hannelore Baron.
Comment: This is the kind of art where you have to know stuff in order to appreciate it-- not only about collage as a medium, and the history of collage as an art form, but also about the artist, what her life was like, why she used old materials, what inspired her, what she endured, and so on and so forth. To be honest, I have too much going on in my life to add Hannelore Baron's. In fact, no matter what kind of art I'm looking at, I have precious little time to listen to this, that, and the other thing, in order to at some point be able to say, "Oh, I get it. That's really interesting."
Formulating descriptive in order to validate the art has nothing to do with Hannelore Baron, by the way. This show just touched me off. Far too much art is yoked in cumbersome explanatory, deflecting viewers who might otherwise sign on. From what I can tell, Hannelore Baron's art was her personal form of creative self-expression, probably never intended to be shown or to generate income (or to be over-explained). That came later, after her death-- and that's what's interesting about this show-- how her art got from wherever she kept it to the Smithsonian Institution Traveling Exhibition Service and dealers' gallery walls (cha-ching). I checked my not inconsiderable art reference library and Baron's nowhere to be found prior to her death, so I wonder how she would have felt about having her personal life trotted out for all to see.
But I digress. All I'm saying is that if you're an artist, and you would like to enjoy the fruits of your labors, you've got to present your work ways that people can latch onto without getting neocortical hernias-- and people want to latch, believe me. If you're Hannelore Baron or anyone else making art for yourself because making art is a personal, intimate, fulfilling process, and what you love to do, then go for it!!
They look about the same close up.


***
Bedouin Squatters Department: Fun on the street in front of 49 Geary with the 5th Annual ArtVan Art Liberation. You get the art free, fresh off the truck, while it lasts, in exchange for filling out a simple release form and having your picture taken. And that's not all, art lovers. In the doorway next to 49 Geary, creative Creative Consultant Kevin P. Clarke sets up his own mini-gallery, built by himself, complete with art by various artists for sale. In his brief opening statement, Clarke refers to art dealers as vultures, but let me say that if it weren't for the art dealers at 49 Geary, nobody would have been there to see his show. Point of information: If you have art dealer issues, but can't afford therapy, take a moment to read What Good Are Art Dealers?
Freebies selling well at the ArtVan.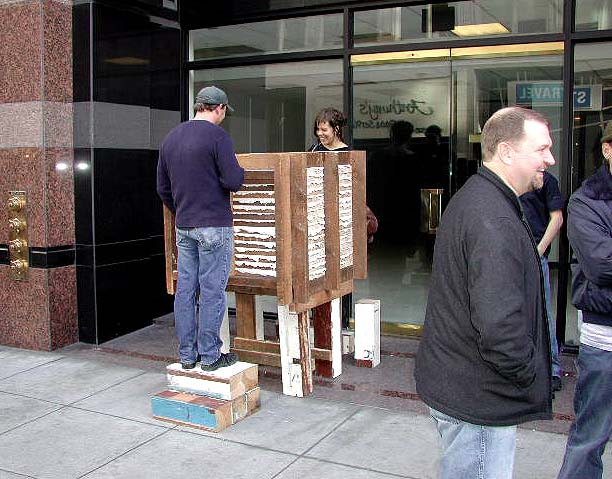 Approaching the mini-gallery.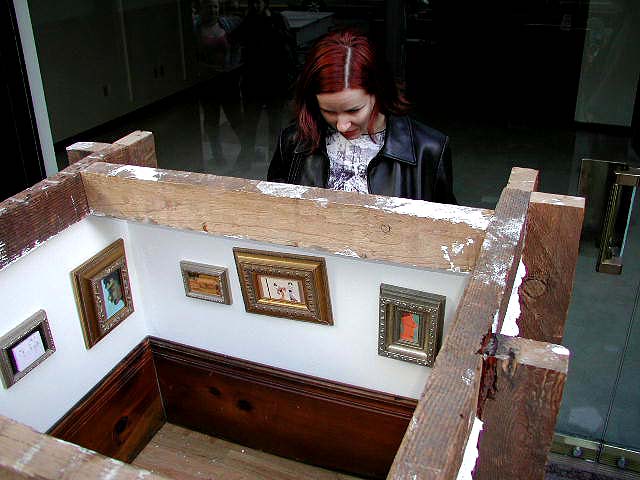 Kindly remove your shoes before entering.


Vulturepreneur.


***
One more:
Post-event exodus from 49 Geary.


***
Wrapping it up at Varnish Fine Art's Urban Tales group show. Wine, cheese, and art on the edge.
Art.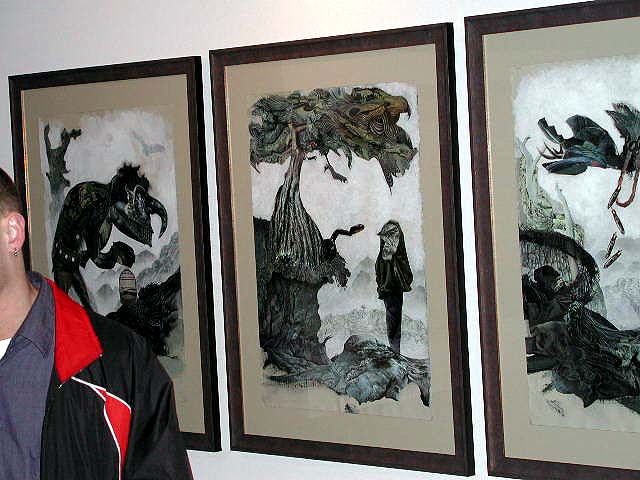 Killer collages.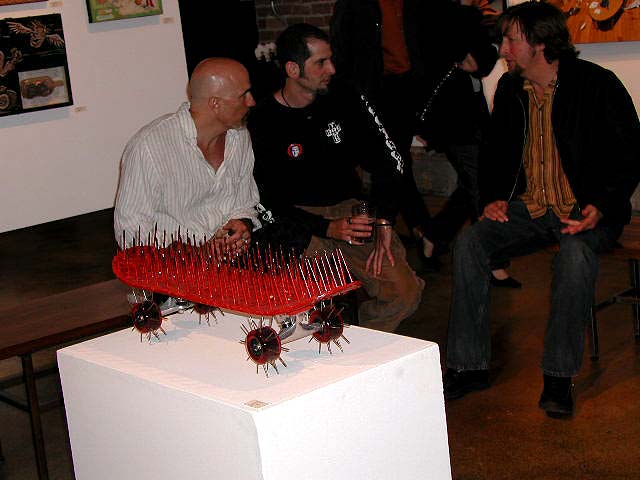 Ouch.


Art.

May First Thursday; May 6, 2004