SAN FRANCISCO GALLERY OPENINGS
DOWNTOWN ART GALLERIES
FIRST THURSDAY; 03.04.04
(Click for April First Thursday, April 1, 2004)
Elins Eagles-Smith Gallery: Jennifer Bain; The Poetry of Nature.
Comment: Pick of the nite. Bands of color, bands of subject, flights of foliage; sharp, soft, broad, narrow, soothing. They somehow tapestry together, harmonize seamlessly, while simultaneously standing alone, separated by distinct borders which alternately vanish into and enhance the compositions. Thrashing through art words like "deconstruct" and "juxtapose," I finally get to the part of the show's statement I'm looking for: Her images are "shaped in large part by her hikes in Northern California's forests and beaches." So simple, so direct, so far down the page. Point of information: Bain's art is called "mixed media." These days, that can mean just about anything.
Art.


Art.


Art.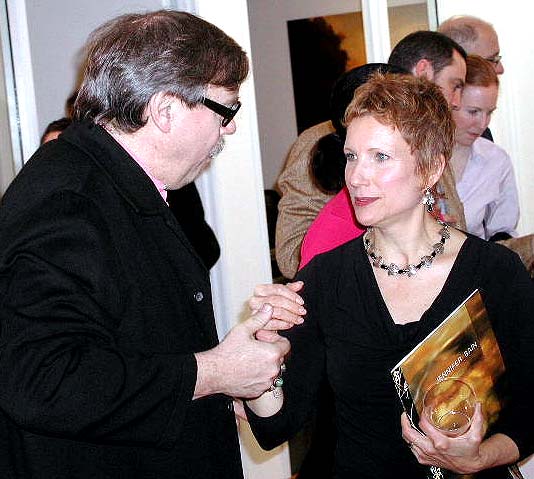 Artist.


Arena.


***
Steven Wirtz Gallery: Catherine Wagner; Trilogy.
Comment: Big photographs. Big photographs are everywhere. Here, in three distinct series, one of Arctic ice-scapes, one of science museum cabinets and their contents, and one of sophisticated experimental lab equipment, the artist attempts a tie-together using Shelley's Frankenstein as rope.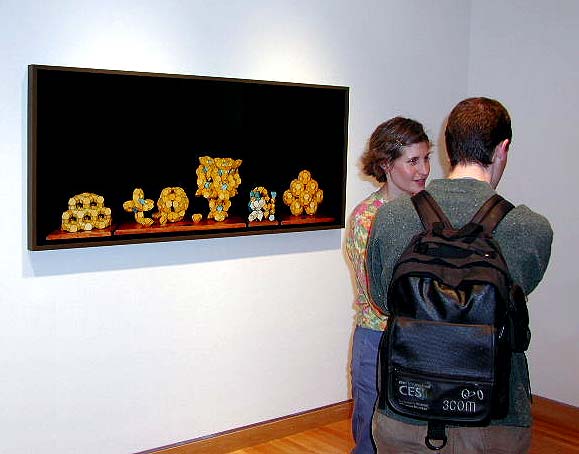 Art.


Art.


***
Heather Marx Gallery: Gary Szymanski; Tilt.
Comment: "Are those olives?" I ask the nice fellow behind the counter about the repetitive oval shapes in the paintings. He says he doesn't know. He tells me to ask the artist, and then points the artist out. But I don't want to ask the artist. What if they're not olives? I overhear a woman make an olive reference to one of her friends, and I know she couldn't have heard me ask my olive question. Now I don't feel so alone. When I get home, I dial up the gallery's website and read Szymanski's press release. Well, they're not exactly olives, but they are "martini-olive inspired shapes." Emboldened by my acuity, next time I'll ask the artist.

Art.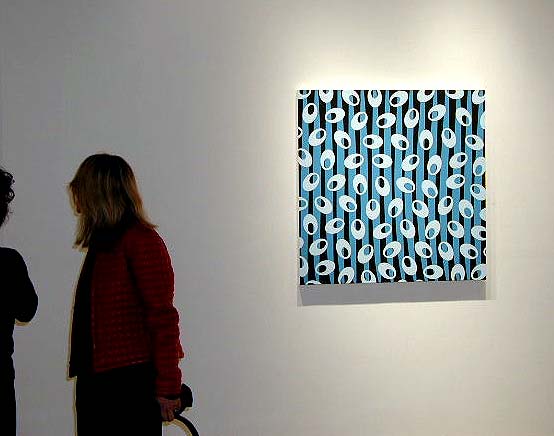 Art.


Art.


***
Steven Wolf Fine Arts: James Prestini; Sculpture of the Fifties and Sixties.
Comment: Prestini is best known for making fine thin turned wooden bowls, but he did plenty besides that. He taught art and design at UC Berkeley, made experimental furniture, and produced over 400 sculptures during his 50 year career. This series of metal pieces is being shown for the first time since they were created over 40 years ago. You like fifties and sixties art? Steven Wolf's the man to call.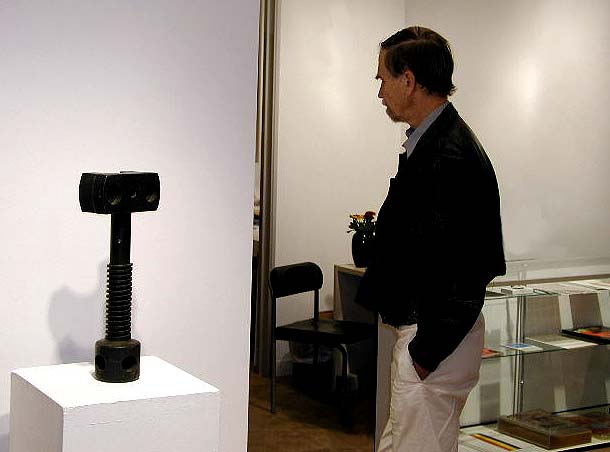 Art.


Art.