SAN FRANCISCO GALLERY OPENINGS
DOWNTOWN ART GALLERIES
FIRST THURSDAY; 02.05.04
(Click for March First Thursday, March 4, 2004)
Fraenkel Gallery: Richard Misrach; On the Beach
Comment: Pick of the nite. Extra large color photographs of beach and/or water with and/or without people-- when with people, with only a few-- depict places that exist and don't exist at the same time. Texture, lighting, isolation, mystery, absence of context, induce uneasy serenity where almost no one's there but you. A pure people-less deep brown and gold waterscape anchors the show. I went to the Fraenkel website and am happy to report that I understand the show description once I hack my way through the first paragraph (explanatory: I'm not big on art jargon, and it doesn't take much of it to lose me).
Art.


Art.


Artist.


Art.


Misrachophiles.


***
Steven Wirtz Gallery: Deborah Oropallo; Replica
Comment: Objects are painted, then photographed, then digitally manipulated and collaged, then printed out on canvas, then manually fuzzed up with oils, acrylics or wax, imparting whitewashed looks, done in editions of 3. You know what you're looking at, or at least you think you do, but you've never seen it looking quite that way before.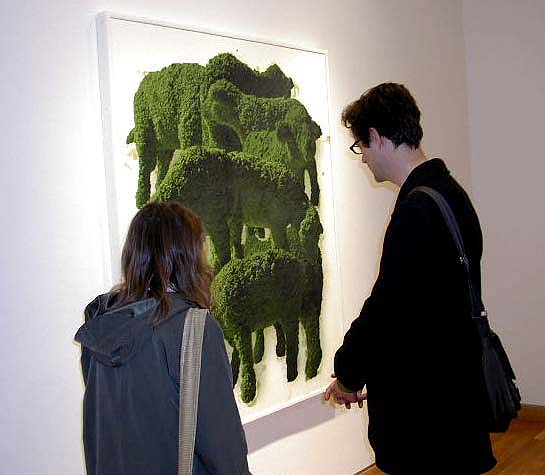 Art.


Art.


Art.


Art.


***
Hang Art Gallery Annex: Kevin Moore; Insight
Comment: And the "Pleasantly Surprised" award for the evening goes to Kevin Moore who paints all kinds of ways in all kinds of sizes, sometimes in a single painting. The variety of subject matters would indicate that there's no shortage of realities kickin' around in this fellow's brain. A tad pricey, a hair uneven, but engaging overall.

Art.


Art.


Art.


Art.


***
Eleonore Austerer Gallery: Milton Estrella Gavidia
Comment: Wonnerian still-lifes and red blue abstracts so different you can hardly believe the same artist painted them. But he did and that's that.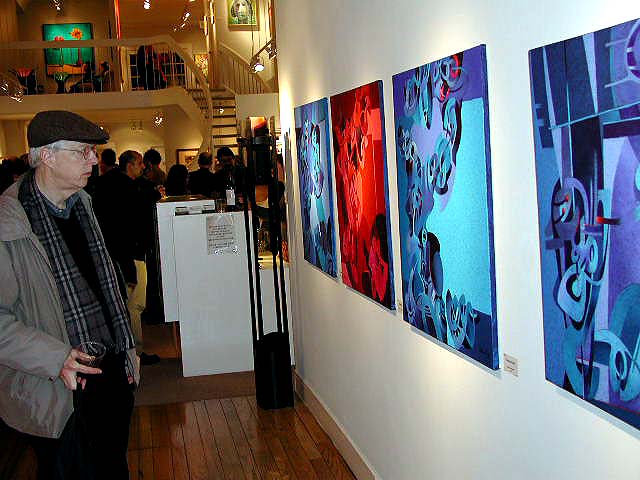 Same artist.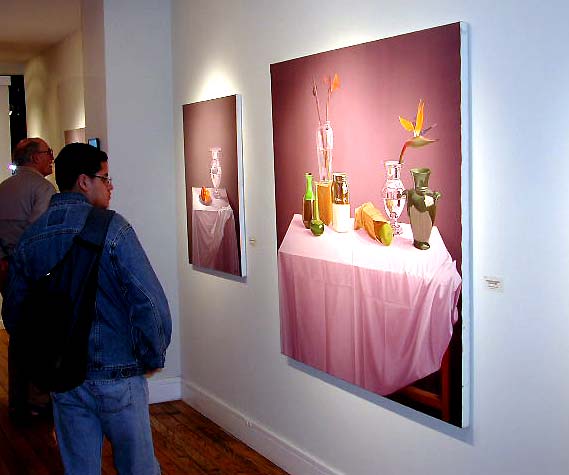 Same artist.


***
Patricia Sweetow Gallery: Frederick Hayes; Untitled R
Art.


Art.


***
Jenkins Johnson Gallery: Christine Hanlon; Vessels and Vehicles
View from just inside the front door.