SAN FRANCISCO GALLERY OPENINGS
DOWNTOWN ART GALLERIES
FIRST THURSDAY; 01.08.04
Catharine Clark Gallery: Sandow Birk; Dante's Purgatorio
Comment: Sandow Birk doesn't make art; he makes realities, this time, updating Dante's Purgatorio, in paintings, drawings, and a limited edition book, and setting it in San Francisco (albeit with LA palm trees). Now dressed for success, as well he should be, skateboard skin shed but surely not forgotten, Birk continues his relentless and inevitable art world ascent. This show's a must if you're doin' the Downtown art whirl.
Art.


Artist.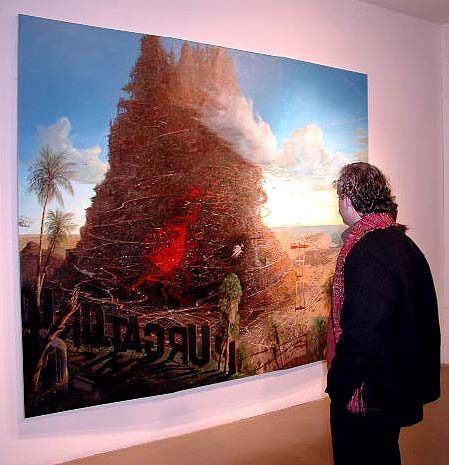 Art.


Art.


***
Toomey-Tourell Gallery: Ray Turner
Comment: Locomotives in the mist, bridges in the fog, high-rises in the smog; it's always hazy, always painterly, and always worth a look. You try and make a screaming locomotive look quiet; Turner can.
Art.


Choo-choo on call-waiting.


***
John Berggruen Gallery: Henri Matisse; Paul Wonner
Comment: Significant selection of Matisse prints and drawings, particularly the portrait etchings and white-on-black linocut; 40-year Wonner paintings on paper retrospective, equally impressive, though Wonner's considerable skills are modestly diluted when viewed through glass.
Wonner walk.


Matisse - Madame - Maestro.


***
Gallery Paule Anglim: Barry McGee and Josh Lazcano; also group show Rebus
Comment: Jumble art by McGee and Lazcano in the rear parlor complete with smoke, heat, tiny door, sawed off car trunk, spray can pile, monitor pile, short on fire; jumble people at group show Rebus in the main gallery. No vacancy in Sardine City, but why?
Jumble out.


Jumble in.


***
49 Geary, Fourth Floor Hall: Sara Thustra and Friends
Comment: Local artist Sara Thustra selling silkscreened and sewn 2004 calendars printed on brown paper, with bonus literary supplement; sliding scale $10-$2, well worth the pocket change. Business appeared brisk.
Squatter's rights.
For November First Thursday, click individual November 6 openings.