SAN FRANCISCO GALLERY OPENINGS
DOWNTOWN ART GALLERIES
FIRST THURSDAY; 04.01.04
General comment: Some of more invigorating art to be shown at First Thursday in a while, and I saw it all without having to endure the traditional trampling at 49 Geary, a venue which at times looks a little long in the tooth compared to what the competition trots out. 77 Geary 2nd floor impressed, as did the triple kick-ass Juxtapoz Ten Year Anniversary shindig at 111 Minna Gallery.
Gallery Paule Anglim: Deborah Butterfield.
Comment: It's Butterfield at her best-- that simple. Tromp l'oeil bronzes, assuming there is such a thing, looking so much like found wood sculptures that you have to tap them every time you see them just to make sure (at least I do). The patination on the imitation birch horse sculpture is particularly astonishing, so much so that I tapped it twice.
Art.


Artist (right).


Art.


***
Rena Bransten Gallery: Vik Muniz; Rebus.
Comment: Big photographs. Big photographs are everywhere, I know, but what sets these apart from the chattel is that to create the images, Muniz painstakingly collaged hundreds and sometimes thousands of toys into complex representational compositions, and then photographed them. I asked Rena Bransten what kind of camera and/or printing process the artist used; she knew neither. These days, and I keep harping on this, if you spend thouands of bucks on a photographic work of art, you deserve to know what kind of paper it's printed on, what kind of printer/printing process was used to make it, and what kind of camera took the photograph. The images below don't begin to do the show justice, so do the show justice and go check it out. It's a winner.
Art.


Artist.


Art.


***
Larry Evans Gallery: Charles Brown; Books & Authors.
Comment: Moody, a bit foreboding, distinguished, dark, contemplative-- all good words to describe Brown's paintings. The artist has done a good amount of commercial work, but that's hard to tell here; it's not often that an artist with such a background can step so completely into the realm of fine art. Ready for some fun? Check out what was formerly the bottom right image on the Larry Evans Gallery homepage (Evans removed it after reading this review, but was kind enough to email me a copy which you can still see here). He looks like he's standing in one of those trick rooms that makes you look huge. "Buy art from me or I'll squish you with my pinkie!"

Art.


Art.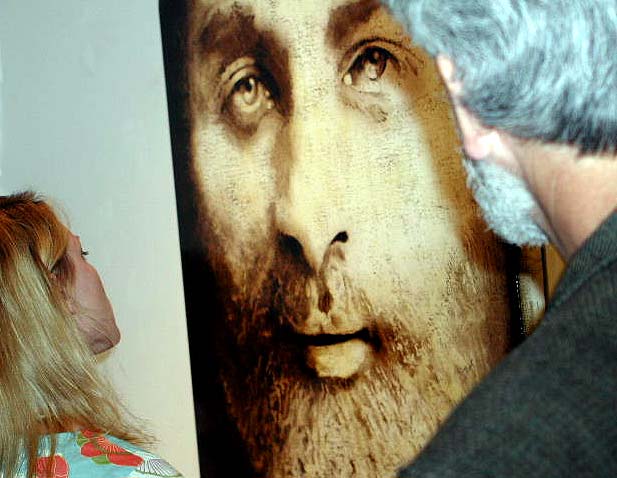 Art.


Art.


***
Dolby Chadwick Gallery: Paintings by Abraham Elterman.
Comment: Elterman's paintings have weighty titles like "That Which Sustains" and "That Which is Meaningful," possibly related to the fact that he has a couple of advanced degrees in Physics (big thinking and Physics go together). To me, the art looks more like magnified Indian Corn kernals. Either way, it's well-done, good looking, and curiously soothing, perfect for interiors fraught with domestic or corporate conflict (yes, art can reduce stress). And speaking of advanced degrees in Physics, it's always good to have something to fall back on in case the art career heads South, something not likely to happen with Elterman.

Art.


Art.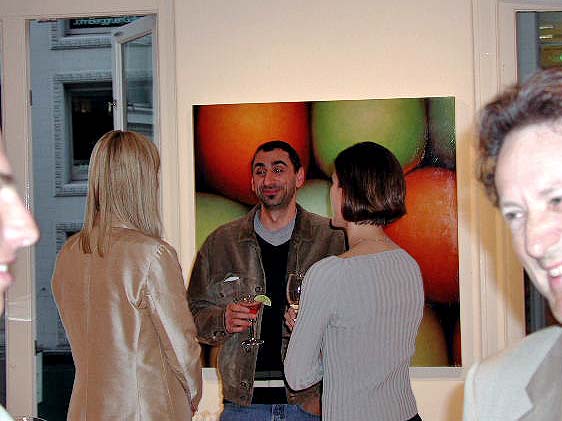 Art.


Mascot.


***
Heather Marx Gallery: California Dreamin'; Libby Black, Lee Walton, Michaewl Arcega.
Comment: A little bit of everything, including fun.

Art.


Art.


***
Budget Gallery: Showcase - the Winners' Circle; Sara Dierck, Dale Dreiling, Eloise Harold, Michael Kenny, Eve Mosher, and Mr. Theodore.
Comment: Sandwich boards with art on them set up in a line on the street. No theme, no point. You can do better. Remember your Stencils show at Crucible Steel? That was a good one.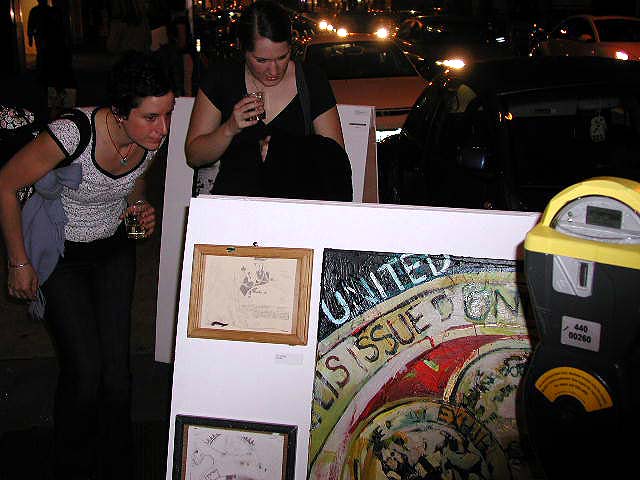 Art.


Gallery.
March First Thursday; March 4, 2004