SAN FRANCISCO GALLERY OPENINGS
FIRST THURSDAY; 09.09.04
General comment: Doorknobs dusted, cobwebs cleared, and toxic mold eliminated, the downtown galleries open their doors to the Fall 2004 Art Season. The 49 and 77 Geary art machines hum once again with most all the tenants sporting fresh new stock. Fortunately for the cultured claustrophobic, the customary high-density high-humidity art mob never materialized, although attendance was healthy. Many regulars apparently thought First Thursday was last week (which it technically was, according to the calendar people), so instead of coming down for the fun, they likely homed-it with COPS reruns and Cheese Doodles.
What they missed was a cascading tumult, an ouevric surge almost too much to endure, even for those used to seeing all art all the time, such as myself. This visual Pu Pu platter was adequate overall, even good, but good is not always enough, especially when the competition is thick like it was this night. At one point, my eyes actually began to roll back in their sockets, however the precise location of the aforementioned occurrence shall remain nameless. But you don't want to hear about eye-rollers now, do you? You want only the gravy, the wonderment and, of course, to see who wins the battle for pick of the night...
John Berggruen Gallery: Tom Otterness, Several Strange Objects; Michael Gregory, Recent Paintings
Comment: Saving the best for first, pick of the night goes to John Berggruen for his double dose of mature polished art. The Tom Otterness sculpture assortment is amusing, imaginative, beautifully patinated, and able to connect with absolutely anyone. His work demonstrates the universality of art, a theme so important at a time when those who disdainfully regard art as irrelevant and useless strive to slash funding and eliminate programs. Otterness reminds them that maybe, just maybe, they jump to judgment. Meanwhile, Gregory's dreamlike structure paintings possess meditative magic, mysterious serenity, and not an iota of paint out of place. You can either wonder what happens inside these solitary domiciles or hang out in the field and groove on the weather. Decorating tip: For socialites with wall space, particularly in dens or formal dining areas, these mood mellowers may mollify.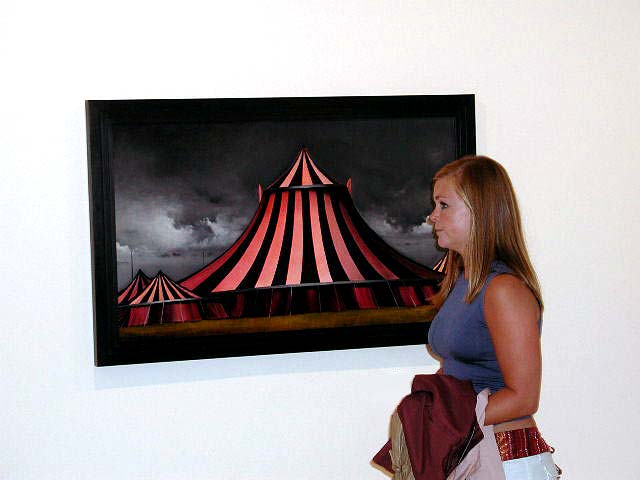 Art.


Art.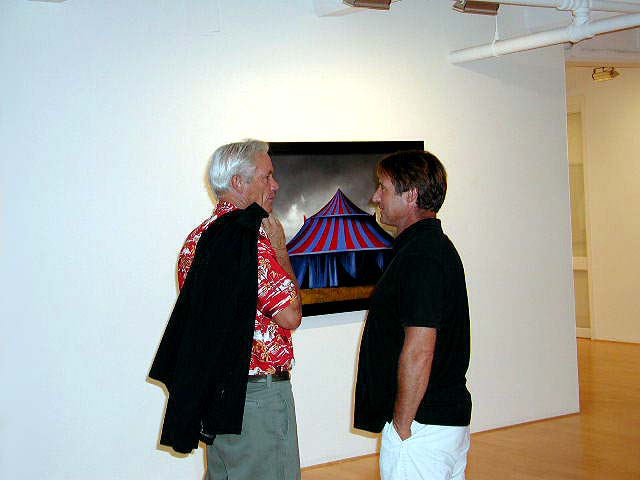 Art - artist (right).


Art.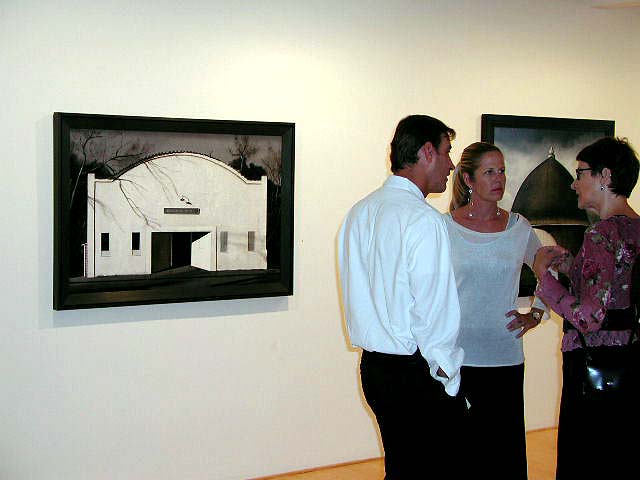 Art.


***
Gregory Lind Gallery: Conversagence; Sharon Engelstein, New Ceramic Sculpture - Aaron Parazette, New Painting.
Gregory Lind's been showing some pretty slick stuff lately, and he continues the tradition with smooth white amorphous ceramics, periodically punctuated with painted appends, by Sharon Engelstein, and clean tight stretchy geometric letter paintings, the letters bordered in thin vibrant color bands, by her husband, Aaron Parazette (I'm sure glad they didn't decide to combine and hyphenate their last names). The show's oppressive press release could use a verbalectomy, or maybe this-- every such press release comes with a free art critic wind-up doll.
And now for a brief word about long-windedness. Remember the Mars Rover? Remember those delightful pictures of the silly thing scurrying around and scooping up dirt? We weren't tortured with hyper-meta-theoretical-constructs or the advanced astrophysics entailed in assembling the contraption and shooing it off to another planet. Nobody cares about that except for a handful of research scientists. All we want is to see our favorite space toy in action. So listen, art people-- take a lesson from the Mars Rover people and squelch the explanatory. Those of us who feel the need to be swaddled in artistic antecedent will ask, fully knowing that you'll be more than ready to oblige.
Art.


Art.


***
Fraenkel Gallery: Sol Lewitt.
Comment: Three walls of the main room of the gallery are rainbowed with colored undulating bands, stripes; the remaining wall is painted with trapezoidal shapes formed into a circle. The next room displays a group of photographs of a sphere lit from different angles and directions kind of like what Monet used to do with cathedrals and haystacks.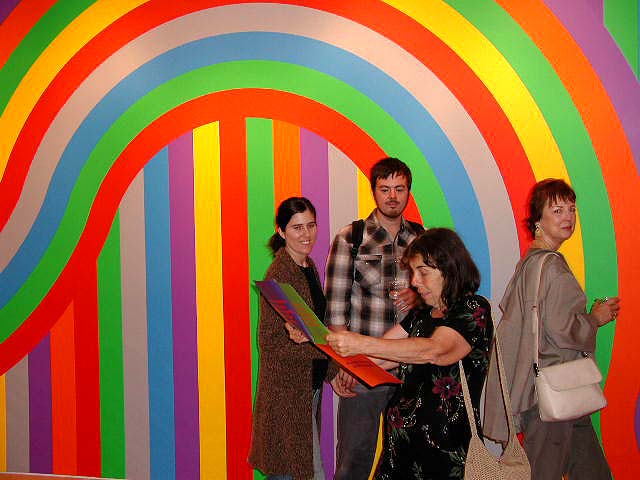 Art.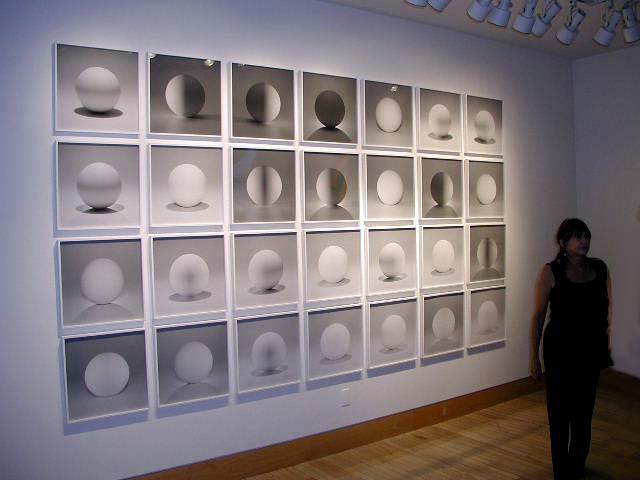 Art.


***
Scott Nichols Gallery: Mona Kuhn.
Comment: Photographs of nudes that at brief glance appear exploitive or unecessarily provocative, but you're not totally sure, so instead of walking on by, you take an extended analytical look to figure out whether or not you saw what you think you saw. You look, you search for untoward aspects, and on the way to finding none, you become fascinated by Kuhn's deceptive dramatics. The soft blurry settings with figures ambiguously positioned suggest only what you suggest to yourself.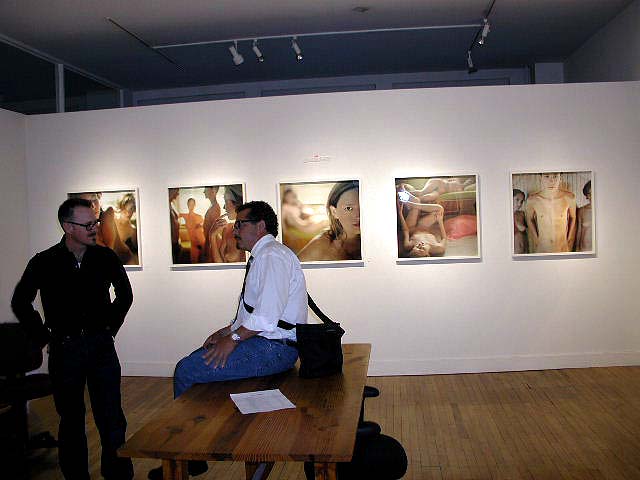 Art.


***
Modernism Gallery: 25th Anniversary Exhibition.
Artists: Charles Arnoldi, Gottfried Helnwein, Mel Ramos, Glen Baxter, Naomie Kremer, John Register, R. Crumb, Le Corbusier, Mark Stock, John De Andrea, Kasimir Malevich, others.
Comment: Congratulations Modernism Gallery. 25 successful years in the art business is worth a celebration no matter who you are. Modernism set up shop in 1979 specializing in avant-garde art, particularly Russian, from the early part of the 20th century, and has steadily broadened its art and artist base since. Today, the gallery still deals in early modernist works, but moreso, shows a quality mix of modern and contemporary American and Western European artists, most of whom are well-established in the museum and collecting communities. The gallery has an impressive following-- a visual fiesta of fans-- and famous types are occasionally seen there too.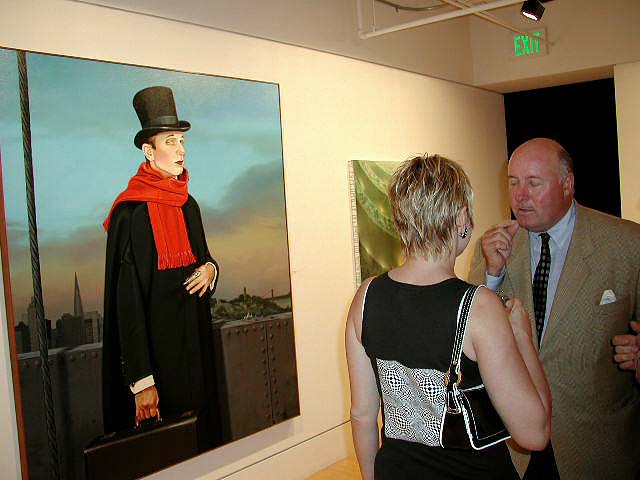 Mark Stock explains his painting.


Art.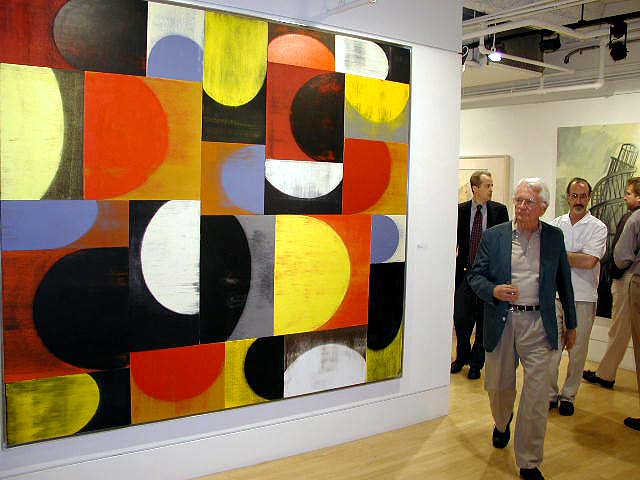 Art.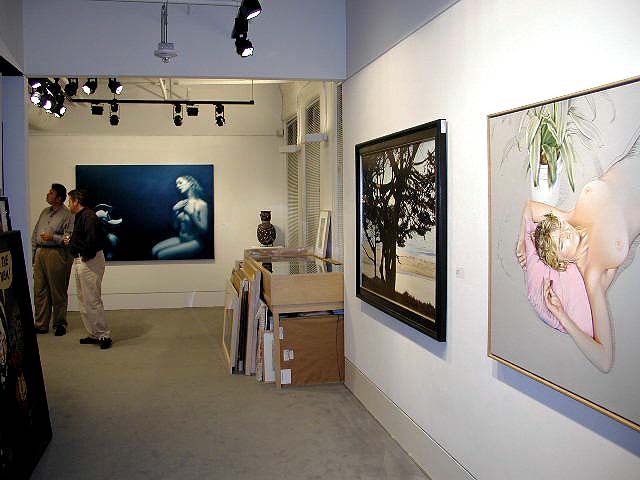 Art.


Art.


***
Crucible Steel Gallery: I Feel Sassy, Claire Brant.
Comment: You know what the art world needs a whole lot more of? Pudding wrestling. Artist Claire Brant understands this, even though still MFA-ing it at SFAI. So she calls up the Bunny Girls-- big, bad and pink-- who are more than willing to address the PWD (pudding wrestling deficit) by filling an inflatable pool with pink non-stain pudding and challenging any dude in the place to get down. As of 8:15, no dude had yet accepted, although I must admit I considered the possibility of getting the crap kicked out of me by two women half my age before coming to my senses and realizing that doing so could jeopardize my political aspirations. Pudding aside, Brant's paintings of figures flying through the air may one day go ballistic.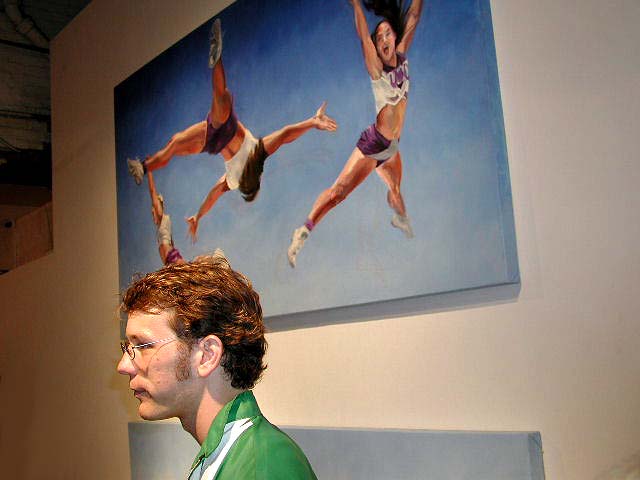 Art.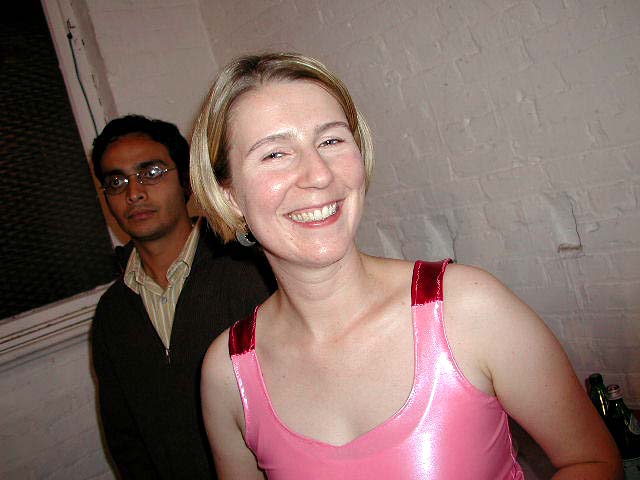 Artist.


Bunny Girls soliciting carnage.


Art.


***
Jack Hanley Gallery: Sean McFarland.
Comment: McFarland's photographic urbanscapes are blurred and distorted in such a way as to render real places imaginary and toy-like. A bit on the one-trick-pony side, the trick happens to be pretty snappy, so in the interest of the potential evolutionary payout, respect and appreciation of the current circumstance is in order.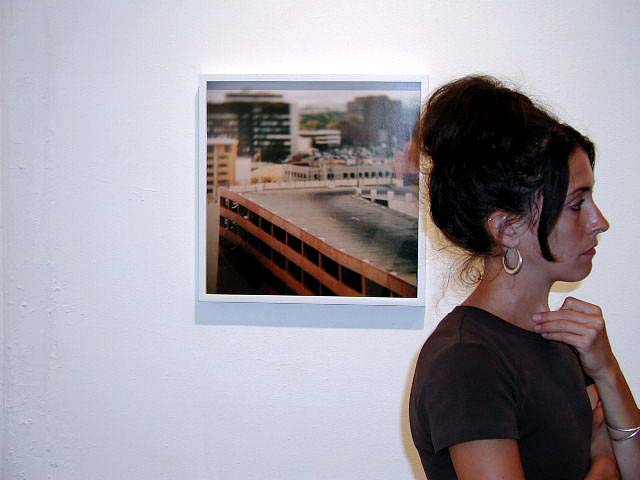 Art.


Art.


Art.


More Galleries:


Vintage sixties hard-edge by Karl Benjamin at Brian Gross Fine Art.


Christoph Draeger turns photographs of disasters into jigsaw puzzles, and instead of boxing and selling them at Walmart, he frames and sells them at Catharine Clark Gallery.



Cowboy slaps pig at "Golden Countenance," paintings by Paul Mullins at Heather Marx Gallery.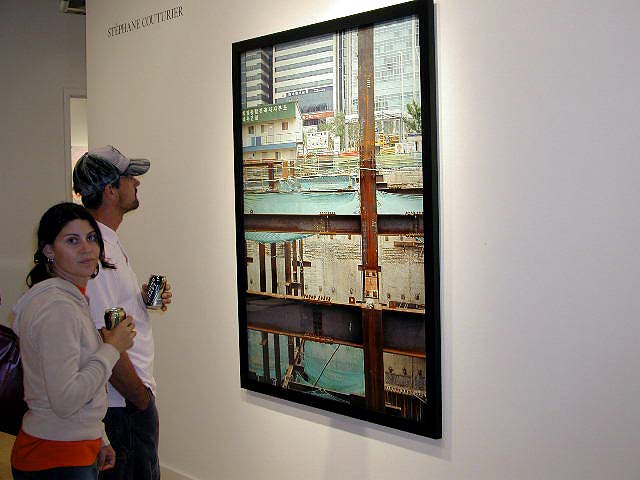 Stephane Couturier sees construction differently at Rena Bransten Gallery.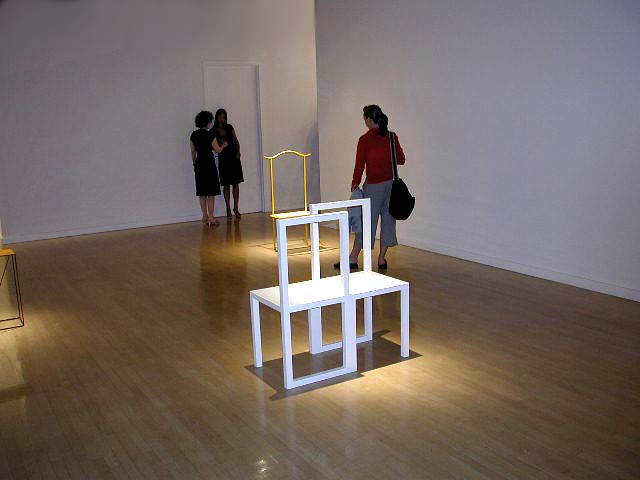 Robert Wilson's non-furniture at Rena Bransten Gallery.



Bye now.

August First Thursday; August 5, 2004