SAN FRANCISCO GALLERY OPENINGS
FIRST THURSDAY; 11.04.04
General comment: For some reason, perhaps in anticipation of the next four years, yet hoping for the best, I came into the evening with only modest expectations. However, I'm happy to report that my precognitive low bar was more than adequately raised by an ample assortment of what is generally referred to in the trade as "the good stuff." I won't go so far as to say I was asphyxiated with aesthetic elation-- there was the usual cadre of yawners, snoozers, and sleepers-- but we must always remember that without humdrum art that we barely notice, we'd have nothing to barely notice, not to mention the impact that a paucity of pennyweight pabulum would have on the decor of lobbies and waiting rooms across America.
But enough about food. It's loin girding time as we prepare for our digital journey through the corridors of San Francisco's creative cornucopia, to culminate, of course, in the unveiling of the evening's visual victors. So pour yourself a tumbler of fizz, and address your monitor. We've got art to see...
Steven Wolf Fine Arts: Steven Hull; I Did Not Come to Share.
Comment: Los Angeles artist Steven Hull makes his Northern California debut with a cacophonous rainbow roller coaster ride of art, running up, down and around the gallery walls, and scattered about the floor. Hull's art is relatively unique in that he's not only inspired by his two young children, but they also help him make it. Now that's being a good Dad.
Artist.


Art.


Art.


***
Catharine Clark Gallery: Lisa Kokin, Attachments; Anne Seims, Daydreams.
Comment: Lisa Kokin's button constructions are so complicated, precise, deliberate, and mind bogglingly well assembled that not only does she receive a Best of First Thursday award, but she also receives the rare and highly coveted "How Do Dey Do Dat?" award. Kokin has hyper-meta-meticulously sewn together thousands of buttons into compositions which appear representational when viewed at a distance (actually, images of her family and pets), and then progressively fractionate into dizzyingly intricate webs of abstraction the closer you get-- equally mystifying, every step of the way.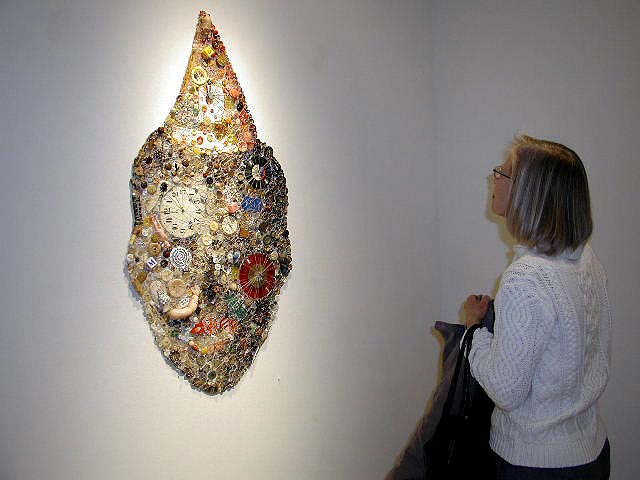 Art.


Art.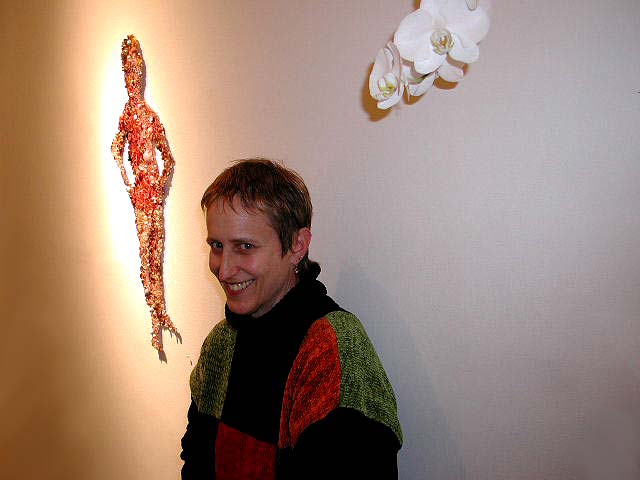 Art - artist.


Art.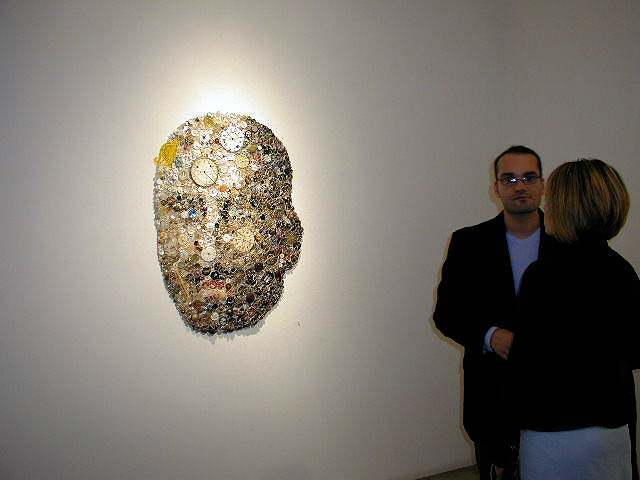 Art.


***
Stephen Wirtz Gallery: Magdalena Abakanowicz.
Comment: Abakanowicz's sculptured life-sized figures, arranged into two groups, each face uniformly forward in eerie motionless silence, looking like scenes out of ancient Chinese burial tombs. One group consists of bronze headless armless torsos, the other, of human bodies with animal heads, fashioned from resin-coated burlap. They reference the artist's life growing up in Poland and the hardships she faced while living through the Nazi invasion and occupation, World War II, and forty years of Communist rule. For her art, her innovative sculpture techinques, her persistence, her endurance, and her ultimate personal triumph over inhumanity and barbarism, she receives a Best of First Thursday award.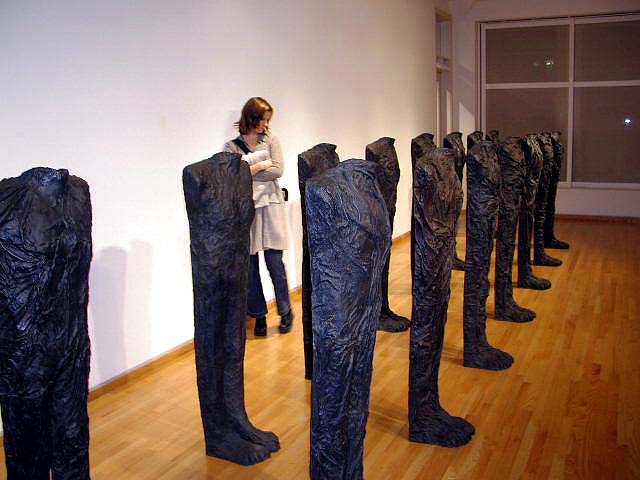 Art.


Art.


Art.


Art.


***
Gregory Lind Gallery: Bob Matthews - Songs to Teach Your Children; Amy Rathbone - One Side of the River, Healthy Desires / On the Other, A Measly Phone Booth.
Comment: No shortage of Mission District hipsters at this show of head-scratcher hmmmm art. Matthews' "digital drawings" are moody with clothes lines. And I couldn't find a phone booth in any of Rathbone's intricate inkwork. Is there a prize if I do?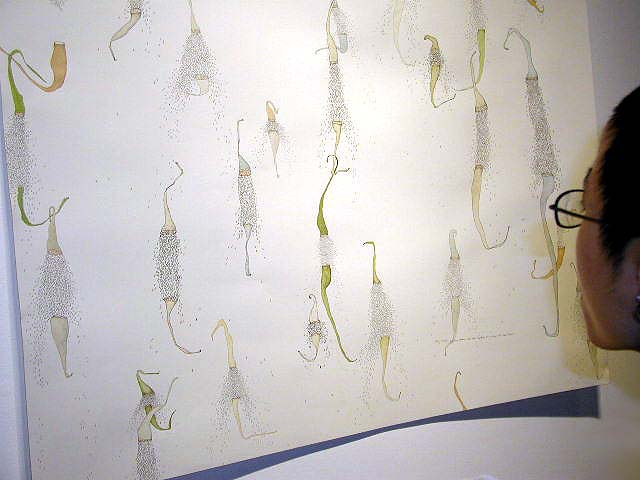 Art (Rathbone).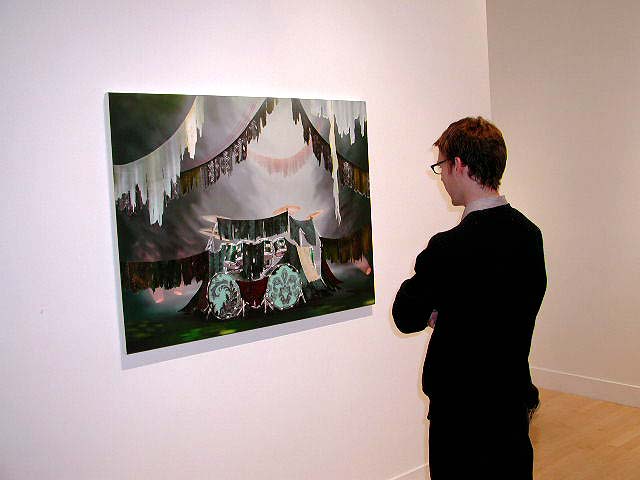 Art (Matthews).


Art (Rathbone).


***
111 Minna Gallery: Anatomy of Desire, Paintings and New Projects by Alison Pebworth.
Artists: Alison Pebworth.
Comment: Alison Pebworth's art is like reverie, dream state-- sometimes a bit macabre, sometimes surreal, even autobiographical-- portraying people, animals, and scenarios where just about any outcome seems plausible. Her paintings have a magnetism about them; you're drawn in and involved. If you get lost, she provides convenient brain diagrams, done in the manner of old fashioned classroom pull-down/roll-up medical wall charts. Unlike much of today's counterculture, lowbrow, or whatever-you-want-to-call-it art, Pebworth's goes beyond the illustrational, beyond contrived weird, cute rude, impudent edge, or using the same handful of devices over and over again. Her art makes you think, not only about yourself, but also about what may or may not be floating around inside the complex mind of an unconventional creative.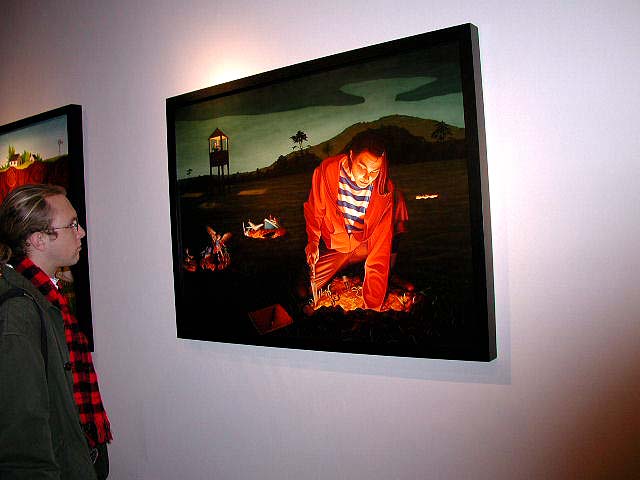 Art.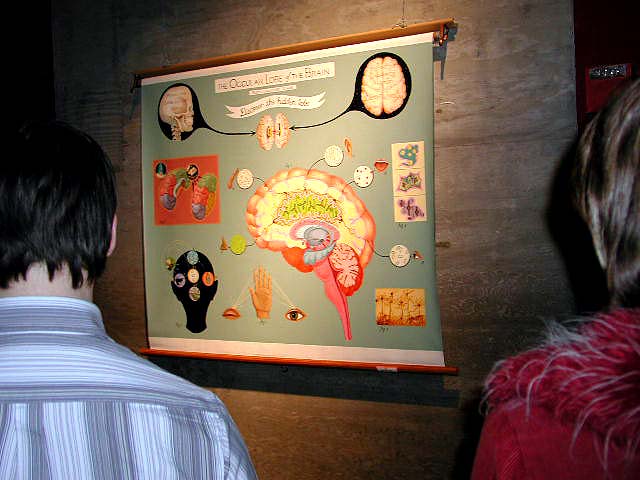 Art.


Artist (left center).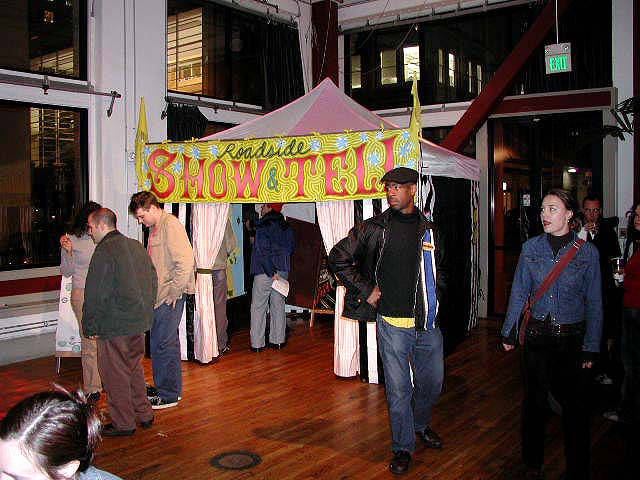 Art booth.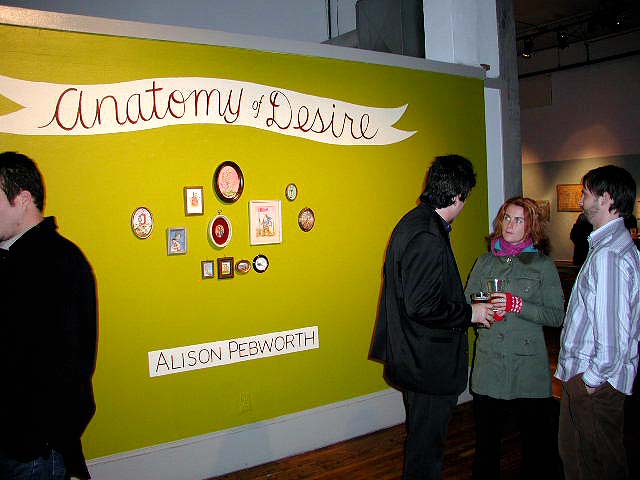 Art.


***
Newmark Gallery: Paul Madonna; Selected Drawings.
Comment: Artist Paul Madonna is best known for his comic strip "All Over Coffee" which runs in the San Francisco Chronicle. Here, Madonna demonstrates his considerable range of skills with a variety of drawings including a handful of lightly quivering San Francisco Victorian street scene ink drawings, so convincing in their motionality that they reminded me of the 1989 quake, not necessarily something I enjoy being reminded of. But they did, so when I got home, I checked the bottled water, Starkist tuna, and S&W garbanzo supplies to make sure I dine right when THE BIG ONE comes rocking.
Art.


Art.


Art.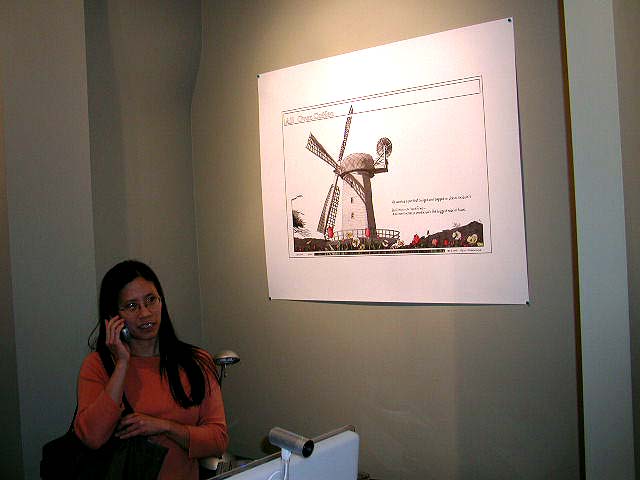 Art.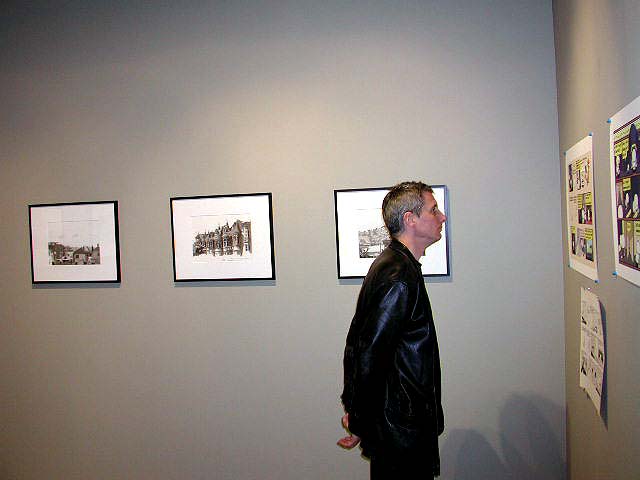 Art.


***
Adler & Co. Gallery: Hilla Rebay.
Hilla Rebay (1890­1967) was one of the founders of the Museum of Non-Objective Painting, which eventually morphed into the Solomon R. Guggenheim Museum. The Adler & Co. show comprises a respectable selection of Rebay's work including several pieces that will be travelling to the Guggenheim in 2005 for a show dedicated to Rebay and her impact on American modernist art.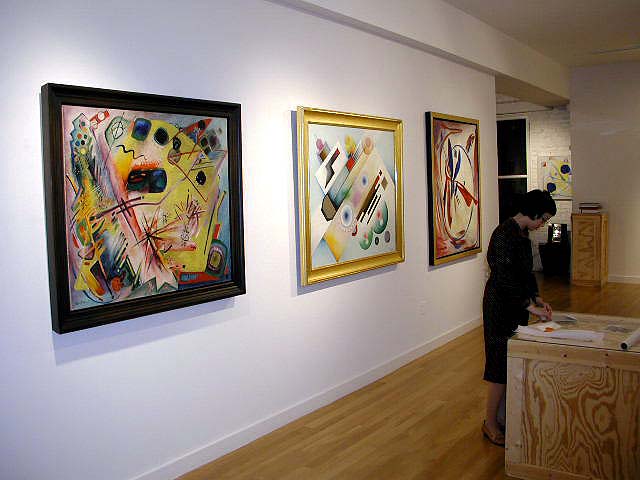 Art.


***
Addendum: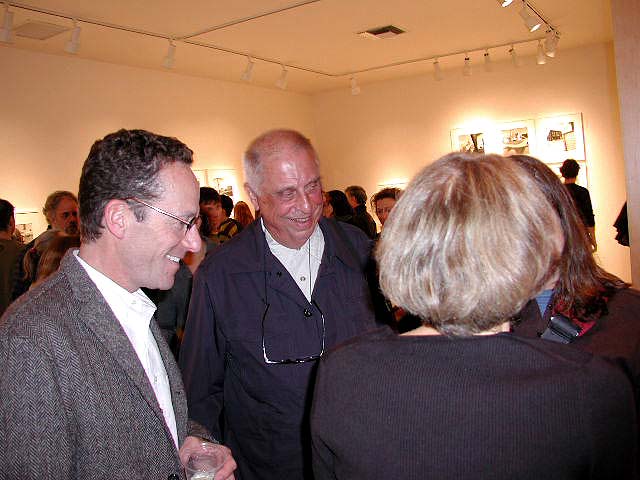 Lee Friedlander (center) at Fraenkel Gallery. The show's a go-see.


Wooden wonders by David Nash at Haines Gallery.


Neo-barbizon art with odd bottoms by John McCormick at Elins Eagles-Smith Gallery.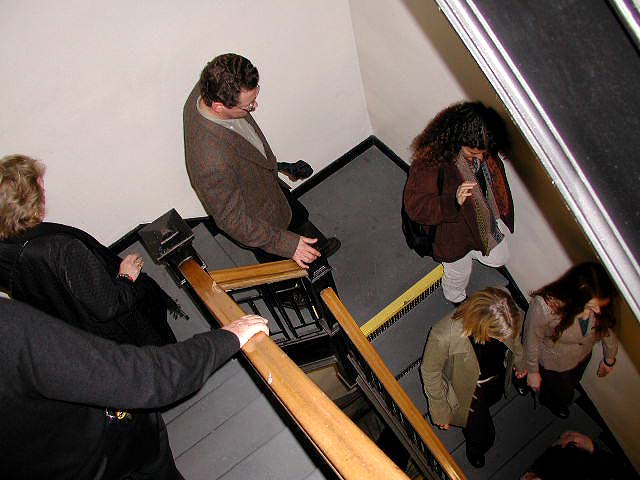 7:30 exodus from 49 Geary.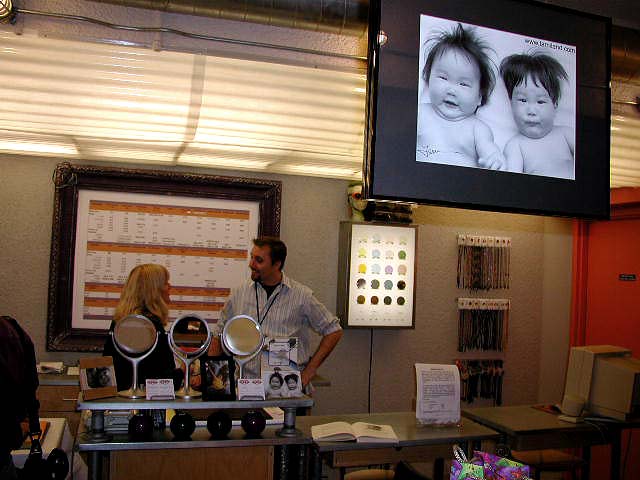 Baby art at Optical Underground, 280 Sutter. Goo-Goo!


That's all folks. See you next month.
October First Thursday; October 7, 2004