SAN FRANCISCO GALLERY OPENINGS
FIRST THURSDAY; 12.02.04
General comment: Tonight was all about the outskirts. The "other" galleries, the non-downtowners, trotted out such a selection of upbeat creatibles at such affordable prices that you could have diced me up twice and sprinkled me over a bowl of Spumoni. The Sutter-Geary corridor made a respectable showing too, but between you and me, sometimes the reverential-supplicant-yielding-to-divine-right scene (Honey... it's art. Shhhhh...) gets wedged a trifle far up my shorts, which calls for a breath of that fresh alternative urban breeze (Dude... it's art! Party!).
While we're on the subject of alternatives, San Francisco's alternative artist community generates gobs of options for all of you to weasel art into your lives while only minimally light-fingering your pocketbooks. And this is heartening news, dear artsters, that irrespective of the doubloon counts in your Departments of Discretionary Capital, our artists toil endlessly to assure that your walls, your shelves, and your minds shall never want for cultural refinement. Yes-- with proper selection and placement of creative artistic product, even your most discerning friends will be mercilessly devastated by your taste and sophistication. So buckle your mukluks and power up the GPS. It's safari time.
Note: For those of you keeping score, I review all shows in the order attended. Kindly refrain from hierarchical postulation. Now off we go...
Dolby Chadwick Gallery: Intaglio Editions from made in California Press.
Comment: Dolby Chadwick offers an impressive selection of fine prints by an impressive selection artists at an impressive selection of reasonable prices. For example, if you'd rather not drop $200K on a major Frank Lobdell painting, pick up a handsome Lobdell etching instead for as little as $600. Meanwhile, David Kelso's abstract imagery is pretty slick.
Artists: Frank Lobdell, Susan Anson, Gertrude Bleiberg, David Kelso, Jack Jefferson, Gustavo Rivera, Barbara Leventhal-Stern, Gordon Cook, Enrique Chagoya, Theophilus Brown, Jeanne Gantz, Dennis Leon, Beth Van Hoesen, Carol Doyle, Morley Schreiber Clark, Drew Beattie.
Art.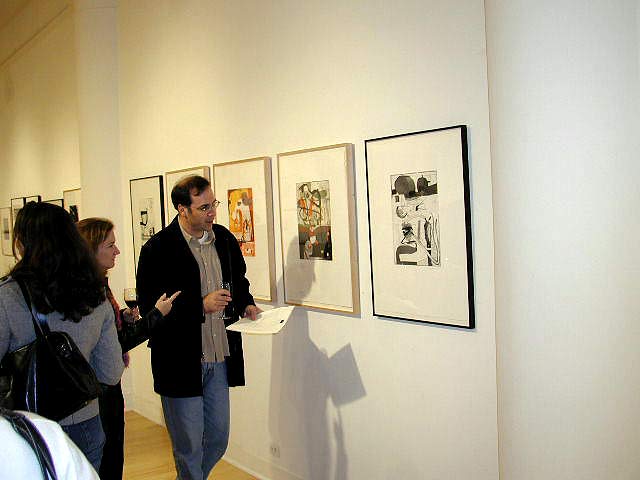 Art.


***
Rena Bransten Gallery: Chris Finley; Fluttersuckers.
Comment: Moths flutter; ticks suck. That's the mucilage that holds this hygienically ordered show together-- paintings, drawings, and sculptures. Finley's precise fluid fractionated acrylic on canvas, "Moths," the centerpiece of the show, is an interpretation of Bush's nine cabinet members, however lacking the interpretive details, I'm unsure whether ownership is more appropriate for a Republican or a Democrat.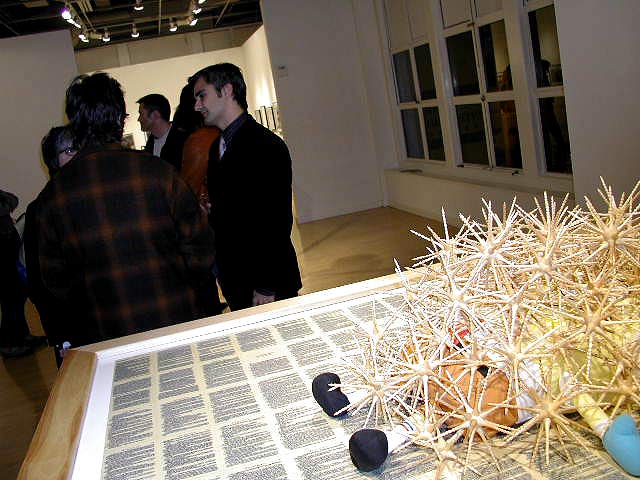 Art.


Admiring Colin Powell's tie.


Art.


***
Steven Wolf Fine Arts: Marcos Rosales; The Blacklist, 1992-2004.
Comment: Wolf continues his teetering traipse along the edge of the art-o-sphere by lacing the gallery with a major dangler-- an oversized rambling black web of macrame. Not being a knitter or a darner, though I have been known to spin a yarn, I can't say for sure whether macrame is crochet-gone-wild, but this one sure has. So follow the black bargello and find the Marcos Rosales art.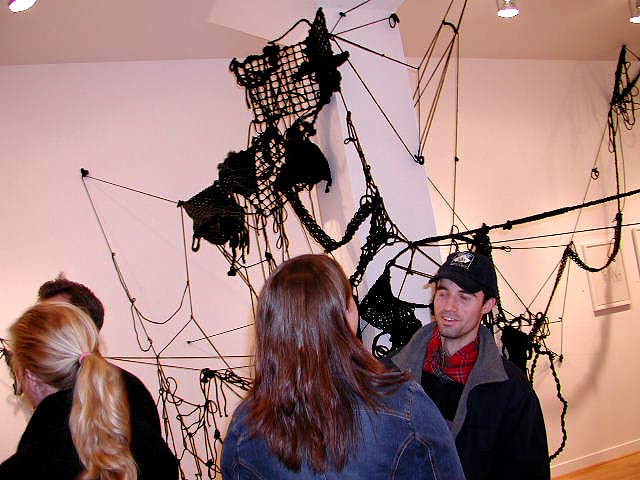 Installation included with purchase.


Art.


***
Toomey Tourell Gallery: Matty Byloos, Roland Reiss, Joan Tucker.
Comment: Roland Reiss does tricks with paint that render his art marvel-worthy. You can either appreciate his aesthetic-- which is eminently appreciatable-- or you can try to figure out how he makes his art happen, or both.
Art (Reiss).


Art (Reiss).


***
111 Minna Gallery: Five Ways to See - Alexander Cheves, Souther Salazar, Jeffrey Harland, Joel Elrod, Aaron Burtch.
Comment: Mixed bag of a show topping out with some twisty scratchy poster art by Joel Elrod, perhaps a mite hefty on the buy-in, but he's got a look, a vision and an identifiable style, and in art, that's the kind of stuff people pay for. Also of note are Jeffrey Harland collages, so simple, clean-cut, and affordable, morphing ordinary magazine illustrations into strange little mind trips.
Art - Artist (Elrod).


Art (Elrod).


***
Varnish Fine Art: Misfit Toys.
Artists: Jennybird Alcantara, Ron English, Gary Baseman, Al Farrow, Bella Feldman, Al Honig, Kal Spelletich, Jack Yaghubian II.
Comment: Always plenty of sculpture for sale as Varnish continues to be THE gallery in town to shop for it. You'll find a good selection of off-kilter wall art too; they've packed the place. And for that special wacko looner in your life, the Jennybird Alcantara Doll Wall offers The 2-headed Waitress ($140), Dramanique the Suicidal Clown ($90), Bearded Dwarf ($60), and similarly endearing characters.
Art.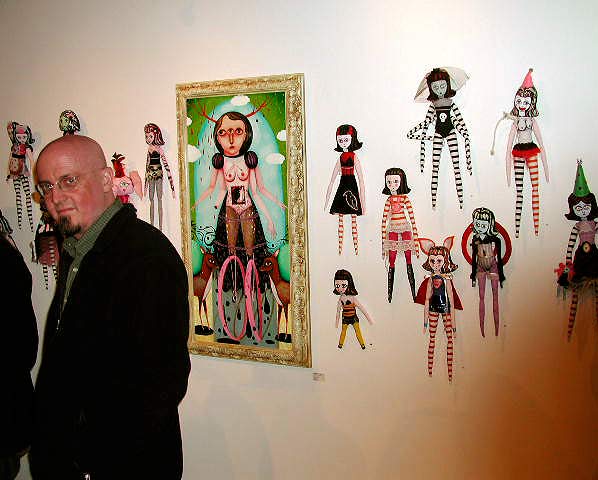 Doll Wall.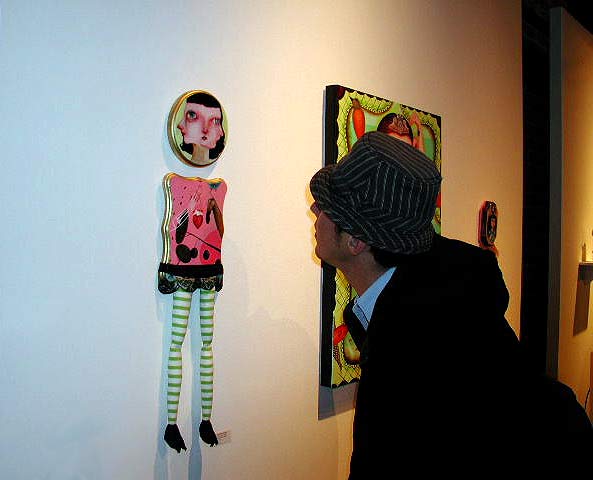 Art.


Art.


***
Fifty24SF Gallery: Horses and Babies 4 Sale.
Artists: Rich Jacobs, Caroline Hwang, Kylan Larson, Calef Brown, Megan Whitmarsh, Dalek, Souther Salazar.
Comment: Group show of LA artists in association with New Image Art of West Hollywood. Upstart stuff at great prices in a tiny space and-- special added bonus-- two picks of the night. First is Kylan Larson for his fine-line peaceable terrain paintings, some inked, others omissioned, over softly painted color fields, plus several nifty pieces of cigarette butt art for those of you thinking about quitting before you start coughing blood. Second is Caroline Hwang's girly mixed media genre scene stitchery with mildly disquieting undercurrents-- just enough to work your mind. And for good measure, let's throw in Calef Brown's weird fanciful character paintings. And Dalek's always happenin'. Hey-- the whole show's worth a visit.
Art (Larson).


Art (Hwang).


Art (Brown).


Art (Dalek).


Art - Director (behind the guy in the foreground).


***
Future Primitive Sound: Home Ec.
Artists: Ciriaco Sayoc (Figments), Manuel Gonzalez (GonzOne).
This is the story of two men and their sewing machines, and can these guys sew-- especially Ciriaco Sayoc who gets a pick of the night for some brutally kool soft 'n cuddly urban dudes just hangin' out on the shelf, and caps also off to Manuel Gonzalez for his plush toys with embedded sound ($25-$500). All I can say is, "Barbie, my dear, the party's over. Next stop-- assisted living."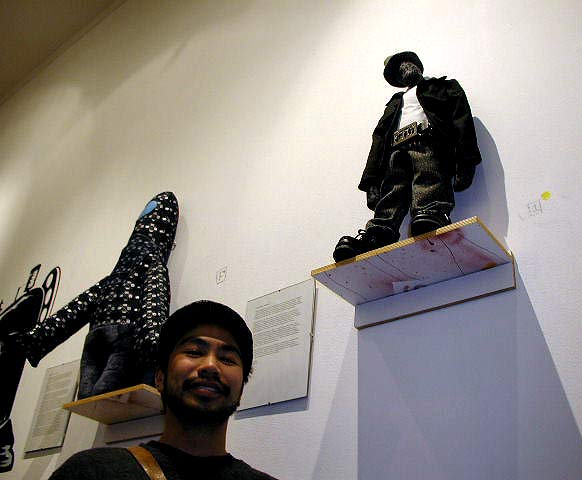 Art - artist (Sayoc).


Art.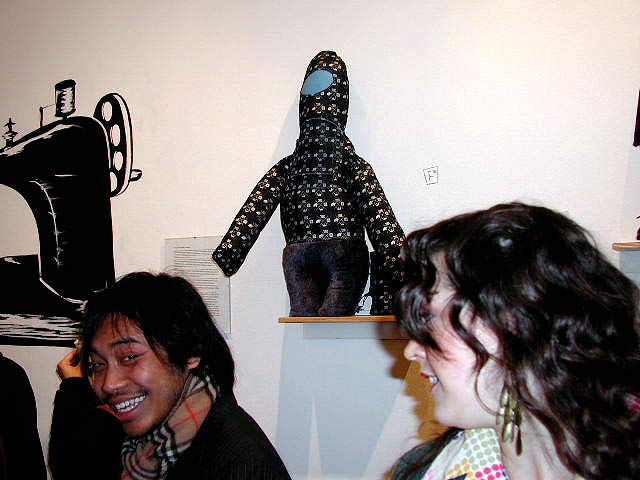 Art.


Art.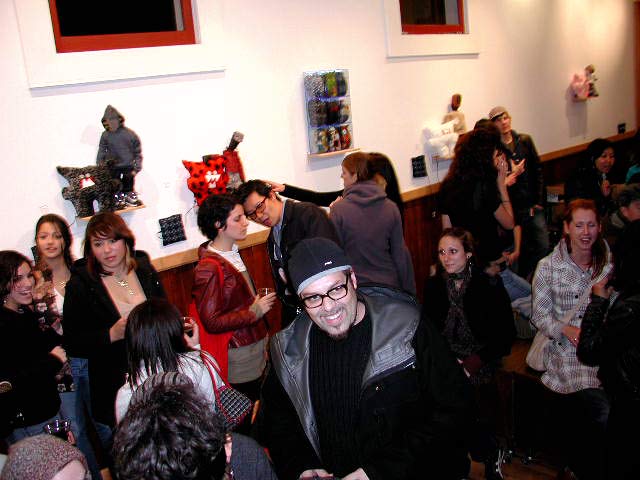 Scan.


***
Punch Gallery: Curious Creatures.
Artists: Scatha G. Allison, Attaboy, Danielle Barnett, Bigfoot, Brin Berliner, Steve Berliner, Cir, Circus Punks, Damon Soule, Friends With You, Jeremy Fish, Gonzo, Mars-1, Brian McCarty, Mikas Mogo, Roy Miles, NoMe, Jermaine Rogers, Romanowski.
Pick of the night for best ice cream social goes to Punch. They've also got the best and biggest show of "art toys" in San Francisco to date, with plenty of wall art to boot. It's wide-ranging, well-curated, worth seeing, worth patronizing (buy something), and gives an informed peek into the future of toy-making. Navigating the art was rough, but Bigfoot's got new toys, Mars-1 continues his compositional complexifications, NoMe's lookin' good, and the whole kit 'n kaboodle deserves far more attention than it currently gets from the stultified crumbling crust of art world academia. Translation: Here, artists make what they wanna make; they don't make what they think they should make based on what their art educations have taught them is appropriate to make based on what other artists have already made based on arcane theoretical constructs that sidestep reality, constructs that anyone outside the immediate cabal of privelege must struggle interminably to comprehend. Holy Moley-- I gotta lay off the Krispy Kremes!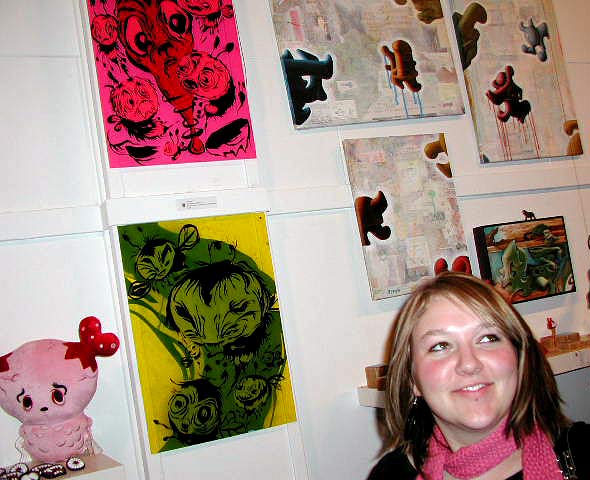 Art.


We like these.


Art.


Art.


Art.


Party.


***
Addendum:


Kyle Mock benefits from a lighting upgrade at The Small Gallery.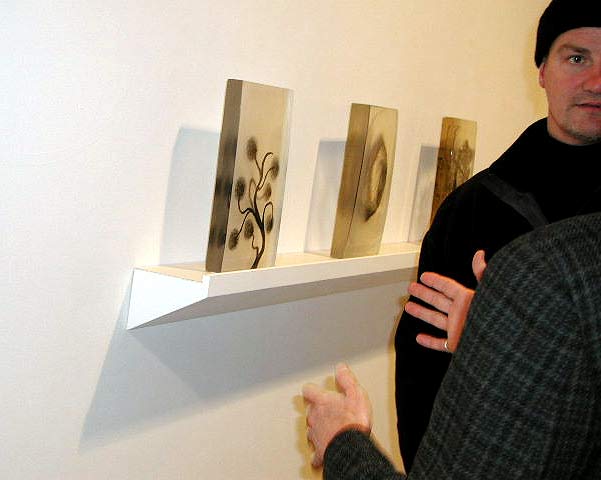 Dustin Yellin india ink and resin at James Nicholson Gallery.


Recessed lighting at Gregory Lind Gallery.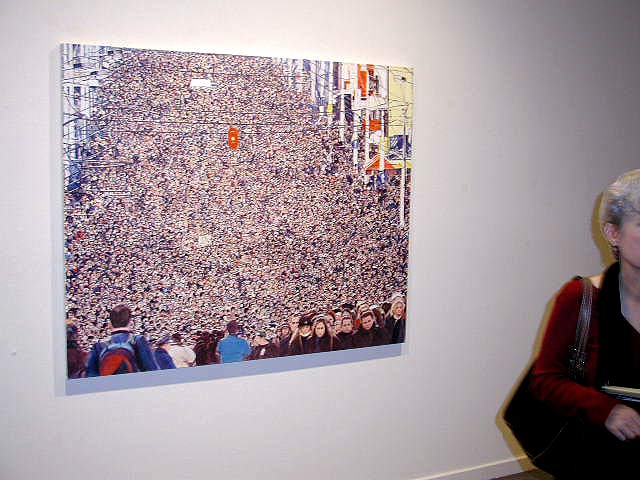 Crowd control at Gallery Paule Anglim (Pamela Wilson, artist).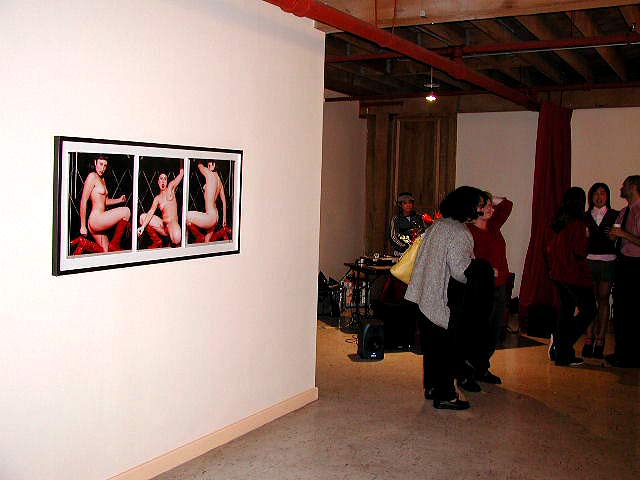 Nudity is good at the Center for Sex and Culture.


I'm outta here.
November First Thursday; November 4, 2004