CLICK FOR MANHATTAN CHELSEA ART OPENINGS, SEPTEMBER 21-22, 2006
MANHATTAN CHELSEA ART GALLERY OPENINGS; 02.27.04
Andrea Rosen Gallery: Sean Landers
Comment: Paintings with colored words all over them, referencing what goes on inside the artist's head; serious bronzes with light subjects, looking like items you might have found on the top floor of now defunct F.A.O. Schwartz. Someone tells me he'd get tired of looking at the bronzes pretty fast in spite of their craftsmenship-- not an unreasonable assessment-- but then the artist is apparently making them for himself and his four-year-old daughter, so that explains that. Whether the daughter is interested in collecting the bronzes and, if so, whether she can afford them, remain unclear.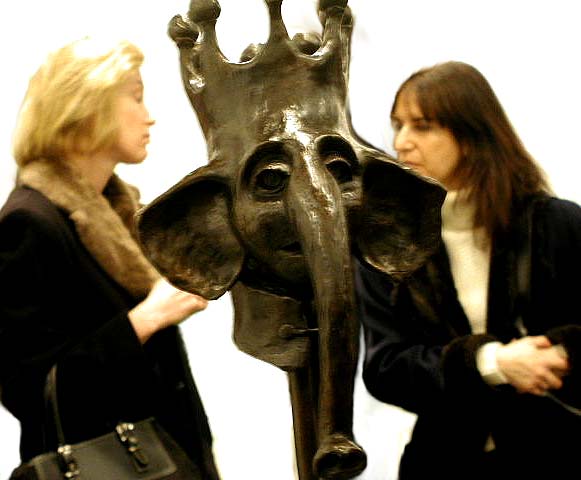 Art.


Art.


Art.


Art.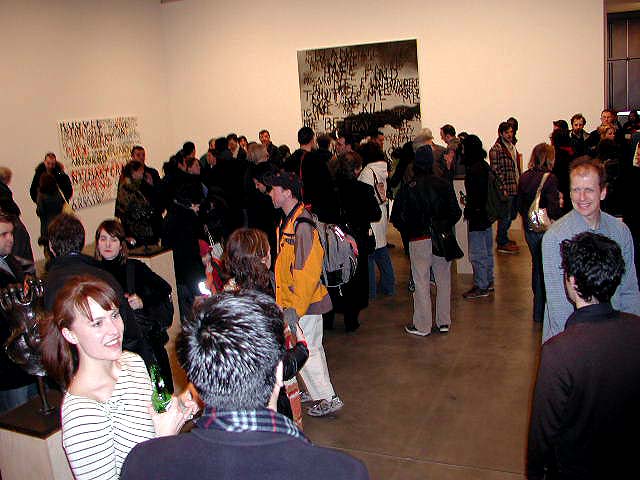 Floor show.


***
Casey Kaplan Gallery: Simon Starling.
Comment: No pictures for this one, but imagine a really crowded dimly lit room with a huge steel plate, perhaps 20 feet long, one or two inches thick, and six feet high propped against one wall. Then imagine an artisticized bicycle, a similarly transmogrified chair, a selection of photographs, and other objects placed deliberately about the room. And then imagine a whole bunch of text explaining what everything is, why it's significant, and how it all ties together. And then imagine me not reading it, and trying to figure out what's going on. And then imagine me reading it, and trying to figure out what's going on.


***
Caren Golden Fine Art: Richard Klein, Observatory; Jean Blackburn, (W)holed.
Comment: Klein takes old eyeglass lenses, ashtrays, wine glasses, and the like and painstakingly sculpts them into common objects like urinals, upside down wine glass racks like you'd see at a bar, and a bucket. The light plays nicely on these curious contrivances.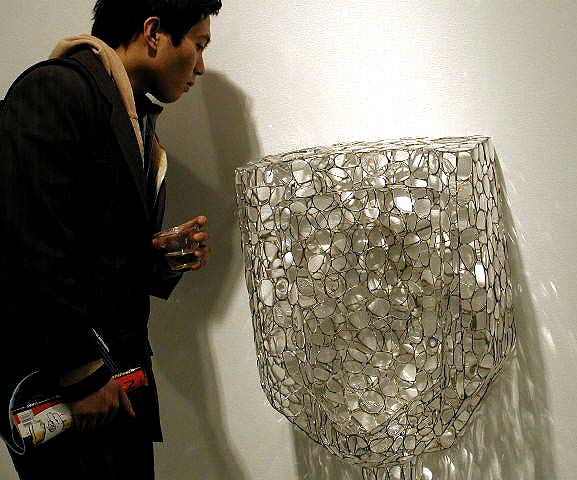 Art.


Art.


Art.


***
Bohen Foundation, 415 West 13th St., NY 10014; 212.414.4575: Peter Wegner, Complete & Final Color Theory.
Comment: Light-hearted look at color etc. accomplished through much heavy lifting. The two-floor installation consists primarily of large-scale works including huge stacks of paper extending the length and height of the basement, and painted wood constuctions, hanging and leaning upstairs. Artist books relating to the show are available for purchase. The paper piles will likely be returned to the repository from whence they came, never to be so piled again, but haulin' it out and stackin' it up and puttin' it back solely for artistic reasons-- well, that's what foundations are for.
Art.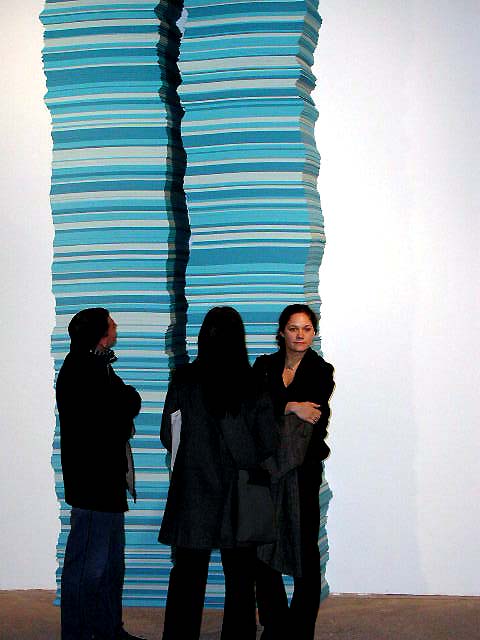 Art.


Art.


Art.


***
Sperone Westwater Gallery: Laurie Simmons; The Instant Decorator.
Comment: Large photographic images of collaged interiors, part drawing, part cut-out, part fabric swatch. At first they look normal, but get close, take a moment, and they weird-out fast, revealing dreamlike scenarios where peculiarity abounds, and who did what to who in order for this to be the way things are becomes anybody's guess. Travel tip: If you like opening night crowds peppered with hip, and easy on the eyes, this one works.
Art.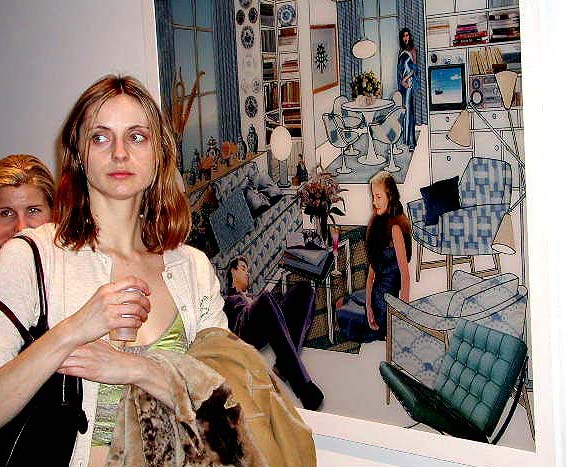 Art.


Art.


Art.