OAKLAND ART MURMUR

ZEROFRIENDS - ROSCOE CERAMIC GALLERY

FM GALLERY - 25TH STREET COLLECTIVE

01.06.12

Reported by Maria Guzman



Need your art appraised? Click Here.
***
Oakland Art Murmur - First Friday Art Walk: Various Venues.
Review and images by Maria Guzman: Tonight's Oakland Art Murmur is busy as usual, and offers a variety of approaches to contemporary Oakland-style art. There is an array of work by Alex Pardee and Chloe Rice at Zerofriends Art Collective including prints to accompany the "My Favorite Monsters" apparel that I've seen around town. Alex Pardee's prints are affordable, combining loose gestural drawings that reinterpret horror flick favorites such as Freddy Krueger and the old man from the Phantasm series (I HAD to buy the Basketcase one). Joining Pardee from across the nation (NY), Chloe Rice's photographs match Pardee's tongue-in-cheek tone.
Next door, at FM Gallery is an opening for Mark Yamagata. The artists' studios are also on full display including notable sculptures by Joe Kowalczyk. His figures are large enough to walk around and admire-- it's fun to get under them and meet their gaze. There is a fairytale quality to his family of characters and I aim to return to see what comes next.
The 25th Street Collective is packed! Plenty of vendors and artists chat with the crowd. John Hersey's drawings are meticulous in appearance. Hersey uses color well, and his smaller pieces look good as a group.
Finally, at the Roscoe Ceramic Gallery, Amber Aguirre's ceramic sculptures are interactive (like Joe Kowalczyk's sculptures), and broach the subjects of war and violence as environmental (or natural?) influences; babies holding weapons reminds me of the concept of "imprinting" at its worst.
In between, we see Will Crumb playing guitar alongside his sole companion, a drummer. Both play with equal parts verve and humor, and their lyrics reminded me of old Cramps songs. Unfortunately, the cops aren't as into it as the gathering crowd is and they're shut down quickly.
Wall of prints by artist Alex Pardee art Zerofriends Art Collective.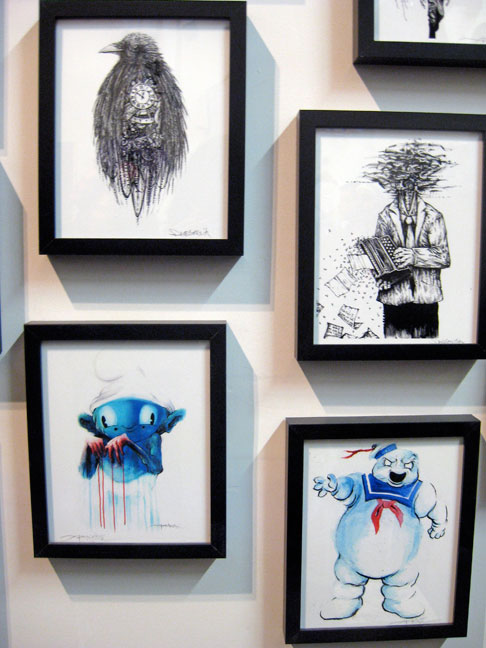 Stay Puft Marshmellow Man by Alex Pardee.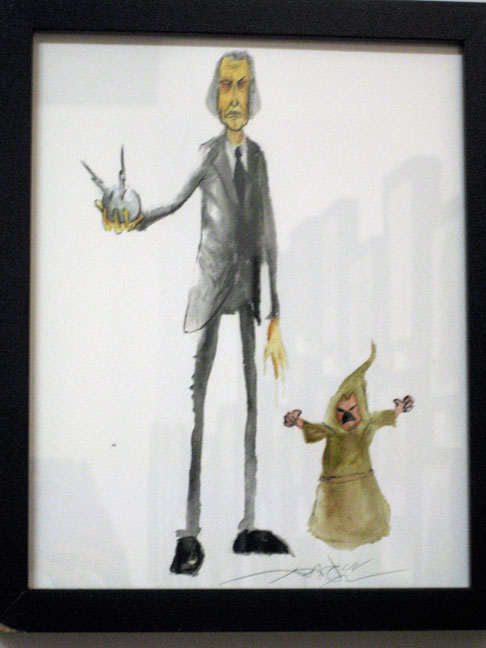 Phantasm monster man by Alex Pardee at Zerofriends Art Collective.


Basketcase (!) by Alex Pardee.


Circumstance at Zerofriends Art Collective.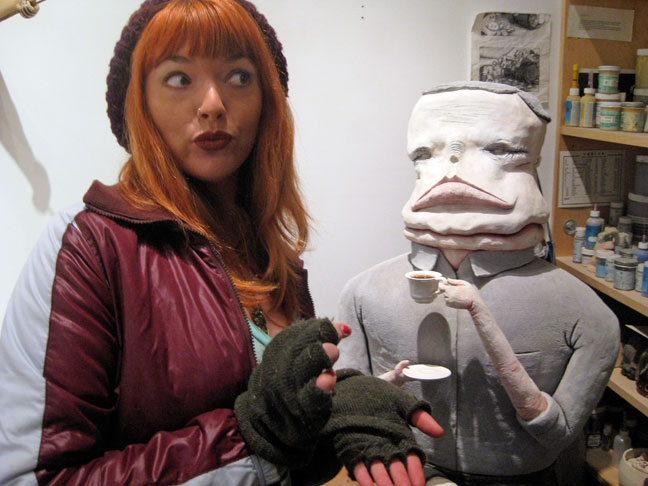 Time for tea with a sculpture by Joe Kowalczyk.


Sculpture by Joe Kowalczyk at FM Gallery.


Sculpture by Joe Kowalczyk at FM Gallery.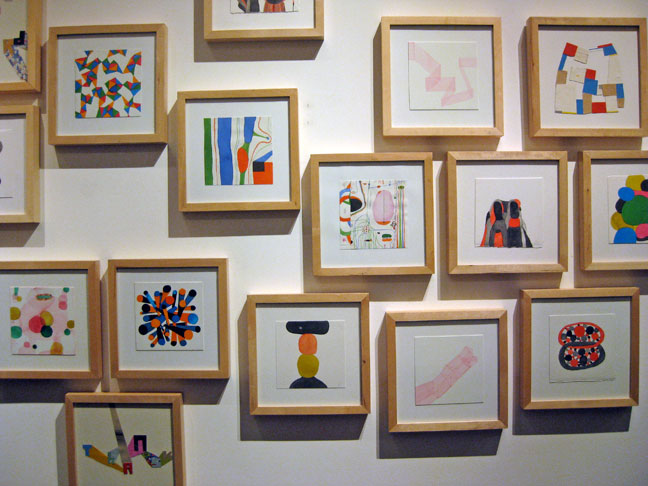 Drawings by John Hersey at 25th Street Collective.


Sculptures by Amber Aguirre at Roscoe Ceramic Gallery.


Sculpture by Amber Aguirre closer at Roscoe Ceramic Gallery.


Sculpture by Amber Aguirre closer at Roscoe Ceramic Gallery.


***