***
Root Division: Living with Endangered Languages in the Information Age. Curated by Hanna Regev.
Artists: Salma Aratsu, Carlo Abruzzese, Philip Alden Benn, Irene Carvajal, Antonio Cortez, Allison Leigh Holt, Justin Hoover, Phillip Hua, Janet Jones, Igor Josifov, Ali Kaaf, Pantea Karimi w/ Phil Spitler, Daniel Konhauser, Naomie Kremer, Joh Kuzmich, Nolan Love, Mary Corey March, Penny Nii, Tsering Norbu, Viviana Paredes, Rebecca Rose, Tim Roseborough, Maya Smira, Tessie Barrera Scharaga, Sarah Tell, Larry Thomas, Kenneth Wilkes, Michelle Wilson.
Review by RWM: Very intellectual as usual. Sad we are losing so many languages also. Nice one-stop for a captivating show with much to ponder, remember and protect.
Comment by AB: "Studies show that fifty percent of the world's 7,000 languages will disappear by the end of the 21st century, and that on average, a language dies or goes extinct every two weeks when its last speaker dies," and this group show is all about that.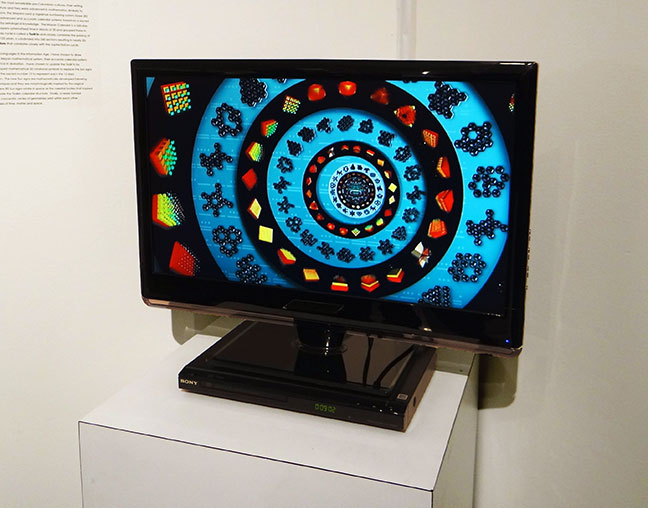 Mesmeric video by Antonio Cortez at Root Division.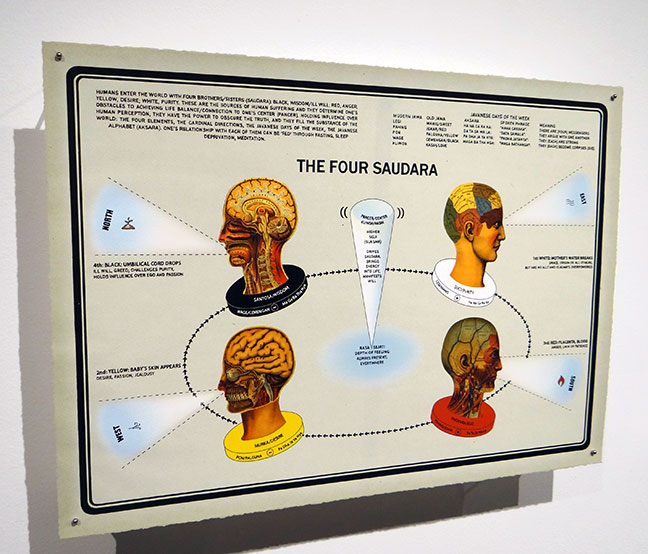 Diagramatic art by Allison Leigh Holt.


Contemplative installation by Tessie Barrera Scharaga.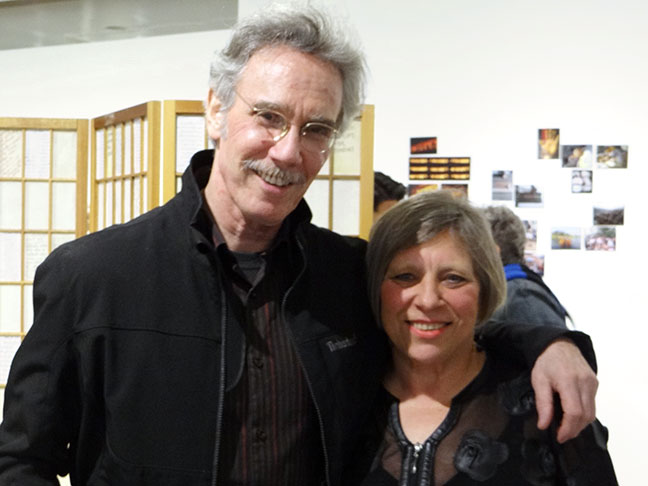 Yours truly with curator Hanna Regev.


"IT'S ONLY A MATTER OF TIME" sculpture by Sarah Tell.


Art about vanishing languages at Root Division.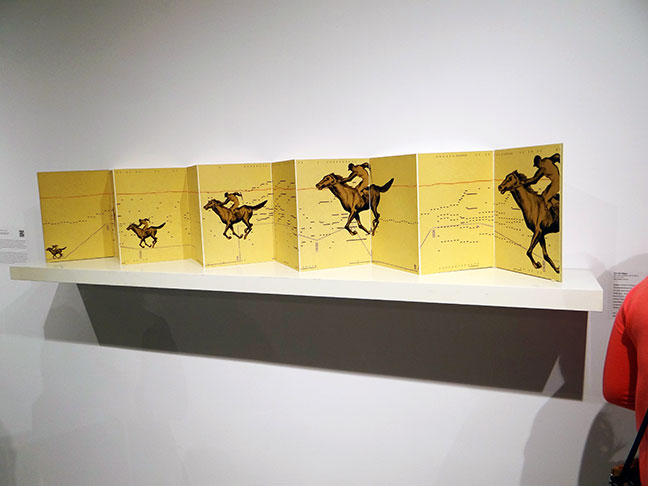 Art by Kenneth Wilkes.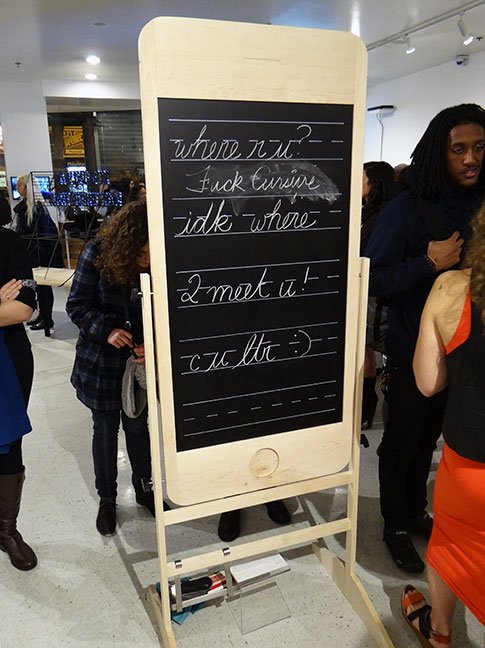 Interactive installation by Irene Carvajal.


***
Bash Contemporary: Adrienne Simms, Yosiell Lorenzo, Chris Leib, MJ Lindo - Pop Thrills.
Review by RWM: Fantastic and dark work. More narrative than pop art and thrilling and suspenseful. Amazing work with a macabre sensibility, but there is also hope, wonder and beauty.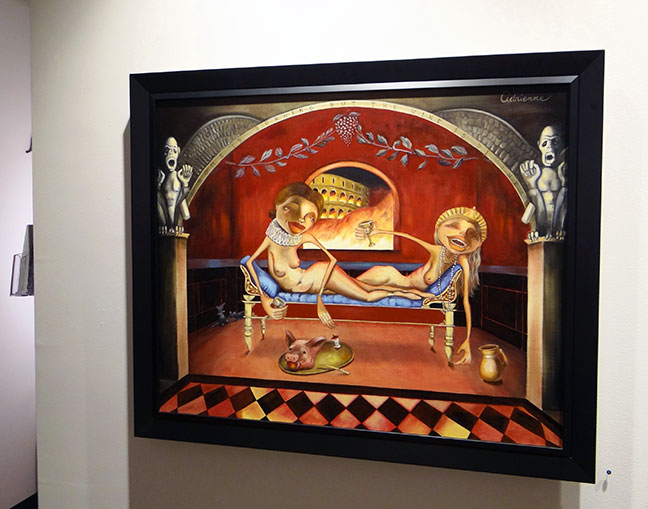 Art by Adrienne Simms at Bash Contemporary.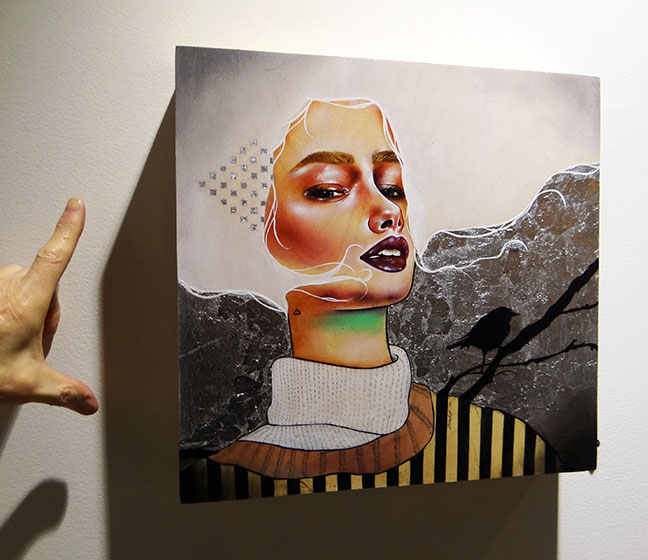 Art by MJ Lindo.


Chris Leib art.


Art by Chris Leib.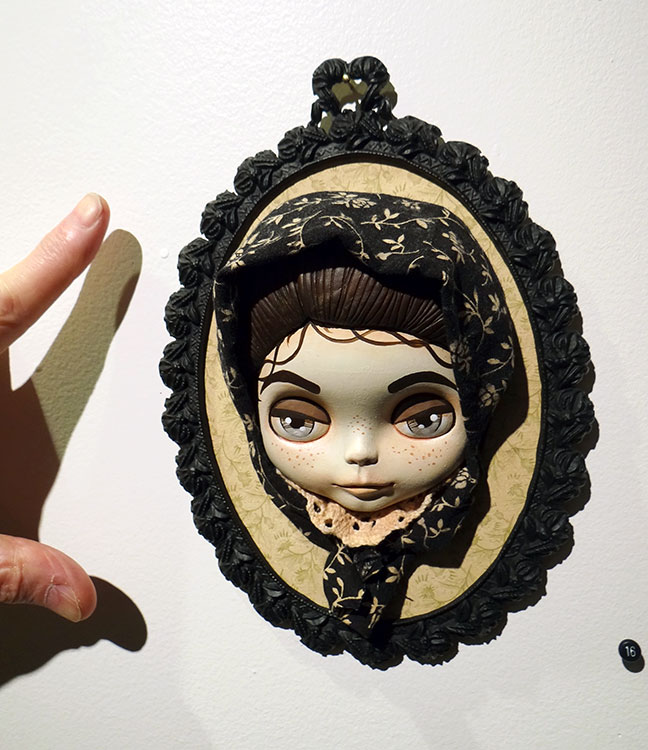 Yosiell Lorenzo art.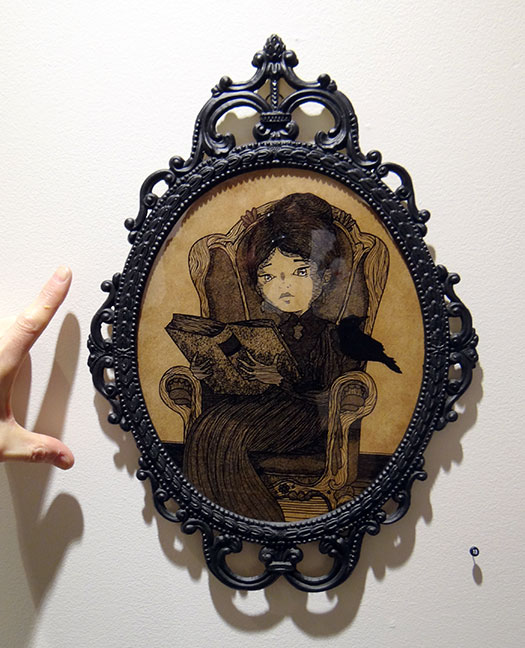 Art by Yosiell Lorenzo.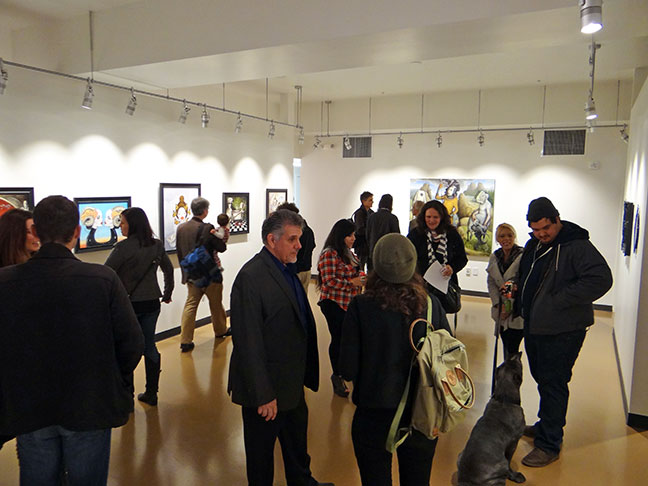 Overview - group art show at Bash Contemporary.


***
886 Geary Gallery: Filippo Minelli - Nothing To Say.
Comment by AB: Italian artist Filippo Minelli interjects puffs of colored smoke into placid California landscapes as he encourages viewers to visualize silence. This is the artist's first solo show in the United States.
Art/photography by Filippo Minelli at 886 Geary Gallery.


Filippo Minelli and his art in above image closer.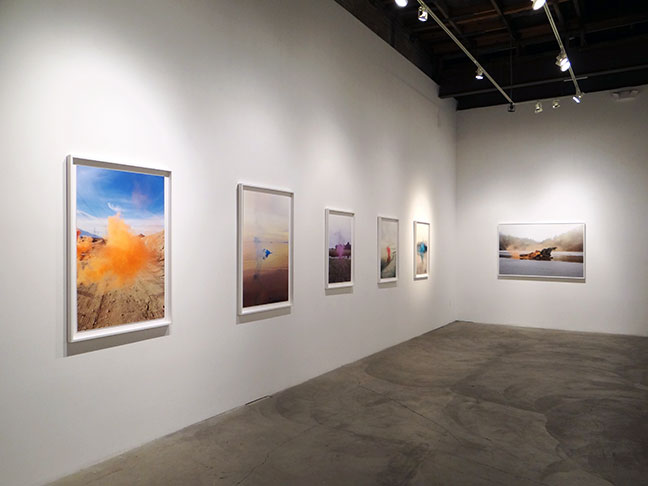 Photographs by Filippo Minelli.


Photograph in above image closer.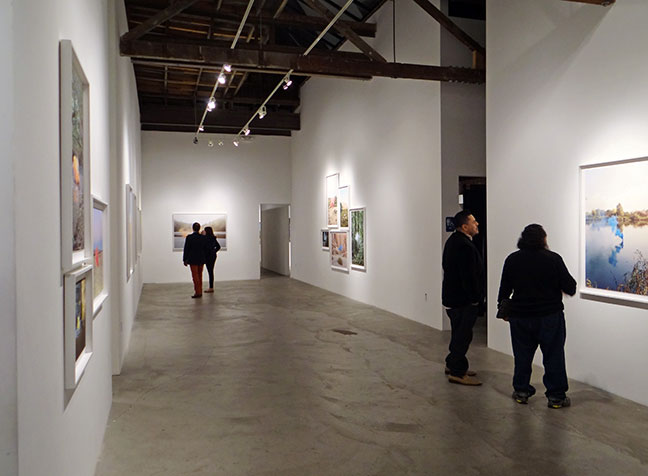 Installation view - Filippo Minelli photography show at 886 Geary Gallery.


***
Spoke Art Gallery: The 4th annual Supersonic Art Invitational.
Artists: Alessandra Maria, Alex Pardee, Allan Innman, Amy Sol, Bezt, Brett Amory, Cahill Wessel, Cam Floyd, Camilla D'Errico, Casey Weldon, Charlie Immer, Charmaine Olivia, Christian Rex Van Minnen, Christine Wu, Conrad Roset, Dan Christofferson, Daniel Danger, David Slone, Edwin Ushiro, Erik Jones, Fumi Mini Nakumara, Glenn Arthur, Hanksy, Hannah Stougger, Haunted Euth, Henrik Uldalen, Hikari Shimoda, Hsiao-Ron Cheng, Jason Edmiston, Jeff Ramirez, Jen Mann, Joanne Nam, Joao Ruas, Joel Daniel Phillips, Ken Garduno, Ken Taylor, Kikyz1313, Lauren YS, Lucien Shapiro, Matt Ritchie, Matthew Woodson, Meryl Pataky, Mike Mitchell, Oneq, Ozabu, Peter Adamyan, Peter Chan, Rebecca Mason Adams, Robert Bowen, Sail, Sam Wolfe Connelly, Sarah Joncas, Seamus Conley, Sean Newport, Sergio Lopez, Uyu, Stella Im Hultberg, Steve Kim, Tatiana Suarez, T.S.Claire, Tom Bagshaw, Winnie Truong, Zoltron.
Comment by AB: Everything by everybody.
Art by Christian Rex Van Minnen at Spoke Art Gallery.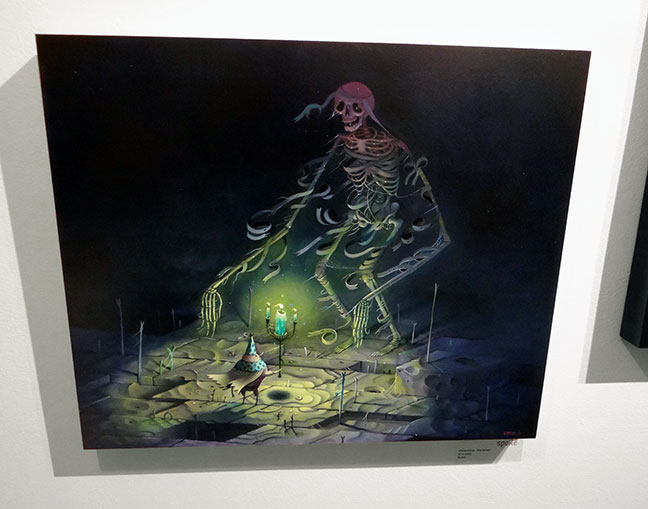 Art by Charlie Immer (nicely done).


Pinkie cam detail of art in above image.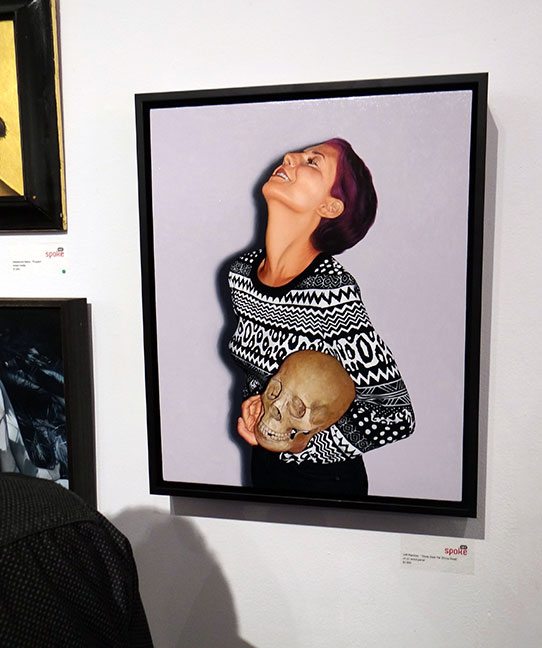 Jeff Ramirez art.


Art by Hanksy. Uh ok.


Graphite drawing by Joel Daniel Phillips.


Sarah Joncas art.


Relative density - group art show at Spoke Art Gallery.


***
Modern Eden Gallery: Platinum Blend. Curated by Stephanie Chefas.
Artists: Aaron Nagel, Ben Venom, Brian Donnelly, Caitlin Hackett, Caleb Hahne, Candice Tripp, Christine Wu, Christiana Mrozik, Cristina Paulos, Cyrcle, David Ball, David Bray, Deedee Cheriel, Henrik Aa. Uldalen, Jeff Ramirez, Jana Brike, Jeni Yang, Jennifer Nehrbass, Kelly Allen, Lily Mae Martin, Linnea Strid, Liz McGrath, Lucien Shapiro, Marco Mazzoni, Maria Rubinke, Max Kauffman, Mel Kadel, Meryl Pataky, Michael Alm, Morgan Slade, Peter Gronquist, Shawn Huckins, ZoŽ Williams.
Comment by AB: Platinum Cheese CEO Stephanie Chefas rustles up a phalanx of her favorites.
Two-headed art by ZoŽ Williams, 10 1/2" high, at Modern Eden Gallery.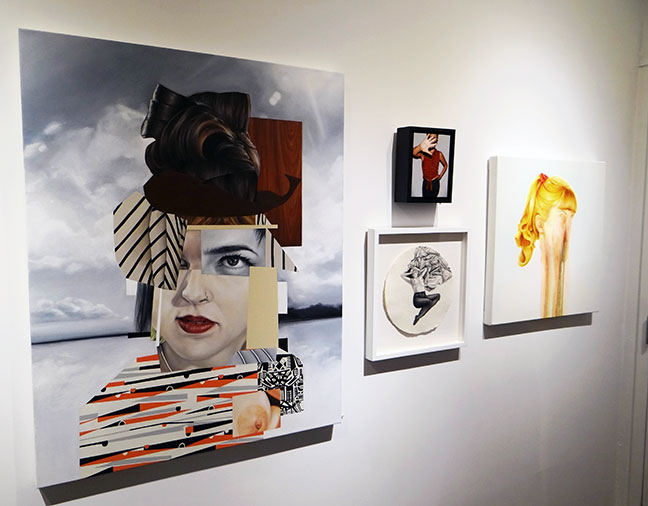 Art by Jennifer Nehrbass (left) - Brian Donnelly (right).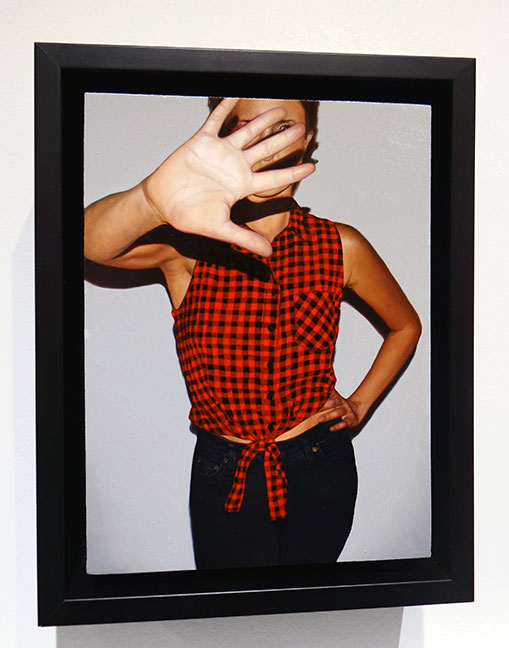 Art by Jeff Ramirez in above image closer. Yep, it's a painting (like it).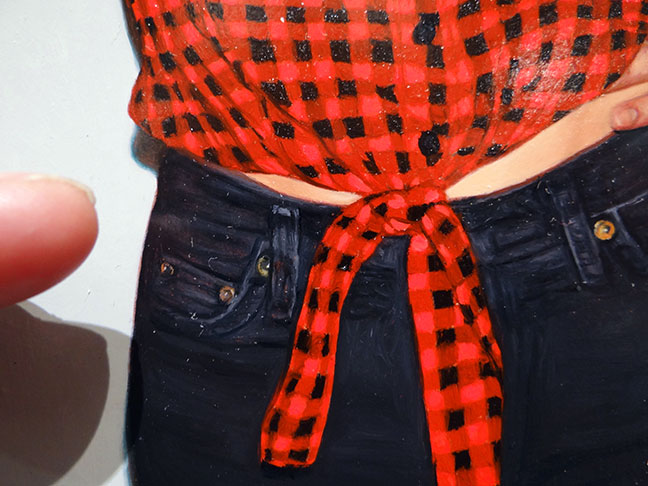 Pinkie cam detail of Jeff Ramirez art above.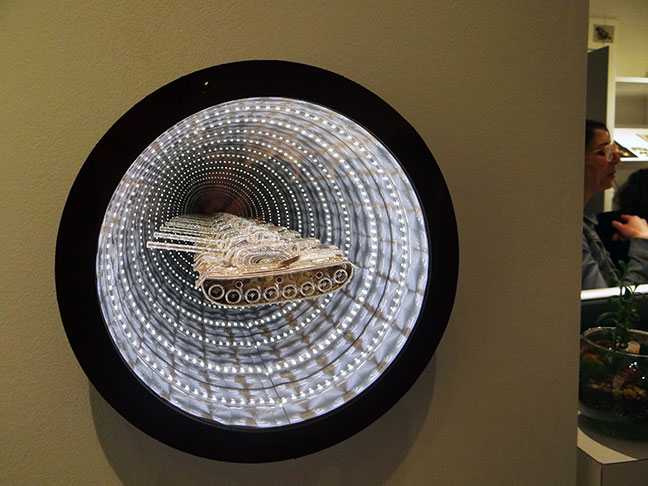 Infinite tank art by Peter Gronquist.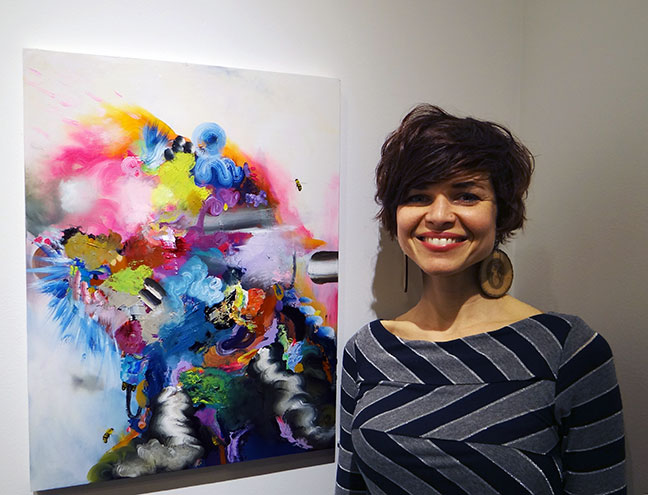 Kelly Allen and her art at Modern Eden Gallery.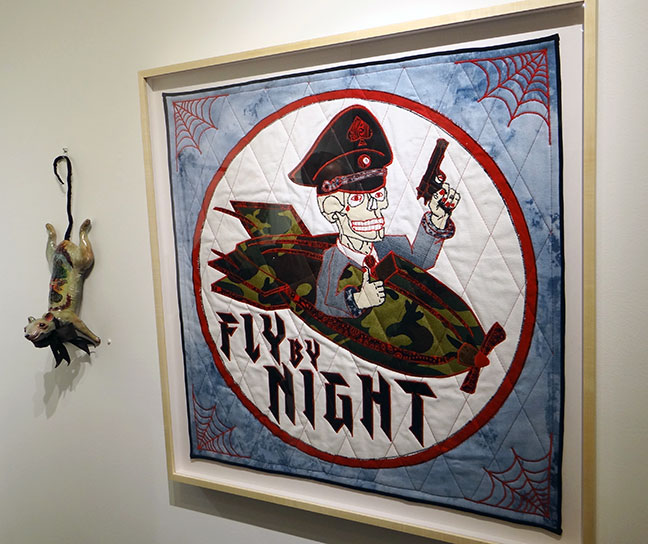 Quilted art by Ben Venom.


Art by Christine Wu (center).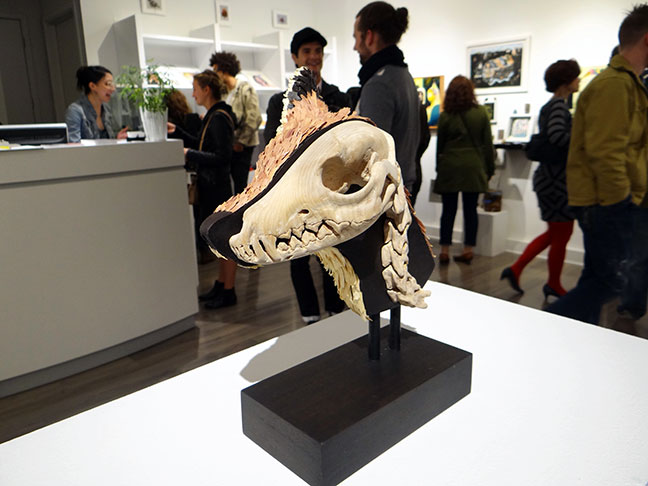 Michael Alm wood sculpture.


***
Addendum: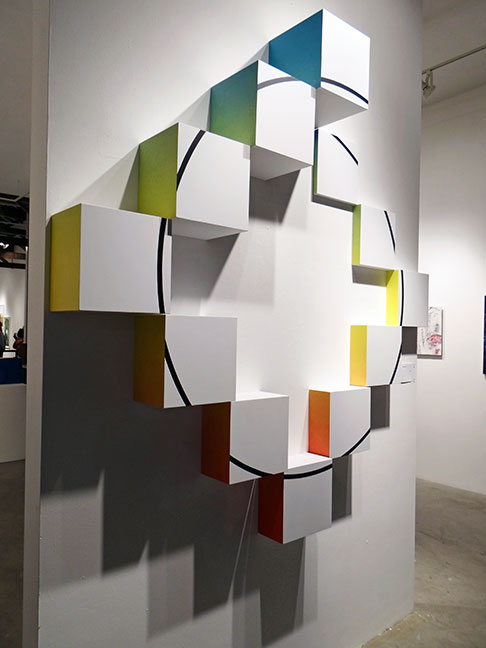 Group show at The Shooting Gallery.


Boombox sculpture by Art by Ferris Plock at The Shooting Gallery.


***