RENA BRANSTEN - MODERNISM - GALLERY 291 - GENSLER

ECO-CENTER - BAXTER & COOK - CALIFORNIA MODERN

01.14.10

(with assistance from Harry J. Johnson, RWM and DeWitt Cheng)


***
Rena Bransten Gallery: John Bankston - New Work.
Comment by AB: The African American odyssey of John Bankston continues (with all kinds of identity related overtones), in two and three dimensions, yesterday and today, over there and over here, rural and urban, and "Here I am, now what?"-- this particular episode articulating the substance of the dealie bob with the introduction of African masks, statues and textiles from his personal collection. Like it!
Art by John Bankston.


John Bankston art.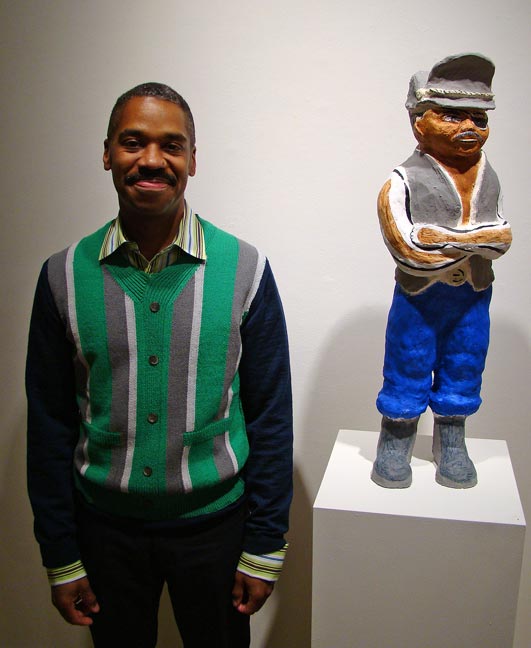 John Bankston and his art.


Art by John Bankston.


Art by John Bankston.


John Bankston art.


***
Modernism Gallery: Valentin Popov - In the Water; Dennis Parlante - Allegorical Thoughts.
Review by Harry J. Johnson: Valentin Popov's latest show, In The Water, can be seen at Modernism, at 685 Market Street through February 20. It features 11 recent oil-on-canvas paintings. Popov works from drawings and sketches, shoots the photos and employs friends as models. This aquatic idea has been in his head for 20 years, he says, but he wasn't sure how to paint it, thus requiring much experimentation.
"I approach a photo shoot with some concept in my head," he continues. "The model and the photo are for the beginning of the creative work. During the second half, however, I'm working without anything-- just using my skills and imagination.
"Lots of ideas I've been working on have been generating in my head for years, sometimes decades. The first paintings of water were done about 20 years ago. I did a lot of experimental work with lots of details, working with a mixture of acrylic and oils to create bubbles, to create waves. And then I finally I was emotionally and technically ready to do this project."
Valentin Popov was born in 1956 in Kiev, Ukraine, where he studied at the Academy of Fine Art of Ukraine. His work is in a number of major art museum collections including the Metropolitan Museum of Art in New York and the Fine Arts Museums of San Francisco. He lives and works in Oakland, California.
Dennis Parlante works with collage/mixed media, putting together old postcards, stationery, book covers, postage tags and other found materials that date way back. He collects this ephemera from thrift shops and auctions, then assembles the pieces on paper and adds subtle brush stokes in black and other hues, to complete these quiet but weighty works.
Parlante says he was contacted my Modernism gallery after his 2008 show at Chandler Fine Art in San Francisco. His current show Allegorical Thoughts runs concurrently with the Popov exhibit at Modernism.
During the day, Parlante teaches high school art at Sacred Heart Cathedral Prep in San Francisco. He enjoys teaching art to high school students, he tells me, which he's been doing for 41 years, including a six-year stint in Japan. "Sometimes I give as much to my students as they give back to me."
Comment by AB: Versatile and accomplished master painter Valentin Popov takes on the notably daunting challenge of painting water that looks genuinely wet, but then ratchets the ante further by putting people in it. The verdict? Well done! Check it out.
In the rear gallery, Dennis Parlante combines vintage remnants of paper, writings, and occasional flourishes of ink or paint into remarkably depthy collages-- each one consisting of only slightly more than several elements, yet offering up enough clues for you to conjure romantic and intriguing story lines in your mind. Again worth a visit.
Art by Valentin Popov.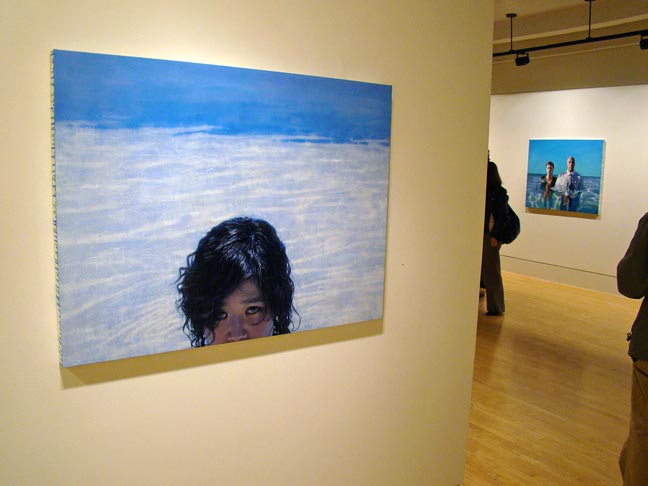 Paintings by Valentin Popov.


Popov Model Chelle Huang poses with likeness (image c/o Harry J. Johnson).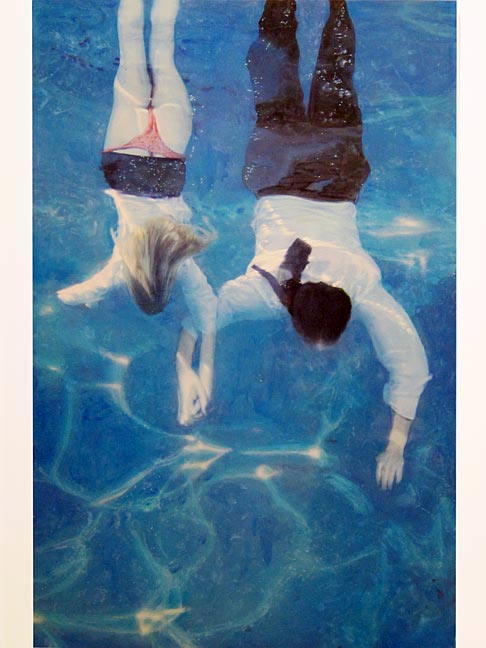 Valentin Popov art (image c/o Harry J. Johnson).


Valentin Popov + aficionado + his art.


Valentin Popov paints water plus a lit flashlight - challenge well met.


Art by Valentin Popov.


Collage art by Dennis Parlante (image c/o Harry J. Johnson).


Dennis Parlante and his art.


Collage art by Dennis Parlante.


Art by Dennis Parlante closer.


Art by Dennis Parlante closer - uncomplicated yet effective.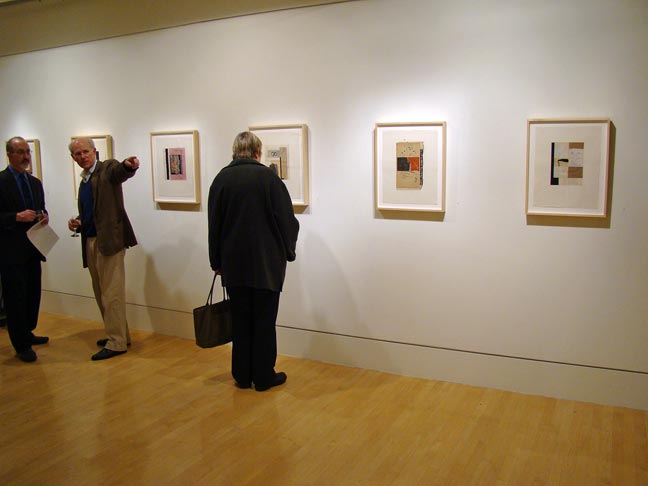 Dennis Parlante collage art.


***
Gallery 291: Group Show.
Photographers: Beth Moon, Joyce Tenneson, Michael Donnor, Elisabeth Opalenik, Niniane Kelley, Elisabeth Sunday, Michael Garlington, Deborah Hamon, Mary Frey, Paula Chamlee, Michael A. Smith.
Comment by AB: Select works by gallery artists. Quality work on all counts.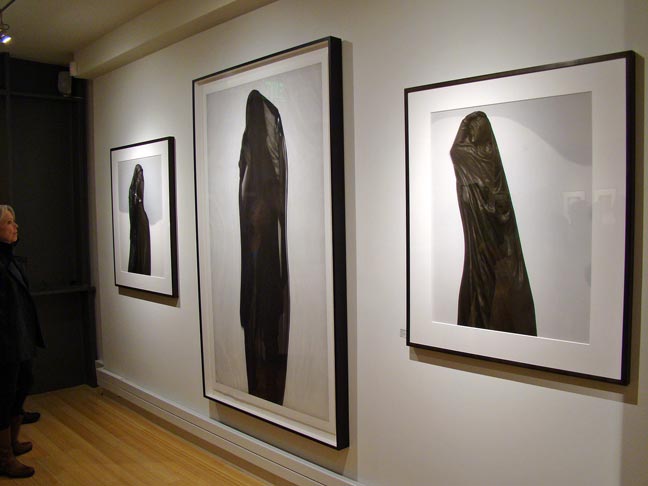 Photography by Elisabeth Sunday.


Photographs by Mary Frey, left.


Mary Frey photograph closer.


Photographs.


Photos.


Photography.


Photographs.


***
Gensler: Chimera - Fabrications of the Mind.
Artists: Luke Butler, Alex Clausen, James Cronister, Roger Dean, Nicole Hayden, Travis Kerkela, Bessma Khalaf, Vanessa Marsh, Carson Murdach, Zachary Royer Scholz, Jeff Segal, Ryan Thayer, Skye Thorstenson, Jamie Vasta. Curated by: Matthew Hughes Boyko & Collin Burry.
Comment by AB: Artist-friendly Gensler presents a rousing exhibition based on that illusionary creature, the Chimera. Special added unattraction-- a reprimand from the band for not adequately acknowledging their prominence. Good art though.
Art by Luke Butler.


Bubble wrap art by Zachary Royer Scholz.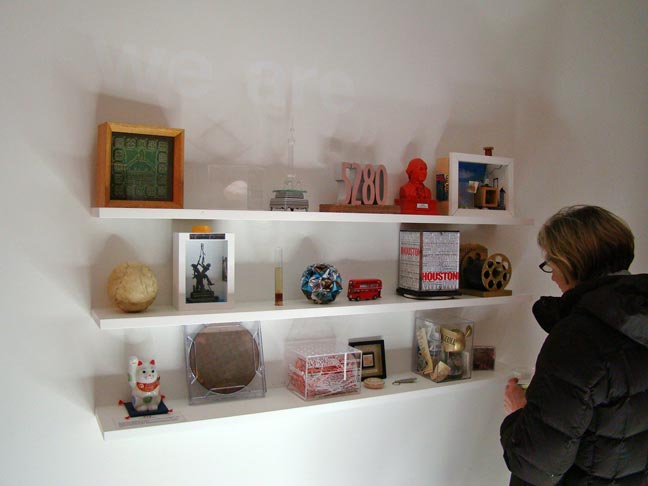 Art.


Art.


Tunes. Pay attention!


Approach to the show.


***
San Francisco Department of Environment Eco-Center: ReVisions - New Creations from Scrap.
Artists: Garth Amundson, Otis Bardwell, Larry Berger, Chris Chalmers & the BIOS Design Collective, Katinka Clementsmith, Aiko Lanier Cuneo, Christine Dhein, Phillip Hua, Cindy Imhoff, Julie Kornblum, emiko Oye, Diana Ruiz, Tuan Tran, Meghan Urback, and Roberta Weisenburg. Curated by Jennifer Morningstar.
Review by RWM: Wonderful use of Pop art influences all over the city this weeked. Especially the Eco-Center show which is devoid of dogmatism and pendantics. Instead only beauty. Such work is the forerunner of a possible future day where we will compete with each other to take back what we once threw away. The garbage houses all sorts of treasures, some of them already found this weekend.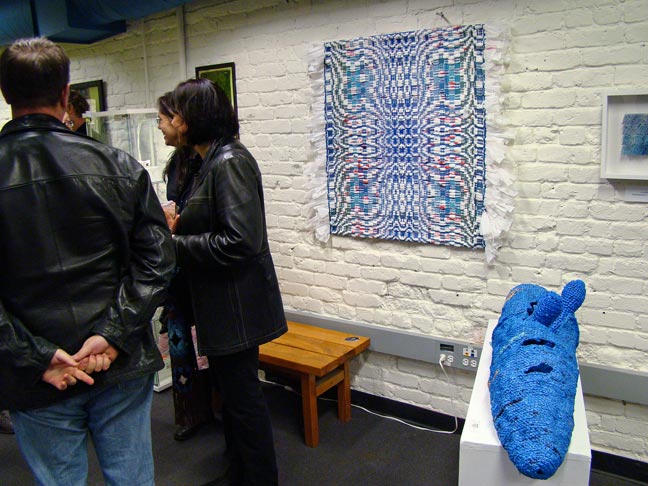 Woven recycled plastic bag art (on wall and pedestal).


Woven recycled plastic bag art closer.


Woven recycled bag-tie art.


Recycled plastic art.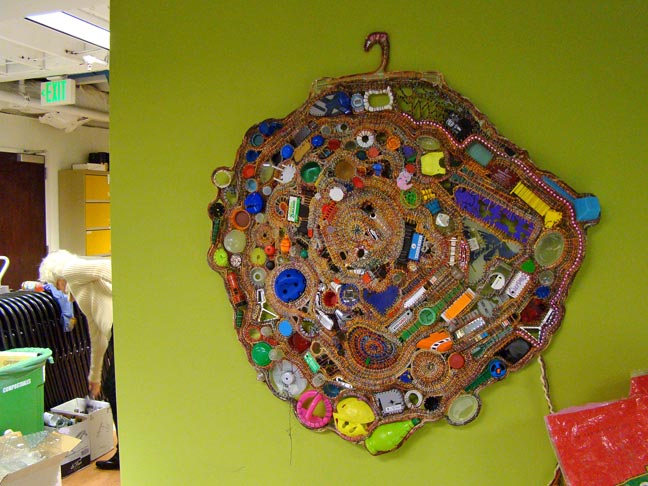 Recycled kiddie toy etc art.


Recycled bottle and thread art.


***
Baxter & Cook Art Advisors: Filling Space - New Paintings by Eddie Colla.
Comment by AB: Rousing urban affair brims with audacious art by Eddie Colla and bevies of à la mode artsters.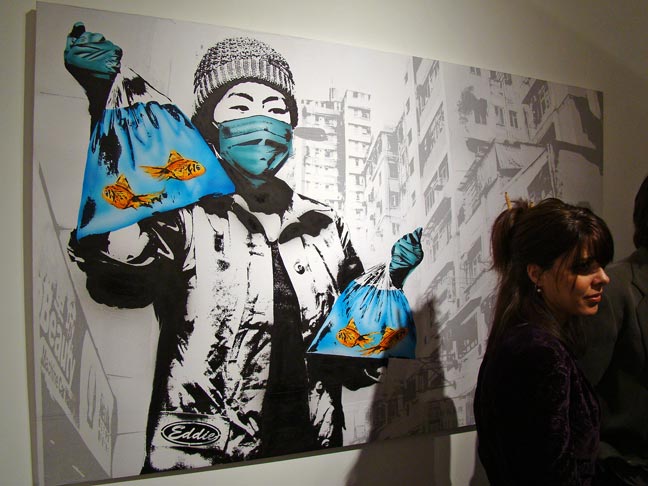 Art by Eddie Colla.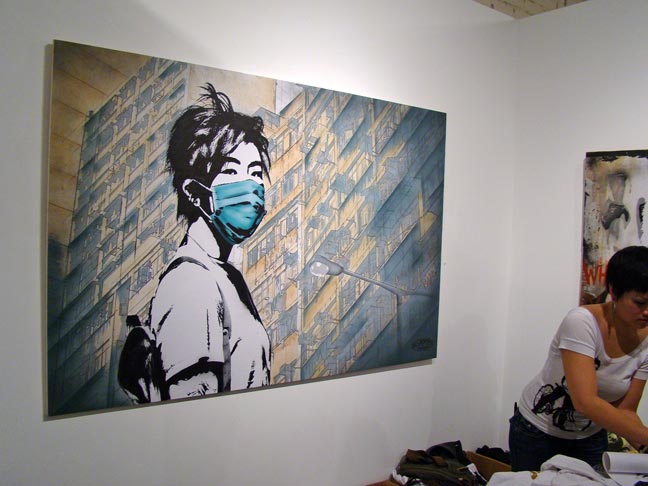 Eddie Colla art.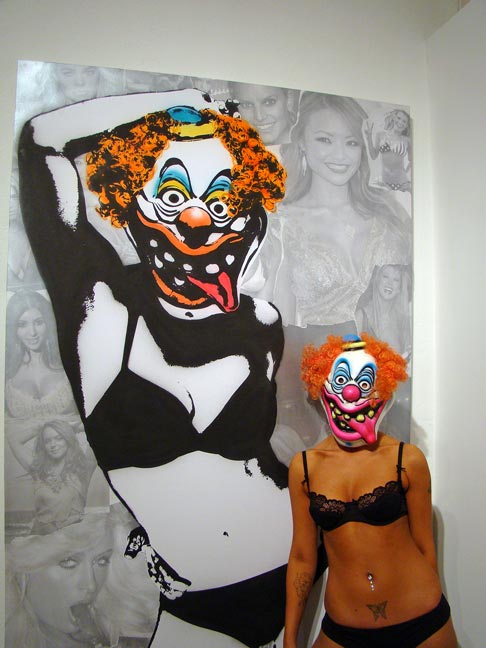 Eddie Colla art and model.


Most of Eddie Colla.


Eddie Colla fashion and schwagabilia.


Art by Eddie Colla.


Eddie Colla art.


Circumstance.


***
California Modern Gallery: ArtSpan at our Selections 2010 Juried Exhibition.
Artists: Steven Allen, Tim Baskerville, Flora Davis, Monica Denevan, Jennifer Ewing, Mark Faigenbaum, Rebecca Fox, Art Hazelwood, Marvin Johnson, Sandra Kelch, Mike Kimball, David King, Brian McDonald, Erika Meriaux, Sarah Newton, Mirena Rhee, Thierry Rosset, Ron Moultrie Saunders, Schnetzler Photography, Gavin Worth.
Review and images by DeWitt Cheng: This Open Studios Selection show is judged by artist Ray Beldner, art writer Alison Bing, and California Modern Gallery Director Inga Fischer. Good crowd, and Pernod for the artists.
Comment by AB: Good show. ArtSpan perks right along offering all San Francisco artists opportunities for exhibition and exposure that would otherwise be difficult to come by. Unquestionably an organization worth supporting.
Art Hazelwood and his art (image c/o AB).


Monica Denevan and her photography (image c/o AB).


Jennifer Ewing and art.


Erika Meriaux & art.


Thierry Rosset and his art.


Ron Moultrie Saunders & art.


Sarah Newton and art.


Rebecca Fox and her art.


Ceramic art train by Steven Allen - Homage to Jun Kaneko (image c/o AB).


Tim Baskerville and his photography.


***