HACKETT MILL - BELLJAR - LAB - PUBLIC WORKS

LOWER HATERS - PARK LIFE - WONDERLAND

HIVE - SANCHEZ ART CENTER

01.14.11

(with assistance from DeWitt Cheng, Clare Coppel, Kristin Farr and RWM)



Do you know how much your art is worth? Click here.
***
Hacket Mill Art Dealers and Advisors: Frank Lobdell, 1948 - 1949.
Comment by AB: Impressive show of early abstract expressionist works by Frank Lobdell, born in 1921. These were painted while he was still a student at the California School of Fine Arts (now San Francisco Art Institute) which he attended from 1947-1950 after returning from service during World War II.
Art by Frank Lobdell.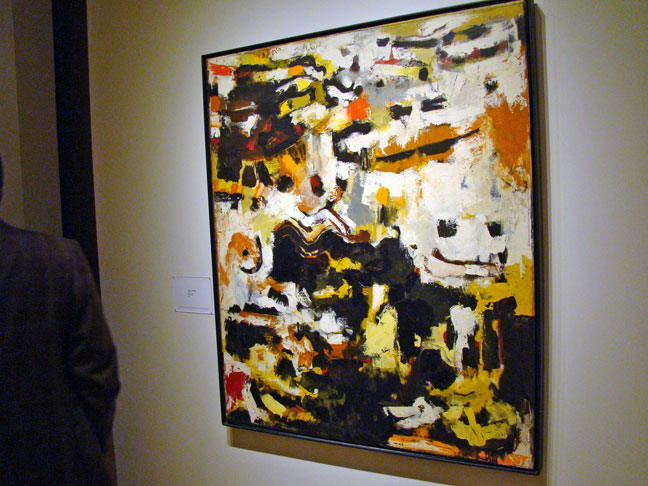 Art by Frank Lobdell in above image closer.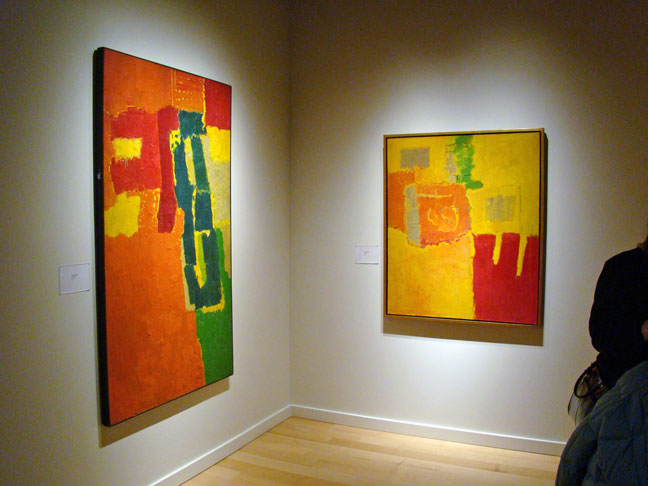 Abstract expressionist art by Frank Lobdell.


Frank Lobdell art.


Art by Frank Lobdell at Hackett Mill Gallery.


***
The Luggage Store Gallery: CUSP - Works on film & video by Kevin Jerome Everson & Akosua Adoma Owusu. Curated by Arnold J. Kemp.
Review by Clare Coppel: A film and video projection installation called "Cusp" features works by Kevin Jerome Everson and Akosua Adoma Owusu. For example, a black and white video shows two men installing a billboard advertising Volkswagen, and roads being salted in the Midwest early on a winter morning during the era when American car companies were encouraging African Americans to migrate north and work in the factories.
Comment by AB: Also on display are film stills, and compilations, clips and highlights of films and videos produced by Kevin Jerome Everson & Akosua Adoma Owusu over the past several years.
Video art by Kevin Jerome Everson (photo c/o Clare Coppel).


Kevin Jerome Everson video art (photo c/o Clare Coppel).


Video art by Akosua Adoma Owusu - "Revealing Roots."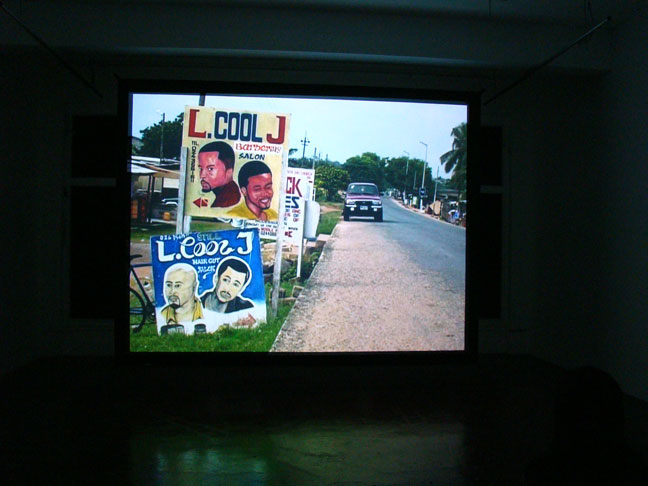 Video art by Kevin Jerome Everson & Akosua Adoma Owusu.


Kevin Jerome Everson & Akosua Adoma Owusu video art.


***
BellJar: Little Chirps - Ashod Simonian and Olivia Warnecke.
Review by RWM: Sad to see the nearby Artist-Xchange Gallery fold recently, but its neighbor Bell Jar continues to present fascinating artistic offerings. Marvel at the beautiful birds that have been put on display. The birds painted in gouache on price tags by Olivian Warnecke are gorgeous. Revel in their alertness remembering at the same time that as a monitor species, they'll be among the "first responders" when things go bad in the environment. They are a part of us all, though, and we also can send the warning for them as well as ourselves. Ashod Simonian offers a different interpretation of the birds with images within images, some for adult viewers, beautiful nonetheless. Nice to see such dramatic and wild work available at reasonable prices.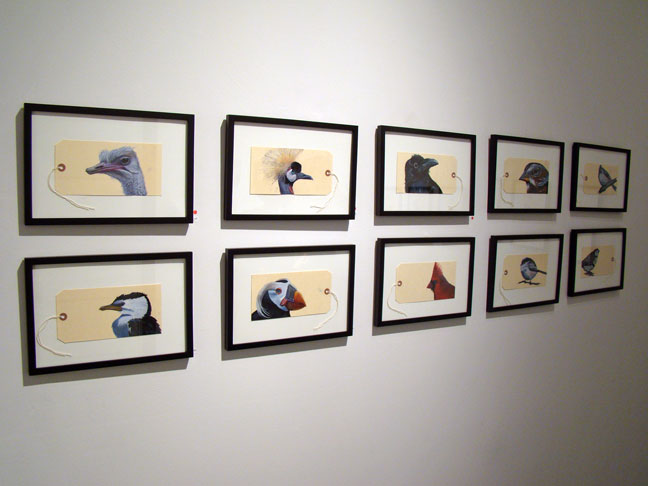 Art by Olivian Warnecke.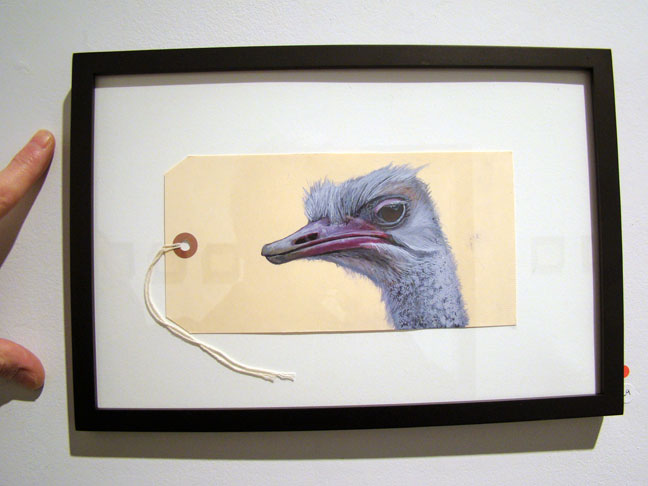 Olivian Warnecke bird art in above image closer.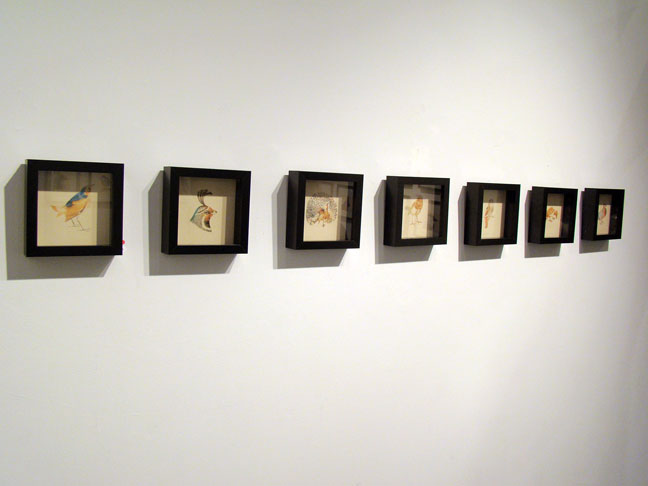 Art by Ashod Simonian.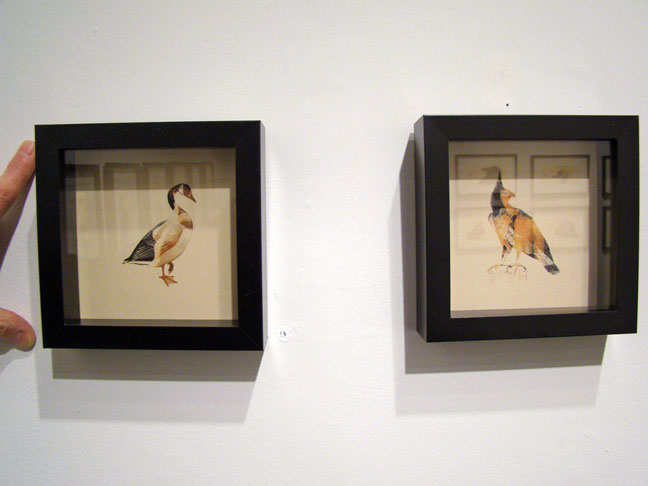 Ashod Simonian art closer.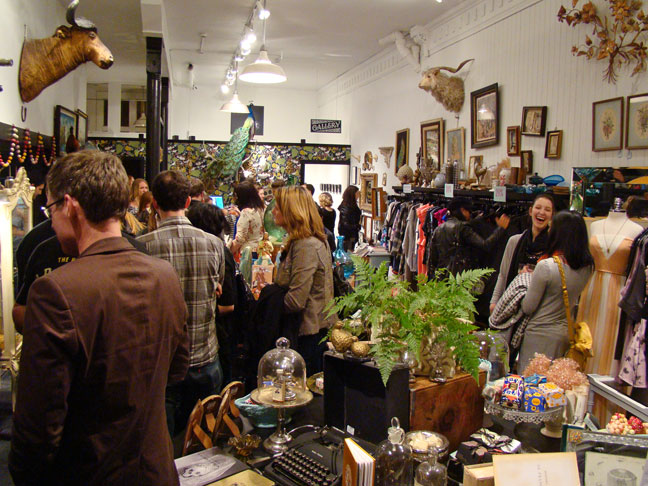 BellJar proper - gallery through the door in the back.


***
The LAB: Enter Slowly. Curated by David Cunningham.
Artists: Anna Barham, Cath Campbell, Maud Cotter, Laura Gannon, Alexandra Navratil, Linda Quinlan.
Comment by AB: Six emerging artists from Europe exhibit works that are mainly spatial and architectural in nature, much of it admirably precise. Wanna help caption images? Email me.
Art & installation.


Cardboard construction art.


Cardboard construction art above from the side.


Yet more cardboard construction art.


Cut paper art.


Pinkie cam detail of cut paper art above.


Precision cut metal art.


Art.


Cardboard construction art.


Installation art.


***
Public Works Gallery: Christopher Spurrell - Landscape and the Self; Juan Buhler - Street Posters. Review by RWM: Simply gorgeous images by Christopher Spurrell with colors that astound as well as decorate. You cannot help but notice the details and intricacy. What some may find missing in conceptualization is made up for with glamour. These works will enliven any abode.
Comment by AB: Christopher Spurrell transforms close-up photographic portraits into completely amorphous abstractions, intended to represent emotional responses to those individuals. Juan Buhler photographs action on the street, prints them on cheap paper, and then displays them here as they might look affixed to outdoor walls with wheat paste.
Art by Christopher Spurrell.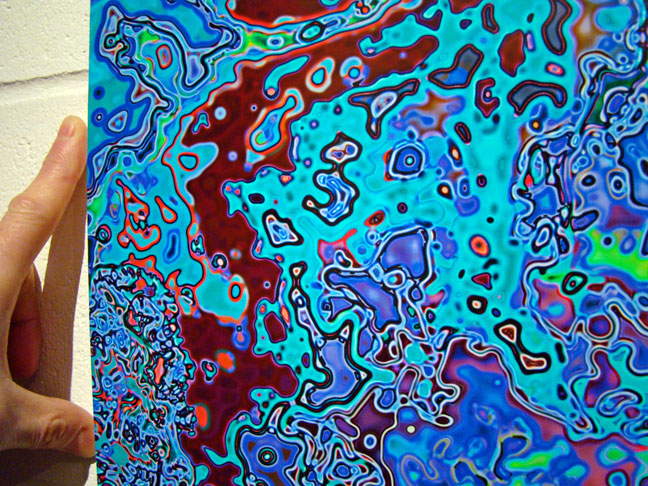 Art by Christopher Spurrell in above image closer.


Christopher Spurrell digital art.


Digital art by Christopher Spurrell.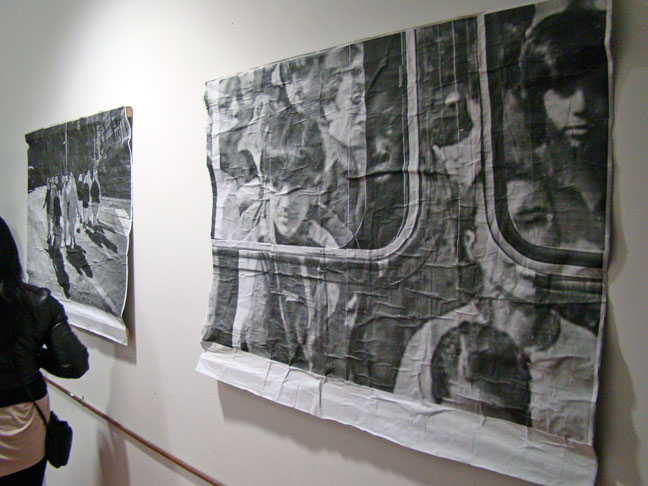 Photography by Juan Buhler.


Juan Buhler photographs.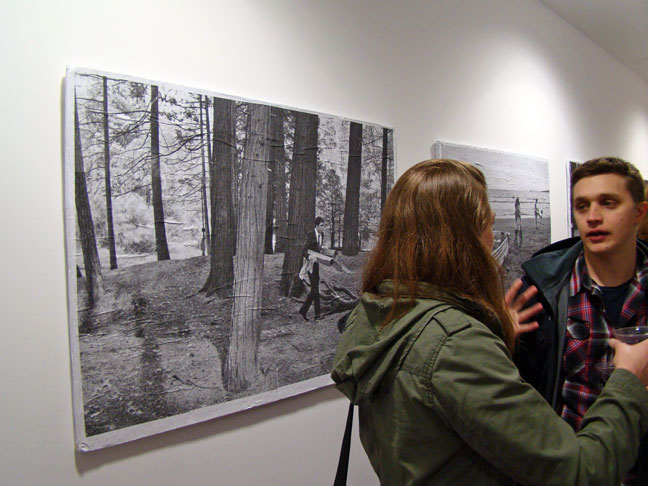 Juan Buhler photos.


***
Lower Haters Gallery: Putting the Pieces Together - Hugh Leeman.
Comment by AB: Hugh Leeman dignifies those less fortunate in our community while heightening our awareness of their plight.
Art by Hugh Leeman.


Hugh Leeman art.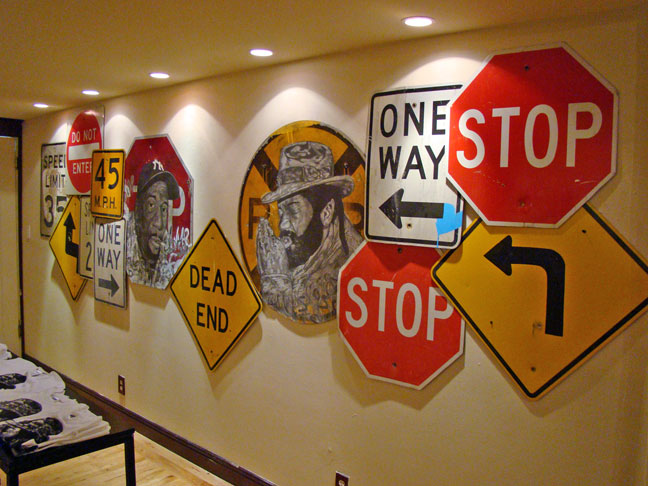 Art & installation by Hugh Leeman.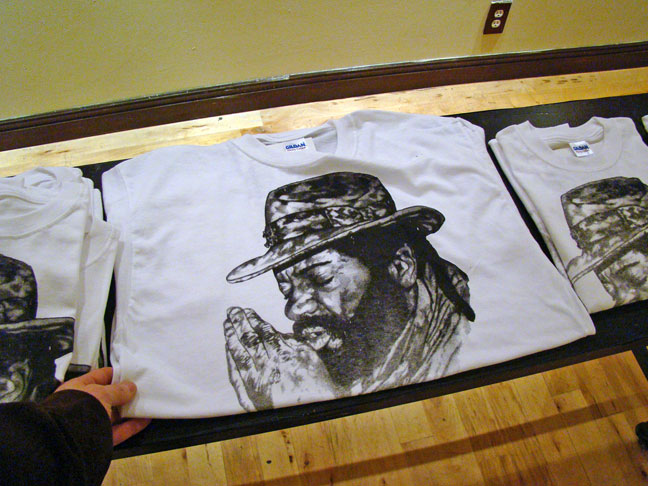 Hugh Leeman fashion.


***
Park Life: Bitches Brew.
Artists: Kelly Tunstall, Marci Washington, Aiyana Udesen, Hellen Jo, Rebecca Ebeling.
Review by Kristin Farr: Park Life's latest exhibit borrows its title from a Miles Davis album and was created in response to 2010's "Bro Palace" exhibit at the gallery, which unapologetically featured only male artists. A powerhouse group of female artists (Marci Washington, Aiyana Udesen, Kelly Tunstall, Hellen Jo, and Rebecca Ebeling) comes together to stir up this year's women-only exhibit, "Bitches Brew." An all-female line-up shouldn't seem like a novel idea, especially in progressive S.F. but, unfortunately, it's still a rare occurrence (though it's looking like 2011 could be the year to tip the scales into balance).
The artists in this show are inspired by a range of topics including (but not limited to) fashion photography, celebrity culture, and history through a feminine perspective. Marci Washington's gothic-inspired, painterly illustrations for what she describes as "a novel that doesn't exist" are striking as always, and her mysterious narrative appears to be gaining momentum with her latest work. Aiyana Udesen's unique celebrity portraiture includes a haggard Britney Spears, and a striking rendering of everyone's favorite HBO vigilante, Dexter, one of the only male muses in the show. Female figuration permeates the exhibit, but you won't find any portraits of the average "lady." Take a closer look to find out what's really cooking inside these artists' brilliant minds.
The word "packed" doesn't begin to describe the opening of "Bitches Brew." You can barely move or get close enough to the gallery walls to see the art, a clear sign that this is a show not to be missed.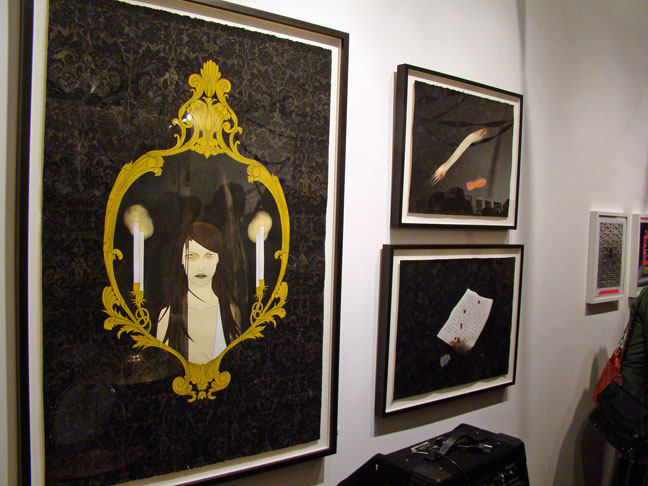 Art by Marci Washington.


Art by Rebecca Ebeling.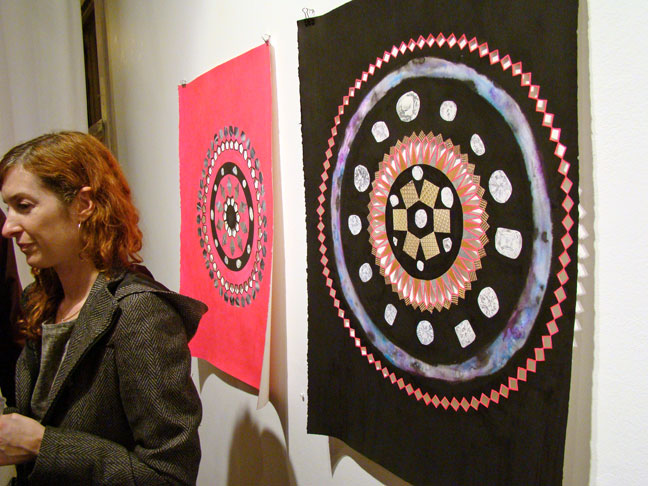 Rebecca Ebeling art (I think).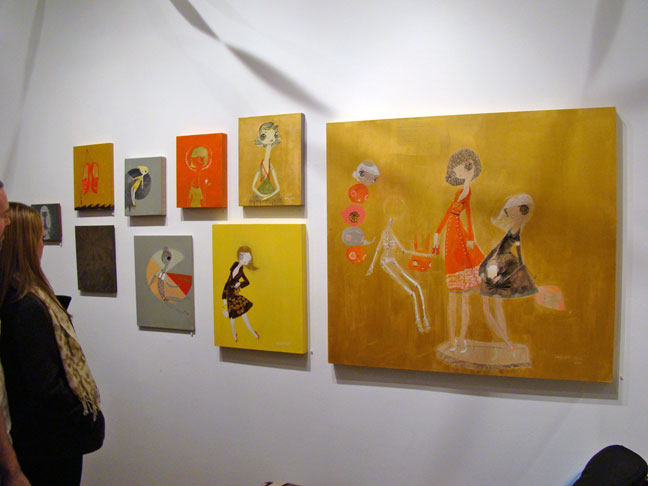 Art by Kelly Tunstall.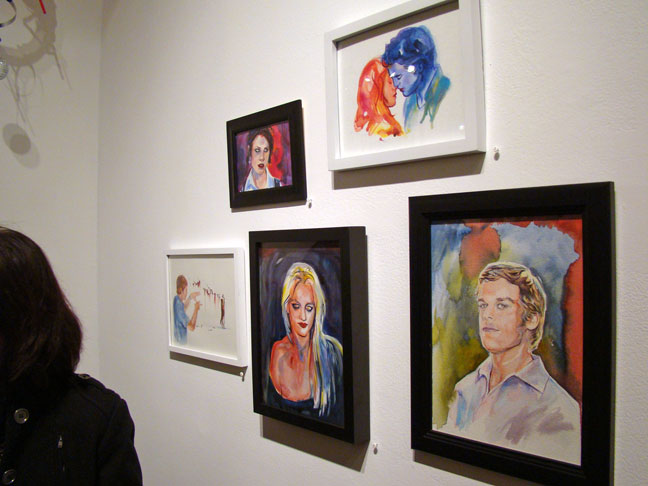 Art by Aiyana Udesen.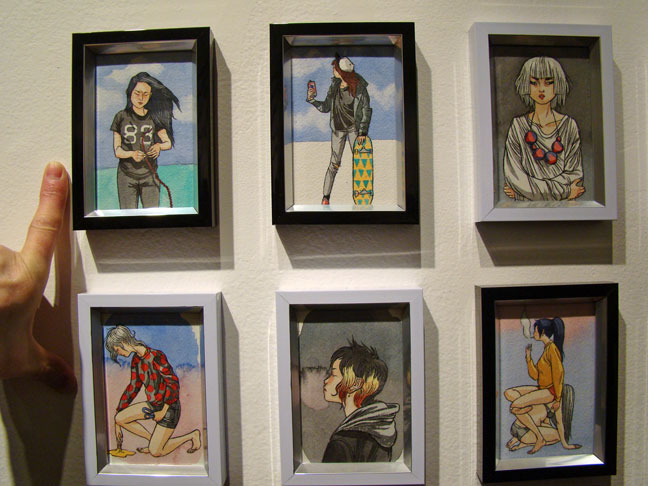 Hellen Jo art.


Demographics.


***
Wonderland Gallery and Boutique and Chillin' Productions: Our First Party of the Year.
Artists: Alex Garcia, Andrzej Michael Karwacki, Steve Javiel, Xiau-Fong Wee, Pixelstud TM, Alex Garcia, more.
Review and images by Clare Coppel: All kinds of art including abstract mixed media and cityscapes, lots of red, lots of shiny surfaces, taxis, and a little girl on a bridge.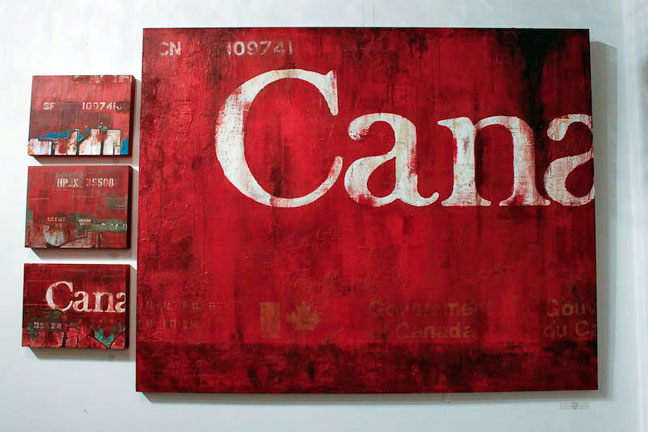 Art by Steve Javiel.


Art by Xiau-Fong Wee.


Art by Pixelstud TM.


Detail of Pixelstud TM art in above image.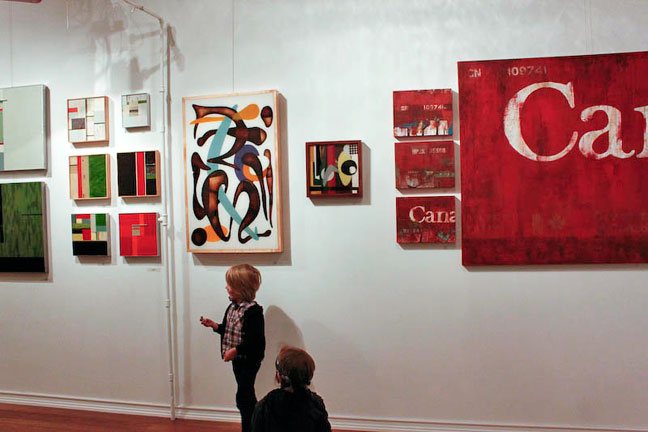 Art at Wonderland Gallery and Boutique.


***
Hive Gallery: Terry Furry - Bedroom Floor, Kitchen Counter.
Review and images by DeWitt Cheng: Terry Furry's oil paintings in Bedroom Floor, Kitchen Counter depict iconic mechanical Pop subjects (toaster, teapot, blender, coffee press, egg beater) and humbler clothing items, used and thus somewhat anthropomorphized (shoes, socks, jockstrap, briefs, wife-beater), balancing Warholian irony, Oldenburgian humor, and Thiebaudian celebration. Nice crowd-- or does it simply look that way in this tiny gallery?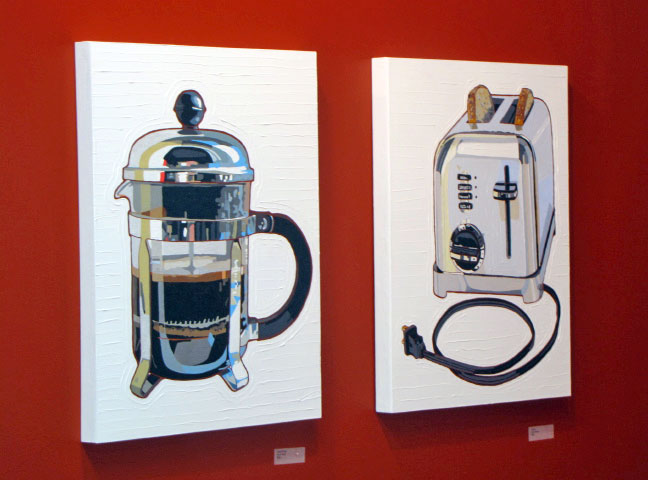 Terry Furry's "French Press" and "Toaster."


Art by Terry Furry - "Brown Boots and "Black Boots."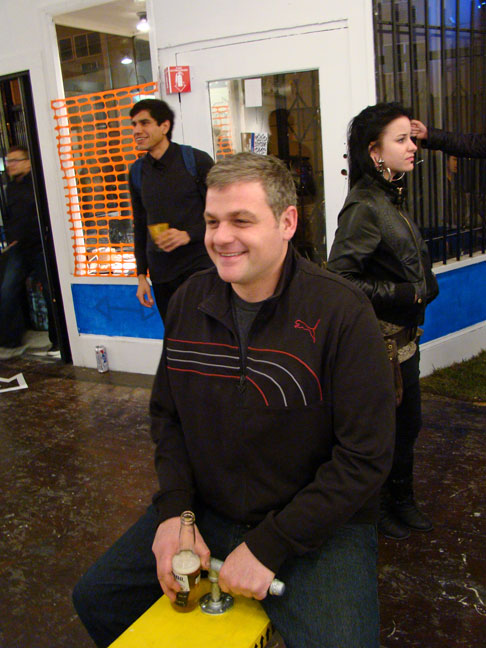 Receptionistas with "Wife Beater" - art by Terry Furry.


Terry Furry and "Supporter."


Detail from "Supporter" - art by Terry Furry


Aesthetic supporters at art by Terry Furry, Hive Gallery.


Aerial shot of buzz - art by Terry Furry.


***
Sanchez Art Center: Three shows.
Review by DeWitt Cheng: Three, count 'em, three shows-- all with humorous titles-- debut at Sanchez. In the West Gallery, "All About Me: Self-Portraits, Real & Imagined" features works by members of the Art Guild of Pacifica, ranging from realistic to surrealistic. In the East Gallery, "Editions & Additions," features the printmakers David Avery, Linda Lee Boyd, Barbara Rogers, and Ron Tanovitz, and the journal-makers, Debra Cramer and Jill Russell; a somewhat different version of this show was at San Pablo Arts Gallery a few months back. In the Main Gallery, "Painting from the Wrong Side of the Brain" features the eccentric magic-realist paintings of Robert Armstrong, Jeff Carr, Gael Fitzmaurice, Linda MacDonald, M. Louise Stanley, and Jesse Wiedel. I'm unable to get titles of some of the artworks, but viewers can get the scoop on the painting show, at least, on February 13 (the last day for all three shows), at the 4pm artists' talk.
West Gallery portrait show.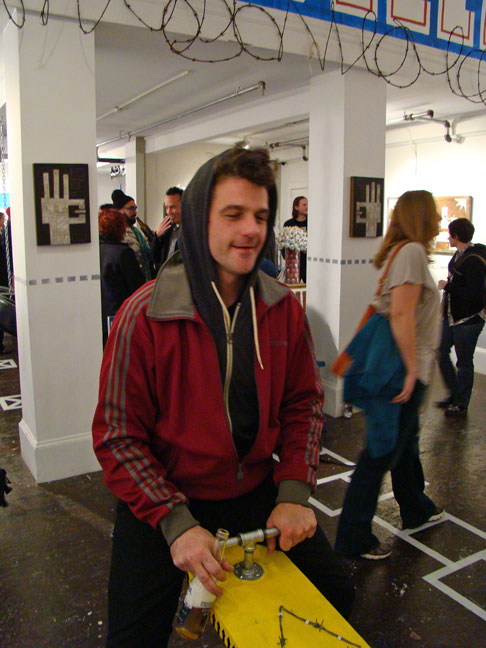 Art by Michael Risenhoover.


Sorry, label is unreadable.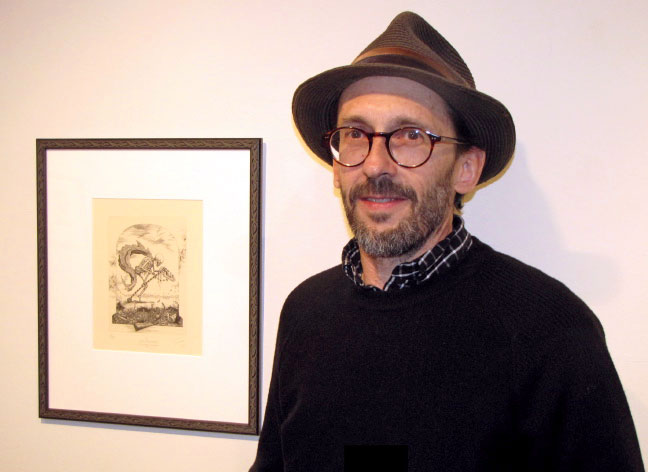 David Avery.


Linda Lee Boyd and husband.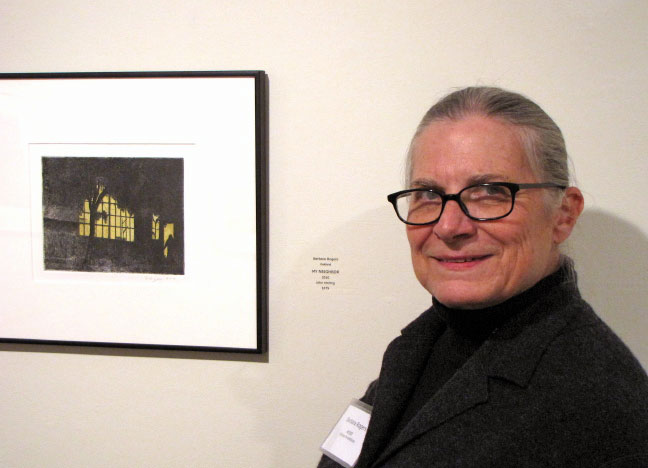 Barbara Rogers.


Ron Tanovitz.


Artists' journals by Debra Cramer and Jill Russell.


Paintings by Jesse Wiedel and M. Louise Stanley.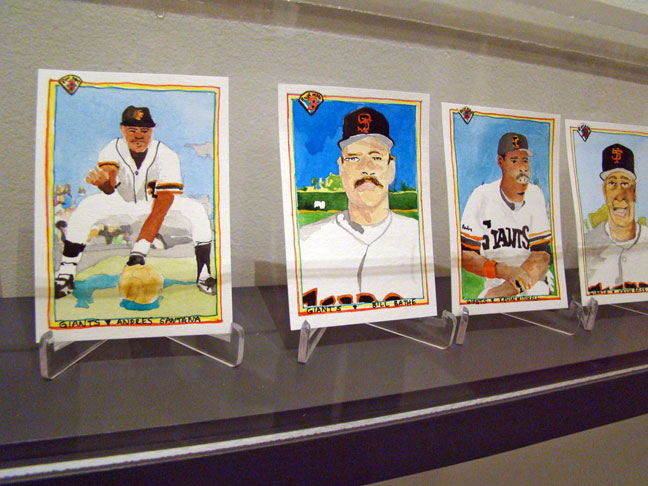 Art by Gael Fitzmaurice.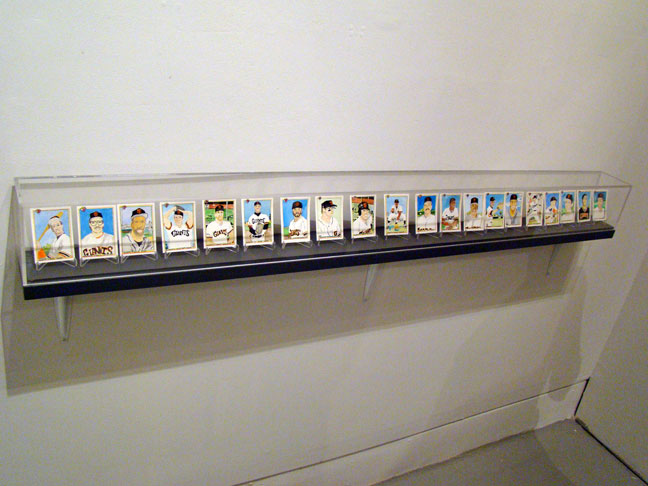 Art by Robert Armstrong.


Art by Jeff Carr.


Art by Linda MacDonald.


M. Louise Stanley visits "Melancholia," Durer's allegory of creative block (?).


***