DOLBY CHADWICK - SFMOMA - JANCAR JONES - ELECTRIC WORKS

LINCART - MICHAEL ROSENTHAL - A.MUSE

RECEIVER - 2ND FLOOR PROJECTS

01.16.10

(with assistance from DeWitt Cheng and Sandra Silvoy)


***
Dolby Chadwick Gallery: Stephen DeStaebler - New Work.
Review by DeWitt Cheng: De Staebler's life-sized ceramic statues may be familiar to Bay Area art mavens of a certain age, but younger artists might also go have a look-see. Assembled from stacked blocks of multicolored clay, and given titles like 'Segmented Figure Column' and 'Figure in Hollow Plinth,' "De Staebler's weathered eroded statues (or fossils) suggest the archaic and archaeological while somehow adhering to modernist tenets of synthetic, re-imagined form-- quite an esthetic accomplishment. It's powerful beautiful sculpture with a romantic and existentialist vibe for those attuned to that frequency." That was written about DeStaebler's large show of new sculptures at Richmond Art Center (East Bay Express, 10/14/09). The Dolby Chadwick show, though smaller in scope, is sensitively installed and excellent-- not to be missed.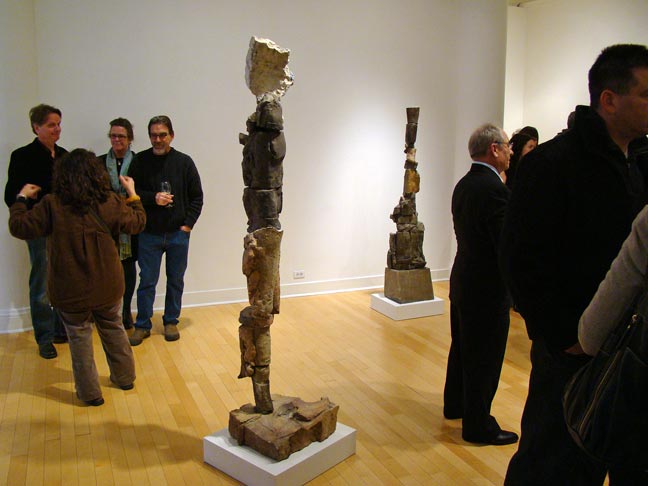 Ceramic sculpture - art by Stephen DeStaebler.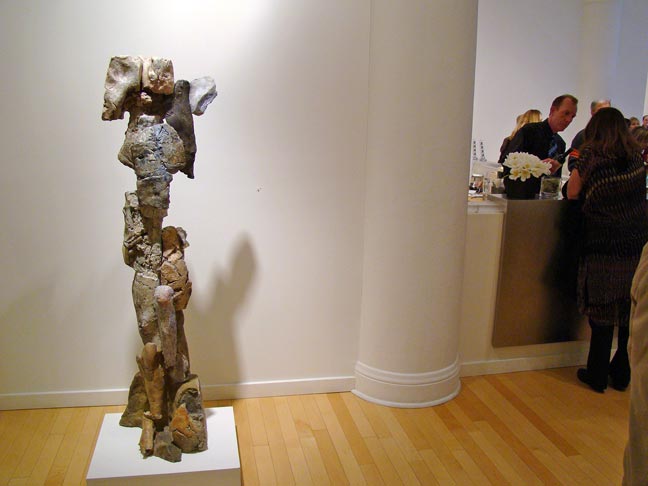 Ceramic art by Stephen DeStaebler.


Ceramic in above image closer - art by Stephen DeStaebler.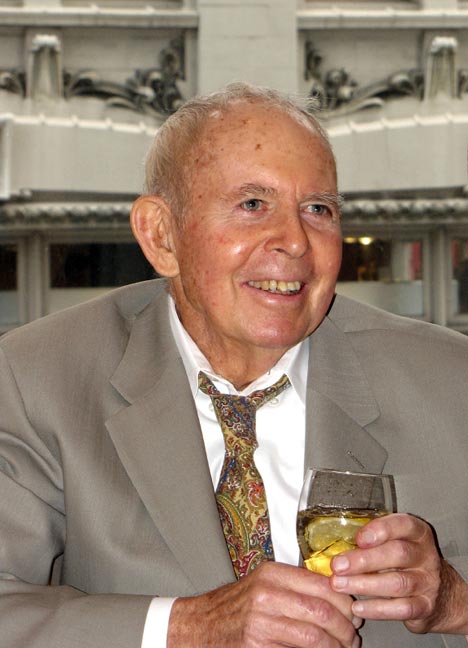 Stephen DeStaebler (image c/o DeWitt Cheng).


Stephen DeStaebler ceramic art.


Ceramic art by Stephen DeStaebler.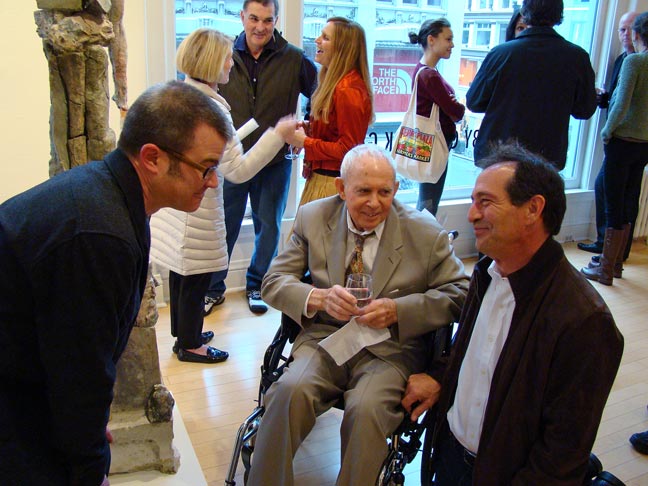 Stephen DeStaebler fraternizing with the fan base.


Stephen DeStaebler ceramic art.


Ceramic art by Stephen DeStaebler.


***
San Francisco Museum of Modern Art (outside): The Mike Shine Show.
Comment by AB: "Mobile exhibition" brought to you by the SFMOMA Artists Gallery includes a truckload of Mike Shine goodies, live music, white face, edibles, games of chance, souvenirs, and an eminently entertaining carnival atmosphere.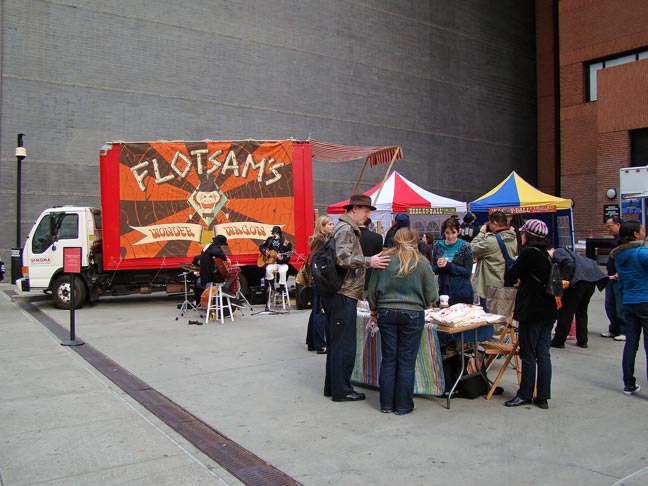 Here we are - The Mike Shine Show - art, installation & more.


Tunes & Mike Shine-mobile closer.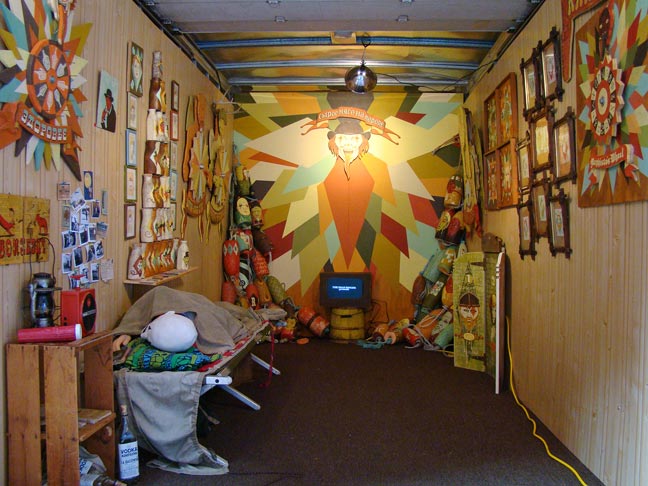 Interior of the mobile Mike Shine art & installation vehicle.


Mike Shine.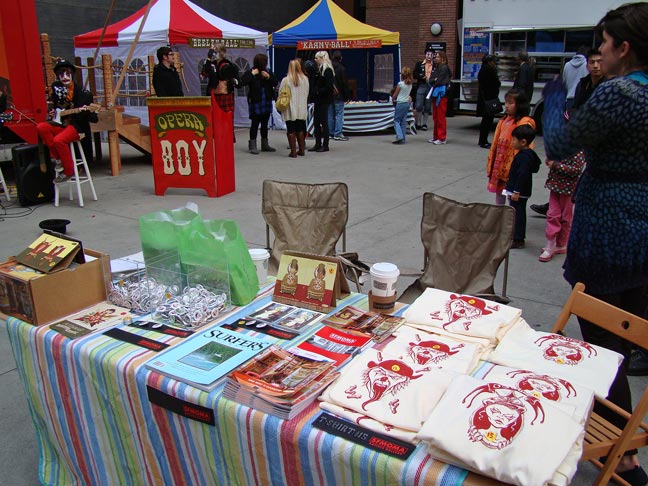 Mike Shine-abilia.


***
Jancar Jones Gallery: Editions.
Artists: David Berezin, Michael Guidetti, Claire Nereim, Harsh Patel, Sean Talley.
Comment by AB: Group show of artist multiples and editions coincides with Jancar Jones' two-year anniversary. The art is tastefully displayed along the floor, not on the walls, which leaves somewhere in the vicinity of perhaps 30 or 40 square feet of remaining space to maneuver about and experience the essence. Watch yer step!
Floor-bound art show at Jancar Jones Gallery.


Floor-bound art at Jancar Jones Gallery.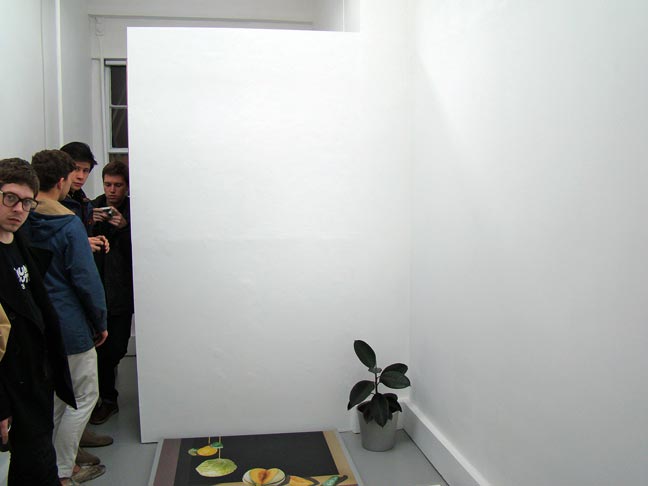 Demographics.


***
Electric Works Gallery: Rust Belt - Katherine Westerhout; Jim Haynes - Another Short History of Decay.
Comment by AB: A double dose of deterioration here. Katherine Westerhout's stark architectural images document the continuing downward spiral and decline of once-great America. She here focuses her attentions on formerly august institutions of Buffalo and Philadelphia (including a prison). In the anteroom, Jim Haynes presents a series of photographs where purposely inducing corrosion and chemical reactions on silver gelatin prints is part of his creative process. So you got slow painful grandiose decay in one gallery and diminutive controlled decay in the other.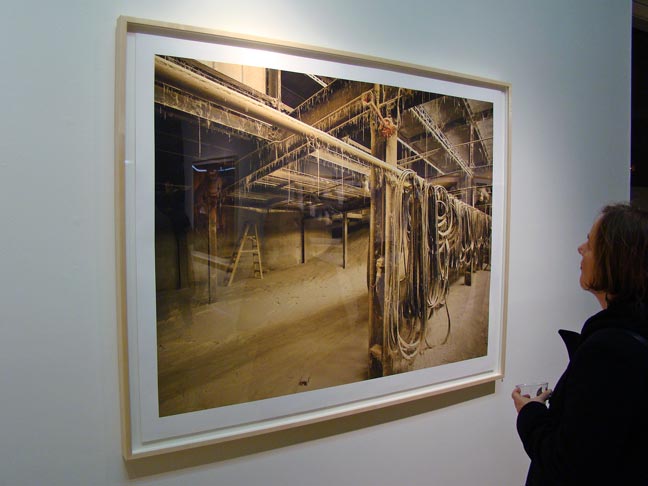 Photography by Katherine Westerhout.


Katherine Westerhout photographs.


Katherine Westerhout and her photography.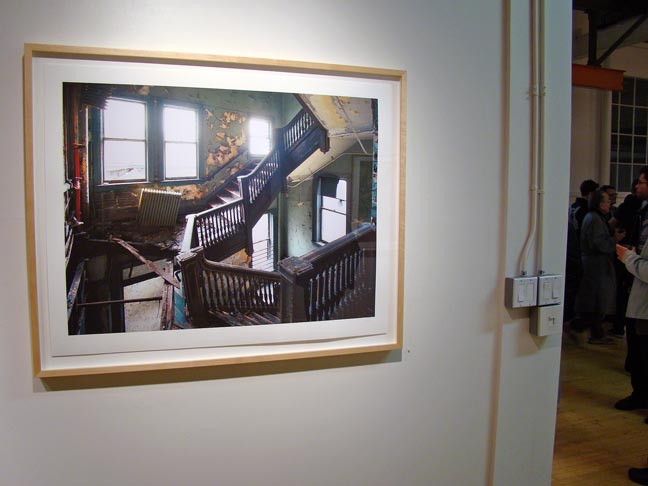 Photo by Katherine Westerhout.


Jim Haynes and his manipulated photographs.


Jim Haynes photo closer.


Photography by Jim Haynes.


***
Lincart Gallery: Zack Davis - Absence of Evidence, Evidence of Absence; Mauro Soggio - Merrypopin.
Comment by AB: Among the more captivating ceramic works on display by New York artist Zack Davis are warped tea and bowl sets neatly laid into small found suitcases, and what can only be described as squished instruments-- art that reminds me of George Ohr pottery. To derange it all up, Davis himself is dressed in a suit and tie, ensconced in the Lincart office, hard at work on a potter's wheel, and splattered with clay. He alternately places his freshly turned wares into a suitcase or tosses them against a wall. Cantankerous handwritten signs, and whiteboards scribbled with gibberish indicate that it's probably best to leave Davis to his own devices. These antics remind me of George Ohr himself. For all I know, he may well be George Ohr incarnate.
On the walls, rainbow oil and rubber stamp "paintings" by Italian artist Mauro Soggio are peppered with pop imagery.
Ceramic art by Zack Davis.


Ceramics on left in above image closer - art by Zack Davis.


Squished instrument ceramic art by Zack Davis (like it).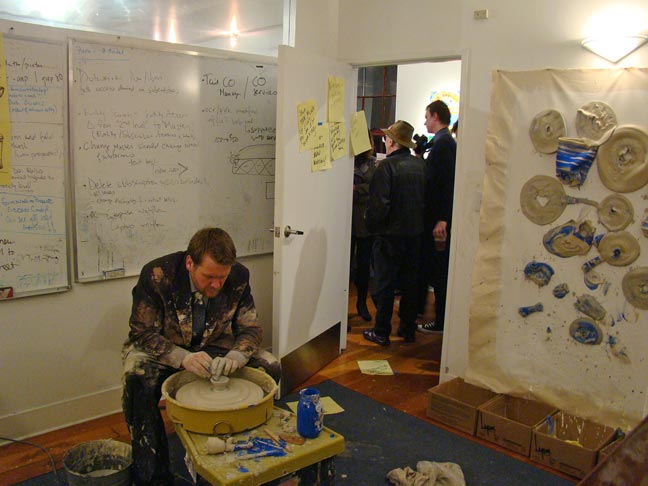 Zack Davis hard at work in the Lincart Gallery office.


Zack Davis exhortations on the Lincart office door.


Zack Davis positions a freshly turned ceramic.


2-dimensional art by Zack Davis.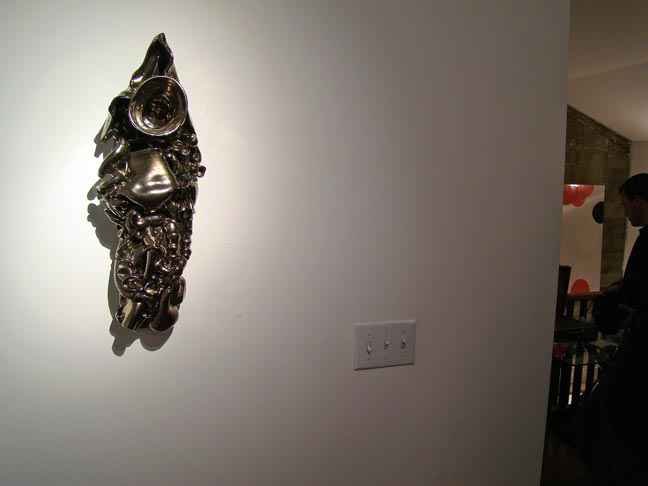 More Zack Davis squished instrument ceramic art.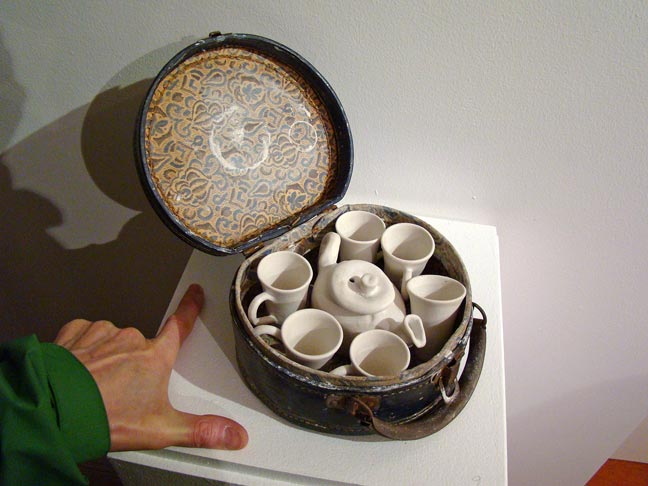 Zack Davis ceramic art.


Mauro Soggio paint and rubber stamp art.


Art by Mauro Soggio.


Relative density.


***
Michael Rosenthal Gallery: Amy Casey.
Review by Sandra Silvoy: Buildings are suspended with ropes or teetering upon sticks, encircled with minutely detailed brick walls, or somewhat less detailed roller coaster roads swooping down and around otherwise empty spaces where the world has since crumbled away. This is about all that's left of a shim-shambled attempt to save ourselves.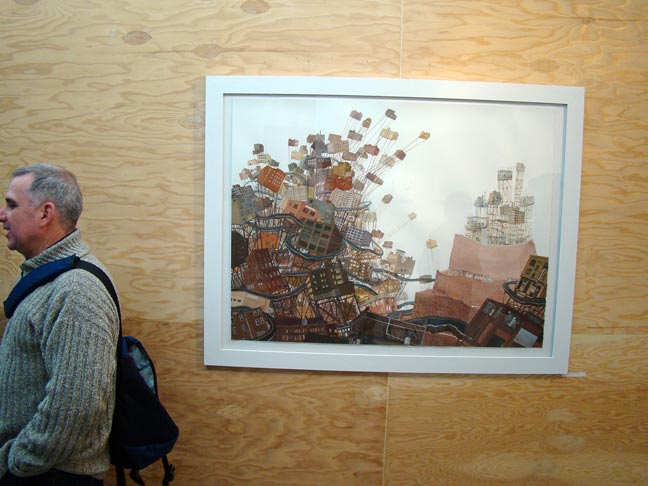 Art by Amy Casey.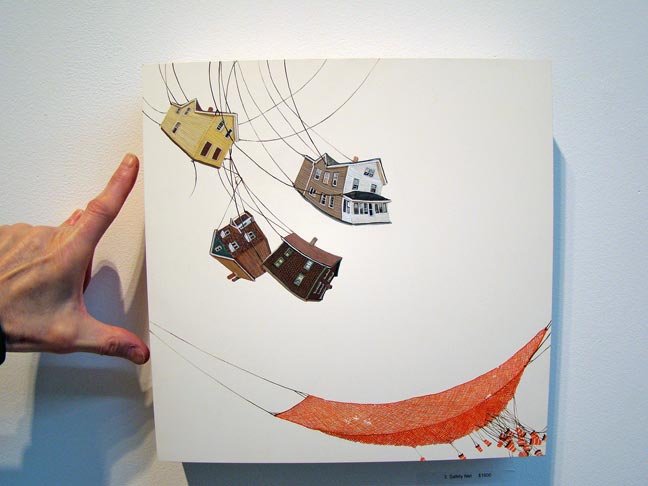 Art by Amy Casey closer.


Amy Casey and her art.


Pinkie cam detail of art in above image by Amy Casey (nice work).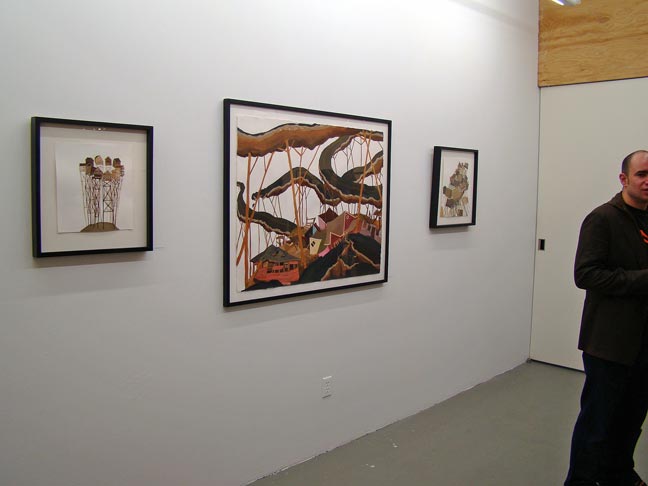 Amy Casey art.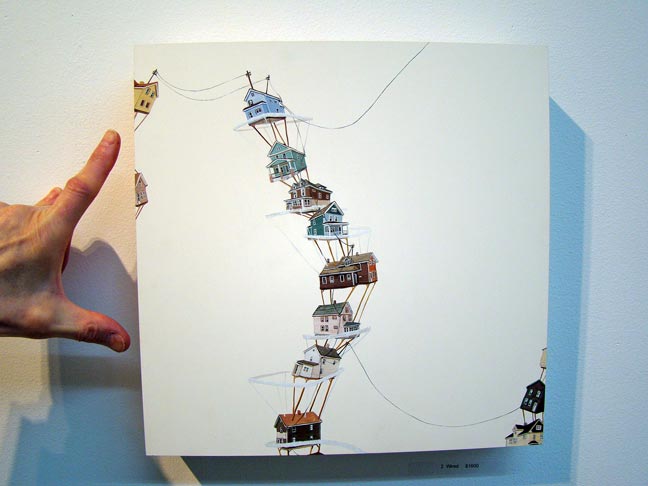 Art by Amy Casey closer.


***
a.Muse Gallery: Animal at Sea - New Photographs by Chelsea Rae Klein.
Comment by AB: Female and animal natures are here intertwined in this photographic safari of feminine self-discovery by Chelsea Rae Klein.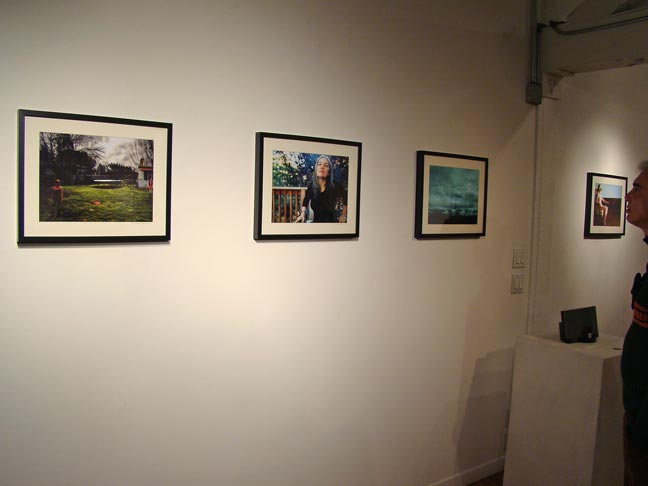 Photography by Chelsea Rae Klein.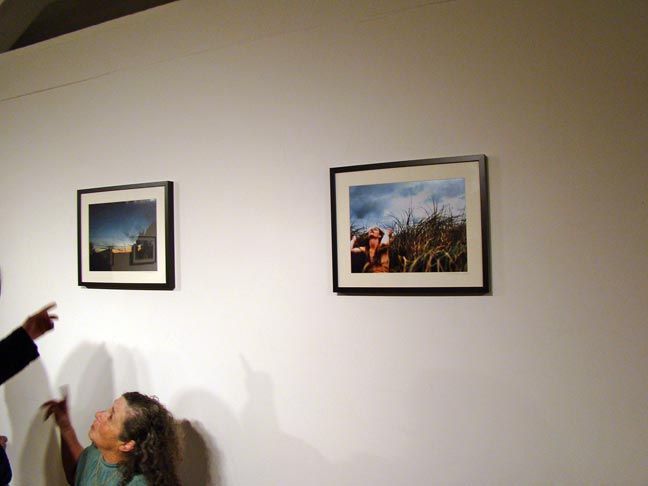 Chelsea Rae Klein photos.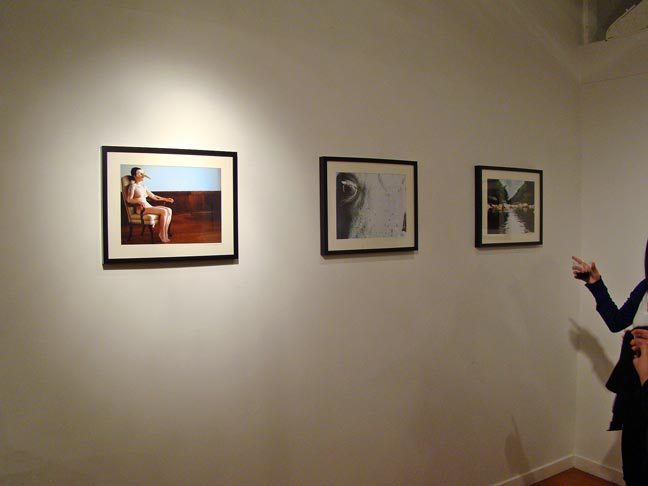 Photographs by Chelsea Rae Klein.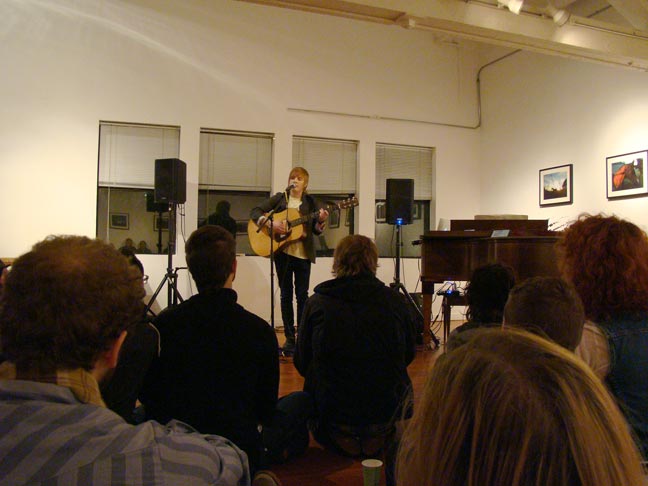 Tunes (she's pretty good too).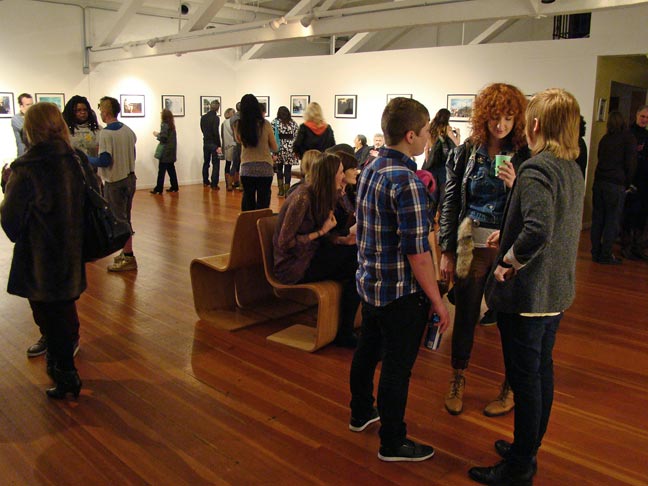 Statistical sample.


***
Receiver Gallery: 5th Annual Winter Party.
Comment by AB: It's a party plus art, artists and those who love it and them.
Art by Kyle Ranson - he keeps puttin' it out there.


Kyle Ranson and his art.


Art by Jovi Schnell.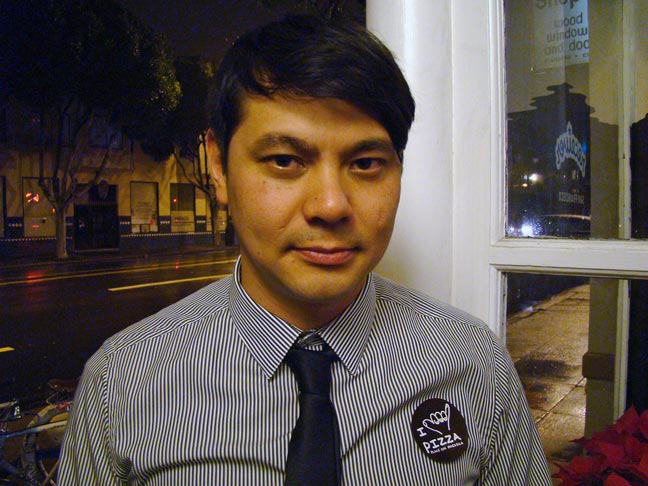 Jafon Hakkinen - Receiver Gallery proprietor.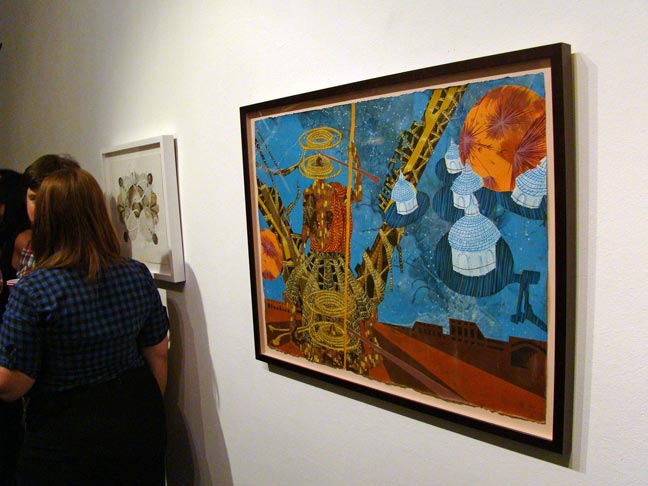 Art.


Ambience.


***
[ 2nd floor projects ]: black glass - Work by Carina Baumann and Cliff Hengst; Edition by Darin Klein.
Comment by AB: Cliff Hengst arts up the ongoing conflicts between the religious right and gay rights advocates by inking out the faces in news photographs of protests and demonstrations on both sides of the issue, and leaving only the signage for us to contemplate. He also concocts some benignly amusing signage of his own for use in more thought provoking protests.
Carina Baumann offers up portrait and landscape pigment prints that upon cursory inspection appear entirely black. But as soon as Margaret Tedesco tells you what to look for, Baumann's haunting images are wondrously revealed, comin' straight at you as if direct from some portentous netherworld. This is good stuff. Galleries in search of talent take note.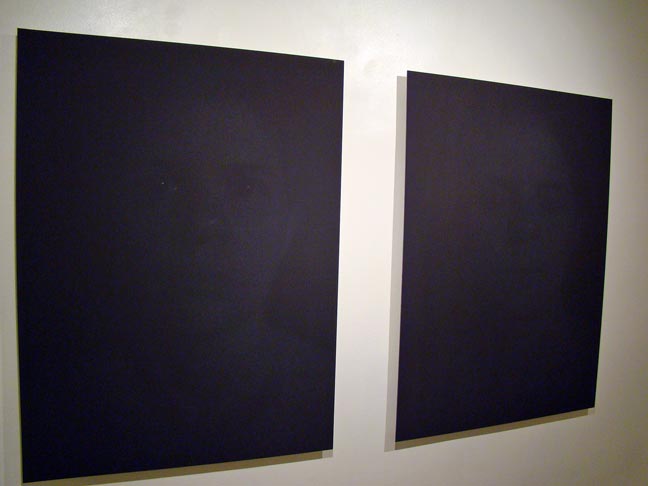 Portrait photographs by Carina Baumann (like 'em).


Landscape photography by Carina Baumann (look closely).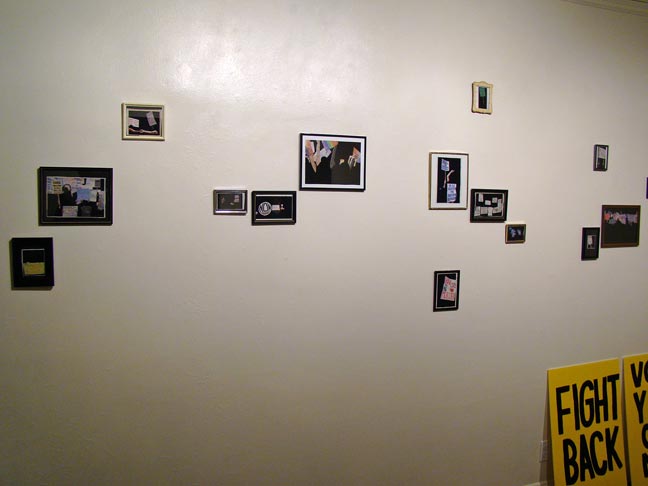 Art by Cliff Hengst.


Cliff Hengst art closer.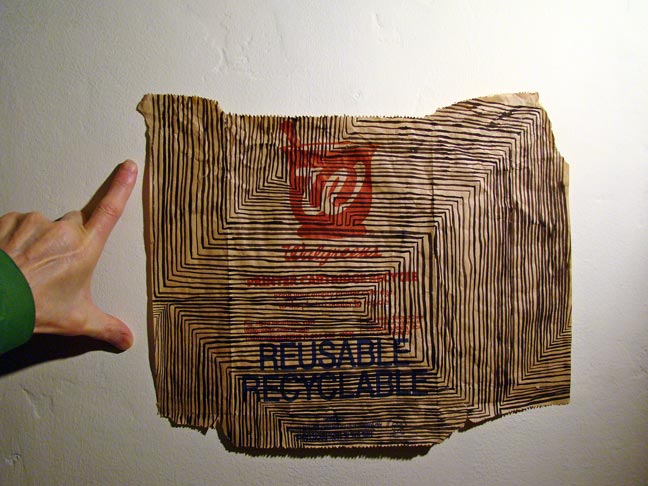 Cliff Hengst art closer.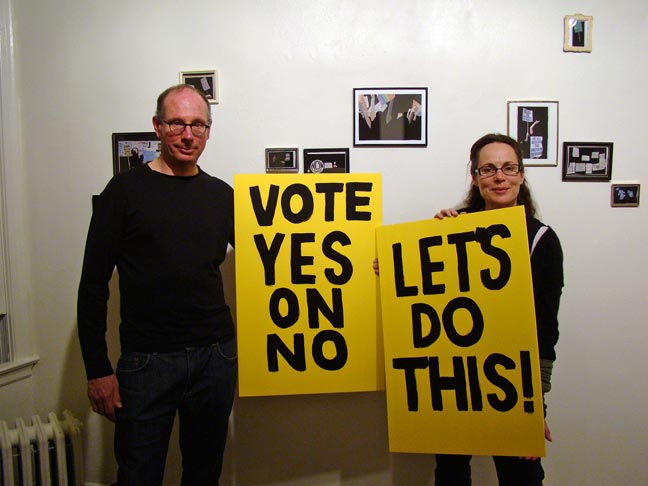 Congenial confederates demonstrate Cliff Hengst protest art.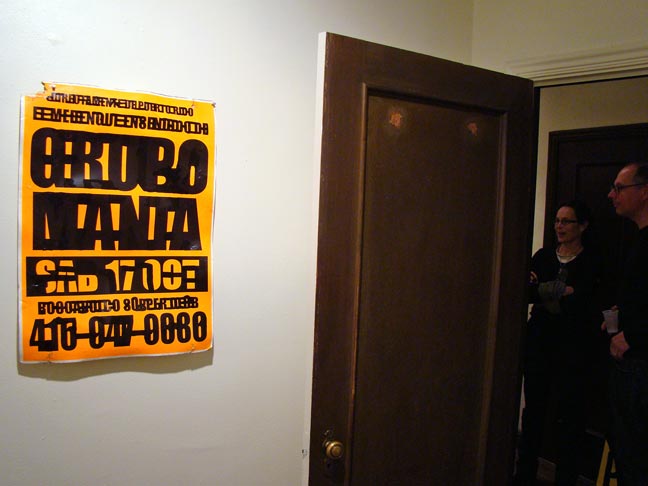 Art by Cliff Hengst.


***