MARKET STREET - RAYKO PHOTO - AXIS CAFE - THE DUMP

ADOBE BACKROOM - MILLION FISHES - PARK LIFE

01.22.10

(with assistance from RWM and Sandra Silvoy)


***
Market Street Gallery Gallery: Kristina Quinones - Between Control & Uncertainty.
Review by RWM: Beautiful images with color and life, dramatic and out of control. The paintings will live on your wall, swirling with motion and vibrant sentimental color schemes.
Art by Kristina Quinones.


Kristina Quinones art.


Kristina Quinones (left) discusses her art.


***
RayKo Photo Center: From Russia With... - Lucia Ganieva; Kirk Crippens - Foreclosure USA; Alan George - Wheeled Estate.
Review by RWM: Things seem tough in the new Capitalist State with the photographer Lucia Ganieva capturing people who are seeking recognition. There is angst in the village, but everybody seems to have wheels. They do not seem able to go elsewhere though, caught up in family connections. They have their serious poses in serious times. Desolation in small town Russia, but connections to the past.
Comment by AB: Lucia Ganieva tells me her small town photographs are taken in the village in Russia where her father grew up and that she sometimes visits. She also presents curiously quaint portraits of women who work in the gardens at The Hermitage. Along the right side gallery, I'm particularly impressed with Alan George's forlorn linear images of ramshackle homes on wheels. And to top it all off, Kirk Crippens captures the tragic romance of foreclosure.
Photography by Lucia Ganieva.


Lucia Ganieva and her photographs.


Photos by Lucia Ganieva.


Lucia Ganieva photographs.


Mobile home photography by Alan George (like 'em).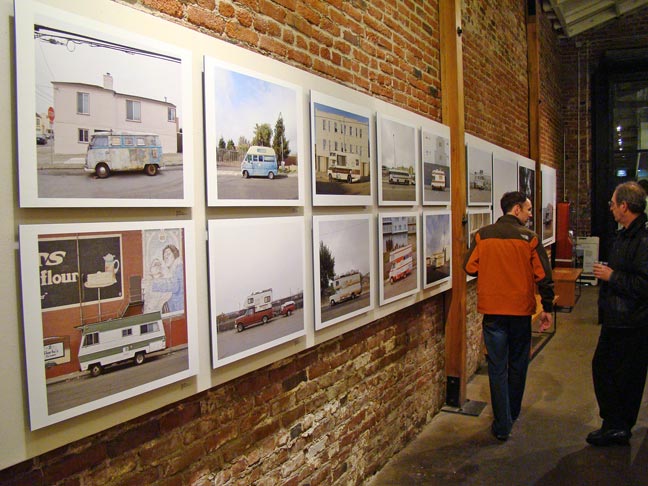 Alan George mobile home photos.


Alan George photographs.


Foreclosure photos by Kirk Crippens.


Photographs by Kirk Crippens.


***
Axis Cafe: Peggy Gyulai - Big Jazz.
Comment by AB: Peggy Gyulai debuts her series of expansive abstractions inspired by big band jazz and classical music. The event also celebrates Gyulai's appointment as Painter-in-Residence with the San Francisco Chamber Orchestra.
Art by Peggy Gyulai.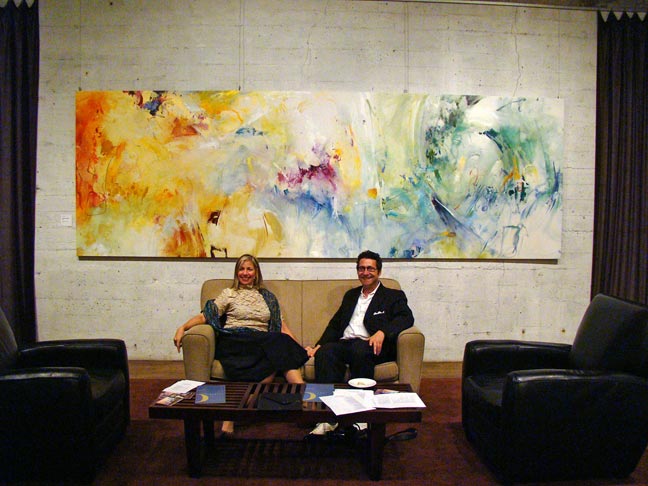 Peggy Gyulai - Jeremy Sutton - art by Peggy Gyulai.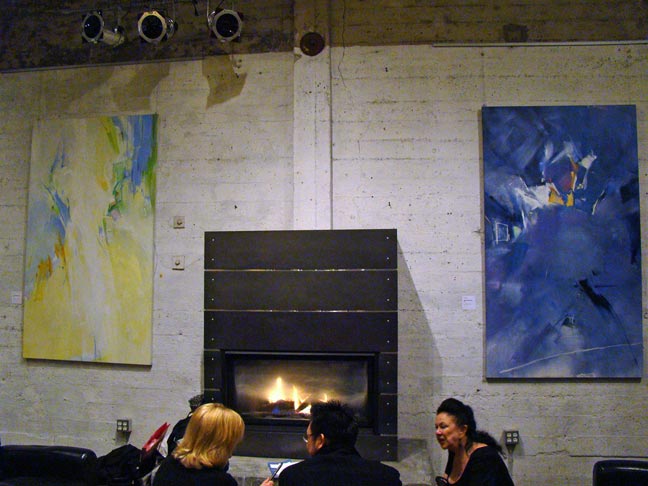 Peggy Gyulai art.


***
Art at the Dump: Redemption - Christina Mazza; The Last Shall Be First - Erik Otto.
Comment by AB: In somewhat of a departure from previous dump-a-thons, this time around it's more about artists making art on found materials and objects than making it from found materials and objects. Depictions of the home thread throughout Erik Otto's vibrant freewheeling colorific works, in both two and three dimensions. And as for Christina Mazza, she is one accomplished draftsman (or draftswoman or draftsperson or whatever you wanna call it), from her intricate nonrepresentational spaghetti-esque renditions to her serene meditative portraiture (gallerists and galleristas may wish to take note). Good show; worth the drive.
Art by Christina Mazza (like it).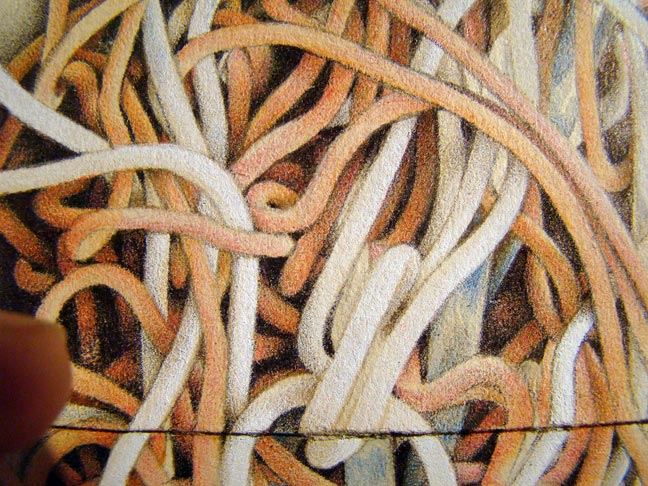 Pinkie cam zoom of art by Christina Mazza in above image (this is good).


Mixed media art by Christina Mazza (nicely done).


Art by Christina Mazza in above image from a different perspective.


Christina Mazza art.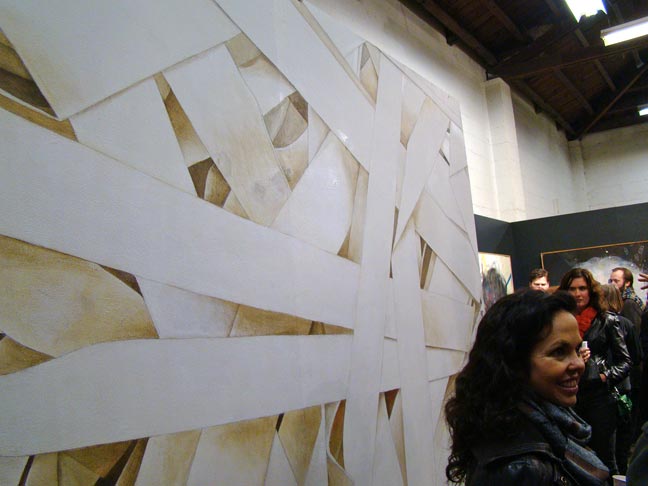 Art by Christina Mazza.


Art by Erik Otto.


Sweet hanging sculptural installation by Erik Otto.


Erik Otto art.


Art by Erik Otto.


***
Million Fishes: Goodbye - An Art and Music Salon.
Artists: Adriana Atema, Allysun Maria Dutra, Del Geronimo, Frank Callozzo, Hero Megan Elizabeth Frasheski, Jen Siska, Jessica Lynn Atreides, Kevin Scott Hailey, Leighton Kelly, Matt Reamer, Paulie anna Duke, Paul O'Valle, Ryan Coffey.
Review by Sandra Silvoy & images by Paule O'Valle: A grand art and music salon show is thrown to say goodbye to Allysun Dutra, aka SF fashion designer Kittinhawk, a member of Million Fishes Art Collective. She will be leaving Million Fishes to spread her love and talent to LA. Current and past members of the collective furnish the walls with works of oils and guache, the mounted unicorn bust of floral brocade (artist Leighton Kelly) being my utmost desired piece of the night. A luxurious teepee rich with layers of fabrics, feathers and an intricately decorated interior serves as a small haven from the crowd, courtesy of Dutra. The place is packed, good music, an overall successful night.
Allysun Dutra aka Kittinhawk & installation.


Interior of Allysun Dutra installation (image c/o AB).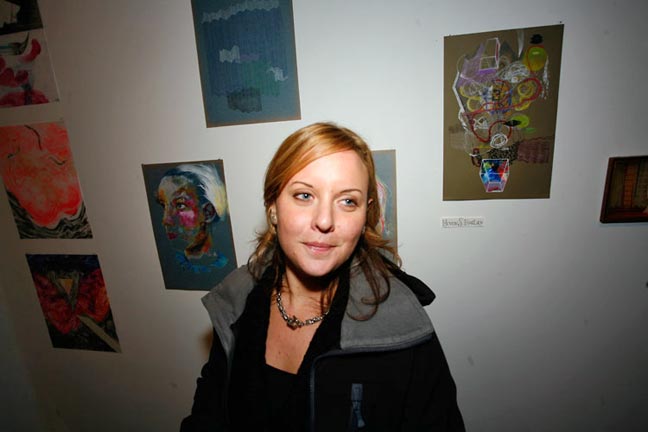 Artist Leighton Kelly.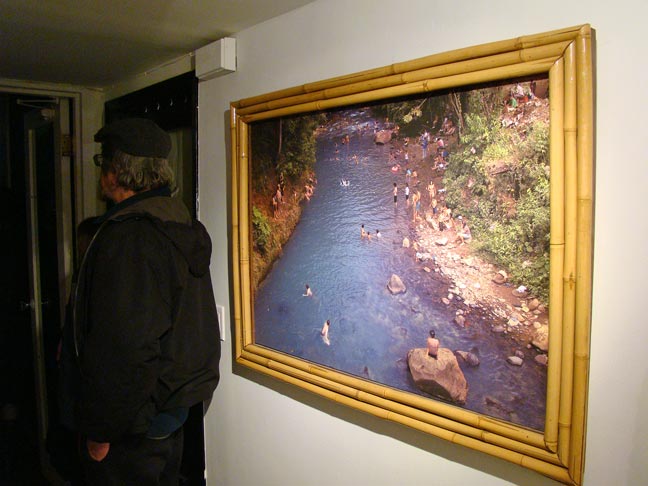 Photography (image c/o AB).


These are nicely done (image c/o AB).


Tunes by Tara of Metal Mother.


Kevin Scott Hailey and his art (image c/o AB).


Attendance figures.


***
Adobe Books Backroom Gallery: Gina M. Contreras - My Love is Another Kind. Curated by Nicole Lattuca.
Review by RWM: Cool Octogenarians showing affection and exploring connections. The works are sweet, exploring the connections of family, friends, and signifigant others. Cute and subtle with sentimentality.
Comment by AB: I ask Gina Contreras what's the deal with the elderly people and she tells me that part of the fascination lies in the fact that they can be charming and creepy at the same time. I be feelin' dat-- especially the creepy part-- I'm almost there.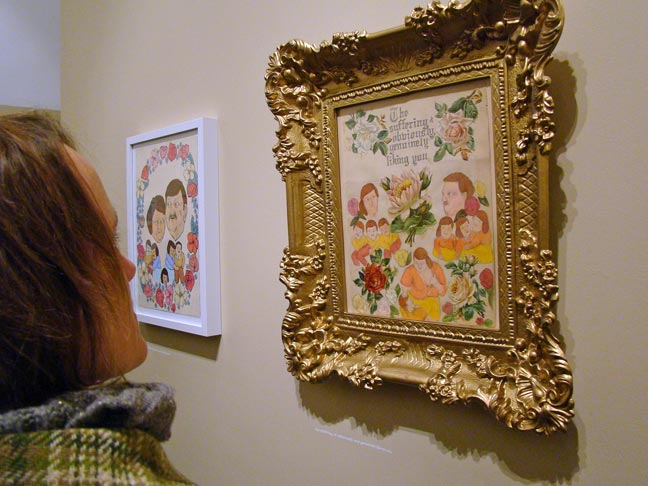 Art by Gina M. Contreras.


Art closer by Gina M. Contreras.


Gina M. Contreras and her hart.


Art by Gina M. Contreras.


Adobe owner Andrew requests this image of the lovely sales associates
manning (or is it womaning?) the front desk.


***
Park Life: Mary Iverson - Frontier.
Review by Sandra Silvoy: A nifty partnership unfolds between romanticism and a realistic slap in the face. Naturescapes unfettered by human existence are sourced from magazines and positioned as backdrops to Iverson's geometric abstractions. The geometrics are representative of containers used to transport our colossal consumer "needs." A sense of industry and infinite consumption is superimposed by Iverson's variegated painted containers within penned lines of multitudinous vantage points. The latter also creates an even depthier sense of space to otherwise two-dimensional magazine tear outs. Iverson's reconstructed citation to Albert Bierstadt's famed 19th century painting of Yosemite Valley poses as reminder to another breed of romantic realism.
Albert Bierstadt rendition art by Mary Iverson.


Mary Iverson art.


Mary Iverson art closer.


Mary Iverson and her art.


Art by Mary Iverson.


Art by Mary Iverson closer.


Ian Johnson & Alan Bamberger (aka moi) notice a spider on the ceiling.


Bear Flag wines sponsor numerous art events. We like that. BUY SOME!


***