***
John Berggruen Gallery: Three Artists - Julie Mehretu, Wayne Gonzales, and Julian Lethbridge.
Comment by AB: Julie Mehretu combines shards of maps, plans and diagrams into intricate scratchy abstracts, Wayne Gonzalez paints up cryptic interpretations of internet images, and Julian Lethbridge regiments energetic abstract fragments into complicated grid-like patterns.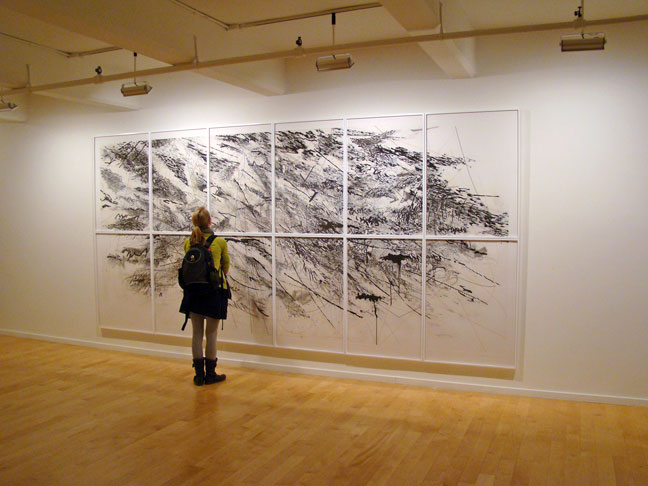 Art by Julie Mehretu.


Art by Julie Mehretu above closer (image c/o Neal Strickberger).


Julie Mehretu art.


Pinkie cam detail of art by Julie Mehretu in above image closerd.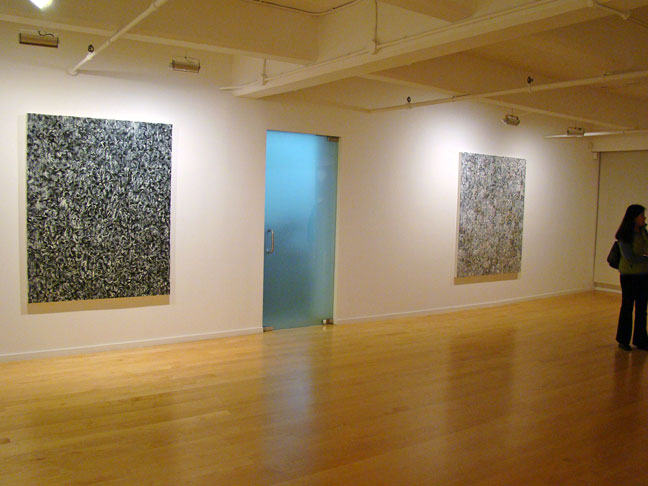 Art by Julian Lethbridge.


Art by Wayne Gonzales.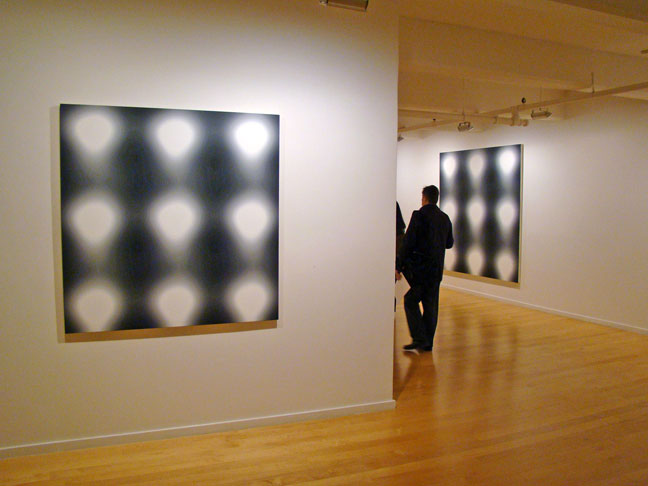 Wayne Gonzales art.


***
Dolby Chadwick Gallery: Katina Huston - Big Noise.
Comment by AB: For this series of ink on mylar drawings, Katina Huston conscripts the symphony orchestra horn section and portrays them in such dramatic-- and at times cacophonous-- configurations that if you listen carefully, you can practically name that tune.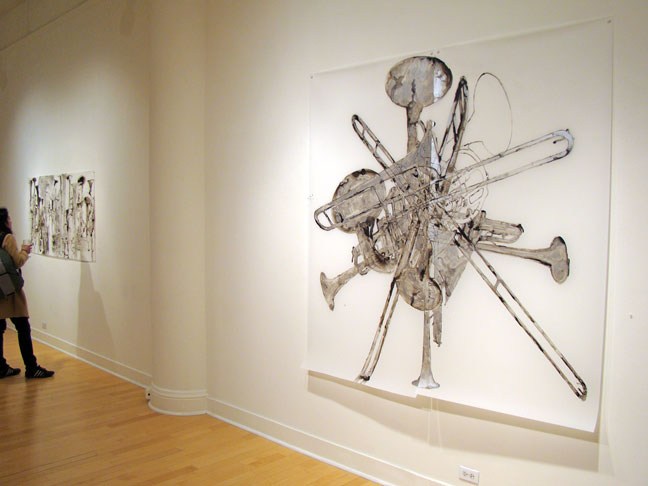 Art by Katina Huston.


Art by Katina Huston.


Katina Huston instrumental art.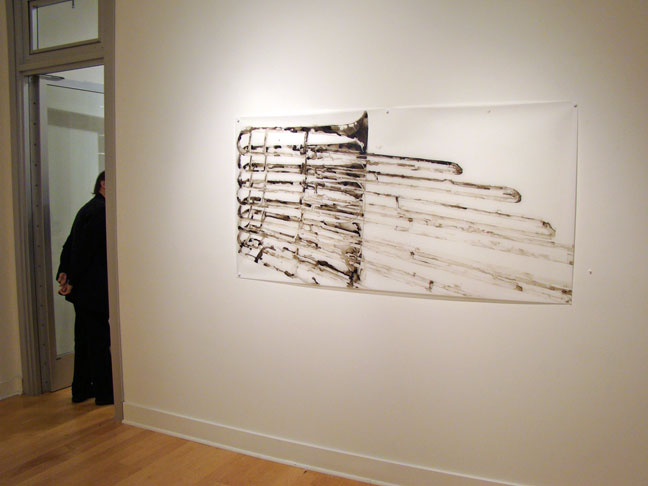 Art by Katina Huston.


***
Hespe Gallery: Kevin Moore - Motion Pictures.
Comment by AB: Manipulated perspective, consecutively conjoined vignettes and adept application of color, cordone the action into sections like panels of a comic strip, and miraculously breathe life into Kevin Moore's otherwise static images, like video snippets on YouTube. Don't believe me? Stop by and experience them for yourself. I like 'em!
Art by Kevin Moore.


Kevin Moore art.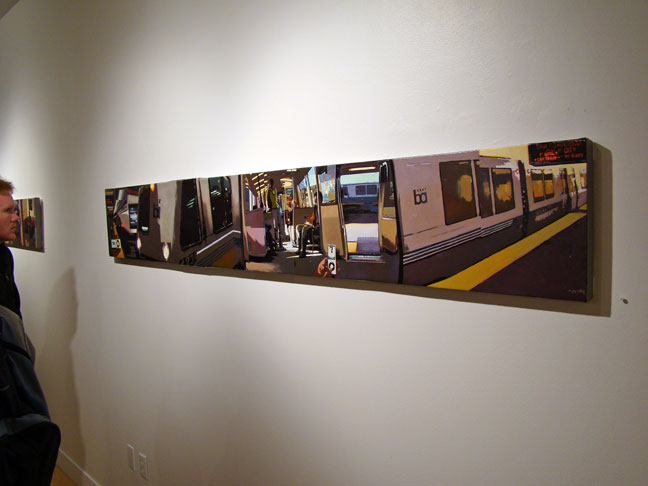 Art by Kevin Moore.


Art by Kevin Moore (nicely done).


***
George Krevsky Gallery: Important Artworks.
Artists: Avigdor Arikha, Robert Arneson, Harry Bowden, Joan Brown, Gordon Cook, Joseph Goldyne, Robert Kulicke, Jack Levine, Manuel Neri, Nathan Oliveira, Mary Robertson, Wayne Thiebaud, James Weeks.
Comment by AB: This isn't just art-- it's important art. How do we know? 'Cuz George Krevsky says so. It's precisely that simple and no more complicated.
Important art - Jack Levine (left) & Joan Brown (right).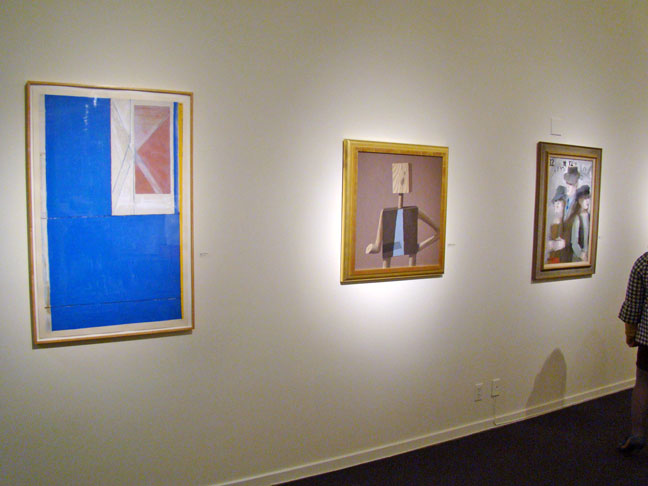 Art, l to r, Richard Diebenkorn, Gordon Cook, not sure.


Miscellaneous important art.


The honorable Charles Campbell & George Krevsky.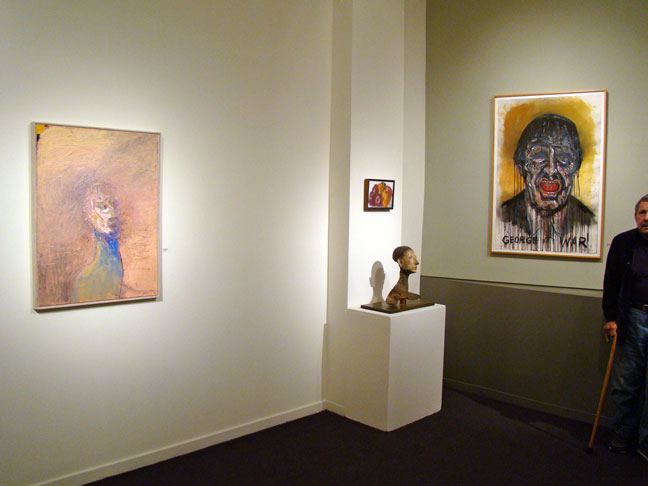 L to R, Nathan Oliveira (painting & sculpture),
Avigdor Arikha (small still life), Robert Arneson.


***
Rena Bransten Gallery: Pure Paper. Curated by Aimée Reed.
Artists: Peter Callesen, Gregory Euclide, Julia Goodman, Paul Hayes, Kathleen Henderson, Claire Jackel, Bovey Lee, Vik Muniz, Amparo Sard.
Review by Kathryn Arnold: A group exhibition entirely of paper works-- inventive uses of the media, paper as medium. Some images continue to remain in my memory as well as my camera. A sense of patience observed in the creation of these elusive works. An upside down city overhangs as I enter the space. An amazing formally arranged exhibition-- the white cube at its finest. Minimal in sensibility. Need to go back.
Comment by AB: Traditional definitions of works on paper do not apply here. Experience the medium in whole new ways.
Art by Kathleen Henderson (image c/o Kathryn Arnold).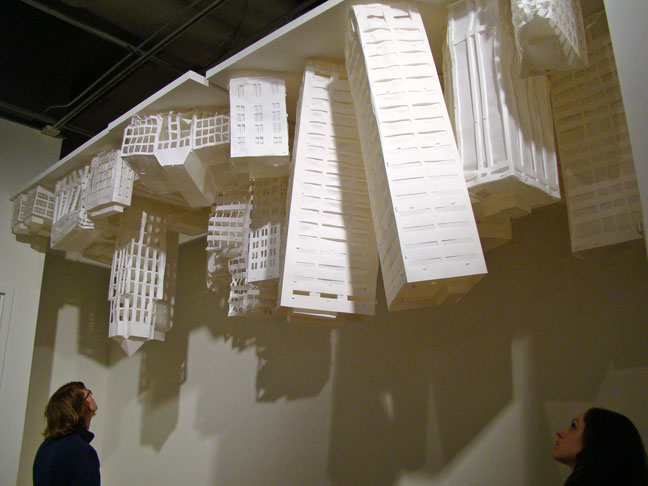 Inverted metropolis art by Claire Jackel.


"Flock" - art by Kathleen Henderson.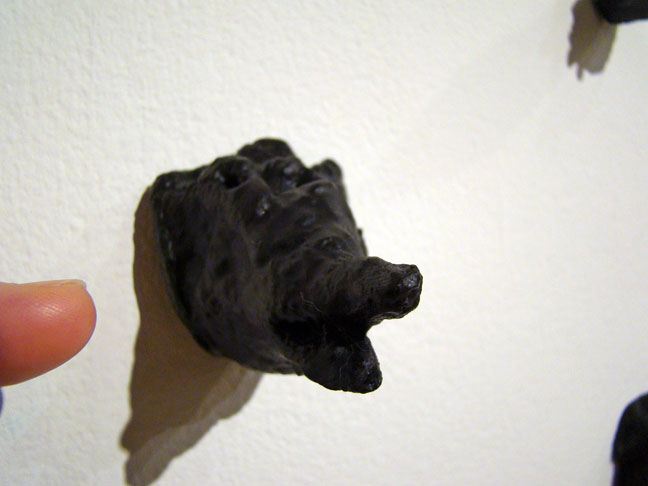 Pinkie cam detail of art by Kathleen Henderson in above image.


Art by Vik Muniz.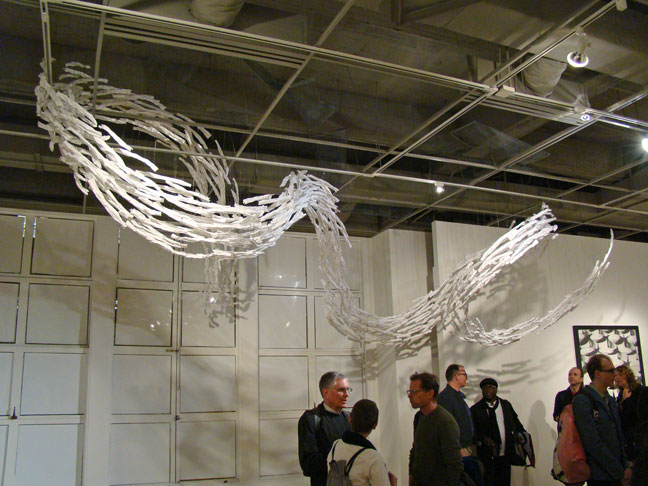 Airborne art by Paul Hayes.


Crumply art by Gregory Euclide.


Crumply art by Gregory Euclide closer (kinda like it).


Art by Peter Callesen.


***
Gallery Paule Anglim: Pamela Wilson-Ryckman - It's a Big Ocean; Anne Appleby - Without Green.
Review by Kathryn Arnold: Lovely paintings on paper by Pamela Wilson-Ryckman-- many city scenes, street scenes-- a sense of the photographic moment lightly filled in with subtle colors and grays. May make me a believer. Figurative in nature and evasive content skillfully handled.
Am glad to see Anne Appleby's work again, being mainly familiar with it from seeing it at a nearby Bay Area museum. These works are influenced by landscape-- but that landscape is not seen-- bringing out subtle shades with layered empty surfaces. Impossible to capture the consequent effects with photographs.
Comment by AB: Pamela Wilson-Ryckman paints up memories, and just like memories, leaves ample room for interpretation. In the vestibule, Anne Appleby frosts small panels with multiple thin layers of encaustic, all of which chronicle shades of landscape in the dead of winter.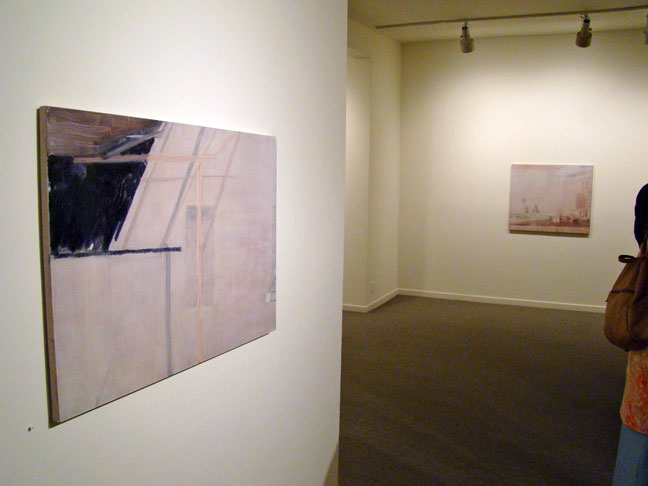 Art by Pamela Wilson-Ryckman.


Pamela Wilson-Ryckman art.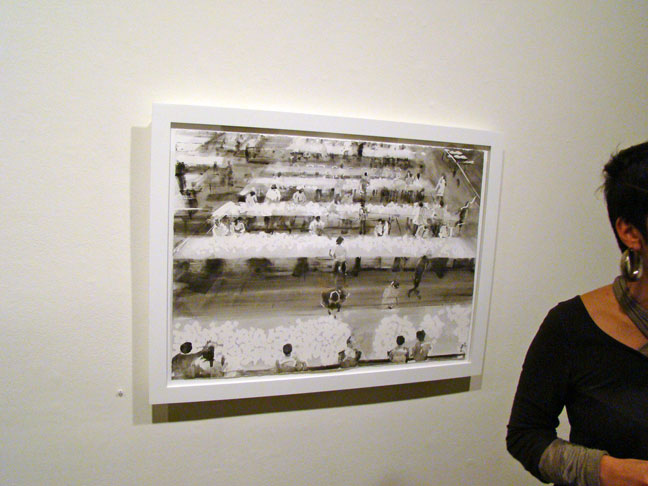 Art by Pamela Wilson-Ryckman.


Art by Pamela Wilson-Ryckman.


Anne Appleby and her art.


Art by Anne Appleby.


***
Stephen Wirtz Gallery: Object as Multiple, 1960-2000.
Artists: Vito Acconci, Richard Artschwager, Larry Bell, John Cage, Christo, Mark di Suvero, Jim Hodges, Donald Judd, Edward Kienholz, Jeff Koons, Sol Lewitt, Roy Lichtenstein, Claes Oldenburg, Ken Price, Robert Rauschenberg, Man Ray, Lorna Simpson, Kiki Smith, Richard Tuttle, Carrie Mae Weems, Tom Wesselmann, Andrea Zittel.
Comment by AB: Excellent forty-year survey of multiples, many by major American artists, with edition sizes ranging from 6 (Flat Topped Pyramid, 2005 by Sol Lewitt) to 2300 (Balloon Dog [BlueJeff], 2004 by Jeff Koons). Beautifully presented, I might add. Go see.
Richard Artschwager (foreground & left), Man Ray on wall.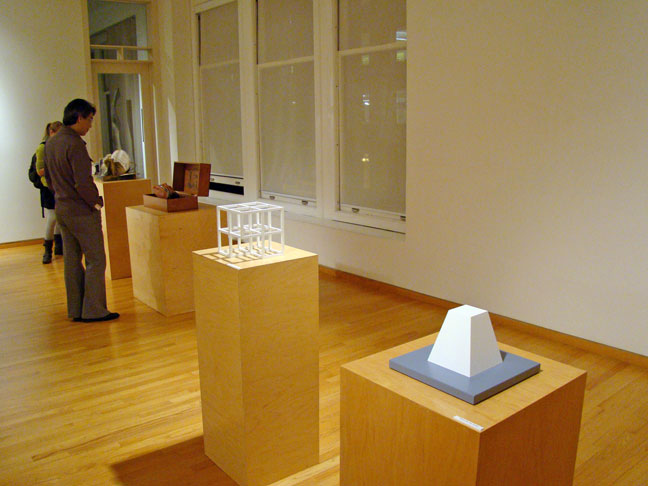 Flat Topped Pyramid by Sol Lewitt (foreground).


Art by Claes Oldenburg (foreground).


More Richard Artschwager art.


Art by Richard Tuttle.


Wearable art by Roy Lichtenstein (like it).


Commentary art by Carrie Mae Weems.


***
Robert Koch Gallery: Michael Wolf - Metropolis.
Review by Kelly Madsen: To walk into an exhibition of works by photographer Michael Wolf is to forget the peripheral and be absorbed by the intimate details of his art. Robert Koch Gallery creates the ideal ambiance for the opening of Wolf's Metropolis show by keeping the celebration of his work simple and unaffected. This simplicity-- no wine, no music, no intrusive interactions with gallery staff-- allow the visitor to become completely immersed in the revelations captured in his work, exploring "the layers of city life and the juxtaposition of private and public spaces."
One way Wolf explores the relationship of privacy versus voyeurism is by using google earth and google street views to "shoot" his photos. Abandoning the camera as a tool, and choosing instead to use technology in its most invasive form, Wolf by method and product shows viewers that privacy is all but lost in urban society; he can see people in Paris from his own computer in Tokyo. His work, Paris Street View #28, illustrates this point to great effect. In it, Wolf portrays a kissing couple, unaware of his existence a hemisphere away. Yet in a manner much like famed photographers Doisneau and Cartier-Bresson from the past, Wolf captures a moment of genuine intimacy in a teeming metropolis, resulting in feelings that are both poignant and disconcerting as the viewer realizes that privacy is on the endangered list.
Alongside these microscopic portraits sourced from google-earth snap shots and enlarged, Wolf displays urban landscape shots showing large expanses of apartment buildings. Each living space is uniform. With this uniformity, he dramatizes a related social issue pervading contemporary urban life-- not only is there no privacy, individuality is stifled.
To walk away from a Michael Wolf exhibition is to understand the moments and the individuals that bring life to a city, as well as the encroachments on privacy and individuality that suck life from that same city. Michael Wolf's Metropolis is on view at Robert Koch Gallery through April 2nd.
Paris Street View #28 photo by Michael Wolf (image c/o Kelly Madsen).


Photography by Michael Wolf.


Tokyo subway photos by Michael Wolf (image c/o Kelly Madsen).


Michael Wolf photographs.


Google Earth photographs by Michael Wolf.


Michael Wolf photography.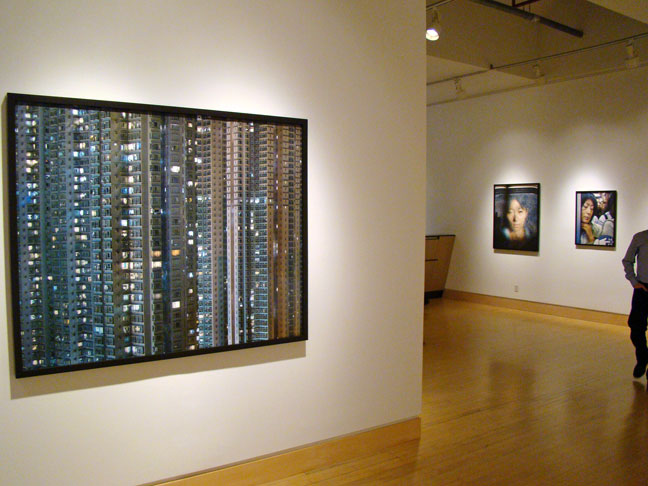 Photographs by Michael Wolf.


***
Gregory Lind Gallery: Richard Baker & Tom Burckhardt.
Comment by AB: Richard Baker's fine gouaches of well-read well-worn vintage paperback books call to mind not only the authors and their seminal texts, but also the immense enjoyment they provide for reader after reader over and over again. Also on exhibit are amorphous amoebic creature-esque abstractions by Tom Burckhardt.
Art by Tom Burckhardt.


Tom Burckhardt art (image c/o Kathryn Arnold).


Art by Tom Burckhardt closer.


Art by Tom Burckhardt.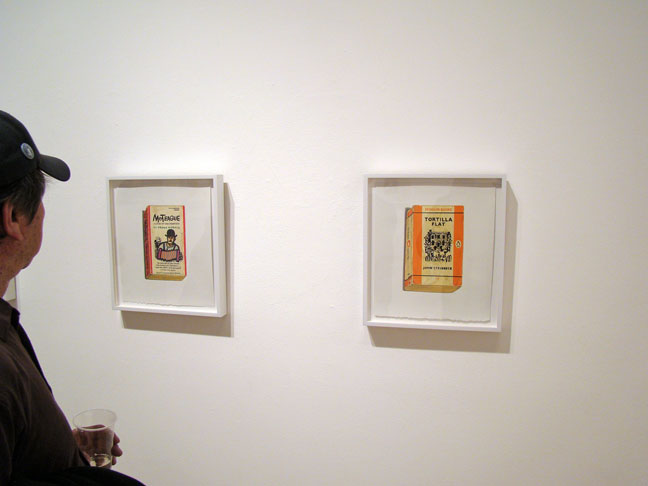 Literary art by Richard Baker.


Art by Richard Baker closer (nicely done).


Paperback book art by Richard Baker.


***
Addendum:
Gallery selections at Scott Richards Contemporary Art.


Art by Lora Groves at Togonon Gallery.


Lora Groves art (left), Pantea Karimi & Luis Gutierrez (right) at Togonon Gallery.


One more from Lora Groves art at Togonon Gallery.


Red art - group show at Toomey Tourell Gallery.


More red art from Toomey Tourell Gallery.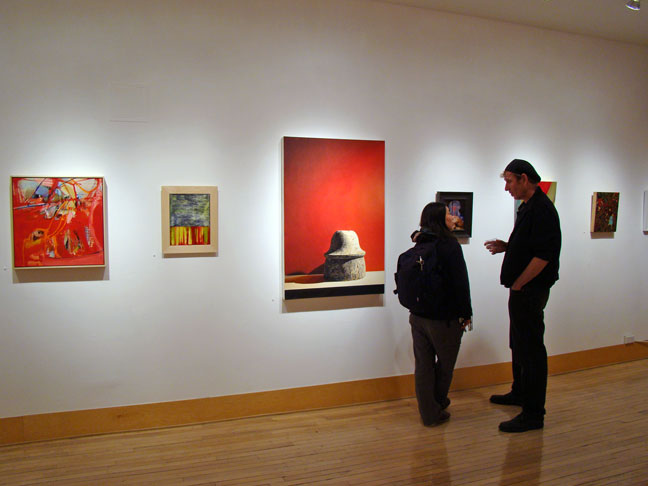 And another from red art group show at Toomey Tourell Gallery.


***
Ever think about flipping a little of that saved gas or BART or MUNI money my way? It's never too late to DONATE.
***
First Thursday - January 6, 2011.
First Thursday - First Thursday - December 2, 2010
***