***
Needles & Pens: Bought & Sold in San Francisco.
Artists: Chris Johanson, Jay Howell, Russ Pope, Mike Myers, Chris Yormick.
Comment by AB: From Mission School patriarch, Chris Johanson, to recent LA transplant, Jay Howell, this righteous group show crams Needles & Pens walls with the good stuff. Special added bonus-- signed numbered print by Russ Pope for a measly five bux.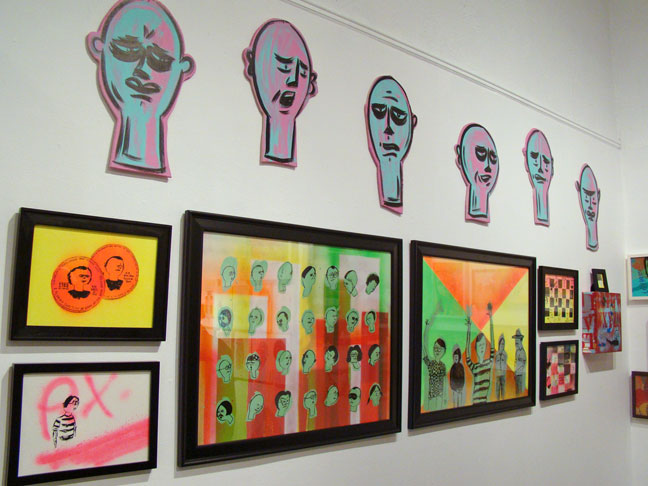 Art by Russ Pope.


Ultra-affordable art by Russ Pope.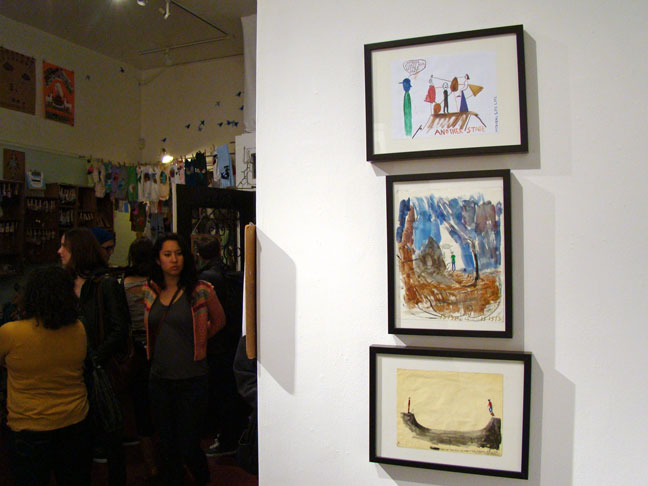 Art by Chris Johanson.


Mike Myers art.


Art by Jay Howell.


***
Soap Gallery: Wasteland.
Artists: Ross Campbell, Robert Burden, Matt Cella, Julumarie Joy Cornista, Mike Decker, Amir Esfahani, Adam Hartman, David Horton, Carrie Hott, Jeremiah Jenkins, Tom Mueske, Neils Neilson III, Anthony Record, Kristen Roberts, Renetta Sitoy, Niki Shapiro, Ben Venom.
Comment by AB: According to the dossier, "'Wasteland' recreates a fictional space reminiscent of the emo-bedrooms and basement dens of suburban adolescence." According to me, I have absolutely no idea what's going on at this campy clambake. One thing for sure-- they didn't leave anything out.
Art.


Art.


I dunno. You tell me.


Art.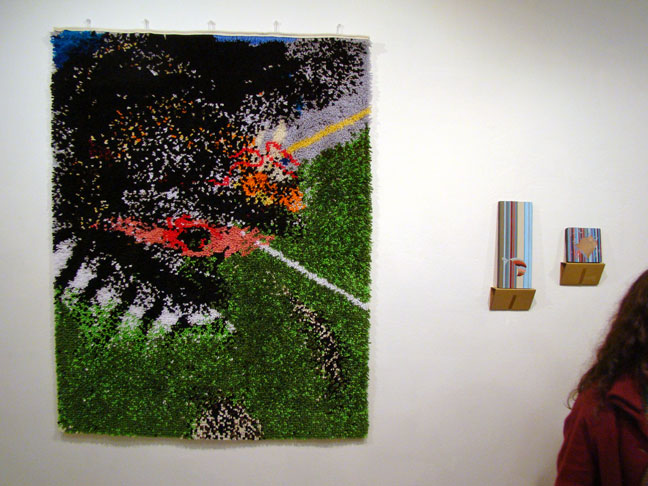 Art.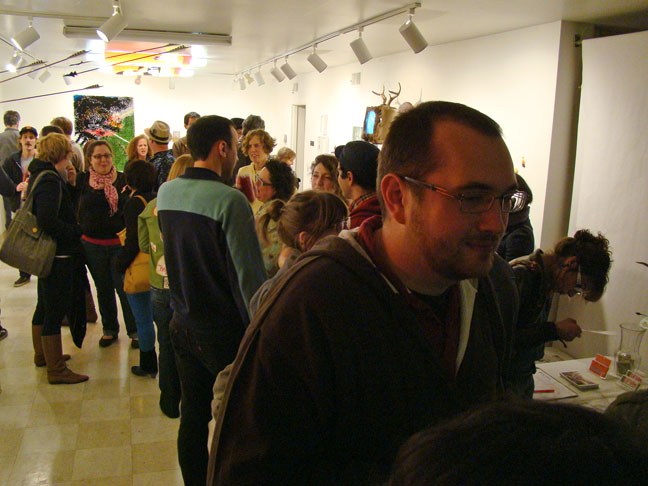 Demographics.


***
Gallery Hijinks: Kaleidoscope Eyes - Sebastian Wahl.
Review by RWM: Beautiful symbology, not necessarily personally moving, but you can't help but be amazed at the psychedelics. Icons and features abound. The works appear to be collaged images taken from glossy magazines. Your eyes will surely scrutinize every element of these conglomerate creatures; fantasies that make for great mind candy.
Comment by AB: Sebastian Wahl's well conceived and executed collages consisting of cut paper embedded in hi-gloss resin make for some pretty wild-eyed viewing. Nicely done.
Collage art by Sebastian Wahl - kinda like it.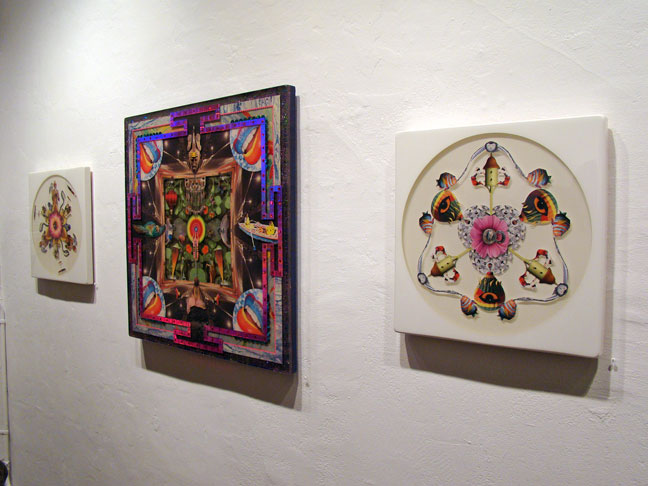 Sebastian Wahl art.


Pinkie cam detail of Sebastian Wahl art on right in above image.


Art by Sebastian Wahl.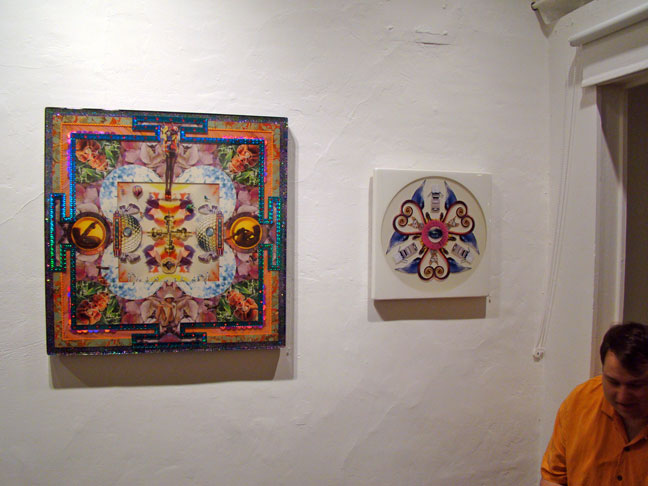 Sebastian Wahl collage art at Gallery Hijinks.


***
Arc Studios & Gallery: The Guerrilla Show - Join the Revolution.
Comment by AB: Affordable art by bevies of Bay Area artists at this serve-yourself jumble. Buy it, pull it down off the wall, take it on home.
Art.


Art.


Art.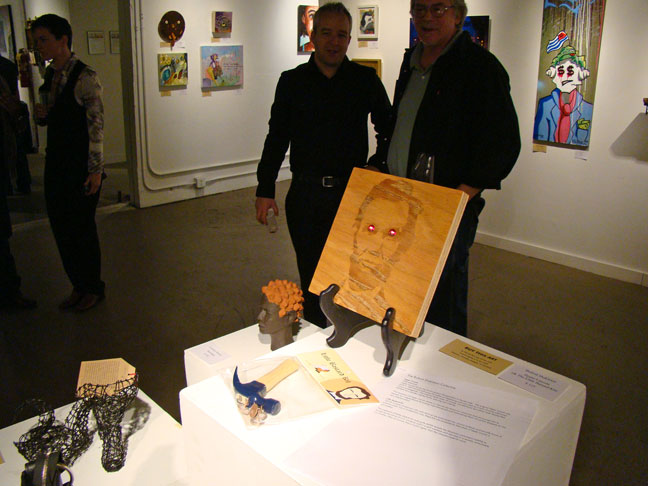 Blinking Lincoln art.


The Guerrilla Show art at Arc Studios & Gallery.


***
Double Punch: Inherent Traits.
Artists: Martin Ontiveros, Steve Seely, Mia Christopher, Patrick Kyle.
Comment by AB: Quality small works, reasonably priced, by four local talents.
Art by Steve Seely.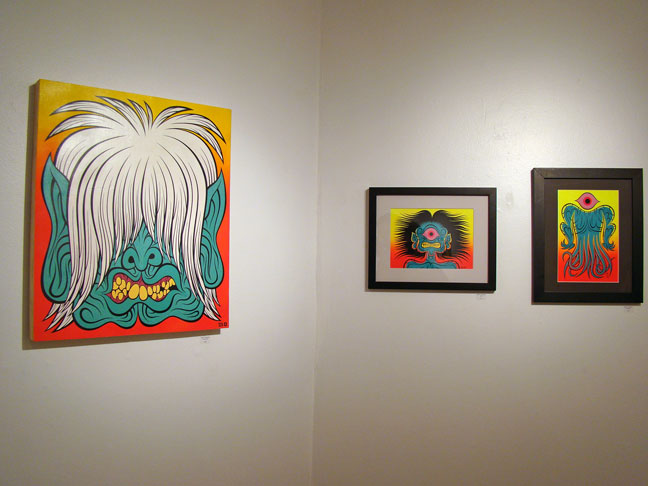 Martin Ontiveros art.


Art by Mia Christopher.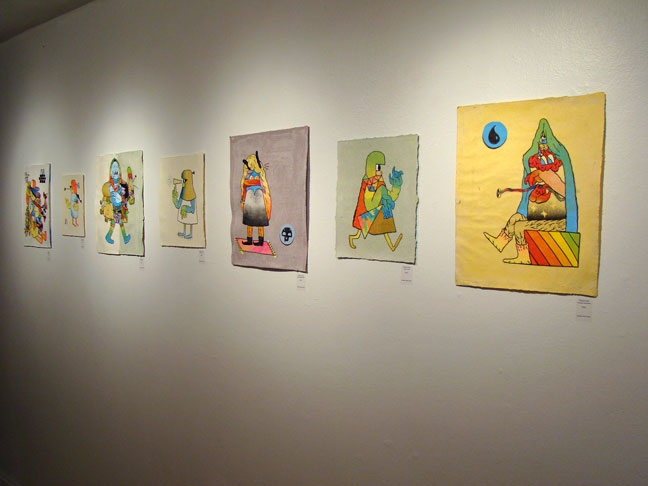 Art by Patrick Kyle.


***