SF ARTS COMMISSION - THE LAB - NEEDLES & PENS

BELLJAR - JELLYFISH - SEVENTH SON TATTOO

02.12.10

(with assistance from Sandra Silvoy)


***
San Francisco Arts Commission Gallery: Chain Reaction 11.
Artists: Ginger Wolfe-Suarez, Lordy Rodriguez, Walter Logue, Alexander Cheves, Paul Clipson, Christine Wong Yap, Pablo Guardiola, James Tantum, Enrique Chagoya & Kara Maria, Justine Lai, Emily North, Angie Wilson, Desiree Holman, Joshua Churchill, Jasmin Lim, Cameron Soren, Judy Moran, Michael Arcega, Suzanne Husky, Amy Balkin, Kamau Amu Patton, Chris Bell, Elaine Buckholtz, Floor Van Herreweghe, Abby Chen, Hui-Ying Tsai, James S. Kang, Scott Polach, Rupert Jenkins, Gabriela Hasbun, Karna Kurata, David Paul Morris, Kari Orvik, Robyn Twomey, James Chiang, Josh Kirschenbaum.
Comment by AB: The basic idea is that ten artists are selected by a group of "advisors, curators and luminaries," then those artists select ten more artists, and those artists select ten more artists. And that's the gist of the docket, I think. Highlights include cartographic fantasies by Lordy Rodriguez and a lush fabric fantasy forest by Suzanne Husky. Also of note-- Walter Logue's slender elemental painted wood sculptures and a curious behind-and-under-door sound/light installation by Joshua Churchill. Plus-- surprise, surprise-- several pieces of naughty art which definitely walk the line. Worth a perusal.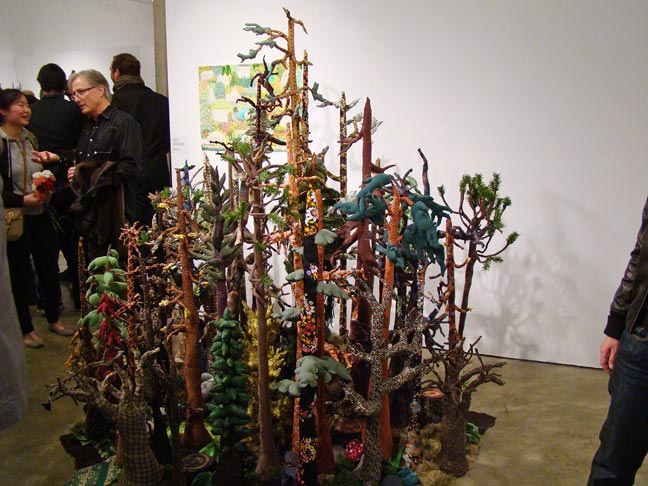 Fabric forest art by Suzanne Husky (like it).


Fabric forest art by Suzanne Husky closer.


Art by Walter Logue (kinda like it).


Art by Walter Logue closer.


Naughty art.


Subtler naughty art.


Art.


Art.


Under door light & sound art by Joshua Churchill.


Cartography art by Lordy Rodriguez.


Libation station.


***
The LAB: Alternorthern. Curated by Kevin Bertram and Jason Gowans.
Artists: Sonny Assu, Valerie Boxer, Vincent Chevalier, Brendan Fernandes, Jenny Gag, Michael Love, Jon Sasaki, Until We Have a Helicopter, ZoŽ Yuristy.
Comment by AB: Engaging display of work by emerging artists from Canada-- the show to run concurrent with the Vancouver Olympics. The deer/swimming pool/shotgun installation is particularly intriguing, as is a vertical sliced up canoe sculpture. And more. Stop by; you won't be disappointed.
Deer/shotgun installation art (kinda like it).


Soldiers in bags art.


Soldiers in bags art closer.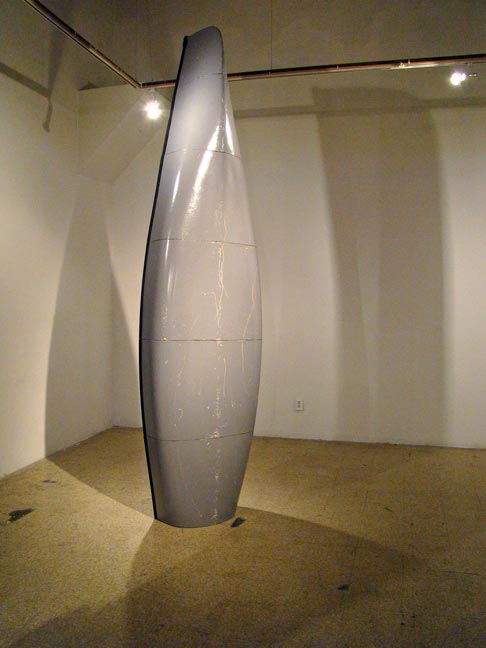 Sculptural canoe art (nicely done - the backside's good too).


Art.


Sloppy lipstick video art.


Art.


Photography.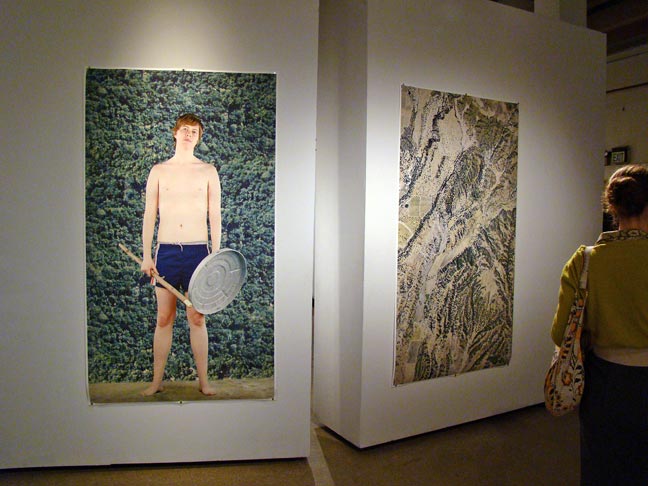 Photography.


***
Needles & Pens: Maximum Rock 'N' Roll Issue #321 Zine Release.
Photographers: Larry Wolfley, Matteus Mondini, Ricky Adam, Diago Oliva, Helge Schrieber, Tiger Lily, Canderson, Kandi Cook, Chriss Piper, more
Comment by AB: Maximum Rock N Roll releases a photo survey issue recapping its more than quarter century in continuous publication, and featuring the work of more than 75 photographers.
Larry Wolfley and his rock n roll photographs.


Rock n roll photography.


Maximum Rock N Roll photos, mags and schwagabilia.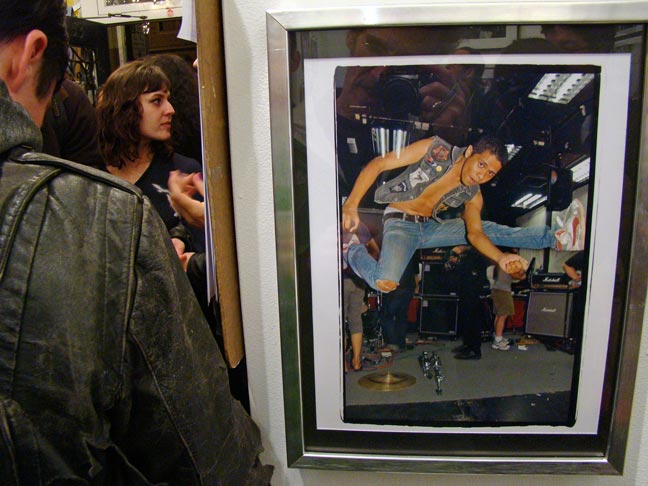 Rock n roll photo in above image closer.


Rock n roll photography.


***
BellJar: Lafe Eaves & Alex Steele - Missed Connections.
Review by Sandra Silvoy: Bengal tigers coexist with skulls, crystals and patternwork in this dual artist exhibit. Las Vegas bengals meet 1970's documentary Grey Gardens in Alex Steele's work of take-home-sized proportions. Ties are cut with domesticated life, and nature prevails as momma tigers prowl lush jungle vegetation with a new freedom. Steele purposes pale liquid acrylic on mylar and collagework to accomplish her narrative. While on the more mythical side of nature, Lafe Eaves intricately pens animals and their remains amongst starry micron patterns edging crystals of multiplicitous means. These larger works on paper demand a closer look.
Comment by AB: The intensely intricate and accurate visionary inkwork of Lafe Eaves is impressive enough, but better yet, he's capable of some commendably cohesive and good-sized compositions. Like 'em.
Art by Lafe Eaves (like it).


Pinkie cam detail of art in above image by Lafe Eaves.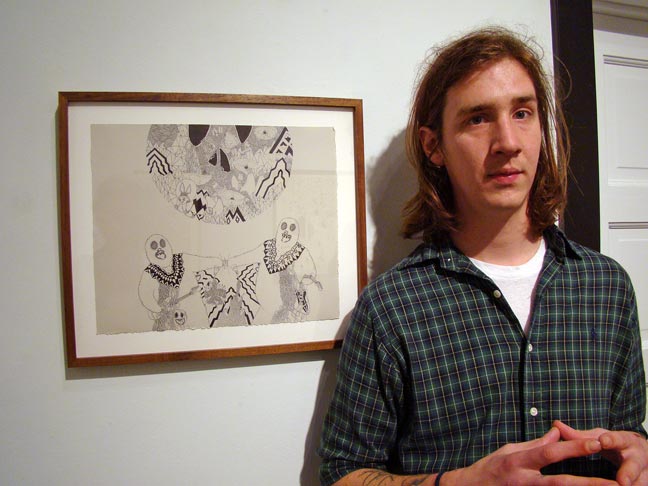 Lafe Eaves and his art.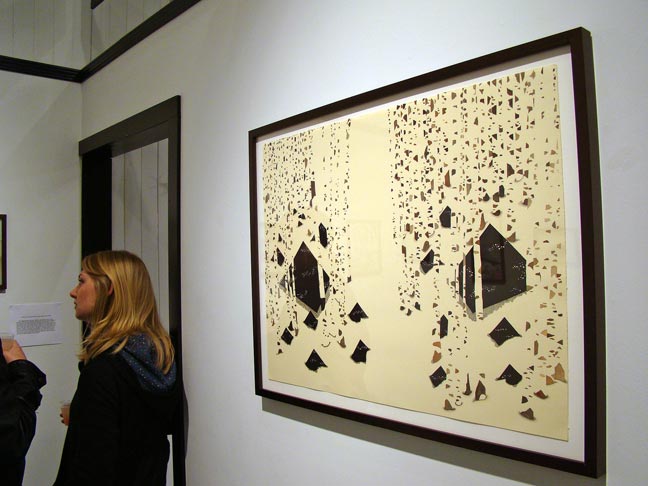 Art by Lafe Eaves (kinda like it).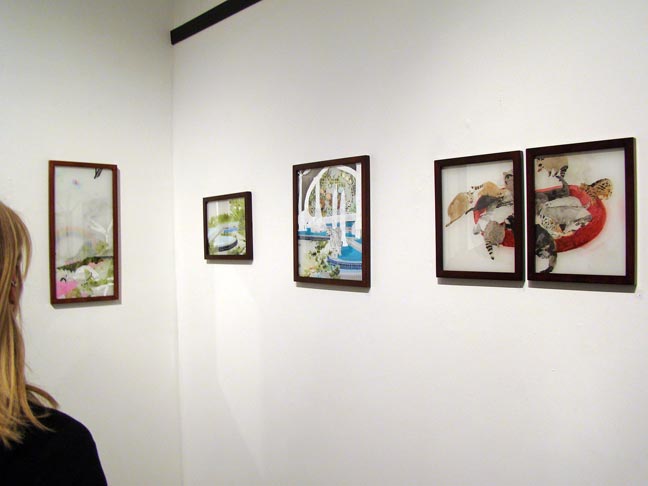 Art by Alex Steele.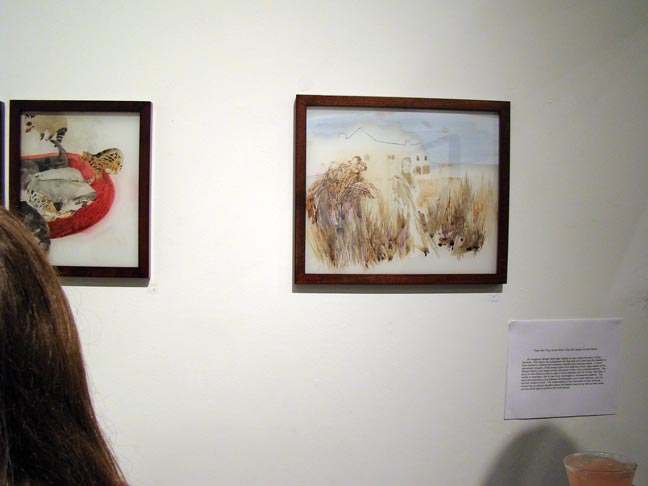 Art by Alex Steele closer.


***
Jellyfish Gallery: Clowns, Dead People, and the Theater - Fifty-two paintings by Douglass Truth.
Comment by AB: Grass Valley artist Douglass Truth tells me he first set brush to canvas in 1998, and since then, he's not only finessed a distinctly individual style, but also evolved a delightfully homespun and versatile repertoire of self-expression, particularly his paintings of interiors. Sorta kinda like 'em. Priced relatively reasonable too.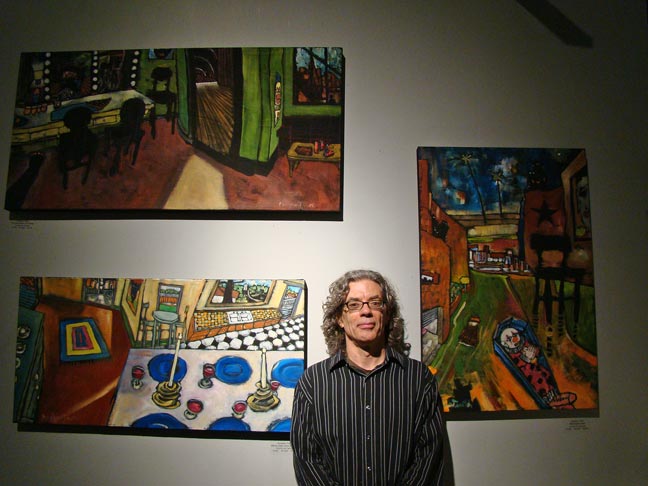 Douglass Truth and his art.


Paintings by Douglass Truth.


Art by Douglass Truth.


***
Seventh Son Tattoo: Seventh Son Tattoo Art Show.
Artists: Erik Rieth, George Campise, Gordon Combs, Lango, Steel, Joe Larralde, Luke Stewart, Joey Armstrong, Nick Chaboya, Yutaro, Reyes, Joel Baca, Jason Kundell, Jeff Croci, Shawn Barber, Amanda Lynn, Jeff P.
Comment by AB: Energized urban ethos collides with ink and body art culture here at Seventh Son Tattoo.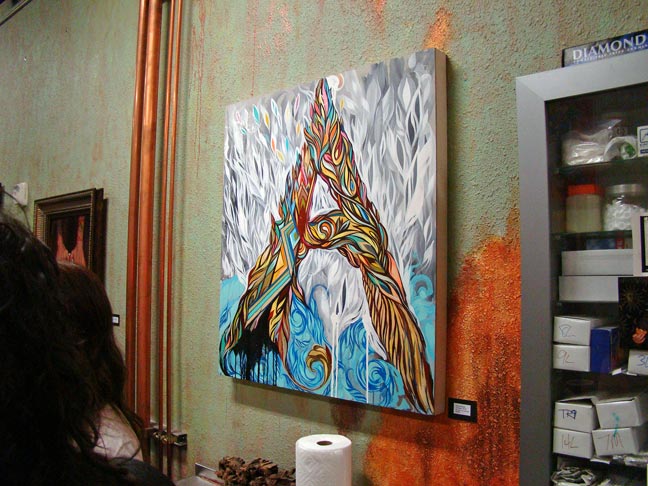 Art by Reyes.


Art.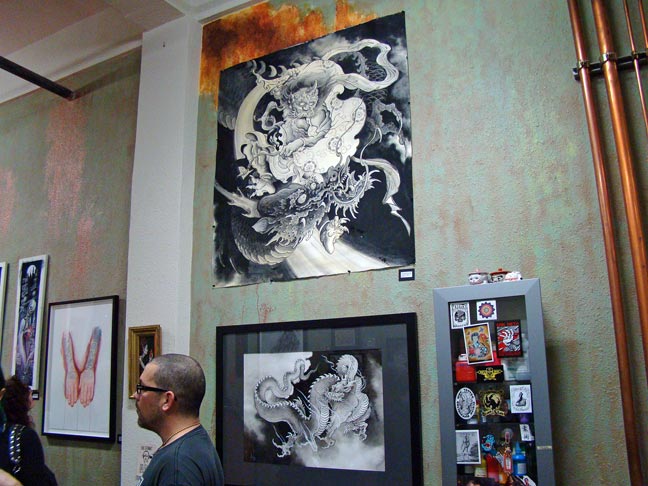 Art.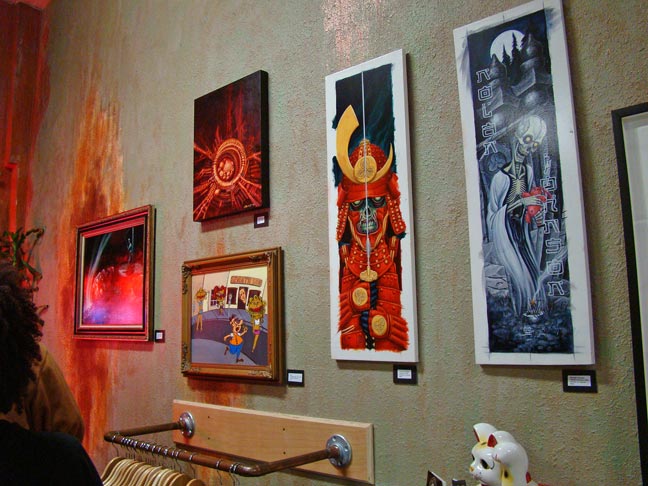 Art.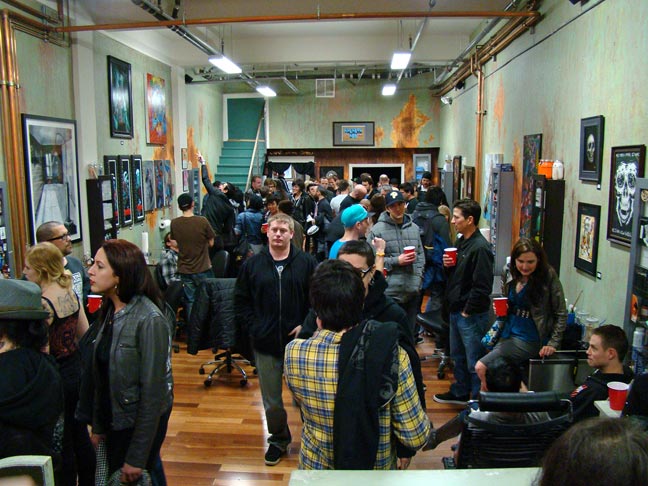 Demographics.


***