***
San Francisco Center for the Book: MAIL / ART / BOOK. Curated by Jennie Hinchcliff and John Held Jr.
Review by RWM: Amazing ingenuity and creativity on display. All sorts of artists and others have put wonderful things in the mail to each other. Great show which provides a venue for all types of art. No one is classed out in this exhibit.
Comment by AB: The mail art micro-culture and its first cousins, artist books, zines and periodicals, are alive and well in this combination retrospective and ongoing saga. Seems like many of the areas high-profile proponents of the discipline are in attendance here tonight. This extensive, dense and international carnival for the eyes is definitely worth seeing.
Mail & book art extravaganza at San Francisco Center for the Book.


Boxes of mail art that anyone can flip through.


Make your own mail art, complete with ersatz stamps.


Cuan Miles mail art from South Africa.


Book art by Eiichi Matsuhashi, Japan.


Vintage books and zines by (L-R) Tim Mancusi & Monte Cazazza.


Vintage periodical art by Anna Banana.


Mail art by Lisa Young, center front.


L-R, mail art by Rodni & Pamela Gerard.


L-R, mail art by April Guenther & Tina Whittmer.


Vintage publications from the Steven Leiber collection.


Vintage artist books & zines from La Mamelle, Western Front, others.


Artist book, mail art from Quite Contrary Press, right.


Mail art from Dame Mailarta, Canada.


***
SOMArts Gallery: ON THE EDGE 4, Erotic Photography Exhibition.
Artists: Gregory Prescott, Rachel Levine, Peter Keresztury, Retrotie, Images by Yancy, Ronnie Olson, Paul Johnson, Michael Rosen, Craig Scoffone, Marshall Bradford, Chris Madsen, jLee joSon, David Steinberg, Vlad Kenner, Milan Sabata, SameSource, Chi Lum - Rue99 Studios, Tywest Videos, John Stekl, iPhoneographyPorn, Z. Maitri, Sarah Elise Abramson, RelishPhoto, Eric Stampfli.
Comment by AB: In celebration of Valentine's Day, a number of the area's more accomplished erotic photographers trot out their best stuff, ranging from tasteful to outrageous, quite a bit of which I'd love to show you, but I can't. Guess you'll have to wait 'til On The Edge 5 next February 14 to see what I'm talking about. But in the meantime, I can show you this...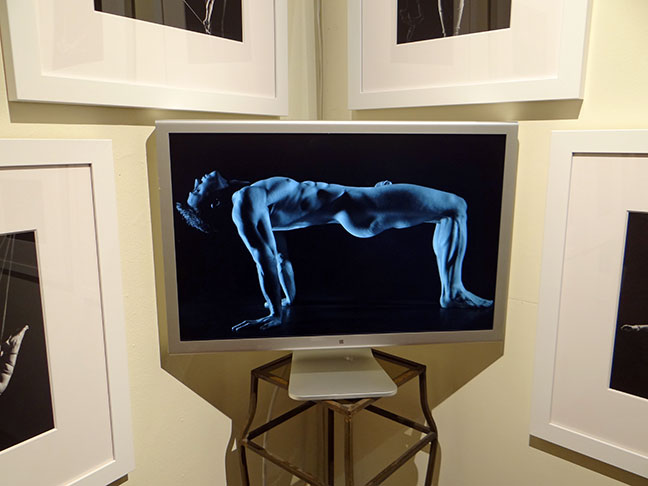 Video art by jLee joSon at SOMArts Gallery On The Edge 4 erotic photo show.


Photography by Tywest (sorta like it).


Tywest photography closer - kind of a female version of Gulliver.


Paul Johnson is THE undisputed major domo documentarian of San Francisco's golden age of porn and its superstars way back there in the 60s and 70s. He tells me he's got a stash of over 100,000 images, most of them unapologetically graphic. I love his stuff; he's the best.


One of the few Paul Johnson photos I can show you.


Holographic erotica by Ronnie Olson.


Photography by SameSource.


SameSource fetish model fields inquiries from the fan base.


Fetish photography from Yancy.


Photograph by Chi Lum - Rue99 Studios.


Eric Stampfli photographs.


Motion photography by Michael Rosen.


Fetish photographs by Retrotie.


iPhoneographyPorn photography plus lollipop platter.


Left aisle at SOMArts ON THE EDGE 4 group erotic photography exhibition.


Right aisle at SOMArts ON THE EDGE 4 group erotic photography exhibition.


***