***
White Walls & Shooting Gallery: Elite Rebels - Chad Hasegawa; Les Clochards Célestes - Adele Renault; History Factory - Adam Caldwell; An Even Eleven.
Artists from the Even Eleven show: Eine, Sten & Lex, David Soukup, Vhils, Duncan Jago, Andrea Heimer, Anthony Lister, Casey Gray, Cleon Peterson, Bec Winnel, Adam Ziskie, Tes One, Mary Iverson, Niels Shoe Meulman, Victor Castillo, Marco Rea, Amanda Marie, Meryl Pataky, Ernesto Yerena, Greg Gossel, Jeremiah Kille, Remi Rough, Mark Warren Jacques, Lauren Napolitano, Mike Shine, Melanie Alves, Kelly Tunstall, Ted Lincoln, Ferris Plock, Word to Mother, Brock Brake, Spencer Keeton Cunningham, Rone, Poesia, Charmaine Olivia, David Marc Grant, Ben Clarke, Dan Tague, Faith 47, Chazme, Helen Bayly, Apex, Peter Gronquist, Mike Davis, C215, Robert Christian Malmberg, Sergio Garcia, C3, Porkchop (Michael Lavalee), Mauricio Garrido, the Clayton Brothers, Yumiko Kayukawa, Joseph Martinez, John Felix Arnold III, Sergio Lopez, Justin Kerson, Jon Fox, Cope 2, Pixel Pancho, Indie 184, Cyrcle, Low Bros.
Comment by AB: This month's creative escapades at the urban art megastore include a group show in the front and side exhibition spaces celebrating the gallery's eleventh anniversary, Chad Hasegawa paintings and sculptures in the center space with a monumental homage to his father on the back wall, Adele Renault's impressive portraits of Tenderloin denizens in the right side project room, and in the left project room, Adam Caldwell's painterly tableaus combine elements of the past, present and seminal events in stunning and unexpected ways.
Art by Chad Hasegawa at White Walls & Shooting Gallery.


Chad Hasegawa & his portrait of his father in above image closer.


Sculpture by Chad Hasegawa.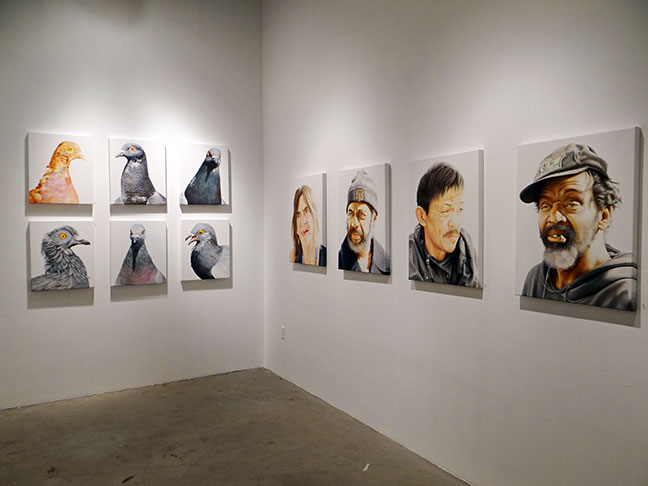 Tenderloin residents art by Adele Renault.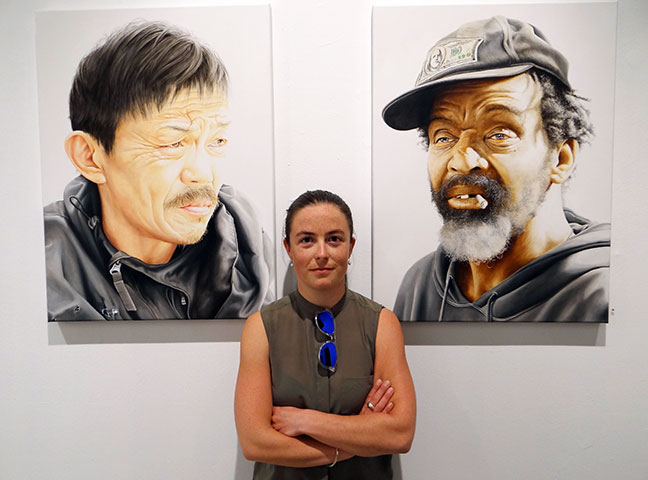 Adele Renault and her art above closer at White Walls & Shooting Gallery.


Art by Adele Renault.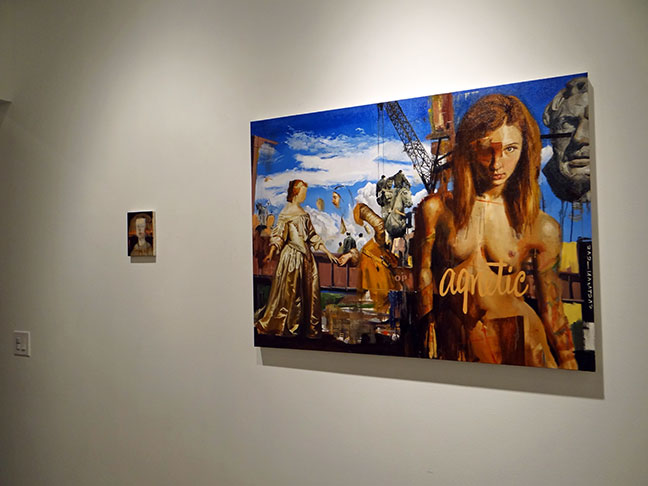 Art by Adam Caldwell.


Adam Caldwell and his art at White Walls & Shooting Gallery.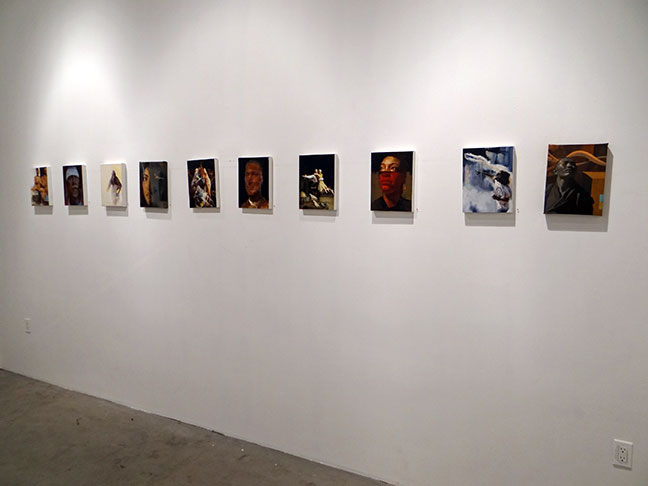 Small format art by Adam Caldwell.


Adam Caldwell art in above image closer.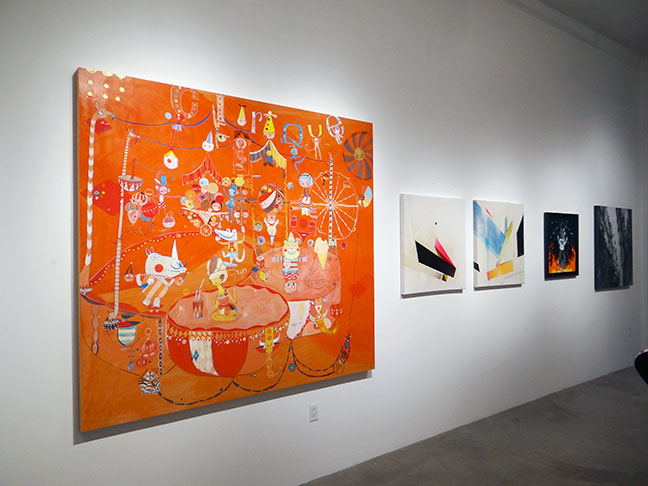 Nice piece of work by Ferris Plock & Kelly Tunstall, left.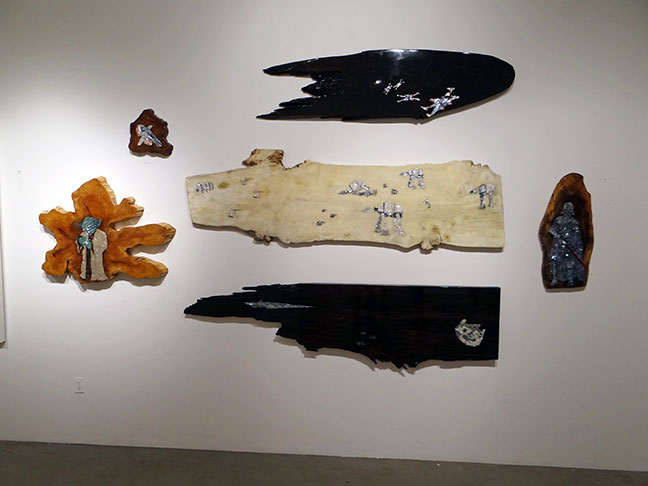 Wood inlaid with mother of pearl Star Wars characters by Ted Lincoln.


Ted Lincoln art in above image closer.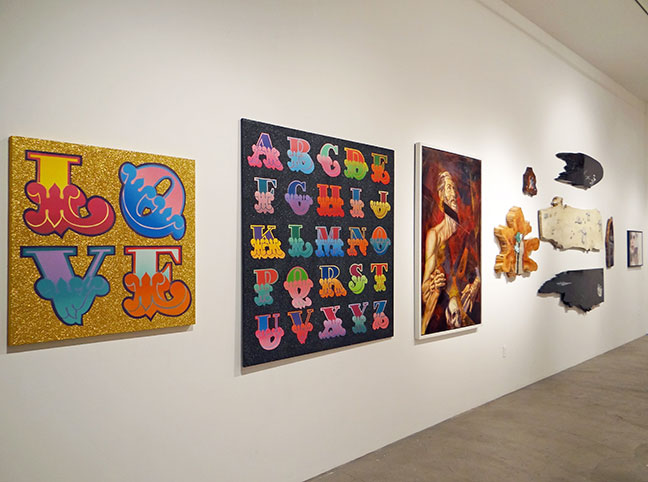 Art by Eine (two on left).


Small works by David Marc Grant (right), skeleton sculpture by Porkchop.


Circumstance - all kinds of art at White Walls & Shooting Gallery.


***
Park Life: Folding the Blanket of Time.
Artists: Sarah Hotchkiss, Courtney Johnson, Maysha Mohamedi.
Comment by AB: Work by three San Francisco artists-- colorful minimalist sculptures by Sarah Hotchkiss, several appealing paintings by Courtney Johnson that could be construed as folded blankets (thereby meshing with the show's title), and Maysha Mohamedi going abstract primitive (or maybe meta-modern... it's difficult to tell these days).
Three-person show at Park Life.


Folded fabric art by Courtney Johnson.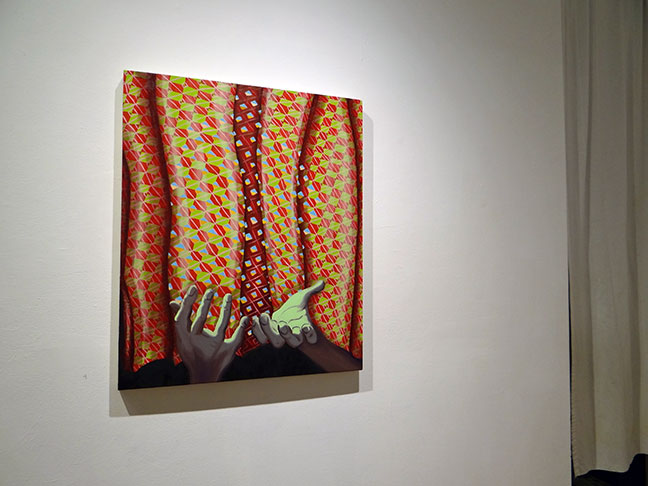 Courtney Johnson art.


Art by Courtney Johnson (I think).


Sculpture by Sarah Hotchkiss.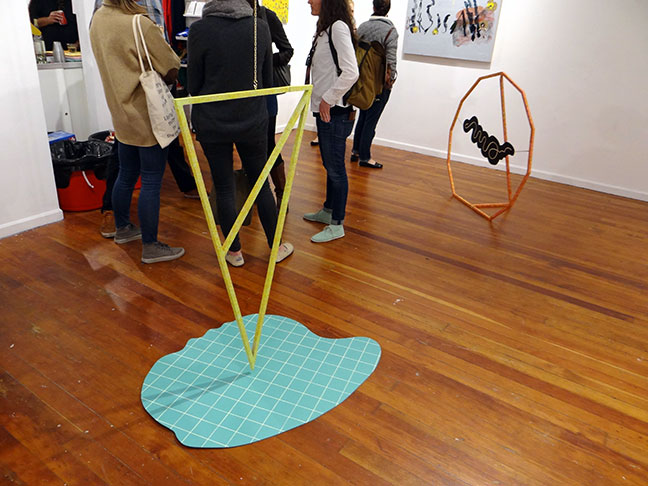 Sarah Hotchkiss sculptures.


Art by Maysha Mohamedi.


***
1AM Gallery: A Major Minority. Curated by Poesia.
Artists: 108, 2501, O.Two, ABCDEF, Alex Kuznetsov, Alex One, Alexander Becherer, Alexey Luka, Amandalynn, Antistatik, Arnaud TRBDSGN Liard, Askew, Basik, Bezt, Blaqk, Blo, Boe, Bom.k, Borondo, Cain Caser, Christopher Derek Bruno, Clams Rockefeller, Col, Collin Van Der Sluijs, Corn79, Dame, Dana Woulfe, Deams, Debens, Defer, Dem189, Demsky, Dime, Djae, Does, Drew Tyndell, Drew Young, Duncan Passmore, EKG, Estria, Etnik, Evgeniy Dikson, Faust, Felipe Pantone, Franco Jaz Fasoli, Gilbert1, Graphic Surgery, Hellbent, INO, Jay Paavonpera, Jaw, Jerry Inscoe, Jurne, Kan, Karlos Carcamo, Katre, Kema, Ken Davis, Kidghe, Kwest, Legz, LX One, Mac1, Mags, Martina Merlini, Matt W. Moore, Max Rippon, Mes, Mike Bam, Moneyless, Morik, Nawer, Nelio, Nibor Reiluos, Nmph, Pener, Petro,Poesia, Proembrion, Rafael Sliks, Romi, Rubin, Sainer, Samuel Rodriguez, SatOne, Scott La Rockwell, See One, Seikon, Sepe, Silvio Magaglio, Slicer, Slick, Sowat, Spé, Stendec, Stephen Holding, Swiz, Thiago Toes, Thomas Bestvina, Thomas Canto, Tobe, Todd Mazer, V3rbo, Vesod, Vincent Abadie Hafez Zepha, Wais, Wane, Xuan Alyfe.
Comment by RWM: So much on display here. It is amazing. Nice diversity of images. All sorts of subject matters to respond to.
Comment by AB: An exceptionally dense international survey of urban art by over 100 artists from 20 countries.
The basic idea. Poesia curates oodles of art at 1AM Gallery.


Art by Christopher Derek Bruno, two upper right.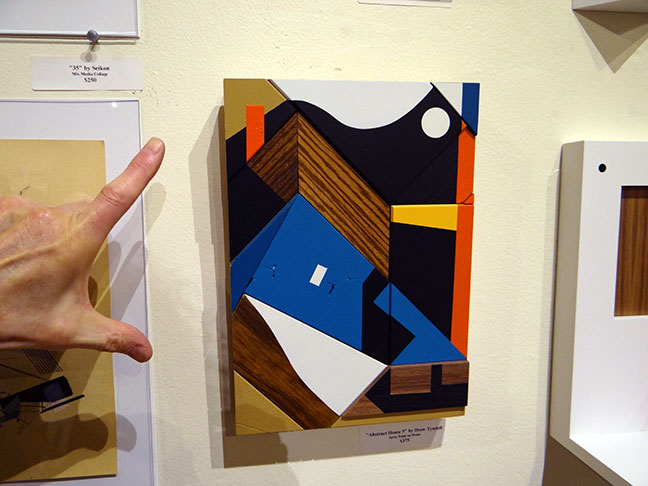 Cut painted wood collage by Drew Tyndell in above image closer.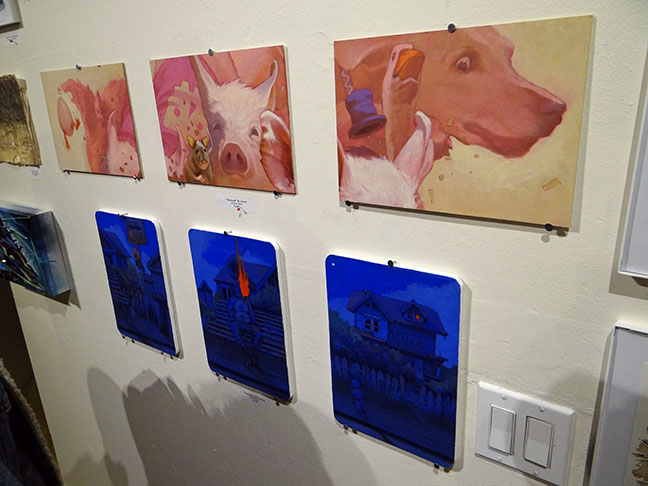 Art by Sainer (upper row) - Bezt (lower row).


Bezt art in above image closer.


Art by Drew Young.


Wall sculpture by Kwest.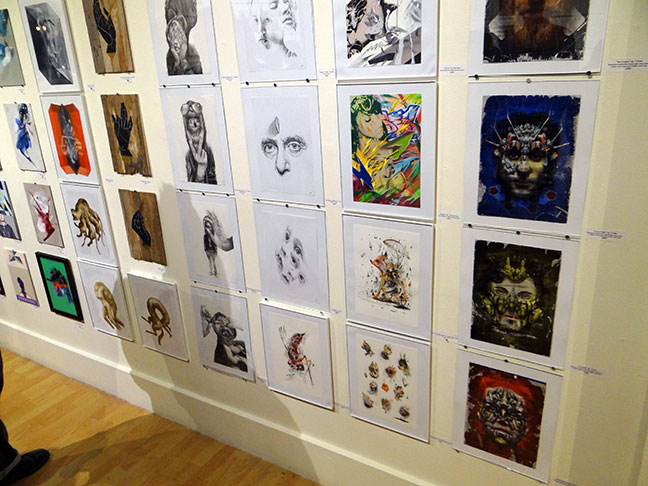 Art by V3rbo, right.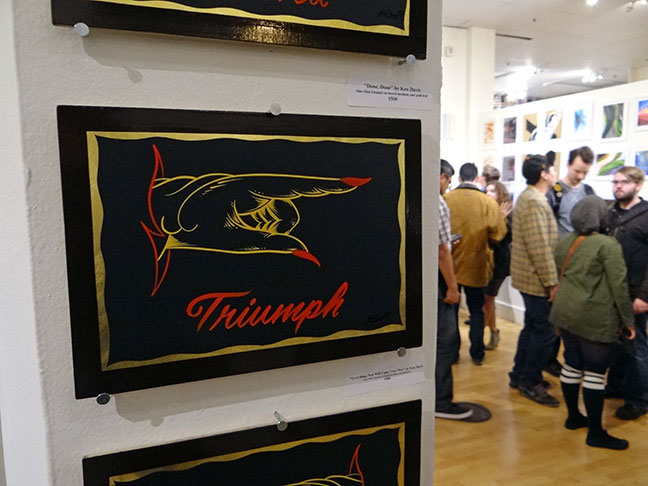 Ken Davis art.


Art by Bom.k, center.


Automobile photography by Scott La Rockwell.


Art art everywhere - international group show at 1AM Gallery.


***