***
Alter Space: Wabi Sabi - Impermanence, Imperfection, and the Accidental; Thresholds, Shadow Self - Yulia Pinkusevich.
Wabi Sabi artists: Timothy Armstrong, Alexis Arnold, Jennifer Brandon, Caroline Hayes Charuk, Adam Donnelly & David Janesko, Alicia Escott, Rodney Ewing, Laura Boles Faw, Peter Foucault & Chris Treggiari, Julia Goodman, Clint Imboden, Kim Kei, Kija Lucas, Kent Manske & Eric Kneeland, Nigel Poor, Zachary Royer Scholz, Dimitra Skandali, Claudia Tennyson, Tobias Tovera, Rhonda Weppler, Trevor Mahovsky.
Comment by AB: Pretty much anything goes at this anarchic free-for-all curated (or maybe not) by Microclimate Collective co-founders, Glenna Cole Allee and Victoria Mara Heilweil. Highlights include Clint Imboden's eerie peephole bathroom installation, Yulia Pinkusevich's dimly lit recycled door maze in the basement, a chain of objects plated in aluminum foil, live screen printing on a wall, beaded car tire cozies, and more. Plenty to peruse... and a good bit of it worth perusing.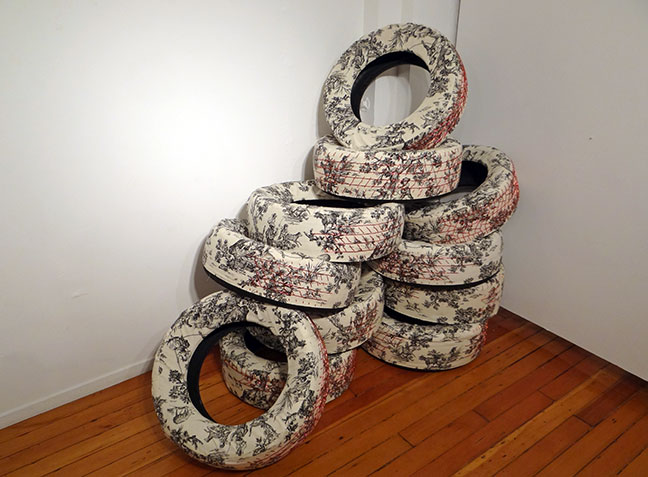 Beaded tire cozy art (sorta like 'em).


Tire cozy art in above image closer.


Woven seaweed art by Dimitra Skandali (nicely done).


Live screen printing on the wall.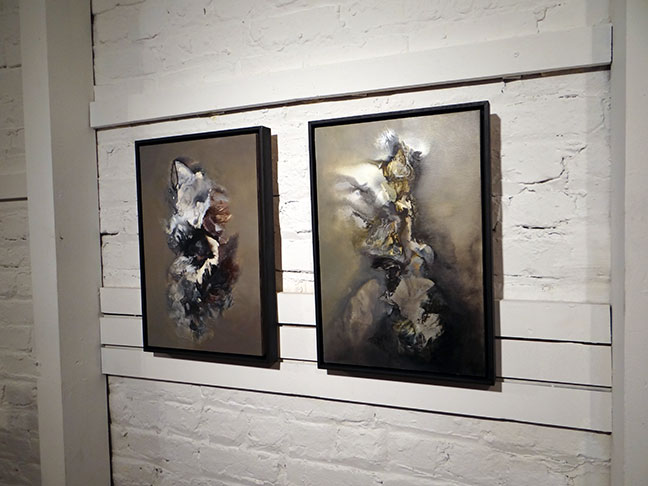 Kinda like these.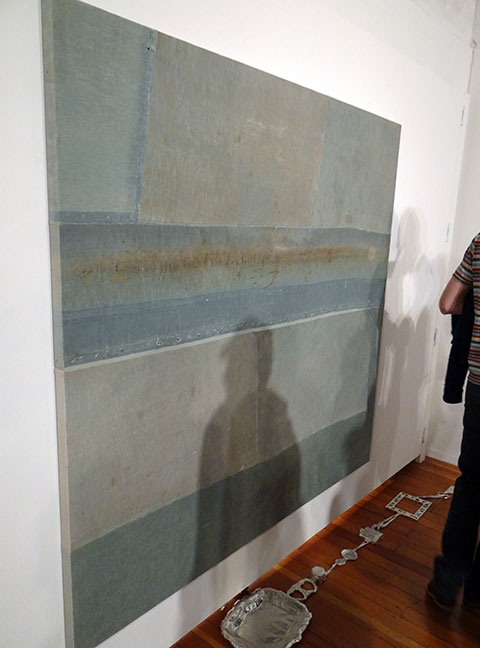 Large stained, colored woven fabric art + foil plated chain on the floor.


Aluminum foil-plated chain art closer.


Clint Imboden bathroom peephole installation.


Inside one of the peepholes - art by Clint Imboden.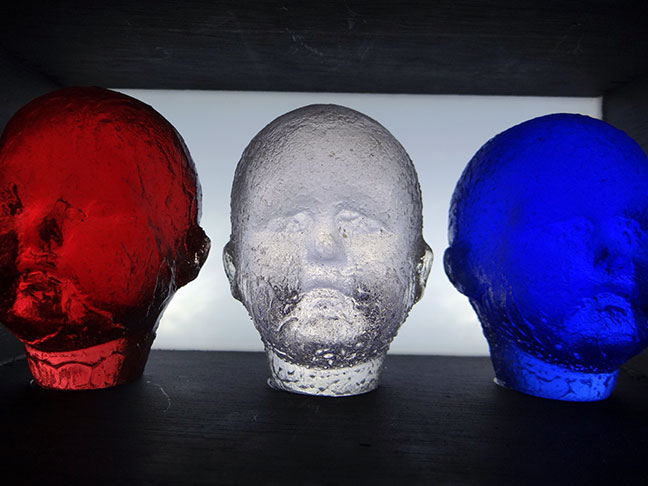 Patriotic baby heads inside this peephole - art by Clint Imboden.


Ceramics.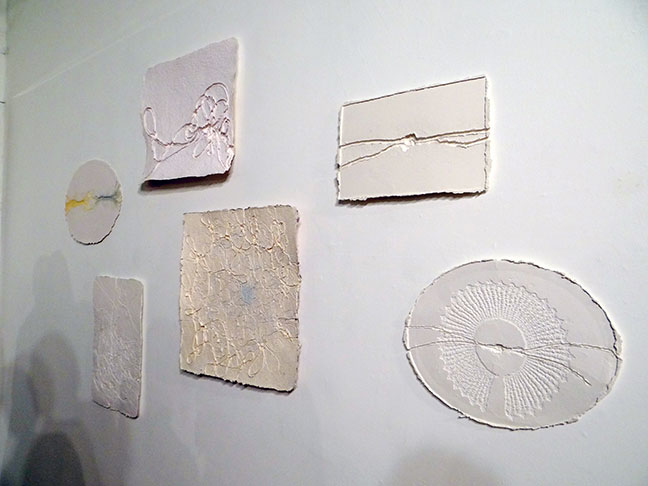 Pressed handmade paper art.


Scientific-esque art.


Basement maze by Yulia Pinkusevich.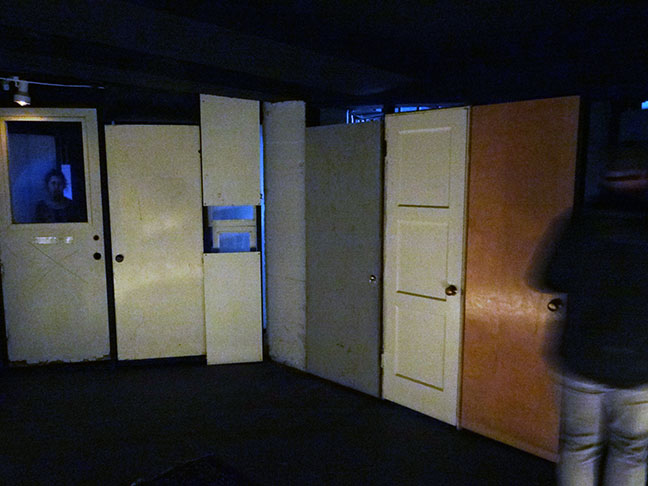 Room of doors by Yulia Pinkusevich - only a couple actually open.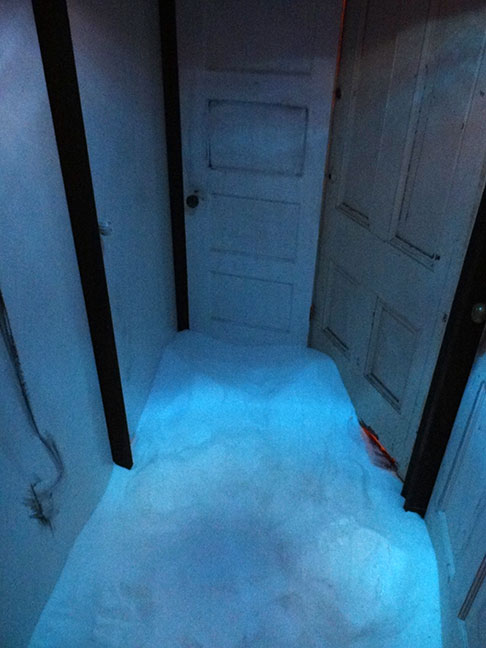 Blue room with a sand floor & many doors; most won't open - Yulia Pinkusevich.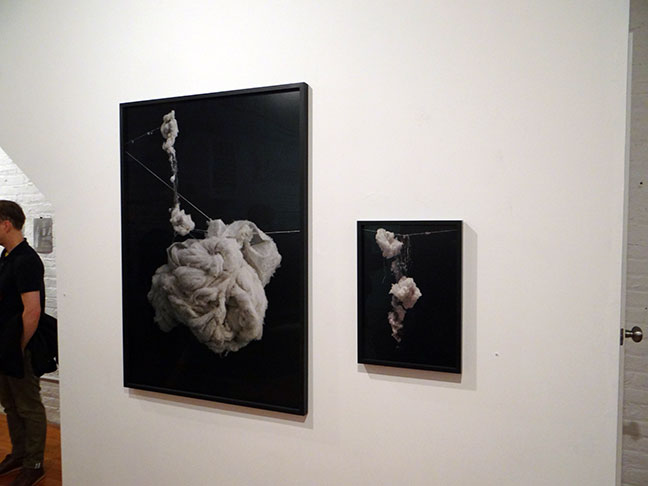 Photography.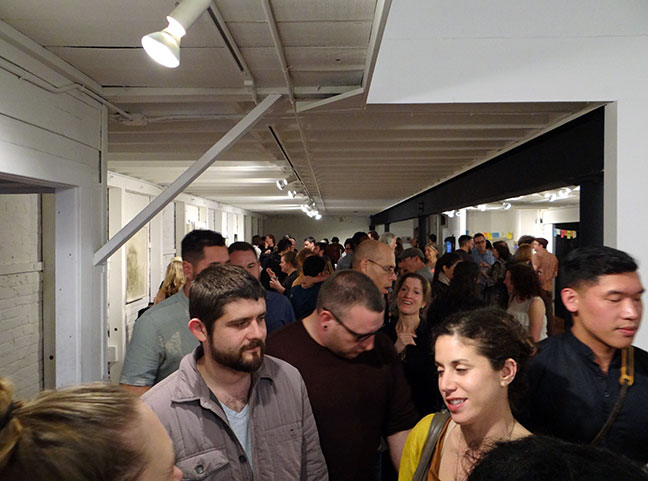 Relative density - group art show at Alter Space.


***
Paul Mahder Gallery: Excavation, Patterns in Time - Martin Facey.
Review by RWM: Interesting templates for what might be a shared spiritual exploration. There is life and soul growing in these encased images. The work evokes the depiction of inspiration. One might identify with this art and go along for the journey, experiencing psychic growth along the way.
Comment by AB: Martin Facey's art is as much about the process as it is about the product. He essentially paints backwards by layering all manner of materials together (such leaves, pieces of blueprints, acrylic paint, fabric, twigs, etc), one on top of the other, onto a heavy-duty piece of plastic wrap, then rolling the mixture up like a strudel, flipping it over and applying it to a panel upside down, last layer first and first layer last. The result? Unique and surprisingly durable organic abstractions.
Art by Martin Facey at Paul Mahder Gallery.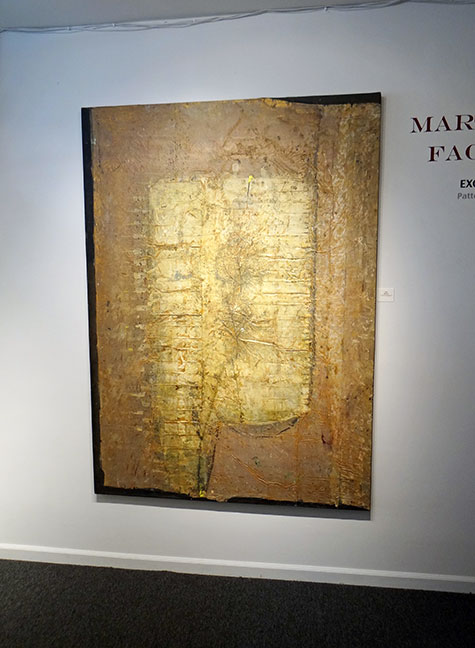 Art by Martin Facey.


Martin Facey and his art in above image closer.


Layered abstract art by Martin Facey.


Pinkie cam detail of art in above image. Note the blueprint.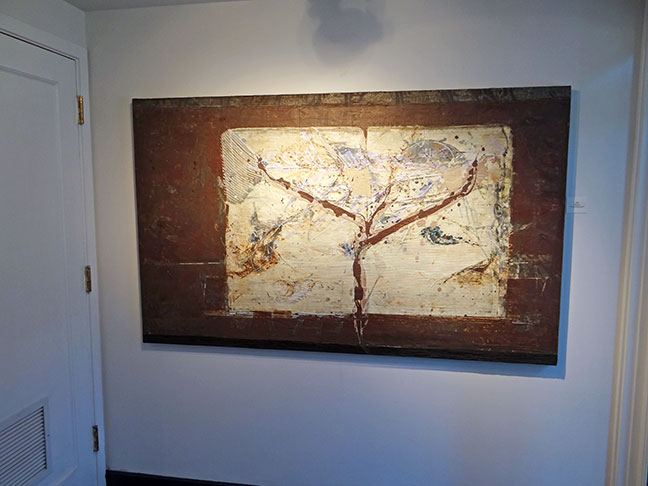 Art by Martin Facey.


Martin Facey art.


Long view - Martin Facey art show at Paul Mahder Gallery.


***
Glass Door Gallery: Triple Play - Ann Simms, Jeffrey Thompson, Joel Jones.
Comment by AB: Amorphous forms by Joel Jones will likely catch your attention here. Also on the docket are deep abstractions by in muted shades of orange and beige Ann Simms and grid works by Jeffrey Thompson.
Art by Joel Jones at Glass Door Gallery.


Joel Jones art.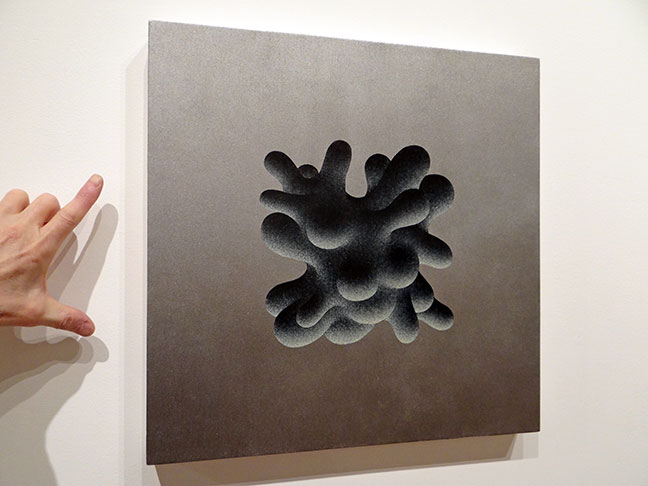 Art by Joel Jones in above image closer.


Jeffrey Thompson art.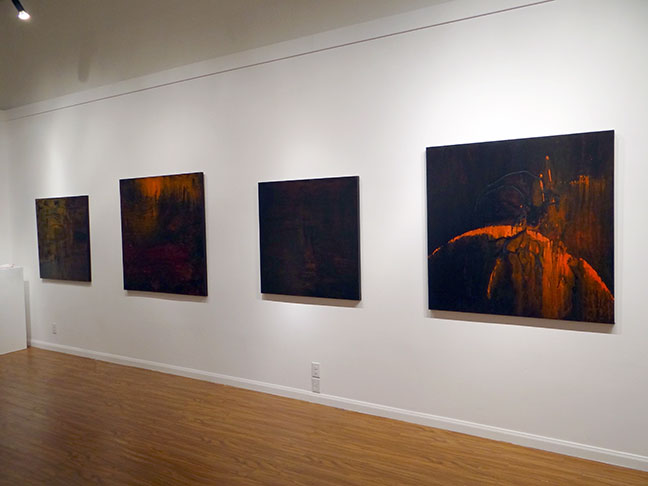 Art by Ann Simms.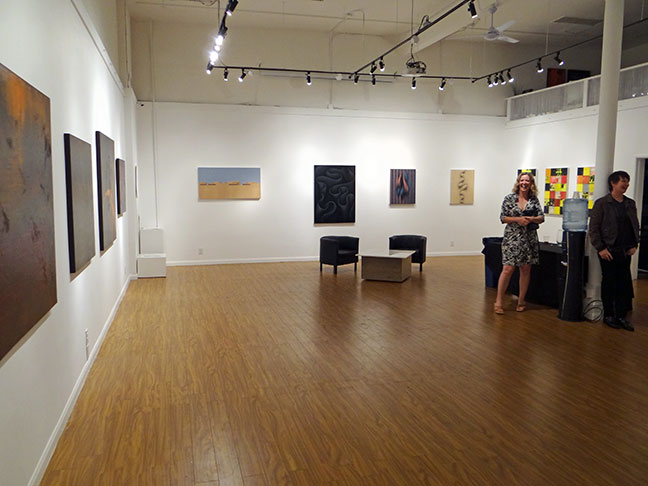 Acreage - group show at Glass Door Gallery.


***