***
George Lawson Gallery: John Millei - Selected Paintings.
Comment by AB: John Millei's bold broad-brush color-rich abstracts distill down into portraits and figures as you take a longer closer look. And when you look closer yet, you begin to differentiate the subtleties of his subjects as well as appreciate the effortlessness with which they are painted. Nicely done and worth a visit.
Art by John Millei at George Lawson Gallery.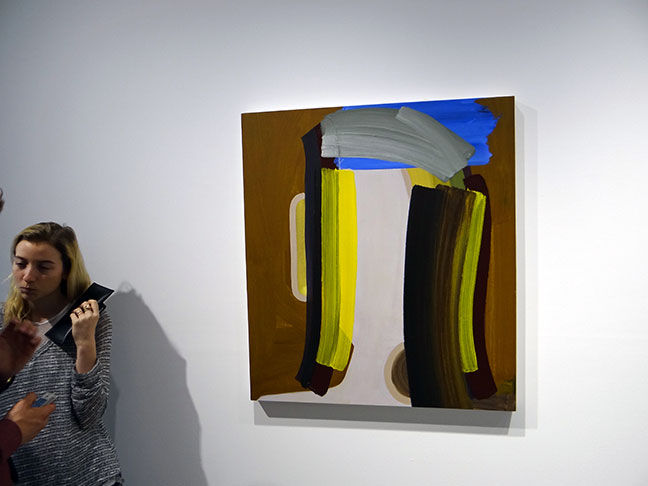 Portrait abstraction by John Millei.


John Millei art.


Art by John Millei.


Art by John Millei.


John Millei art closer.


Atmosphere - John Millei art show at George Lawson Gallery.


***
Luna Rienne Gallery: REC - New Work by Romanowski.
Review by RWM: Beautiful use of wood and materials for art which can't but help display movement. The works are solid, but some of the components have trajectory and associated emotions. Wonderful pieces that startle and invigorate.
Comment by AB: Nobody recycles scrap wood and occasional rusted remnants like Romanowski. Some of his assemblages incorporate plants; practically all of his finishes are natural. The work is polished, professional, precise, and everything fits together like perfectly solved puzzles.
Assemblage art with live plants by Romanowski at Luna Rienne Gallery.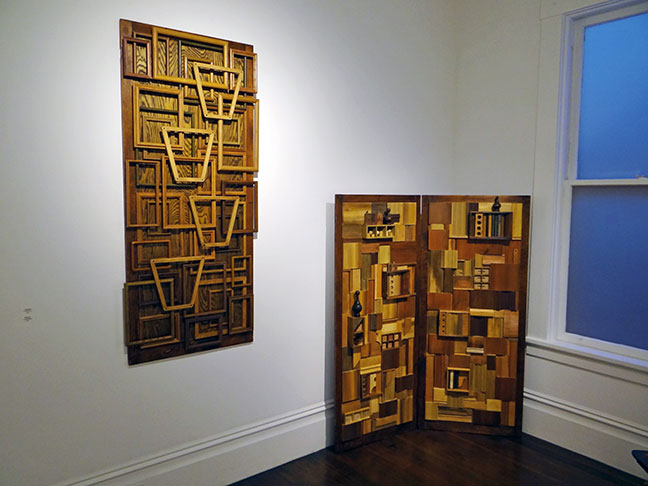 Natural wood remnant art by Romanowski.


Romanowski enjoying the weather out back.


Assemblage art by Romanowski.


Art in above image closer.


Novel use for old piano parts - Romanowski art.


What do you do with old frame pieces? Frame them, of course.


Perfectly assembled assemblage art by Romanowski.


Natural wood remnant art by Romanowski.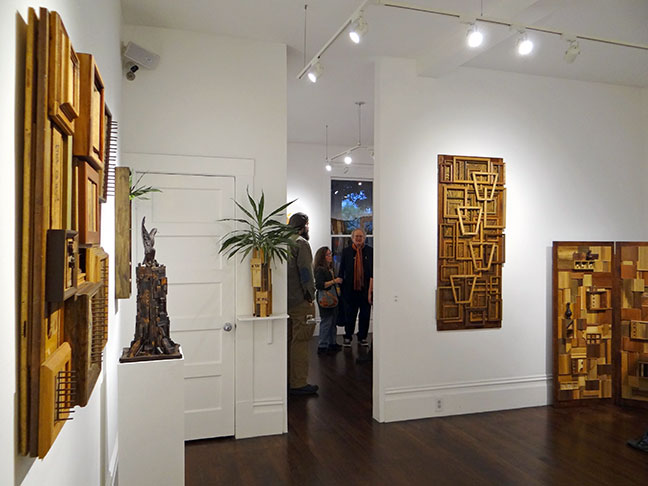 Long view - art by Romanowski at Luna Rienne Gallery.


***
Campfire Gallery: Fractal.
Artists: Francis Berry, Tyler Bewley, Robert Larson.
Comment by RWM: Solid. Profound. Inspired. Interesting Encounters with the abstract.
Comment by AB: People toss away their empty cigarette packs; Robert Larson rescues them and turns them into art. Francis Berry paints and collages recycled paper and painters tape. Tyler Bewley takes us on a calamitous high seas adventure.
Rescued & revitalized cigarette pack art by Robert Larson at Campfire Gallery.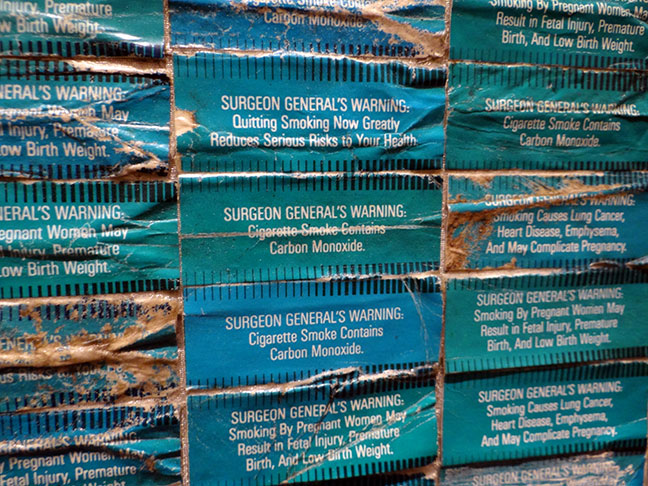 Art by Robert Larson in above image closer.


Collaged discarded cigarette pack art by Robert Larson.


Paper, tape and paint mixed-media art by Francis Berry.


Francis Berry art in above image closer.


Stormy seas art by Tyler Bewley.


Pinkie cam detail of Tyler Bewley art in above image.


Attendance figures - group art show at Campfire Gallery.


***
Southern Exposure: SMOKE & MIRRORS - Southern Exposure's Annual Fundraiser & Art Auction.
Artists: Sarah Applebaum, Michael Arcega, JD Beltran, Leo Bersamina, Libby Black, Lisa K. Blatt, Rebeca Bolinger, Enrique Chagoya, Ishan Clemenco, Sydney Cohen, Adriane Colburn, Randy Colosky, Mary Conrad, Torreya Cummings, Lauren DiCioccio, Chris Duncan, Jeanne Finley, Futurefarmers, Dustin Fosnot, Renée Gertler, Jim Goldberg, Rebecca Goldfarb, Matt Gonzales, Julia Goodman, Veronica Graham, Leonie Guyer, Maggie Haas, Michael Hall, Taraneh Hemami, Dana Hemenway, Cliff Hengst, Jonn Herschend, Lynn Hershman Leeson, Todd Hido , Terry Hoff, Rhonda Holberton, Carrie Hott, Amanda Hughen, Invisible Venue, Greg Ito, Colter Jacobson, Jason Jägel, Packard Jennings, Chris Johanson, Bessma Khalaf, Sahar Khoury, Mary Anne Kluth, Pawel Kruk, Christina La Sala, Tony Labat, Noah Lang , Sarah Loomis, Chip Lord, Cybele Lyle, Nathan Lynch, Whitney Lynn, Mads Lynnerup, Marina Luz, Brett MacFadden, Michelle Mansour, Tom Marioni, Alicia McCarthy, Barry McGee, Anne McGuire, Jim Melchert, Robert Minervini, Ranu Mukherjee, Jeff Morris, Abner Nolan, Shaun O'Dell, Sandra Ono, Jennie Ottinger, Erik Parra, Nathaniel Parsons, Alison Pebworth, George Pfau, Maria Porges, Genevieve Quick, Meghann Riepenhoff, Rigo 23, Lordy Rodriguez, Will Rogan, Thorina Rose, Leah Rosenberg, Paolo Salvagione, Jesse Schlesinger, Erik Scollon, Alice Shaw, Jennie Smith, Sarah Smith, Chris Sollars, Jennifer Starkweather, William Swanson, Charlene Tan, Weston Teruya, Sarah Thibault, Chris Thorson, Amy Trachtenberg, Ben Venom, Andy Vogt, Catherine Wagner, Anne Walsh, Hillary Wiedemann, Jenifer Wofford, Margo Wolowiec, Imin Yeh.
Comment by AB: A select selection of artists donate works to this exceptional annual fundraiser, absolutely crammed with aficionados as always (you really have to think about increasing the size of the venue). Southern Exposure has done and continues to do great work for the San Francisco art community. They keep it fresh and they keep it coming-- ever innovative in their programming, from children to the military, from paintings to performance, you'll find it all here. One of the best annual art fundraisers in town. Make sure you're on their email announcement list for next year's.
The basic idea - no floor space to spare at Southern Exposure annual auction.


A swatch of heavy metal quilting from Ben Venom at Southern Exposure.


Art by Shaun O'Dell at Southern Exposure annual fundraiser auction.


Curios wooden sculpture by Michael Arcega.


Great little video piece by JD Beltran.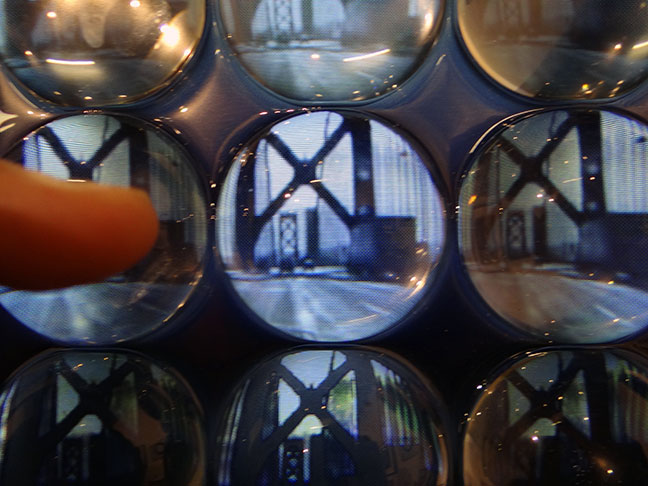 Pinkie cam detail of JD Beltran video art above (vehicles crossing a bridge).


JD Beltran at Southern Exposure.


Droll art by Packard Jennings.


Functional art by Futurefarmers.


L-R, photography by Will Rogan and John Herschend.


The fabulous Gay Outlaw makes the scene.


Quickie art by Tony Labat up for auction at Southern Exposure fundraiser.


Potential bidders peruse the offerings.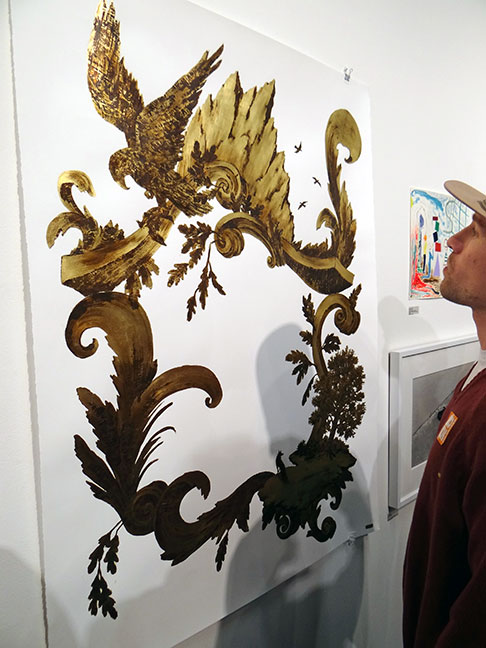 Art by Sarah Smith.


Sarah Smith quoting stuff at Southern Exposure.


L-R, art by Jim Melchert and Andy Vogt.


Photography by Catharine Wagner.


Rudimentary art by Chris Johanson.


Matt Gonzalez navigates the crowd.


Camp art by Michael Hall.


Photography by Abner Nolan.


Nice piece of work by Alicia McCarthy.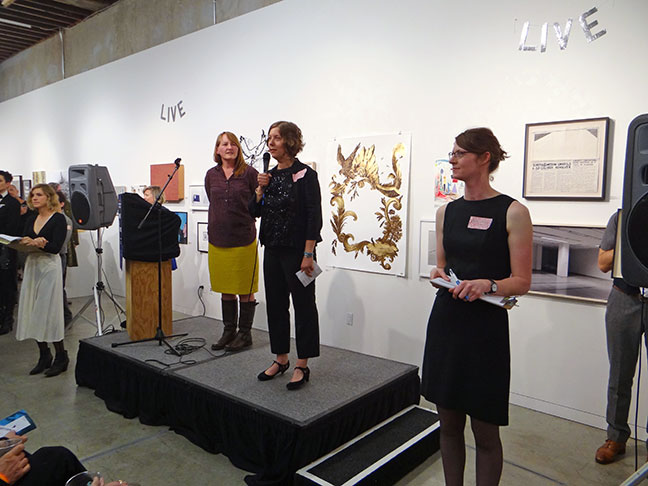 Plaudits & testimonials c/o Southern Exposure Executive Director, Courtney Fink.


***