***
Marx & Zavattero: Planet X - Davis & Davis.
Review by RWM: Wild to see the planets explored in what seems to be a moonscape extravaganza. Are our plans for outer space still relatively juvenile? It seems so here, but perhaps the public does not always appreciate that astronomers, scientists, science fiction geeks and nerds are people who dream strange dreams just like the rest of us. All manners of extraterrestrial habitation have been considered over the last century, though it seems unlikely we'll be germinating any kind of utopia on another planet anytime soon; they'll remain pristine wildernesses for a long time to come. The art presented does challenge the interplanetary ethics of our dreams, however. What Davis & Davis point out, as pictured here, is that our high-minded ideas can be nightmares as well. The whole concept is exciting in a B-science-fiction sort of way.
Photography by Davis & Davis.


Davis & Davis photographs at Marx & Zavattero.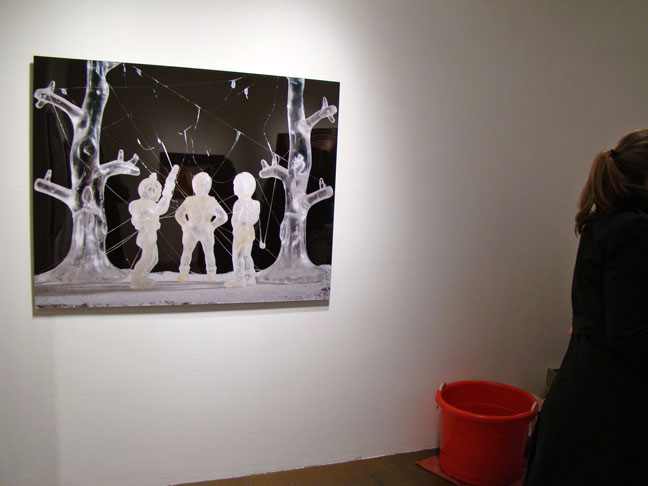 Outer space photograph by Davis & Davis.


Photograph by Davis & Davis.


Davis & Davis planet-scape photo at Marx & Zavattero.


Photographs by Davis & Davis.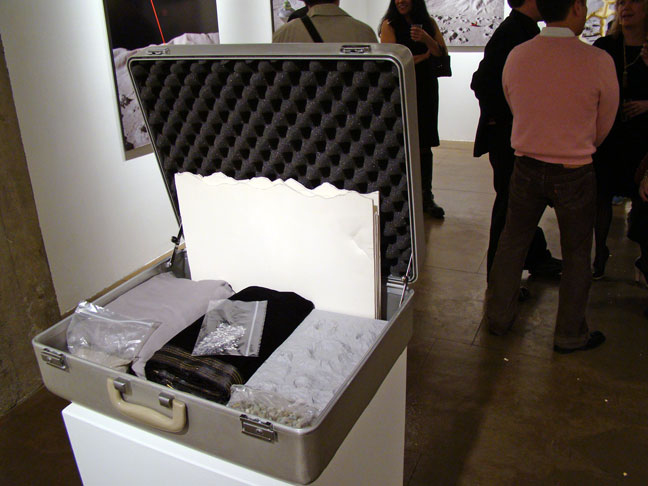 Off to outer space? Don't forget to pack. Davis & Davis art.


***
Art People Gallery: Persian New Year Celebration.
Artists: Ali Meamar, Simin Massoudi, Raya Bayat, Shahla Motamedi, Faehen Shirazi, Amir Salamat, Hessam Abrishami, Goli Mahallati, Parviz Payghami, Saeed Shiva Pakdel.
Review and images by Kelly Madsen: The Persian poet Jalal ad-Din Rumi once proverbially advised "Let the beauty of what you love be what you do." Surrounded by works of sculpture, abstract paintings, and figural drawings inside Art People gallery, it is easy to see that these talented artists from Iran love what they do; and what they do is expressively beautiful.
Tonight, Art People celebrates the Persian New Year, known to Iranians as "Nowruz" or "New Light". The artists whose works are on display, though separated by distinctive styles and mediums of choice, are united by birthplace, culture, and a passion for the art world, and the concepts and emotions that drive it. In addition to the art crowd, District 5 Supervisor Ross Mirkarimi (of Persian descent) represents the political sector and gives a brief speech. The gallery is filled with artists and guests mingling and discussing the works while live music, wine and hors d'oeuvres fuel their conversations. This is a celebration to be remembered and hopefully to be repeated next Nowruz.
Sculptural art by Raya Bayat.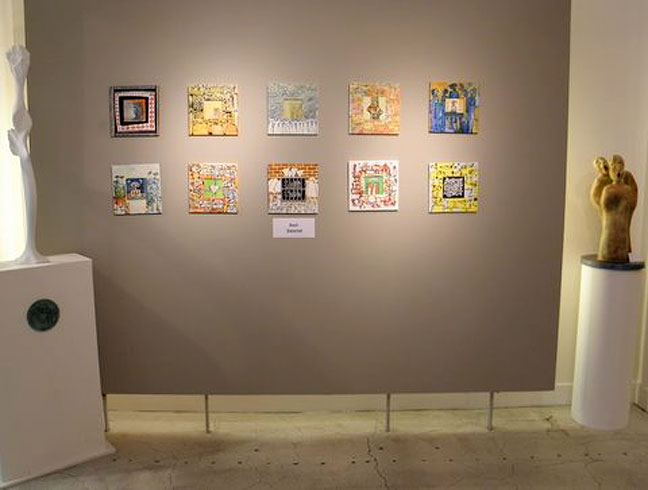 Art by Ali Meamar.


Participating artists at Art People Persian New Year celebration.


Celebrating Nowruz at Art People Gallery.


Demographics - Persian New Year show at Art People Gallery.


***
Michael Rosenthal Gallery: Kacie Erin Smith - Real Shining People.
Review by Clare Coppel: Monoprints by Kacie Erin Smith incorporate both figurative and rounded abstract shapes.
Art by Kacie Erin Smith at Michael Rosenthal Gallery.


Kacie Erin Smith art closer (image c/o Clare Coppel).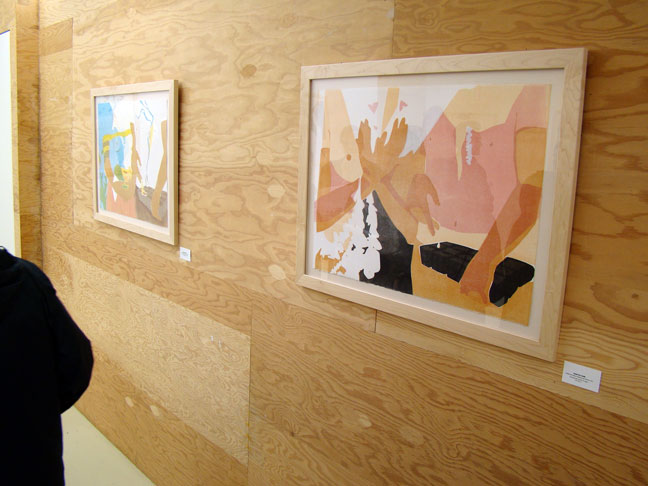 Kacie Erin Smith monoprints at Michael Rosenthal Gallery.


Monoprint by Kacie Erin Smith (image c/o Clare Coppel).


Kacie Erin Smith art at Michael Rosenthal Gallery.


***
SOMArts: ArtSpan Benefit Art Show & Auction.
Artists: Diane Abt, Zue Acker, Jhina Alvarado, Don Anderson, Jack M. Androvich, Bob Armstrong, Kathryn Arnold, David Avery, Jenny Balisle, Oana Barac-Matei, Suzy Barnard, Richard Bolingbroke, Susan Bostrom-Wong, Johnny Botts, Brandi Brooks, Rena Buchgraber, Brent Bushnell, Lise Carlson, Sofia Carmi, Stacey Carter, Rebecca K. Chang, Lee Cline, Helen Scheuer Cohen, Linda Colnett, Maeve Croghan, Herb Dang, Flora Davis, Nadine Defranoux, Monica Denevan, Robin Denevan, Raymond Difley, Paule Dubois Dupuis, Aximillion Helga Duson, Renee Eaton, Anna Efanova, Bernadette Emrick, Miles Owen Epstein, Jennifer Ewing, Fong Fai, Ana I. Fernandez (Miranda Texidor), Linda J. Fitch, John Fitzsimmons, Kat Flyn, Rebecca Fox, Elizabeth Fracchia, Taiko Fujimura, Annie Galvin, Katie Gilmartin, Kurt Glowienke, John R. Goldie, Mirto Golino, Kristin Grahn Kyono, Sevilla Granger, Florence Gray, Jane Grimm, Jana Grover, Louis J. Gwerder III, dk haas, Marc Ellen Hamel, Mikhail Haramati, Lyall Harris, Jeanne Hauser, Audrey Heller, Monika Henschke, Sona Holman, Anne Howson, Phillip Hua, Joseph Illick, Uma Rani Iyli, Ivy Jacobsen, Martine Jardel, Randall Jay, Carol Jessen, Philippe Jestin, Doyle G. Johnson, Phylis Johnson-Silk, Soad A. Kader, Marie Kelzer, Christine Kendrick, Mike Kimball, Barbara Kleinhans, andrew knipe, Lisa Knoop, Katherine Hisako Kodama, Rachel Kolenda, Dimitri Kourouniotis, Elana Kundell, Katja Leibenath, Leslie Lowinger, Robert Lowrey, Tatiana Lyskova, Maggie Malloy, Kay Marshall, Alan Mazzetti, Marti McKee, Jody McMillan, Saundra McPherson, John F. Melvin, Erika Meriaux, Andrzej Michael Karwacki, Marcia Middleton, Misho, Gloria Morales, Leslie Morgan, Carrie Nardello, Sonja Navin, Julie Nelson, Zannah Noe, Hadley Northrop, Priscilla Otani, Joel Peirano, Xavier Phelp, Chessa Piker-Ward, Heather Polley, Silvia Poloto, Patricia Preble, Nanci Price Scoular, Kristina Quinones, Shilo Randall Ratner, Lucky Rapp, Gurpran Rau, Judy Reed, Robert Reed, Eric Rewitzer, Fernando Reyes, William Rhodes, Brian Rich, Samuelle Richardson, Carol Rienecker, Heather N. Robinson, Wendy Robushi, Karl Roeseler, Thierry Rosset, Lynn Rubenzer, Tachina Rudman-Young, Lisa Ryers, Ali Saif, William Salit, Sherry L. Schaffer, Jill Schneider, Greta & Manu Schnetzler, Thea Schrack, Brian Schuck, Valerie Scott, Steven M. Scotten, Mercedes Segesvary, Janet Seifert, Mel Solomon, Toru Sugita, Michael-Che Swisher, Elizabeth Tana, Deloris Thomas, Cynthia Tom, Veerakeat TongPaiBoon, Trish Tunney, Susan Tuttle, Charity Vargas, Victoria Veedell, Pep Ventosa, Aaron Vonk, Melissa Wagner, Stephen C. Wagner, Kay Weber, Audrey Welch, Cecilia Welden, Jennifer Wildermuth, Hilary Williams, Laura Williams, Jane R. Willson, Mirang Wonne, Gavin Worth, Roxanne Worthington, Rene Yanez, Rio Yanez, Melissa Yarbrough, Soo-Hwa Yuan.
Comment by AB: Proceeds from this crammed annual whoop-de-do benefit all ArtSpan programs including Art for City Youth, and SF Open Studios with 800 participating artists. A terrific buying opportunity with 170 works of art up for bids.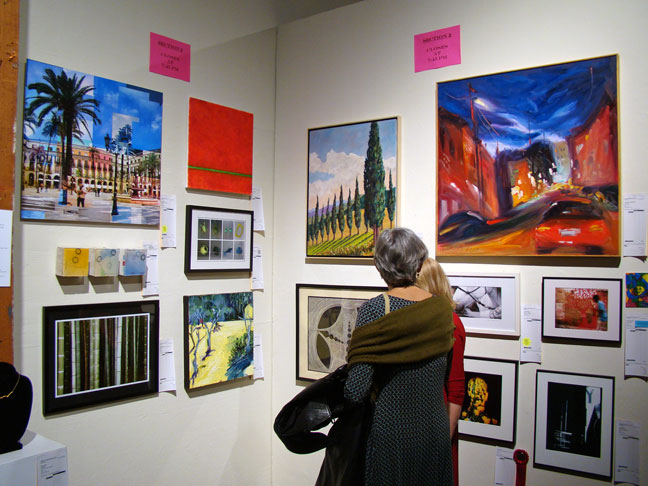 Art at ArtSpan annual auction fundraiser.


Art (looks a bit like somebody's tweakin' Diebenkorn).


Art.


Prize-winning art at ArtSpan annual fundraiser auction.


Art.


Plenty of art at ArtSpan annual benefit show & auction.


Exceptionally well attended.


***
San Francisco Art Exchange: Pocket Cash - Jim Marshall.
Comment by AB: San Francisco's own Jim Marshall was arguably the best rock & roll photographer of his time, as these photographs of Johnny Cash taken over a period of decades attest.
Jim Marshall photograph of Johnny Cash.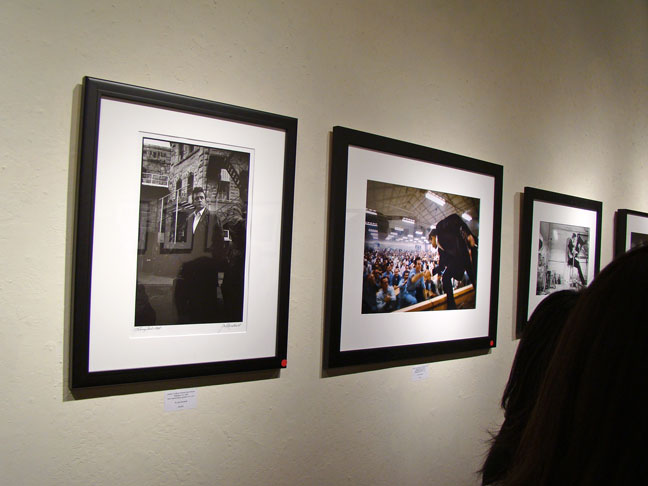 Johnny Cash photographs by Jim Marshall at SF Art Exchange.


Jim Marshall photograph of Johnny Cash.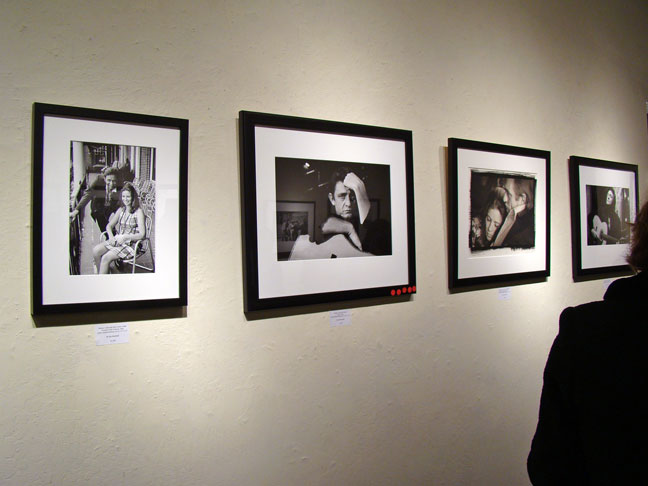 Johnny Cash photographs taken by Jim Marshall.


Johnny Cash photos by Jim Marshall in above image closer.


Jim Marshall's Johnny Cash photographs at SF Art Exchange.


***
Joel B. Garzoli Fine Art: Art of Playboy.
Artists: Charles Bragg, Eraldo Carugati, Herb Davidson, Ben Denison, Alex Ebel, Seymour Fleishman, Alex Gnidziejko, Brad Holland, Alan Magee, Fred Nelson, Chales Slackman, Marta Thoman, Charles White III.
Comment by AB: Vintage works of art commissioned and published by Playboy Magazine. Playboy only hired the best...
Art of Playboy by Charles Bragg.


Art from Playboy Magazine at Joel B. Garzoli Fine Art.


Playboy art & illustration.


Art commissioned by Playboy Magazine.


***
Gray Area Foundation for the Arts: TRANSMUTATIONS.
Artists: Barney Haynes, Jennifer Parker, Andre Maquetti, Joe Cantrell, Kevin Murphey, Dustin Raphael, Amasa Warner, Nathan Kandus and the UCSC Arts and Phyics Lab.
Review and images by Clare Coppel: Graduate students from the University of California Santa Cruz's Digital Arts and New Media and Arts & Physics Research Lab programs exhibit all kinds of interactive media illustrating scientific ideas and concepts about stars, animals, and disorder, among other things. I like the big metal chaos wheel and how the digital chart of its movements shows some sort of pattern-- pretty fascinating.
Technological art at Gray Area Foundation for the Arts.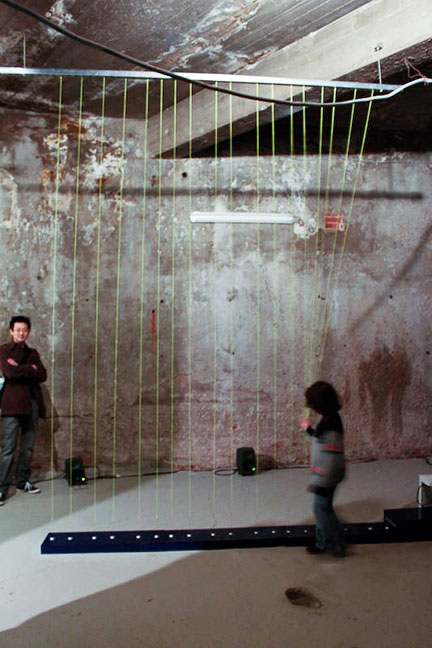 Art & installation at Gray Area Foundation for the Arts.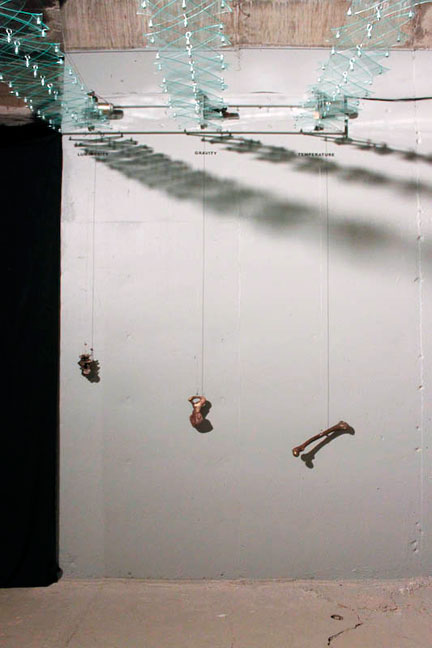 Art & installation.


Art & video installation.


Technological arts at Gray Area Foundation for the Arts.


***
Addendum: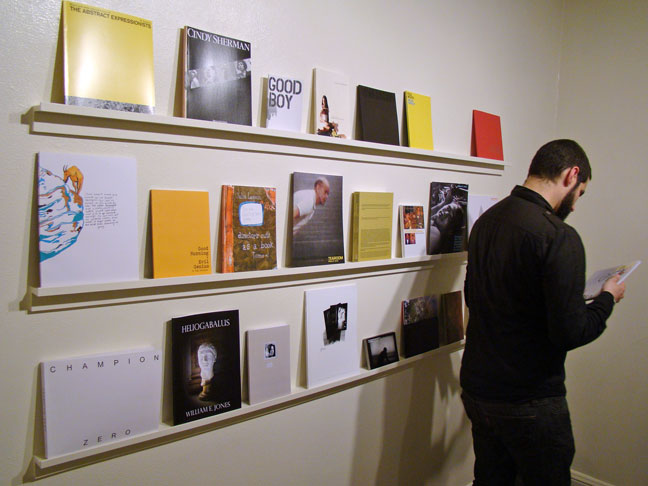 Brian Kennon artist books at [2nd floor projects].


Brian Kennon limited edition books at [2nd floor projects].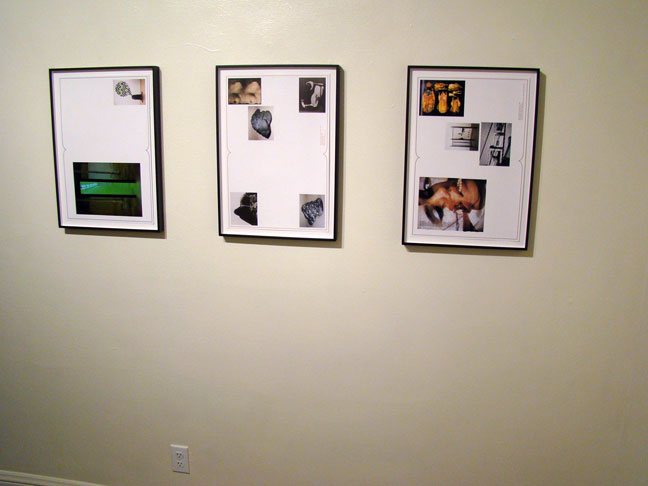 Graphics by Brian Kennon at [2nd floor projects].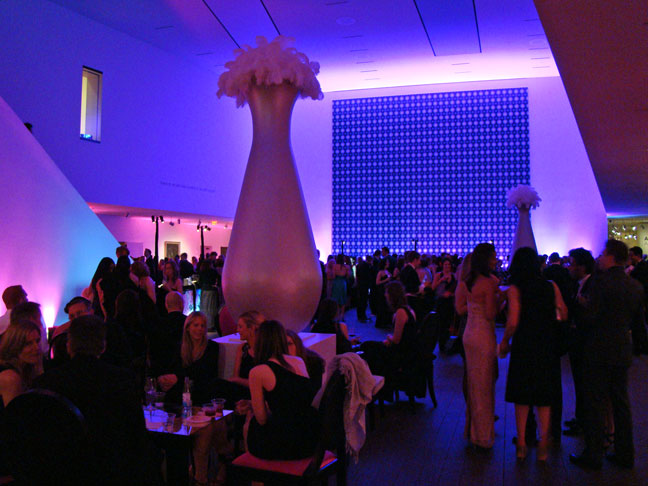 ArtPoint Gala at the de Young Museum.


Another from ArtPoint Gala at the de Young Museum.


One more - ArtPoint Gala at the de Young Museum.


***