***
Southern Graphics Council International at Hyatt Regency Embarcadero: Vendor and Publisher Fair at the 2014 SGC International Conference.
Artists: 1500 printmakers from America and many countries abroad.
Comment by AB: I'd never heard of the Southern Graphics Council before, but now I have. It's a major international organization of print artists, many of whom are here in San Francisco this week for the their annual conference, the first one ever held west of the Mississippi. Tonight at the opening of the Vendor and Publisher Fair, printmakers from around the world show and sell their art. There are so many participants, many of whom are young and many still in college, that after every 15 minutes or so, all exhibitors pack up their prints and turn their tables over to new exhibitors. This constant shuffle makes for a mind-boggling array of art. A wonderful event with some exceptionally talented practitioners. Gallery owners looking for promising young artists are among those in attendance.
What it is - print fair at Southern Graphics Council International conference.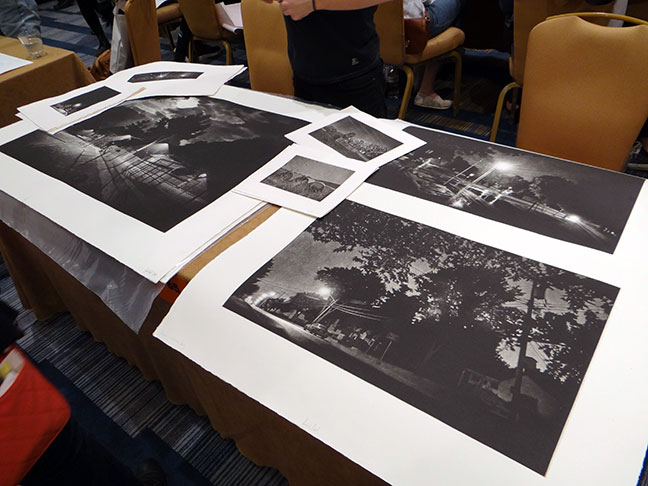 Best of show - twilight intaglio prints by Jacob Crook.


Intaglio print by Jacob Crook in above image closer.


Printmaker Jacob Crook at SGC International conference, San Francisco.


Color prints by Ricardo Ruiz.


Artist Ricardo Ruiz.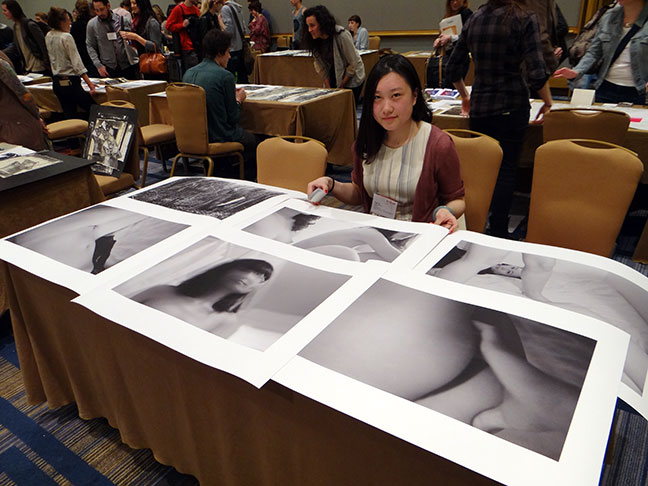 Ting Liu and her prints.


Tiles made with printmaking techniques by Eskimo artist Edwin Mighell.


Edwin Mighell at Southern Graphics Council International conference.


Prints by Zihao Chen.


Printmaker Zihao Chen.


Farmland prints by Sasha Chambers.


Printmaker Sasha Chambers.


You don't see this every day - bra & panty prints by Jenny Shepherd.


Prints by Andrew R Ghrist.


Prints by Grace Sippy.


Claudio Orso social commentary prints.


***
Reclaimed Room at Building REsources: Beneath the Surface.
Artists: Tom Kabat, Clint Imboden, Miles Epstein, Soumyaa Behrens, Bruce Barton, Tim Armstrong.
Comment by AB: Building REsources sells all manner of surplus and recycled building materials. They've also set aside a space in the main building to show art made from recycled materials and art that's concerned with the environmental. Among the offerings are bicycle artist Tom Kabat's wild rides and a cheese box assemblage installation by Clint Imboden. The best news? They're actively looking for artists to exhibit at their facility.
Pencil bike by Tom Kabat at Reclaimed Room.


Tom Kabat bicycle art.


Assemblage installation by Clint Imboden.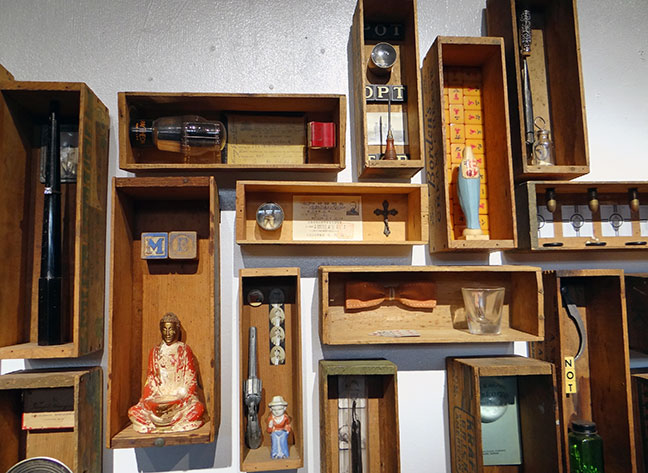 Art by Clint Imboden closer.


Clint Imboden recycled materials assemblage art closer.


Paint & collage combination art by Bruce Barton.


Bruce Barton art in above image closer.


Circumstance - group art show at Reclaimed Room, Building REsources.


A small sample of recycled materials for sale at Building REsources.


Call for artists to show at Reclaimed Room. Here's your chance.


Mega-mural at an abandoned grain elevator across from Building REsources.


***
Arc Gallery & Studios: Altered States - West Coast Printmaking Exhibition.
Artists: Jeffrey Hantman, Ellen Heck, Jesse Houlding, Amanda Knowles, Eileen MacDonald, Nancy Mintz, Nora Pauwels, Barbara Robertson.
Comment by AB: Held in conjunction with the Southern Graphics Council's annual international conference, this exhibit showcases some of the Bay Area's more innovative printmaking talents.
Jeffrey Hantman and his art at Arc Gallery & Studios.


Art by Jesse Houlding.


L-R, art by Nancy Mintz and Amanda Knowles.


Art by Ellen Heck.


Art by Nora Pauwels (I think).


Eileen MacDonald art.


Venue. Arc Gallery & Studios CEO Michael Yochum in the foreground healing up.


***