***
George Lawson Gallery: Gary Stephan and Nancy Haynes.
Comment by AB: Gary Stephan populates the main gallery with geometric overlays against what might best be described as faux finish backgrounds. In the rear gallery, Nancy Haynes crafts her subtle iridescent abstracts by deftly blending one color into the next. Good art on both counts.
Art by Gary Stephan at George Lawson Gallery.


Gary Stephan and his art.


Art by Nancy Haynes.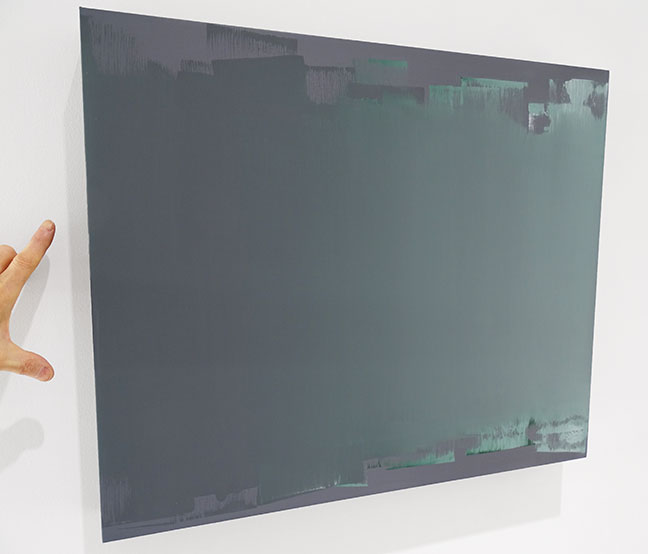 Nancy Haynes art closer.


Long view with art by Nancy Haynes at George Lawson Gallery.


***
San Francisco Art Exchange: Grace Slick - Beyond Wonderland.
Comment by AB: As nostalgic as they are good, Grace Slick's paintings and prints journey us back to the era of peace and love, and the heyday of rock & roll.
As warm a Jimi Hendrix portrait as you'll ever see - by Grace Slick.


Those of us old enough will recognize many characters here - Grace Slick art.


Rock stars & rabbits by Grace Slick at San Francisco Art Exchange.


Jerry Garcia three-pack - art by Grace Slick.


Wonderland inhabitants - art by Grace Slick.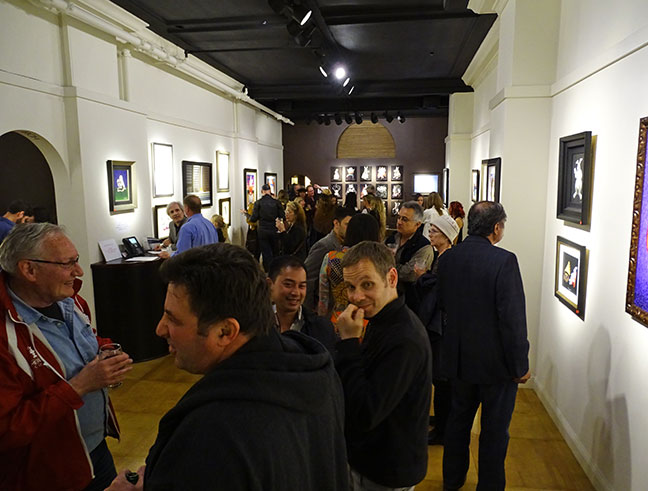 Demographics - Grace Slick art show at San Francisco Art Exchange.


***
Alter Space: Jamie Emerick - Continuum and Malaise Airways; Jennifer Hennesy - Body Language; Sietske Tjallingii - Demons in the Dungeon.
Review by RWM: Engaging abstracts by Jamie Emerick are dark and maybe even creepy to some. A bit dark and unformed. Part one of a grim experience. Accompanying this work is an artistic plane experiment courtesy of Emerick and friends. Interesting use of the space as you step onboard for a trip. You can also go to the basement to see folks striving to remain physically fit while trapped in a difficult situation, in a dungeon behind bars. Grim visions that some will relate to.
Comment by AB: Malaise Airways, the last flight you'll ever take, is a terrific performance piece where participants travel to the afterlife via various artified rooms. Don't miss the upside-down bed (frame) of flowers suspended from the ceiling.
Buy tickets to the last flight you'll ever take at Alter Space.


Entrance to the plain.


Preparing for the flight - performance art c/o Jamie Emerick & friends.


Room installation experience c/o Jamie Emerick and friends.


Experiences during & after the last flight you'll ever take.


Another in-flight or maybe post-flight experience c/o Jamie Emerick.


Installation art.


Painting & sculpture by Jamie Emerick.


Upside-down bed (frame) of flowers by Jamie Emerick.


Sietske Tjallingii video experience down in the dungeon at Alter Space.


***
ArtSpan at SOMArts Gallery: 20th Annual Juried Benefit Art Auction.
Artists: Adele Louise Shaw, Adrian Arias, Aga Szydlik, Alan Mazzetti, Alexandra Milukhin, Amy Ahlstrom, Amy Moore, Andrzej Michael Karwacki, Annie Galvin, Audrey Heller, Barry Barbour-Duncan, Beka Brayer, Beth Davila Waldman, Bradley Platz, Brett Walker, Carol Aust, Christie Leigh Smith, Christopher Schramm, Christopher Squier, Clark Swarthout, Colette Hannahan, Craig Mole, Danny Manniche, David Avery, Derek Lynch, Diane Abt, Dianne Hoffman, dk haas, Don Anderson, Ealish Wilson, Elaine Coombs, Elena Dendiberya, Elena Zolotnitsky, Elisabeth Nicula, Elizabeth Amento, Elizabeth Ashcroft, Elizabeth Saviano, Eric Dyer, Eric Joyner, Eric Rewitzer, Eugene Reshetov, Fernando Reyes, Flicka McGurrin, Flora Davis, Fong Fai, George Gund, Gipe+Tell Studio, Greta & Manu Schnetzler, Heather Robinson, Herb Dang, Holly Coley, Holly Savas, Irene Schlesinger, Jana Grover, Jane Grimm, Janet Seifert, Jason Sinclair Astorquia, Kat Kazlauskas, Jenifer Liput, Jennifer Berkowitz, Jenny Robinson, Jessica Anne Schwartz, Joan Schulze, John F. Melvin, John Kraft, John Nieto, Johnny Botts, Jonny Popovich, Jordana del Feld, Joshua Coffy, Justin Teisl, Kaitlin Trataris, Karl Roeseler, Kathleen Maley, Kay Kang, Kerri Warner, Kim Smith, Kyong Ae Kim, Larraine Seiden, Lennell Allen, Leslie Lowinger, Leslie Morgan, Linda Colnett, Lola Herrera, Lucky Rapp, Maggie Malloy, Marcia Stuermer, Martine Jardel, Megan Posas, Michael Beckler, Michael McConnell, Michele de la Menardiere, Mike Kimball, Miles Epstein, Mirang Wonne, Monica Denevan, Mr Rogers, Nancy Cato, Natasha Dikareva, Oleg Lobykin, Oliver Klink, Patricio Moreno Toro, Paul Madonna, Pep Ventosa, Philippe Jestin, Phillip Hua, Rajiv Khilnani, Ray Buffalo, Rebecca Fox, Renee DeCarlo Johnson, Rinat Goren, Roberta Ahrens, Robin Denevan, Roger Reeves, Romy Randev, Rustee Pace, Sasha Colin, Sawyer Rose, Scott Wynn, Soad Kader, Stephen C. Wagner, Susan Isome, Suzanne M. Shifflett, Suzy Barnard, Talavera-Ballon, Tej Greenhill, Trish Tunney, Valerie Scott, Victoria Veedell, Yishu Wang, Ytaelena Lopez, Yuri Boyko, Zachary Welburn.
Comment by AB: ArtSpan's been hosting San Francisco Open Studios for forty years now, and this annual juried auction celebrates the occasion with over 100 quality works of art by open studios artists. A great opportunity to support one of The City's most essential art organizations while augmenting your collection at the exact same time.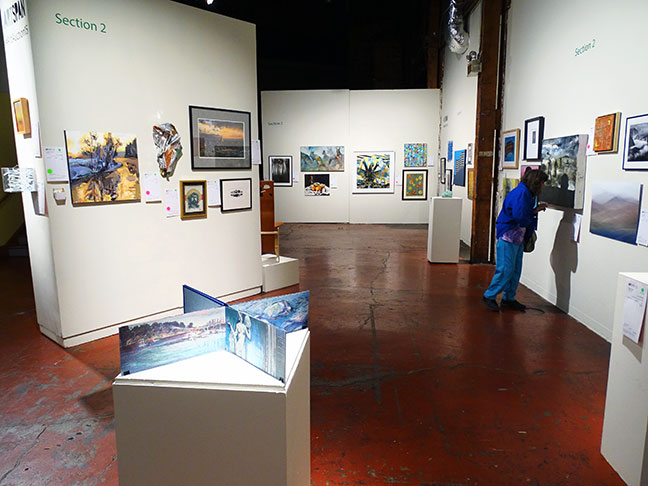 The calm before the storm - ArtSpan annual fundraiser auction at SOMArts.


Glass art by Kat Kazlauskas.


Interesting piece of work by Kyong Ae Kim.


Brett Walker photography.


L-R, art by Natasha Dikareva and Roberta Ahrens.


Seating art by Scott Wynn.


Top row, L-R, art by Annie Galvin, Fernando Reyes, Amy Ahlstrom, Mark Peron
and Jason Sinclair Astorquia (bottom center).


Relative density - ArtSpan 20th annual fundraiser art auction at SOMArts.


***
San Francisco Art Institute: Doug Hall - The Terrible Uncertainty of the Thing Described.
Review by RWM: Trouble and danger on the news captured in the artistic process. There is violent and unpredictable weather. There are rampant electrical bursts. The world seems to be going haywire. There was no winter here this year. Maybe Nature has become like an out of control child whose behavior we cannot predict. It might also be seeking revenge. Great attempt to capture the global warming zeitgeist. It is not clear what to expect now. Here we can just make our way through the storm. Terrific.
Comment by AB: An encore presentation of this multimedia installation blending industrial scenes with videos of intense climatological phenomena, the whole shebang first exhibited in 1987. Unfortunately, I get there just as things are closing down, so I miss the electrical arcs of the Tesla coil.
The sparks fly in this chamber, but they're off for the night at SFAI.


Video installation at San Francisco Art Institute.


***