***
SOMArts Gallery: ArtSpan Art Auction 2014.
Artists: Zue Acker, Amy Ahlstrom, Roberta Ahrens, Lennell Allen, Elizabeth Amento, Don Anderson, Jack Androvich, Jason Astorquia, Allan Ayres, Steve Baker, Suzy Barnard, Jennifer Berkowitz, Nancy Blum, Johnny Botts, Michael Boykin, Yuri Boyko, Ray Buffalo, Jennifer Clifford, Nicholas Coley, Sasha Colin, Sidnea D'Amico, Byambasuren Dandii, Herb Dang, Flora Davis, Elvira Dayel, Monica Denevan, Robin Denevan, Jennifer Ewing, Rodney Ewing, Fong Fai, John Fitzsimmons, David Fiveash, Kat Flyn, Rebecca Fox, Elizabeth Fracchia, Matthew Frederick, Leo Germano, Katie Gilmartin, Sevilla Granger, Jana Grover, dk haas, Marc Ellen Hamel, Colette Hannahan, Jeanne Hauser, Roy Hejtmanek, Audrey Heller, Dianne Hoffman, Peggy Huff, David Hughes, Cristina Ibarra, Sanaz Jamloo, Martine Jardel, Philippe Jestin, Phylis Johnson Silk, Kevin B Jones, Soad Kader, Betty Katcher, Kat Kazlauskas, Tisha Kenny, Tracey Kessler, Mike Kimball, Lisa Knoop, John Kraft, Barbara Landis, Mido Lee, Katja Leibenath, Larry Letofsky, Oleg Lobykin, Ytaelena Lopez, Leslie Lowinger, Derek Lynch, Paul Madonna, Maggie Malloy, Danny Manniche, Alan Mazzetti, Michael McConnell, Flicka McGurrin, Jesse McMillin, John Melvin, Beverly Mills, Leslie Morgan, Jeffrey Nemeroff, Diane Olivier, Mark Paron, Ruy Pereira, Joel Daniel Phillips, Silvia Poloto, Jonny Popovich, Kristina Quinones, Lucky Rapp, Eric Rewitzer, Chris Roberts Antieau, Wendy Robushi, Karl Roeseler, Toby Rose, Alejandro Rubio, Andrew Russell, Deborah Salomon, Stephen Santamaria, Ramekon O'Arwisters, Irene Schlesinger, Marcia Schneider, Greta and Manu Schnetzler, Valerie Scott, Addie Shevlin, Ruby Spam, Marcia Stuermer, Anne Subercaseaux, Rebecca Szeto, Talavera-Ballon, Linda Tapscott, Sarah Tell, Veerakeat Tongpaiboon, Kaitlin Trataris, Trish Tunney, Erick Vera, Gregory Vernitsky, John Waguespack, Brett Walker, Kay Weber, Cecilia Welden, Hilary Williams, Laura Williams, John Wood, Roxanne Worthington, Elena Zolotnitsky.
Comment by AB: ArtSpan's major annual art auction fundraiser features over 100 works of art up for bids at both live and silent auctions. Money raised goes to support ArtSpan's year-round educational programs for working artists, under-served youth, and anyone else with an interest in either learning about or buying art, especially art by San Francisco artists. The hundreds of art lovers attending this year's event are treated to as good a selection of art as I've ever seen. ArtSpan just keeps getting better. Don't miss next year's auction; get on their email announcement list now.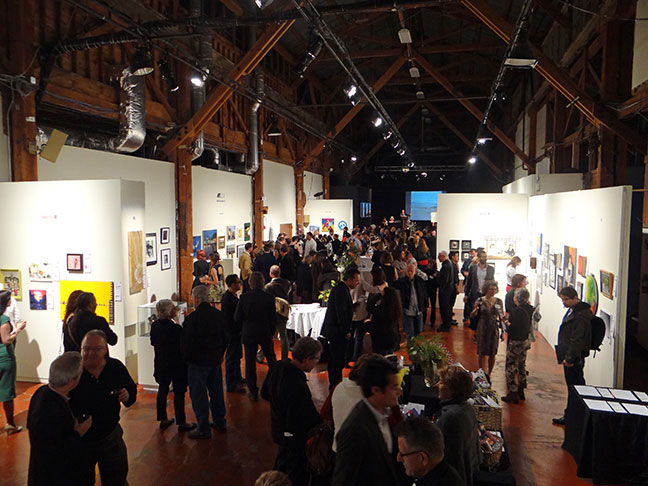 Perusing silent auction items - ArtSpan annual fundraiser at SOMArts Gallery.


Art by Mike Kimball.


Art by Kristina Quinones.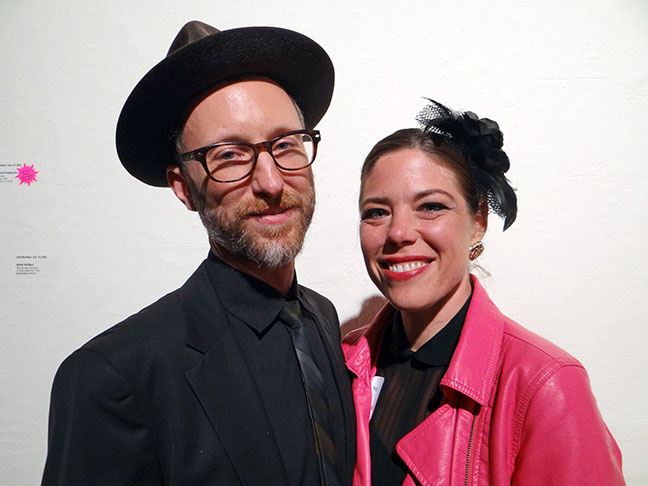 Kyle Knobel and outgoing ArtSpan Executive Director Heather Holt.


Art by Irene Schlessinger & Fong Fai (top & lower left), Derek Lynch (lower right).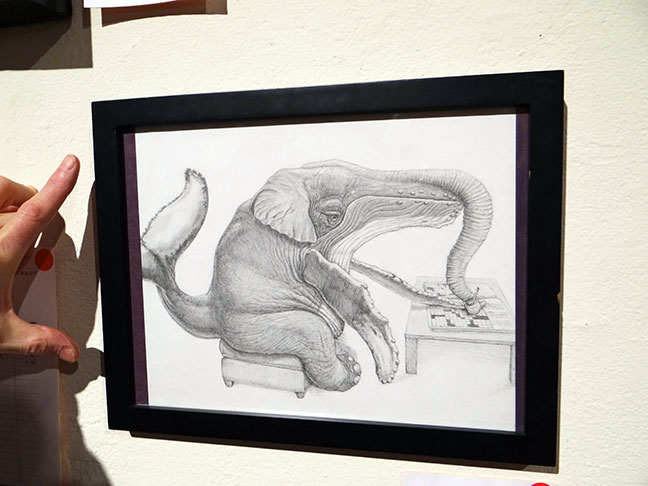 "Whalephant" graphite drawing by Jonny Popovich. Whatever you say.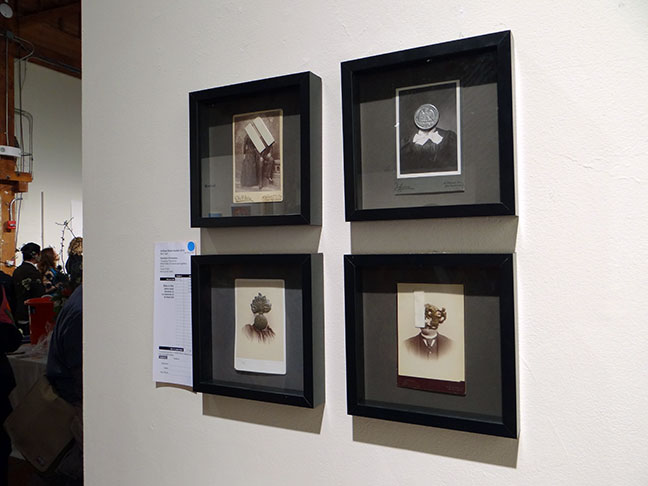 Artified vintage photographs by Ramekon O'Arwisters.


Live auction sculpture by Oleg Lobykin, photograph by Kevin B Jones.


Clockwise from top left - Mat Gonzalez, Rebecca Fox, David L Hughes, Suzy Barnard.


Interesting folded fabric art by Linda Tapscott.


Glass art by Kat Kazlauskas at ArtSpan annual art auction.


Steve Dolan of Andrea Schwartz Gallery & Jack Fischer of Jack Fischer Gallery.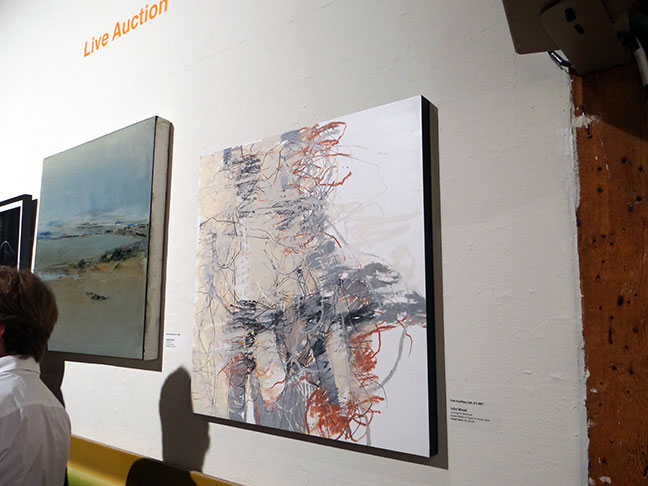 L-R, art by Addie Shevlin & John Wood.


Nice full-length graphite drawing by Joel Daniel Phillips.


Painted wood carnival game bottles by Mike Shine.


Quality folk art by Chris Roberts Antieau.


Curious buffalo art by Michael McConnell.


Getting ready for the live auction.


Action at the auction - on the block is a photograph by Brett Walker.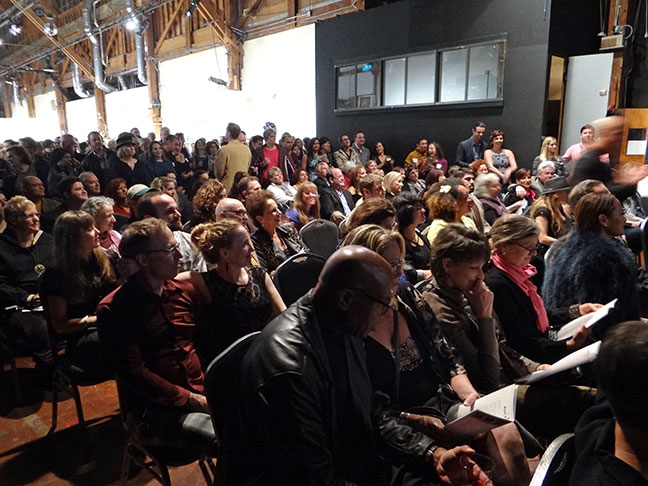 One more shot of live auction action at ArtSpan annual fundraiser auction.


***
Asterisk Gallery: Emergent 3d Visions - Tech Shop Artist Residency.
Artists: Jon Kuzmich, Jonathan Barcan, Luca Nino Antonucci.
Comment by AB: Three artists exhibit the results of their recent three-month residencies with Tech Shop SF, a creative community offering premium fabrication and prototyping studios, and access to new technologies that can be applied to print, art and installations. My personal fave is "BLACK/WHITE" by Jon Kuzmich, a set of five painted layered hardboard letter sculptures that spell the word BLACK when you look at the black side, and WHITE when you look at the white side.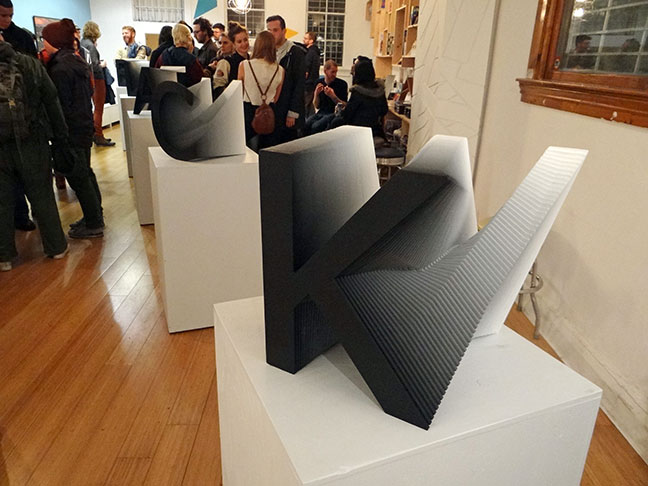 Sculpture by Jon Kuzmich at Asterisk Gallery. This side spells black.


The back side of K above is the W in white - by Jon Kuzmich.


The L in black on one side; the T in white on the other - by Jon Kuzmich.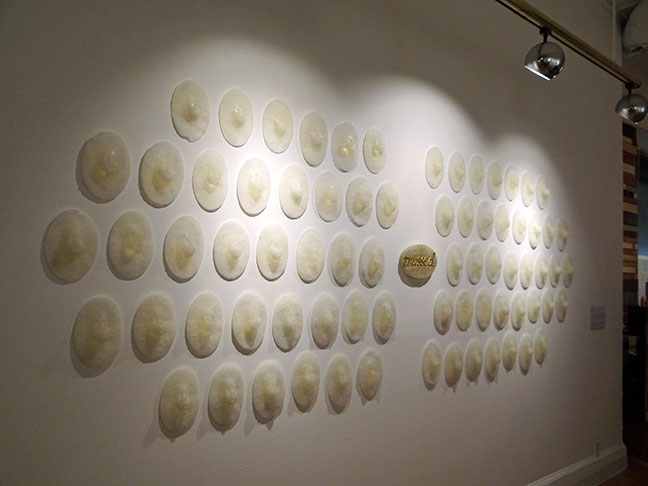 "Trussed" - resin, salt & gold installation by Jonathan Barcan.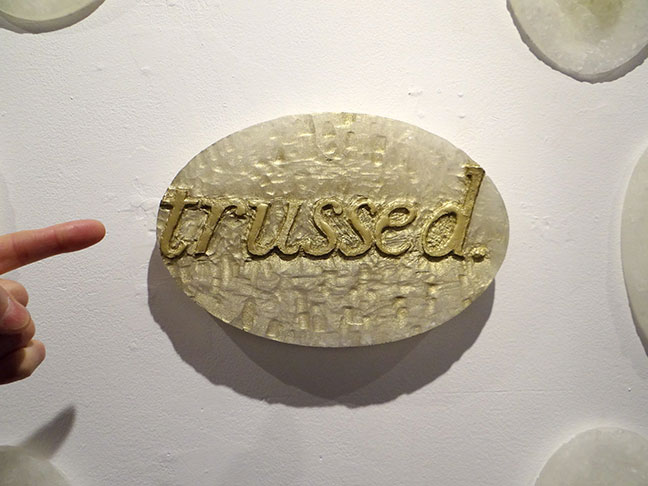 Jonathan Barcan art in above image closer.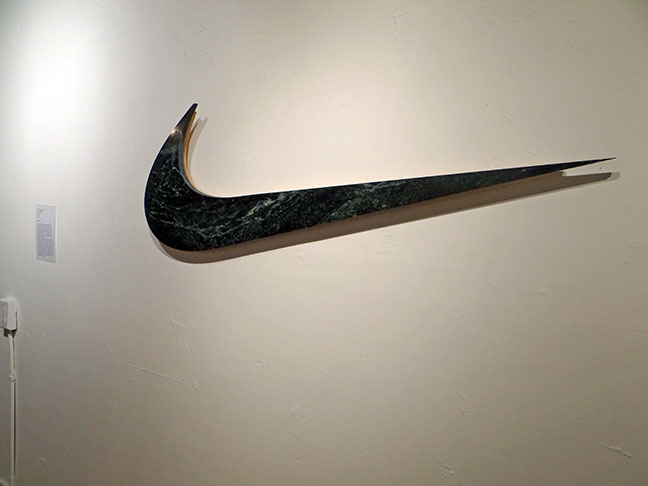 Swoosh art by Luca Nino Antonucci.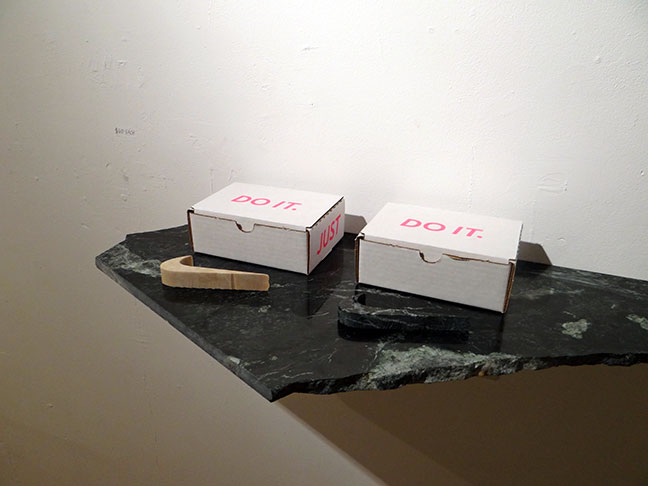 Luca Nino Antonucci art.


***
Barber Lounge: Architect of the Soul, Part I.
Artists: Richard Louis Perri, Grove Wiley, Aladin Stadlin, Marc Ellen Hamel, John Fox Haag, Zannah Noe, Yuri Boyko, Jose Anselmo, Nickolai Temanaha, Mea Chevas.
Comment by AB: Several times a year, this expansive hair salon throws a great big art party.
Art by Jose Anselmo at Barber Lounge.


Jose Anselmo art.


Art by Marc Ellen Hamel.


Digital prints of paintings by Richard Louis Perri.


Soft atmospheric photographs by Yuri Boyko.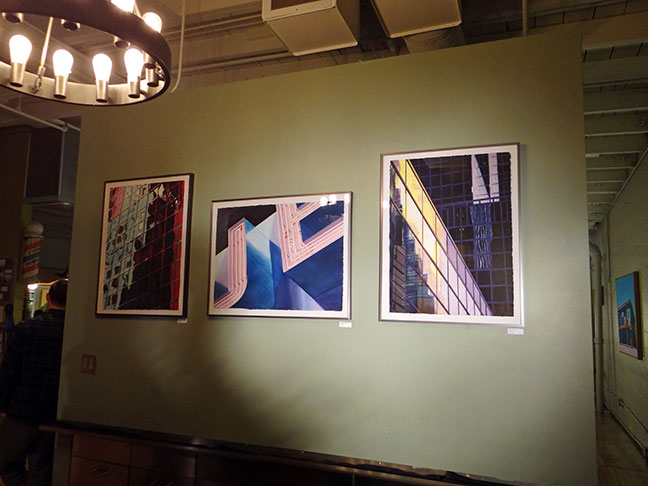 Watercolor art by John Fox Haag.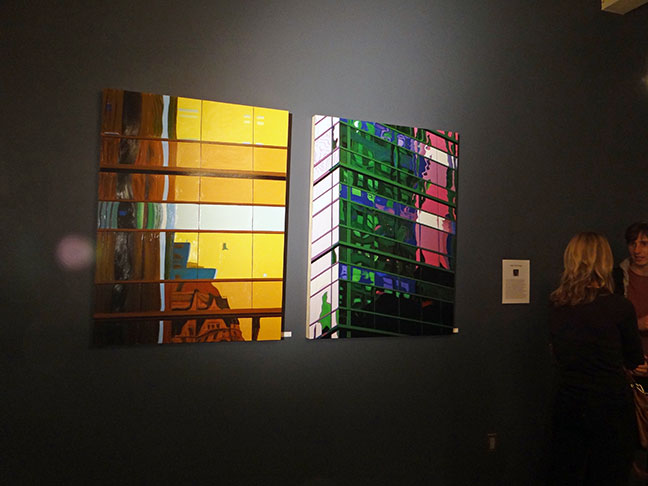 John Fox Haag oil paintings.


Long view. Group art show at Barber Lounge.


***