MISSION CULTURAL CENTER - SF AIRPORT TERMINAL 2

(with assistance from GETBIZI)

03.30.11


***
San Francisco Arts Commission: San Francisco International Airport - Terminal 2.
Artists: Kendall Buster, Janet Echelman, Walter Kitundu, Charles Sowers.
Review and images by GETBIZI: Life-size clouds vertically slice in a topographical manor, one to the right and another to the left, as you enter the mezzanine of newly remodeled Terminal 2 departure lobby of SFO. "Topograph" created by Kendall Buster is a successful attempt at "merging of natural and built environments and her investigations into forms that operate at once as landscape and architecture." Ascending the escalator, you can't help but be visually engaged by the suspended topographical clouds; you'll be inspired to walk around and really experience the 3-dimensionality of them.
After checking in at the counter and hassling your way through the security checkpoint, you glance up towards the ceiling to see what look like upside-down water fountains emanating from the skylights. From pink to blue to purple, the upside-down fountains made out of colored fiber visually soothe you as if you're enjoying your favorite water fountain. Janet Echelman created "Every Beating Second" to "[transform] the Terminal with fictional nature that subtly engages viewers with real and imagined natural forces."
Your kids will enjoy making music on the wings of local birds in the interactive "playful oasis" created by Walter Kitundu as you wait at the gate for your flight. "Bay Area Bird Encounters" is an interactive artwork designed to physically engage travelers of all ages; it also "[features] local birds such as Red-tailed Hawks, Anna's Hummingbirds, herons, egrets, Northern Harriers and Burrowing Owls." Placed near the gates at the end of Terminal 2, this interactive piece will help distract weary travelers; but don't get too distracted or else you'll miss your flight!
Charles Sowers's mechanical butterflies will engage you so intensely, you might as well reschedule for a later flight because you'll surely be distracted! "Butterfly Wall" is a fun & whimsical mechanical art experience I can see people lining up for to turn the crank to see the mechanical butterflies twist, turn and flutter up and down the wall.
The architectural firm of Gensler worked closely with the San Francisco Arts Commission to seamlessly integrate these artworks into the overall architectural design of the Terminal with the objective to make it all an easy and memorable experience for the travelers. Mission accomplished!
Cloud installation art by Kendall Buster at SFO Terminal 2.


Art by Janet Echelman.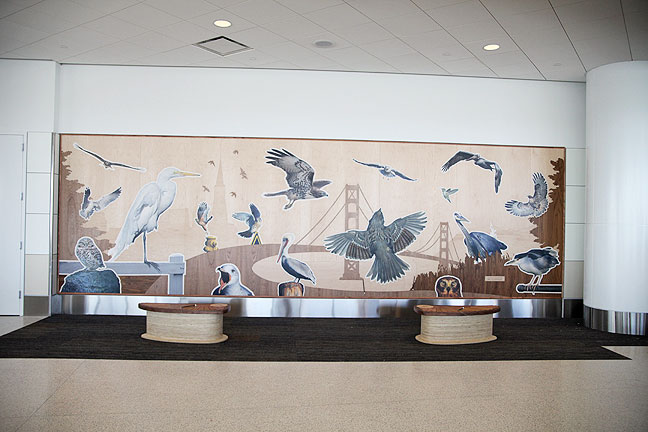 Art by Walter Kitundu at Terminal 2, SF International Airport.


Art by Walter Kitundu in above image closer.


Kinetic butterfly art by Charles Sowers.


Functional art at Terminal 2, SFO.


Inside looking out at SF International Airport, Terminal 2.


***
Mission Cultural Center for Latino Arts: Liminal Takes - Mujeres Latinoamericanas en el Arte. Curated by Frida Cano.
Artists: Ana Belen Cantoni, Maria Burr, Paula Cobo, Maria Ezcurra, Jimena Mendoza, Gabriela Pena Alvarez, Paulina Velazquez Solis, Neli Ruzic, Marie-Christine Camus.
Comment by AB: A range of multi-media art and installations depart from traditional preconceptions and spotlight the diversity and range of contemporary Latina art coming from Mexico, Central and South America.
Art at Mission Cultural Center for Latino Arts.


Art in above image closer.


Installation.


Installation art - contemporary Latina artists at MCCLA.


Video art.


***