CATHARINE CLARK - MINA DRESDEN - MICHAEL ROSENTHAL

ROOT DIVISION - ELEANOR HARWOOD - GUERRERO - PARISOMA

WAREHOUSE GALLERY (OAKLAND)

04.10.10

(with assistance from DeWitt Cheng and RWM)


***
Catharine Clark Gallery: Charles Gute - The Corrections; John Slepian - The Phenomenology of Painting; An introduction to the work of Stephanie Syjuco.
Comment by RWM: Puzzling, yet provocative. Capture our breath, and Minimalism, The Movie.
Comment by AB: John Slepian concocts hypnotic "animated video paintings" a la Ellsworth Kelly, Josef Albers, and Bridget Riley, bringing them to life with music, motion, breathing, dimensionality and more. Superbly crafted and presented as well. Like 'em!
John Slepian video art (like 'em).


Art by John Slepian in above image closer.


Art by John Slepian (note change in the closest "painting" from above image).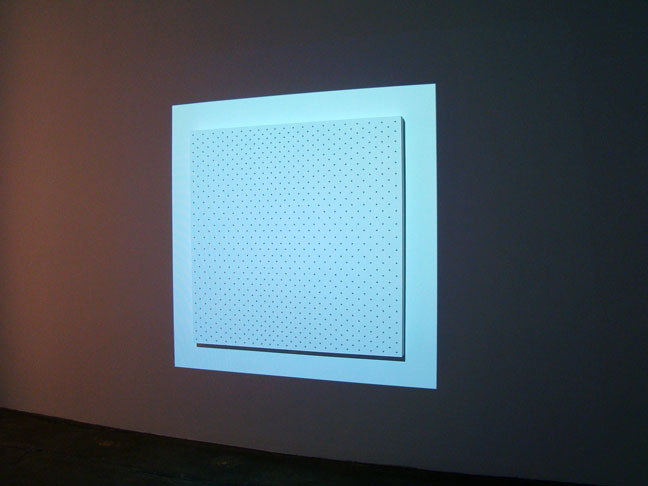 Video art by John Slepian.


Video art in above image closer by John Slepian.


Art by Charles Gute.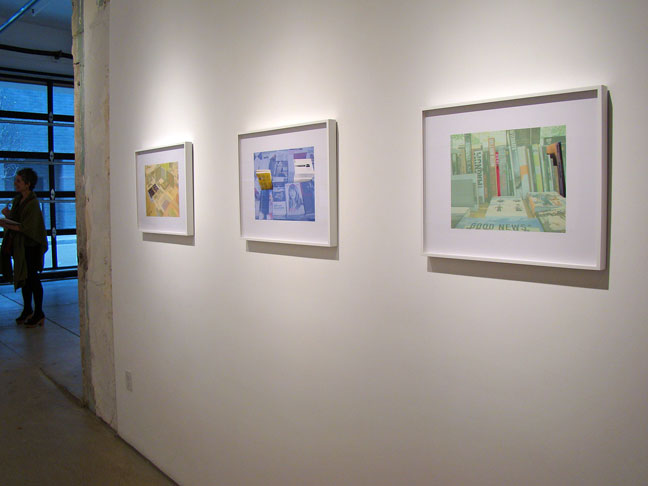 Charles Gute art.


Art by Charles Gute.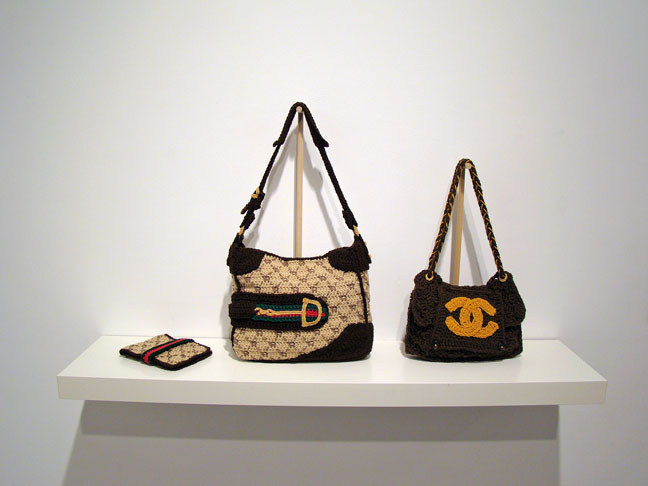 Knit upscale handbag art by Stephanie Syjuco (like 'em).


***
Mina Dresden Gallery: Bay Area Photographers Collective (BAPC) - Synthetic Environments.
Photographers: Alan George, Ari Salomon, Charlotte Niel, David Broom, Eric Larson, Erin Malone, Kay Taneyhill, Kirk Thompson, Tom De Carlo, Tom Lavin.
Comment by AB: Synthetic environments as depicted in this group show refer to manmade riffs on what once was Mother Nature.
Photography by Tom Lavin.


Photograph by Ari Salomon.


Photographs by Tom De Carlo.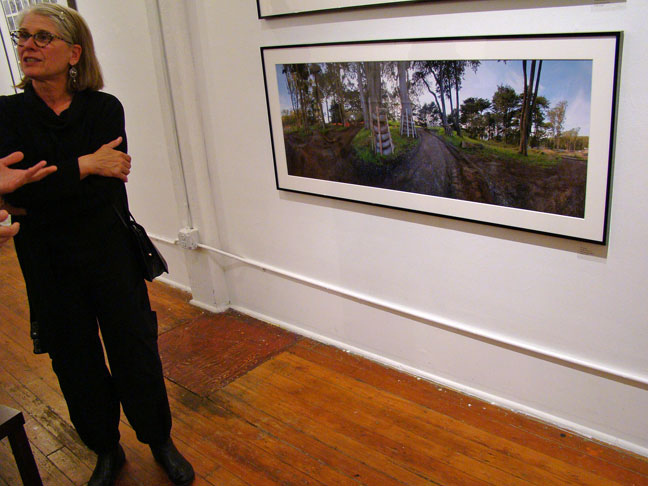 Photography by Eric Larson.


Photographs by Alan George.


Photograph by Kirk Thompson.


***
Michael Rosenthal Gallery: Alison Pebworth - Other Possibilities.
Review by RWM: Here you'll find whimsical depictions of our history and cultural associations. There is a timeline dating back to the Bison, continuing through the present, and seasoned with all manner of strange connections. You cannot help but notice the oddness instead of the direct and straightforwardness you typically see in historical scenes. The images are fun but curious, kind of like the artist is questioning the accuracy of historical records.
Art by Alison Pebworth.


Art by Alison Pebworth in above image closer.


Art by Alison Pebworth closer.


Art by Alison Pebworth closer.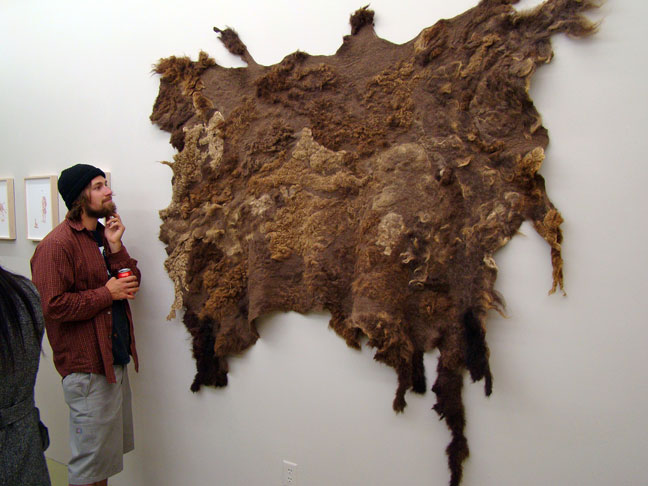 Buffalo hide installation by Alison Pebworth.


Video installation by Chris Sollars.


***
Root Division: A Garden of Earthly Delights.
Artists: Sita Kuratomi Bhaumik, Elizabeth Cayne, Miranda Currie, Adeleine Daysor, Chef Ray L. Duey (CEC),, Amy M. Ho, Ruth Hodgins, Rachael Jablo, Dori Latman, Carrie Lederer, Hava Liberman, Elizabeth McClellan, Molly McCracken Kumar, Robert Minervini, Billy Ocallaghan, Sean Olson, Erik Parra, Kit Rosenberg, Tim Roseborough, Megan Seiter, Juliette Tinnus, Kristen van Diggelen, Keef Ward, Carl Warner, Brian Wasson, Vanessa Woods.
Comment by AB: Art about springtime, rebirth, and the bounty to come, serving also as a preview event for Taste 2010, Root Division's annual art & food fundraiser.
Photography.


Sculpture.


Art.


Food carving and sculpture by Chef Ray L. Duey, CEC.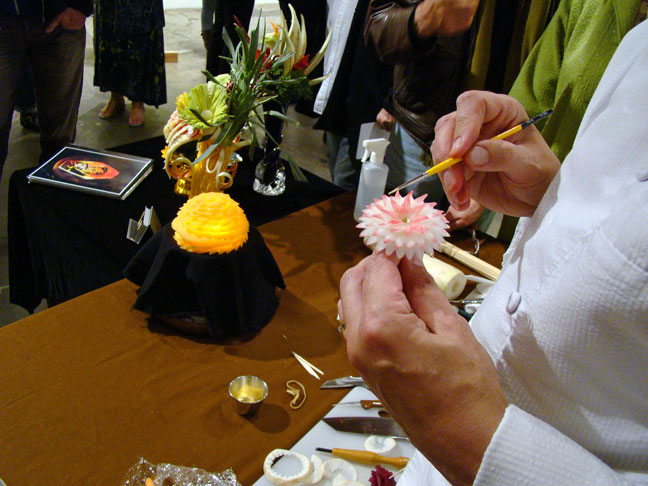 Food carving artist Chef Ray L. Duey, CEC in action.


Art.


Soft sculpture.


***
Eleanor Harwood Gallery: Kyle Knobel - High Life.
Comment by AB: Ordinary objects, factored out of their contexts and here presented in stark black and white, allow us to reflect on the ingredients, routines and perhaps even the meanings of our day-to-day lives.
Art by Kyle Knobel.


Art in above image closer by Kyle Knobel.


Art in top image closer by Kyle Knobel.


Art by Kyle Knobel.


Kyle Knobel art.


***
Guerrero Gallery: April Group Show.
Artists: Adam Wallacavage, Albert Reyes, Alexis Mackenzie, Andy Diaz Hope, Brian Cooper, Chris Yormick, Cody Hoyt, Cody Hudson, Frohawk Two-Feathers, Greg Lamarche, Jacob Whibley, James Hopkins, James Marshall, Jay Howell, Jon Bocksel, KC Ortiz, Kelsey Brookes, Michael Rea, Michael Swaney, Mike Davis, Ryan Jaenke, Scott Anderson, Ted Pushinsky.
Comment by AB: Another quality group show offers up an appetizing array of urbanesque oeuvres. The gallery seems to be evolving into a meeting place of sorts for a number of The Mission's creative practitioners. Hey-- it's a great space. Stop by and see for yourself.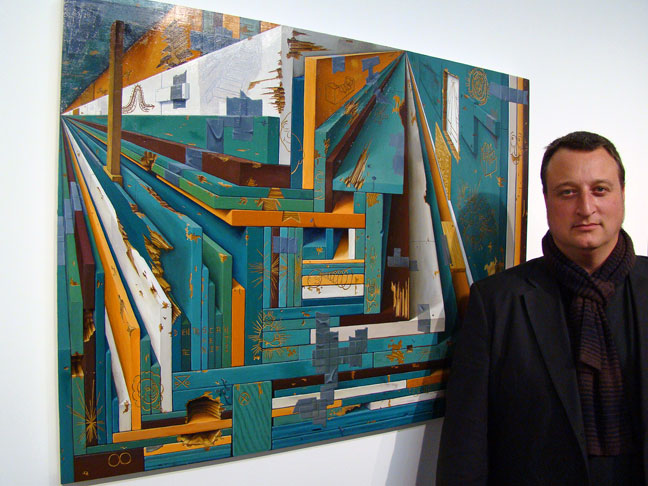 Brian Cooper and his art (like it).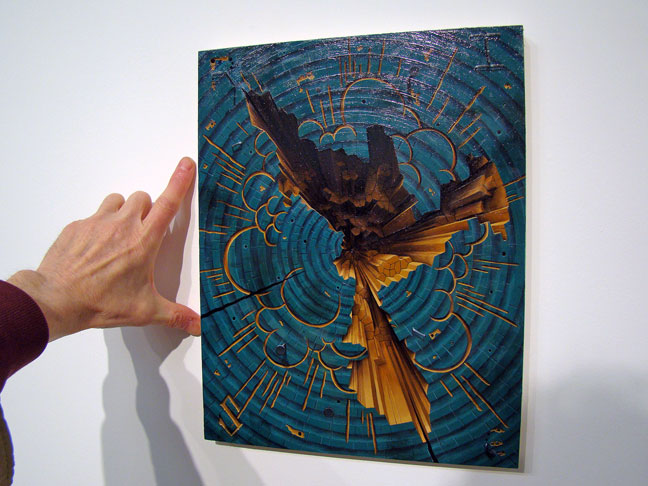 Brian Cooper art.


Wood weaponry sculpture art by Michael Rea.


Art by James Marshall.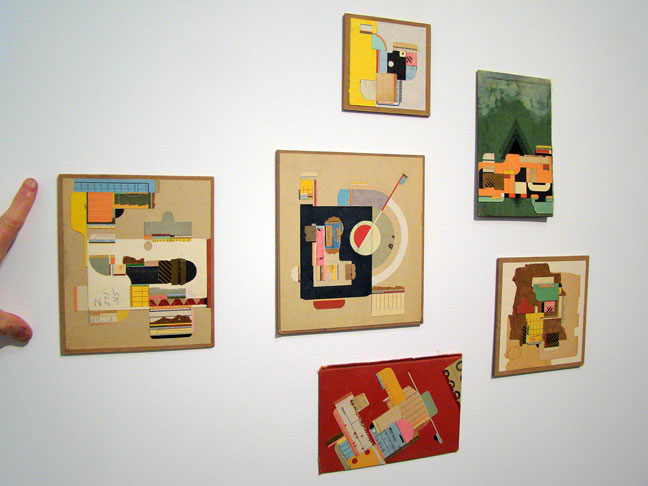 Jacob Whibley art (kinda like it).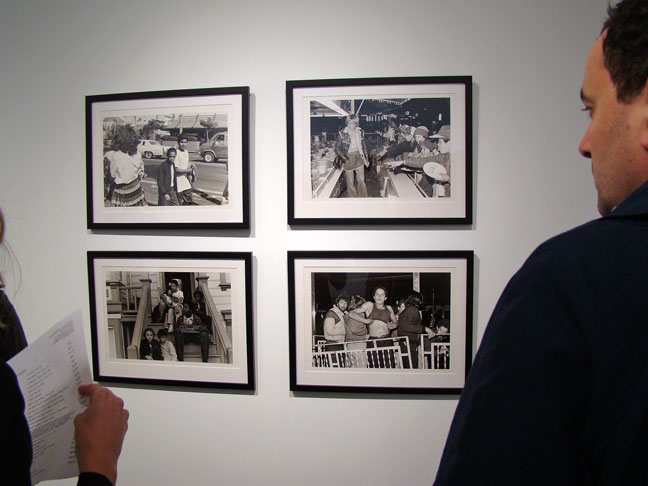 Photography by Ted Pushinsky.


Collage art by Alexis Mackenzie (two on left).


Art by Andy Diaz Hope.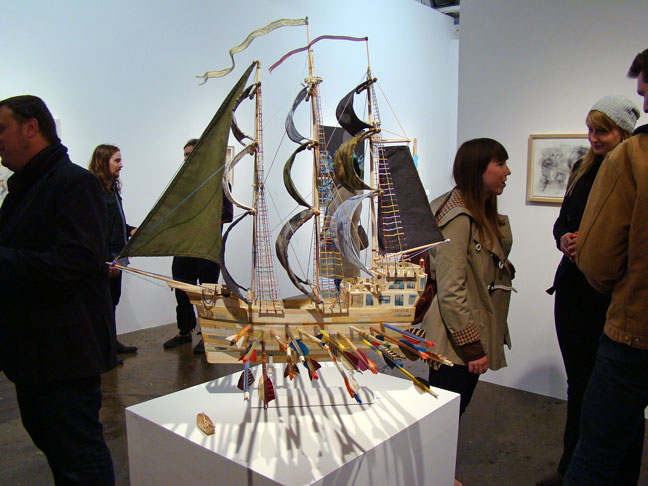 Art.


***
Parisoma Innovation Loft at Workspace Ltd.: April in Paris.
Comment by AB: "A showcase of music, art, fashion and atmosphere, inspired by everything French."
Art.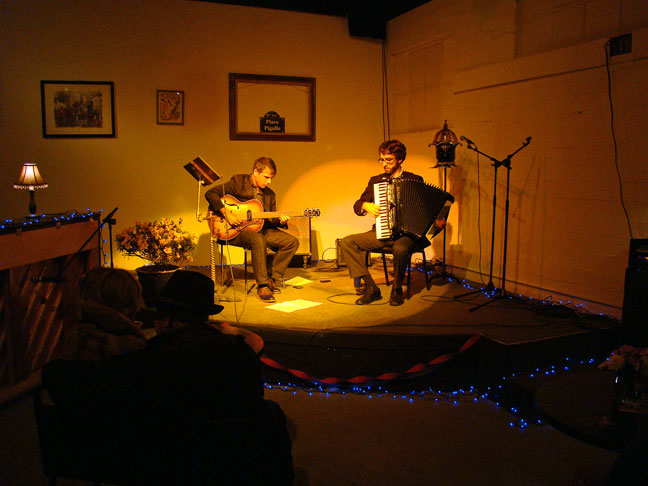 Entertainment.


Art.


Entertainment.


***
Warehouse Gallery, Oakland: Client Appreciation Show.
Artists: Thomas Akawie, Charley Brown, Jamie Brunson, Enrique Chagoya, Margaret Chavigny, Teresa Cammozi, Lisa Espenmiller, Lorrie FInk, Patricia Gerrie, Hung Liu, John Jonas, Namita Kapoor, Naomie Kremer, Kara Marie, EIleen Starr Moderbacher, Curtis Ratcliff, Richard Sargent, Elizabeth Sher, Mary Siedman, Mark Stock, Gloria Tanchelev, Ani Thompkins, Bijan Yashar, and Eric Zener.
Review and images by DeWitt Cheng: This newish mixed-use gallery in Oakland curated by Lili Smith shares space with Kevin Keul's Signature Stretchers. The current show features a selection of paintings by some twenty-four of Signature's client artists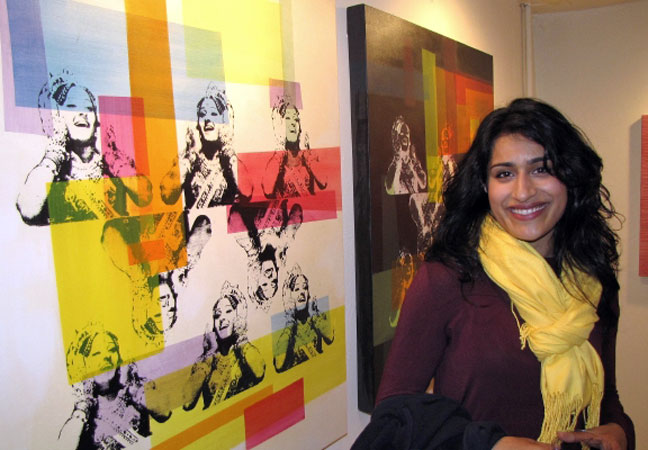 Artist Namita Kapoor with Bollywood and the Technicolor Dreamcoat I and II.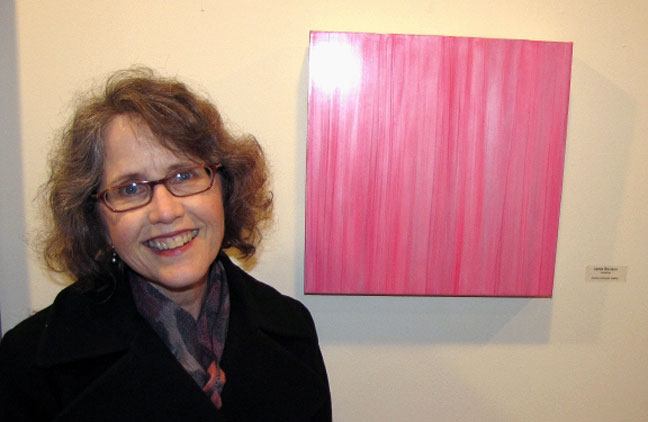 Artist Jamie Brunson with Celestine.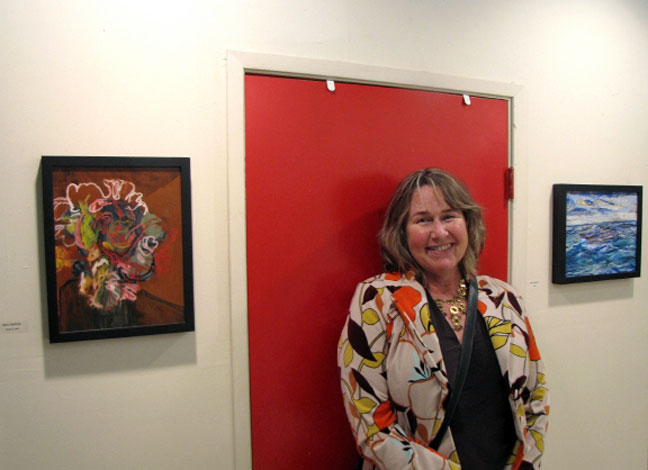 Artist Mary Siedman with Roses in Vase and Ocean.


Artist Lori Fink with More Than This.


Artist Patricia Gerrie's My Operations + spouse John.


Hung Liu's Nanking Portrait 2 & Eileen Starr Moderbacher's Plume of Dust.


***