***
The Other Art Fair: The Other Art Fair 2013.
Artists: Stuart Barnes, Brian Cheeswright, Joanne Hummel-Newell, Stephen Todd, Bartosz Beda, Michelle Abbott, Will Woods, Agnetha Sjogren, Goro Shimano, Melvyn Robinson, Damilola Oashilaja, Damilola Odusote, Allan Martin, Pam Franklin, Leszek Blyszczynski, Ondrej Benes, YML, Walter Koch, Urbantag, Toni Gallagher, Terry Ryan, Stavros Kotsireas, Sandra Beccarelli, Rychel Therin, Rosh Keegan, Robert Stuart, Ricki Nerreter, Rebecca Fontaine-Wolf, Rachel Ann Stevenson, Qung Qi, Panos Antonopoulos, Nigel Moores, Nick Sherratt, Matthew Forster, James Hart Dyke, Mat Kemp, Maria Mari Murga, Margherita Isola, Mackie, Laurence Poole, Jonathan Speed, Jaykoe, Iain Maclean, Heloise Delegue, FRIKKX, Eva Wilkinson, Dominic Hatcher, dianne Kaufman, Dameon Priestly, Clare Johnson, Catherine Savigny, Cat Soubbotnik, Caroline Hall Ma, Ben Gooding, Barbara Nati, Annie Blanchet Rouze, Andy Reeve, Alison Mc Kenna, Alastair eales, Adrian Scicluna, Adam Butler, Alberto Fusco, Soozy Lipsey, Vikram Kushwah and Trisha Sakhlecha, Phoebe Stubbs, Gloria Ceballos, Steven Cox, Alison Duquette, Cyrus Mahboubian, Seungmi Lee, Frederic Daty, Clinton De Menezes, Ant Pearce, Anders Rindom, Megan Revell, Emily Marjot, Richard Webb, Dan Cimmermann, Miki Hauser, Nadja Ryzhakova, Hitomi Kammai, Calvin Lau, Delphine Lebourgeois, David Stockley, Louise Walker, Bridget Davies, #CODEFC, David Edmond, Benjamin Parker, ACRYMX, Elizabeth James, Lisa James, Conrad Engelhardt, Amanda Wigglesworth, Sarah Adams, Richard Zarzi, Mark Powell.
Review by and images c/o Larissa Archer: The Other Art Fair is a fair consisting of unrepresented artists in London, United Kingdom. Over 500 artists apply to exhibit; 90 are accepted.
Partial overview of The Other Art Fair, London, UK.


Sarah Adams poses with paintings from her series, "Family Dinners," which she has stated was inspired by the need to feed hungry children, and her studies in environmental law. Many parents will find her portrayals of tired mothers and finicky children more familiar than more sentimentalized portrayals of family life.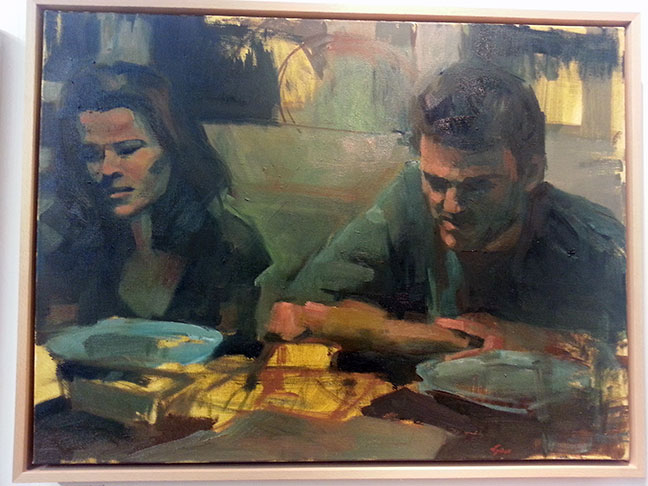 Art by Sarah Adams in above image closer.


Art by Sarah Jessica Adams at The Other Art Fair.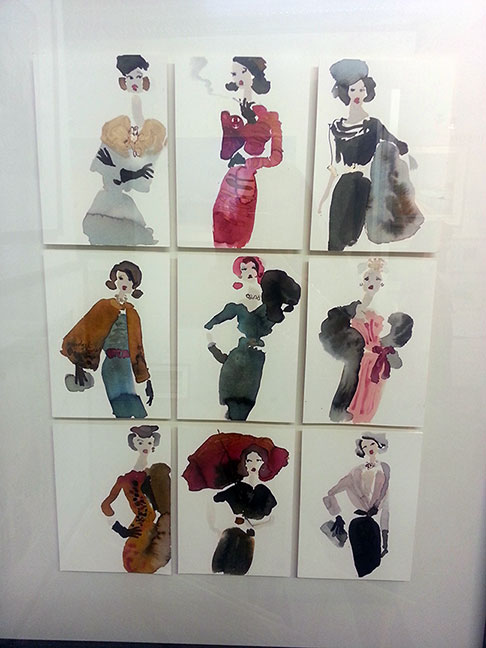 Charming watercolors of women whose style we all want to steal-- the art by Bridget Davies. With just a few brushstrokes and splashes, Davies evokes the Úlan of the best fashion illustrations.


Art by Bridget Davies at The Other Art Fair.


Art by James Hart Dyke for the Non-profit Maesha Kibera, or "Life" in Kibera, Nairobi. Dyke and three photographers spent a week in the slums of Nairobi capturing the scenes and people therein. I love how the roughness of his brushwork elicits a contrastingly calm, almost introspective quality in his subjects. Sensitive, elegant work.


Art by James Hart Dyke at The Other Art Fair.


James Hart Dyke art at The Other Art Fair, London, UK.


***