HOSPITALITY HOUSE - FECAL FACE DOT

04.29.10


***
Andrea Schwartz Gallery: Hospitality House 25th Annual Art Auction.
Artists: Jeff Adams, Mark Adams, Kymberly Agresti, Aaron Allen, Miya Ando, AFKAP, Jenny Balisle, Ronald T. Barnett, Leonard Basile, Brian Behnke, John Belingheri, Timothy Berry, Sandow Birk, Charles Blackwell, Michael Blakemore, Tom Bolles, John Bonick, Eva Bovenzi, Roya Bozeman, Donald Bradford, Val Britton, Elisha Brown, J.C. Brown-Miller, Jamie Brunson, Mark Bulwinkle, Brent Bushnell, Steve Miranda Byer, Sofia Carmi, Gregg Cassin, Francesco Lo Castro, Larry Clark, Jan Clinton, Nicholas Coley, Tyrell Collins, Bill Cone, Elaine Coombs, Timothy Cummings, Carol Dalton, Bill Dane, Vicki Daniel, Flora Davism, Dawnyo, Kelly DeFayette, Assad Gustav Deiche, Dean Dempsey, Robin Denevan, Lauren DiCioccio, Patrick Dintino, Catherine Dudley, Britty Eagle, Lea Feinstein, Roni Feldman, Jordan Felling, Paul Ferney, Bean Finneran, Erik Friedman, Don Fritz, Kim Frohsin, Orion Gannon, Christopher Garrett, Paul Gibson, Nole Giulini, Charlene Godard, Michael Goodman, Louis J. Gwerder III, Marc Ellen Hamel, Jazmier Harrison, Sofia Harrison, Wynne Hayakawa, Nicole Hayden, Jennifer Hendricks, Howard Hersh, Monroe Hodder, Ann Hollingsworth, Christopher Horton, Wesley Hostnick, James Housley, Mitch Hoyt, Phillip Hua, Scott Idleman, Cynthia Ona Innis, Rich Jacobs, Mitch Jones, Justice, James Kao, John Kuzich, Orlando Lacro, Gyongy Laky, Marc Lambrechts, Chris Leib, Monika Lin, Frank Lobdell, Leslie Lusardi, Catherine Mackey, Paul Madonna, Gwen Manfrin, Kara Maria, Jeff Marshall, Jessica Martin, Matt Masci, Liz Maxwell, Aondrea Maynard, Michael McConnell, Barry McGee, Saundra McPherson, Emily McVarrish, Trevor Meeker, Betty Merken, David Michael, Midori, Judith Minichiello, Charlie Mirador, David Molesky, Mr. Sugar, Grace Munakata, Cass Murphy, Lisa Myaf, Craig Nagasawa, Tomas Nakada, Stephen Namara, Manuel Neri, Deneane Niebergall, Zannah Noe, Jen Ocide, Barbara Olsen, Omega X Rae, Maria Park, Tae Park, Jonathan Parker, Wilma Parker, Dennis Parlante, Jackson Patterson, Silvana M. Perez, Txutxo Perez, Richard L. Perri, Aaron Petersen, Silvia Poloto, Freya Prowe, Marcio Ramirez, randalljohn, Sean Realite, Kyle Reicher, Klari Reis, Gregg Renfrow, Tiffany D. Robinson, Andrew L. Rogers, Thierry Rosset, Harvey Rushing, Mini Sage, Nancy Saltzman, James Scoville, Richard Shaw, Liz Sher, Addie Shevlin, Angela Simione, Jesse Simon, Ronald Singletary, Anthony W. Singleton, Travis Somerville, Kathryn Spence, Jennifer Starkweather, Livia Stein, Kirsten Stolle, Yuko Tamaoka, Kevin Taylor, Rikki Lee Taylor, Rab Terry, Sereno Thomas, Ayu Tomikawa, Shannon Trimble, Mark Ulricksen, Marc Van Cauwenbergh, Kathryn Van Dyke, Beth Van Hoesen, Nicolas Van Krijdt, Tito Vandermeyden, Ivan Vera, Anne Veraldi, Tina Vietmeier, Patti Walker, Shawn J. Weeden, Beth Weinthraub, Alisha Wilson, Wilton R. Woods, Ringo Word, Laurie Wyman-Heron, Tim Yankosky, Ute Zaunbauer.
Comment by AB: Chaired this year by famed romance novelist Danielle Steel, this annual auction's proceeds help fund Hospitality House's Community Arts Program, providing opportunities for Tenderloin residents to express, explore and expand on their creative inclinations and aspirations.
Annual Hospitality House art auction selection.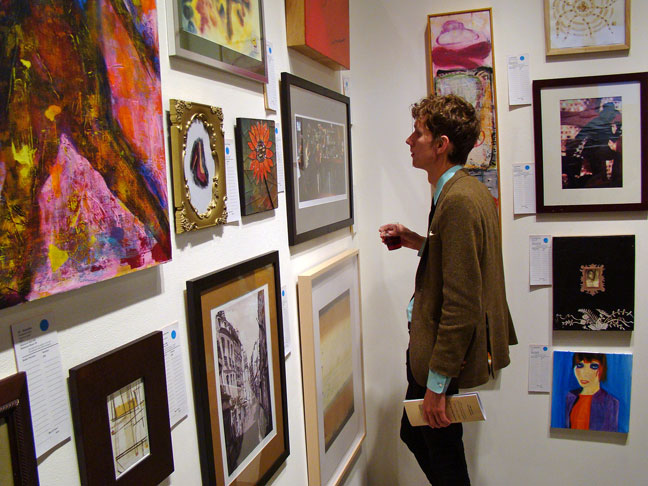 Art.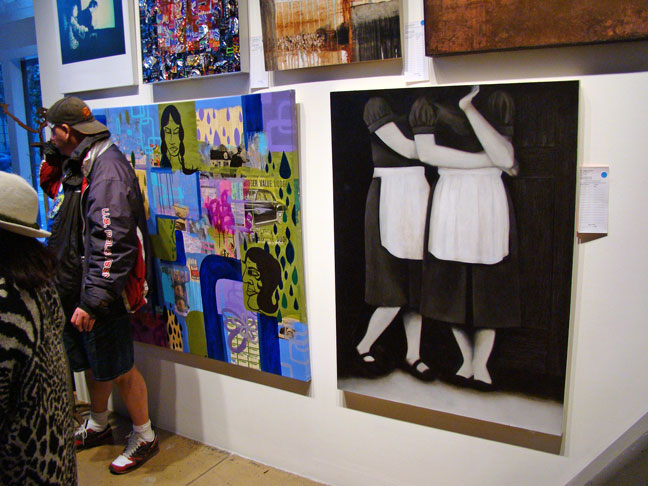 Art.


Auctioneer Stephen Tourell invigorates the crowd.


The crowd that Stephen Tourell is invigorating.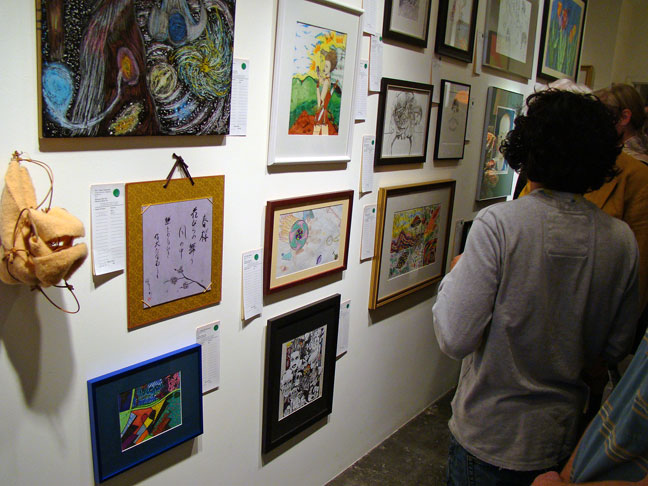 Art.


***
Fecal Face Dot Gallery: Mi Ju - Solo Show.
Comment by AB: Korea-born Mi Ju takes that Anime ethos, urbans it up, and then continues to blend in a mix of Eastern and Western influences. Apparently she's learning her San Francisco Art Institute lessons well, and is clearly on her way to finessing the fine points of bombastic blather. Don't believe me? Witness this-- "Each character, pattern and energy reflects states of consciousness that are revealed in the creative act, a form of both improvisation and organization wherein the uncensored is working in concert with momentary, yet specific compositional organizations." Uh... OK. Good art though. Go see.
Art by Mi Ju.


Mi Ju and her art.


Art by Mi Ju.


Mi Ju art.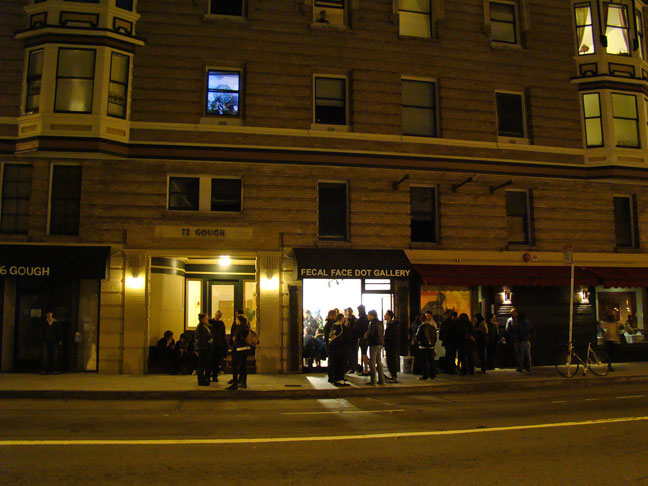 View from the opposite curb.


***