***
John Pence Gallery: Figures - Group Show.
Artists: Michael Klein, Carl Dobsky, Mary Foote, Chester Harding, Steven J Levin, Will Wilson, Jacob Collins, David Leffel, Jeremy Mann, Noah Buchanan, Robert Liberace, Brendan Johnston, Patricia Watwood, Justin Hess, Jason Toney, Zack Zdrale, Kevin Gorges, Jon deMartin, Cuong Nguyen, Russell Harris, John Koch, Mikel Glass, Edward Minoff, Darren Kingsley, Kate Lehman, Juliette Aristides, Tony Curanaj, Michael Bergt, Travis Schlaht, Dean Larson, Adam Forfang, Gary Weisman, Brian Booth Craig.
Comment by AB: Antique and contemporary adventures in portraits, figures and genre painting.
Art by Cuong Nguyen (2 on right) at John Pence Gallery.


Art by Steven J Levin.


Will Wilson portrait art closer.


Pinkie cam detail of Will Wilson art above (amazing accuracy & detail).


Art by Steven J. Levin.


L-R, art by Carl Dobsky & Travis Schlaht.


Robert Liberace art.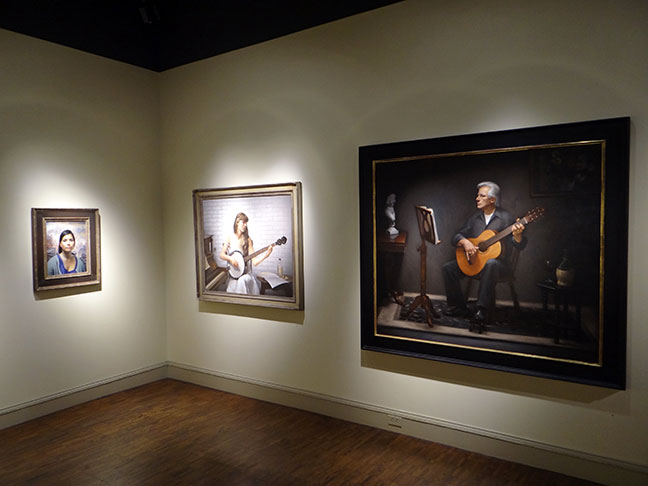 Art by Justin Hess (right).


Sculpture by Gary Weisman.


Long view - group figure and portrait art show at John Pence Gallery.


***
RayKo Photo Center: The New Forty-Niners - Sarina Finkelstein; Scavenger, Adventures in Treasure Hunting - Jenny Riffle.
Comment by AB: Prospectors continue to scour the Sierra foothills searching for gold over 160 years after the Forty-Niners strafed pretty much all of the best stuff for themselves. Sarina Finkelstein's photographs are all about that. In a related take on the same get-rich endgame, Jenny Riffle photographs those who riffle through the residue of others in search of lost, trashed, forgotten or misplaced treasures. The images of some of their salvaged "valuables" prove once again that there's a market for absolutely everything.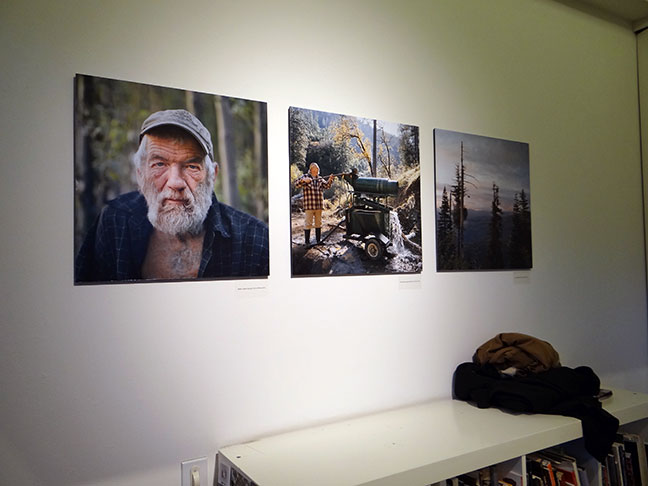 Photography by Sarina Finkelstein at RayKo Photo Center.


Sarina Finkelstein photographs.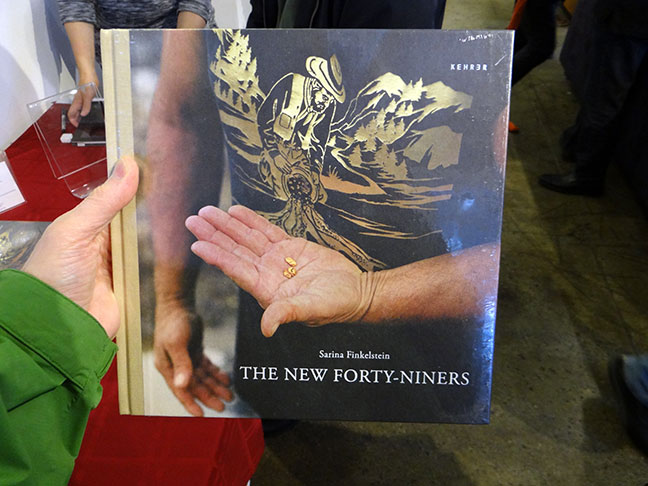 Photo essay by Sarina Finkelstein, The New Forty-Niners.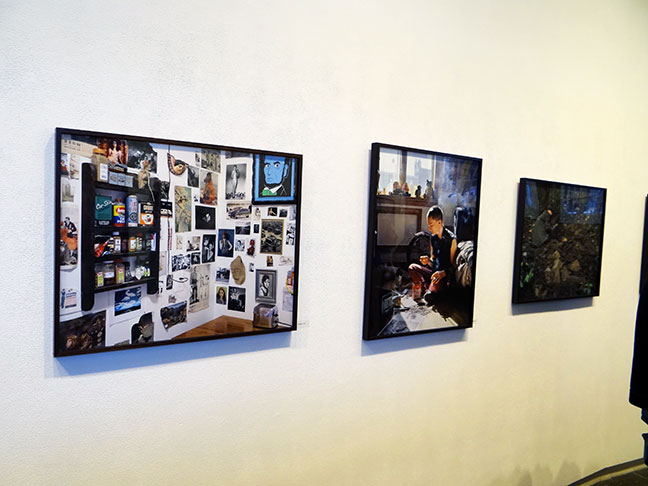 Salvaged treasures photographs by Jenny Riffle.


Treasure hunted artifacts - photography by Jenny Riffle.


Scavengers photographed by Jenny Riffle.


In search of the good stuff - photography by Jenny Riffle.


Where treasure hunters hunt - photograph by Sarina Finkelstein (I think).


***
White Walls & Shooting Gallery: Hospitality House 29th Annual Art Auction.
Artists: Ala Abtekar, Kymberly Agresti, D.R., Jennifer Anderson, Kanna Aoki, Jenny E. Balisle, Brian Behnke, Deborah Bell, Micah Black, Charles Blackwell, Juan C. Bonilla, Sketchie Bb, Roya Bozeman, Samuel Brantley, Iris Brightwater, Aileen Buonlamperti, Brent Bushnell, Olga Butuzova, Marsha Campbell, Sofia Carmi, Peter Chrisler, Larry Clark, Nicholas Coley, Travis Collinson, Michael Covington, Bob Culpepper, Kelly DeFayette, Patrick Dintino, Willard Dixon, Ann Eby, Cathy Ferguson, Kai, Bean Finneran, Lynn D. Fulkerson, CRM 84, Cortney Raye, David Garvey, Ronnie Goodman, Michael Gosbee, Greg Gossel, Al Grumet, slick, Louis Gwerder III, Marble Moods, Liz Hickok, Jack Hirschman, Monroe Hodder, Tobin Holmes, Alyson Issacs, Harvey Rushing, Mitch Jones, Soad Kader, Anne Kaplan, Tracey Kessler, Mike Kimball, Hugo Kobayash, Lindsey Kustusch, John Kuzich, Rose Linda, Hung Liu, Vanessa Marsh, Jeff Marshall, Claudette Martinez, Jet Martinez, Tyrone McCloskey, Don McCunn, Saundra McPherson, Midori, Betty Merken, Charlie Mirador, Lisa Mistiuk, Sakie Miura, Derek Morgan, Leslie Morgan, Tom Morgan, Sean Murdock, Samuel Nejati, Deneane Niebergall, Christina Nielsen, Thomas Nolin, Bob Nugent, Aammear, Parbatie Osman, Yari Ostovany, Gilberto Palacios, Tae Park, Michael Pauker, Txutxo Perez, Ferris Plock, Silvia Poloto, Poesia, Madeleine Putnam, SF Lettering, Lucky Rapp, Josh Reinstein, Peter Reynosa, Kay Rodrigues, Rseck, Kevin L. Rush, Gala Sadurni, Rachel Sager, Rishi Satsangi, Elizabeth Schiff, James Scoville, Janet Seifert, Lucien Shapiro, Tim Sharman, Addie Shevlin, Sita, Joseph E. Sierra, Brittany Sondergaard, Jennifer Starkweather, Shannon Roche Steneck, Kirsten Stolle, Brandon Jay, fingg!, Rab Terry, Melinda Tidwell, Ehren Tool, Kelly Tunstall, Omar Valencia, Marie Van Elder, Ivan Vera, Mel Vera Cruz, Baroness Blue, Ira Watkins, Thomas Weiser, Heather Wilcoxon, William T. Wiley, Stephanie Williams, Tim Yankosky, Shayna Yashuhara, Katherine Young, Alanna Zrimsek, more.
Comment by AB: Yes, it's the Hospitality House annual fundraiser art auction and yes, it's for a great cause. We all know that. But there is so much art by so many artists from so many different sectors and eras cramming every square inch of available wall space, that for you who love beating the bushes for bargains, attendance at this event is required. A superb opportunity to simultaneously give back and buy right.
Here we are. Sell out crowd for Hospitality House annual fundraiser auction.


Art by John Kuzich from 1981.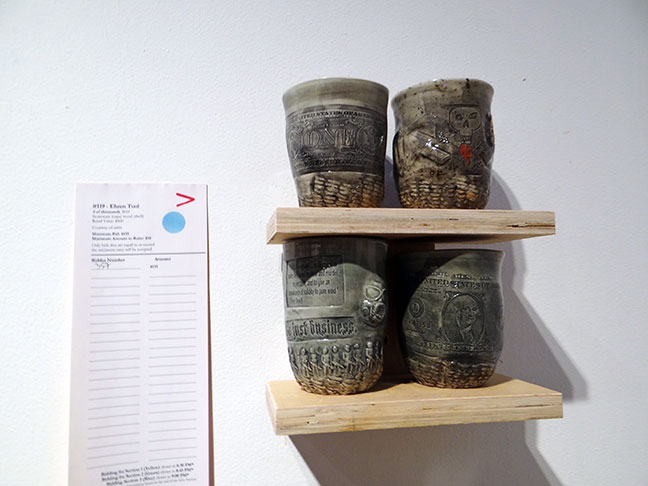 Nice set of ceramic mugs by Ehren Tool.


Good stuff here - color etching by William Wiley.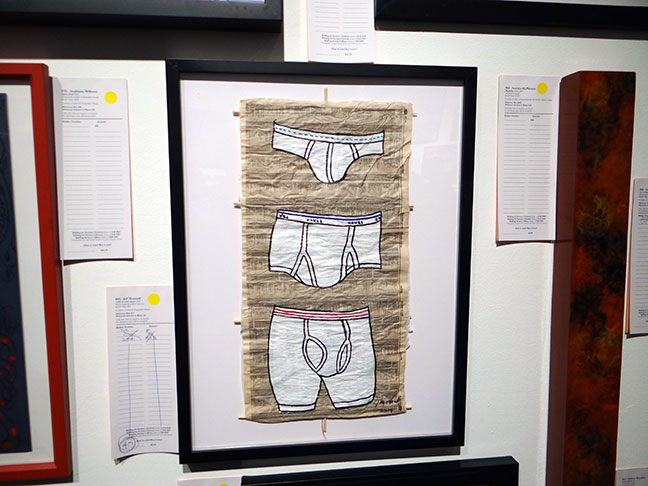 Underwear art by Jeff Marshall.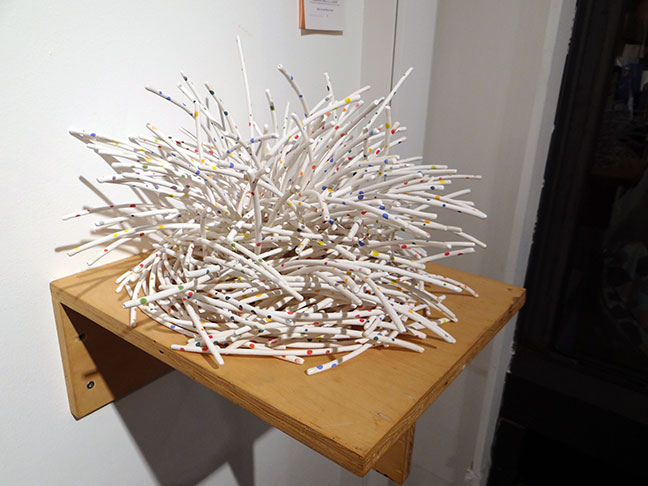 Ceramic sculpture by Bean Finneral.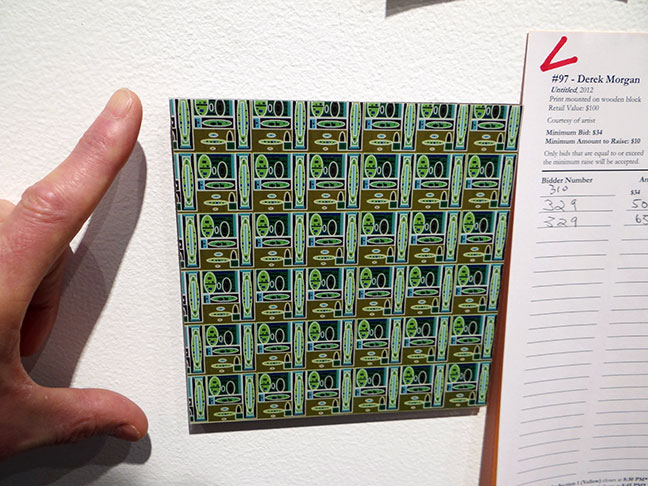 Diminutive art by Derek Morgan.


Vibrant & colorful art by Charles Blackwell (center).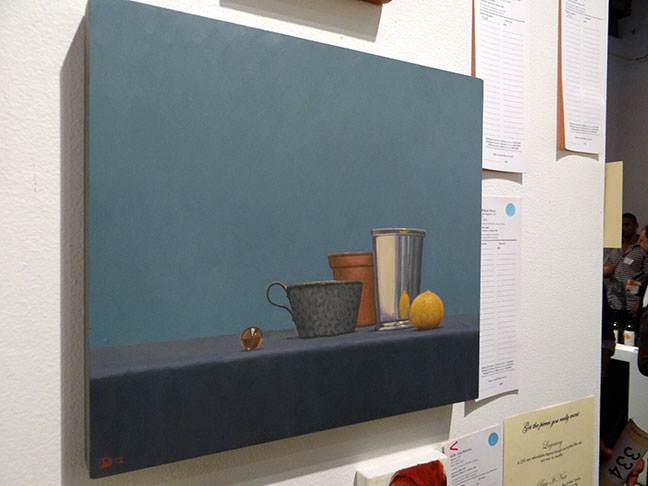 Nice still life by Willard Dixon.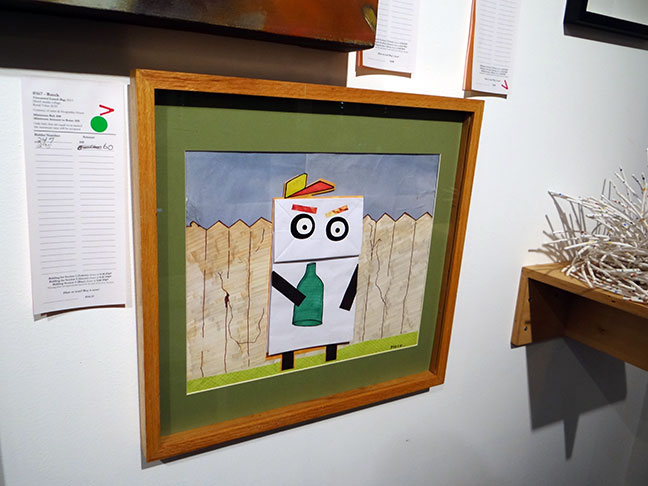 Here's something you don't see everyday - art by Rseck.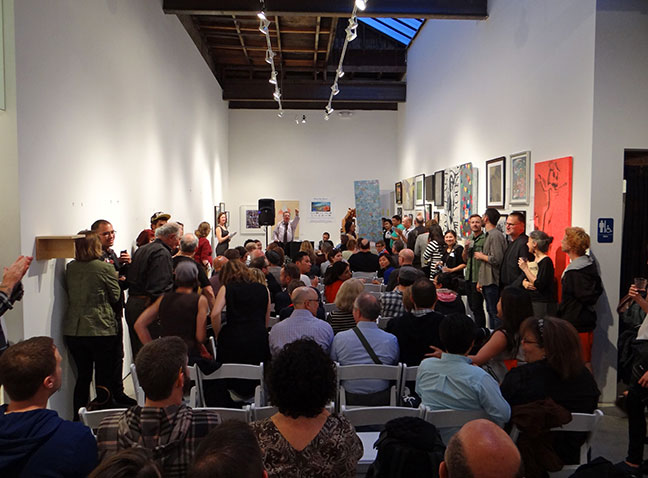 Live auction action at Hospitality House annual fundraiser.


***
Addendum:
A little bit of everything at LOOK Gallery (like it).


***