CATHARINE CLARK - DE YOUNG MUSEUM - MOLLUSK - FABRIC8

COMPOUND 21 - NEEDLES & PENS - SALON OBLIQUE - ADOBE BOOKS

05.22.10

(with assistance from GETBIZI, Bob Nishihira, Clare Coppel and RWM)


***
Catharine Clark Gallery: Chester Arnold - Natural Histories, The Crooked Timber and Other Paintings and Drawings.
Review by RWM, images c/o Catharine Clark Gallery: Well executed paintings confront us with the fruits of our environmental demise. Not captured here are the wonders of the rural existence but instead, its desolation and vulnerability. Rather than these rustic places being special and something to be cared for, the denizens of these paintings find no value here. They leave the scars of their stay in the form of trash, refuse and felled trees. Sad documentation of alienation and a lack of connection and concern.
Comment by AB: Love the art of Chester Arnold-- technically superior work with vision. Usually an artist has been gifted with either one or the other... Arnold's got plenty of both.
Art by Chester Arnold.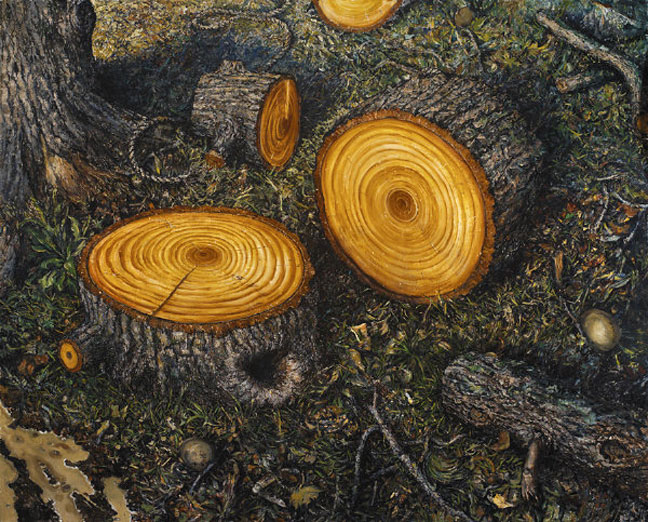 Chester Arnold Art.


***
de Young Museum: Birth of Impressionism - Masterpieces from the Musee d'Orsay.
Review and images by GETBIZI: Our sister city, Paris, gives us a wonderful gift in the form of a loan exhibition from the Musee d'Orsay (Paris) to the de Young (SF) Museum-- an amazing collection of the masterworks of Impressionism. For example, I never realized how large "Whistler's Mother" is; standing in front of the 56.81" x 63.94" masterpiece is literally awe inspiring. The actual title of the piece is "Arrangement in Gray and Black, The Artist's Mother", but most people know it by its colloquial name, "Whistler's Mother". I can feel the sense of solitude and danger in Edoard Manet's "Rochefort's Escape," the small size of the boat and the intense energetic sea painted with small flicked brushstrokes. The boat is slightly off to the left and the horizon is so high you cannot see what & where the destination might be; it is uncertain, dark & uneasy.
This is a great opportinity to experience Paris in San Francisco. No need for transocean travel, no need to endure a 9 hour flight & airplane food. Simply take Muni to Golden Gate Park and be inspired by these remarkable works of art. And don't forget to thank Musee d'Orsay for allowing Manet, Monet, Bazille, Whistler, Renoir, Levy, Degas, Cezanne & many other Impressionist masters visit San Francisco en masse! The exhibit opens to the public May 22, 2010 and runs through September 6, 2010.
Whistler's Mother (James McNeill Whistler).


Rochefort's Escape by Edoard Manet.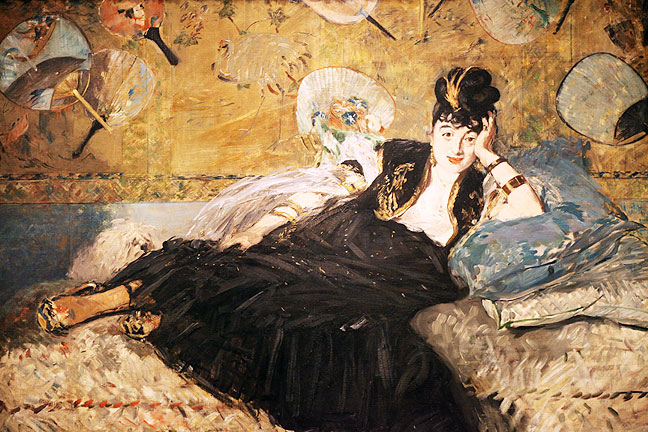 Impressionist art.


Impressionist art.


Art in the de Young Museum collection.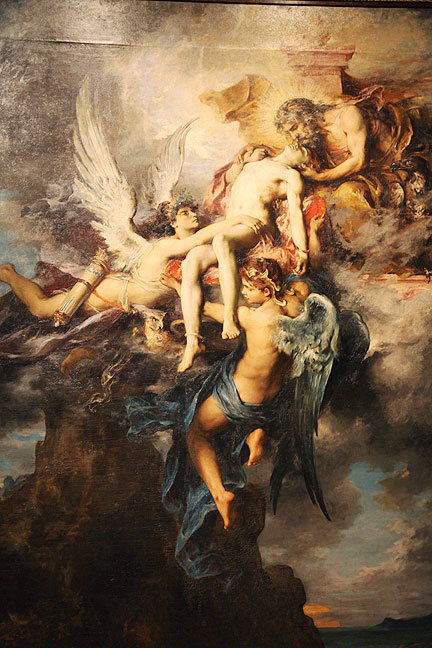 Art in above image closer.


***
Mollusk Surf Shop: Free Dive and 5 - Kanoa Zimmerman.
Review by Clare Coppel, images by Bob Nishihira: Mollusk Surf Shop celebrates its five-year anniversary with some amazing grilled salmon, music, and the opening reception for Hawaiian photographer Kanoa Zimmerman in the gallery space. Zimmerman is exhibiting his series Free Dive, spearfishing photos shot in Fiji. Free Dive refers to a type of diving without using air tanks, what Zimmerman does as well as all the people in the photographs. For that reason there are no bubbles, imparting the images with an eerie peaceful silence, particularly my favorite image, 16. Zimmerman shot all his photographs with black and white film and printed them in the darkroom at Hamburger Eyes.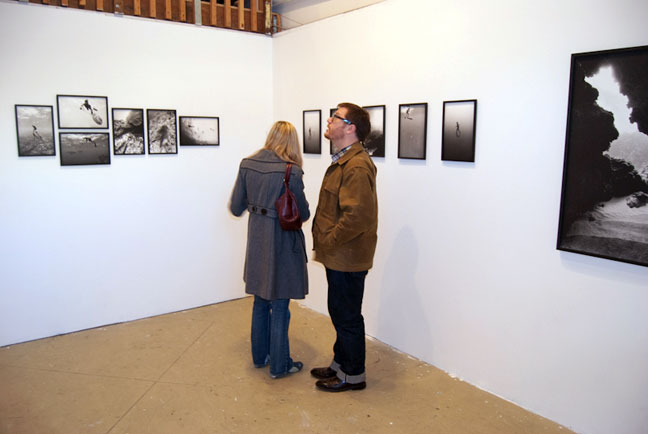 Photography by Kanoa Zimmerman.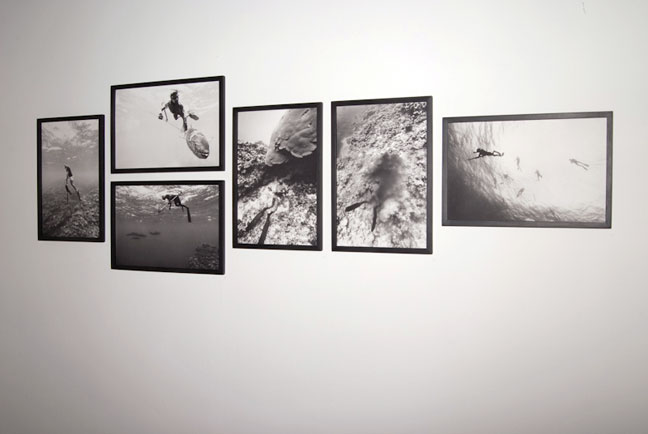 Photographs by Kanoa Zimmerman.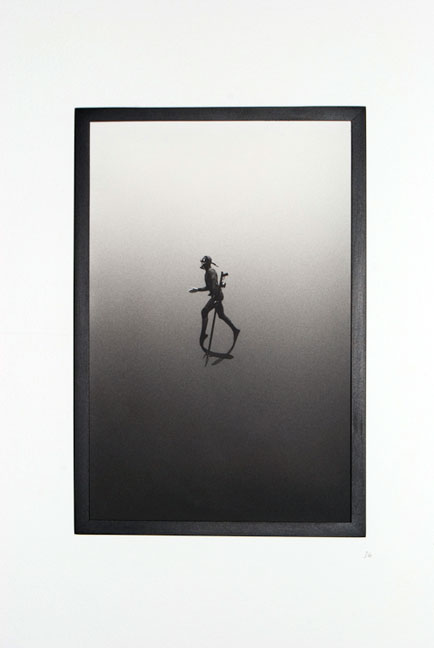 Image 16; photo by Kanoa Zimmerman.


Kanoa Zimmerman and his photography.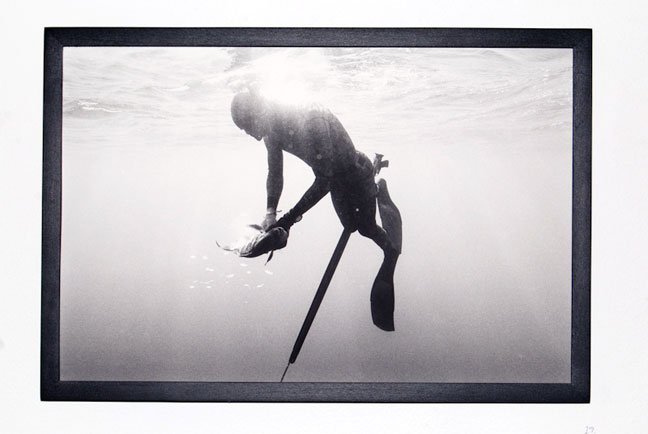 Photo by Kanoa Zimmerman.


Photograph by Kanoa Zimmerman.


Party time out front at Mollusk Surf Shop.


***
Fabric8 Gallery: Painted Ladies.
Artists: Adam Caldwell, Gianluca Franzese, NoMe Edonna, Telopa, Ursula X Young.
Review by RWM: Nice bunch of gals and domiciles here on display. Not all fun, but such is the city by the estuary. Lively use of color. Welcome to Galafornia.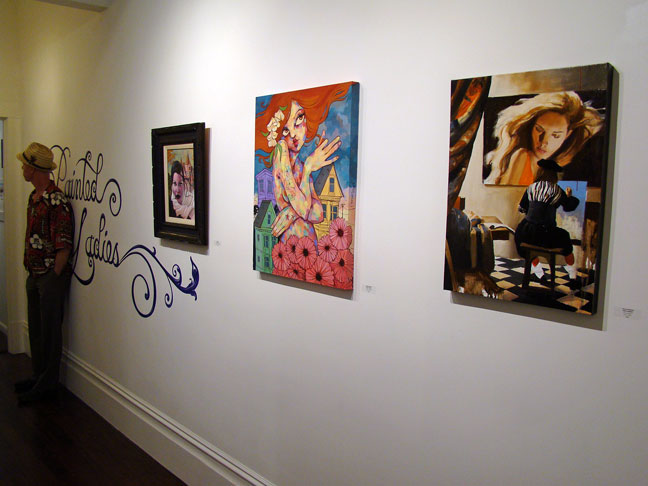 Left to right - art by NoMe Edonna, Ursula X Young, Adam Caldwell.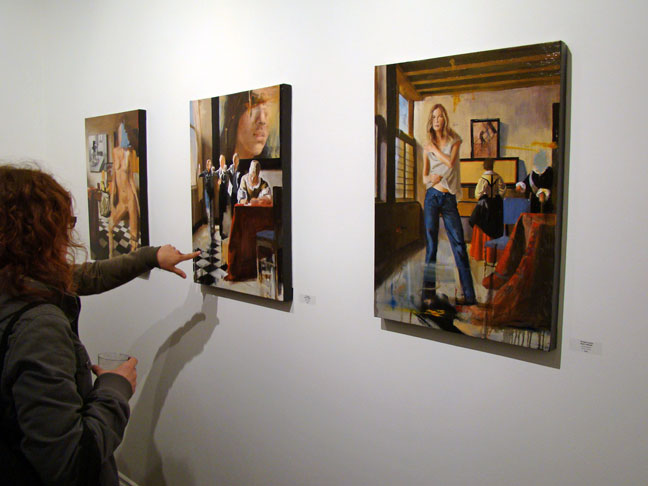 Art by Adam Caldwell.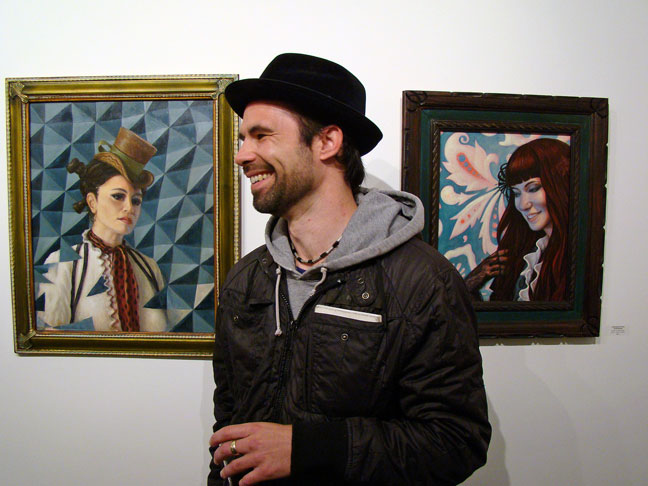 NoMe Edonna and his art.


Art by Ursula X Young.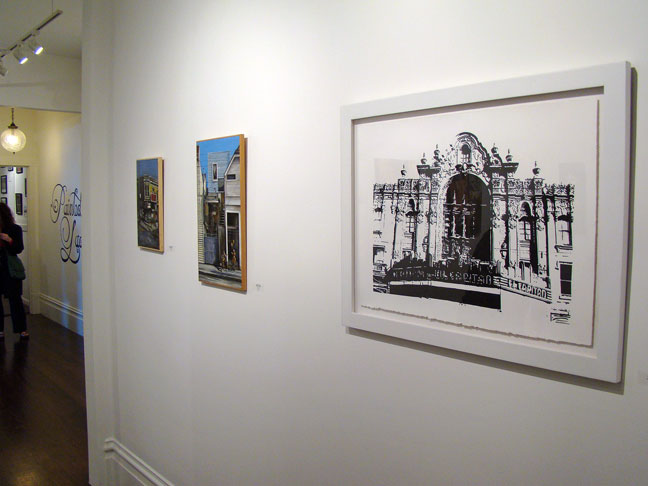 Art.


***
Salon Oblique: Art Party.
Artists: David and Hi-Jin Hodge, Rae Douglass, Maylene Rasmussen, Kevan Jenson.
Comment by AB: "A one night pop-up exhibition of contemporary art" happening in conjunction with the San Francisco Fine Art Fair.
Art by Kevan Jenson.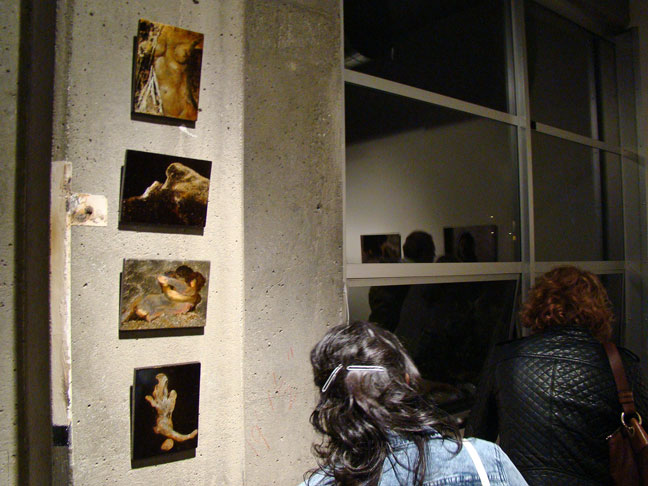 Art by Maylene Rasmussen.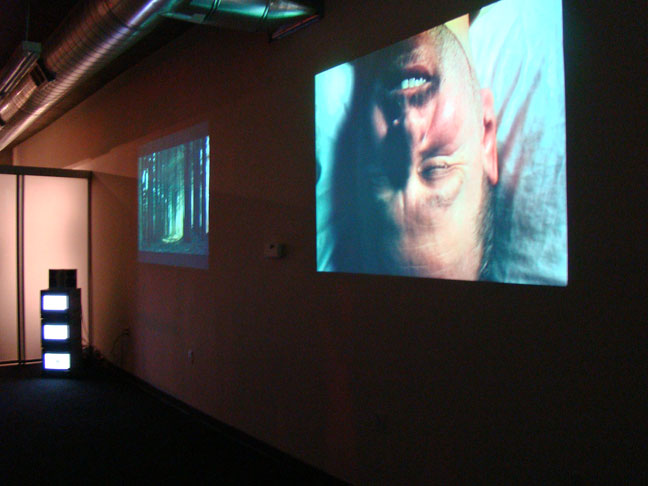 Video by David and Hi-Jin Hodge.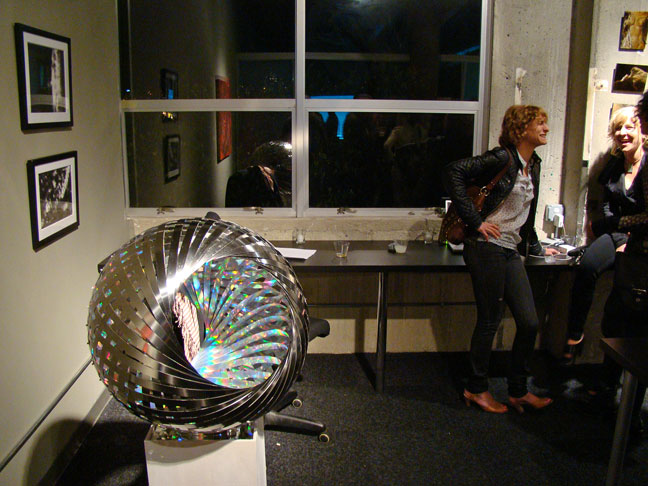 Sculpture in left foreground by Rae Douglass.


***
Compound 21: Art Party.
The artists of Compound 21: Susannah Bettag, Joe Byrnes, Hugh D'Andrade, Andy Diaz Hope, Tania Ketenjian, Miriam Lakes, Gage Opdenbrouw, Mati McDonough, Simon Pyle, Laurel Roth, Jovi Schnell.
Comment by AB: Kick-ass art party to celebrate the San Francisco Fine Art fair features Steve Zavattero on turntable and hep cats and kitties too numerous to mention.
Steve Zavattero checks the playlist.


Relative density.


***
Addendum:
Group show of Brazilian art at Needles & Pens.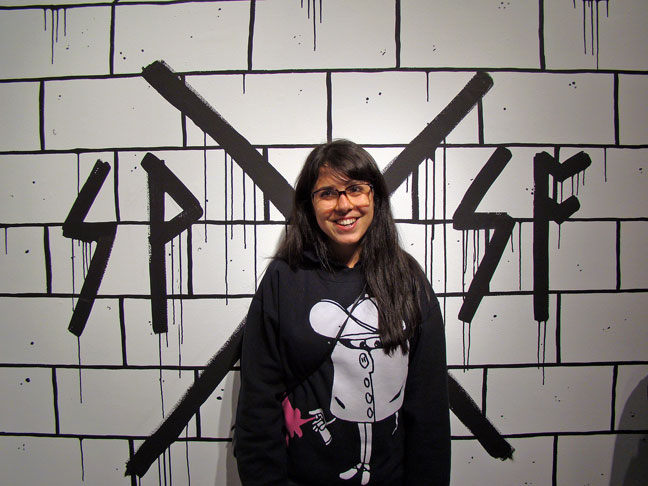 Brazilian art show curator Pacolli at Needles & Pens.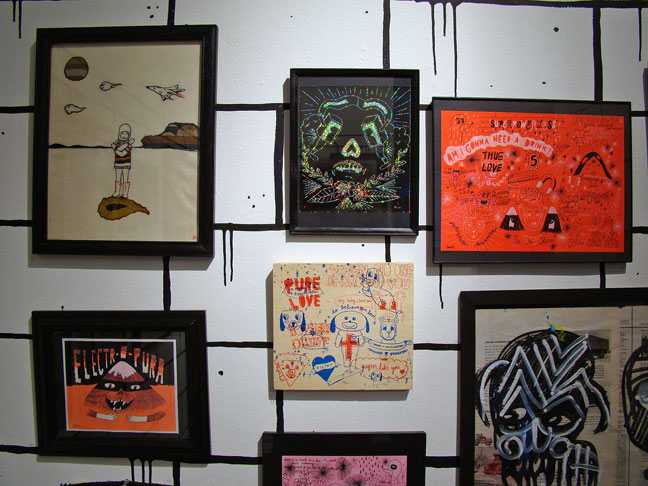 One more from Brazilian art show at Needles & Pens.


Nicolas Torres window installation includes bogus signage at Adobe Books.


Poster for Nicolas Torres window installation at Adobe Books.


***