SANCHEZ ART CENTER - SCHOOLHOUSE - ROLL UP

05.27.11

(with assistance from DeWitt Cheng and RWM)



Need your art appraised? Click Here.
***
Sanchez Art Center, Pacifica: Jack Ogden.
Review and images by DeWitt Cheng: This solo show features Sacramento painter Jack Ogden, retired from teaching at Cal State University Sacramento, and represented in the collections of the Crocker and Oakland Museums, among others. Fifteen works, ranging in size from 11 by 14 inches to six by seven feet, depict figures derived from old newspaper and magazine photographs, and are explorations of identity, history and transience, their now-vanished subjects photographically fixed in time "a hundred years ago, smiling and happy without a care in the world-- being here and not being here." Ogden infuses his couples (e.g., matching pairs in "Two by Two"), singletons (e.g., a comic-existential J.-P. Sartre crossing the street in "X Man"), groups (orchestra members and even XIT-Ranch cowboys, Russian generals and Mafia thugs) with lyricism and humor. Artist's talk on Sunday June 26, 4pm.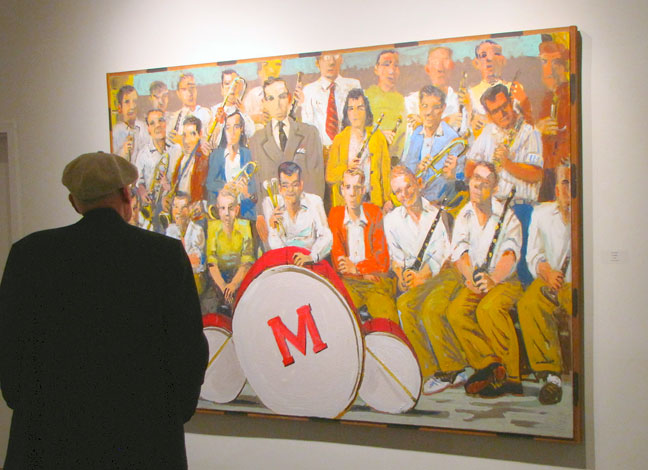 "M Band."


"Bleu."


Jack Ogden with "Brody 2."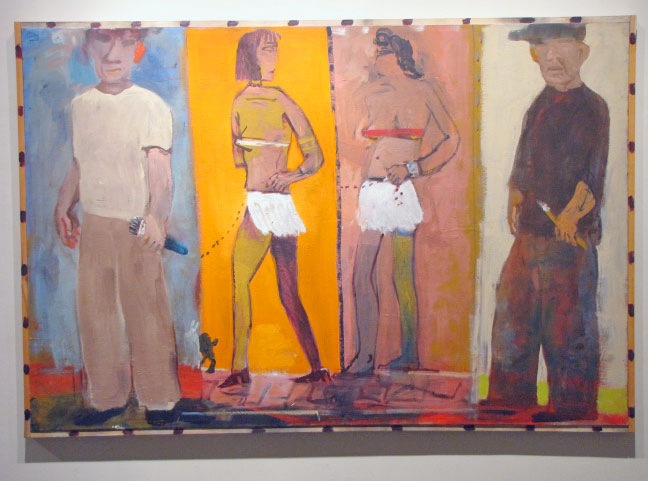 "Two by Two."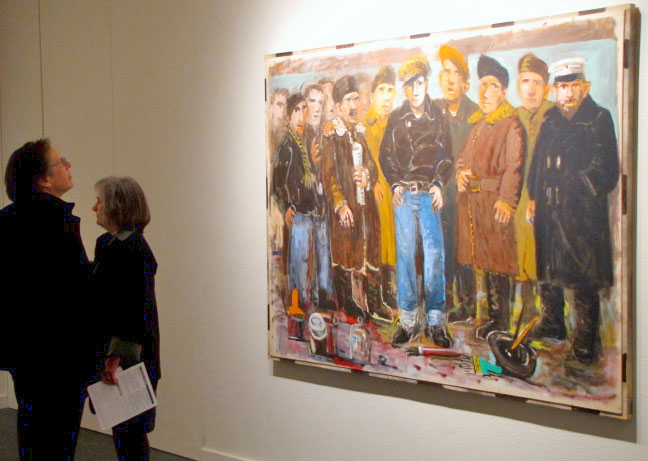 "Holy H." Brando it is, from "The Wild One."


"Big B."


After-reception in studio of Nancy M. Russell.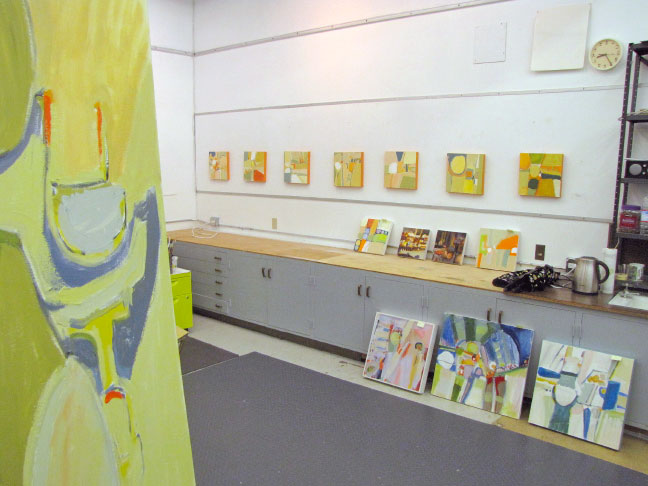 Art by Nancy M. Russell.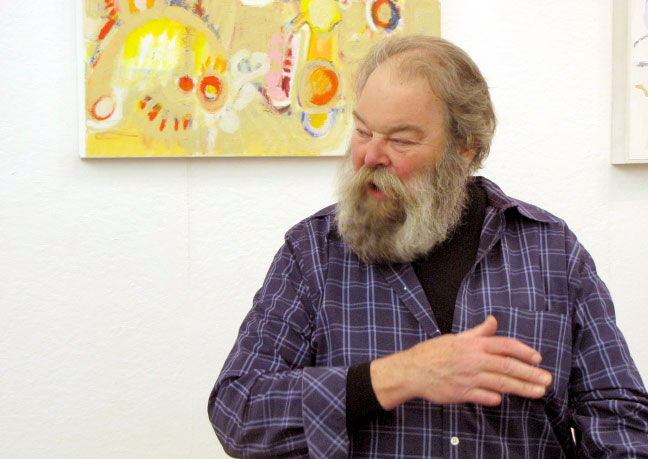 Sculptor Garry Knox Bennett.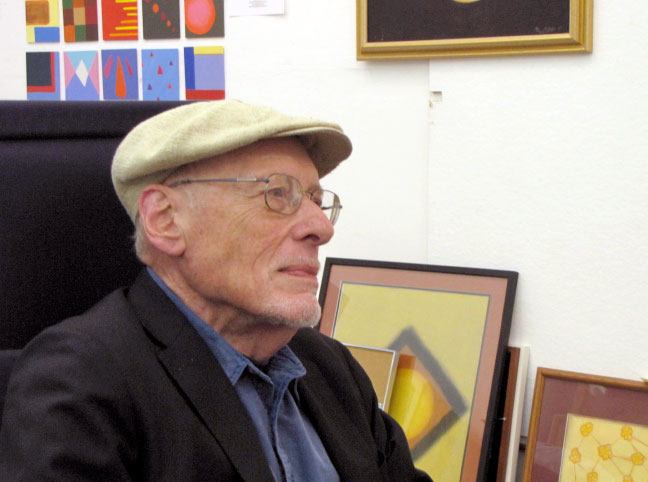 Painter Irving Marcus.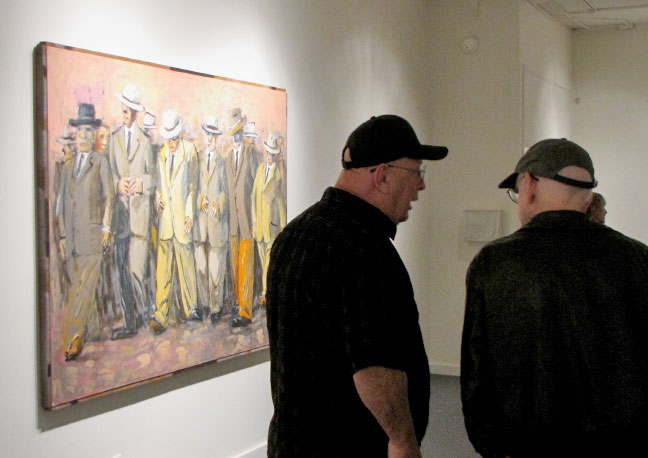 "Moskow Roketts."


***
The Schoolhouse, 1592 Market St., San Francisco, CA 94102: Anthony Holdsworth - Season of the Sunflower & Climate Change Quartet.
Review by RWM: Alarming works of art by Anthony Holdsworth about Global Warming. Startling to see Bay Area streets under water. Scientists have been saying that this problem is on the way... and now also artists. Global Warming will be all sorts of things, especially inconvenient. It will change all of our lives. We will look back on the good old days when our cities were not inundated with water. For those who argue that this is a natural change, one need be reminded that we have pumped enormous amounts of greenhouse gases into the atmosphere. We have made the natural changes worse and have not yet seen all the consequences. Inland our descendants will probably go. Art like this can sound the alarm.
Global warming art by Anthony Holdsworth at The Schoolhouse.


Anthony Holdsworth art - reading in progress.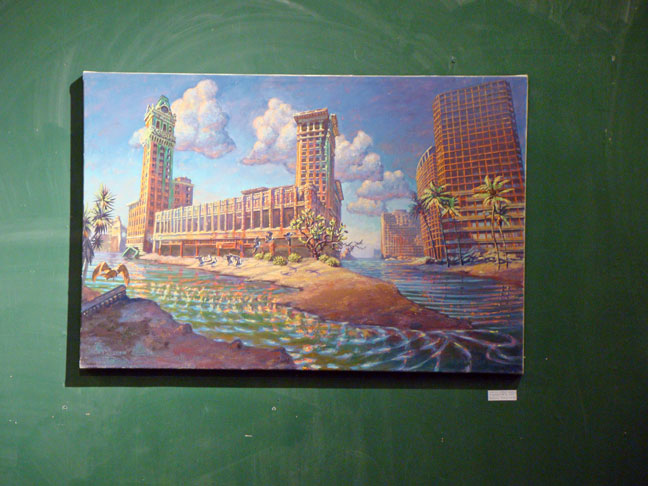 Art by Anthony Holdsworth in above image closer.


***
Roll Up Gallery: Wild Roary.
Artists: Gabriel Castellanos, Pixiebird, Emma SanCartier, Jack Taylor, Charmaine Olivia, more. Curated by Betty Bigas.
Review by RWM: Get lost in the leaf-strewn woods and discover such odd and strange marvels. There are wild creatures on canvas in the shade of branches and leaves painted on the walls and positioned about the gallery. Fly above the clouds through space or spend time down on the ground. All sorts of art on display in this group show. Amazing wild creatures abound.
Group art show at Roll Up Gallery.


Art.


Art closer (finger span = 6 1/2 inches).


Frog art at Roll Up Gallery.


Art.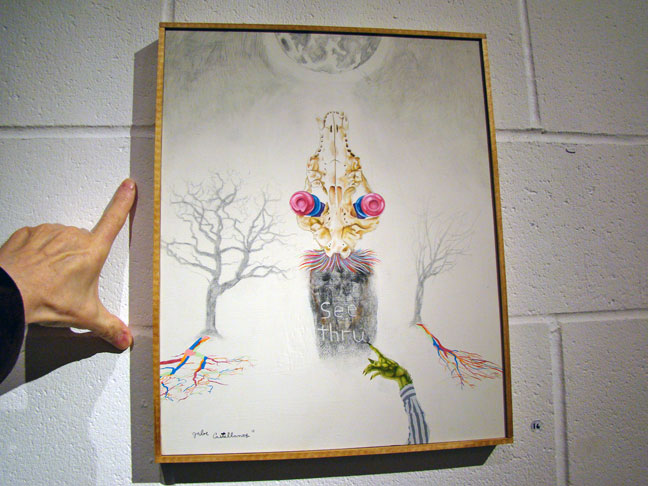 Art closer at Roll Up Gallery.


***
Addendum:
New mural graces Page St. just above Market St. by Pastime.


***