***
Consulate General of Mexico and Bray/Herrman Fine Art: The Magic Surrealists of Oaxaca, Mexico - Rufino Tamayo's Legacy, Contemporary Zapotec Artists.
Artists: Juan Alcazar, Ariel Mendoza Baños, Alfredo Canseco, Justina Fuentes, Jorge Lopez Garcia, Ruben Leyba, Alejandro Santiago Ramirez, Calixto Robles, Alvaro Santiago, Rufino Tamayo, Francisco Toledo.
Comment by AB: Group show of current art by Oaxaca artists in the tradition of Rufino Tamayo and Francisco Toledo... with ample surrealist overtones. They got a lot of talent down there. I'd definitely check this one out. Good show.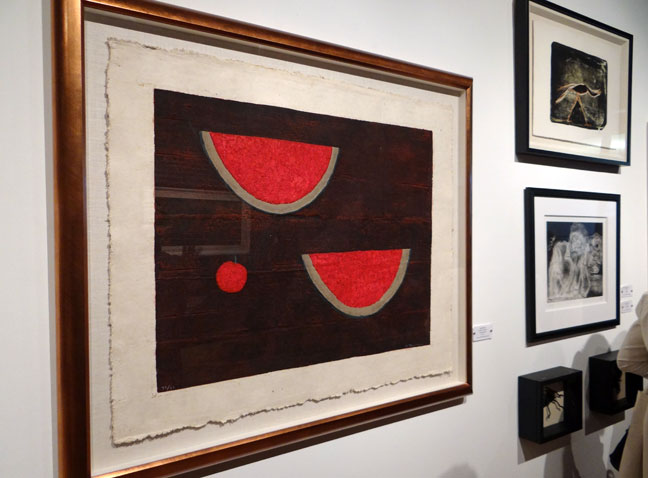 Watermelon art by Rufino Tamayo at Consulate General of Mexica.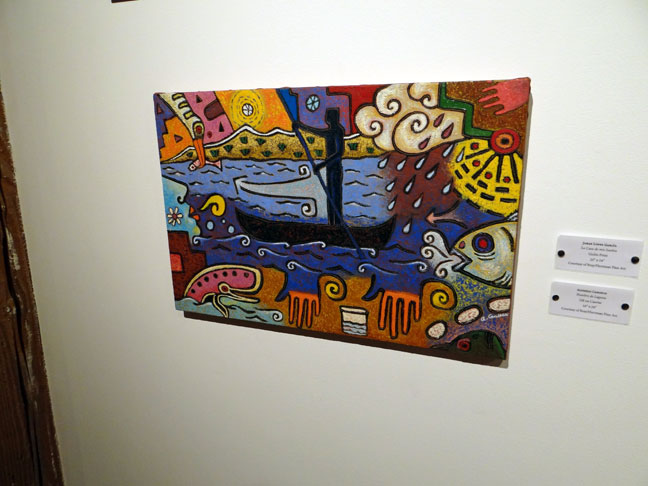 Art by Alfredo Canseco.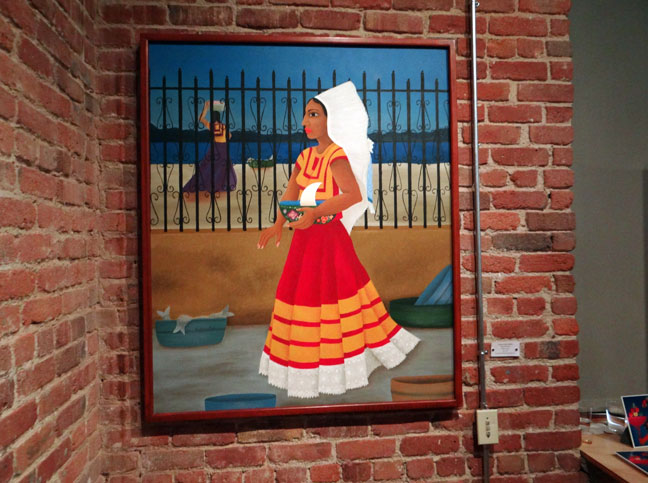 Art by Oaxaca artists at Consulate General of Mexico.


Art at Consulate General of Mexico.


Magic surrealist art from Oaxaca, Mexico.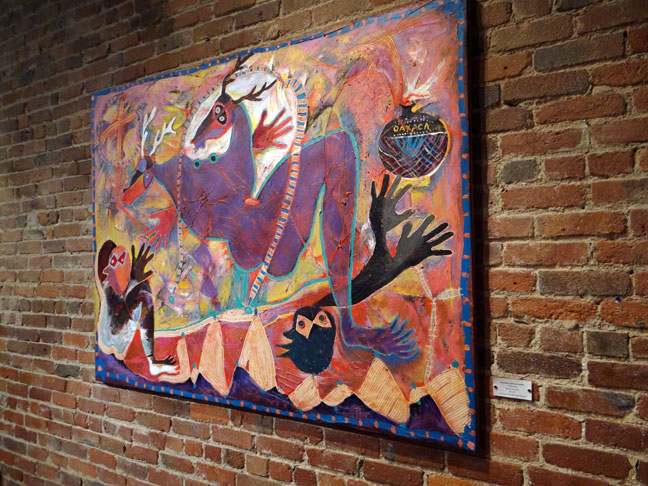 Contemporary art from Oaxaca at Consulate General of Mexico.


Oaxaca contemporary art at Consulate General of Mexico.


Relative density - Oaxaca artist group show at Consulate General of Mexico.


***
941 Geary Gallery in conjunction with Hospitality House: 27th Annual Art Auction Benefit for Hospitality House Community Arts Program .
Artists: Adam5100, Kymberly Agresti, Jesse Allen, Linda Mieko Allen, Andrea Antonaccio, Luca Antonucci, Apex, Jenny Balisle, Michael Barbee, Cara Barer, Deborah Bell, Timothy Berry, Charles Blackwell, Blek le Rat, Richard Bolingbroke, Tom Bolles, Iris Brightwater, Aaron Brown, Brent Bushnell, C215, Sofia Carmi, Paul Chatem, Peter Chrisler, Larry Clark, Nicholas Coley, Jan Couvillon, D Young V, Kelly DeFayette, Lauren DiCiocio, Willard Dixon, Pete Doolitle, Catherine Dudley, Emma Fenton-Miller, Fig, Kai Figueroa, Ferdinanda Florence, Patricia Tobacco Forrester, Don Fritz, JJ Fryzel, James "Ganyan" Garcia, Ronnie Goodman, Greg Gossel, Casey Gray, Spencer Gray, Louis J. Gwerder III, dk haas, Chad Hasegawa, Wynne Hayakawa, Homospicious, McLean Horsy, Jack Howe, Joel Hoyer, Phillip Hua, Marion Hunt, David Jansheski, JoJo, Mitch Jones, Rodney Jones, Augustine Kofie, Lisa Kokin, Anne Kaplan, Barbara Kronlins, Kyo, Orlando Lacro, Doug Larson, Katja Leibenath, Jeff Long, Leslie Lowinger, Liz Mamorsky, Marc, Jeff Marshall, Maury, Liz Maxwell, Michael McConnell, Midori Meissen, Betty Merken, Robert Miklos, Peter Miro, Mitch Hoyt, Leslie Morgan, Liisa Morton, Sean Murdock, Lisa Myaf, Deneane Niebergall, Marcius Noceda, Jeremy Novy, Art Olson, Michael Page, Kottie Paloma, Jonathan Parker, Wilma Parker, Erik Parra, Antonio Pavón, Ruy Pereira, Txutxo Perez, Yuriy Pestov, Ferris Plock, Pobrecito, Silvia Poloto, Paul Pratchenko, Freya Prowe, Justin Quinn, Kristina Quiñones, Radical Moxy, Gail Ragains, Leta Ramos, Lucky Rapp, Carlo Ricafort, Jason Rivers, Donna Rodriguez, Thierry Rosset, Erin Ruch, J.J. Rush, Kevin Rush, Harvey Rushing, Ryan, Mini Sage, Elizabeth Schiff, James Scoville, Janet Seifert, Thomas Sexton, Shakespeare, Adele Louise Shaw, Addie Shevlin, Sickboy, Robert Silva, Skewville, Skyy, Susan Lynn Smith, Travis Somerville, Kim Squaglia, Jennifer Starkweather, Kirsten Stolle, Taytuh, Rab Terry, Randall Vanderford, Ivan Vera, Mel Vera Cruz, Ira Watkins, Shawn Weeden, Ruby Wescout, Bobby West, Karen White, Wilton Woods, Laurie Wyman-Heron, Yuko, Silvio Zamora, Dana Zed.
Comment by AB: Oceans of art on the block at this annual auction fundraiser to support the Hospitality House Community Arts Program including a number of significant works by significant artists-- something you don't see at fundraiser auctions all that often. If you're a collector looking for good buys, I'd put this one on the event calendar. Plus it's for a great cause.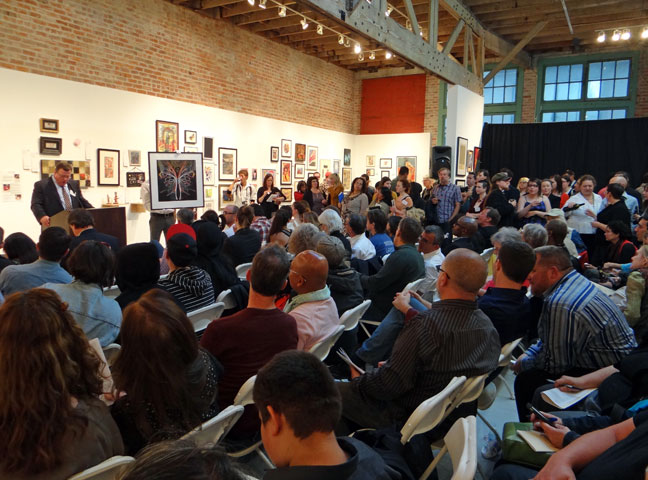 Well attended auction for Hospitality House Community Arts Program.


Auction action - Hospitality House Community Arts Program fundraiser.


And the winner is... this dude.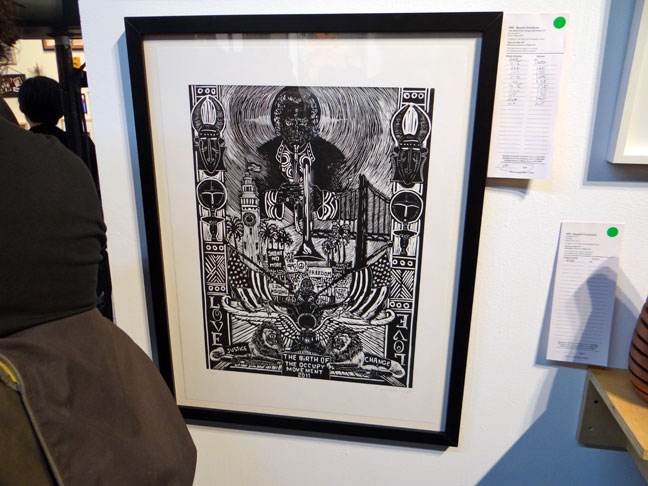 Lotta bids on this one - art by Ronnie Goodman.


Pressed molded cardboard art by Ruby Wescout.


Reclining babe screen print by Casey Gray.


Torn paper collage by Greg Gossel.


Assemblage art by Liz Mamorsky.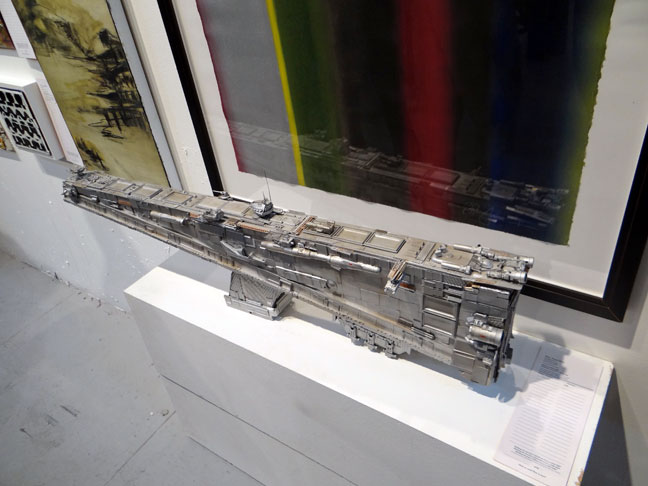 Futuristic art at Hospitality House Community Arts Program fundraiser.


Art at Hospitality House Community Arts Program auction fundraiser.


***