***
Headlands Center for the Arts at SOMArts: 2014 Benefit Art Auction.
Artists: Jessalyn Aaland, Scoli Acosta, Jhina Alvarado, Facundo Argañaraz, Johnna Arnold, Anzfer Farms, Firelei Báez, Teresa Baker, Chris Ballantyne, Roger Ballen, Richard Barnes, Ben Barretto, Libby Black, Debra Bloomfield, Val Britton, Christopher Brown, Thomas Campbell, Tammy Rae Carland, Andrew Chapman, John Chiara, Kelly Marie Conder, Aurora Crispin, Daniel Cummings, Michael Cutlip, Binh Danh, Seth DeCiantis, Evan DeSpelder, Lauren DiCioccio, Meagan Donegan, Liam Everett, Kota Ezawa, Asad Faulwell, Laura Fischer, Chris Fraser, Andy Freeberg, Erik Friedman, Narangkar Glover, Samara Golden, Ramiro Gomez, Brett Goodroad, Rachel Hayes, Todd Hido, Haavard Homstvedt, Satch Hoyt, Colter Jacobsen, Carolyn Janssen, Nina Katchadourian, Mary Anne Kluth, David Korty, Yoon Lee, Kristina Lewis, Michael Light, Hung Liu, Andrea Longacre-White, David Maisel, Vanessa Marsh, Kerry James Marshall, Chris McCaw, Sean McFarland, Tom McKinley, Christina McPhee, Jason Meadows, Harold Mendez, Paul Morgan, Danielle Nelson Mourning, Matthew Mullins, AJ Oishi, Susan O'Malley, Eamon Ore-Giron, Jennie Ottinger, Tressa Pack, Jefferson Pinder, Allie Pisarro-Grant, Joey Piziali, Suzy Poling, William Powhida, Linda Raynsford, Steve Roden, Christoph Roßner, Matt Saunders, Andrew Schoultz, Christina Seely, David Shrigley, Chris Sicat, Jennie Smith, Tracey Snelling, Travis Somerville, Doug + Mike Starn, Sophie Stone, Dharma Strasser MacColl, Youngsuk Suh, Zak Timan, Tara TuckerBarry Underwood, Monique Van Genderen, Catherine Wagner, Darren Waterston, Letha Wilson, Peter Wu, Jeff Zilm.
Comment by AB: An all-star roster of artists contributes 100% quality works to the Headlands Center for the Arts fabulous annual fundraiser. Why? Because the center is one of the Bay Area's great art treasures, offering programs, residencies, exhibitions, and a variety of learning experiences and opportunities to artists of all disciplines from around the world, and a full calendar of events for art aficionados as well. Plus special added bonus-- all this takes place in an awesomely inspiring setting. Doesn't get much better than that. As you might suspect, the Headlands has a avid and appreciative fan base, as evidenced by tonight's fundraising tally of over $375,000 for the cause.
This benefit is so superb in so many ways-- the art, the artists, the crowd, the party, the consumables and more-- except for one minor downside. The auctioneer, in a repeat performance of last year, continually shushes the crowd, and badgers, chides and at times even insults and humiliates individual bidders for not bidding enough or making only one bid on an item and then dropping out without making a second. Talented though she is, she gets so shrill and intense that she even catches herself at one point, audibly pulling back from one of her tongue-lashings. The loyal supporters who pay good money to attend this wonderful wingding should be allowed to have a commensurately good time and not be scolded, right? The bidders will bid regardless; let everyone else enjoy themselves. That's the way it is at pretty much all the other auction fundraisers I go to; nobody's castigating anyone. And it's not just me; I hear similar complaints being voiced by others both during and after the auction. Could be time for a switch, don't you think?
Final verdict: One of the best art parties of the year and for a cause that's always worth supporting. This one's a definite YES.
Always an overflow crowd at the Headlands annual benefit art auction.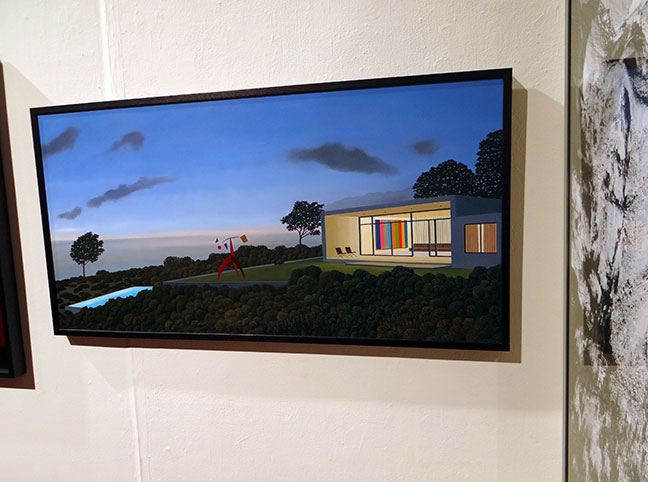 Oceanfront property art by Tom McKinley (like it).


Art with embedded video by Tracey Snelling.


Golden "Don't Tread on Me" art by Andrew Schoultz.


Boar art by Tara Tucker (upper left) at Headlands Center benefit art auction.


Suspended eggshells in liquid in above image closer by Zak Timan (like it).


Not sure who did these, but I like 'em too.


Nonstop action at the libation station.


L-R, art by Narangkar Glover & Andy Freeberg.


Luxury brand gouache art by Libby Black (like it).


L-R, photographs by Todd Hido & Danielle Nelson Mourning.


Art on fabric by Liam Everett.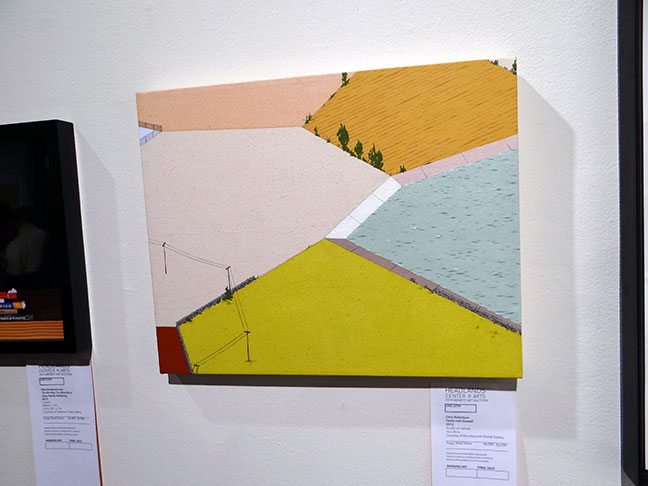 Nice piece of work by Chris Ballantyne.


Art by Eamon Ore-Giron (left) at Headlands Center 2014 benefit art auction.


Photograph by Tammy Rae Carland.


Perusing the offerings.


L-R, art by John Chiara, AJ Oishi & Samara Golden.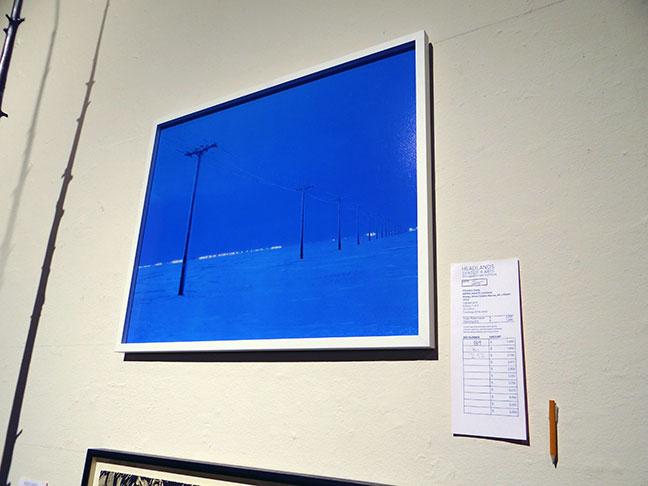 Chilly blue evening photography by Christina Seely.


Silent auction in progress-- multiple bids on practically everything.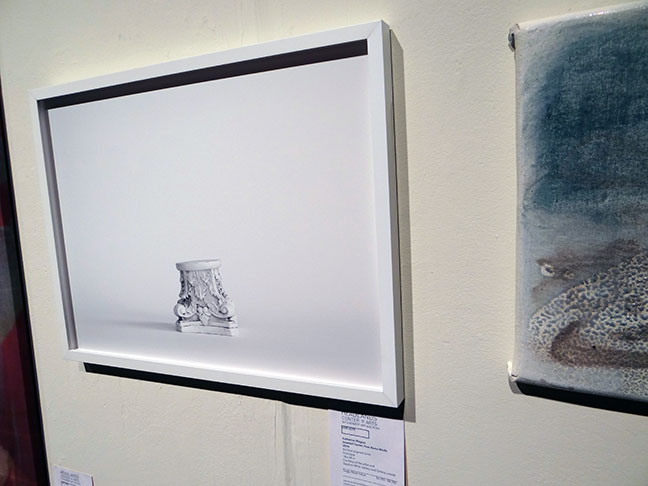 Photography by Catherine Wagner.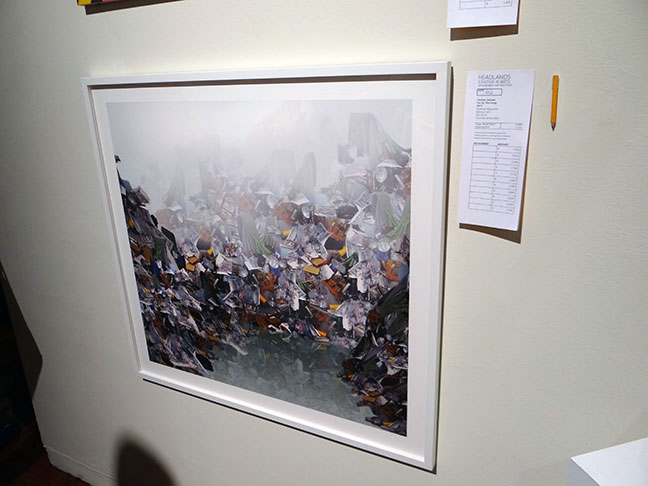 Photograph by Caroline Janssen.


Action at the auction. Shush and bid... or suffer!


***