MARX & ZAVATTERO - TOGONON - MINA DRESDEN - ROOT DIVISION

2ND FLOOR PROJECTS - INTERSECTION FOR THE ARTS - RADIUS

WONDERLAND SF - SHOOTING GALLERY - WHITE WALLS

06.12.10

(with assistance from Clare Coppel, RWM and Neal Strickberger)


***
Marx & Zavattero: James Gobel - I Get What I Want, and Always Get it Again.
Comment by AB: James Gobel's flamingly heroic felt, yarn, and acrylic portraits salute dedicated bears everywhere.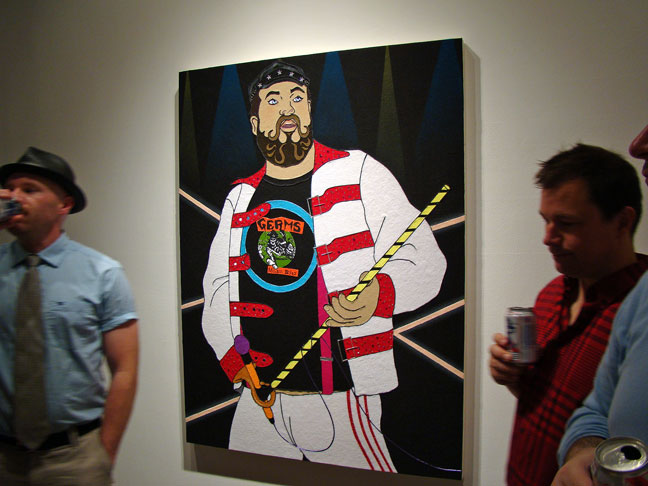 Art by James Gobel.


James Gobel art.


Art by James Gobel.


Art by James Gobel.


Population sample.


***
Togonon Gallery: Gold Standard - Nine Asian/American Modern Artists.
Artists: C.C. Wang, John Way, Constance Chang (Shanghai), Ruth Asawa, George Miyasaki, Arthur Okamura, Leo Valledor, Carlos Villa, Gary Woo.
Review by RWM: All sorts of art here for all sorts of folks. Diverse in appearance and intention, much is invested in the creation and production of the various images.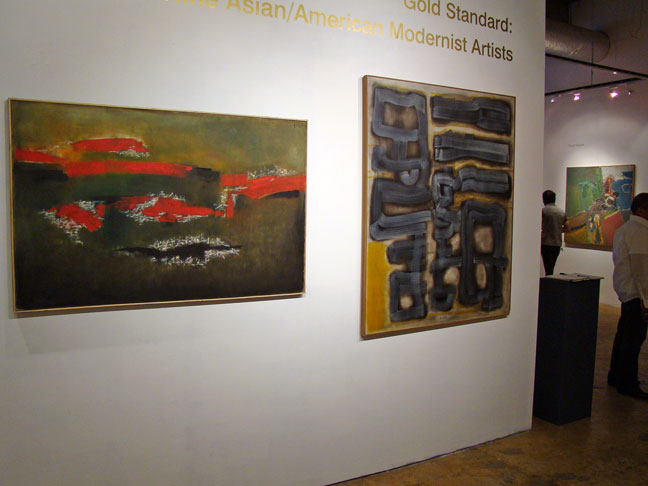 Art by Gary Woo.


Carlos Villa art.


Art by George Miyasaki.


John Way art.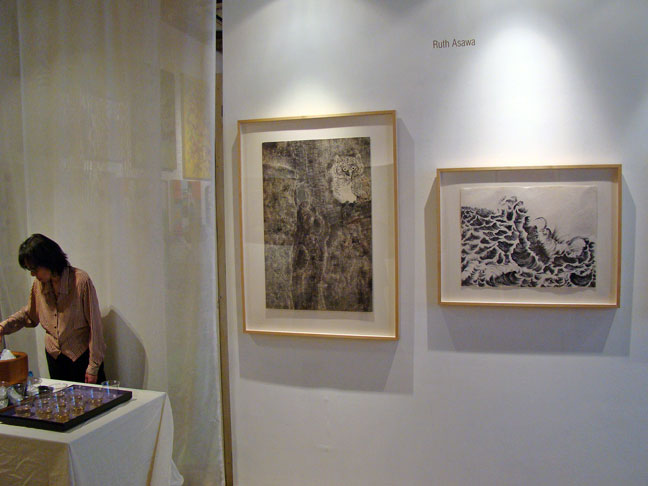 Ruth Asawa art.


***
Mina Dresden Gallery: Tracy Ginsberg - Triptych, Act I, Creatrix with Red Poppies.
Comment by AB: According to the deposition, this "interactive installation combines live art, wall painting, earthwork, video and sound projection, with narrative and story writing by Carolyn Hart."
The playing field - participatory installation art by Tracy Ginsberg.


The rules of engagement - participatory installation art by Tracy Ginsberg.


Participatory installation art by Tracy Ginsberg.


***
[2nd Floor Projects]: North American Wildlife - New work by Brynda Glazier, Johnny Ray Huston, Anne McGuire.
Comment by AB: Spiffy little miniatures by Anne McGuire, mystical New Age imagery on steroids by Brynda Glazier, and art incorporating and contained in vintage record album covers by Johnny Ray Huston.
Art by Brynda Glazier.


Brynda Glazier art.


Art by Brynda Glazier.


Anne McGuire and her miniature art.


Pinkie cam detail of miniature art by Anne McGuire in above image.


Album cover art by Johnny Ray Huston.


***
Root Division: Auto-Manic.
Artists: Cody Bratt, Laura Garzon, Justin Hoover, Shea Naer, Guy Overfelt, Michael Pedroni, Molly Pettengill, Damaris Rivera, Kirsten Rae Simonsen, Susanne Slavick, Heather Sparks, Anna-Maria Vag, Michelle Waters.
Comment by AB: Art about cars. It's precisely that simple and no more complicated.
Car art.


Automobile art (best of show, IMO).


Junked compacted automobile art.


Car art.


Not sure.


Outside looking in.


***
Intersection for the Arts: 45th Anniversary Gala - Celebrating 45 Years of Changemaking and Trailblazing!
Artists: Kathy Aoki, Michael Arcega, Ana Bedolla, Bert Bergen, Evan Bissell, Val Britton, Michele Carlson, Victor Cartagena, Julie Chang, Brett Cook, Wendy Anne Crittenden, Binh Danh, Lauren Davies, Lauren DiCioccio, Ala Ebtekar, Nome Edonna, Tara Foley, Analisa Goodin, Daniel Healey, Mayumi Hamanaka, Taraneh Hemami, Jonn Herschend, Amy M. Ho, Misako Inaoka, Ian Johnson, Donna Anderson Kam, Sean Marc Lee, Stephani Martinez, Christina Mazza, Michael McConnell, John Patrick McKenzie (courtesy Creativity Explored), Aaron Noble, billy o'callaghan, Susan O'Malley, Deborah Oropallo, Kari Orvik, Erik Otto, Elizabeth Pedinotti, Alex Potts, Ricardo Richey, Favianna Rodriguez, Nadim Sabella, Jos Sances, Zachary Royer Scholz, Andrew Schoultz, Weston Teruya, Truong Tran, Migdalia Valdes, Annie Vought, Donna J. Wan, Elizabeth M. Williams, Christine Wong Yap, Bijan Yashar.
Comment by AB: Lively well-attended annual art auction and fundraiser features quality works of art by over 70 local artists. The event is held on the first floor of the Chronicle Building at 5th and Mission Streets where Intersection for the Arts now also operates a rather ample exhibition space called Hub SoMa.
Art up for auction at Intersection for the Arts 45th Gala.


Art.


Brussels sprouts on the crotch art.


Art.


Intersection for the Arts Program Director, Kevin Chen.


Artist Victor Cartagena in da house.


Plaudits and testimonials.


Live auction of a work on paper by Andrew Schoultz.


Intersection for the Arts new exhibition space, Hub SoMa.


***
Radius: Rebus Project.
Photographers: John Agoncillo, Geoffrey Colburn, JD Maturen, Al McKee, Jasper Sanidad, Joseph Szymanski, Kevin Zamani.
Comment by AB, images c/o Neal Strickberger: "The Rebus Project is a collective portrait of San Francisco assembled over a 30-month period by photographers and writers who live in the city."
Photography - Rebus Project at Radius.


Photos.


Photographs.


Photography and writing - Rebus Project at Radius.


***
Wonderland SF Gallery & Boutique: Artists Without Boundaries for Doctors Without Borders.
Artists: Peasants and Travelers, Romanowski, Alex Uncapher, Andrew Perry, Gonz One, David Choong Lee, Duser, Taiko Fujimura, Ursula Young, Ferris Plock, Paul Hayes, Pete Doolittle, Ben Collison, Mars-1, Greg Pnut Galinsky, Renee CASTRO, Ross K Jones, Gianluca Franzese.
Review by Clare Coppel; photos c/o Robert Nishihira and Jonpierre Kelani: "Artists Without Boundries For Doctors Without Borders" is an art show charity auction at Wonderland, the new gallery/boutique of Irene Hernandez-Feiks. The auction features doctor's bags donated by Peasants and Travelers, which artists have then painted on. On the walls near each bag are paintings as well by the same artists who've painted the bags. 100% of the proceeds will be donated to Doctors Without Borders, an international independent medical humanitarian organization. All the elements of the show are well crafted and presented.
Canvas doctor's bag art by Ferris Plock.


Canvas doctor's bag art by Gianluca Franzese.


Romanowski and his canvas doctor's bag art.

.


Canvas doctor's bag art by Ursula Xanthe Young.


***
The Shooting Gallery: Whirl Trade - New Works by Fahamu Pecou.
Review by Clare Coppel: Fahamu Pecou's Whirl Trade opens tonight at the Shooting Gallery. In his art, Pecou comments on and questions sterotypes about African Americans and young African American men in particular in relation to advertising, fashion, money and music. His alter ego stars in these larger-than-life paintings, as he himself into their images, thereby intensifying his satire. This alter ego seems brash but concealed with sunglasses; rather it is the women who stare back at the viewer with direct gazes while wrapped in African dresses.
This contrast between retreating and coming forward creates a friction that keeps the viewer engaged with the images, which then extends to the texts. This writing confronts viewers' preconceptions with misspellings and comments, some of which have been crossed out-- painted over self-censoring and editing that seems to ask the viewers to complete the stories in their own minds. This is also echoed in the unfinished look of the paintings done in acrlyic, gold leaf and oil stick. I find that while Pecou's work reflects our modern culture it also reflects many of the ideas in 20th century art.
Comment by AB: Atlanta artist Fahamu Pecou makes his own news by inserting himself into pop culture media mix.
Art by Fahamu Pecou.


Fahamu Pecou art.


Fahamu Pecou & art (photo c/o Robert Nishihira and Jonpierre Kelani).


Art by Fahamu Pecou.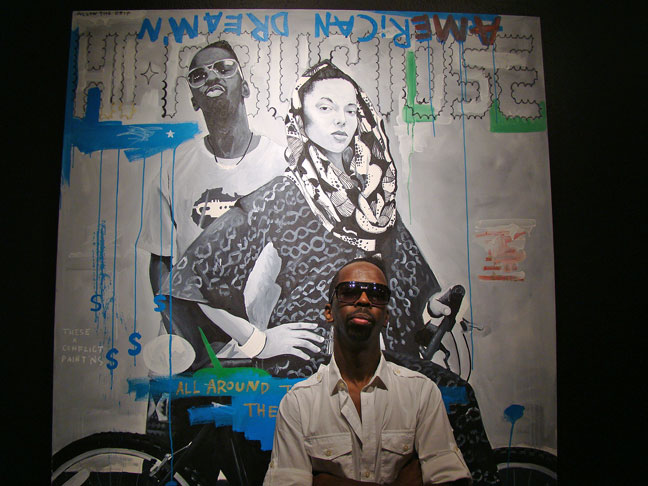 One more of Fahamu Pecou & his art.


***
White Walls Gallery: Sleepwalking - New Works by Greg Gossel.
Review by Clare Coppel: White Walls in the 'Loin features works by Greg Gossel-- over 30 mixed media pieces using pop culture images from last half of the 20th centuary. Gossel's artworks are combinations of newspapers, silkscreening, and mixed-media collage which are layered, torn and stained with painstaking craftsmanship and attention to detail. The largest piece "Tony Stark" measuring 9 x 12 feet is beautifully done and has a stronge simpicitly to its design.
Comment by AB: Vibrant iconic comic and pop star collage art by Greg Gossel-- a bit like Warhol meets Lichtenstein.
Art by Greg Gossel.


Greg Gossel art.


Greg Gossel & his art (photo c/o Robert Nishihira and Jonpierre Kelani).


Art by Greg Gossel.


Greg Gossel art.


***