***
Incline Gallery: Everything's a Thing - Matthew Gottschalk and Matthew Weston Taylor. Curated by Sholeh Asgary.
Comment by RWM: Fun abstractions. Interesting venue. Nice climb up the incline for unexpected art work.
Comment by AB: Matthew Gottschalk creates bronzes, carvings and castings of vintage objects like cassette tapes, body parts from plastic superhero children's toys, and an amplifier that has seen better days. Appealing abstract paintings by Matthew Weston Taylor are lightly seasoned with recognizable references.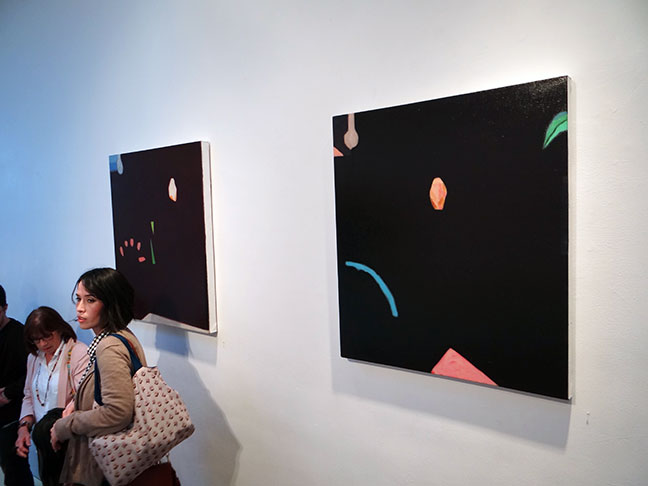 Art by Matthew Weston Taylor at Incline Gallery.


Matthew Weston Taylor art.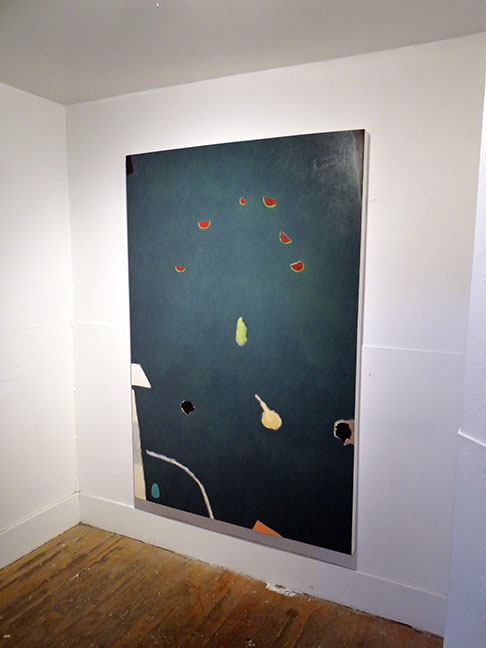 Art by Matthew Weston Taylor.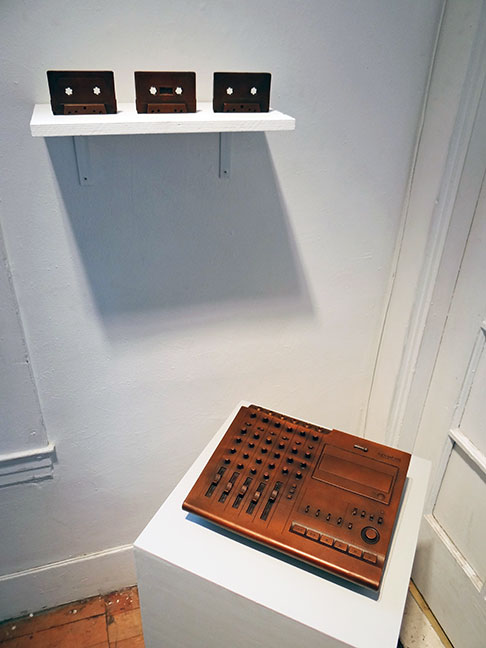 Cast bronze sculptures by Matthew Gottschalk.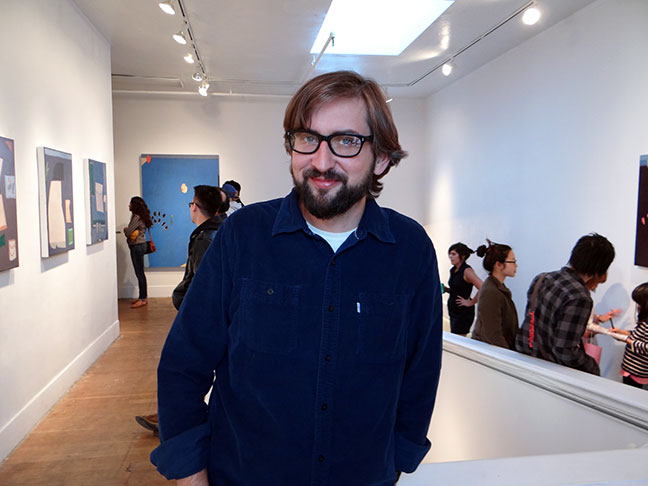 Artist Matthew Gottschalk at Incline Gallery.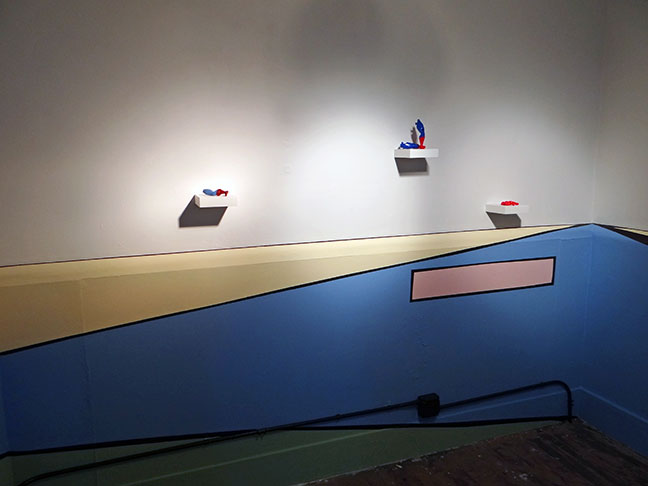 Cast superhero body parts by Matthew Gottschalk.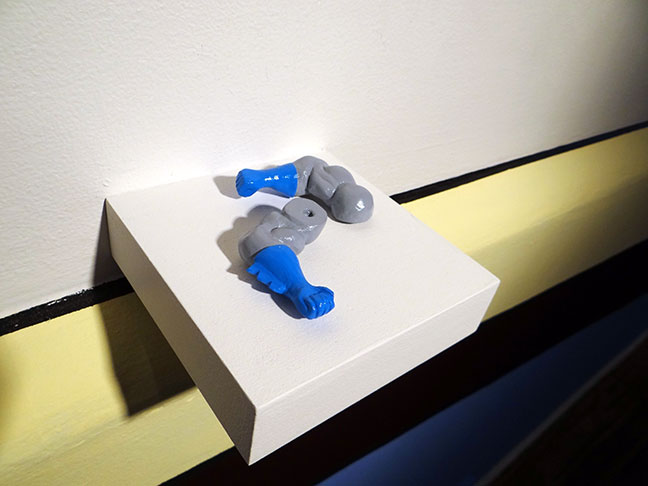 Superhero body part art by Matthew Gottschalk closer.


Carved wood cassette tapes by Matthew Gottschalk.


Carved cassette art in above image closer.


***
Reclaimed Room at Building Resources: SCRAP Art - Creative Reuse in the Bayview.
Artists: Jody Alexander, Alexis Arnold, Finny Balboa, Marie Bergstedt, Michael Biel, Gregg Biggs, Jeanine Briggs, Lisa Cooperman, Maureen Delema, Amanda Devlin, Leeza Doreian, Sally Doyle, Katrin Geng, Marguerite Gilligan, Nic Griffin, Robert Haemmerling, Margot Hartford, Francisco Hernandez, Benjamin Hersh, Kathryn Hyde, Clint Imboden, Joey Jones, Howie Katz, Diana Krevsky, Monica Lee, Mido Lee, Patricia Leggett-Wantz, Reddy Lieb, Ytaelena Lopez, Tina Maier, Liz Mamorsky, Nariana Nelson, Emiko Oye, Neon Sandwich, Fleurette Sevin, Claire Siepser, Sarah Stangle, Winnie van der Rijn, Brittany Watkins, Jess Wilks, Michal Wisniowski.
Comment by AB: SCRAP Art, founded in 1976, is dedicated to transforming junk into art. In this group show juried by Recology Artist in Residence program director Deborah Munk, the artists demonstrate just a handful of the multitudinous ways that creative minds can accomplish that task.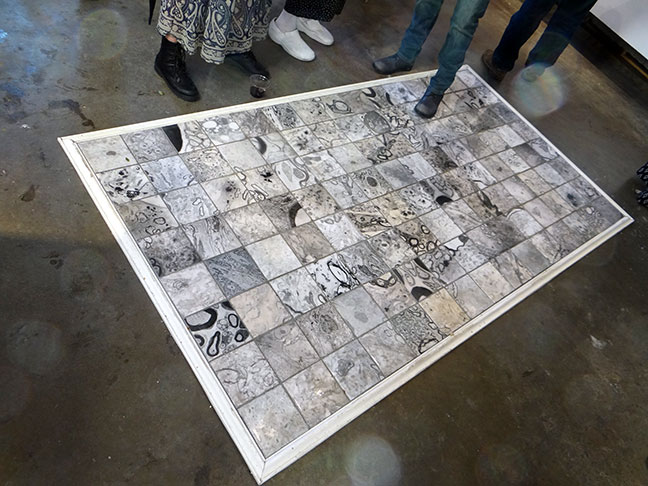 Cancer cells printed onto surplus tiles by Ytaelena Lopez & Howie Katz.


Glass and photograph sculpture by Maureen Delema c/o SCRAP Art.


Arf art by Robert Haemmerling at Reclaimed Room.


Nice piece of sculptural work by Marie Bergstedt.


Wall art by Michal Wisniowski.


Assemblage art by Francisco Hernandez.


Venue - SCRAP Art group show at Reclaimed Room.


***
Live Worms Gallery: Delve(ations) x9.
Artists: Carrington, Craig Fonarow, Elizabeth Ashcroft, Sean O'Donnell, Gregory Vernitsky, Julie Jaycox, Kim Frohsin, Marti Mckee, Xavier Viramontes.
Comment by AB: Yet another festive affordable art free-for-all courtesy of dedicated North Beach artists and those who love them.
Art by Carrington at Live Worms Gallery.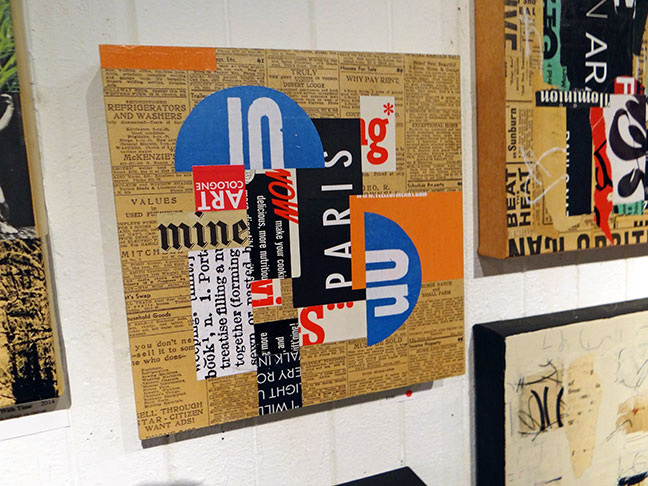 Carrington art in above image closer.


Art by Carrington closer.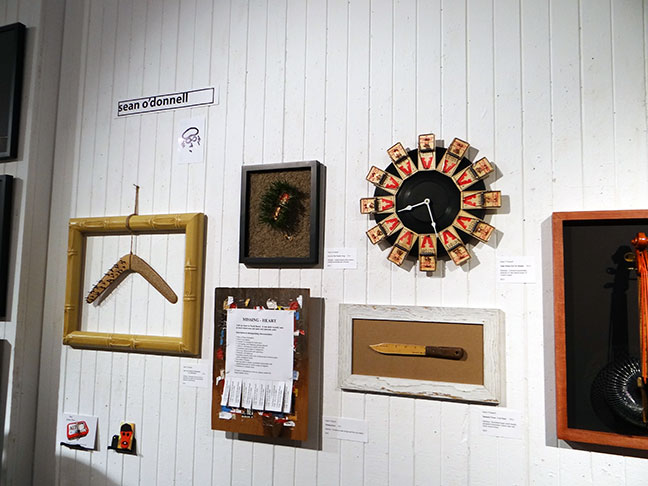 Satirical art by Sean O'Donnell.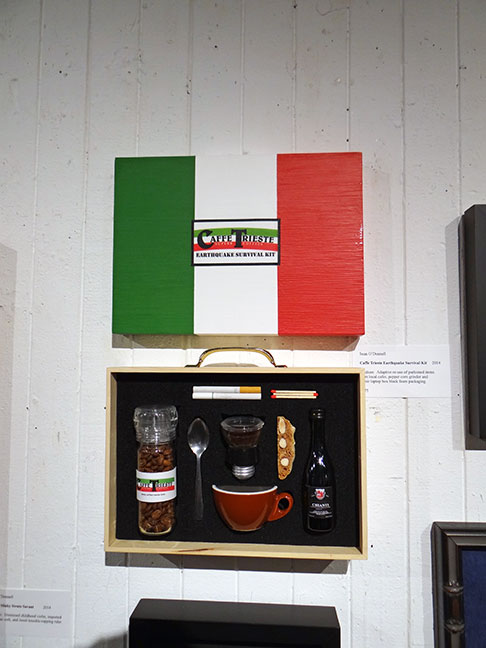 Cafe Trieste survival kit by Sean O'Donnell.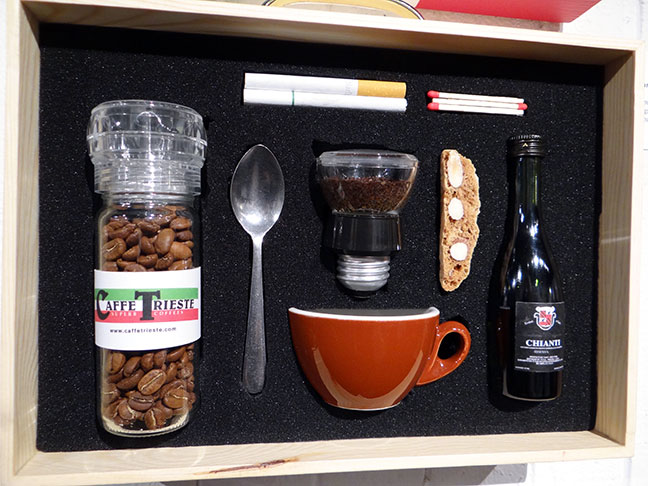 Sean O'Donnell art in above image closer.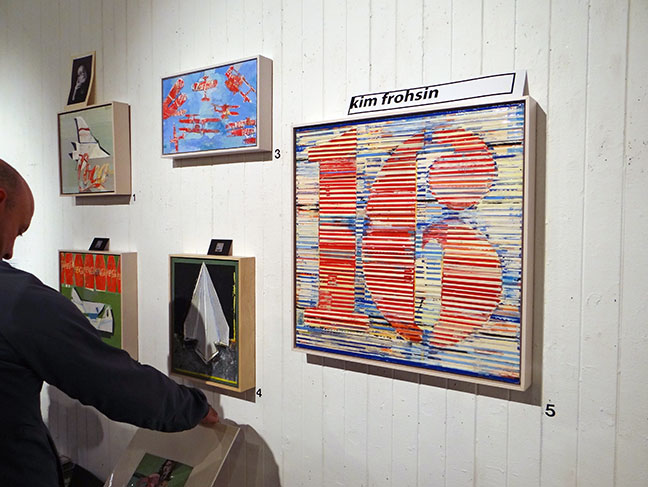 Art by Kim Frohsin.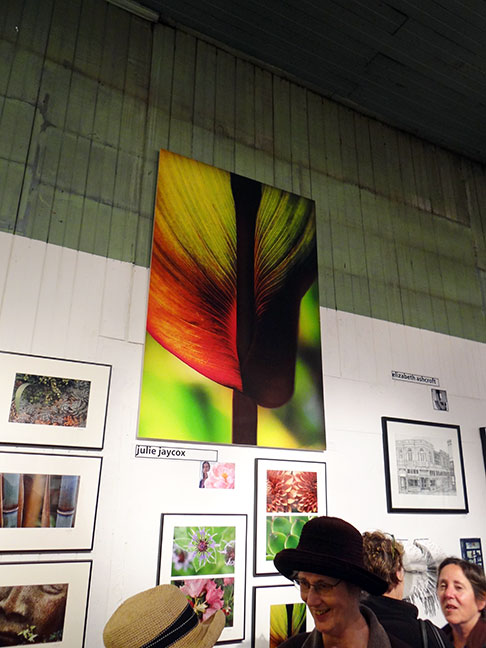 Photography by Julie Jaycox.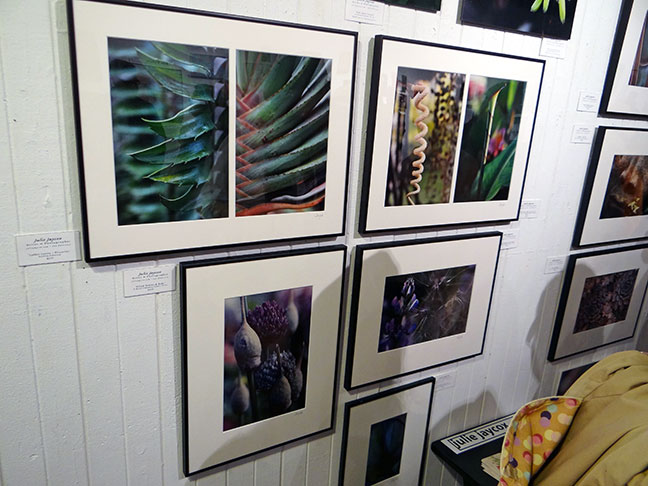 Julie Jaycox photographs.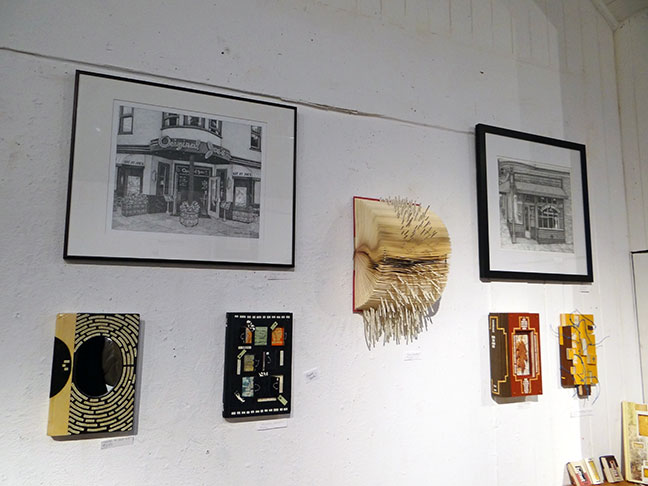 Repurposed book art by Elizabeth Ashcroft.


Elizabeth Ashcroft book art closer.


Arf art by Xavier Viramontes.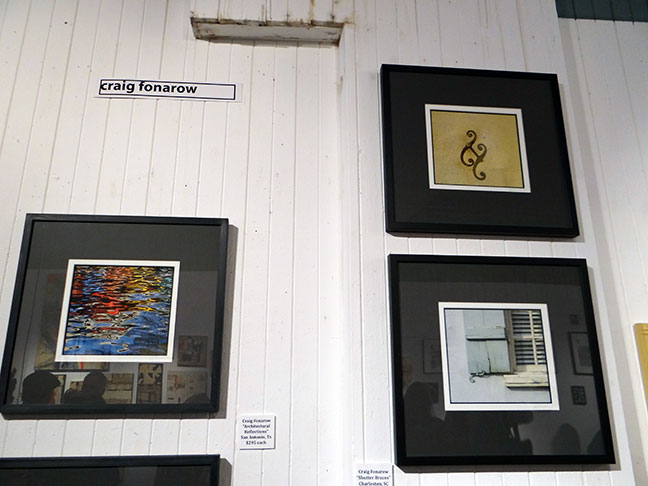 Photographs by Craig Fonarow.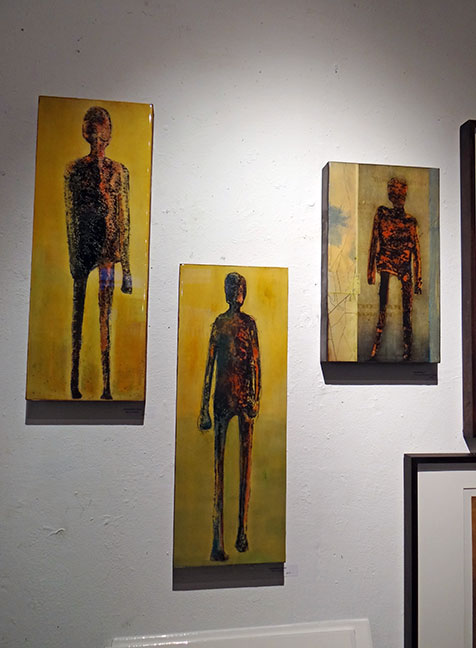 Figural works by Marti Mckee.


Demographics - group art show at Live Worms Gallery.


***