***
Fort Mason Center: SEAT.
Artists: Jeremy Alden, Dave Allen, Arup + Jefferson Mack Metal Arup (Josh Cushner, Kurt Graffy, Toby Lewis, Shane Myrbeck & Michael Whiteman) & Jefferson Mack, Russell Baldon, Cary Bernstein, Bicycle Fabrications (Hank Matheson, Brian Hapgood, Andrey Kobzar), Leslie Bruning, Joel Cammarata, Veev Design Team, Galen Cranz, Malcolm Davis, Nilus De Matran (Veronica De La Rosa - Lead Designer), Kaitlyn Payne, Ricardo Moreno, Robert Rhee - Lighting), Christian Tipping, Christina L Desser + James Desser, Oliver DiCicco, Paul Zengyu Discoe, Ryan Duke, David Duskin, Kristen Franz, Alex Garcia, Brian Goggin, Lucy Gray, Peg Jennings Shaw, Eddy Joaquim, Lawrence LaBianca + Robert Buckenmeyer, Jefferson Mack, Margo Majewska, Brian Maritn, JC Miller (ASLA), Pallet Studio (Michael Wlosek, Lukas Nickerson, + Andrew Perkins), Rael San Fratello Architects, Buddy Rhodes, Kent Roberts, Mark Rogero, Seam Studio (Topher Delaney, Kika Probst, Rody Santamarina, Calvin Chin + Andy Angeles), J. Weiss Design, Fausto Wolf + Catherine Margerin.
Comment by AB: Fort Mason Center and Seam Studios enlist 35 top Bay Area artistic and creative talents to design and produce seats for this outdoor exhibition-- the results now on display around and about the pier buildings. You can't really describe these seats in a conventional sense, like by calling them chairs or couches; they're way more than that. These functional works of art are certainly worth a perusal, and taking the stroll is more than recommended, perhaps even required. At the very least, you can't beat the views.
Seat art at Fort Mason - you sit beneath the arch on this one.


Eucalyptus trunk seat art.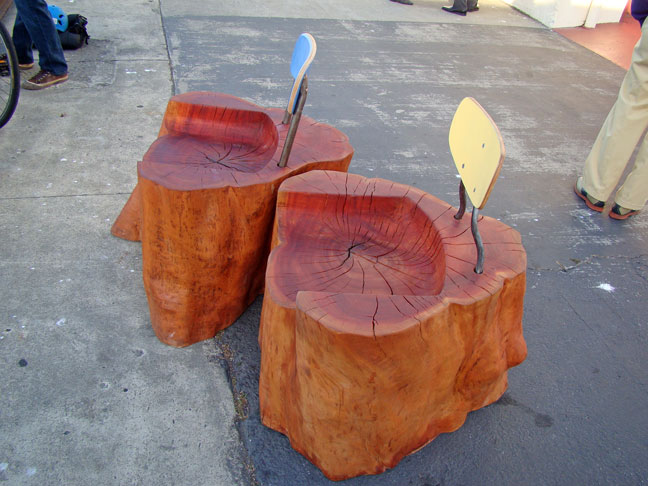 Trunk chairs at Fort Mason c/o Seam Studios.


In case you like your seating wet...


Conceptual seat art (could there possibly be a show without it?).


Tubular metal seat art.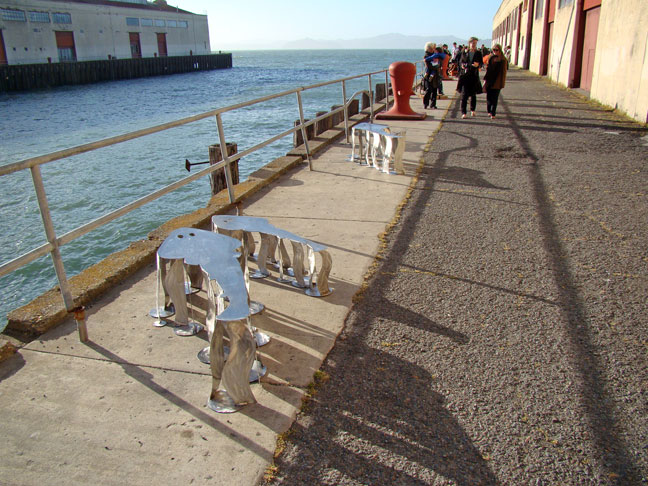 Polished aluminum seat art.


Here's something you don't see every day - a chair attempting escape.


This seat's shaped like a plane.


You can't tell the players without a scorecard - Seat at Fort Mason.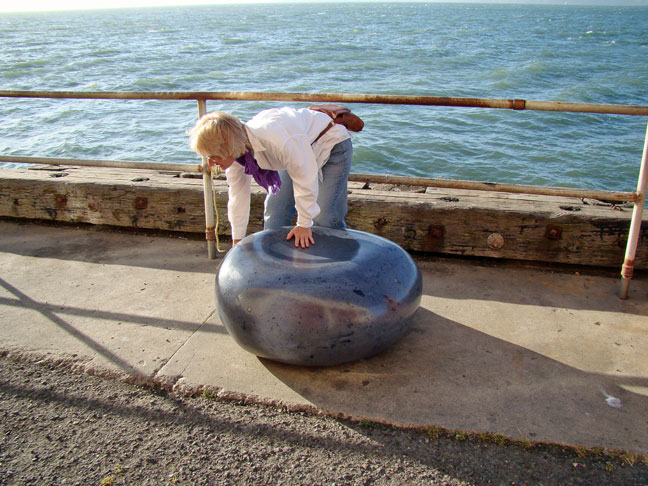 Polished stone seat art.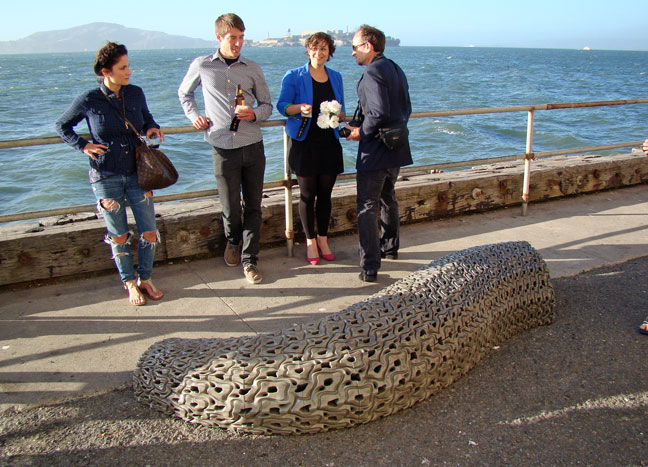 Slithery snaky seat art at Fort Mason.


Textual seat art c/o Fort Mason & Seam Studios.


***
Gensler San Francisco: The Elegance of Refusal.
Artists: Libby Black, Tammy Rae Carland, Josh Faught, Eve Fowler, Luke Gilford, James Gobel, Daniel Jauregui, Dawn Kasper, Ace Lehner, Same Lopes & Jason Fritz, Amos Mac, Lucas Michael, Matt Momchilov, Ali Naschke-Messing, Amir Nikravan, Paul P., Job Piston, Yuval Pudnik, Conrad Ruiz, Erik Scollon, A.L. Steiner & Z Drucker, Jen Susman, Scott Treleaven, Chris Vargas, Forrest Williams.
Review by RWM: Nice artistic offering consists of a diversity of visuals and experiences that one might encounter around the city, all from the perspectives of queer artists. Wander these offices and find artistic surprises. Or maybe not, given the contrarian theme of the show. Nice wine and cheese feast as well but if you consume too much, now whose fault is that? Delicious, but live and learn.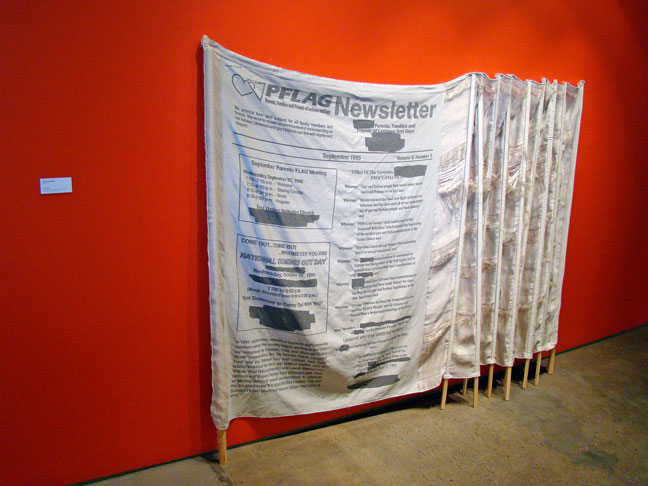 Installation art - The Elegance of Refusal at Gensler.


Installation art.


Painted paper mache art - nicely done.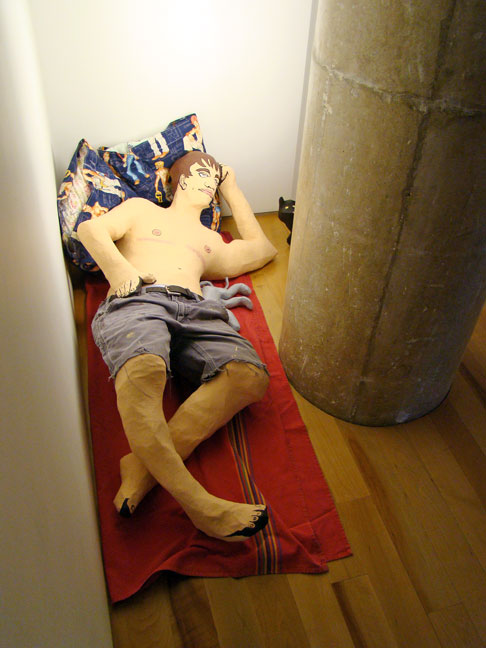 More painted paper mache art.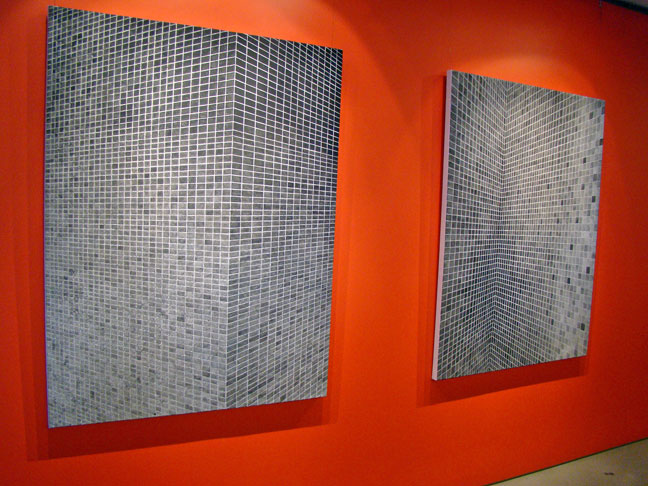 Jack's Bath & Mac's Bath - art by Danny Jauregui.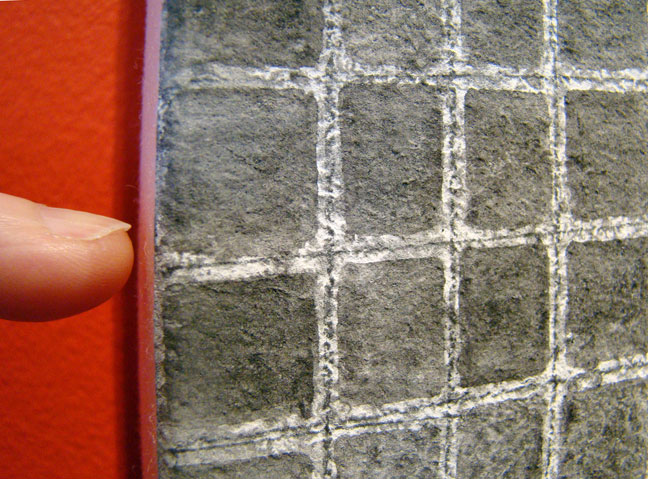 Pinkie cam detail of art by Danny Jauregui in above image.


Photography & art (two on left by James Gobel).


Do not sit art at Gensler San Francisco.


Limited edition letterpress art.


Ouch art at Gensler San Francisco.


***
Gallery at 1000 Van Ness: Surreal Reflections - Paintings and Works in Églosimé by Jane Richardson-Mack.
Review by RWM: Find surrealism here; it is not always a regular offering. The works on exhibit will keep you looking for meaning, but those meanings may be different for different individuals. You'll encounter symbols and denizens of the natural world. Have questions? The answers may all be in your head.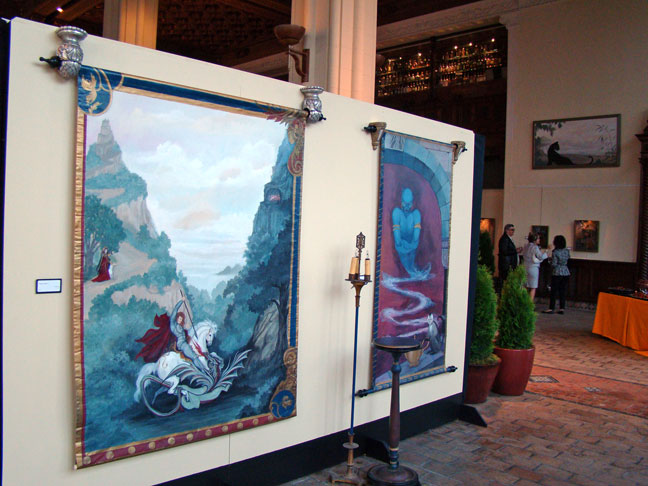 Art by Jane Richardson-Mack at Gallery at 1000 Van Ness.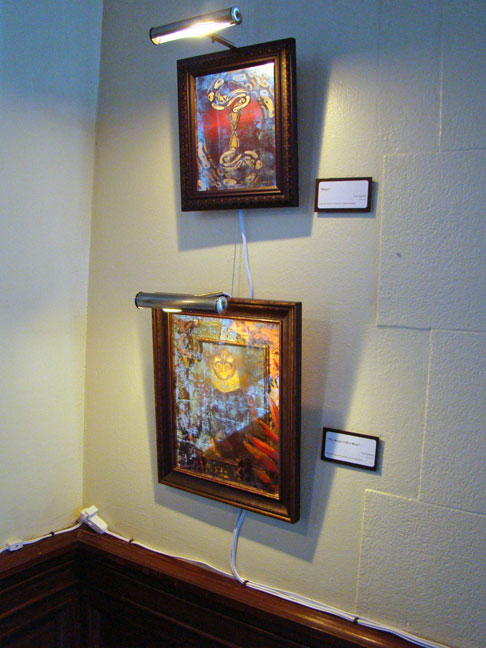 Jane Richardson-Mack art.


Jane Richardson-Mack art. Look familiar? Here's a hint.


Art by Jane Richardson-Mack at Gallery at 1000 Van Ness.


Art by Jane Richardson-Mack.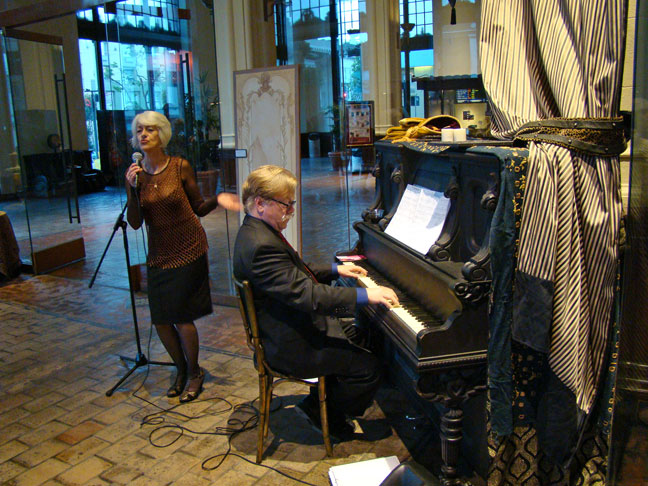 Jane Richardson-Mack performs - an artist in multiple mediums.


***
Trickster Events at Mission Control: The Alchemical Bordello.
Review by RWM: Sexy work by various artists. Other wild things on the walls. Stylistic gathering of folks. Cool clothing and decor. Entrancing music. Are they having as much fun as they would like? Great way to share the artistic experience regardless.
Comment by AB: Erotic goulash. Got a fetish? Gently explore and express it here.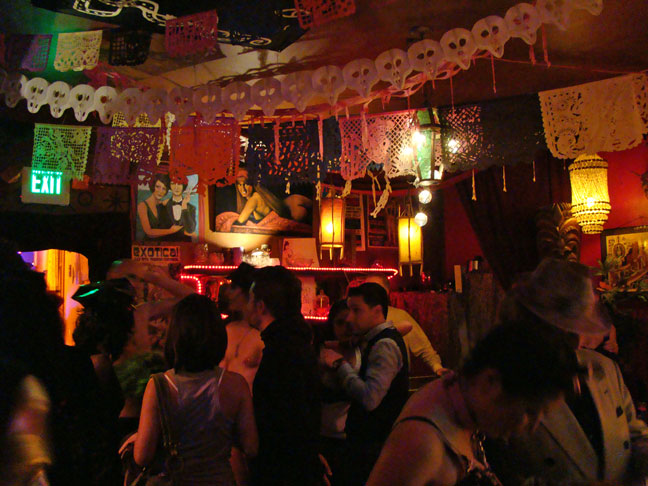 Atmospherics at The Alchemical Bordello c/o Trickster Events.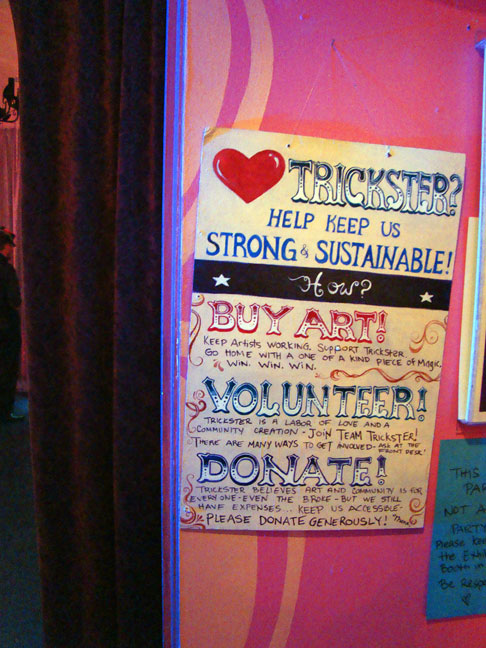 Rules of engagement.


Live painting.


Art at The Alchemical Bordello, Trickster Events.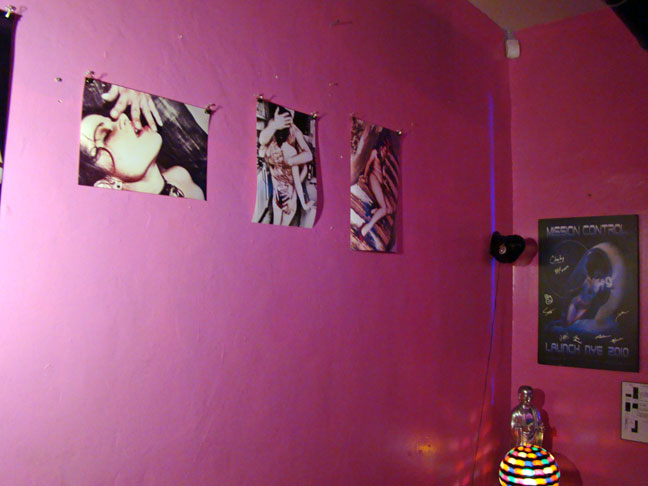 Art at The Alchemical Bordello, Mission Control.


***