***
Heron Arts: Way Out West.
Artists: Brett Amory, Apex, Pakayla Rae Biehn, Anthony Discenza, Double Zero (Annie Vought and Hannah Ireland), Jeremy Fish, Casey Gray, Desirée Holman, Chris Johanson, Jet Martinez, Alicia McCarthy, Alia Penner, Andrew Schoultz, Dave Schubert, Jen Stark, Zio Ziegler, Andrew Li, John Patrick McKenzie, Kate Thompson.
Comment by AB: Luke Groesbeck, founder of City Arts Project and the motivating force behind Way Out West, tells me that the object of the endeavor is not only to honor San Francisco's long and illustrious history as a bastion of countercultural thought, but also to offer everyone an opportunity to experience art. Over the next several years, the Way Out West program will be reproducing and displaying art in public spaces-- the art on exhibit here tonight-- on billboards, busses and bus shelters. In yet another overlap of tech and art, funding is provided by a group of local donors from the tech community. This is good... in fact partnerships and cooperative ventures like this are always good. We need more of them. Why? Because art benefits us all in so many ways. It's not always about the money; it's about creative impulse, forward thinking, new ways of seeing, and last but not least, quality of life.
Kaleidoscopic cut paper art by Jen Stark At Heron Arts.


Pinkie cam detail of art in above image (nicely done).


Art by Andrew Schoultz c/o City Arts Project.


City Arts Project founder Luke Groesbeck with art in above image at Heron Arts.


Art by Casey Gray.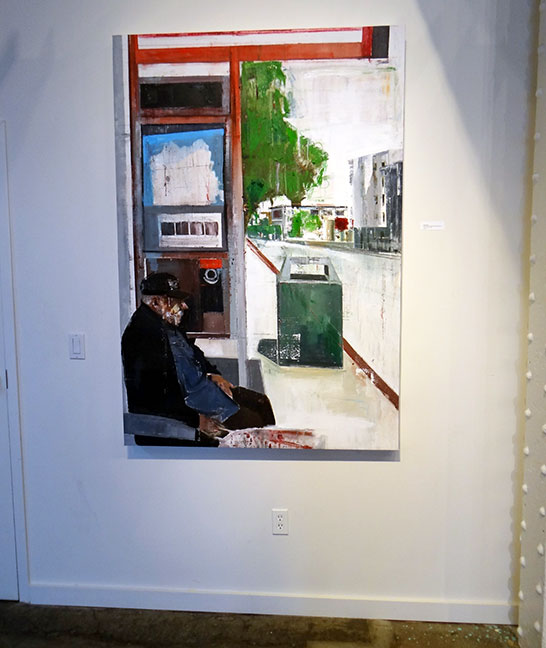 Brett Amory art.


Art by Anthony Discenza.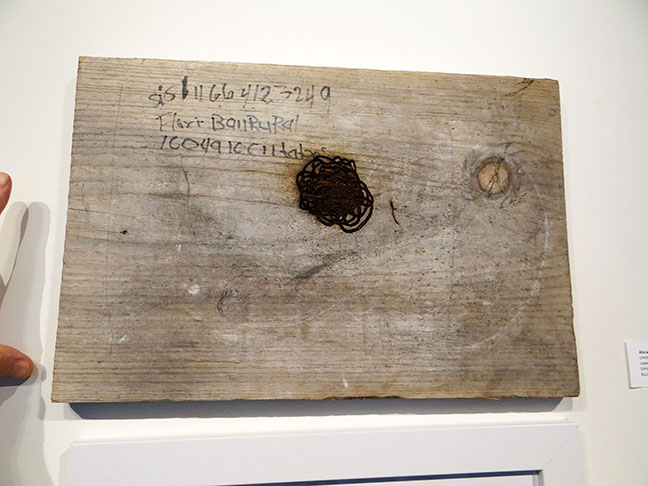 Alicia McCarthy found wood art.


L-R, photography by Dave Schubert & art by Chris Johanson.


Zio Ziegler art.


L-R, art by Apex & Jeremy Fish.


Jeremy Fish art in above image closer.


Creature art by Desirée Holman.


Jet Martinez art.


Art by Double Zero (Annie Vought and Hannah Ireland).


Circumstance - Way Out West group show c/o City Arts Project at Heron Arts.


***
Et. al Gallery: Amy M. Ho - We Are Only Dust and Shadow.
Comment by AB: Amy M. Ho uses lightning at night, both in video and backlit stills, as perhaps an analogy to those short-lived instants of clarity we all have as we muddle our way through the murk of life. The backlit stills are mounted on two walls in the front half of the gallery while behind a curtain in the back half, several projectors cast nighttime images onto the walls, the blackness occasionally interrupted by strikes and flashes of lightning, just like in a real thunderstorm. The gallery is appropriately darkened in order to accentuate the experience. Well done.
The basic idea - darkened Et. al gallery with art/installation by Amy M. Ho.


Lightbox lightning photographs by Amy M. Ho.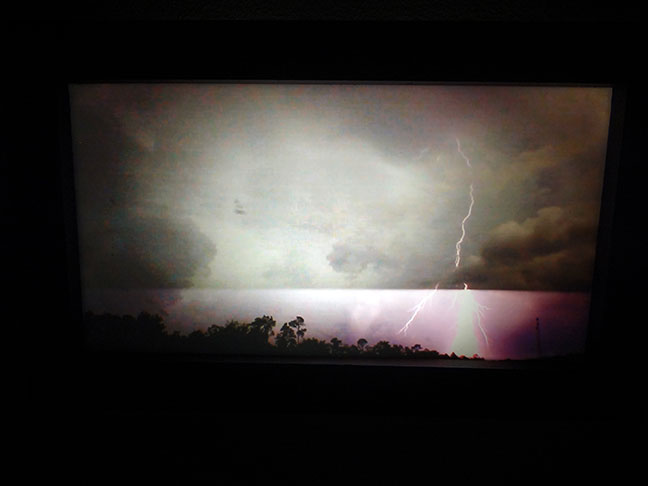 Photography by Amy M. Ho closer.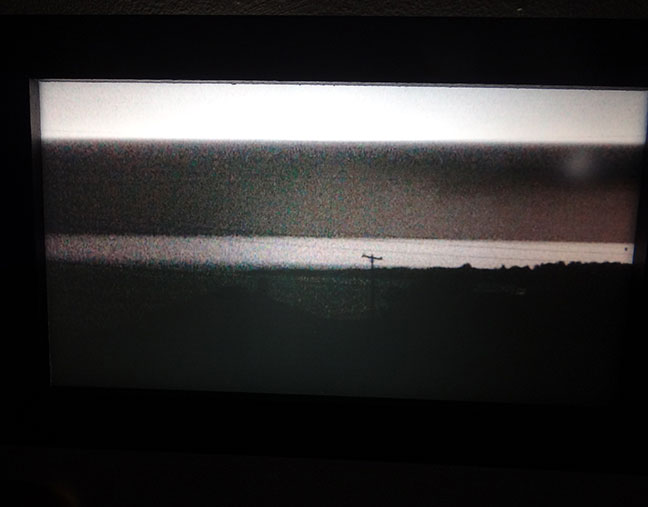 Lightning in the night sky, backlit photograph by Amy M. Ho.


Photography by Amy M. Ho closer.


Lightbox photography closer by Amy M. Ho.


***