***
RayKo Photo Center: Fraction Magazine: 3-years in the Making (Curated by David Bram); Don Ross - The Outside Lands, a Century Apart.
Fraction Magazine photographers: Hollis Bennett, Jesse Burke, Susan Burnstine, Polly Chandler, Antone Dolezal, Eliot Dudik, Geoffrey Ellis, Kirk Gittings, Meg Griffiths, Michael Itkoff, Josef Jacques, Liz Kuball, Karen Kuehn, Clay Lipsky, David Maisel, Kerry Mansfield, Tricia Lawless Murray, Norman Mauskepf, David Ondrik, Sam Portera, Kathleen Robbins, David Rochkind, Ken Rosenthal, Michael Sebastian, Emily Shur, Allison V Smith, Tabitha Soren, David Taylor, Susan Hayre Thelwell, Phil Toledano.
Review by Clare Coppel: Along the left wall gallery, a wide range of topics, landscapes, portraits, color and black and white c/o Fraction Magazine, an online magazine surveying the work of established and emerging photographers worldwide.
Along the right wall gallery, artist-in-residence Don Ross' exhibit, "The Outside Lands, a Century Apart," places old photographs of the Outer Sunset and Outer Richmond alongside his current photographs of those same locations. Pretty cool if you live in the Outer Sunset or Outer Richmond. The photographs also go to show how fast structures weather when situated close to the ocean.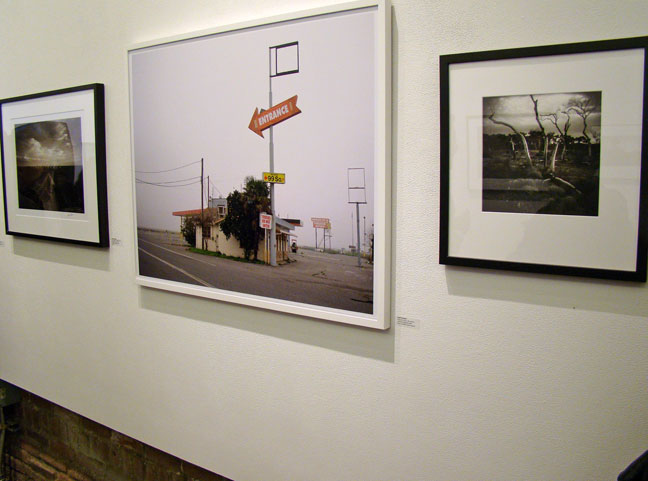 Fraction Magazine photography at RayKo Photo Center.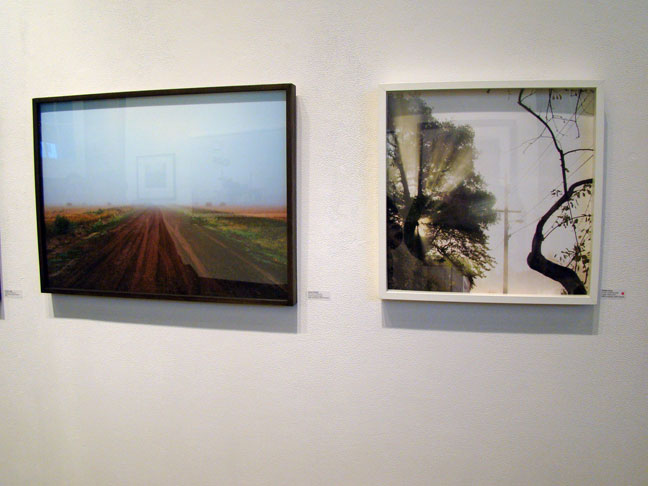 Photographs from Fraction Magazine.


Fraction Magazine photography group show at RayKo Photo Center.


Photographs from Fraction Magazine.


Photography from Fraction Magazine at RayKo Photo Center.


San Francisco then and now photography by Don Ross.


Don Ross color photographs side-by-side with vintage images.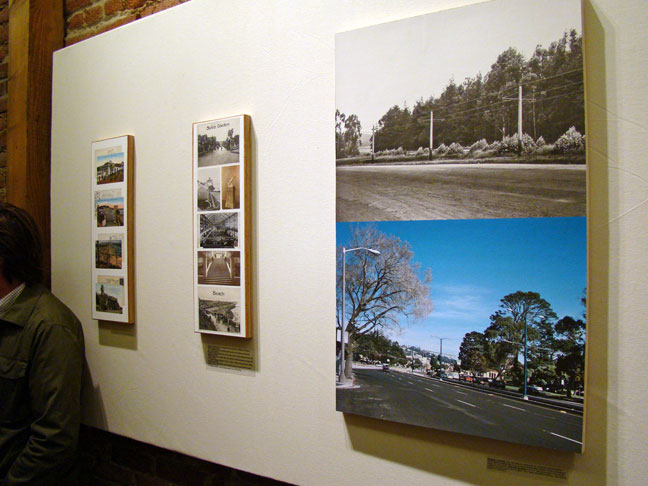 Contemporary & vintage San Francisco photographs c/o Don Ross.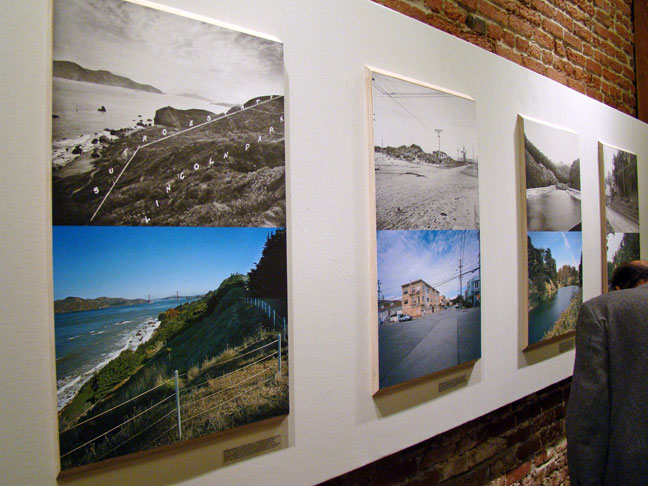 Color photos by Don Ross opposite vintage San Francisco images.


***
Mina Dresden Gallery: Gary Arlington Book Signing and Art Opening.
Review by RWM: Strange, wild and at times unsettling Outsider art, with love and theology present nonetheless. You sense the alien from someone who might have preferred to be elsewhere or to have been someone else. Interesting segue from there into the science fictional. It is often from the perspectives of societal outsiders that come the most interesting tales of what life might be like in the future. Share here in the tales of those who live uniquely and apart. Hundreds of pieces to choose from, almost all works on paper priced well under $50 each!
The book, "I Am Not of This Planet: The Art of Gary Edson Arlington" (Last Gasp, San Francisco, 90 pages, 2011, $14.95), is also available for purchase at the gallery. Arlington opened San Francisco's first underground comic book store in the late 1960s, making him an ideal subject to tell the tale of those who do not follow convention. Certain comic books did not fit in either, but they were at home in his store. Most of us can find like-minded communities in the arts or science fiction, but here is a tale of someone who follows their own path, and may even be ahead of his time.
Arlington's book revels in alienation to a significant degree, but we need to acknowledge that there has been pain. There also has been fun and laughter for the inner child who refuses to grow up or accept this crazy strange world. Lots of odd smiles illustrated with color schemes that will appropriately jar. Revel in their strangeness in this book that will startle with its contrasts.
Here you'll find overlap between the nerd of science fiction and the geek of the side show. They are not always the same, but they may agree with the book's contention that "Earth is without love and understanding." Arlington also touches upon an otherworldly theology that informs of what is needed as he generously endeavors to provide it for us.
Art by Gary Edson Arlington at Mina Dresden Gallery.


Gary Edson Arlington art closer.


Art by Gary Edson Arlington closer yet.


Gary Arlington inscribes a copy of his new book.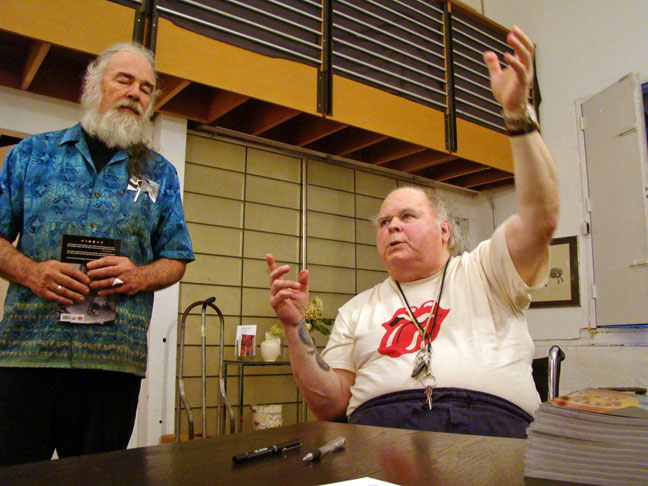 Gary Edson Arlington recounts various recountables.


Art by Gary Edson Arlington at Mina Dresden Gallery.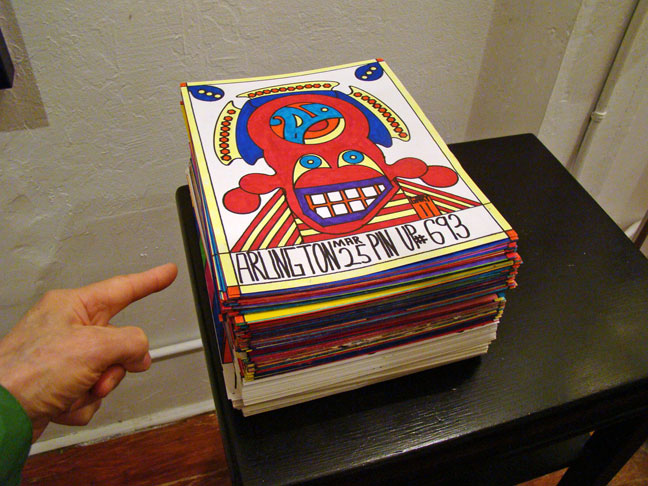 Exactly 693 works of art by Gary Edson Arlington (in order).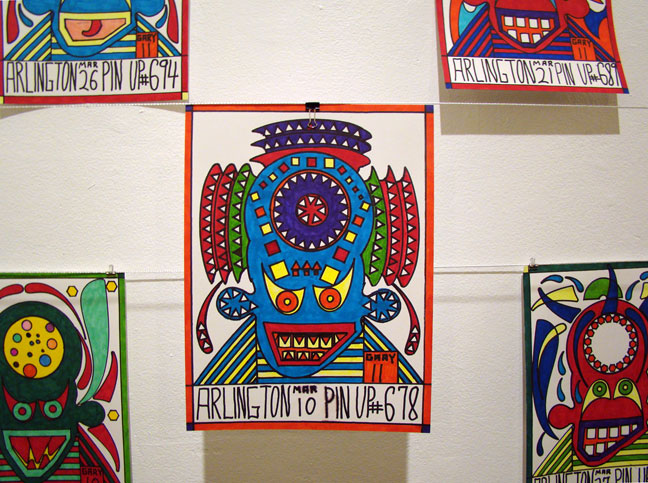 Gary Edson Arlington closer.


Art by Gary Arlington at Mina Dresden Gallery.


Attendance figures - art by Gary Edson Arlington.


***
CELLspace: Celebration of Creation, Earth IS an Installation - Liza Licht (Liza Gopika Lichtinger).
Review by RWM: Nice sojourn to the East. Reconnect with the spirit inside. Odd visages of the foreign. Here is a tale of one's journey.
Liza Licht aka Liza Gopika Lichtinger installation at CELLspace.


Installation by Liza Licht.


Liza Licht installation at CELLspace.


***